You'll want to eat this Pumpkin Pie Dip year round! The perfect easy appetizer for fall! Some call this Pumpkin fluff…no matter what you call it, its a crowd pleaser!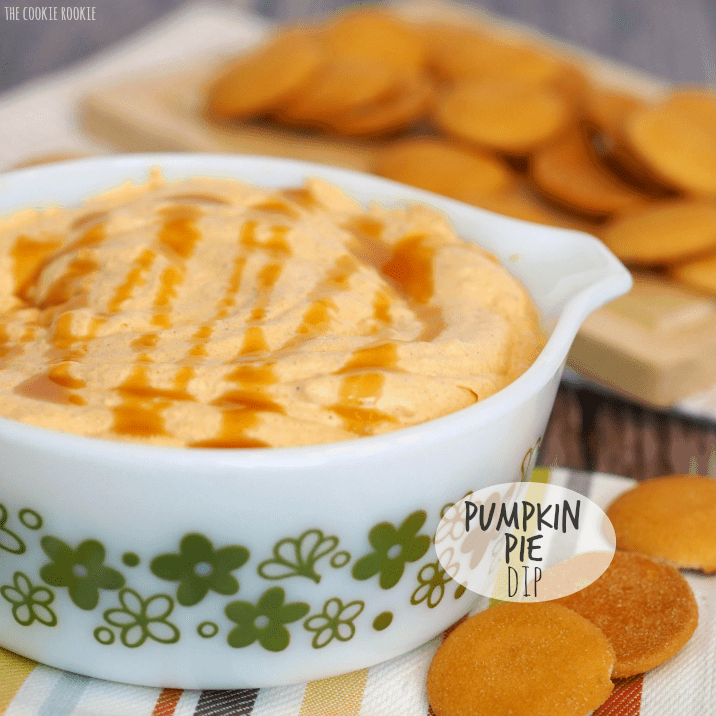 Last year around Thanksgiving my Mother-In-Law made THE MOST amazing dip.  Pumpkin Pie Dip.  She had heard about it at school (she's a teacher) and swore it was the easiest thing ever.  I was just getting into cooking then and was still pretty green.  It peaked my interest.  Something this tasty was super easy? Tell me more.
This is the kind of recipe that makes me wish Pumpkin Spice Season lasted for the entire year.  Why is it that we only eat the best flavor on the planet during fall?? I'm pretty sure canned pumpkin is available year round…so…why?  I am just going to have to start a trend.  I'm totally making this for the Fourth of July next year.  It's that delicious!
I thought it would be fun to serve this Pumpkin Pie Dip in premade individual pie crusts.  It worked so well! So cute.  This would be such a cute individual appetizer for autumn dinner parties!
I just love this dip.  I hope you do too!
We are mid-way through Pumpkin Week!!! I'm already sad it's half way over.  Be sure to click on the top banner or the banner below to check out my other pumpkin spice recipe obsessions!! Enjoy :)
Ingredients
1 package (8 ounces) spreadable cream cheese, room temperature
1 cup canned pumpkin
3/4 cup powdered sugar
1 1/2 teaspoon pumpkin pie spice
1 teaspoon cinnamon
1/2 teaspoon vanilla
1/2 container vanilla (or regular) Cool Whip
Instructions
In an electric mixer, cream together all of the ingredients and blend until smooth and well-incorporated.
Serve cold, with graham crackers, fruit, cinnamon pita chips, or vanilla wafers
7.6.4
1714
https://www.thecookierookie.com/pumpkin-pie-dip/


JOIN OUR MAILING LIST
TO GET COOKING!
Subscibe to recieve all the latest, greatest, and EASIEST recipes sent straight to your email inbox. If we post something yummy, you'll be the first to know.