This PUMPKIN SMOOTHIE recipe is the perfect fall drink to add to your daily routine. Start your day the right way with this delicious Pumpkin Protein Smoothie. Loaded with protein powder, greek yogurt, pumpkin, almond milk, and banana, this Pumpkin Pie Smoothie tastes just like pumpkin pie!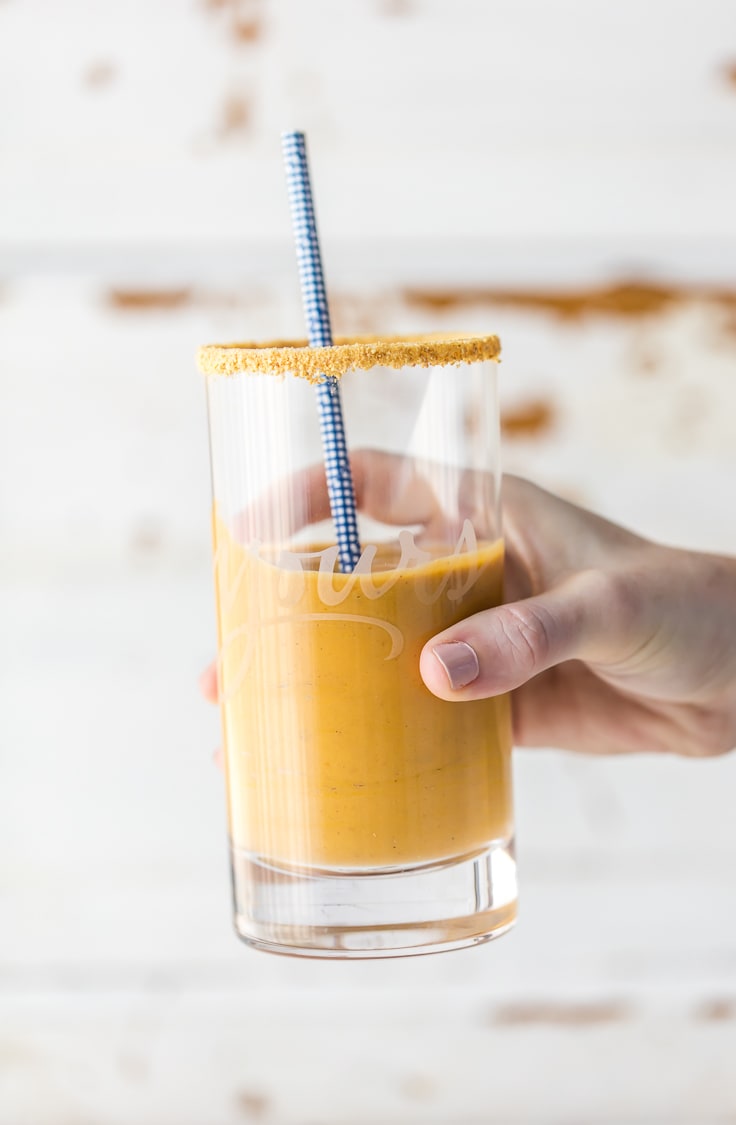 Pumpkin Smoothie
This Pumpkin Smoothie recipe is packed with protein, the ideal way to start your day. This delicious Pumpkin Pie Smoothie is just too good!
If you guys are long time followers of the blog, then you won't be surprised by this pumpkin smoothie recipe. I'm a HUGE fan of all things pumpkin, and I even did an entire themed Pumpkin Week two years ago, plus a fall guide to easy Pumpkin Recipes so you can find them all in one place. I look forward to pumpkin pie season (is that a thing?) from when it ends (I'm in denial that it ever ends) through the end of summer when it starts again. I have made everything from Pumpkin Pie Ice Cream to Pumpkin Pie Chimichangas, but I'm not done yet!
One of my favorite pumpkin recipes I made last year were the Pumpkin Pie Frosties. They are so delicious and so fun, but more of a calorie splurge…definitely not breakfast material. So this year I thought I would make a healthier version of that for breakfast, dessert, and anytime in between. That's where this amazing Pumpkin Pie Smoothie comes in!
I added protein powder to it to make it extra good for you, so you can feel good about drinking this delicious treat in the mornings. This Pumpkin Protein Smoothie is something you'll want to be drinking all season long!
This protein-packed Pumpkin Smoothie recipe is the perfect start to chilly fall days. If you like pumpkin as much as I do, you'll LOVE this Pumpkin Pie Smoothie!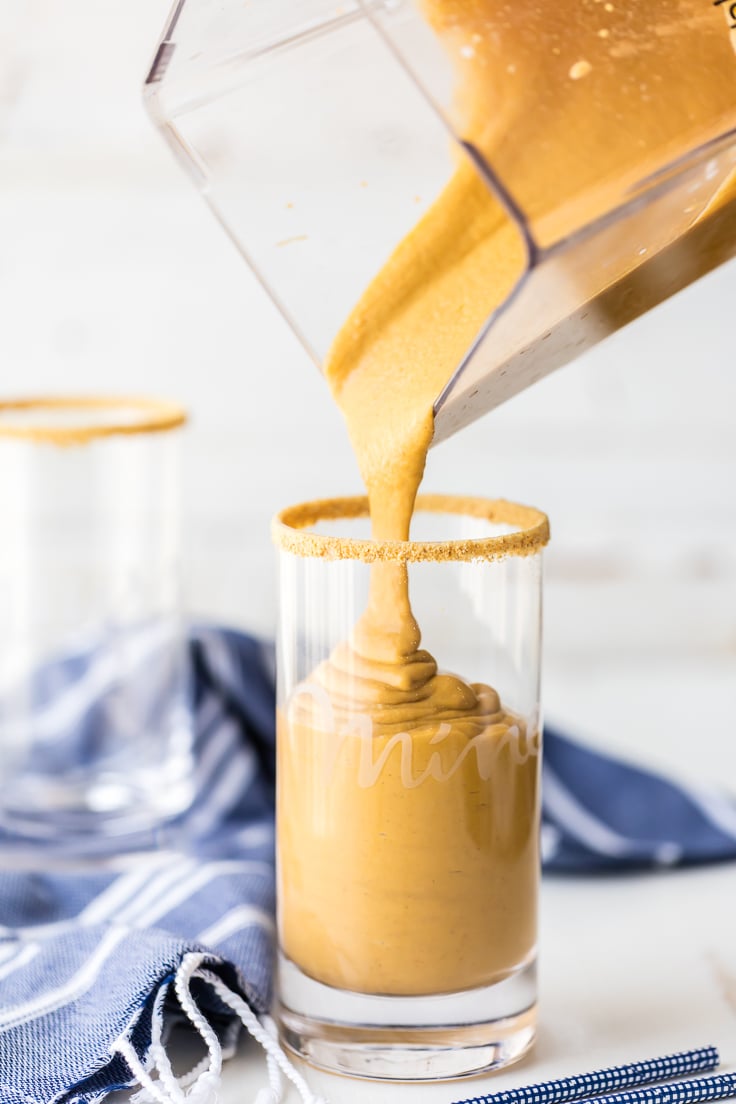 Easy Pumpkin Pie Smoothie
This little Pumpkin Smoothie is packed with all the good things: banana, pumpkin, yogurt, protein powder, and almond milk. You can make it fully non-dairy by using a vegan yogurt, or keep it extra thick and creamy by using Greek yogurt. Your choice, but both are great options! This pumpkin pie smoothie is so easy to make, perfect for busy mornings on the go.
Pumpkin Protein Smoothie
The secret ingredient that makes this pumpkin smoothie recipe the perfect way to start your day is the NEW Burt's Bees™ Protein +Healthy Radiance! I have loved Burt's Bees ever since I first experienced their glorious lip balm. Nothing compares. So when I caught wind they were coming out with three flavors of plant-based protein powder, I knew I had to try it. When you trust a brand that much, you try their new products.
I have been LOVING the protein powder. It's such an easy way to get some extra protein into your diet, while still enjoying the taste of what you're eating! I simply mixed Burt's Bees Protein +Healthy Radiance (Vanilla) into the blender with all the other ingredients. The result is a delicious breakfast smoothie that tastes just like Pumpkin Pie. Is this Heaven?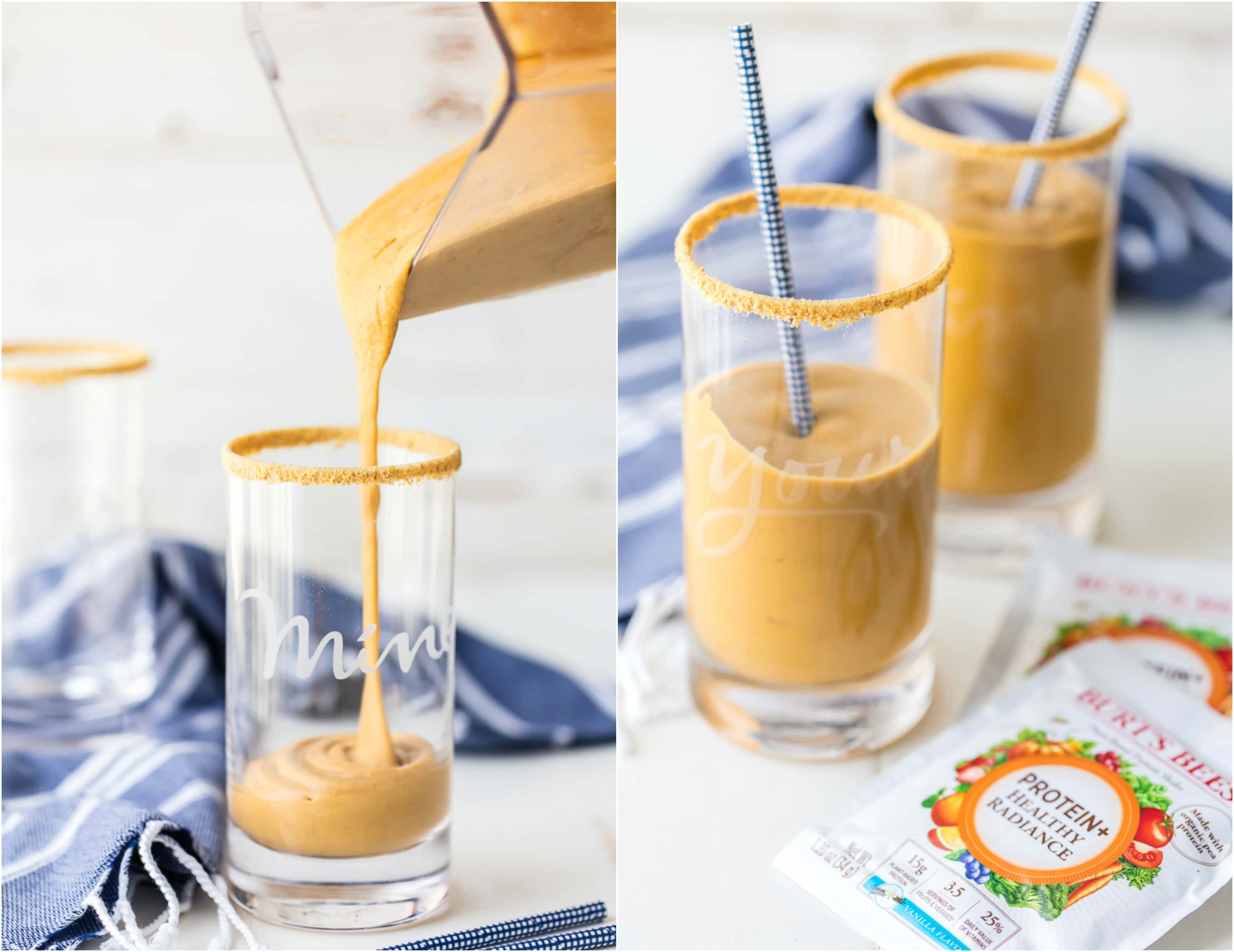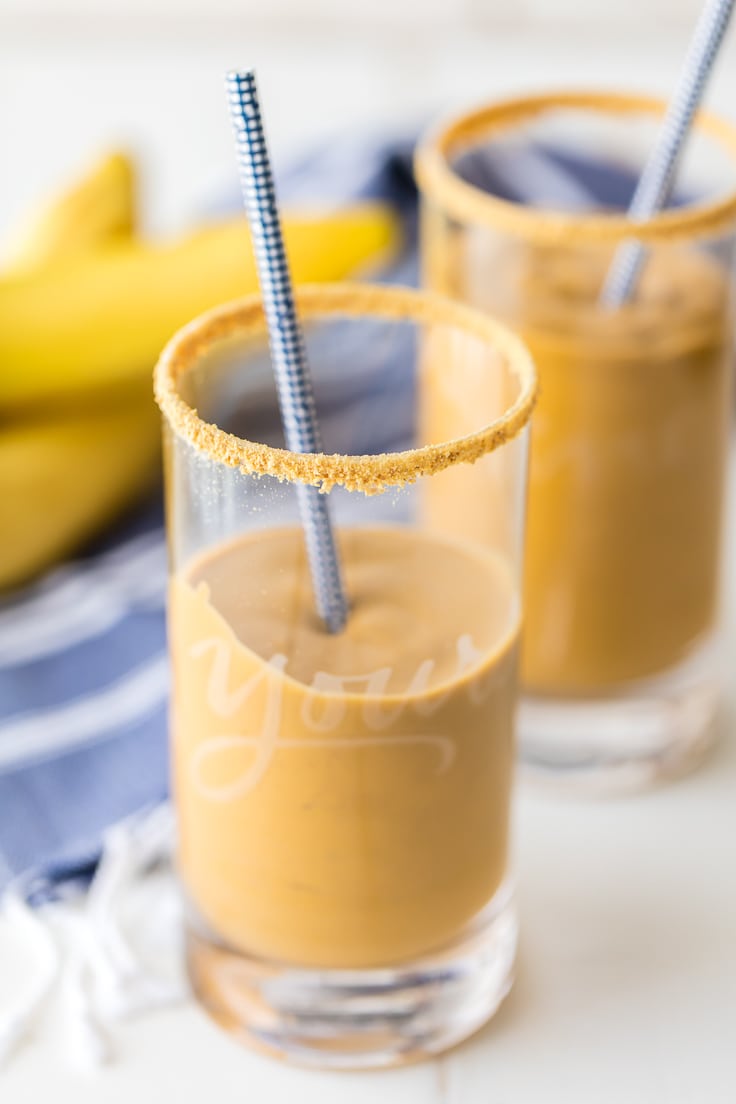 How to Make a Pumpkin Smoothie
I am actually obsessed with this pumpkin smoothie recipe. It's so creamy, so flavorful, and it feels so healthy. The pumpkin flavor is perfectly balanced, not overwhelming. I can gulp this thing down so fast, and I'm always wanting more. If you're a big pumpkin fan like me, you're going to love this pumpkin pie smoothie too!
This recipe couldn't be easier. Combine sliced banana, yogurt of your choice, protein powder, almond milk, honey, pumpkin pie spice, pumpkin puree, and graham cracker crumbs in a blender, and mix until completely smooth. That's it!
If you're a fan of smoothies (who isn't?), try our Creamy Green Detox Smoothie, Coconut Water Smoothie (for Glowing Skin), Cereal Milk Breakfast Smoothie, and our Simple Mango Smoothie!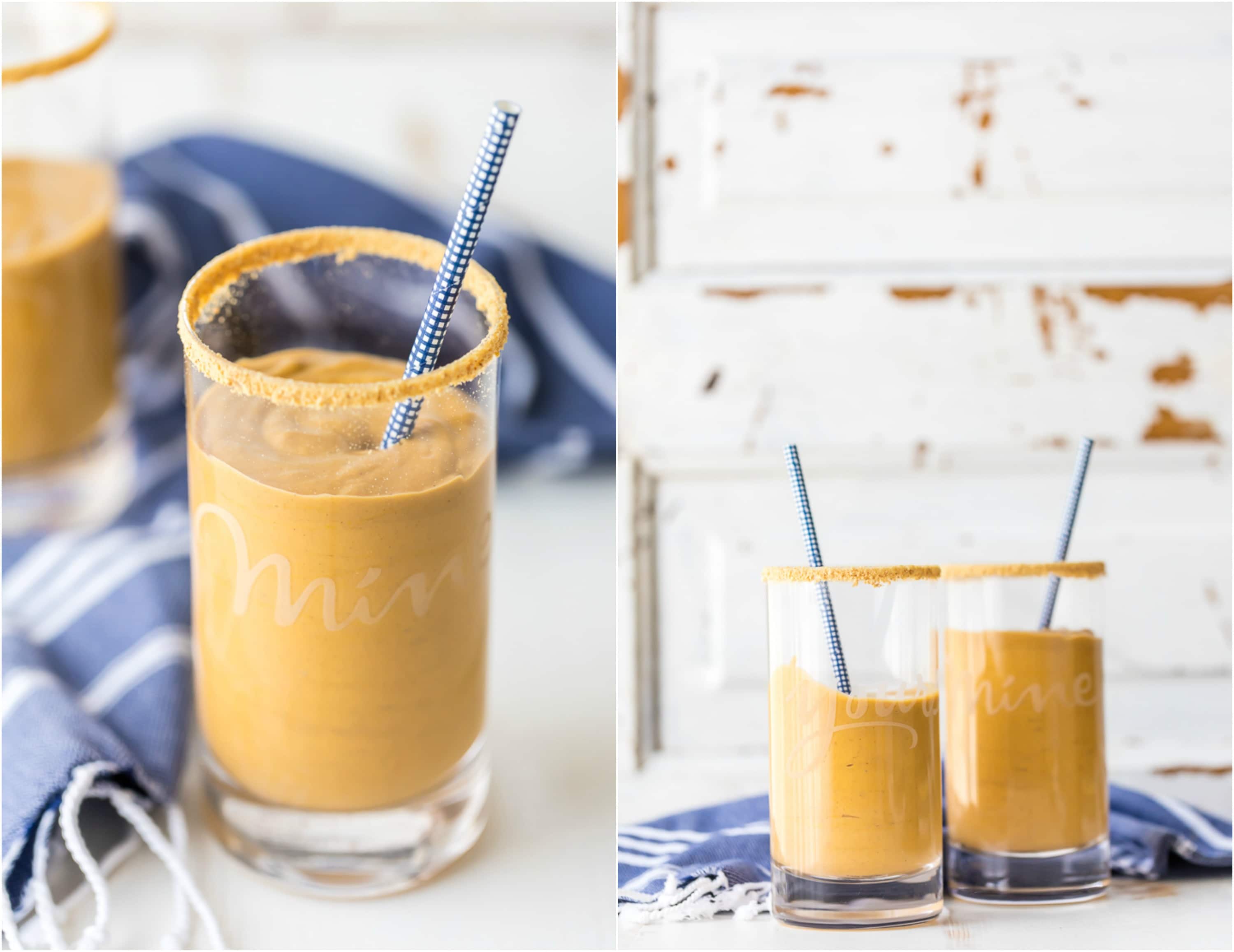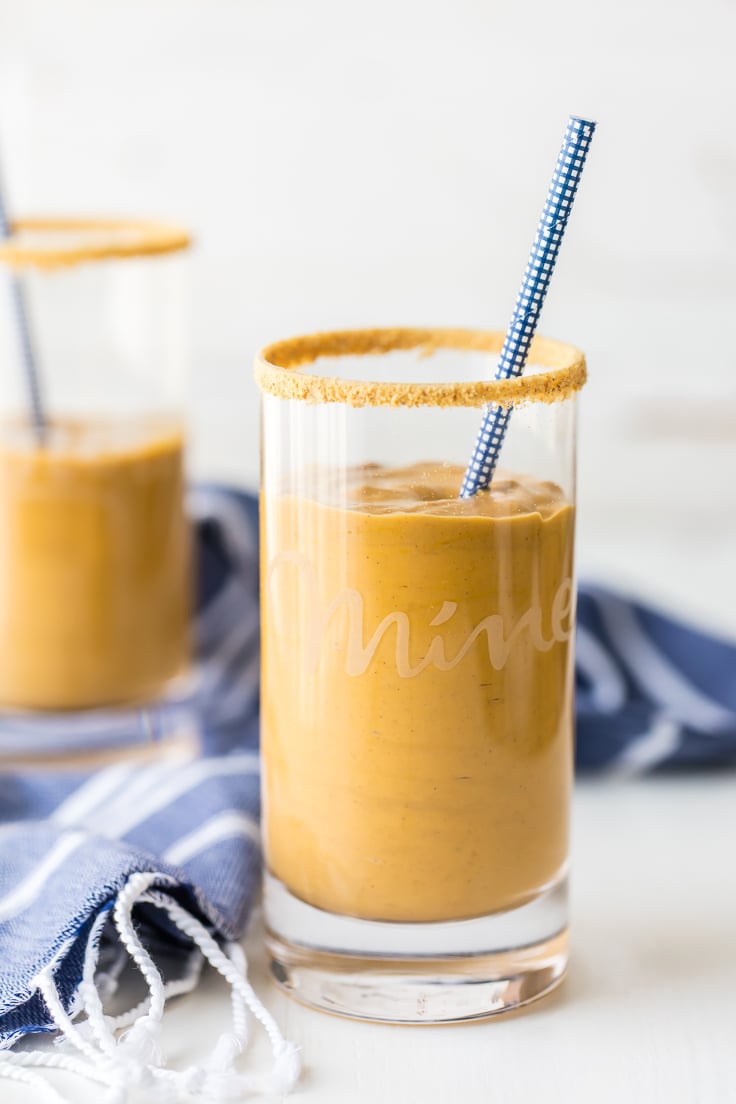 If you love pumpkin as much as I do, you MUST try this protein-filled Pumpkin Smoothie recipe. Nothing but the best for my favorites in the morning!
See the recipe card below for details on how to make this Protein Pumpkin Smoothie. Enjoy!
If you like this pumpkin pie smoothie, you will love these other pumpkin recipes too: