PUMPKIN PIE PUNCH is the ultimate Thanksgiving or Halloween Punch! With apple cider, real pumpkin, and cream soda, you'll never believe how tasty this fun Pumpkin Cocktail is. Such a unique and fun holiday drink recipe for the fall. Try this pumpkin punch with or without alcohol.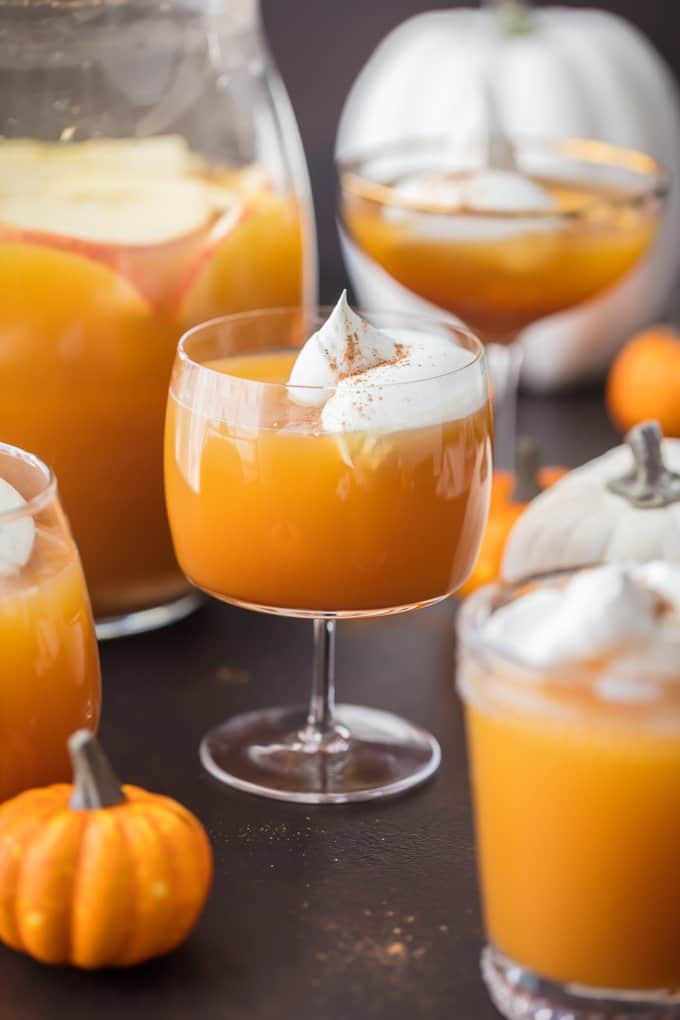 Pumpkin Punch for Thanksgiving
This Pumpkin Cocktail is the most delicious and decadent Halloween Punch you'll ever try. This grown up pumpkin punch will surprise you!
I love a good party punch, and pumpkin everything, so of course I'm obsessed with this tasty Pumpkin Pie Punch. There's ALWAYS a time where you're going to be entertaining a crowd and need a delicious and fun cocktail to pass around.
Something easy to make in bulk, unique enough to make an impression, and of course delicious. Autumn is always my favorite time for a great punch recipe, because there is so much to celebrate!
Put all of that together and I came up with this awesome Pumpkin Cocktail to serve throughout the fall season. You can serve it any time, but it makes an especially great Halloween Punch, or something to gulp down on Thanksgiving day.
With Halloween, Thanksgiving, and Christmas all grouped together within a three month span, friend and family get togethers seem non stop, and we need some great recipes to make for loved ones!
This Pumpkin Pie Punch is just way too fun and tasty. It's sure to steal the show at any party, especially Thanksgiving! The only thing better than enjoying a great slice of Pumpkin Pie during the holidays is being able to sip one too!
Make this delicious Pumpkin Cocktail recipe, Pumpkin Pie Punch!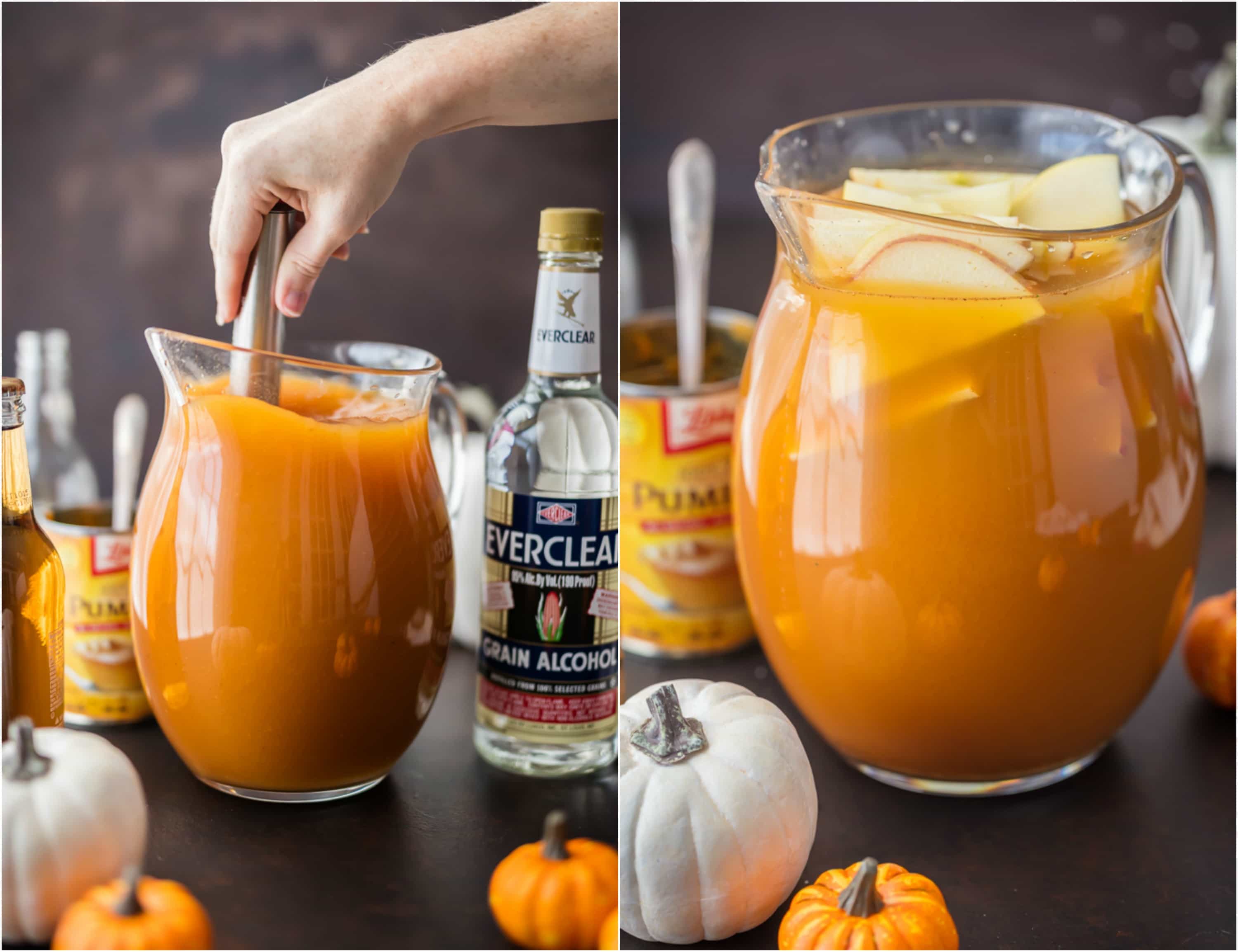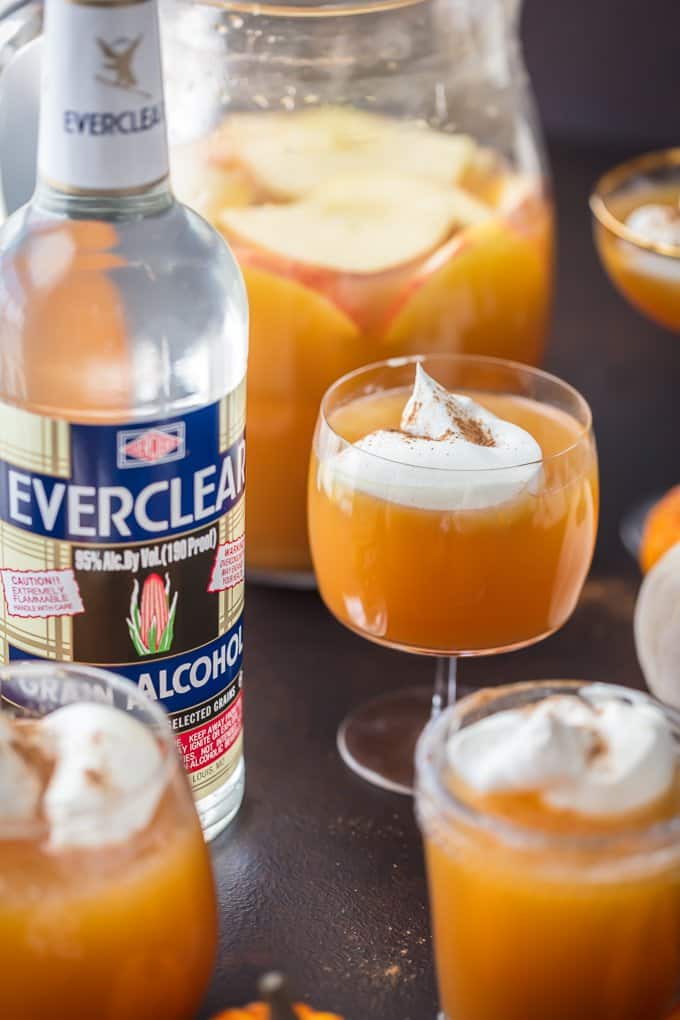 Fun Fall Party Punch (Halloween Punch idea)
You faithful readers might remember that last year I had an awesome time coming up with vodka infusions with Everclear®. I found out just how fun and versatile this (INEXPENSIVE) 190 proof grain alcohol can be.
I made everything from Homemade Apple Pie Vodka to Homemade Strawberry Shortcake Vodka (those make awesome homemade Christmas gifts by the way!), but my favorite Everclear® recipe was my Easy Holiday Punch.
This Pumpkin Punch is great in all the same ways; economical, fun, easy, and pretty! It's a must make for all your holiday parties coming up. Everclear® is perfect for punches because it's tasteless.
It won't ruin the flavor of whatever amazing cocktail you make, especially this Pumpkin Pie Cocktail!
I love this fun fall party punch, and it would be perfect to serve as a Halloween Punch or at Thanksgiving celebrations.
Check out this guide to find more delicious, fun, and easy Pumpkin Recipes for fall!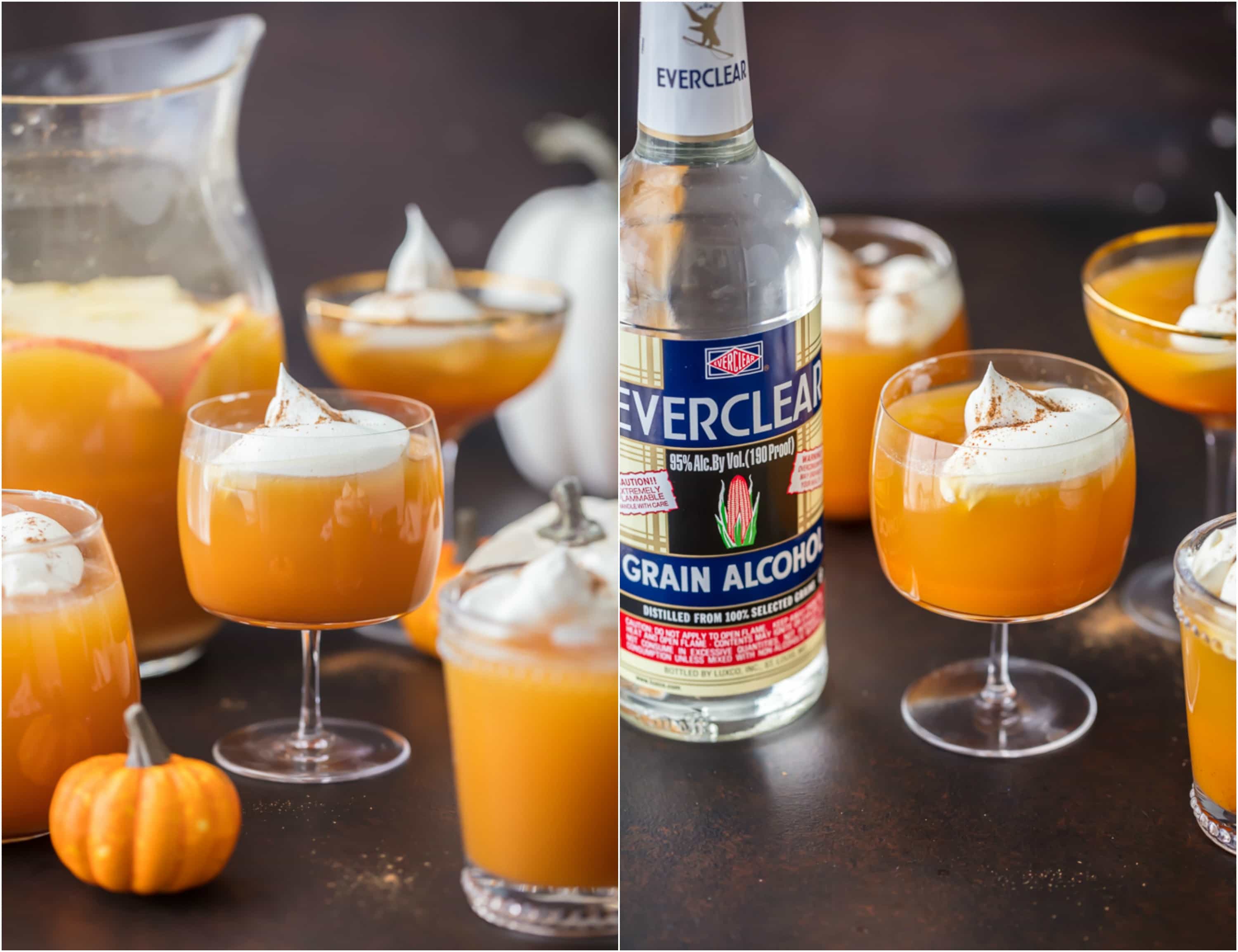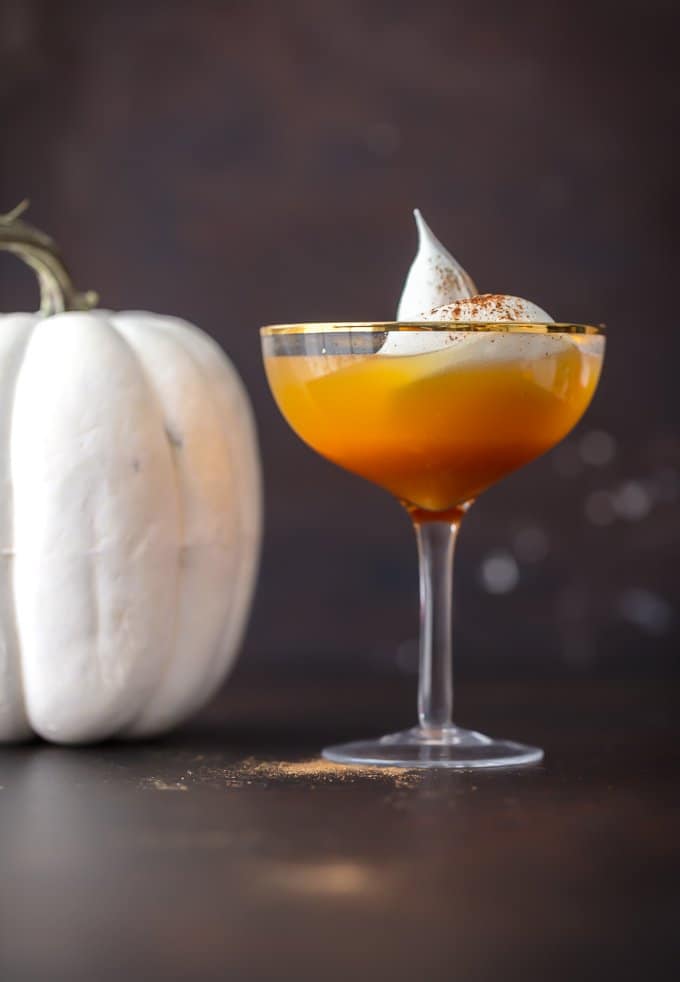 What's in this Pumpkin Cocktail?
This simple Pumpkin Pie Punch only has 5 ingredients…well 6 if you count the whipped cream. You know you can't have pumpkin pie without whipped cream! It takes this fun cocktail from good to great and really leaves an impression.
Pumpkin Punch Ingredients:
Apple Cider
Canned Pumpkin / pumpkin puree
Cream Soda
Pumpkin Pie Spice
Vodka
These pumpkin pie inspired ingredients create the perfect creamy party punch! It's so tasty, so fun, and so easy to make. You can also make this a non-alcoholic punch recipe; just don't add vodka!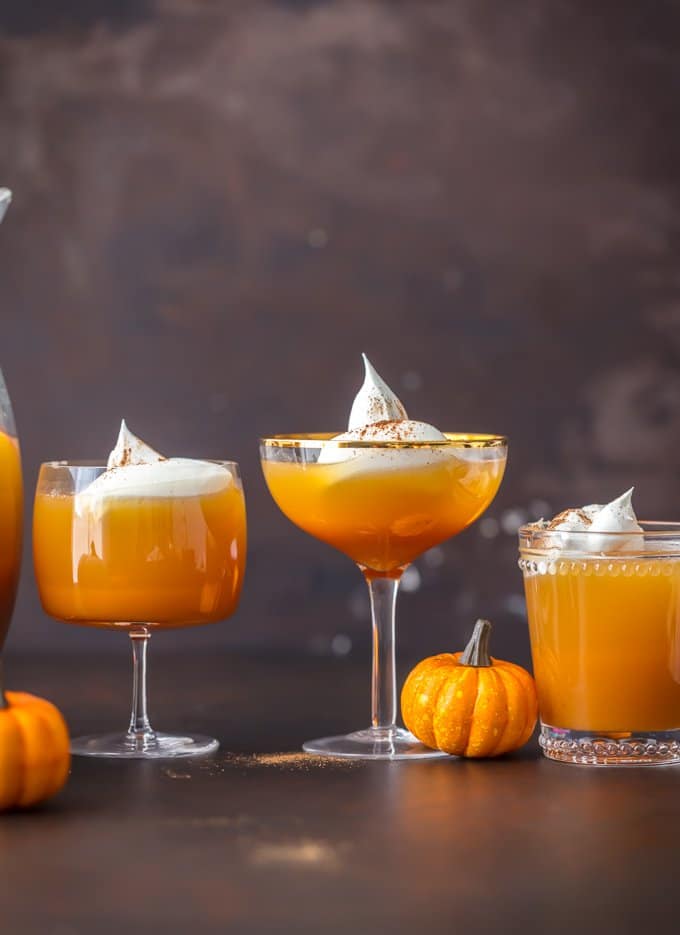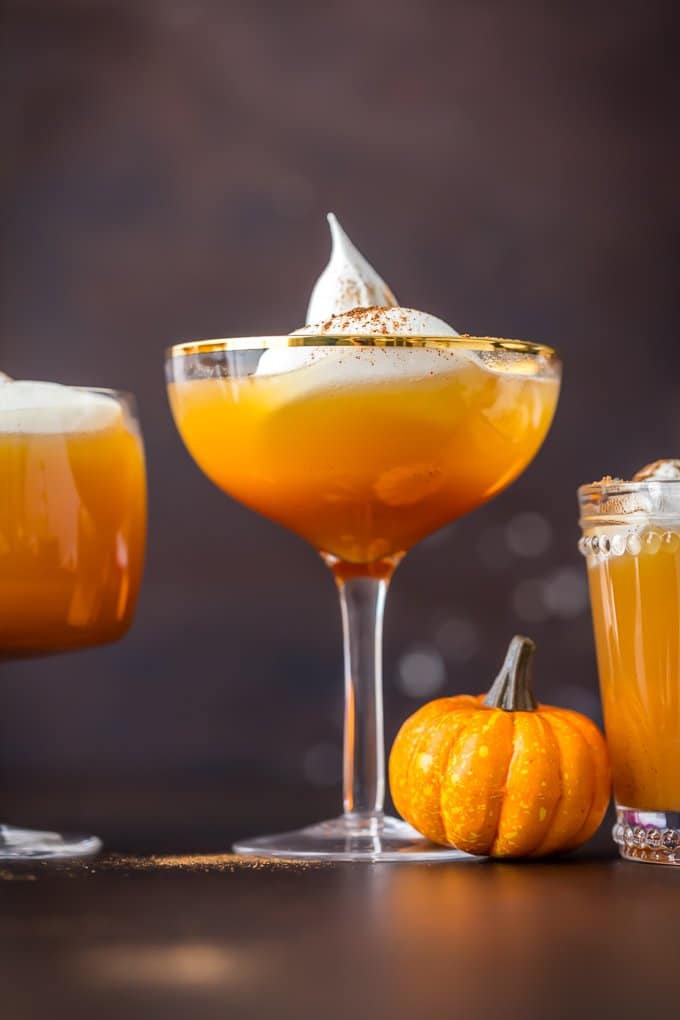 This fall punch recipe really needs to be on the table at your autumn parties and celebrations! Whether you serve it as a halloween punch, at thanksgiving, or on any night you need a fun drink, this pumpkin punch will be a hit!
If you enjoyed this pumpkin pie punch, try these other tasty punch recipes:
If you make this recipe be sure to upload a photo in the comment section below or leave a rating. Enjoy! You can also jump to recipe.