This Pumpkin Pie Skillet Brownie, made healthier by using Sugar In The Raw Organic White and whole wheat flour, is a family favorite for fall! All of my favorite flavors in one easy skillet dessert!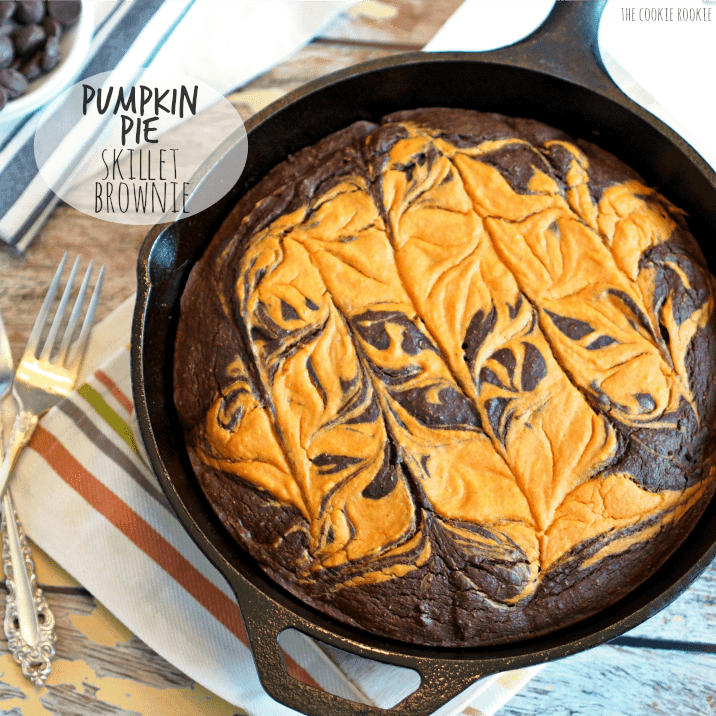 It's always a bit sad when summer comes to an end, bringing on so much change.  Kids and teachers go back to school, the weather becomes cooler, and sun-tans begin to fade (or in my case, sun-burns). Those changes might not bring a smile, but some changes for autumn are good! The absolute best thing about fall is the return of Pumpkin!!
Pumpkin flavors have come to rule autumn! All year I look forward to Pumpkin Pie, Pumpkin Spice Lattes, and everything else Pumpkin that Pinterest can come up with! I'm kicking off Pumpkin Week (You heard me…an entire WEEK!!) here at The Cookie Rookie with one of my very favorite ways to incorporate Pumpkin.  This Pumpkin Pie Skillet Brownie made the house smell amazing, and made me sooo excited for fall.
If you read this blog at all, you know I love chocolate.  Chocolate and cheese, my two weaknesses.  In the fall, you can add pumpkin spice to that list.  Yum.  This brownie has two of my very favorite flavors, and didn't disappoint!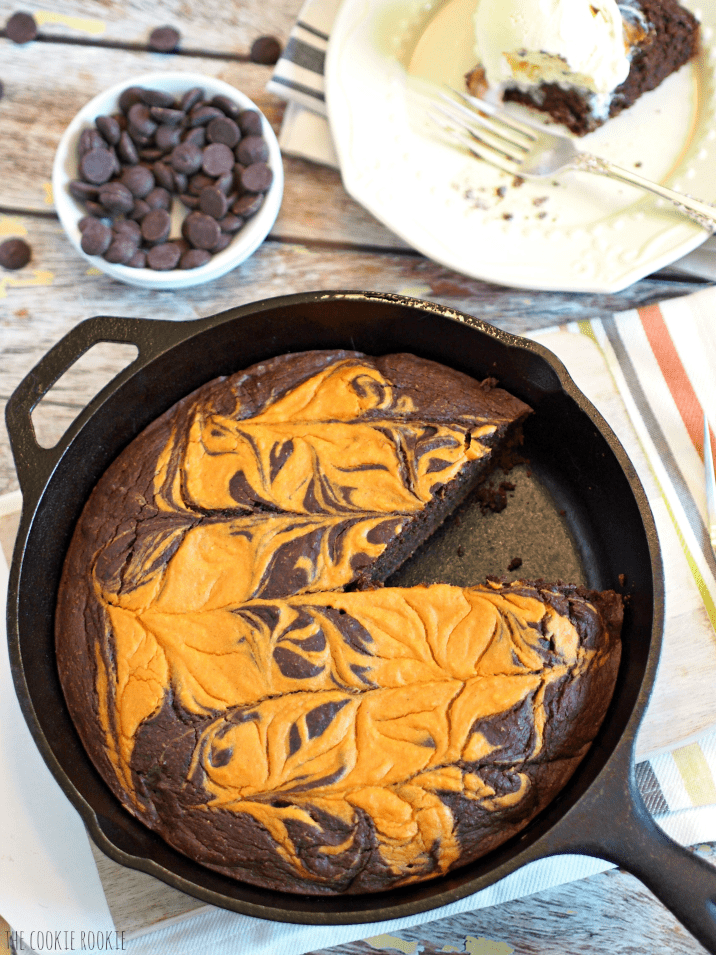 Just because you're making a decadent dessert doesn't mean you can't make healthy choices.  For this Pumpkin Pie Skillet Brownie, I used white whole wheat flour as well as Sugar In The Raw Organic White.  Small and easy substitutions that make a big difference.  The brownie still tastes sinful, believe me!
In The Raw has a family of sweeteners including Stevia In The Raw, Monk Fruit In The Raw, and Sugar In The Raw Organic White.  They are all great, giving you healthier and natural options for sweetening all of the recipes you love.  Sugar In The Raw Organic White is incredibly easy to bake with.  It was the perfect substitute for making this Pumpkin Pie Skillet Brownie. It can be found in stores across the country, as well as online!
I can't wait to bake with In The Raw in the future.  I think I've officially caught the baking bug.  I'm two years into my cooking journey, it's about time!
Click HERE to check out seven other fabulous desserts made healthier using In The Raw products over at Kitchen Daily!
Enjoy! And Happy Pumpkin Week! Click on the top banner or the banner below to see all of our pumpkin spice favorites! (and check back DAILY this week for more!!)
Pumpkin Pie Skillet Brownie
20 minPrep Time
30 minCook Time
50 minTotal Time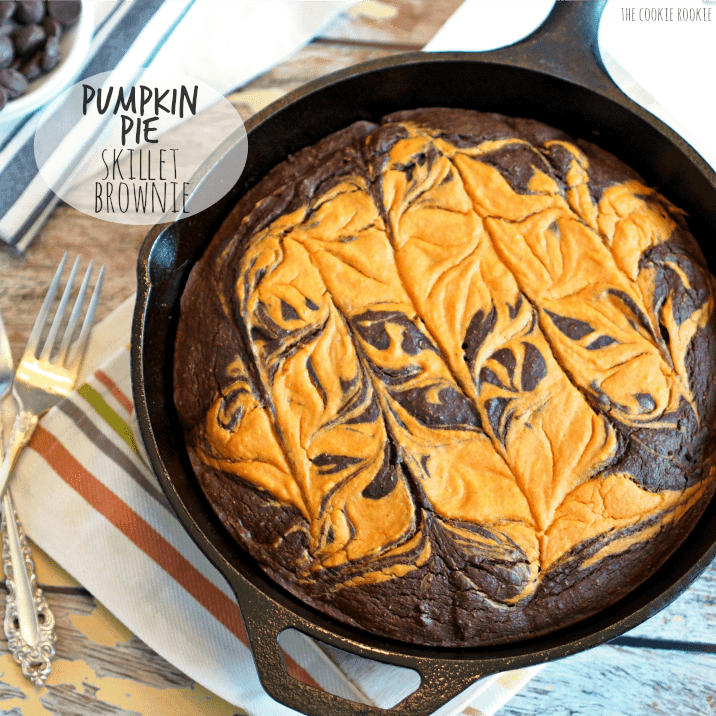 Ingredients
For the Pumpkin Pie topping:

4 ounces reduced fat cream cheese
1/4 cup Sugar In The Raw Organic White
Egg Whites from 1 egg
1 teaspoon pure Vanilla extract
3/4 cup canned pumpkin puree
1 teaspoon pumpkin pie spice

For the Brownie Layer:

1/2 cup Sugar In The Raw Organic White
Egg Whites from 2 eggs
1 cup canned Pumpkin puree
2 teaspoons pure vanilla extract
1/2 cup canola oil
4 ounces good quality bittersweet chocolate, melted and cooled slightly
1 1/4 cup white whole-wheat flour
1/4 cup cocoa powder
1/2 teaspoon baking soda
1/2 cup buttermilk
1/4 teaspoon salt
Instructions
Preheat oven to 350 degrees F. Coat a large cast iron skillet with non-stick spray or olive oil spray.
In a large bowl using an electric mixer, beat cream cheese and 1/4 cup Sugar In The Raw Organic White until smooth. Add egg white from 1 egg and continue to beat. Add 3/4 cup pumpkin puree, 1 teaspoon vanilla, and pumpkin pie spice. Beat until very smooth. Set aside. This is your pumpkin pie layer mixture.
In a large bowl, whisk flour, cocoa powder, baking soda, and salt. Whisk until well incorporated. Set aside.
Using an electric mixer, beat 1/2 cup Sugar In The Raw Organic White, egg white from 2 eggs, 2 teaspoons vanilla, oil, melted chocolate, and 1 cup pumpkin puree. Beat until totally smooth and incorporated. Slowly add the flour mixture and continue to beat until smooth. Finally, add the buttermilk and mix until combined and smooth. This is your brownie mixture.
Pour the brownie mixture into the skillet and smooth out with a spatula. Top with the pumpkin pie layer. Using a knife, slide the knife through the two layers to create a swirled top layer.
Bake for approximately 30 minutes, or until a toothpick comes out of the center clean.
Let cool for about 20 minutes, or until cool, cut and serve! Top with Caramel Gelato or Vanilla Ice cream for an extra special treat!
7.8.1.2
2068
https://www.thecookierookie.com/pumpkin-pie-skillet-brownie/
Compensation for this post was provided by In The Raw ® via AOL Media. The opinions expressed herein are those of the author and are not indicative of the opinions or positions of In The Raw ® or AOL.