Easy and incredibly delicious Roasted Green Beans with Feta and Tomatoes is the only way to eat green beans! Perfect side for every meal! There's something about how feta mixes in with tomatoes and green beans that is so delicious!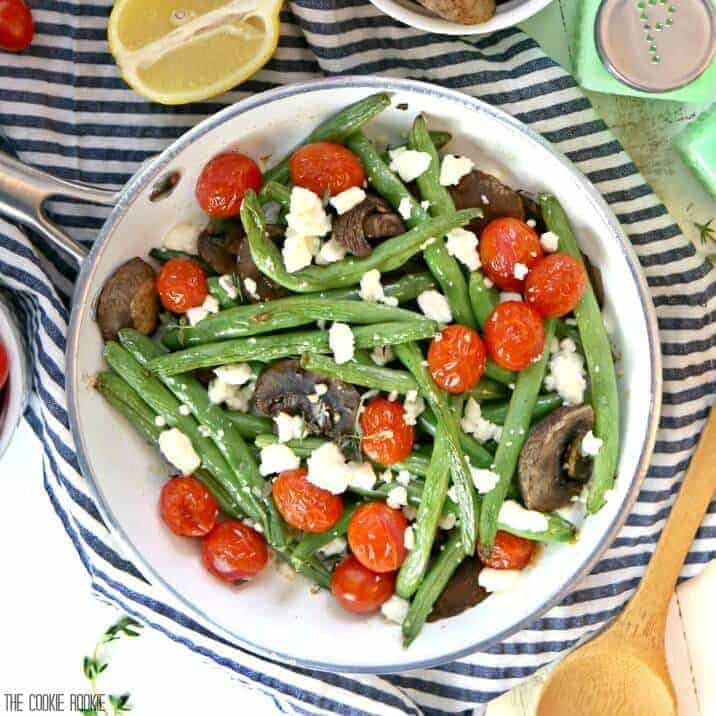 Roasted Green Beans Recipe
Who's in the mood for a super easy, super delicious, and INCREDIBLY flavorful side dish to make for Easter (or any day of the year)??? If you're still looking for the perfect recipe for this weekend, you've come to the right place.
Roasted Green Beans with Feta and Tomatoes (and mushrooms!) is all of those things, and thrown together in minutes!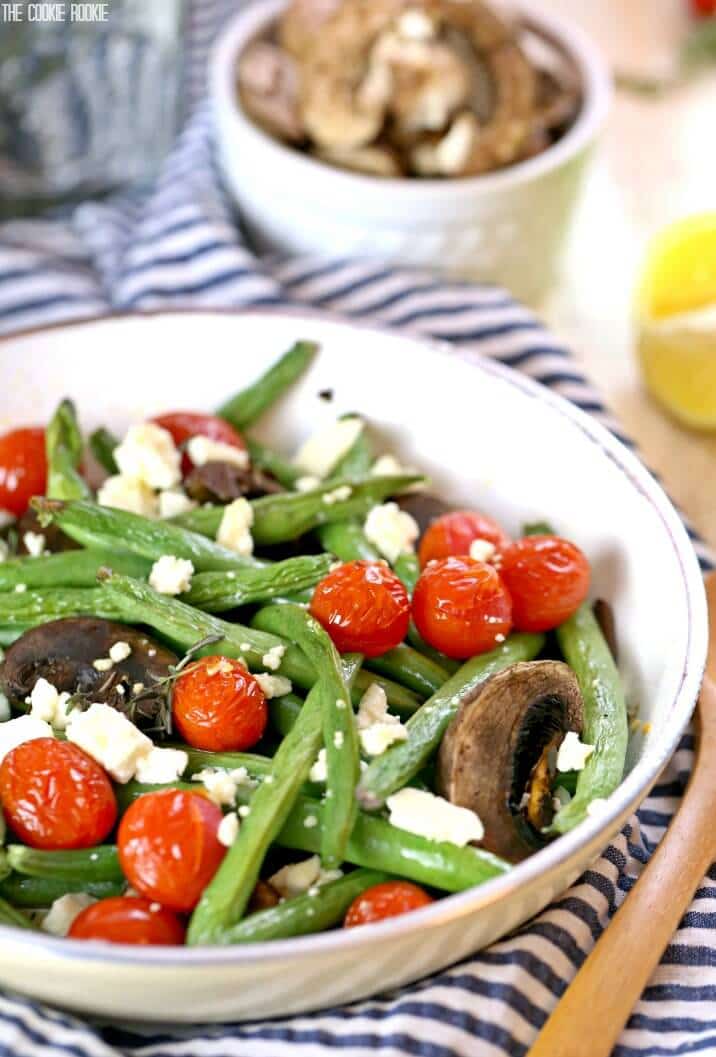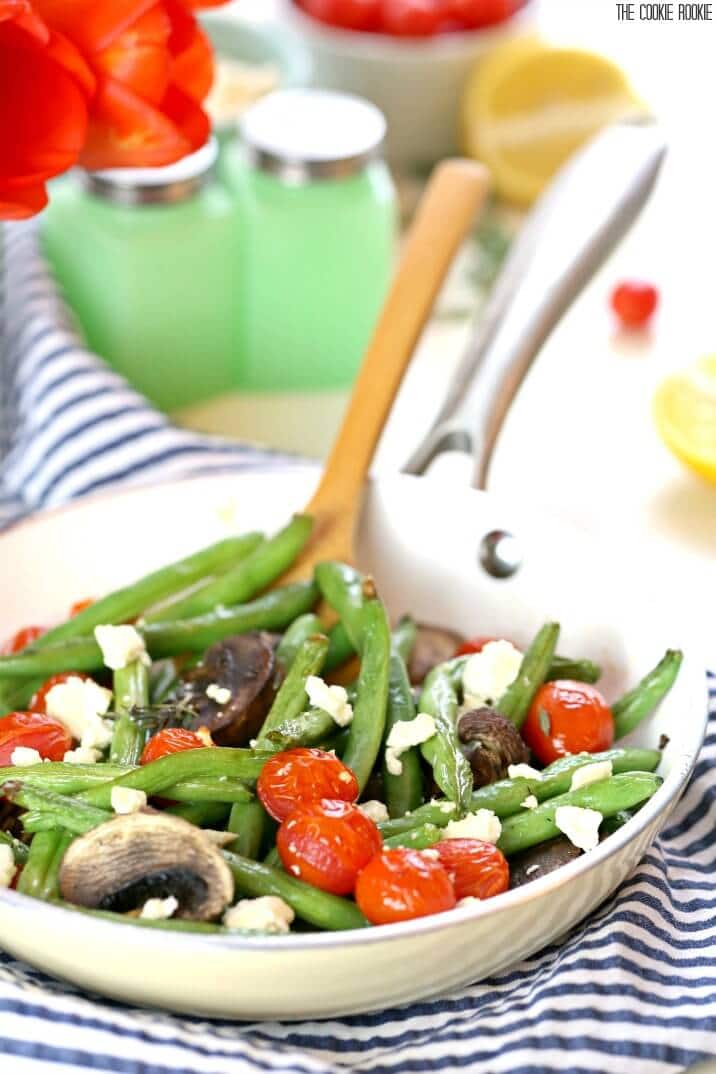 I participated in a blog hop this month, and it was such a fun experience. It was a fun way to meet other bloggers, and try out some of their best recipes! The blogger I was assigned was Tamara from Beyond Mere Sustenance. I LOVE her beautiful site. She is a self-proclaimed "foodie", but also loves the togetherness that a love of food brings.
"Food can (and should) be more than just a way to fill your belly and keep it quiet. It can be an adventure, it can provide comfort, it can become part of the foundation of a strong family across generations."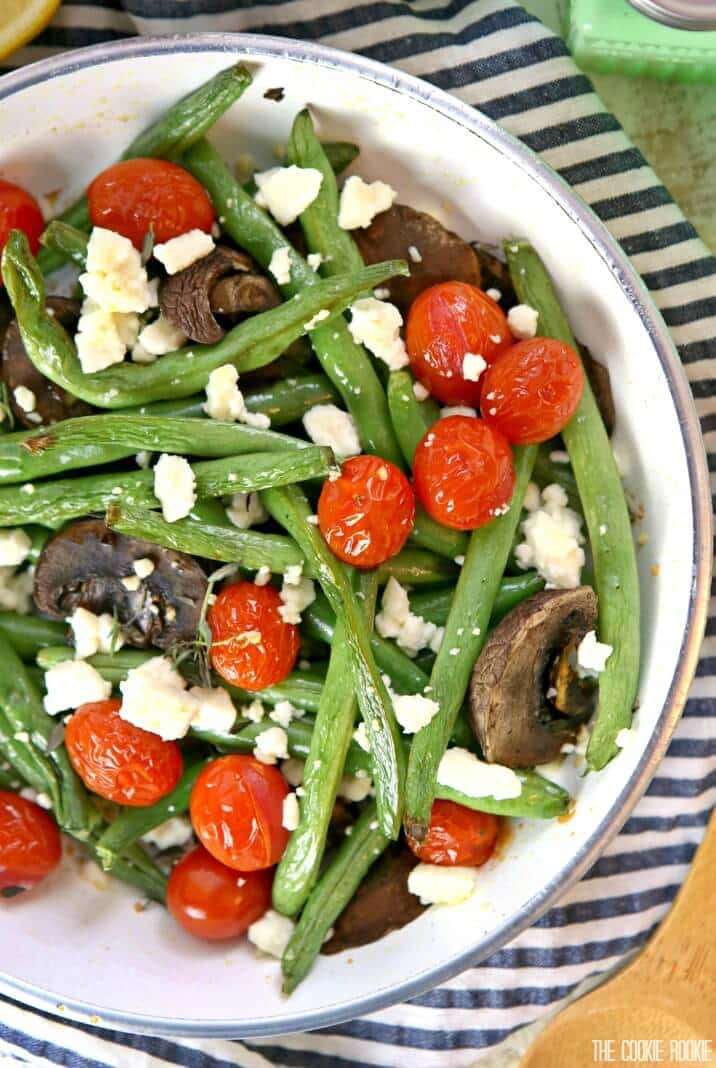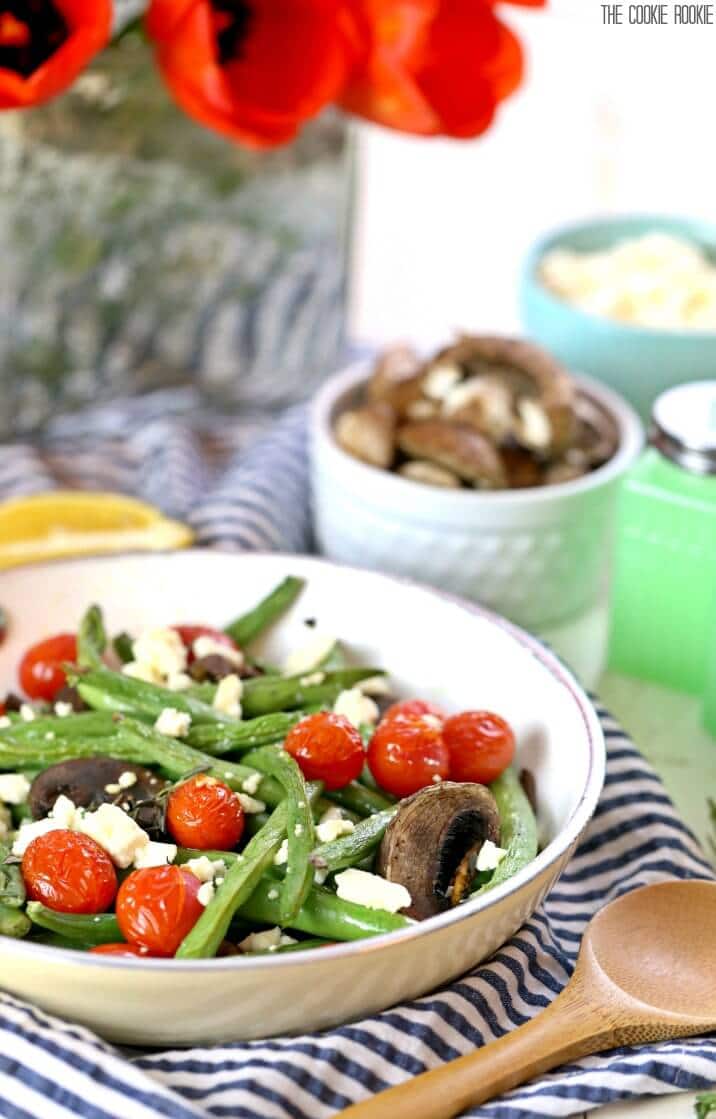 It was hard to pick just one recipe from her site to recreate! I loved so many. I can't wait to try her Miso and Orange Glazed Chicken (!!!!), Chicken and Cilantro Soup, or Irish Scallop Bisque. She has dishes with such bright and distinct flavors, and a flare for describing each recipe in a way that makes you feel you can actually taste them!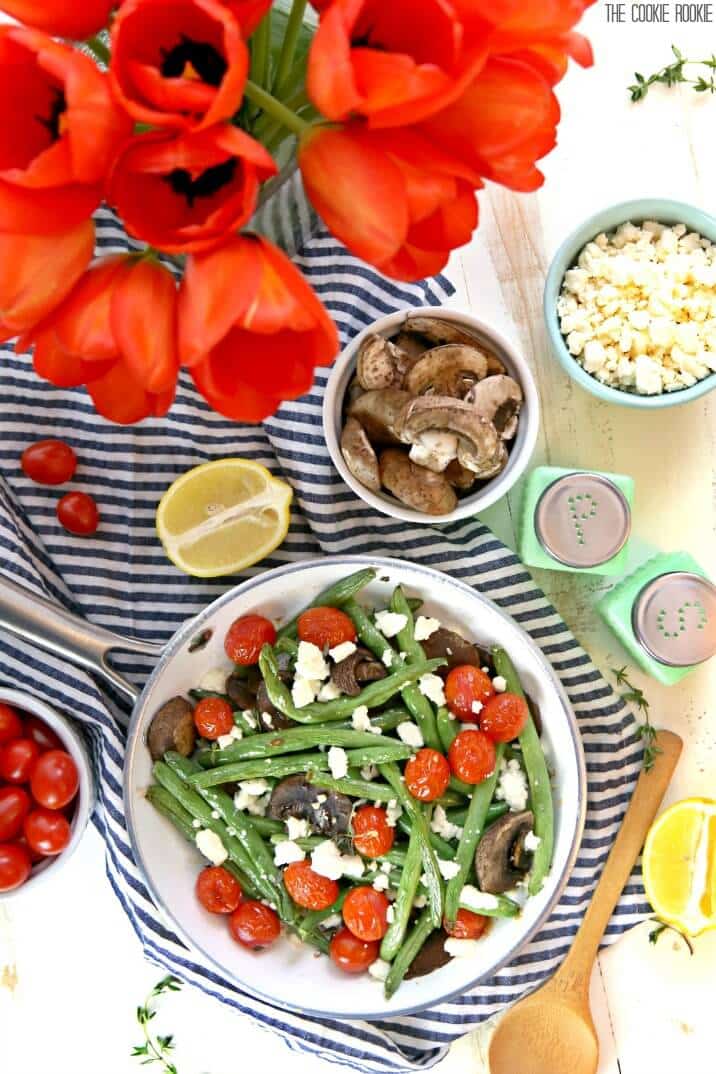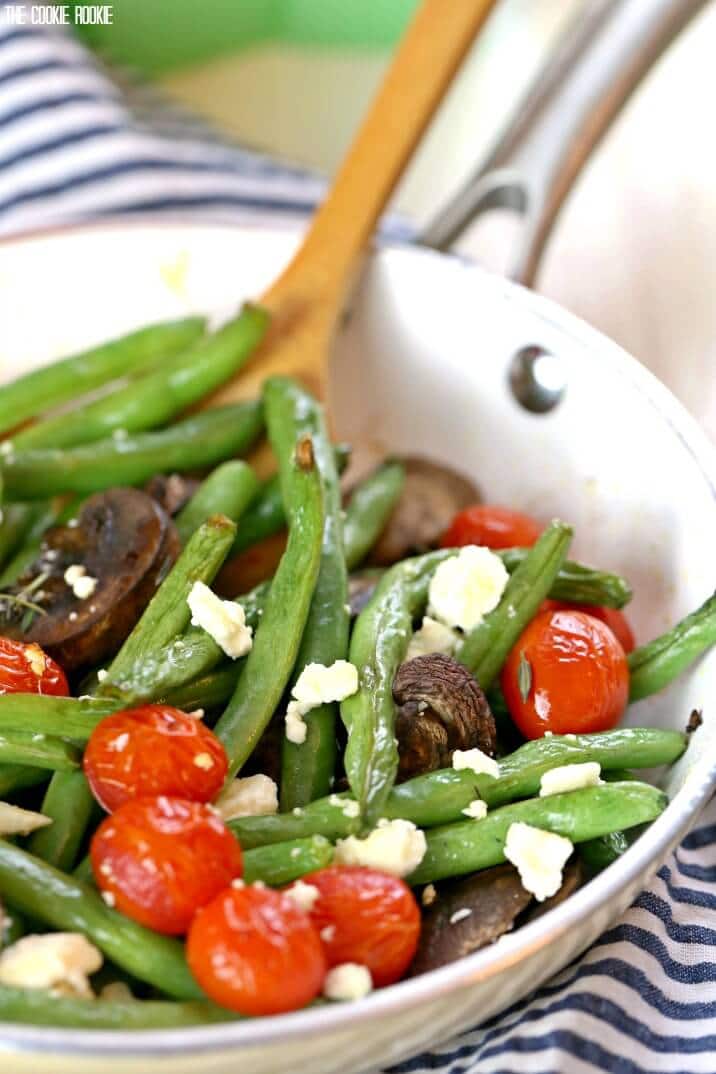 I chose to recreate her Roasted Green Beans with Tomatoes and Blue Cheese, because, well check out that post! The gorgeous colors, the bright flavors, the fresh prep. I loved everything about it. I put my own spin on it by using Feta instead of Blue Cheese. Pat can be a picky eater, and loves his Feta. I love blue cheese and think it would be a lovely compliment to these flavors. Be sure to try it Tamara's original way as well!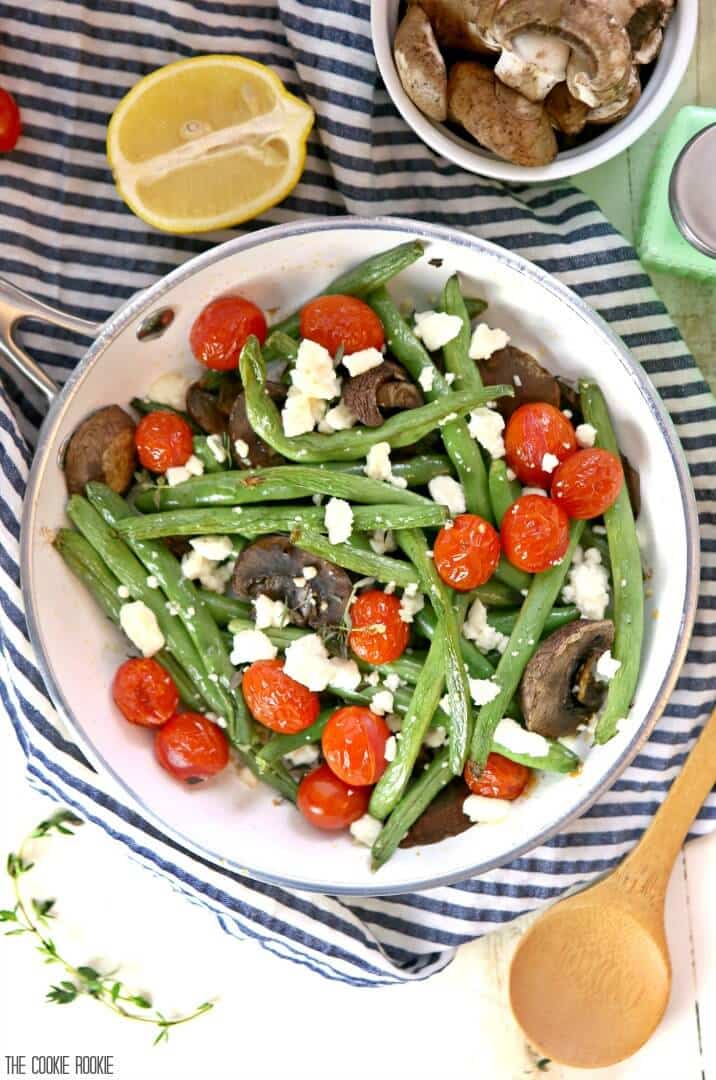 Thank you so much Tamara for allowing me to explore your blog, pick your brain, and recreate one of your delicious recipes! It was quite a tasty treat. I look forward to making more of her recipes in the future! Enjoy! And be sure to try our Crispy Baked Green Beans too.