Salted Caramel Apple Popcorn Bars are the crazy, fun, holiday version of those boring rice crispy treats. YUM!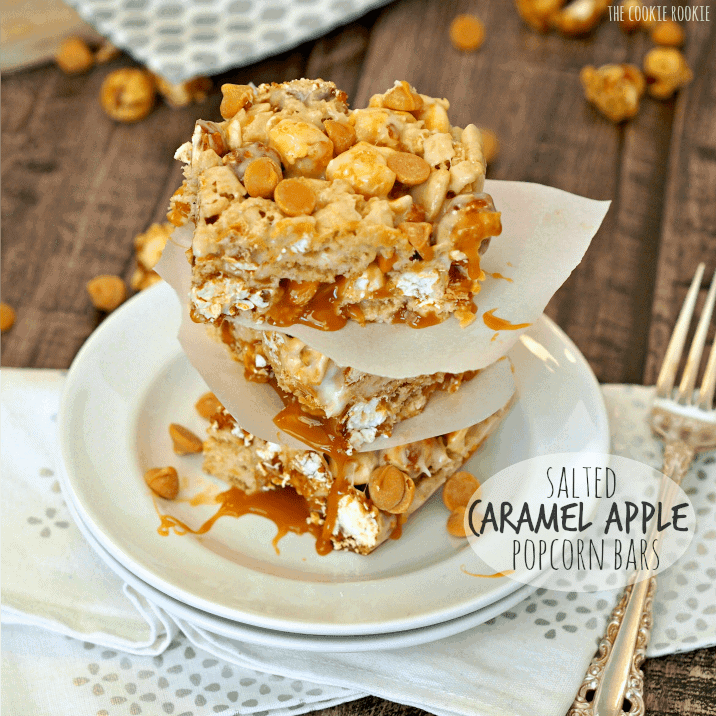 So many fun things happening in our little world!
My brother and sister in law find out the sex of their second baby tomorrow (They better tell us!), the ROYALS are about to play in the ALDS, and I've been snacking on these Salted Caramel Apple Popcorn Bars.
One of those may seem less exciting than the others, but these are pretty special.  Pretty exciting for sure.
I mean…do you see all that caramel?? If that's not exciting, I don't know what is.  Ooey, gooey, caramel smushed between layers of caramel apple popcorn goodness.  Autumn in a dessert bar.  Like Rice Crispy Treats took some steroids and sat on my counter.
You know during the holidays when every office is packed with amazing tins of popcorn and cookies? Now you know what to do with it all.  I made these with Caramel Apple Popcorn from The Popcorn Factory.  Their Caramel Lovers Collection KILLS ME.  Its too much goodness.
If you don't have access to caramel apple popcorn, I've still got you covered.  One of my favorite blogs, Eat The Love, has a delicious recipe for Caramel Apple Popcorn.  So good.  Or you could use only caramel popcorn.  These bars would still be amazing, trust me!
Too much excitement around here.  Can't wait to find out about the little girl or boy TOMORROW! Can't wait for the Royals game tonight!! Can't wait to stuff my face with these bars through both events! Enjoy :)
Salted Caramel Apple Popcorn Bars
20 minPrep Time
30 minCook Time
50 minTotal Time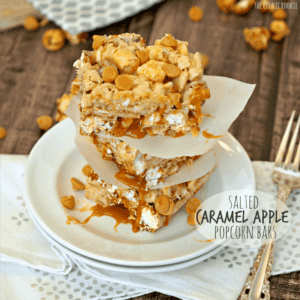 5 based on 1 review(s)
Ingredients
2 cups Caramel Apple Popcorn (find a great recipe here: http://www.eatthelove.com/2013/10/caramel-apple-popcorn/)
2 cups Caramel Popcorn
4 cups vanilla chex cereal
1 cup butterscotch baking chips
6 cups mini marshmallows, divided
1 jar smuckers salted caramel sauce (or your favorite brand)
12 ounces butter, divided
Instructions
In a large microwave safe bowl, melt 3 cups marshmallows with 6 ounces butter. I microwaved for 1 minute, stirred, and then again for 20 more seconds. Stir completely.
Mix in 1 cup caramel popcorn, 1 cup caramel apple popcorn, and 2 cups vanilla chex with the marshmallow mixture. Stir until well combined.
Pour mixture into the bottom of a sprayed or greased 9x13 baking dish. (Tip: spray your hands with nonstick spray in order to press the mixture down firmly into the pan) You want a tight mixture with as little holes as possible.
Pour jar of caramel over top of the popcorn mixture. (heat up in the microwave according to package instructions)
Sprinkle half of butterscotch chips over the caramel.
Repeat with next batch of marshmallows and butter. Stir in remaining popcorn and cereal and repeat. Press mixture over caramel. Sprinkle with remaining butterscotch chips.
Refrigerate for at least 30 minutes to allow bars to set before cutting and serving. Enjoy!
7.6.7
1731
https://www.thecookierookie.com/salted-caramel-apple-popcorn-bars/