Shrimp and Goat Cheese Tartlets! They're such an elegant and delicious appetizer for any party. Puff pastry rounds topped with tomatoes, feta, and tomatoes… simple yet so delicious!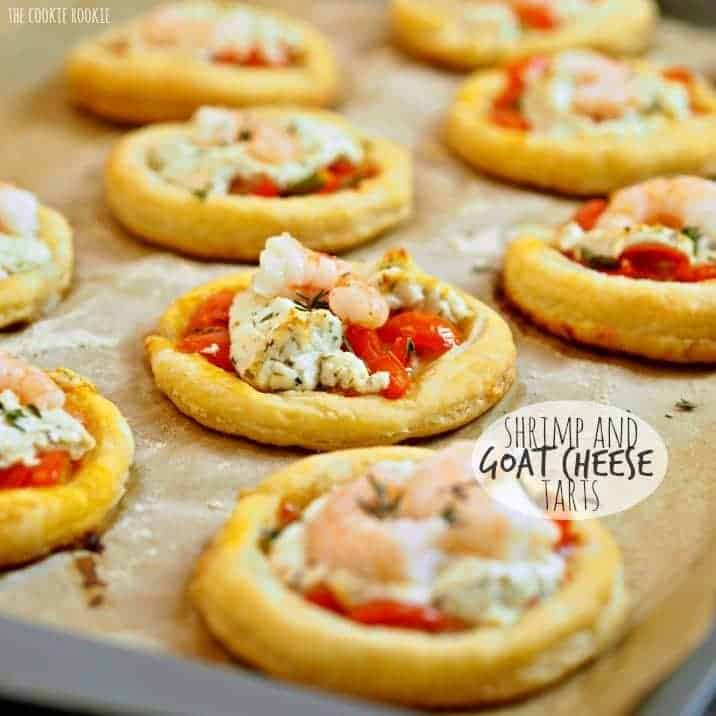 Start the Holiday Recipe Season Off Right!
So…it officially snowed this weekend. I wasn't ready. We don't have a snow shovel. We are never prepared! But now that it's officially winter…I can legally post holiday recipes, right? I have a great appetizer for you today: Shrimp and Goat Cheese Tarts. Beautiful, delicious, and as always, EASY! First and foremost, easy. People will be impressed, so it can be our little secret!
The holidays bring all sorts of cooking opportunities, even for people who are rarely in the kitchen. I remember back before I learned how to cook (I probably shouldn't use "learned" in past tense…it's more of an ongoing thing!), Christmas and Thanksgiving would always give me party anxiety. All of those parties and potlucks. All of these places I needed to contribute a dish. Pat and I would almost always stop by the closest Buffalo Wild Wings before heading to friends' houses and pick up something to go. Tasty yes, but also embarrassing. No more!
Why You'll Love These Goat Cheese Tartlets
Super simple! Five minutes to prep and only 15 more to bake – so easy!
Addictive and delicious. Flaky puff pastry is topped with creamy goat cheese and plump shrimp – so good.
Perfect for parties. This is such a crowd pleaser, packed with flavor and visual appeal.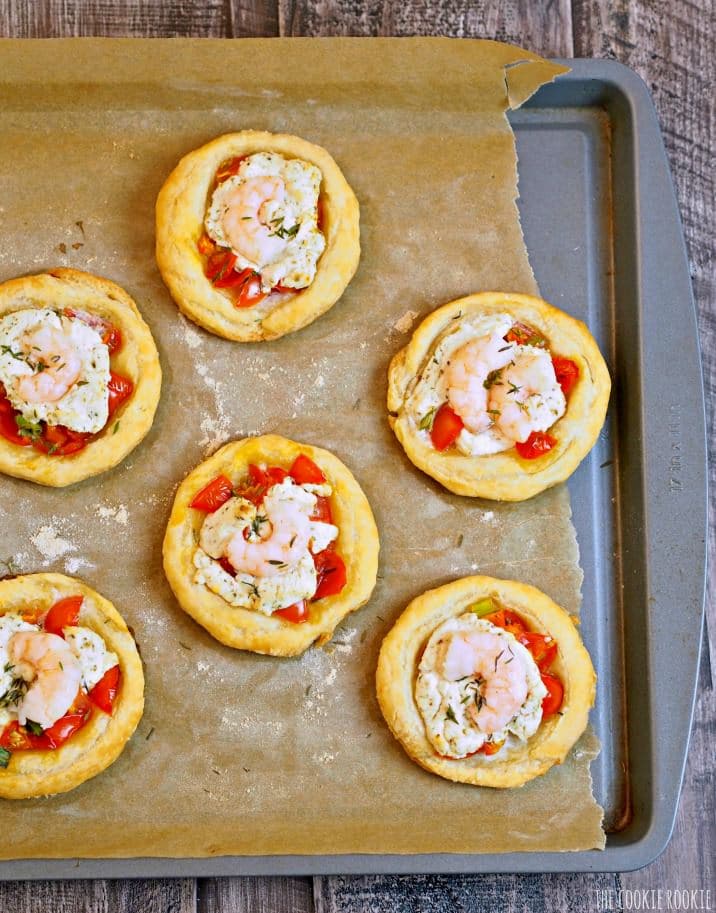 Ingredients
Tomatoes: Chopped cherry tomatoes look so pretty.
Thyme: Fresh is best.
Green onion: Diced.
Puff pastry: Packaged puff pastry works great, and Pillsbury is my go-to brand.
Goat cheese: Look for good quality cheese with a bit of seasoning, like garlic and herb flavor.
Shrimp: Cooked, with tails off.
How to Make Goat Cheese Tarts
Combine tomatoes, thyme, and green onion and set aside.
Unroll the thawed puff pastry and cut out circles with a glass or biscuit cutter.
Top with the tomato mix and add a slice of goat cheese.
Bake, add shrimp and bake a bit longer. Serve warm or cold.
Trademark note: In the spirit of transparency, please note that some of these ingredients are trademarked products. Pillsbury is a proprietary brand that I want to acknowledge and give credit to.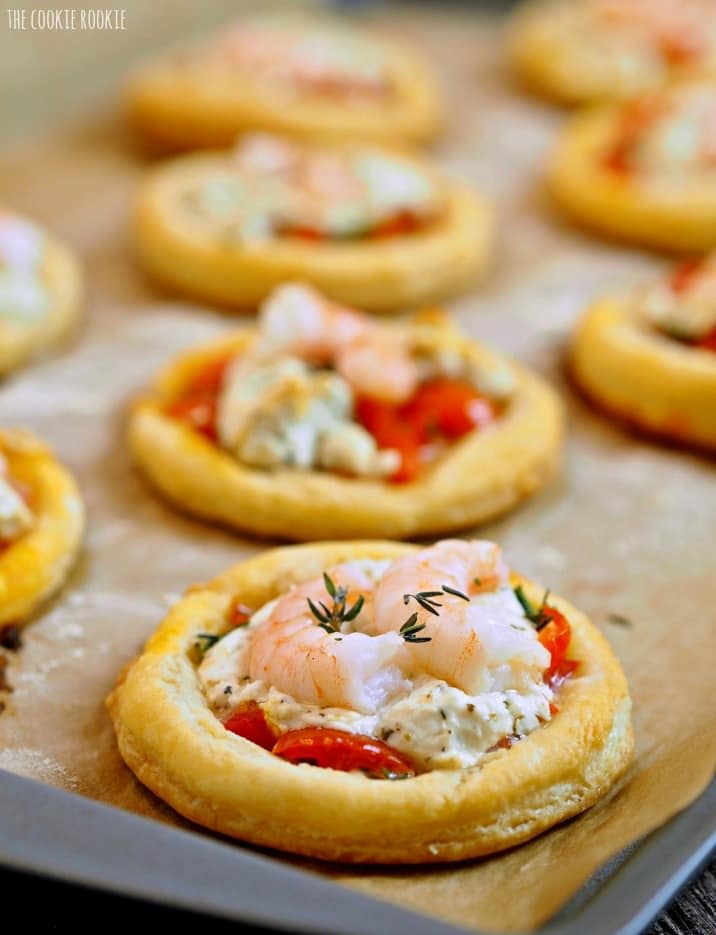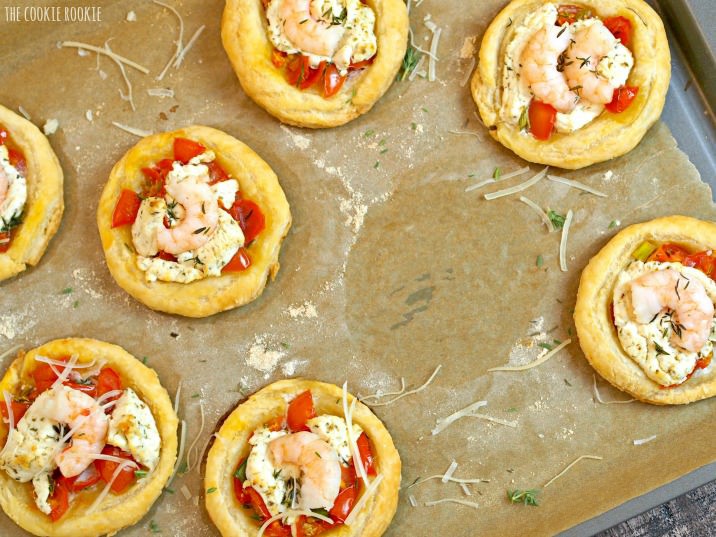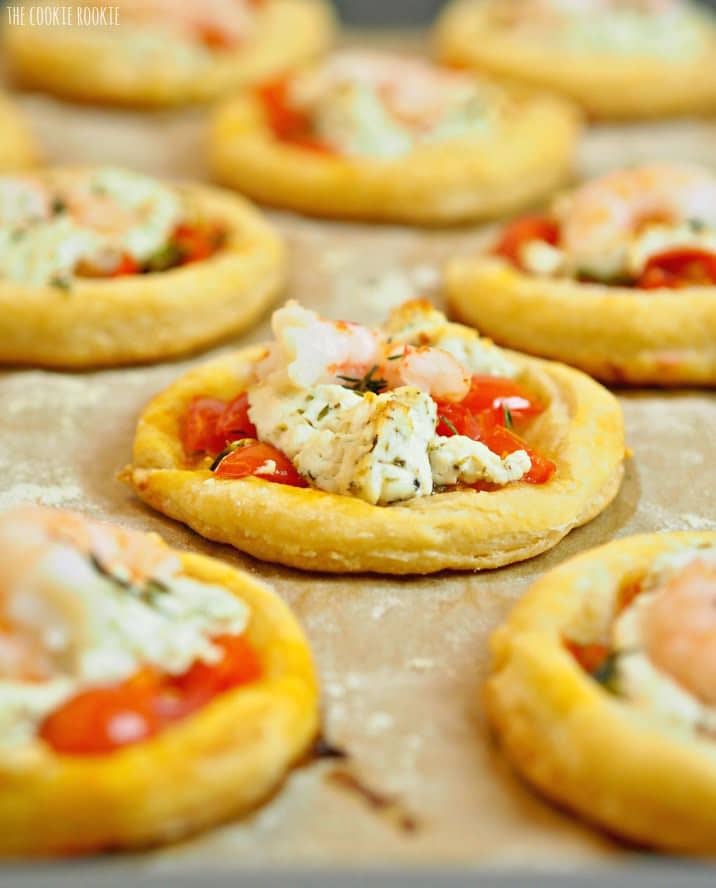 These Look Pretty Fancy. Are They Tricky to Make?
These tartlets look intricate and involved, but really, they are so easy. Impress your friends and family, delight your tastebuds, and no one has to know the truth. You can make these beauties in under 20 minutes and be out the door. That's quicker than a trip to Buffalo Wild Wings!
I'm obsessed. These Shrimp and Goat Cheese Tarts might just be the perfect holiday appetizer! Enjoy!
Can You Make These Tartlets Ahead of Time?
Yes, of course! That's one more reason why I love this recipe so much. All you have to do is make the tarts, assemble, cover, and refrigerate. Then 5 minutes before guests arrive, add the shrimp, heat, and serve!
What Kind of Shrimp Works Best?
There are so many kinds of shrimp to choose from. For convenience, look for pre-cooked, deveined shrimp with heads and tails removed. Any size will work, but it's nice if you can find shrimp that are about the size of the tart, so it looks generously filled. Extra-large or jumbo would be best–but any size works. Even the tiny salad shrimp will be fine–just use 2 or 3 of them.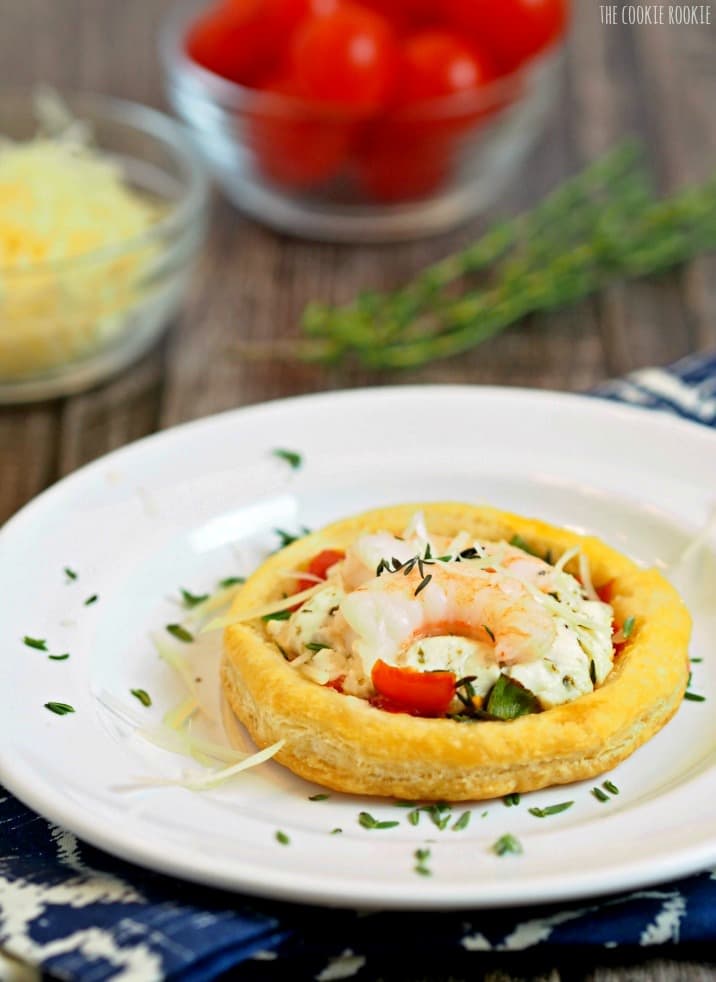 Other delicious cheese appetizers
Have you tried these Goat Cheese Tartlets? Feel free to leave a star rating and I'd love to hear from you in the comments below!