Shrimp and Goat Cheese Tarts! An elegant and delicious appetizer for any party. Puff pastry rounds topped with tomatoes, feta, and tomatoes. Simple yet so delicious!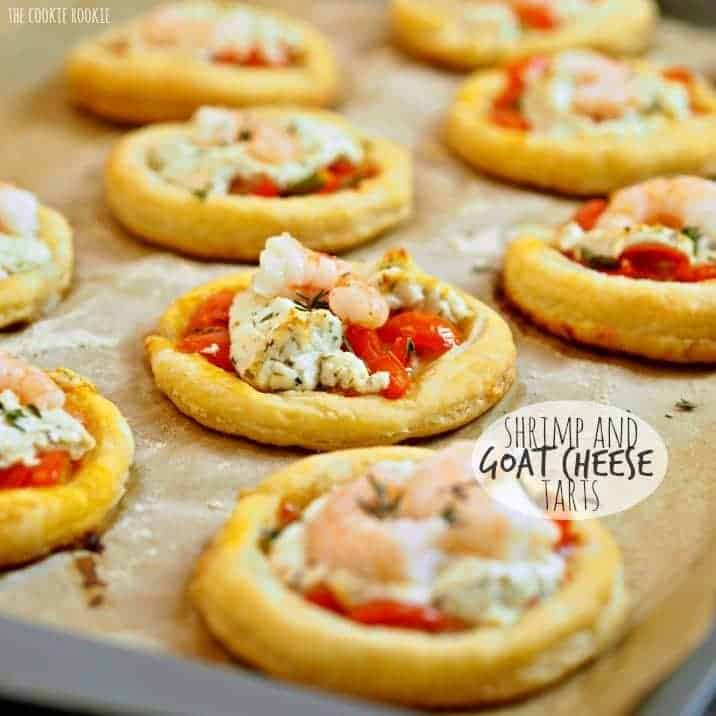 So…it officially snowed this weekend.  I wasn't ready.  We don't have a snow shovel.  We are never prepared! But now that it's officially winter…I can officially post holiday recipes, right? I have a good one for you today.  Shrimp and Goat Cheese Tarts.  Beautiful, delicious, and as always, EASY! First and foremost, easy.  People will be impressed, it can be our little secret!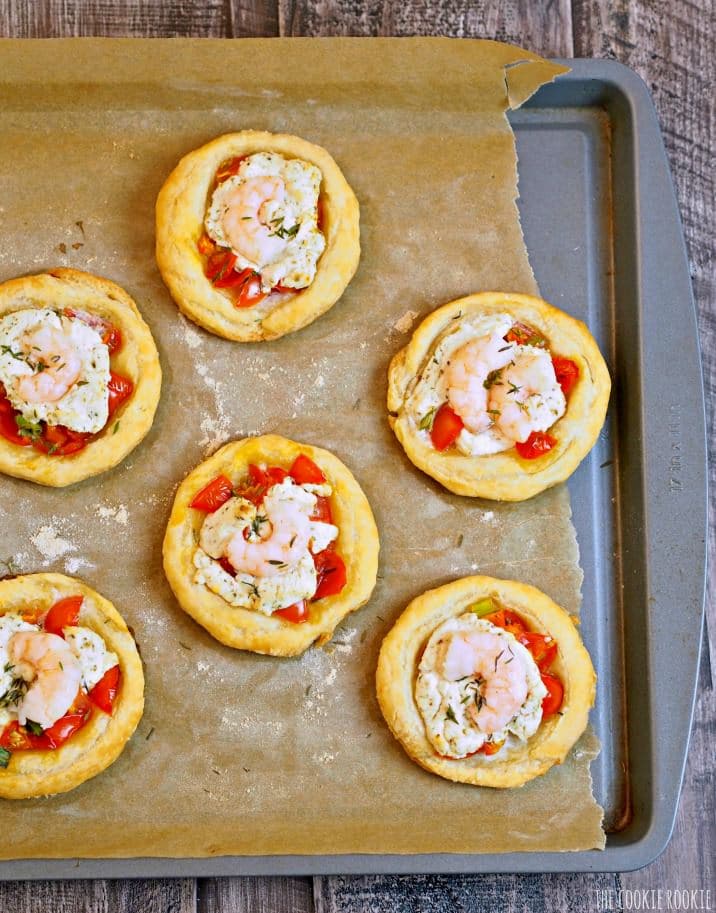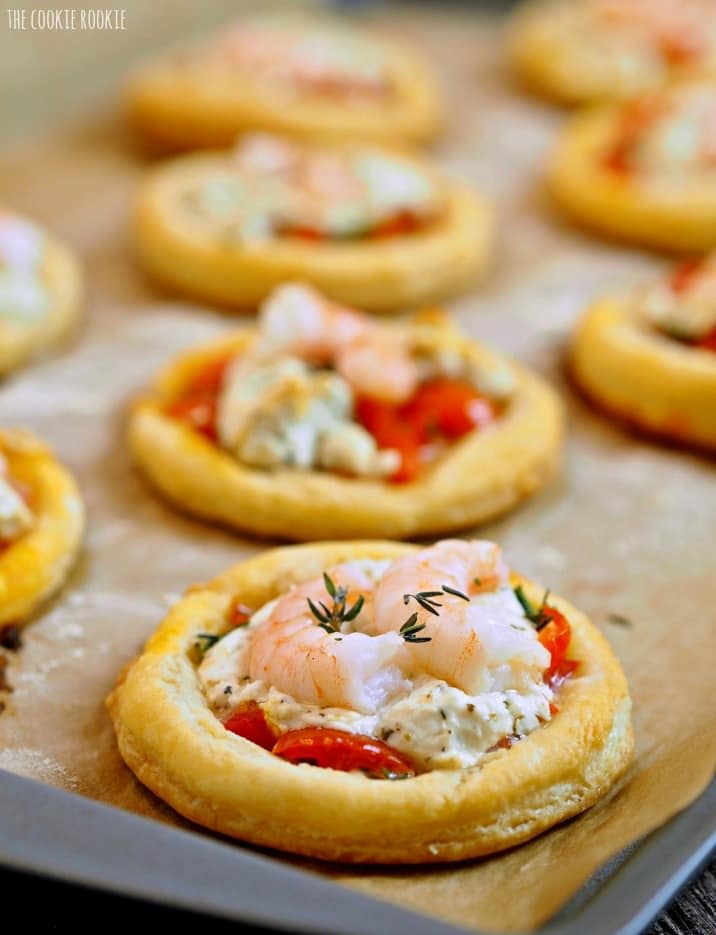 The holidays bring all sorts of cooking opportunities, even for people who are rarely in the kitchen.  I remember back before I learned how to cook (I probably shouldn't use "learned" in past tense…it's more of an ongoing thing…), Christmas and Thanksgiving would always give me party anxiety.  All of those parties and potlucks.  All of these places I needed to contribute a dish.  Pat and I would almost always stop by the closest Buffalo Wild Wings before heading to friends houses. Tasty yes, but also embarrassing.  No more!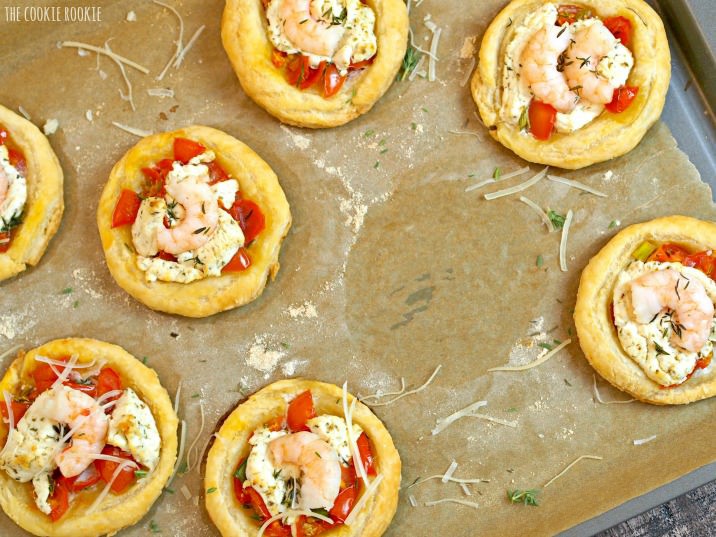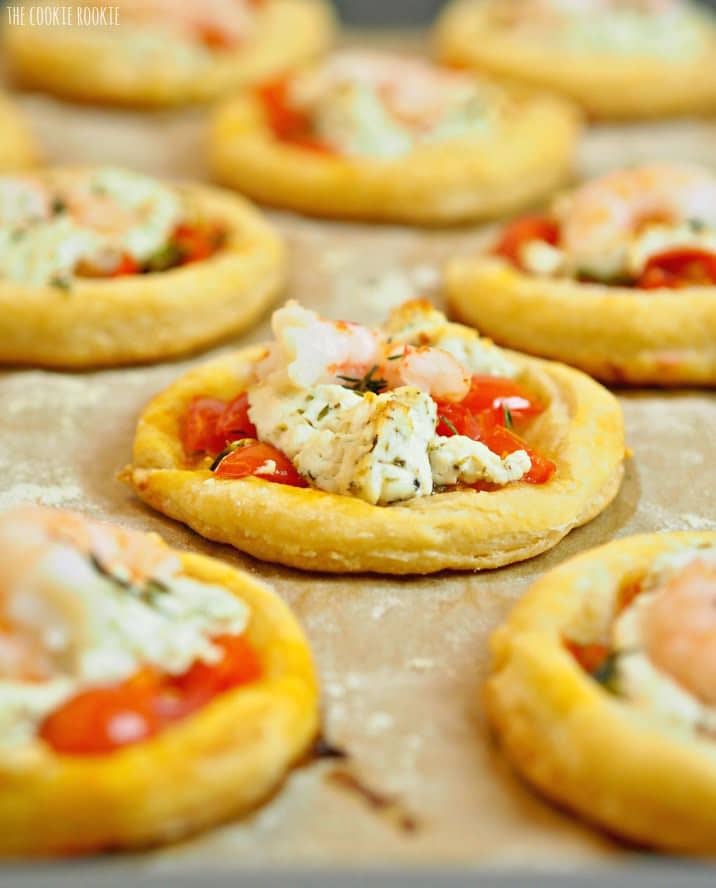 Appetizers like these Shrimp and Goat Cheese Tarts are perfect for holiday parties.
They look intricate and involved, but really they are so easy.  Impress your friends and family, delight your tastebuds, and no one has to know the truth.  You can make these beauties in under 20 minutes and be out the door.  That's quicker than a trip to Buffalo Wild Wings!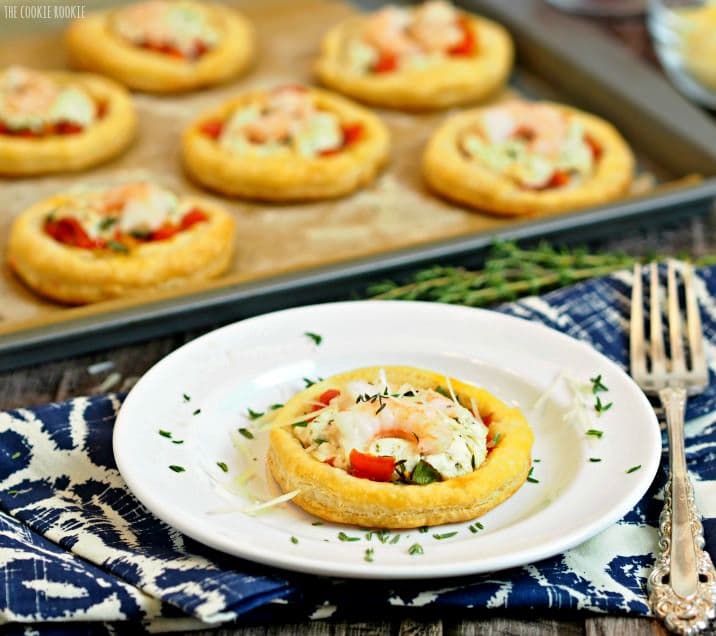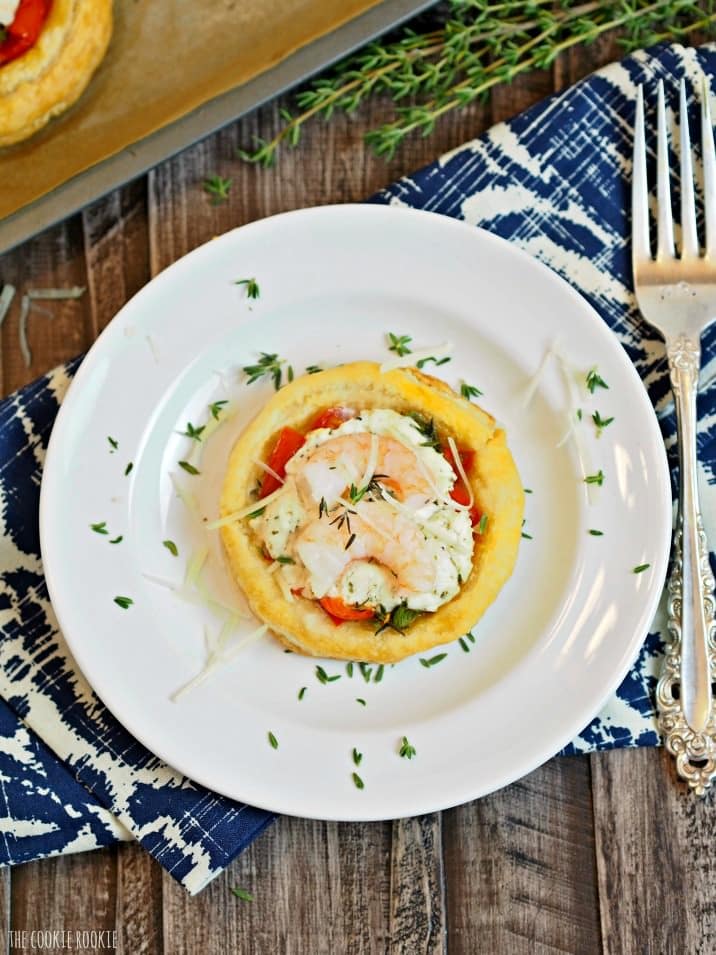 I'm obsessed.  These Shrimp and Goat Cheese Tarts might just be the perfect holiday appetizer! Enjoy!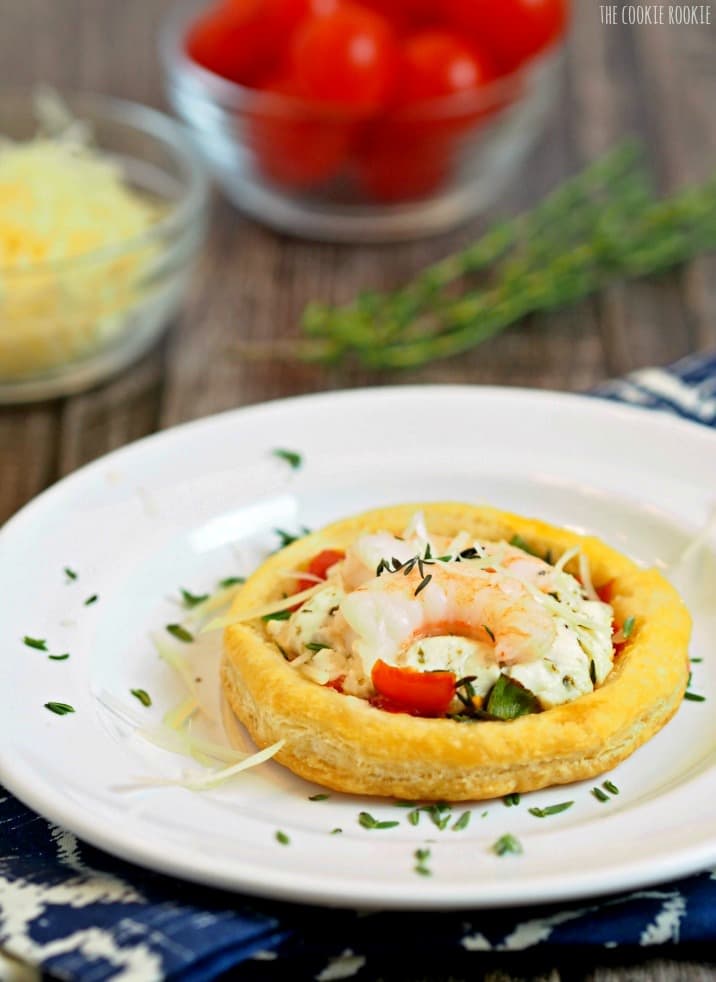 Ingredients
2 sheets (1 package) Pillsbury Frozen Puff Pastry, thawed
4 ounces quality garlic and herb goat cheese
1 cup cherry tomatoes, diced
1/2 tablespoon fresh thyme
20 cooked shrimp, tails cut off
1/2 cup diced green onion
Instructions
Preheat oven to 400 degrees. Line a large baking sheet with parchment paper. In a small bowl, combine tomatoes, thyme, and green onion. Stir until combined. Set aside.
On a floured surface, unroll puff pastry (already thawed according to package instructions) sheets. Cut each sheet into 5-6 circles (I used the top of a cocktail glass to make my circles). Place the circles onto the baking sheet.
Using a sharp knife, scour the edge of each circle about a half inch in. This will allow the pastry to bake up around the toppings.
Top each circle with 1-2 tablespoons of the tomato mixture, depending on the size of your circles. Stay within the scoured lines.
Top with a slice of goat cheese, about 1/2 inch thick.
Bake for approximately 10 minutes. Pastry will begin to puff up but will not yet be browned. Top each tart with 1-2 shrimp and continue cooking for another 5 minutes, or until shrimp is warmed and pastry is completely cooked. Serve warm or cold.
7.6.4
1741
https://www.thecookierookie.com/shrimp-goat-cheese-tarts/

JOIN OUR MAILING LIST
TO GET COOKING!
Subscibe to recieve all the latest, greatest, and EASIEST recipes sent straight to your email inbox. If we post something yummy, you'll be the first to know.