Skillet Bean and Cheese Dip with Pull Apart Bread!! I don't say this lightly; BEST DIP EVER!! Any dip that has its bread baked right in has to be good!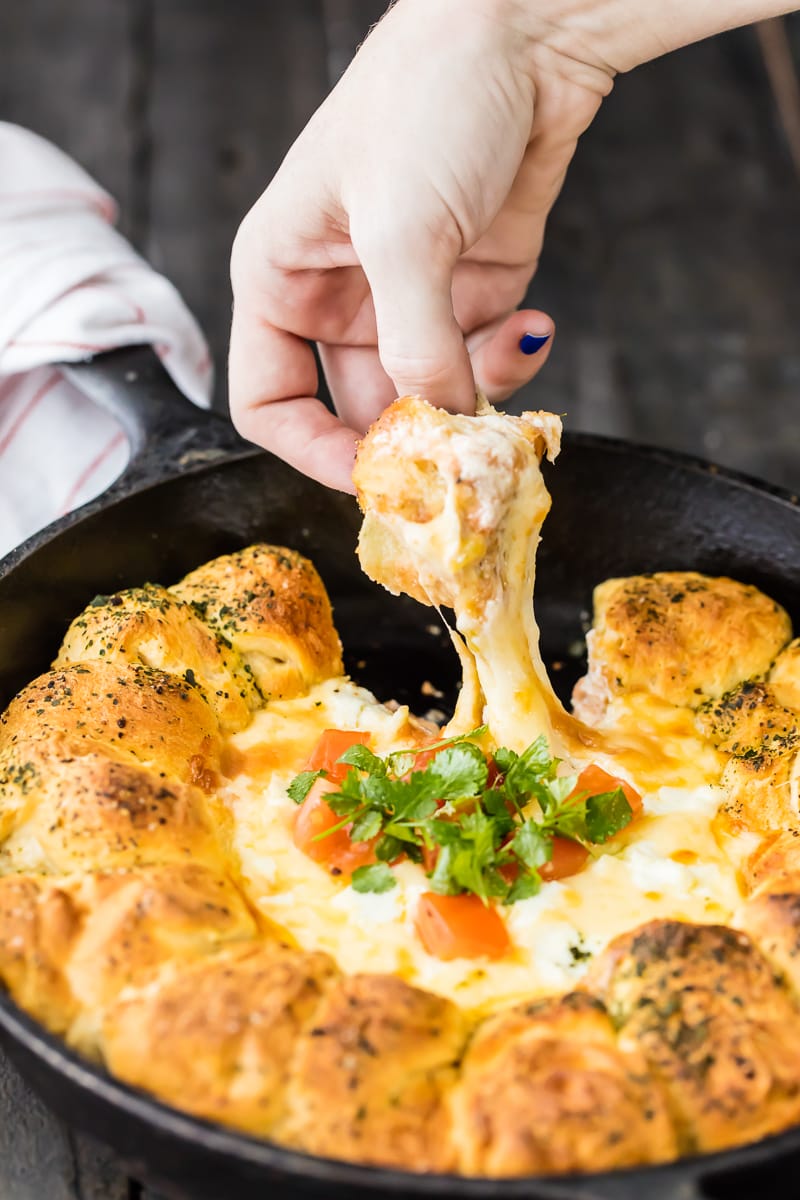 This Skillet Bean and Cheese Dip with Pull Apart Bread just changed my life. I thought I had tried every cheesy dip in the book. I thought I had my favorites. I still love all those dips that you can find in my appetizer archives (there are a LOT), but there's a new favorite in town. THIS DIP HAS IT ALL. Cheese? Check. Beans? Check. Spicy green chilis? Check. Warm pull apart bread ready for dipping into the before mentioned ingredients? Check. ALL MADE IN ONE SKILLET AT THE SAME TIME????? Check. Yes. Heaven.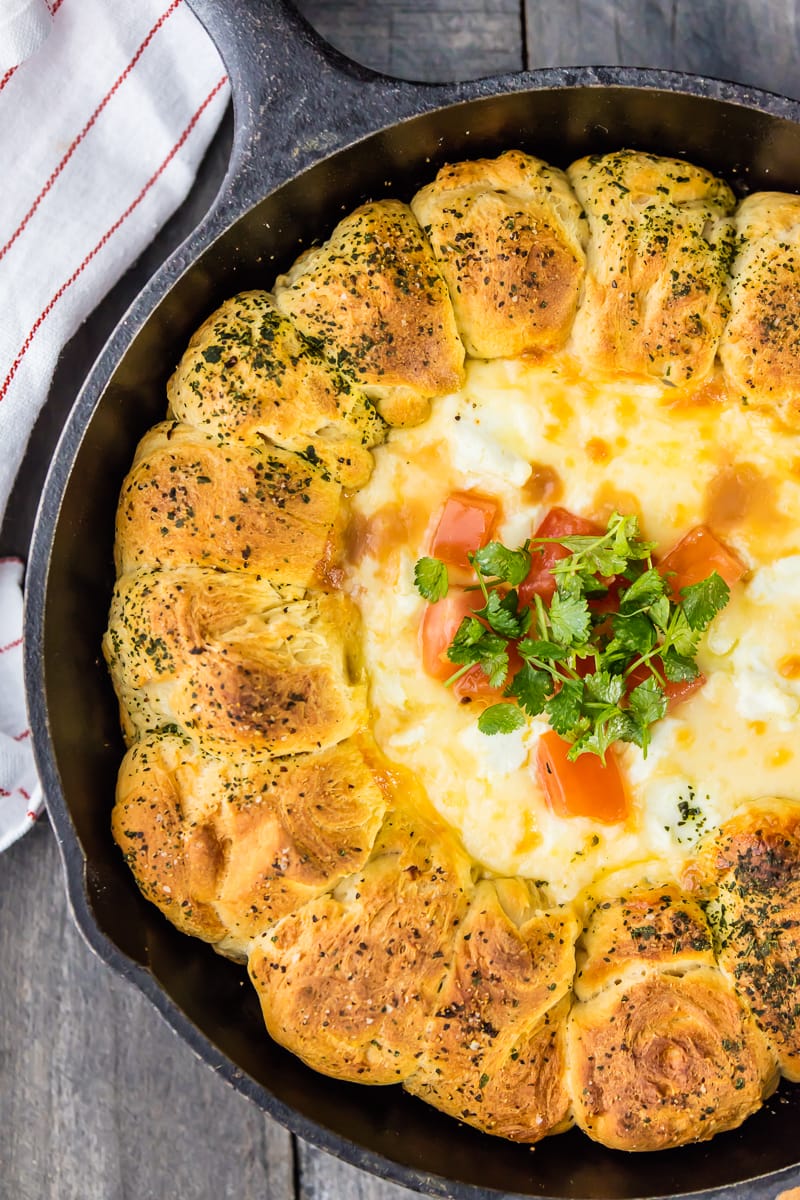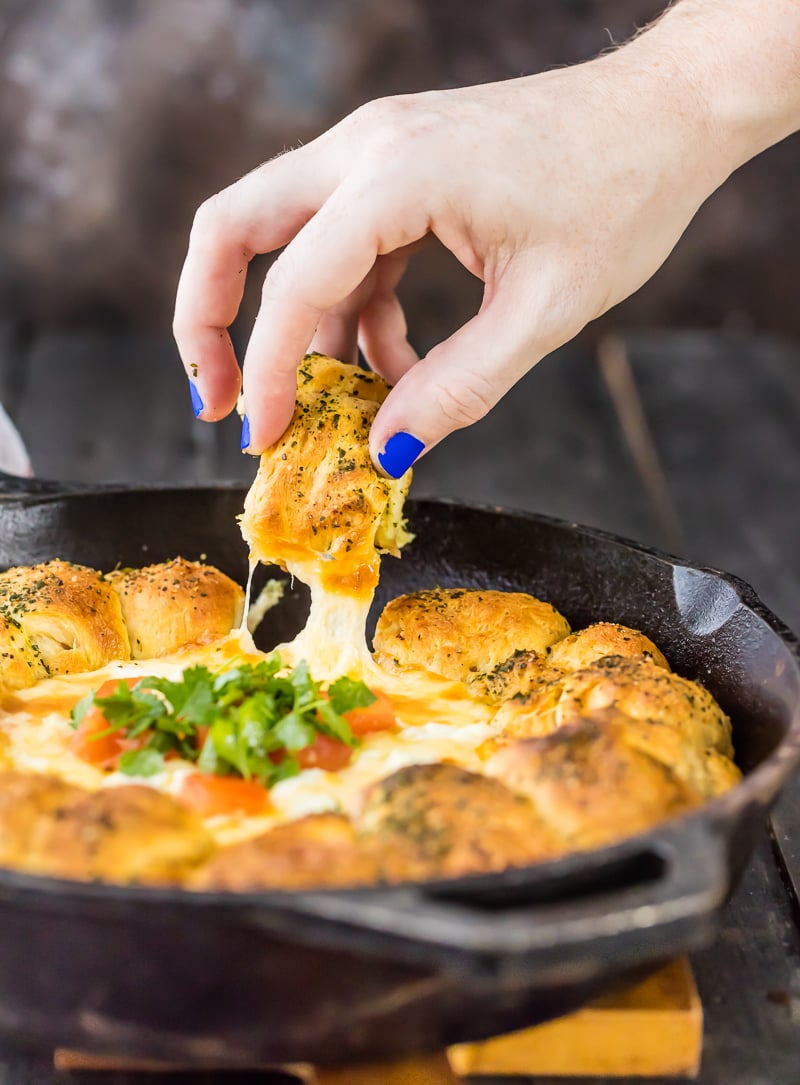 Sorry for the blue nails. I'm a Royals fan and I bleed blue. I can't stop bleeding blue in order to take pictures of ooey gooey cheese for topping the BEST DIP EVER. I just can't.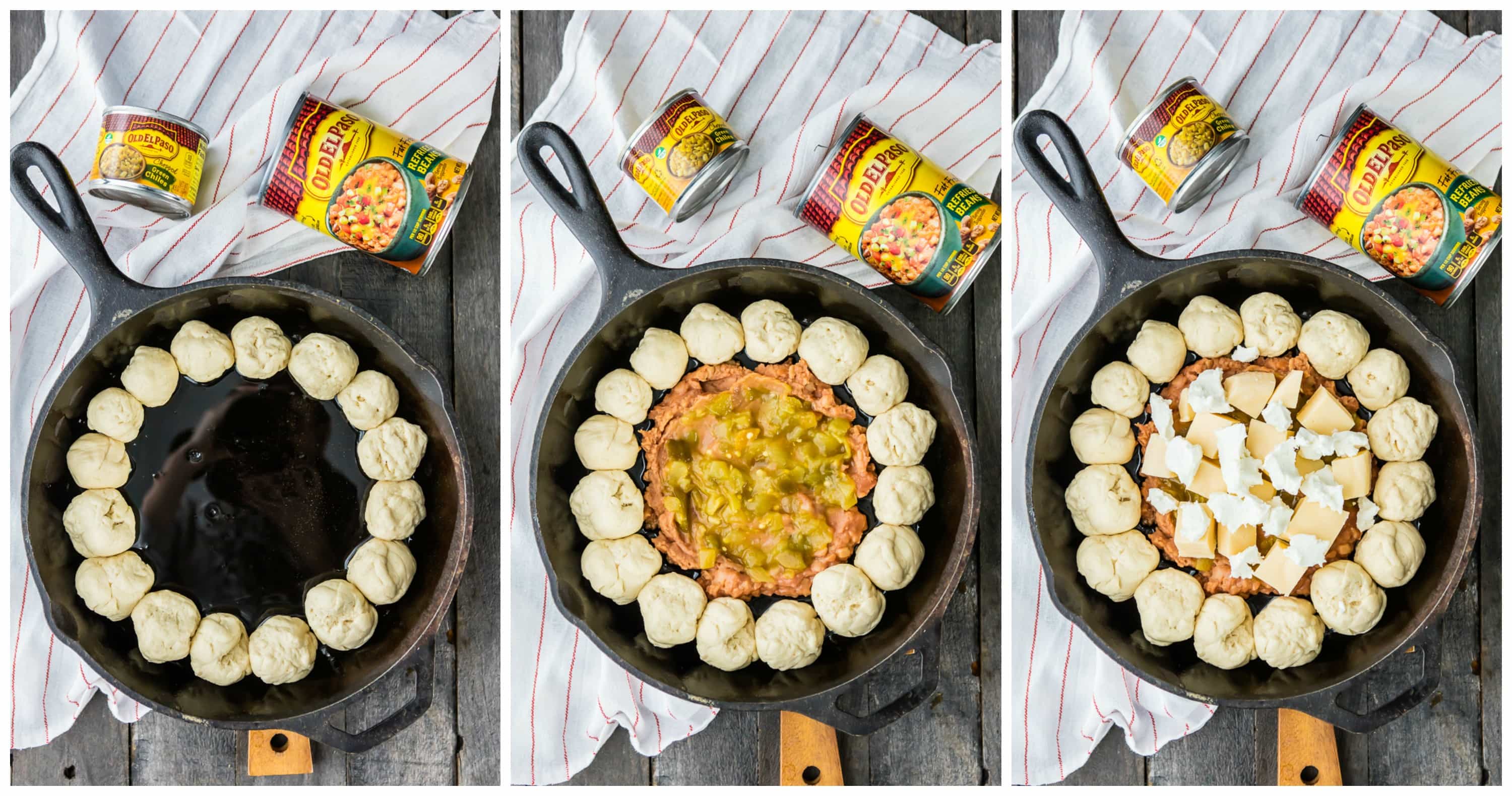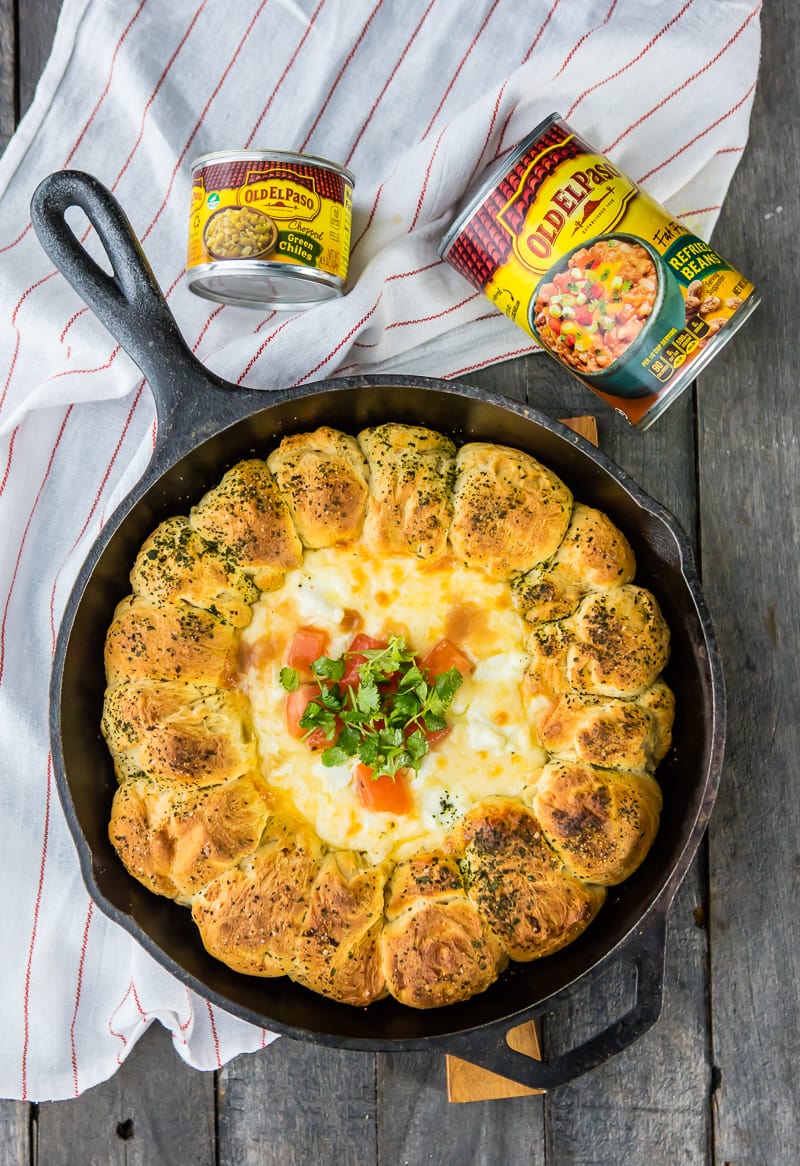 I'm so so so honored to be making one recipe a month as an ambassador for Old El Paso. Their products are literally a staple in our pantry…there is an entire shelf dedicated to them. It's a perfect fit and I'm thrilled to be working with them. Their DELICIOUS green chilis and refried beans were the absolute perfect base for this dip. They're made with simple ingredients (look at the labels, you'll be pleasantly surprised!) and always have the best taste. Win win. Click HERE to stock up on some coupons for making this dip!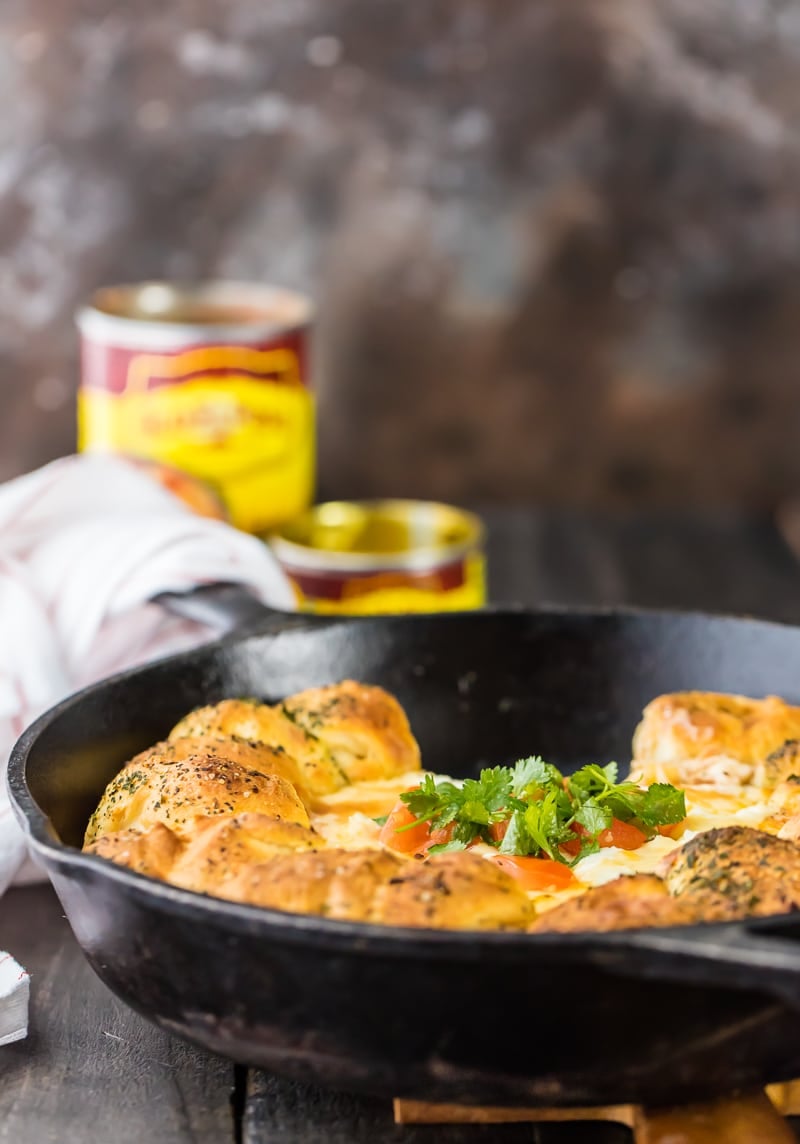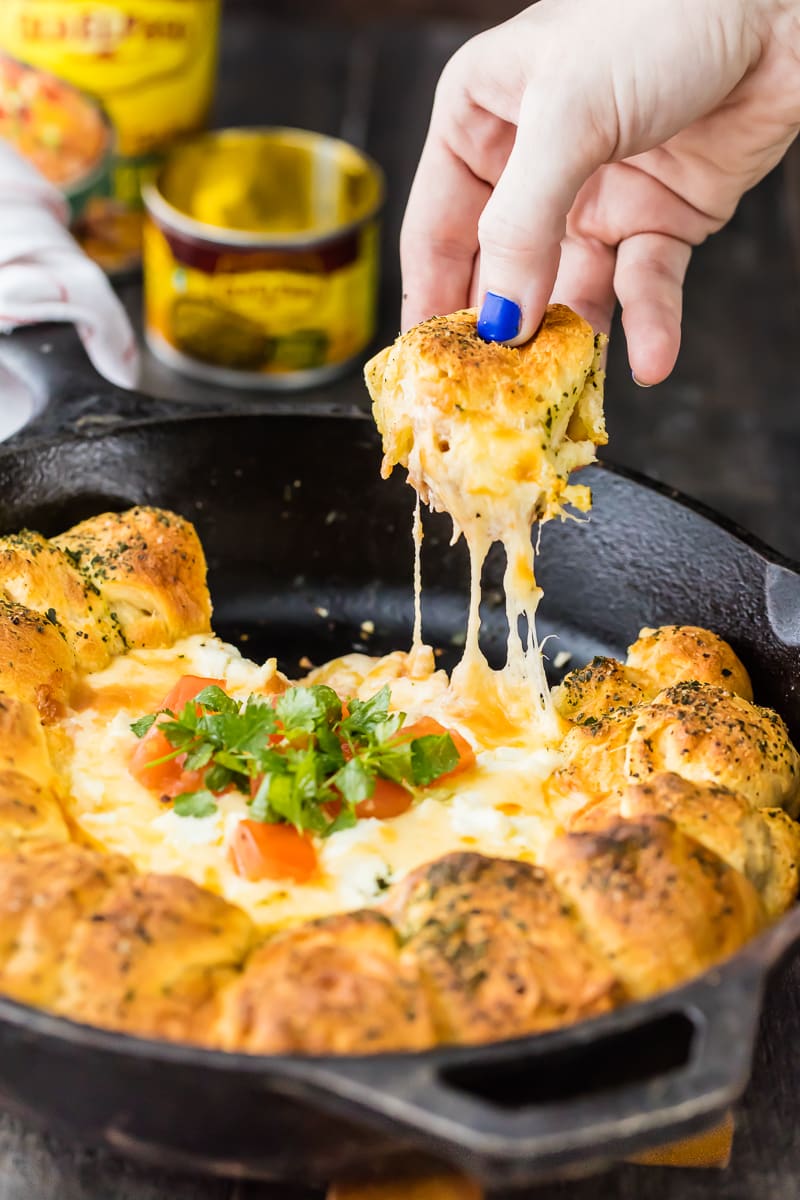 That cheese. My dreams are made of that cheese. Every appetizer should have stretchy cheese. That's just my opinion but I'm pretty confident it's the right opinion.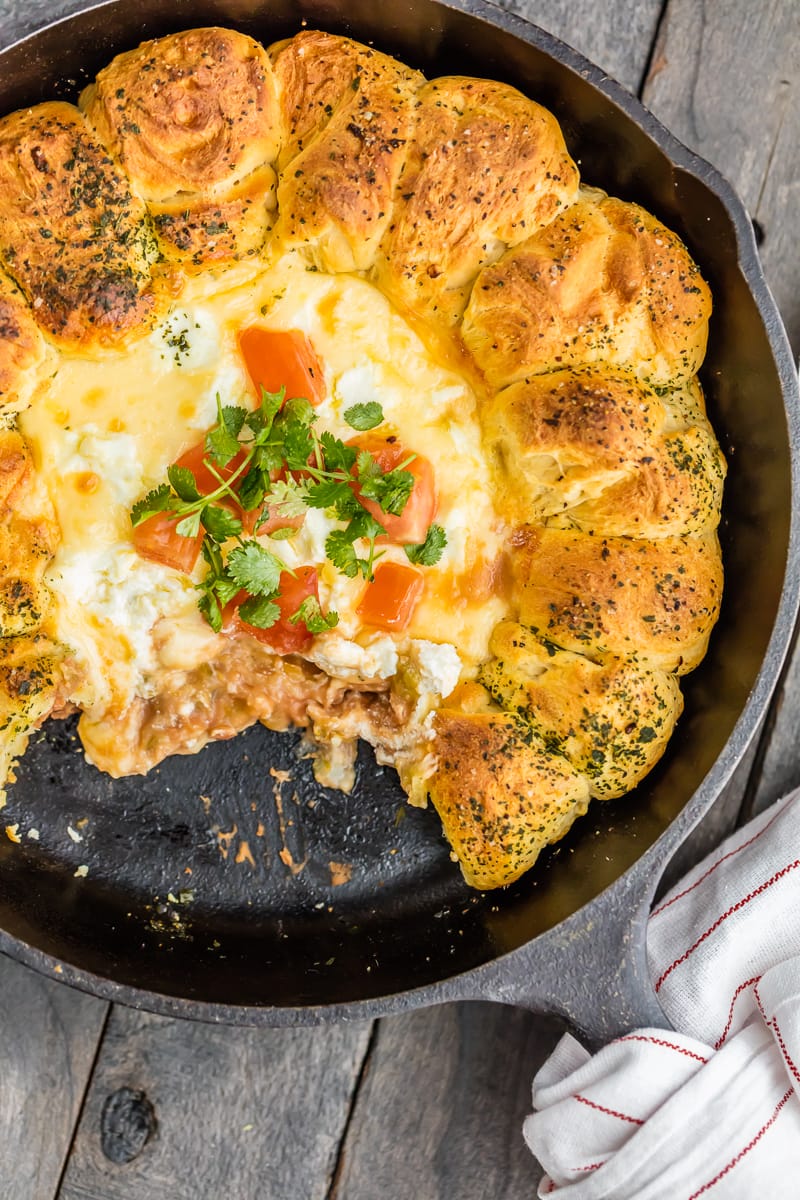 Skillet Bean and Cheese Dip with Pull Apart Bread is spicy, cheesy, delicious & AMAZING!
Enjoy!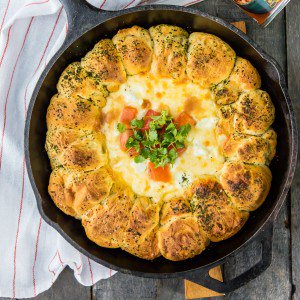 Skillet Bean and Cheese Dip with Pull Apart Bread
Print
Ingredients
2

8 ounce tubes premade crescent roll dough (I used the crescent roll sheets but you can use any kind)

8

ounces

1/2 can Old El Paso refried beans

2

ounces

1/2 can Old El Paso green chilis

4

ounces

chihuahua cheese

cubed

4

ounces

goat cheese

crumbled

2

ounces

salted butter

melted

1

teaspoon

garlic pepper

1

teaspoon

dried cilantro

chopped tomatoes and cilantro for garnish
Instructions
Preheat oven to 350F

Spray a cast iron skillet with nonstick spray or coat with butter.

On a floured surface, roll out crescent dough. Roll dough into 1 1/2 inch balls and line the edge of the skillet with the dough.

On the inside of the skillet, surrounded by the dough balls, spoon out the bean dip and spread to fill the center.

Top the beans with the green chilis and then both types of cheese.

Brush the dough with the melted butter and sprinkle with garlic pepper and cilantro.

Bake for 17-20 minutes or until cheese is fully melted and dough is cooked/beginning to brown.

Switch the oven to broil and allow to broil for about 5 minutes. Watch this step closely to make sure it doesn't burn. You want the rolls to brown and the cheese to bubble, but you don't want to char your bread!

Remove from the oven and allow to cool for 5 minutes before serving. The bread and skillet will be very hot, so be careful!

Serve warm garnished with more cilantro and tomatoes. Enjoy!
This post has been sponsored by Old El Paso. All opinions are 100% mine. Thank you SO much for supporting the brands that help support The Cookie Rookie!