Shamrock Shakes from McDonald's are a classic treat around St. Patty's Day. We've transformed this delicious green mint shake into a SKINNY Shamrock Shake recipe, so you can get all the taste but with less calories! Plus we've given it a chocolate mint twist for even more fun!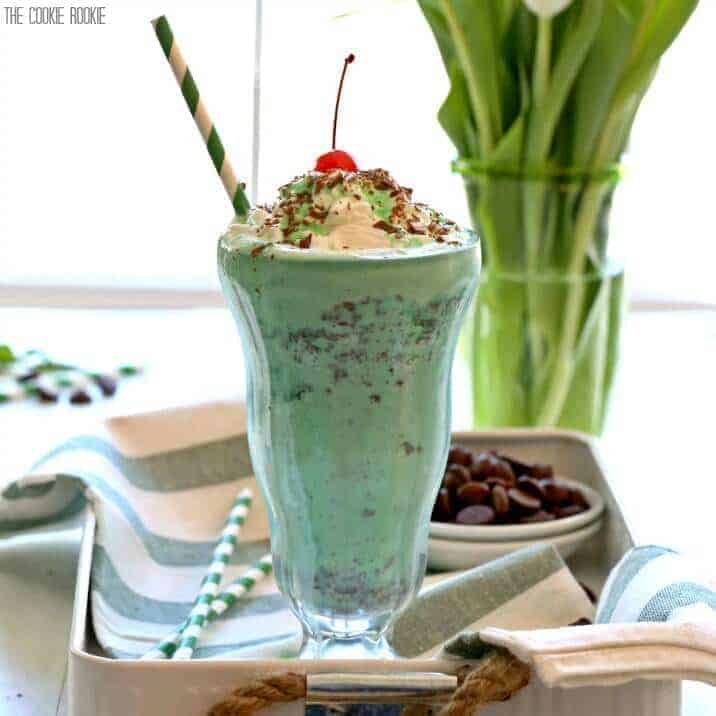 Shamrock Shake Recipe
Everyone loves McDonald's Shamrock Shakes around St. Patrick's Day, but with this skinny Shamrock Shake recipe, you can make it at home any time of year!
I have a weakness for all things ice cream. It's always the perfect time for ice cream, whether there's snow on the ground (make SNOW ICE CREAM!) or it's 100 degrees outside. It is not a season-specific dessert in this house!
One of my favorite times for ice cream is when McDonald's rolls out their Shamrock Shake for St. Patrick's Day! I love drinking those things, but all those calories? No thank you! Make this homemade Shamrock Shake recipe instead. It tastes just as good (maybe better?) and it's much better for you. A SKINNY, low calorie shake you can drink guilt-free!
I made this a chocolate mint shake, so it is a little different. BUT, it still has that green mint flavor, and it never hurts to add a little chocolate, right? You can easily adapt this recipe to stick to the original flavor if you don't want the mint chocolate. Either way, this is one delicious skinny shake that you all will love.
Why wait for March to drink a Shamrock Shake? Make this Skinny Homemade Shamrock Shake recipe any time of year!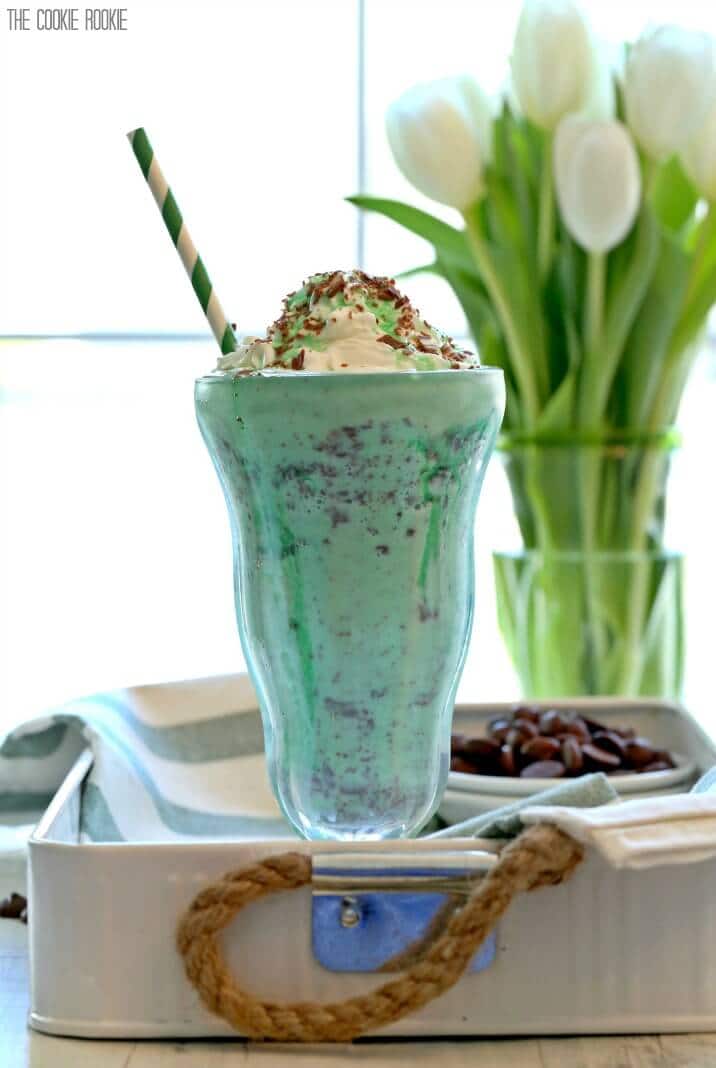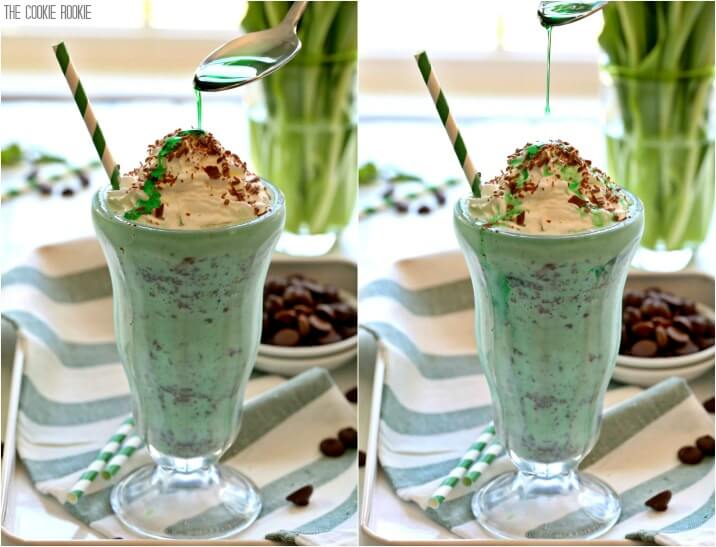 Shamrock Shake Calories
McDonald's Shamrock Shake has around 460 calories for the small size, 560 calories for the medium size, and 800 calories for the large size. Plus LOTS of sugar.
Luckily there is a way to enjoy this green mint shake with a little less guilt. This skinny recipe has less than 300 calories per serving (when made with low-fat frozen yogurt; the recipe card is showing with regular frozen yogurt).
So you can get all the taste without all the calories! That's a win. Drink this any time for a dessert that won't break the calorie bank!
When is the Shamrock Shake available?
If you're going for the fast food version, the Shamrock Shake is available around St. Patrick's day, so you can only get it during part of the month of March. But why wait for the one short period of time every year when you could make this favorite at home, any time of year? Just one of many reasons to make this homemade Shamrock Shake recipe!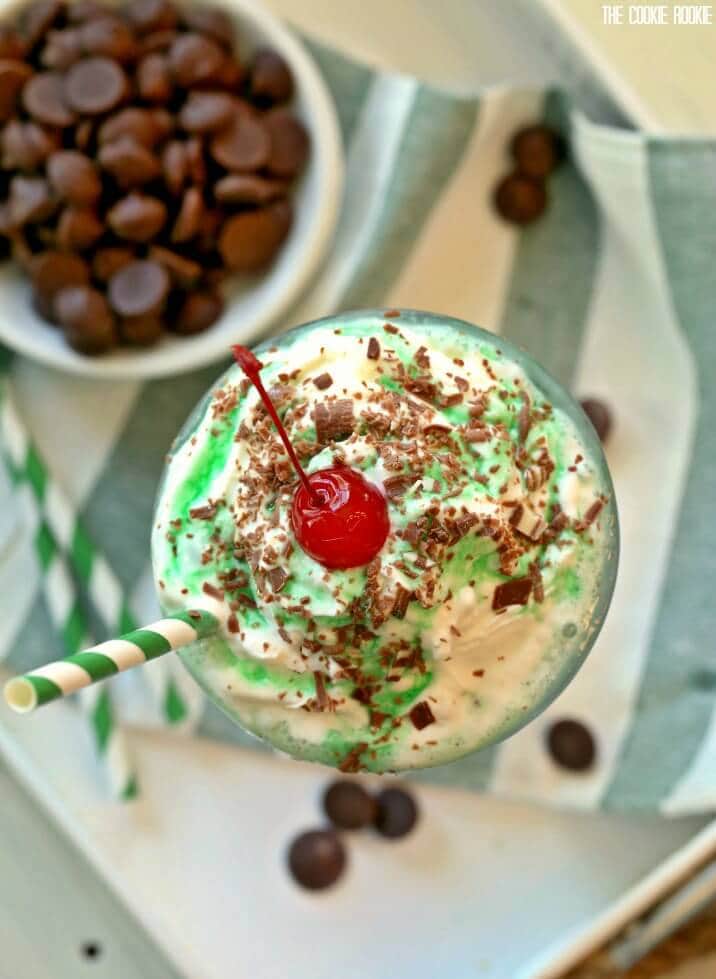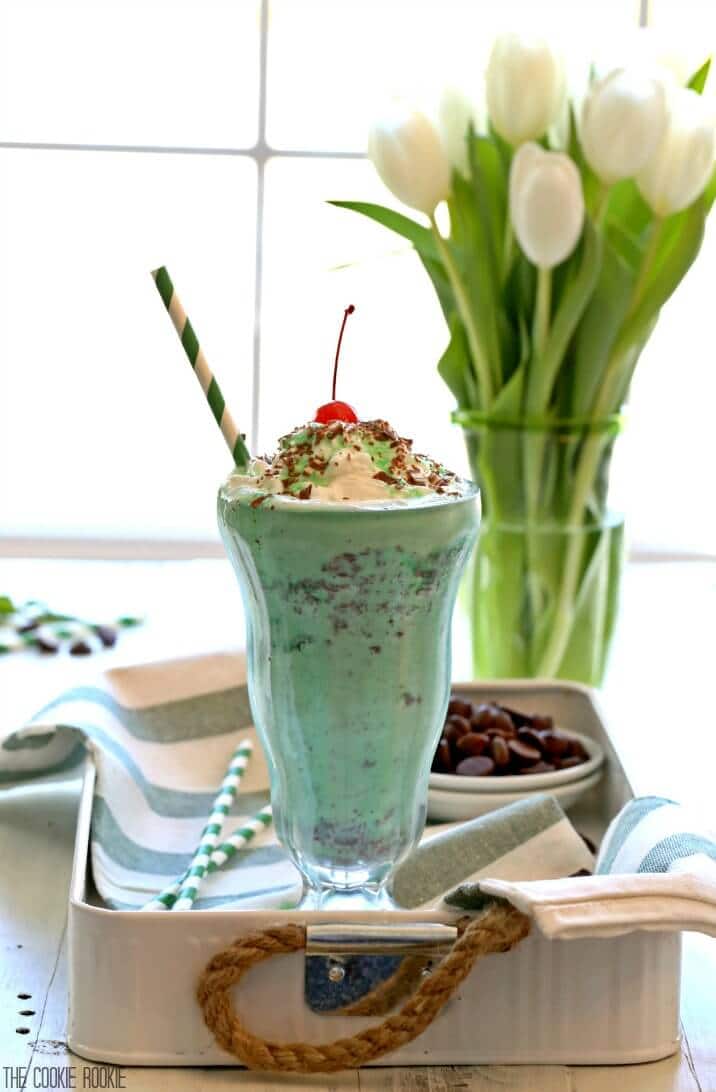 What's in a Shamrock Shake?
This skinny Shamrock Shake has slightly different ingredients than the McDonald's version, both to make it healthier/lower in calories, and to make it taste (in my opinion) a lot better! Yes, better than the original if you ask me. I like the added chocolate mint flavor in my recipe, but you can stick to the vanilla mint if you like.
The original version is essentially vanilla soft serve ice cream, a pre-mixed syrup to add the color and flavor, and then topped off with whipped cream and a cherry.
Our Homemade Shamrock Shake is made with:
Low Fat Mint Chocolate Frozen Yogurt (you could use vanilla instead if you want the more traditional flavor)
Almond Milk
Dark Chocolate Chips (optional, leave them out for the original vanilla mint flavor)
Mint Extract
Green Food Coloring
Of course there are plenty of options for toppings. Choose whichever you like:
Low Fat Whipped Topping
Maraschino Cherry
Chocolate Curls or Chips
Fresh Mint Leaf
Creme de Menthe Syrup
I love the chocolate mint shake version, but again, feel free to stick to the original flavor if you want the closest match to a McDonald's Shamrock Shake.
How to Make a Shamrock Shake at Home
Making Shamrock Shakes at home is so easy, and it's the only way to fill your cravings for this minty shake when it's unavailable at McDonald's.
How to Make a Shamrock Shake:
Combine frozen yogurt, almond milk, chocolate chips, mint extract, and food coloring in a blender.
Mix to your desired consistency. Make it a bit thick if you like, or add more almond milk to thin it out.
Don't forget to top it with whipped cream and a cherry, plus any other toppings you like.
You can substitute vanilla yogurt for the mint chocolate flavor and leave out chocolate chips for the classic vanilla mint shake.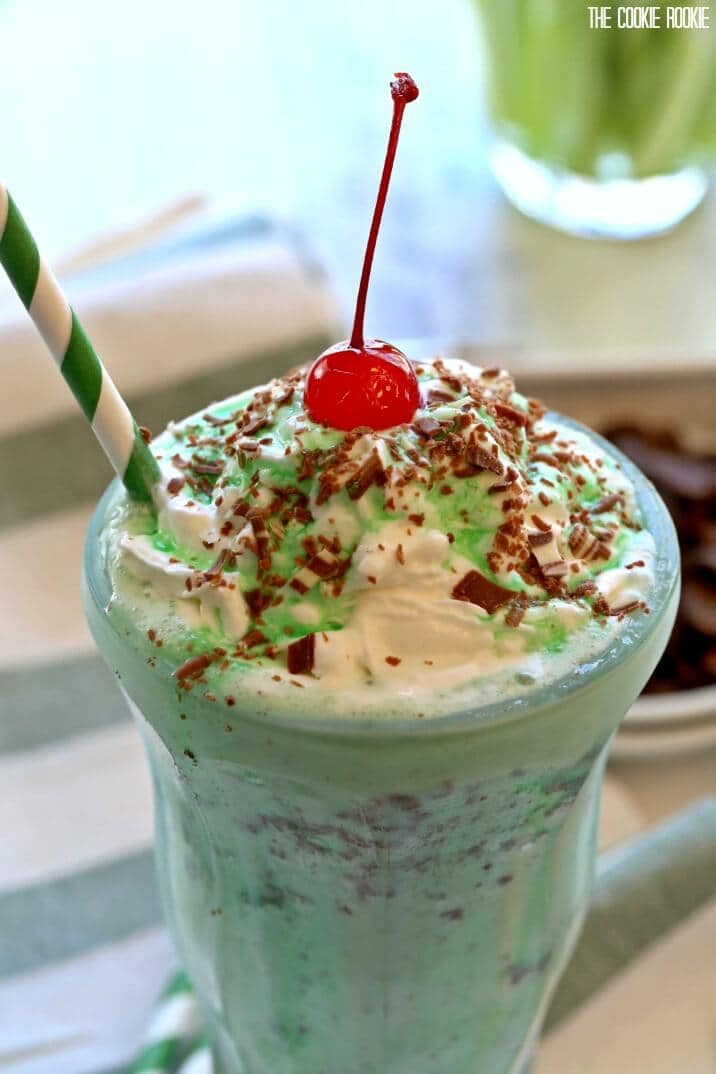 See the recipe card for details on how to make a Shamrock Shake (but skinnier). Enjoy!
Make sure you try these other ice cream treats: