Feel good cheers-ing this Cinco De Mayo with this Skinny Strawberry Jalapeno Margarita! Spicy, fruity, tangy, and refreshing. Such a fun treat!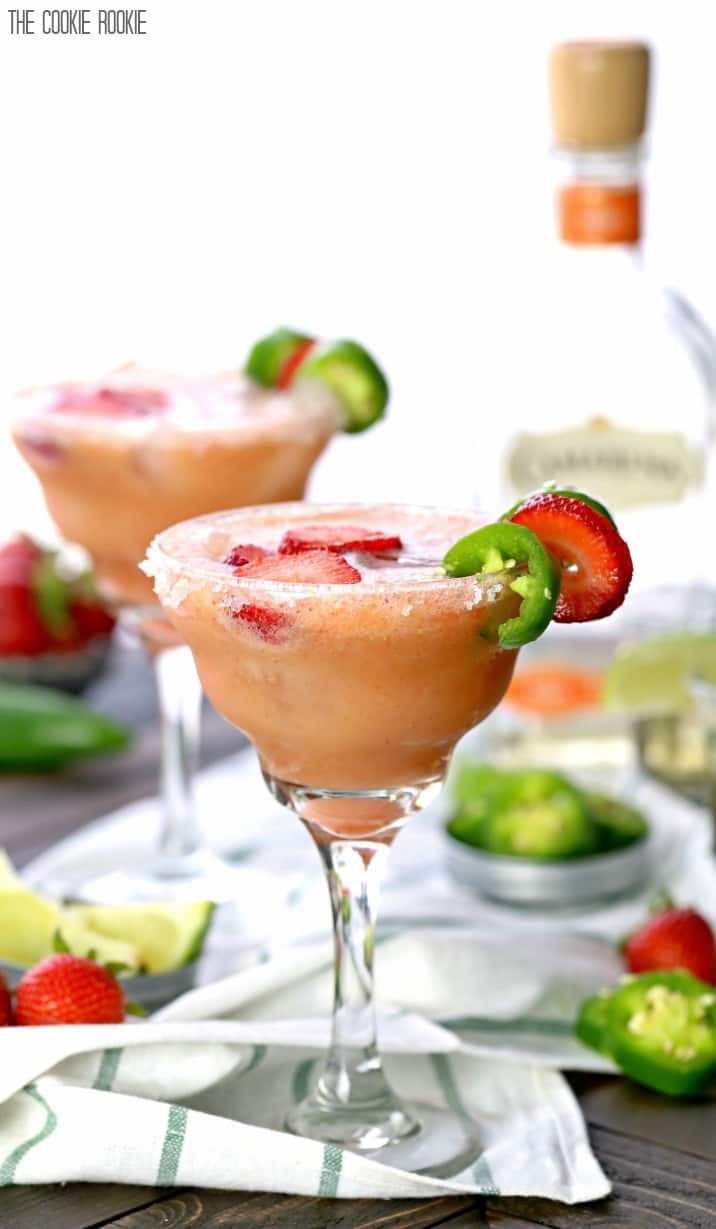 If you don't look forward to Cinco De Mayo THE ENTIRE year…you might be reading the wrong blog! :) We love a good margarita around here! Creating a fun Skinny Strawberry Jalapeno Margarita and other unique margaritas is one of the biggest perks of this job, and I've spent many hours doing just that! Some previous favorites have been Cherry Limeade Margaritas, Clementine Margaritas, Beergaritas (college flashback), Spicy Cucumber Margaritas, and of course my BBQ favorite, Strawberry Margarita Punch. I've even gone so far as to make Margarita Guacamole and Margarita Popsicles! It's safe to say, I love margaritas.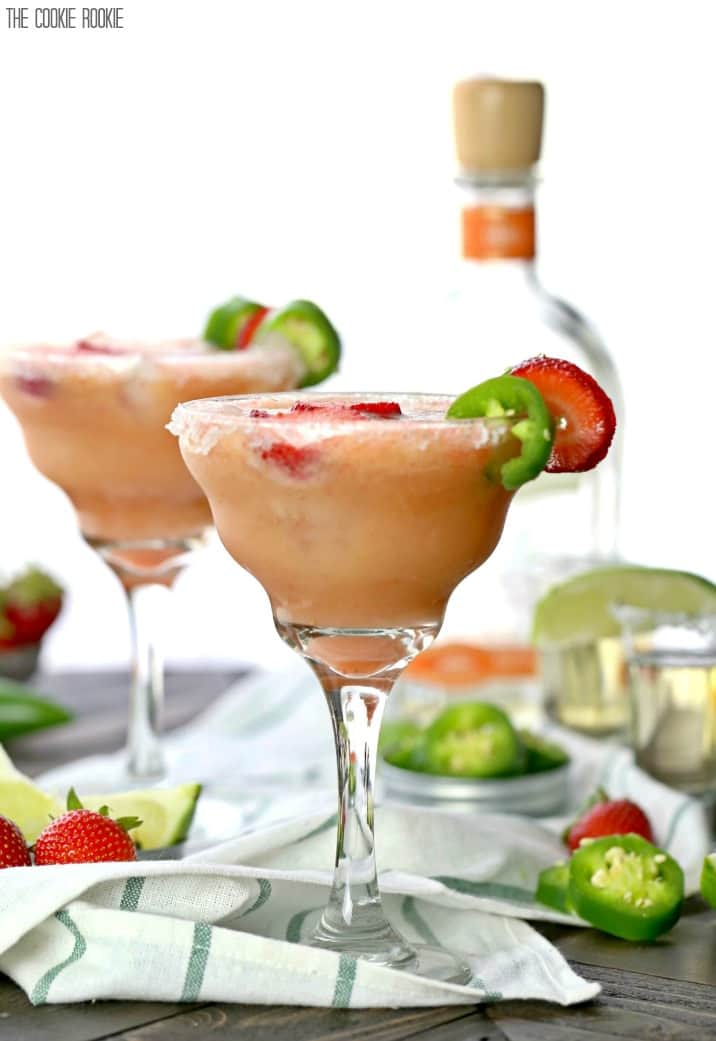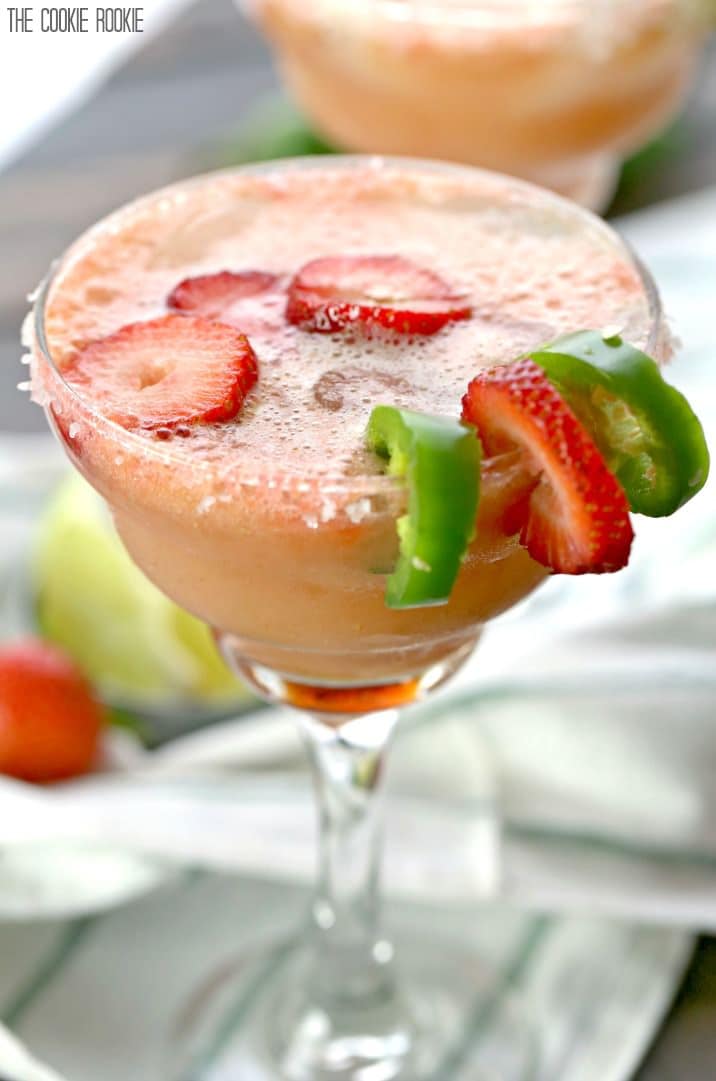 One thing that's not as fun about margaritas?? All of those added calories and sweeteners! I guess that's why it's good Cinco De Mayo only comes around once a year.
BUT…we can change that! We can make Skinny Strawberry Jalapeno Margarita healthy(er)!
Cheers-ing on Cinco (or any other day of the year) doesn't have to ruin your entire diet. You can make them lighter and never taste the difference!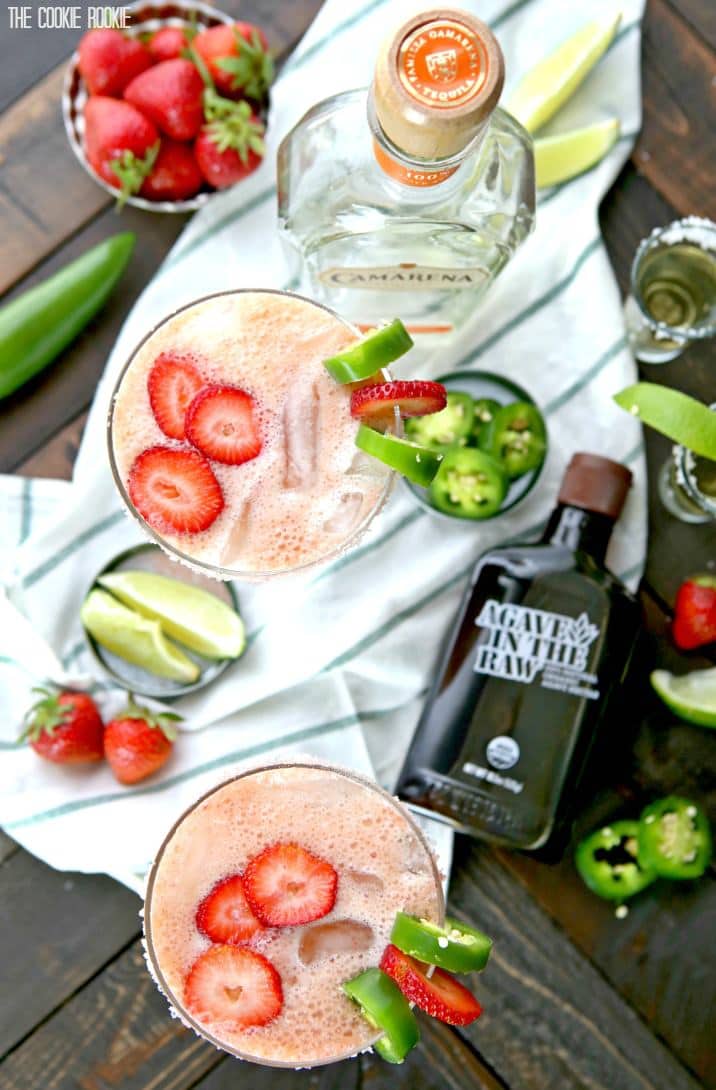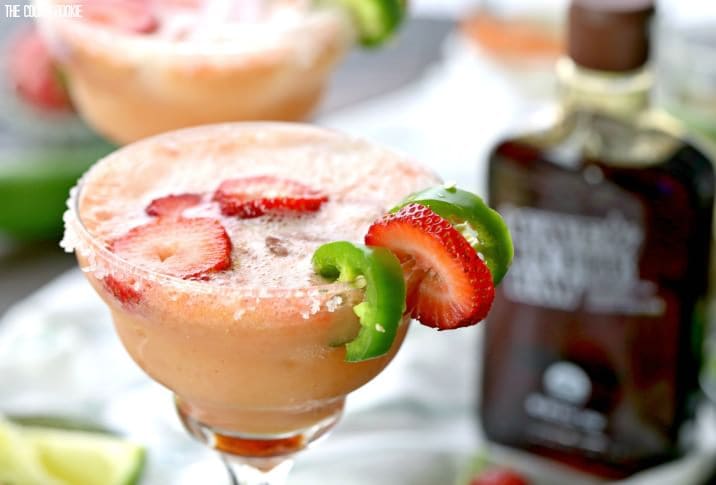 I recently told you about how incredibly excited I am to be working with In The Raw Sweeteners this year. Their Agave In The Raw was a major reason why! It was the first product of theirs that I tried when I started The Cookie Rookie in 2013. I was HOOKED and have never looked back. It's the perfect low calorie, FAT FREE, GLUTEN FREE sweetener to add to your drinks, baking, or anywhere you need some extra sweetness. It's even has a low glycemic index, so it's perfect for those that need a special diet. I just love it, and I hope you will too!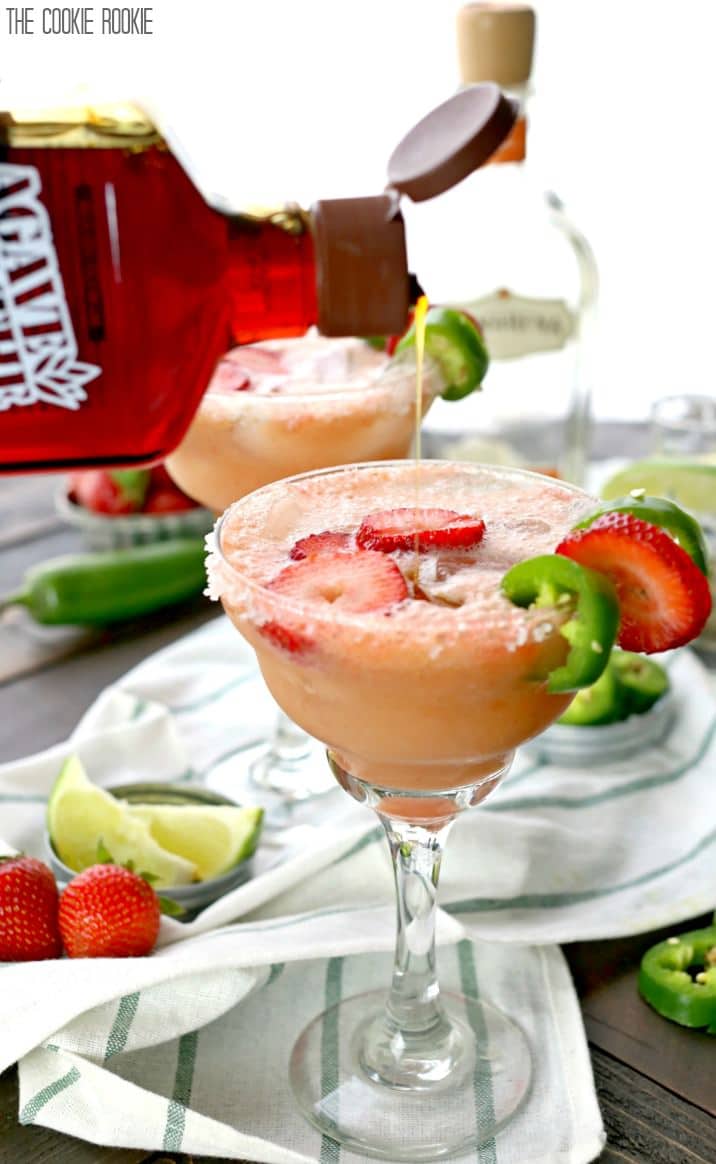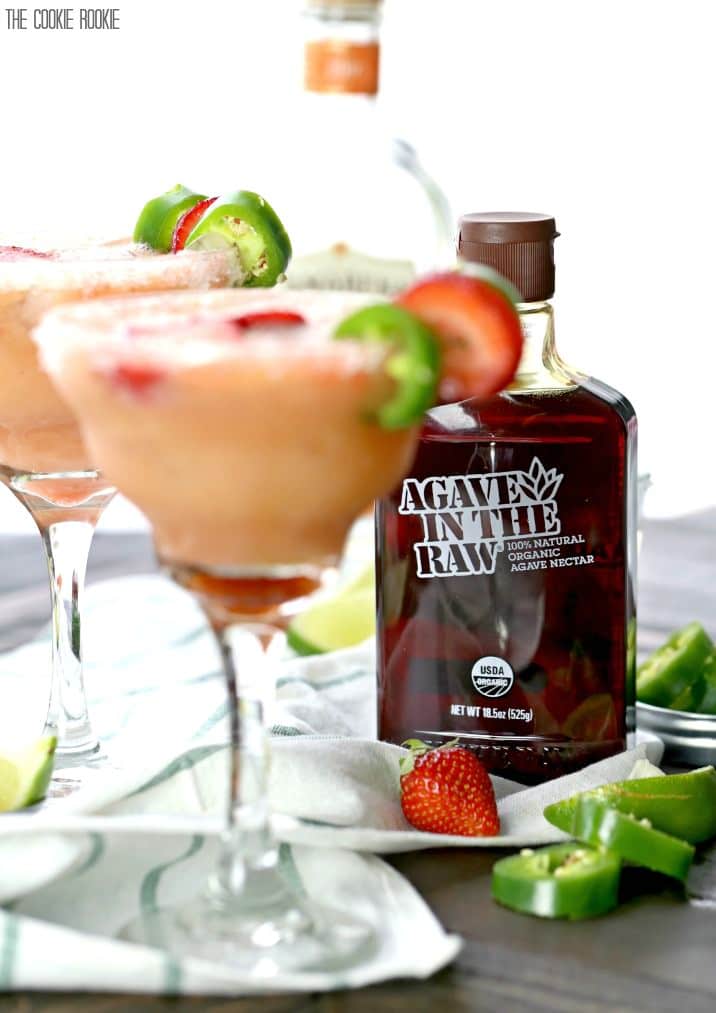 In The Raw was established in Brooklyn in 1970 and has been family owned ever since. Their line started with Sugar In The Raw; I know you've seen those cute little brown packets in your local coffee shop! They have since grown to a family of sweeteners, and have an option for literally every situation. I'm going to be using each type throughout the year in some of my very favorite recipes, and I can't wait. They have Sugar In The Raw, Agave In The Raw (used in these delicious margaritas today!), Stevia In The Raw, Sugar In The Raw Organic White (used HERE), Monk Fruit In The Raw (used HERE). Like I said, something for everyone!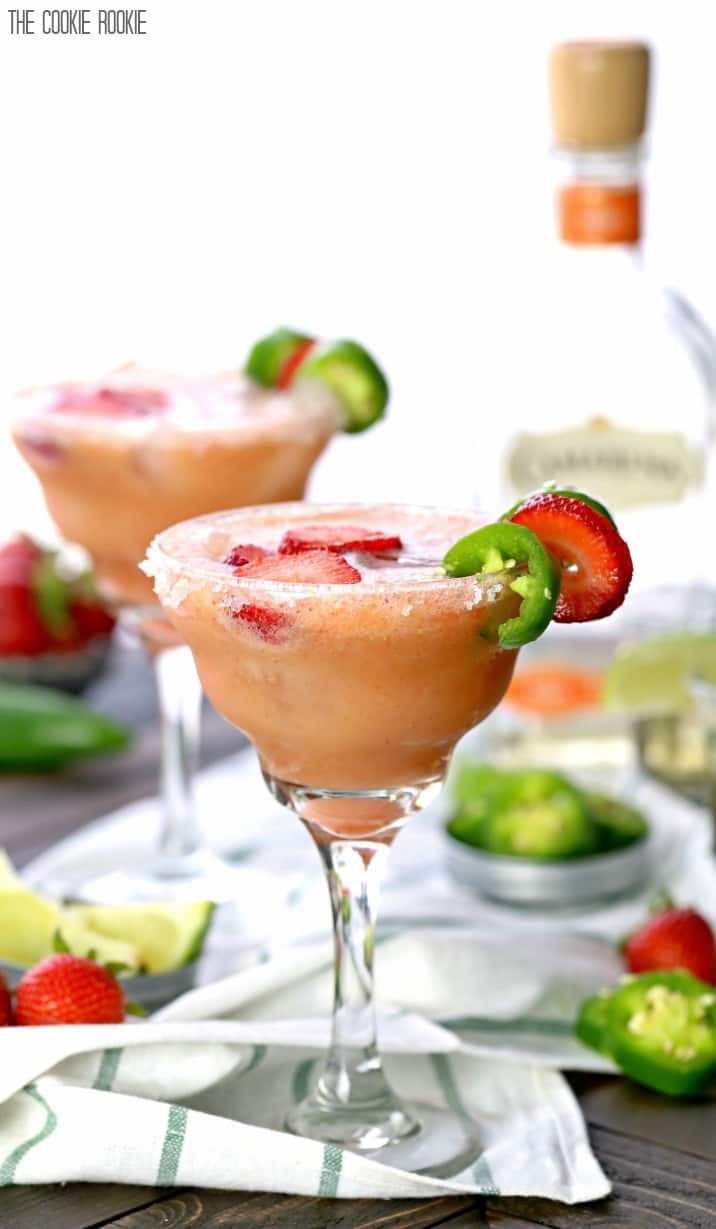 Cheers!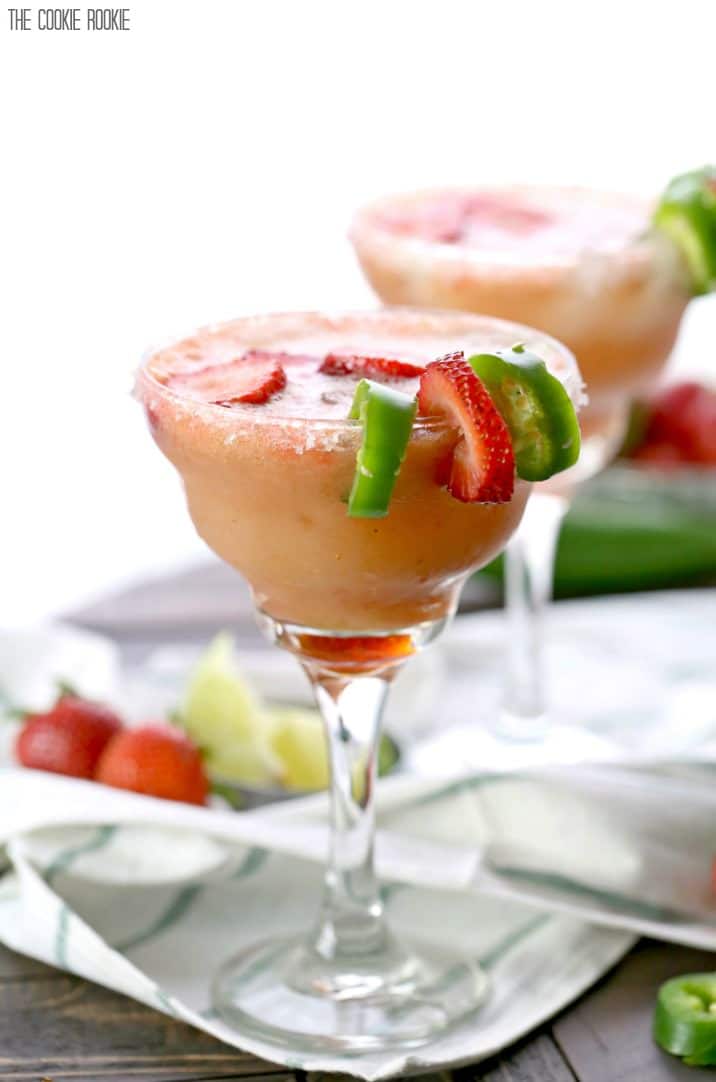 The Guide to making Ultimate Margaritas Every Time
We have compiled all of our fave Margarita Recipes in a guide! Be sure to check it out for all our best tips, tricks, barware, variations, and more!
Skinny Strawberry Jalapeno Margarita
I'm in a working relationship with In The Raw Sweeteners. I'm so honored to showcase their products. All opinions are 100% my own. As always, thank you so much for supporting the brands that help support The Cookie Rookie!