A White Russian Recipe that is Skinny and low on calories? Is that even possible? YES! This Skinny White Russian Recipe has it all! Super creamy, flavorful, and just a fraction of the calories. You don't have to feel guilty while sipping this skinnier version of a cocktail favorite!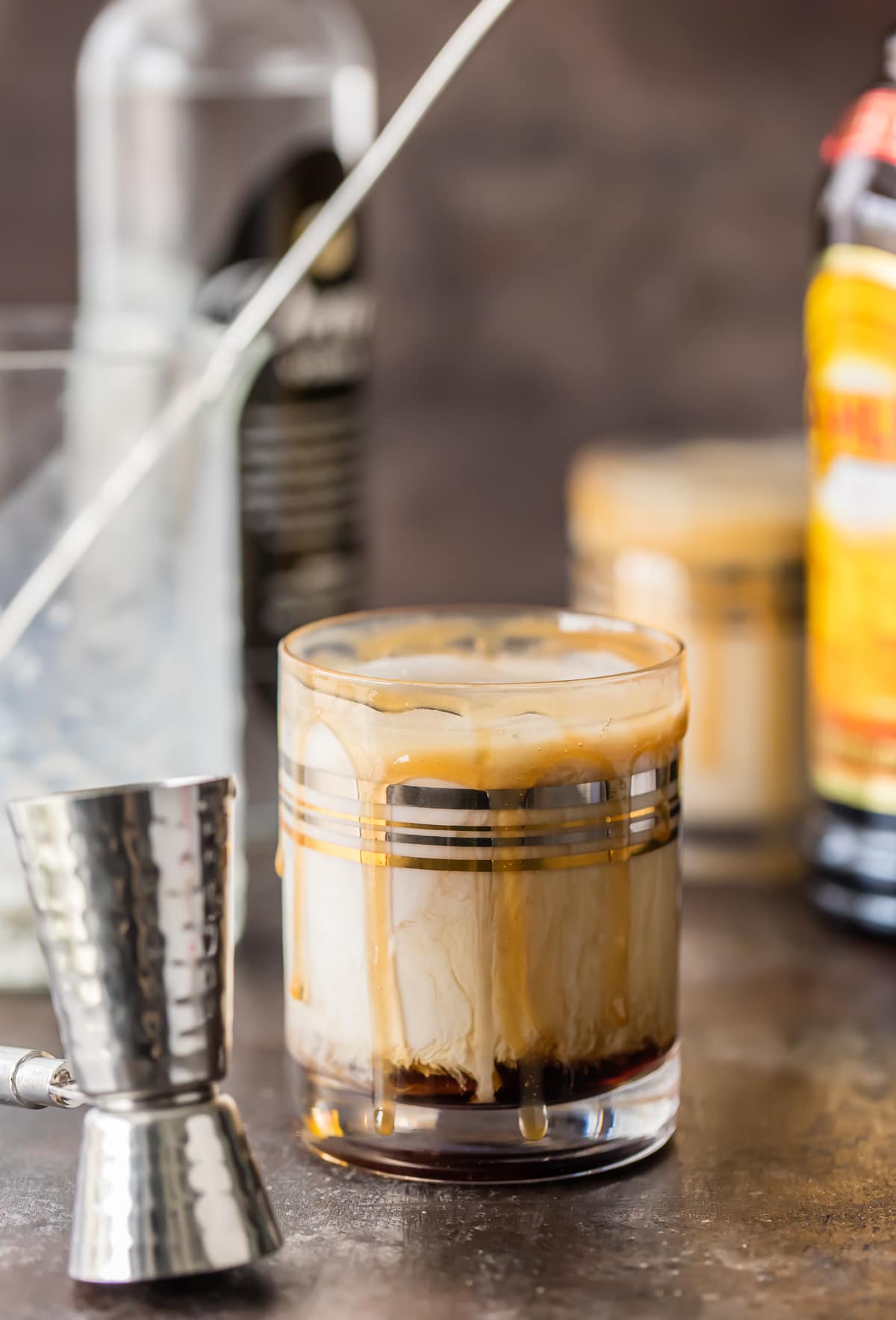 How to Make a White Russian
This Skinny White Russian Recipe is amazing and delicious! We have swapped the cream for soy creamer and added a caramel rim to kick this classic cocktail up a notch and take down the calorie count. Enter the Skinny White Russian!
We all have our favorite cocktail. Whether it be margaritas, sangria, or martinis, it's nice to have a skinnier version to fall back on when you don't want to drink ALL of your calories for one day! I've always had a soft spot for creamy drinks, especially at the end of a long hard week. (HELLO FRIYAY!) The problem with creamy drinks is…the CREAM. It's not enough to just substitute skim milk in place of heavy cream, because it's just not the same.
As much as you tell yourself it is…it isn't. I want that texture that makes me feel like I'm sipping on a dessert, after all! Lucky for me, and all you fellow White Russian lovers, this Skinny White Russian has all of the creaminess and none of the guilt…it's a total win win!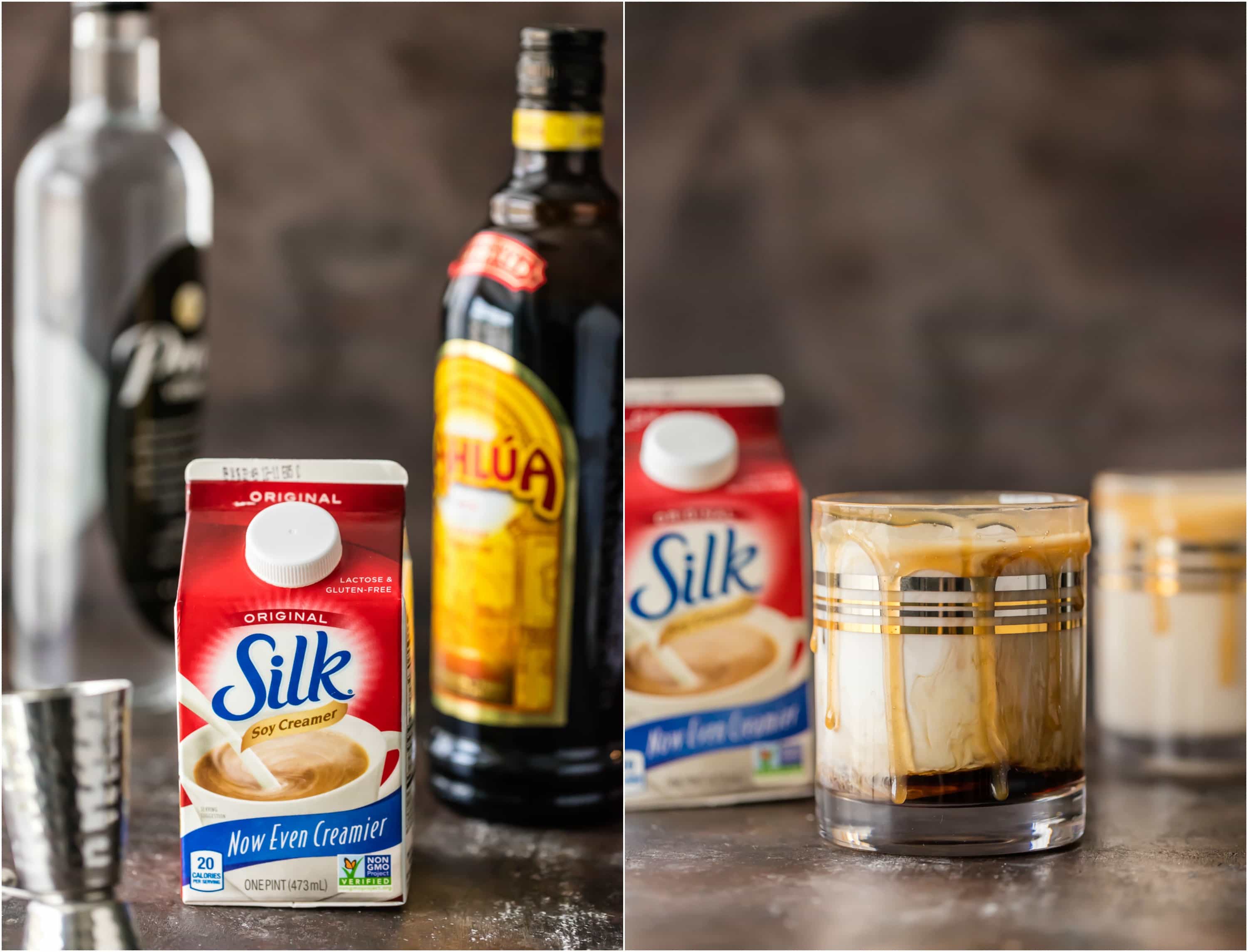 Why is it called a "White Russian"?
It's as simple as the main ingredient being vodka. Seems a weak comparison to me, but I do love the drink! It's a creamy, dreamy, delicious, and EASY cocktail recipe!
I can hear you all yelling, "THIS IS TOO GOOD TO BE TRUE!?". Well folks, its not! I made this Skinny White Russian with Soy Creamer…with only 20 CALORIES PER SERVING. That being said you should still drink it responsibly, one is enough! :) I have been a huge lover of Silk Almond Milk for years, but had never tried their creamer. WHY? I was really missing out.
It's the perfect add-in to recipes, your morning coffee, cocktails, or anything else calling for heavy cream. It comes in some great flavors like Hazelnut Soy, Caramel Almond, and Vanilla Almond, but I chose to go with the Original Soy Creamer. You can't go wrong here, you'll never miss your heavy cream. It makes these Skinny White Russians just the guilt free Friday treat I was needing. #SilkCreamer for the win!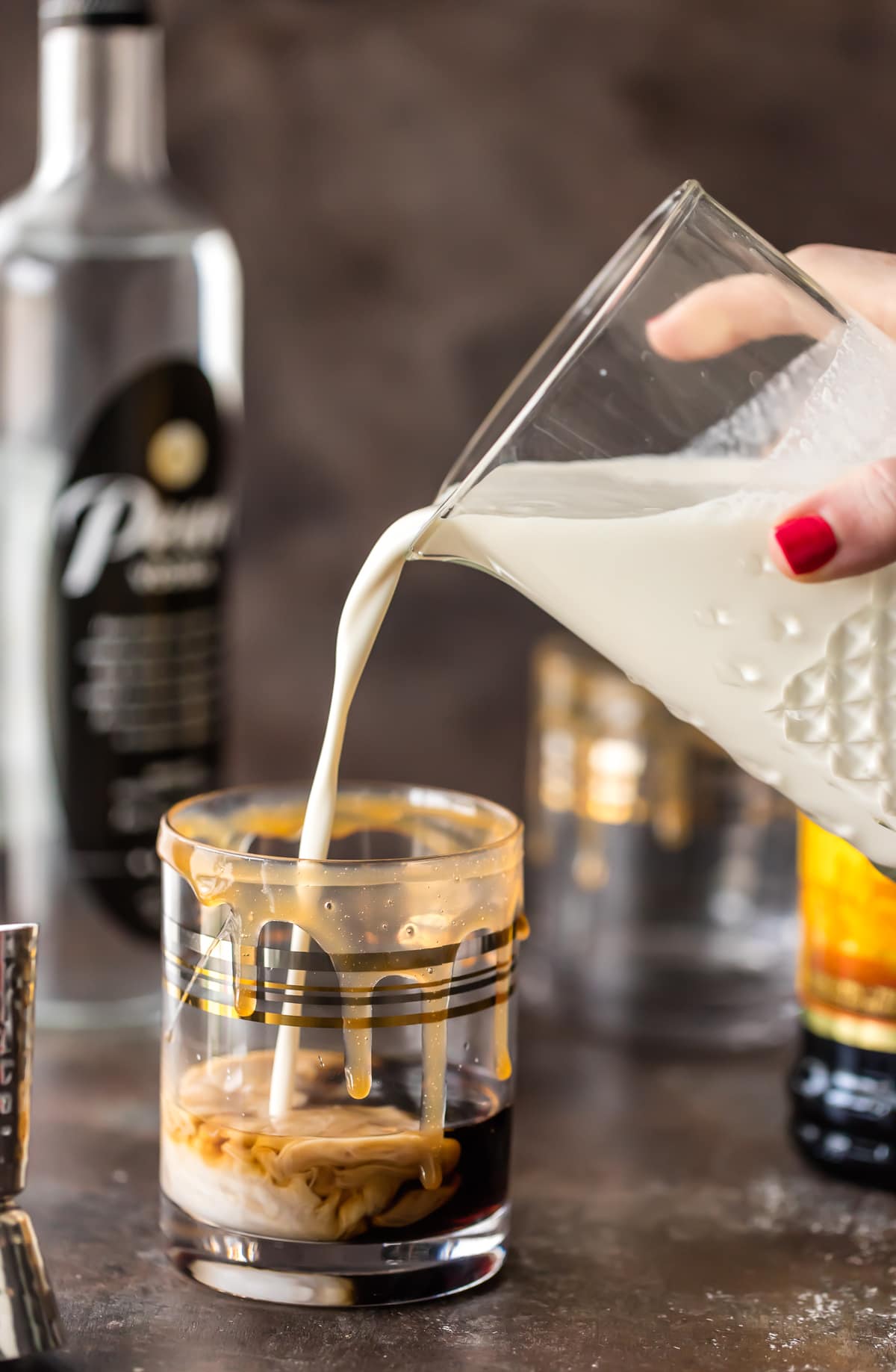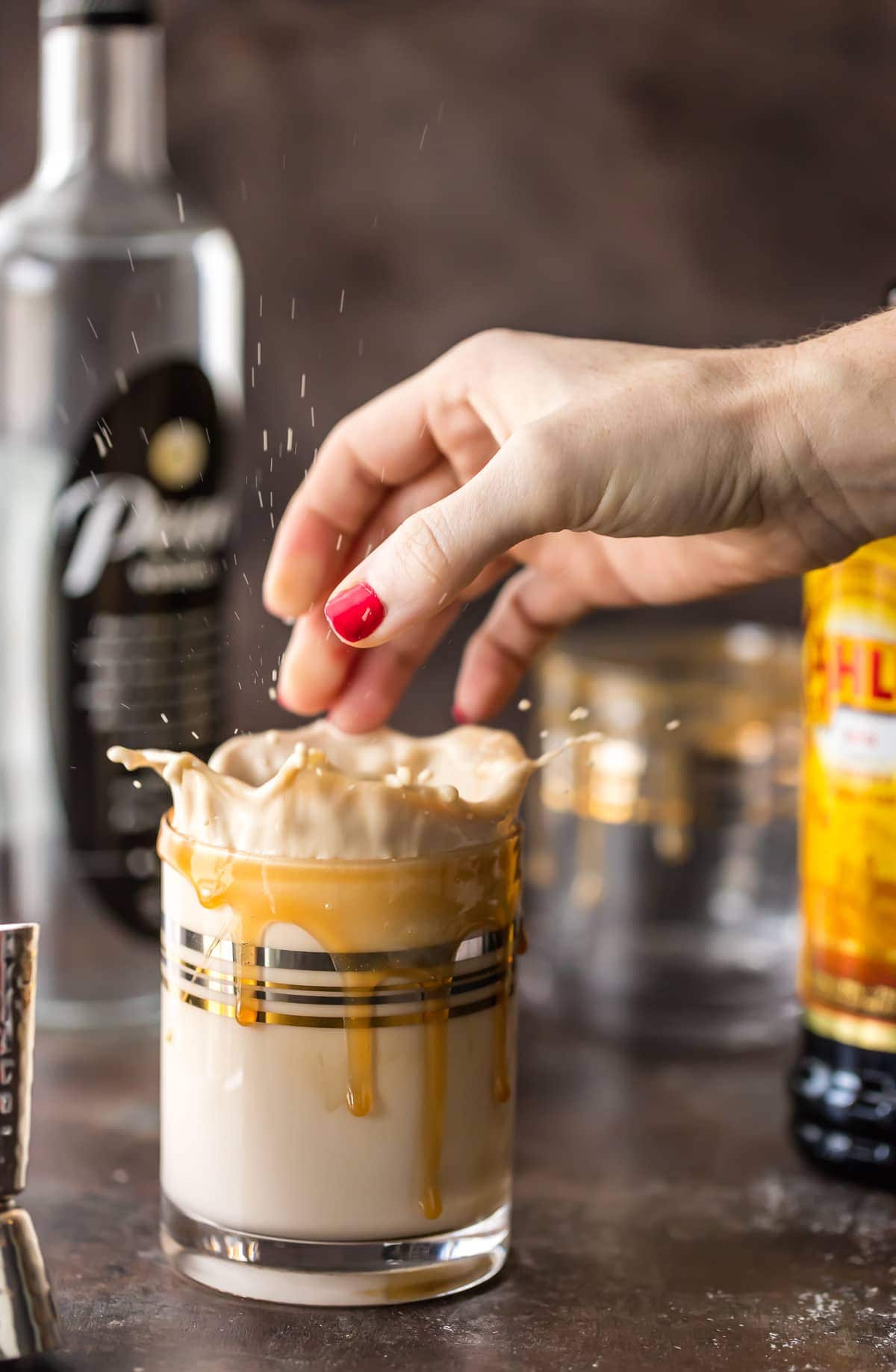 The White Russian Recipe became especially popular when "The Dude" drank them regularly in the popular movie, "The Big Lebowski".
If you haven't tried a White Russian, now is your chance! Your guilt free chance! A White Russian with Milk is good…but a White Russian with Soy Creamer is that much better!!
When you make this, please put the ice in first. I of course don't mind a mess in the name of a fun picture, but you shouldn't try this at home. The pictures following this one were MUCH messier!
You can also make this classic cocktail into a mocktail by leaving out the vodka, and substituting the coffee liqueur for cooled coffee. It's just as delicious, trust me! It's the perfect way to unwind on any day, not just Fridays! And with Silk Creamer by our side, we no longer have to feel so guilty.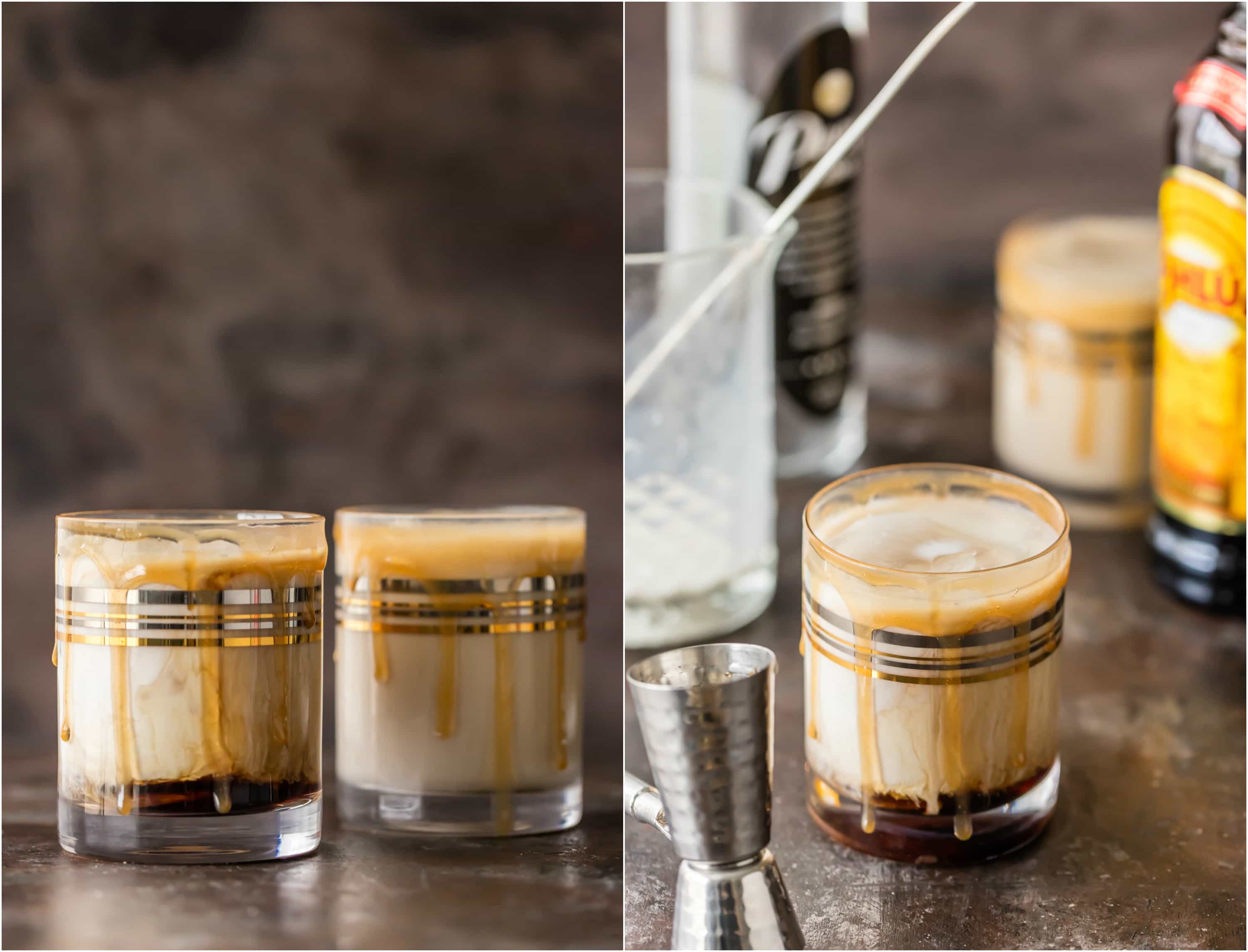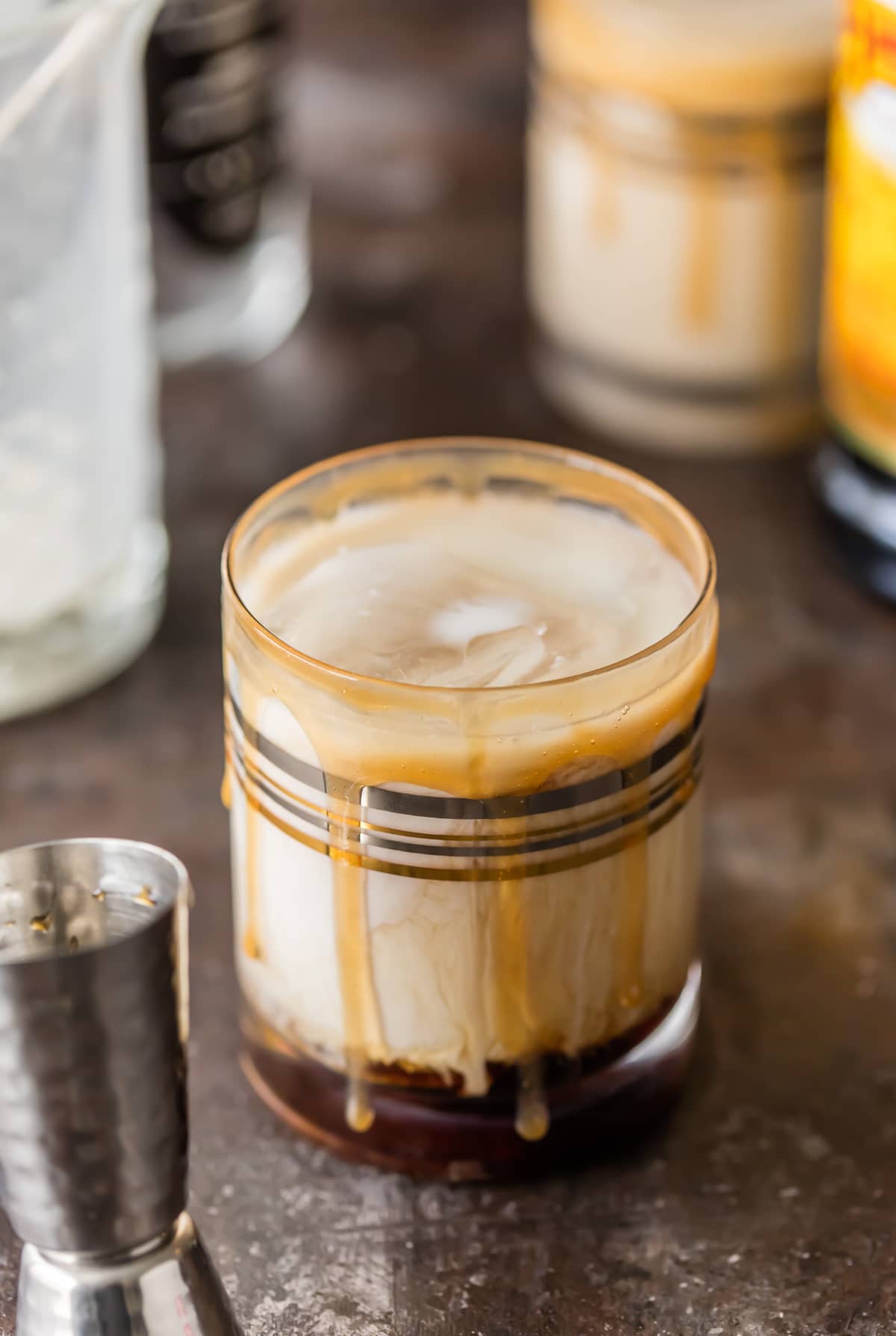 Typically I would worry about White Russian Calories when deciding whether or not to indulge. This skinny version makes the decision that much easier. This White Russian Drink is a must make for any cocktail lover. I hope you give it a try today! xoxo
See the recipe card below for details on How to Make a Skinny White Russian. Enjoy!