This Southwest Chicken Bake is an easy chicken recipe perfect for dinner any night of the week. With just a few ingredients and one dish, you can have the most delicious chicken dinner. This creamy, cheesy baked chicken recipe is covered in enchilada sauce for a Tex-Mex inspired meal the whole family will love!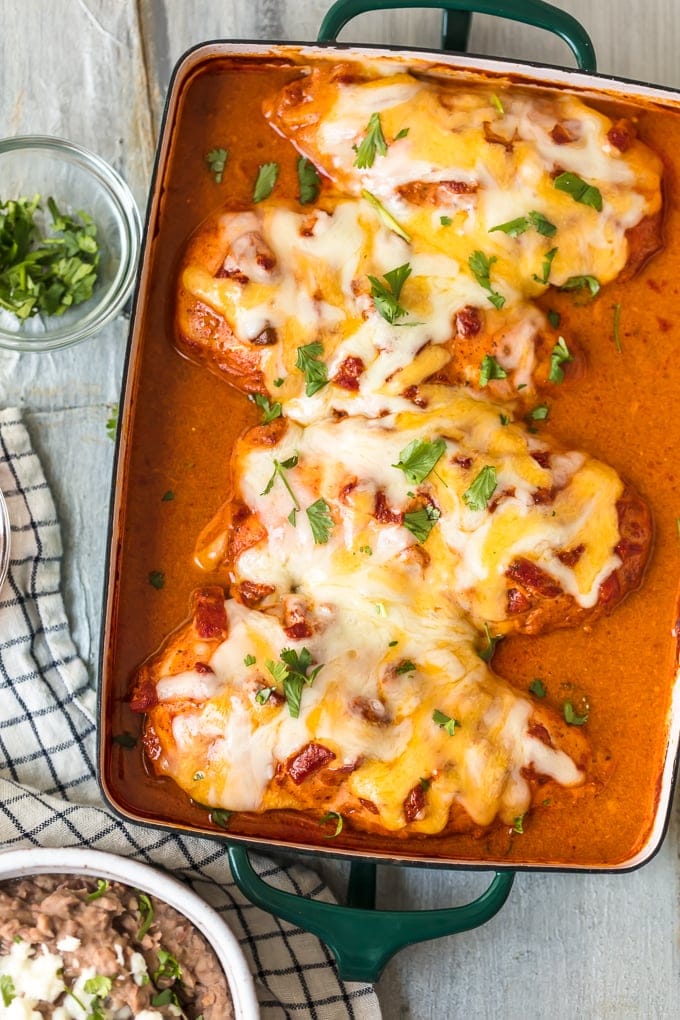 This southwest chicken bake is a cheesy enchilada inspired dish the whole family will devour! This creamy baked chicken is so tasty and so easy to make.
Baked Chicken is kind of my specialty around here. Some of my most popular recipes are Baked Chicken Tacos, Baked Caesar Chicken, and Bacon Ranch Chicken Bake. You guys love easy chicken recipes for dinner and so do I! So here's another delicious baked chicken recipe that I know you and your families will really enjoy.
This Southwest Chicken Bake is creamy, cheesy, and inspired by one of my favorite dishes: chicken enchiladas! I love Mexican food and Tex-Mex dishes, so I wanted to create an easy chicken bake inspired by those flavors. Chicken breast, cheese, tomatoes, green chiles, sour cream, and enchilada sauce mix perfectly in one baking dish…and it only takes a little over 30 minutes to make!
Make this easy baked chicken breast recipe for your next weeknight dinner and you'll have a delicious meal without any hassle!
This Southwest Chicken Bake is a creamy, cheesy Enchilada Baked Chicken recipe that's easy to make any night of the week!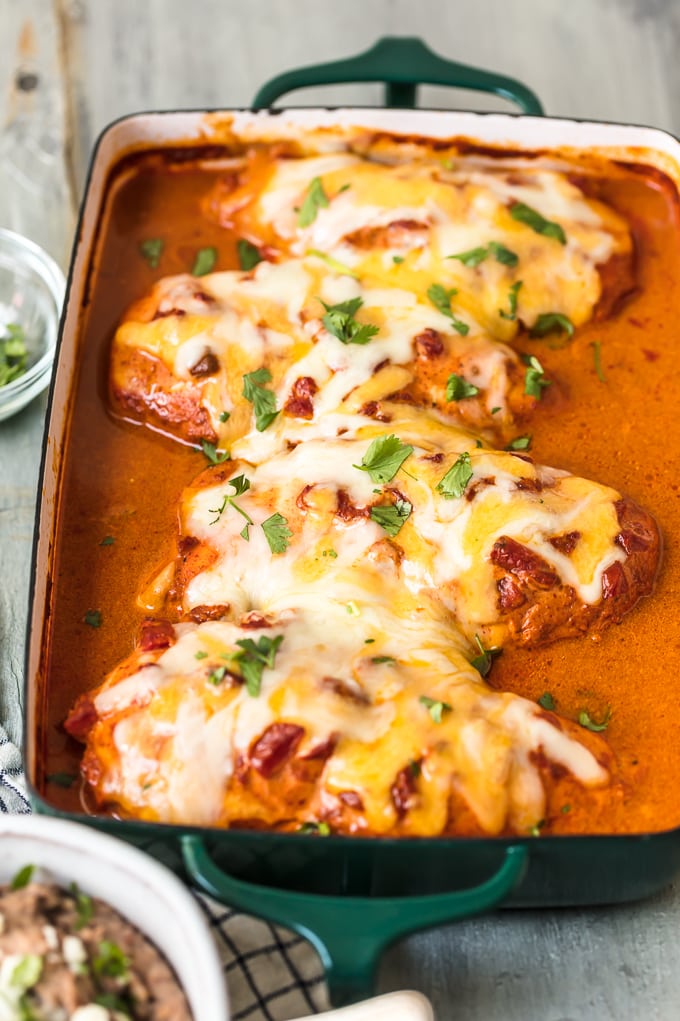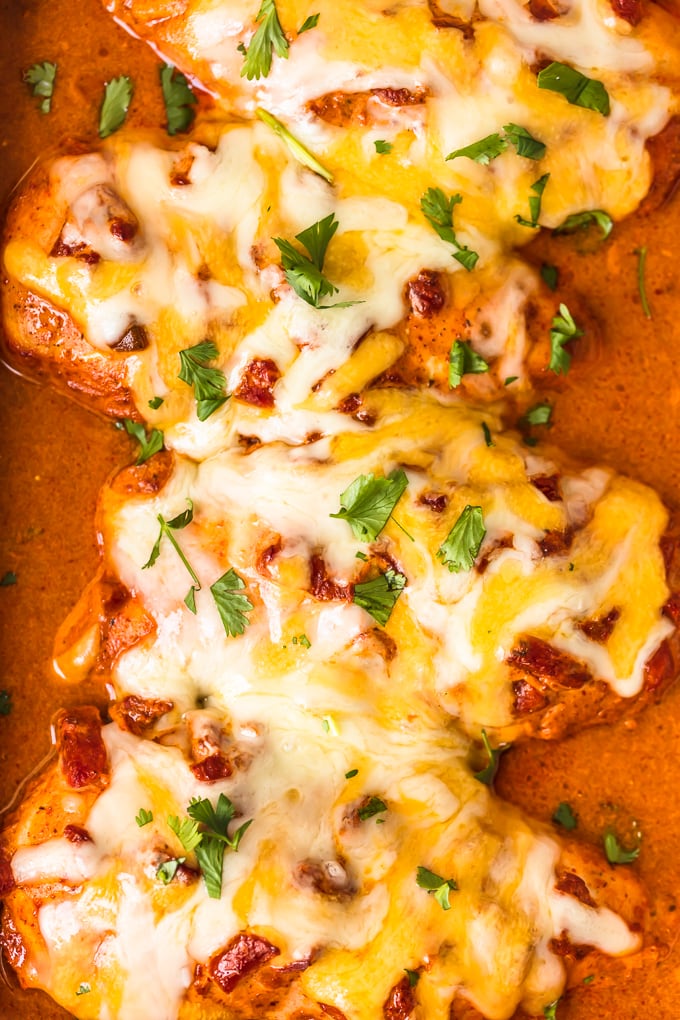 Creamy, Cheesy Enchilada Baked Chicken
Chicken enchiladas are one of my favorite dishes. I just love the mix of chicken, cheese, and tasty enchilada sauce. So I turned that into an easy chicken dinner recipe that you can make for your family in less than an hour. The chicken is cooked in enchilada sauce and topped with tortilla strips, more cheese, and cilantro. This baked chicken breast recipe brings all of those Tex-Mex flavors into one simple dish that tastes absolutely amazing!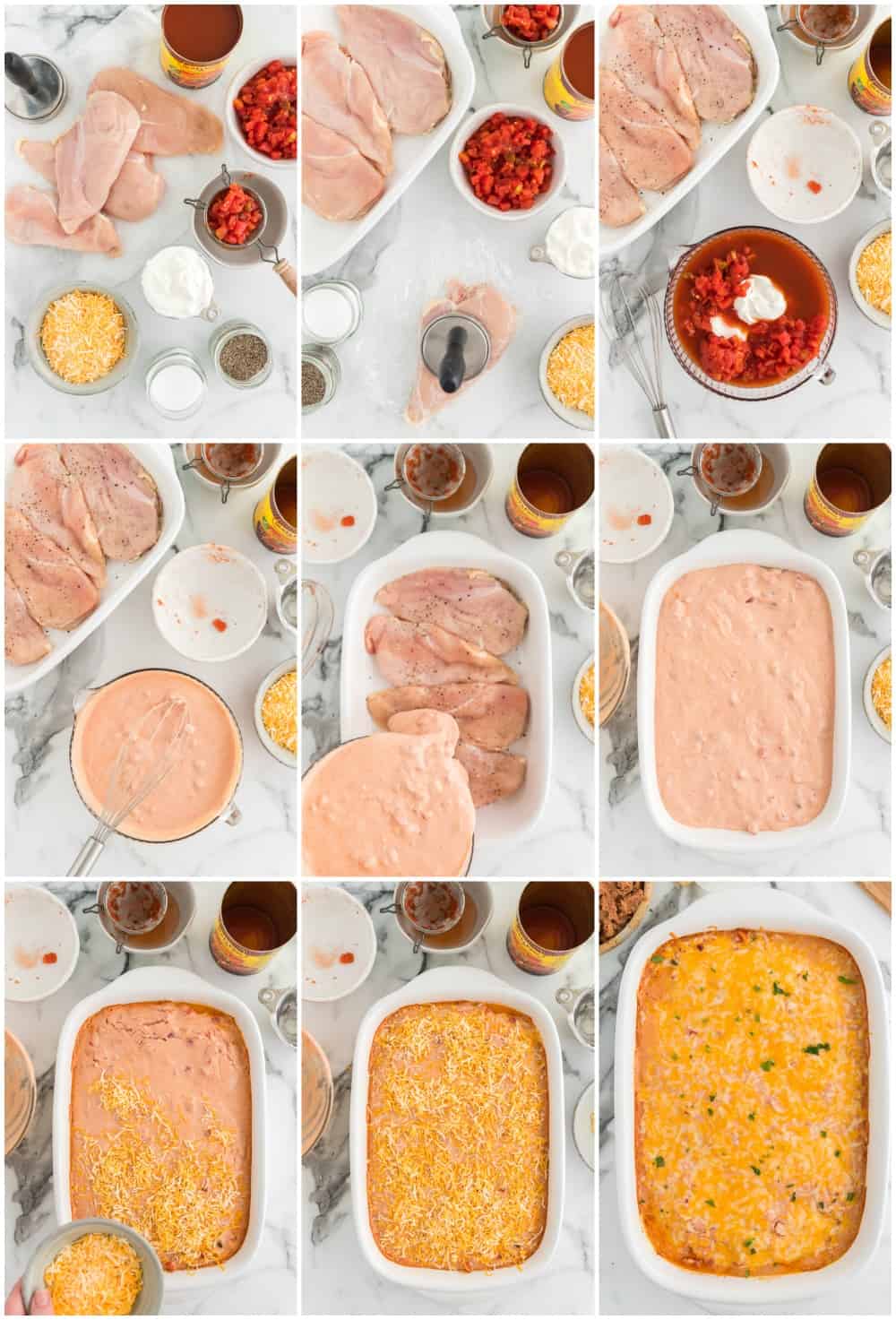 Southwest Chicken Bake with Refried Beans
This Southwest Chicken Bake has so much flavor and is beyond delicious. Now that you've got the chicken, you need a great side dish to go with it!
These homemade refried beans go perfectly with this cheesy baked chicken breast recipe. The refried beans are the ideal taste and texture, and they are so good served alongside this chicken. It's the best and easiest Tex-Mex inspired meal to make any night of the week.
I also like serving this chicken with cilantro lime rice!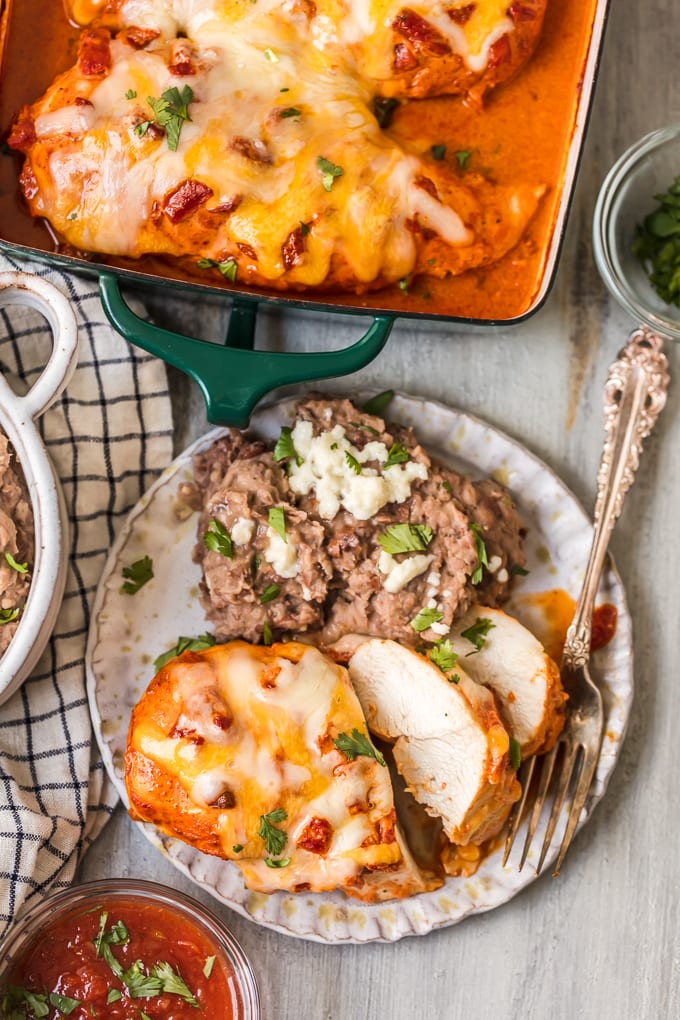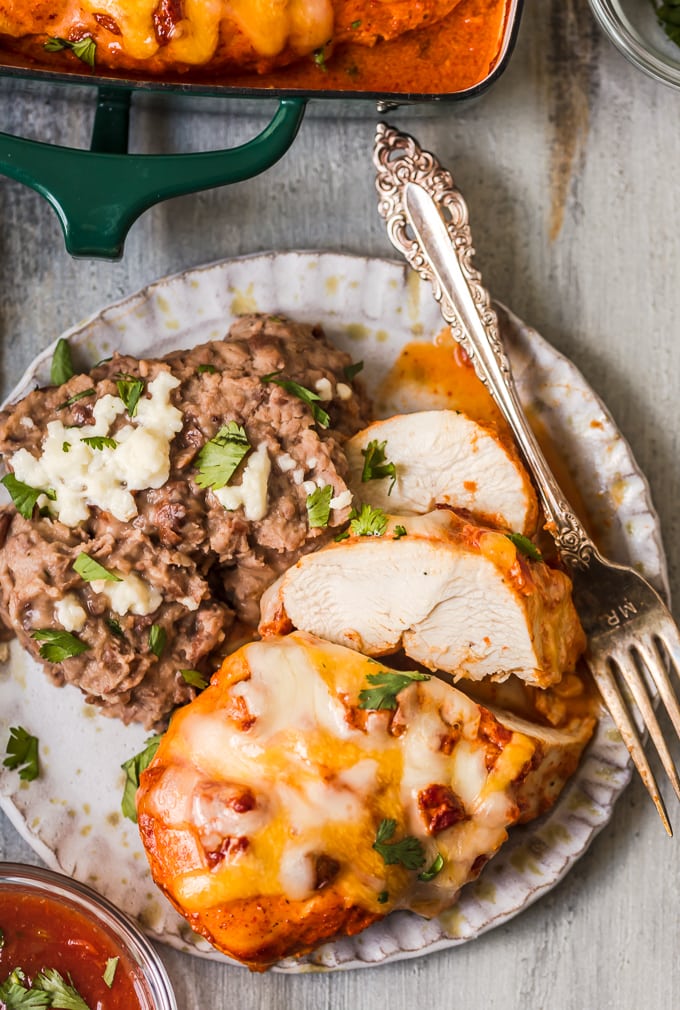 How long do you cook chicken breast in the oven at 375°?
This baked chicken breast recipe should be cooked in the oven for 20-30 minutes. Use a meat thermometer to ensure the chicken has reached the proper temperature.
What is a good internal temperature for chicken breast?
Chicken Breast should always be cooked to an internal temperature of 165°F. It's important to have a meat thermometer in your kitchen to check the internal temperature of meat any time you cook. Check out this post all about internal temperatures to get a free printable Meat Temperature Chart to make sure you cook all of your meat to the right temp!
Click here to check out our full Baked Chicken Guide for more EASY baked chicken recipes!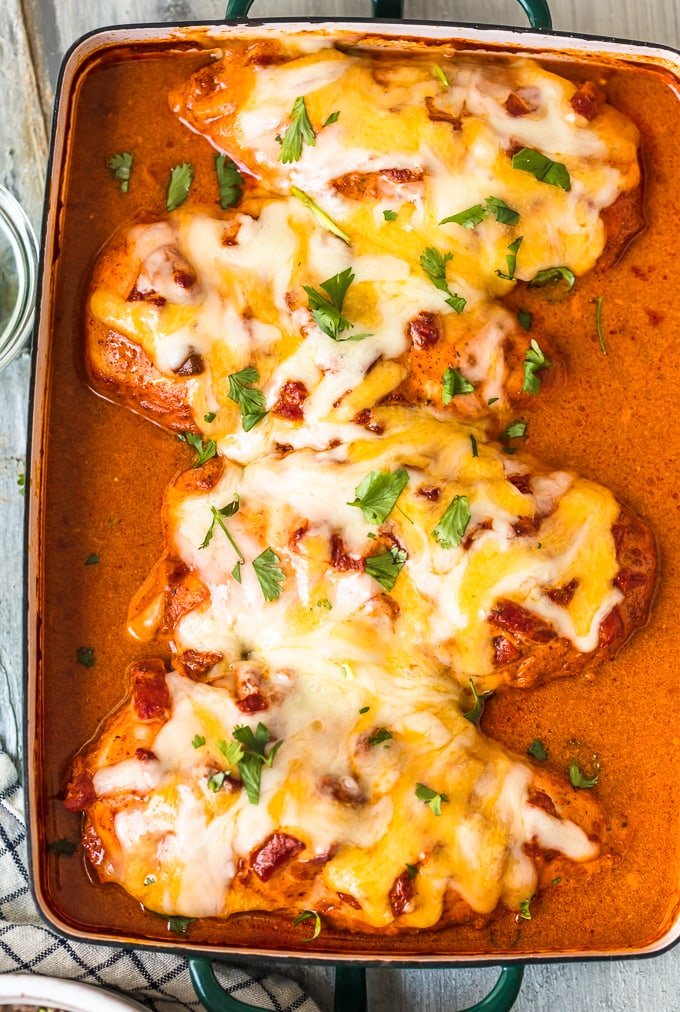 This Southwest Chicken Bake is so creamy, cheesy, and delicious! This Enchilada Baked Chicken Breast recipe is such an easy dinner to make for your family and everyone will love it. Enjoy!
See the recipe card below for details on how to make Southwest Enchilada Baked Chicken. Enjoy!
If you like this baked chicken breast recipe, try these other easy chicken recipes too: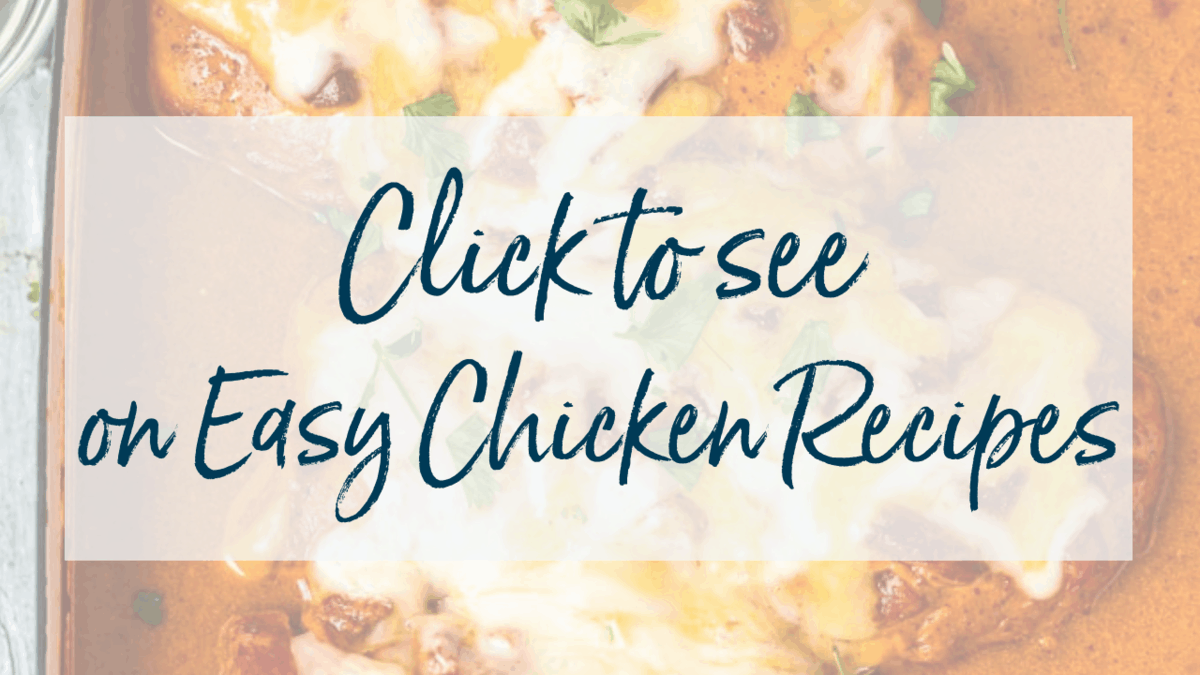 Click to see the full recipe on our sister site, Easy Chicken Recipes!