Spiked Chocolate Hazelnut Fondue is perfect for the holidays! Tastes just like Nutella, and is perfect for dipping marshmallows, brownies, pound cake, or fruit.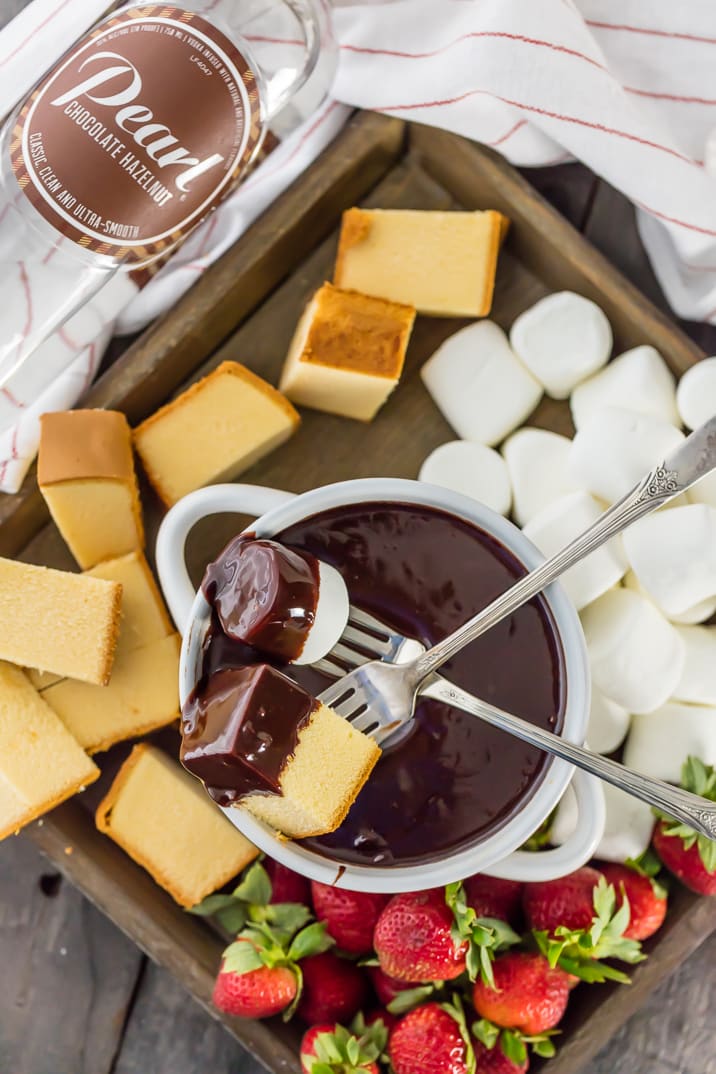 Spiked Chocolate Hazelnut Fondue
Spiked Chocolate Hazelnut Fondue is a play on my favorite dessert at one of my favorite restaurants, The Melting Pot. The romantic restaurant boasts gorgeous cheese and chocolate fondue recipes. So I experimented with chocolate fondue and added hazelnut flavored vodka for an absolutely divine holiday treat. One taste and you will be hooked!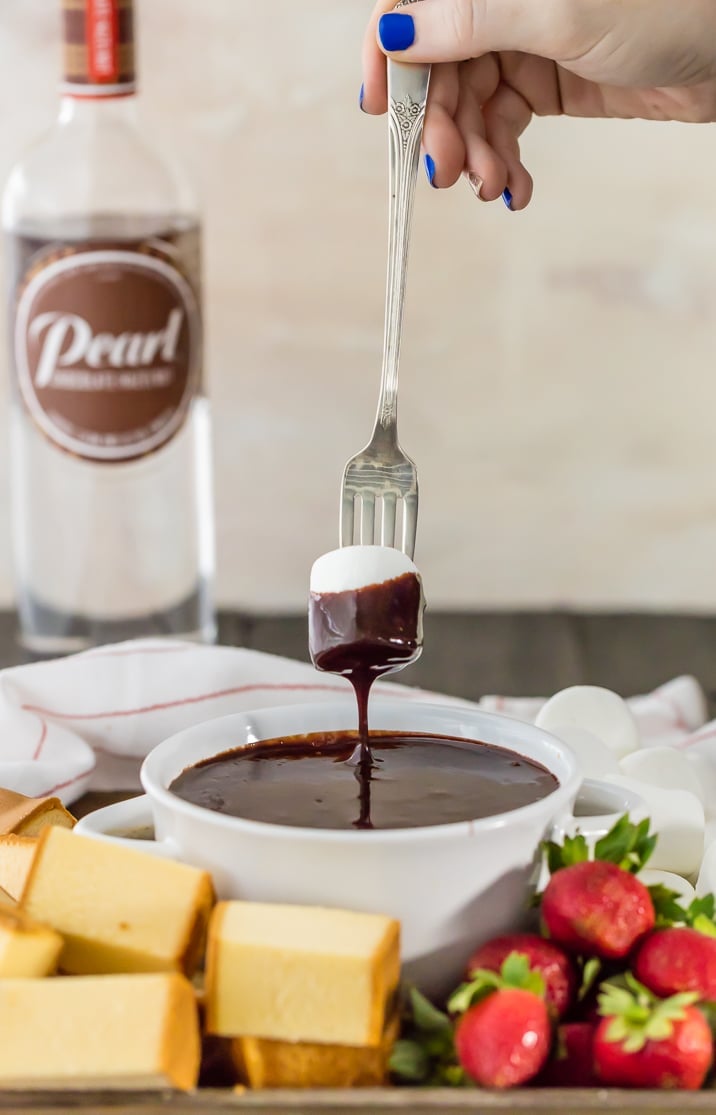 What Ingredients Do You Need To Make Spiked Chocolate Hazelnut Fondue?
This delectable dessert comes together with just a few ingredients. I love experimenting with Pearl Vodka flavors, and when they introduced Chocolate Hazelnut Vodka I knew it would be a hit! Combine it with some heavy cream and chocolate chips and you have a rich, spiked dipping sauce for all your favorites.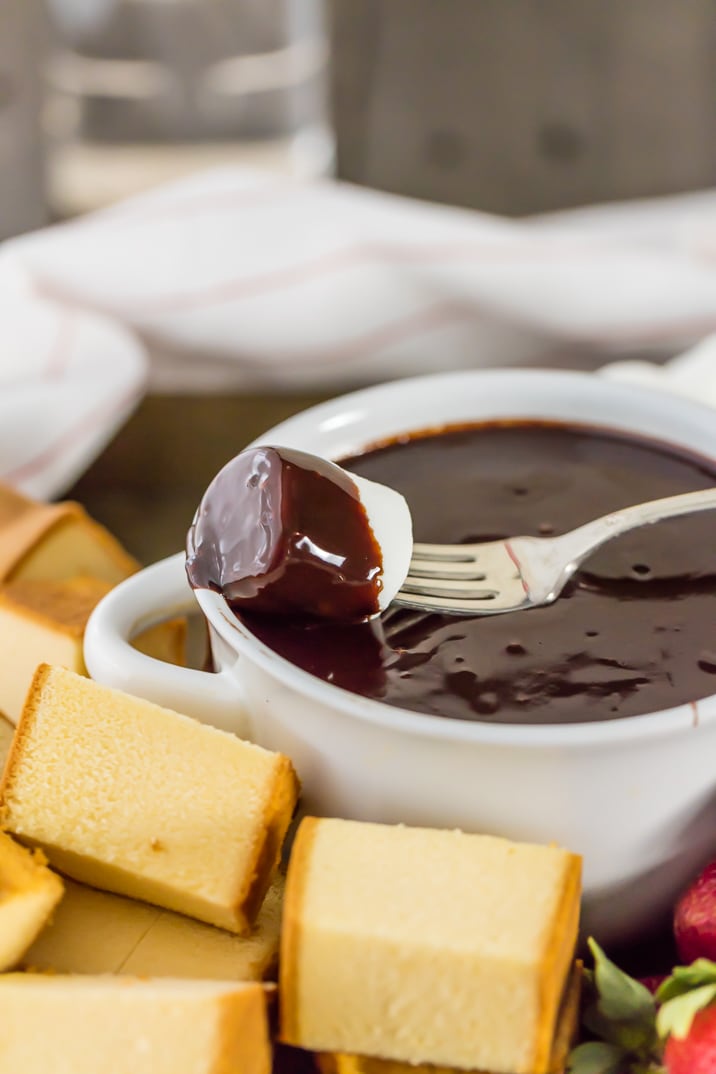 What Can You Dip in Spiked Chocolate Hazelnut Fondue?
When it comes to chocolate, there's very few things I won't dip! But some of my favorite foods for this recipe include:
marshmallows
pound cake
bananas
strawberries
brownie bites
cheesecake bites
pineapple
pretzels
biscotti
oranges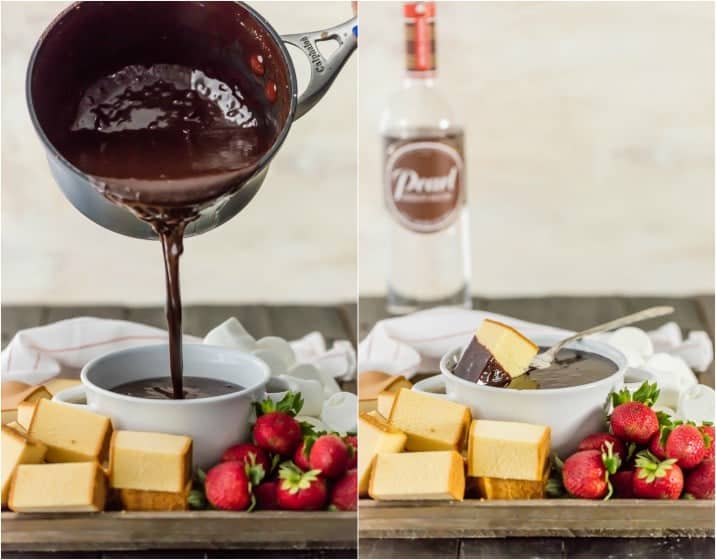 Other Favorite Fondue Recipes
It's no secret that fondue is one of my very favorite appetizers or desserts. Heck, you can make fondue work for just about any meal of the day! Here are a couple of my faves to try:
Fondue may seem like a fancy dessert, but the ingredients aren't. You can use plain, ordinary chocolate chips for this recipe. Easy peasy!

Can Chocolate Fondue be Frozen?
If you happen to have leftovers you can freeze this fondue for up to a month! And since you're using heavy cream in this recipe, it melts even easier than plain chocolate, since the cream helps to stabilize the chocolate.

Can you Reheat Spiked Chocolate Hazelnut Fondue?
Yes! Thaw your frozen fondue in the refrigerator overnight, then microwave for about 15 seconds at a time, stirring in between.
Check out the recipe card below for details on how to make Spiked Chocolate Hazelnut Fondue. Enjoy!

This is such a fun dessert to serve at a party or for a cozy date night. You will absolutely love the warm, boozy hazelnut flavor. Happy dipping!