Spinach Gratin is a cheesy, tasty side dish recipe perfect for holidays and fall dinners. Also known as Creamed Spinach Casserole, this is an easy way to get all of the health benefits of spinach in a simple dish. Spinach, cheese, cream, and seasonings are all mixed together to create a deliciously baked dish, and the bread crumb topping adds the perfect texture!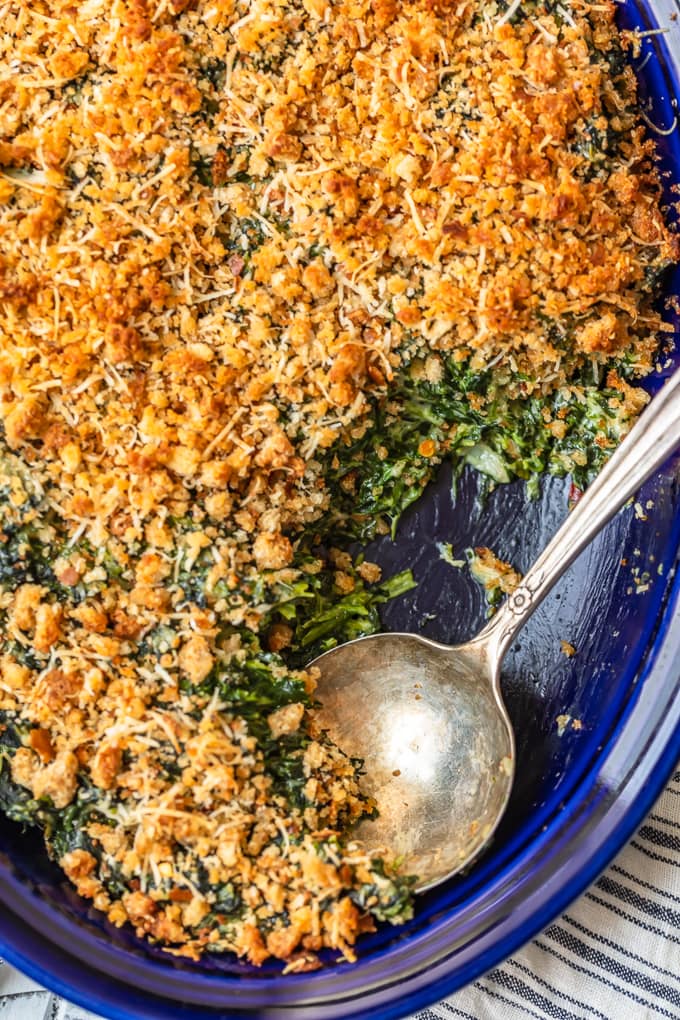 Spinach Gratin – Creamed Spinach Casserole
Spinach Gratin (or Creamed Spinach Casserole) is the perfect holiday side dish. It's filled with healthy spinach AND lots of tasty cheese!
This Spinach Gratin recipe is just so good on so many levels. It's not often that you'll hear people asking for more spinach, but with this Creamed Spinach Casserole, everyone will want a second helping!
Spinach, cheese, cream, and more are mixed together into a casserole dish and topped with a cheesy bread crumb blend. This adds texture to the creamed spinach beneath, and all bakes together into a hot and bubbly spinach casserole that I just can't get enough of.
This is the perfect side dish to serve for the holidays. It's got healthy greens at its base, but it's covered with cheese to make it extra delicious. That combo screams Thanksgiving to me! It fits right in with turkey, stuffing, green beans, and more. Scoop a big helping of this onto your plate and enjoy! Everyone around the table will be loving it too.
This Cheesy Spinach Gratin is the perfect holiday side dish. Make Creamed Spinach Casserole for Thanksgiving, Christmas, or any fall dinner!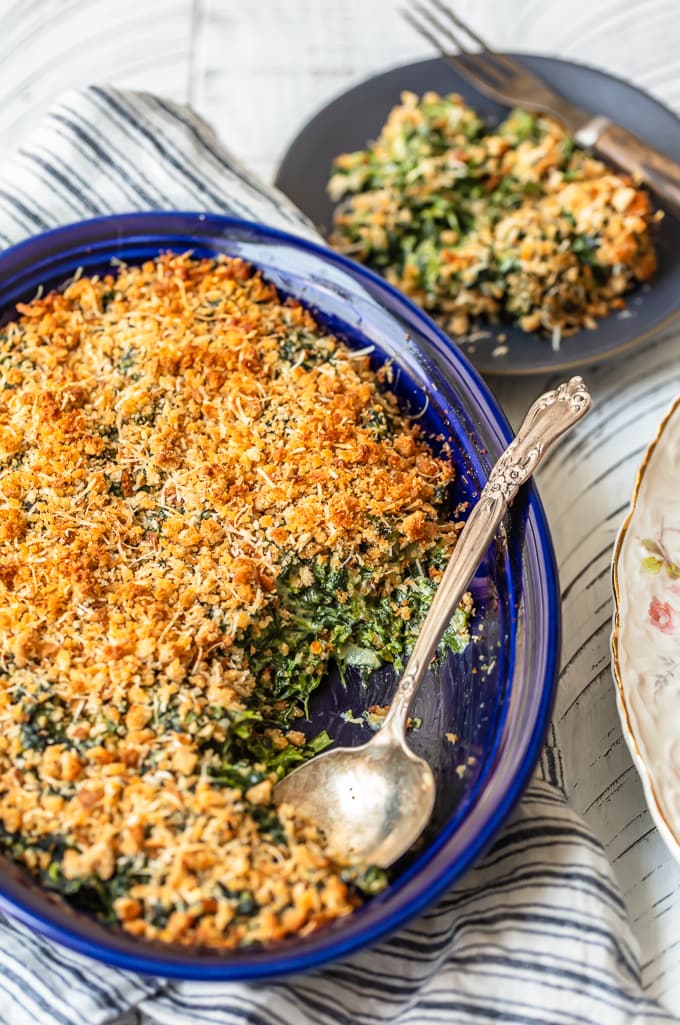 How to Make Creamed Spinach Casserole
Cheesy Spinach Gratin is an easy side dish recipe to make for any meal. It just requires mixing a few things together and letting it bake into a hot and cheesy casserole.
How to Make Creamed Spinach Casserole:
Before starting, set the frozen spinach out to thaw (or let it thaw in the refrigerator)
Start by making the bread crumb topping (as instructed below) and set aside
Squeeze all water out of the thawed spinach
Melt butter in a large skillet, add onions, and cook 8-10 minutes
Sprinkle flour & nutmeg over onions and cook 2 more minutes
Reduce heat, add milk & cream, and stir continuously to thicken the mixture
Stir in the spinach
Add Parmesan, salt & pepper, & red pepper flakes, and mix
Transfer the creamed spinach mixture to the baking dish, and top with bread crumbs & remaining cheese
Baked spinach gratin for 20 minutes at 425°F
The creamed spinach casserole should come out hot and bubbly! See the recipe card below for full instructions. And watch the video to see the step by step process.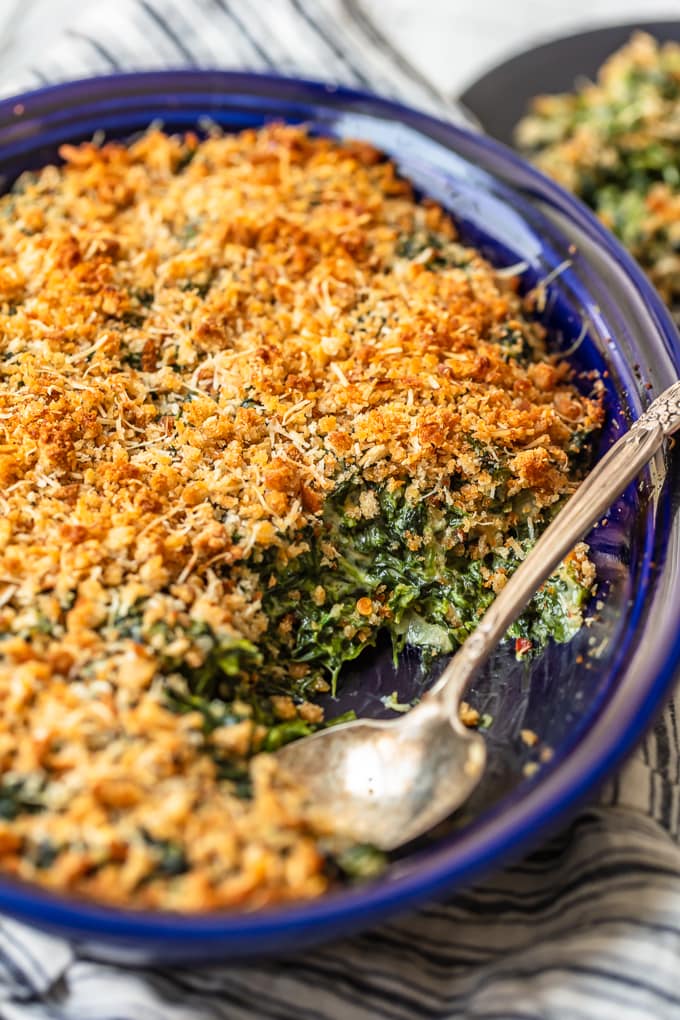 Holiday Side Dish Recipes
I've shared a lot of holiday recipes here, but there is ALWAYS room for a new holiday side dish on the table. As much as I like to make the same top Thanksgiving dishes every year, it's nice to add in different recipes to change things up. And I'm always looking for different sides to serve for Christmas dinner.
This Creamed Spinach Casserole was MADE for the holidays. At the base is spinach, a healthy, leafy green that we should all probably eat more of. But it's mixed with cream and cheese, topped with bread crumbs, and baked into a hot and bubbly casserole. Did I mention it's cheesy? That combination just calls out to me on the holidays, when I want my vegetables, but covered in something super tasty.
Here are a few more of my favorite holiday side dishes: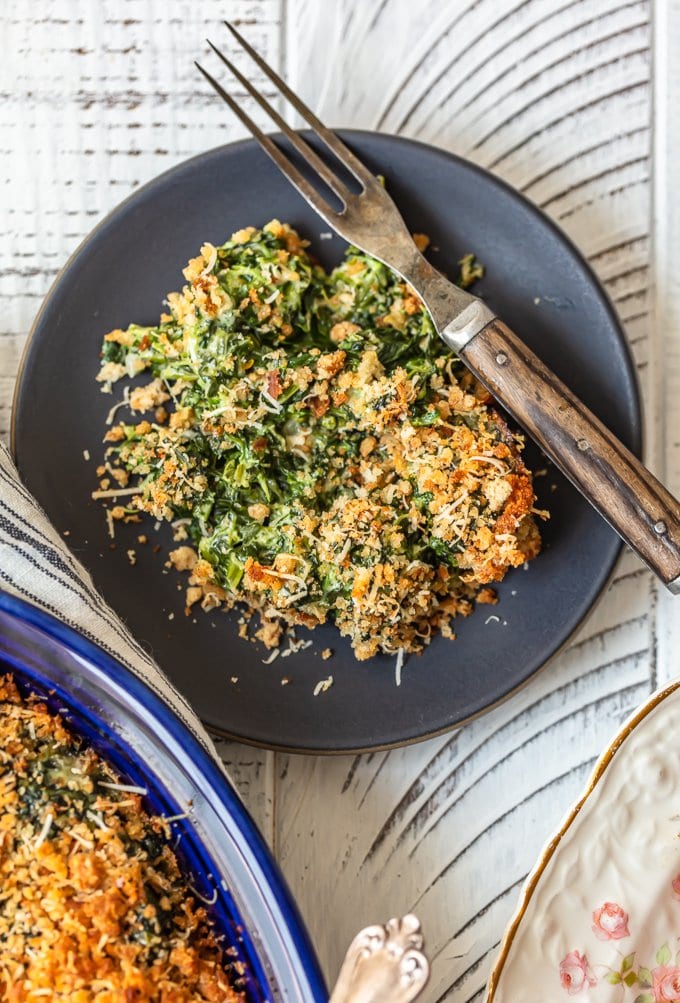 This Cheesy Spinach Gratin is just too good not to make! Cheesy, creamy, filled with HEALTHY spinach, and topped with cheesy bread crumbs to add the perfect texture. There's so much to love about this Creamed Spinach Casserole recipe. Make it for any holiday or just on a nice fall night when you're looking for a side dish for dinner.
Watch the Video and See the recipe card below for details on how to make Creamed Spinach Casserole. Enjoy!
If you like this creamed spinach casserole, try these other spinach-filled recipes: