Summer is Cobbler Season! This EASY Strawberry Basil Crockpot Cobbler is the perfect sweet treat!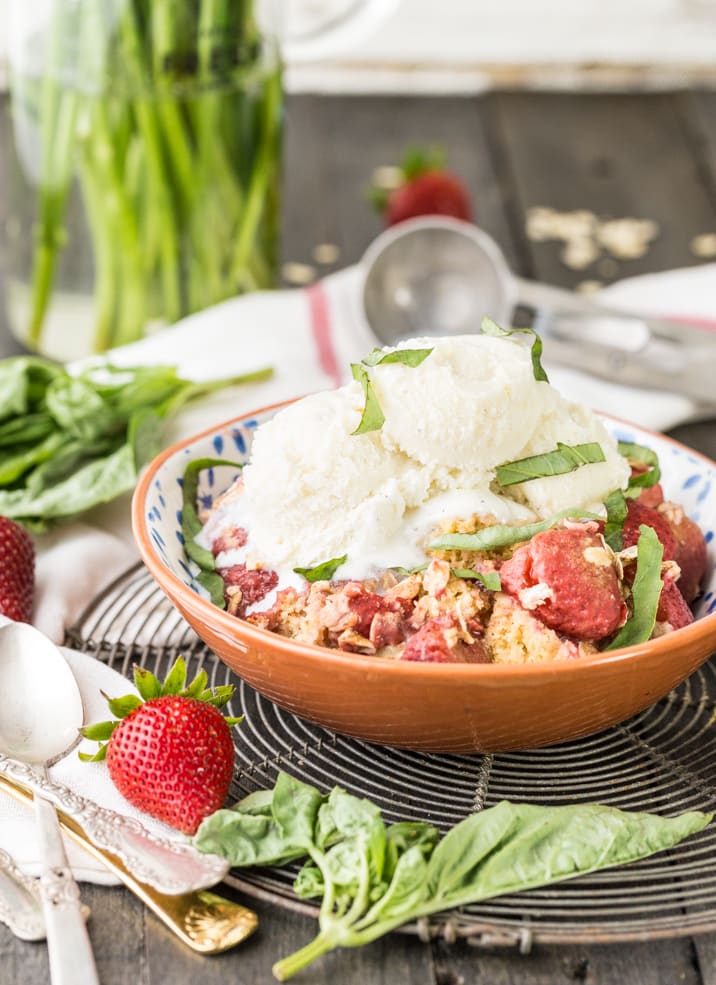 Before I learned how to cook, I was obsessed with my Slow Cooker. Not that I used it much; but if I DID attempt to cook, it was in a crockpot! Something magical happens in a slow cooker. You throw ingredients in, and deliciousness comes out. It's like something on the Jetsons. I love it. This SUPER EASY Strawberry Basil Crockpot Cobbler is one of my favorite things for Summer, aka COBBLER SEASON!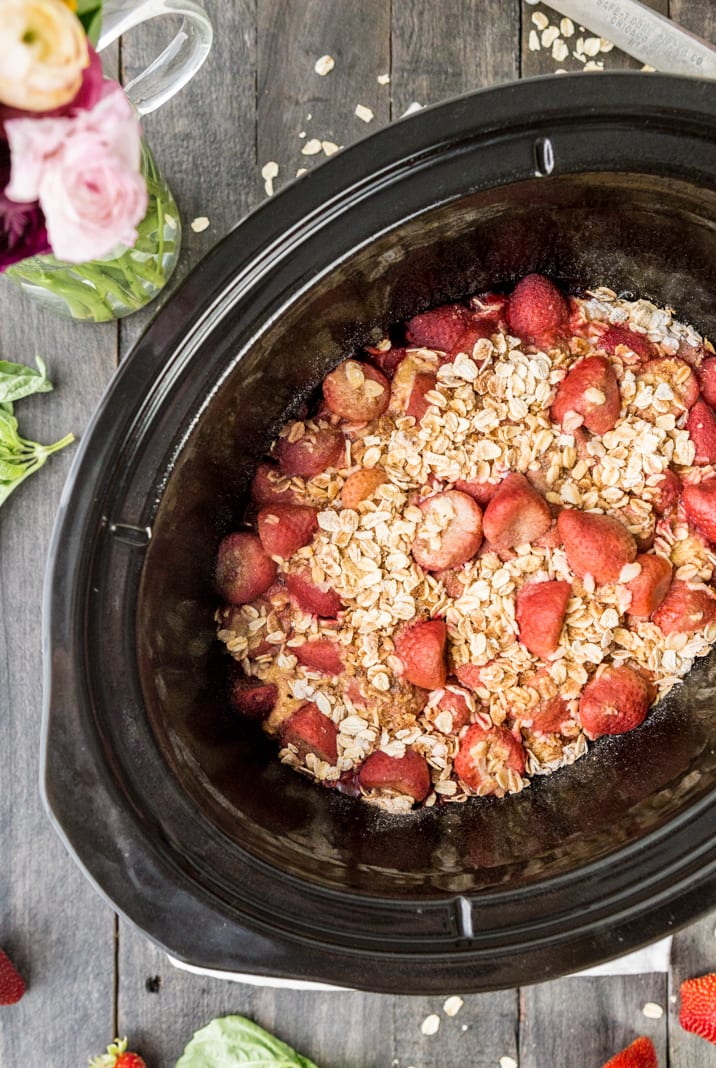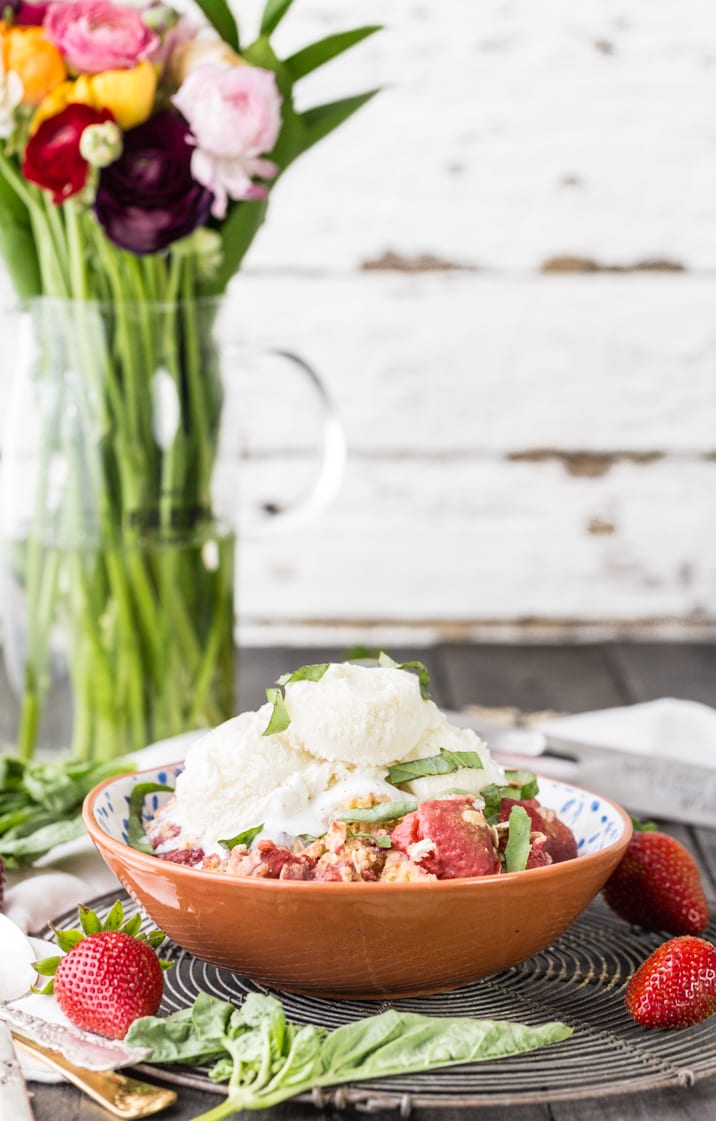 Is there anything more delicious than a good cobbler? The fruit, the cozy carbs, the ICE CREAM. I think it's the best kind of Summer dessert (not counting popsicles :) Even better when you can make it by throwing easy dough and frozen fruit into a crockpot and forget about it until time to eat! You're welcome, folks!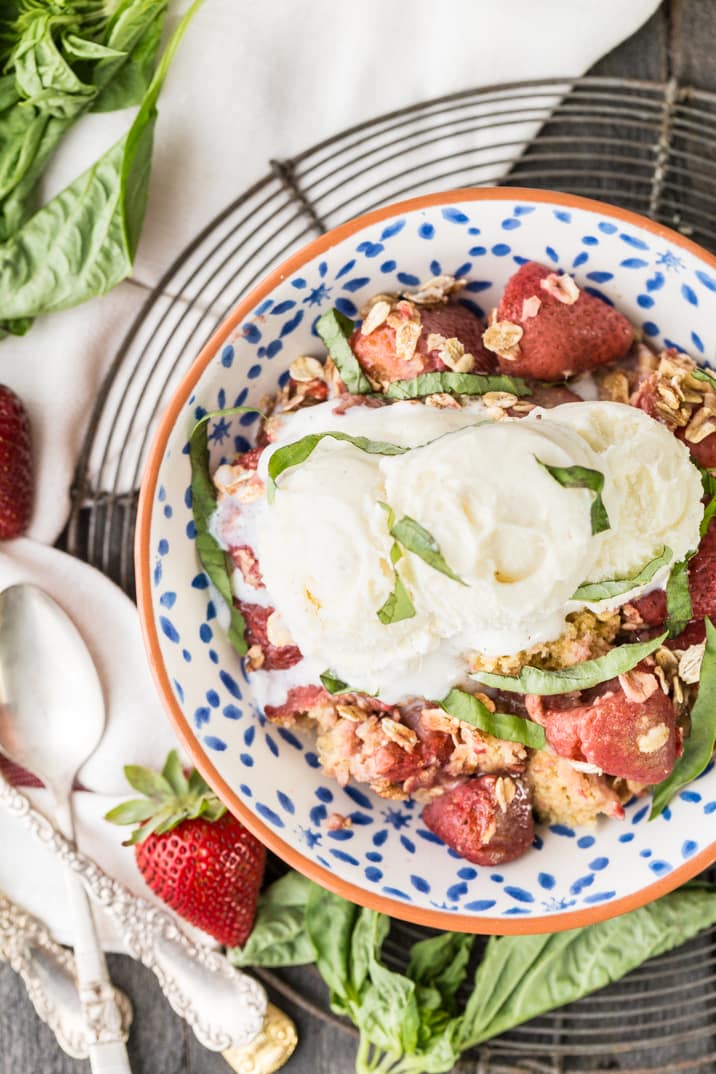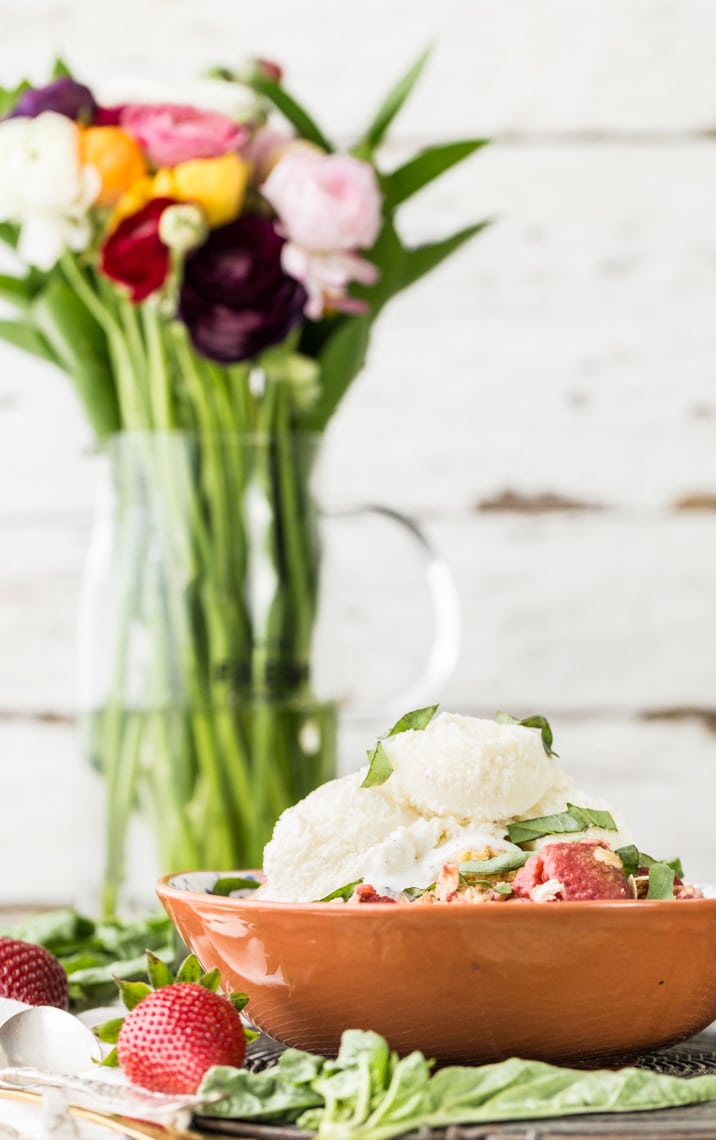 I also love the simple flavors of strawberry and basil. You guys might remember me making a cocktail with similar flavors recently.
Why not a Strawberry Basil Crockpot Cobbler??
Perfection!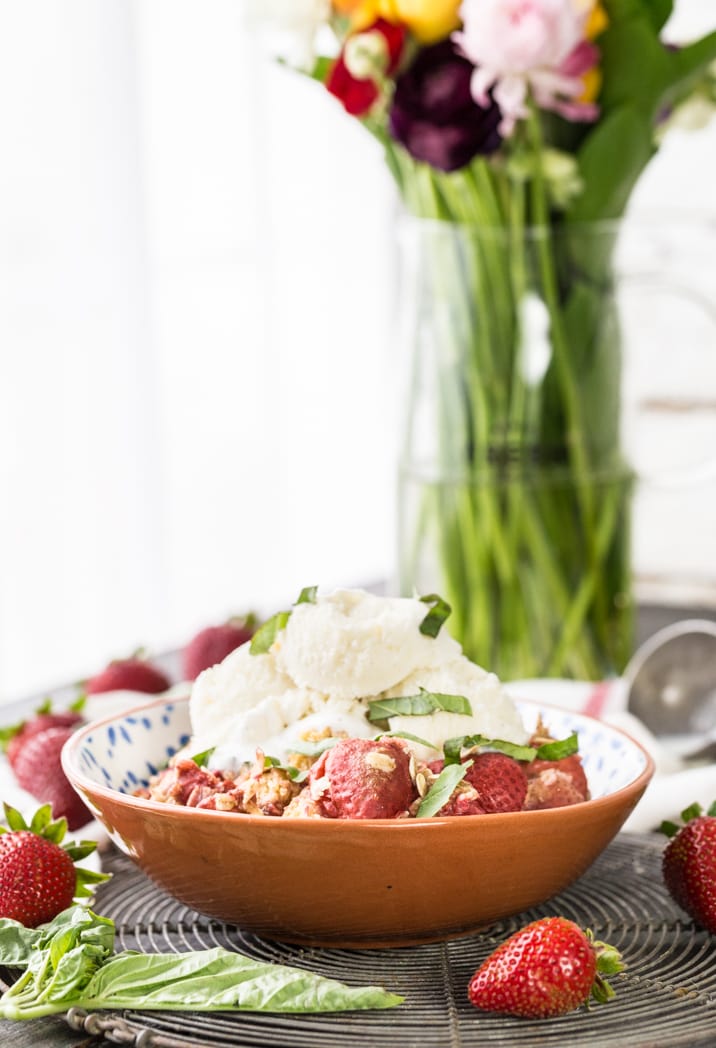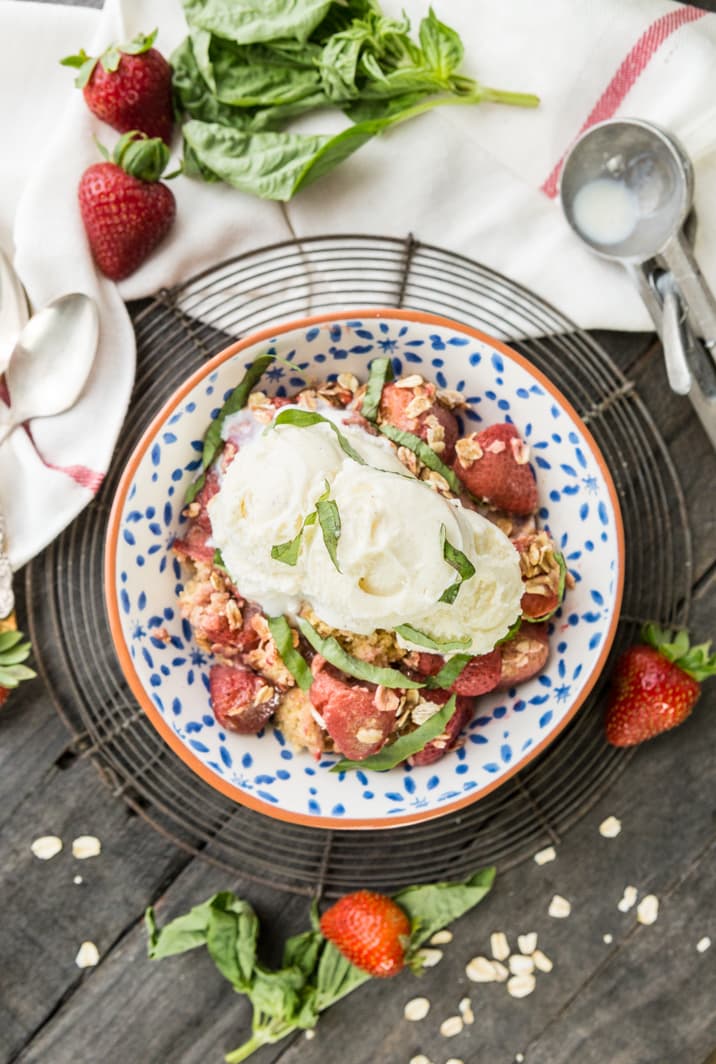 So turn on your slow cooker and pull up a seat. Don't forget the ice cream! Enjoy!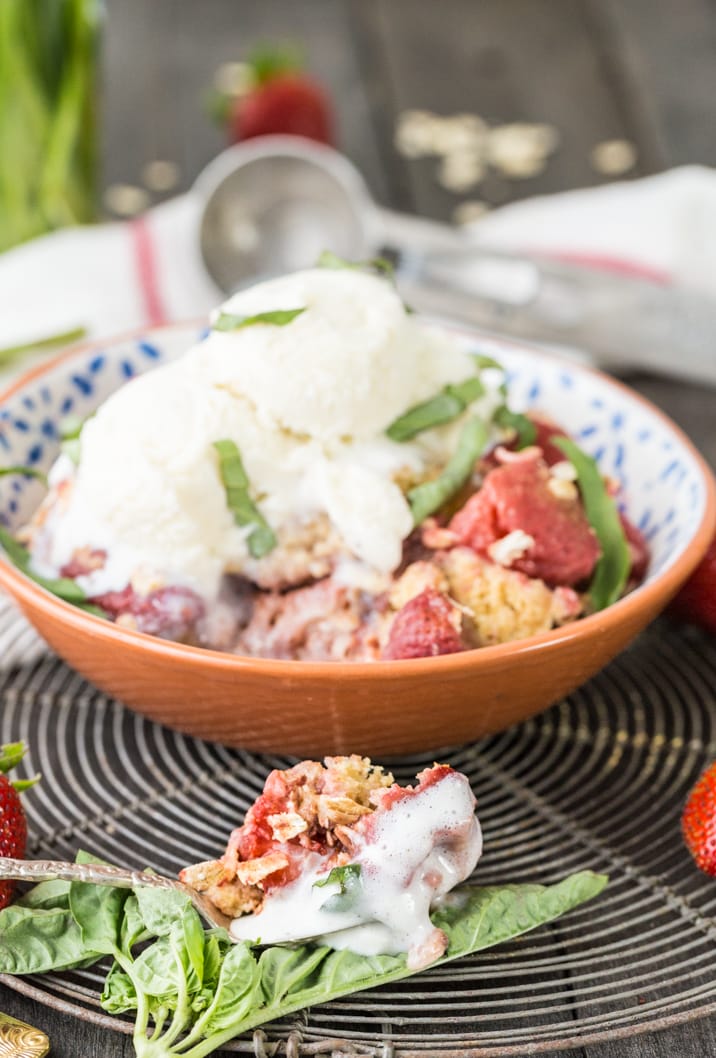 Ingredients
2 1/2 cups all-purpose flour, divided
1 1/4 cups granulated sugar, divided
2 teaspoons baking powder
1/2 teaspoon ground cinnamon
2 eggs
1/2 cup skim milk
4 tablespoons canola oil
1/4 teaspoon salt, divided.
6 cups frozen strawberries
1/4 cup rolled oats
1/4 cup chopped fresh basil, plus more for garnish
Vanilla Frozen Yogurt (optional)
Instructions
In a large bowl, combine 2 cups flour, 1/4 cup sugar, 1/8 teaspoon salt, baking powder and cinnamon. Add the eggs, milk and oil and stir until well combined. Coat the slow cooker with cooking spray then spread the batter evenly into 6 quart slow cooker.
In a separate large bowl, combine the remaining salt, flour and sugar. Add the strawberries and basil to the bowl and toss to coat. Pour on top of the batter in the slow cooker. Top with the rolled oats.
Place the lid on the slow cooker and cook on high for 1 1/2 to 2 hours (or until a toothpick inserted into cobbler comes out clean).
Serve hot topped with Vanilla Frozen Yogurt and more basil. Enjoy!
**TIP: Check after 1 1/2 hours with a toothpick to see if cobbler is done. When it comes out clean, you're good to go!)
7.6.4
1859
https://www.thecookierookie.com/strawberry-basil-crockpot-cobbler/

JOIN OUR MAILING LIST
TO GET COOKING!
Subscibe to recieve all the latest, greatest, and EASIEST recipes sent straight to your email inbox. If we post something yummy, you'll be the first to know.