Strawberry Champagne Soup, served hot or as a chilled soup, is the perfect side dish or appetizer for Valentine's Day, baby showers, bridal showers, or just breakfast in bed!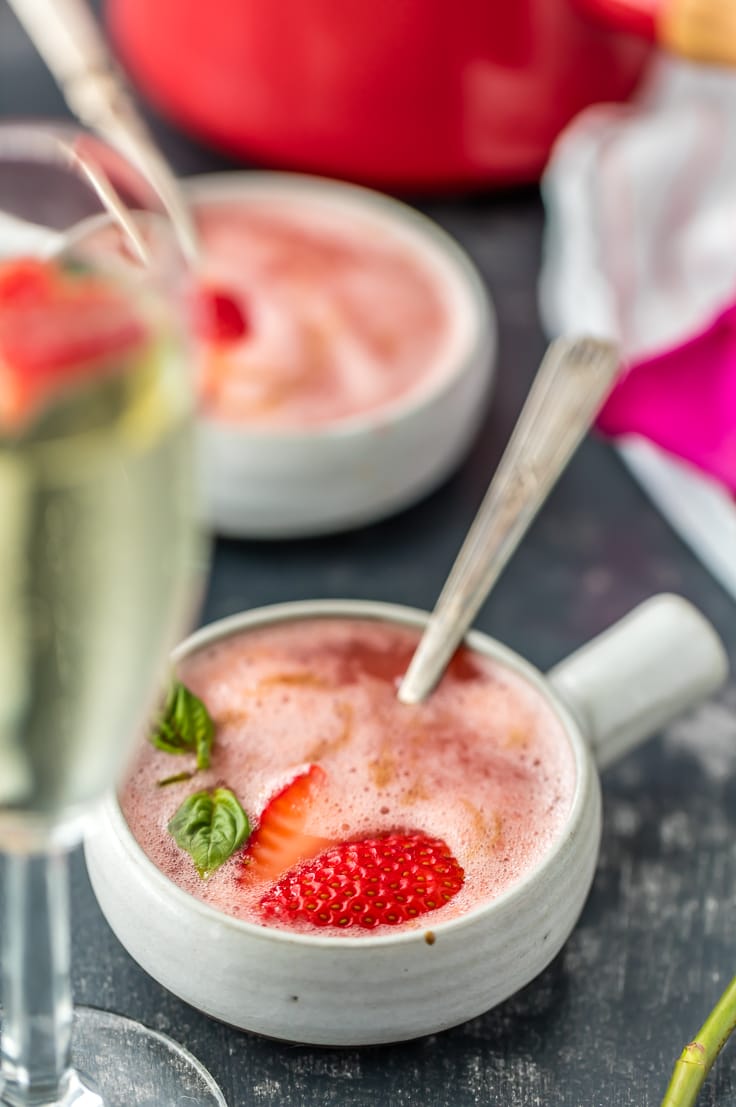 I have just loved brainstorming Valentine's Day recipes this year. I feel so lucky that I get to stay home and brainstorm pretty things all day. What is this life? My last VDay themed recipe of 2016 is also the simplest. And you guys know I love simple recipes, so it's also one of my favorites.
Strawberry champagne soup is as tasty as it is pretty, and can be served hot or cold depending on the situation!
It's the perfect first course for baby and bridal showers, and I think it's just lovely for brunch in bed on Valentine's Day!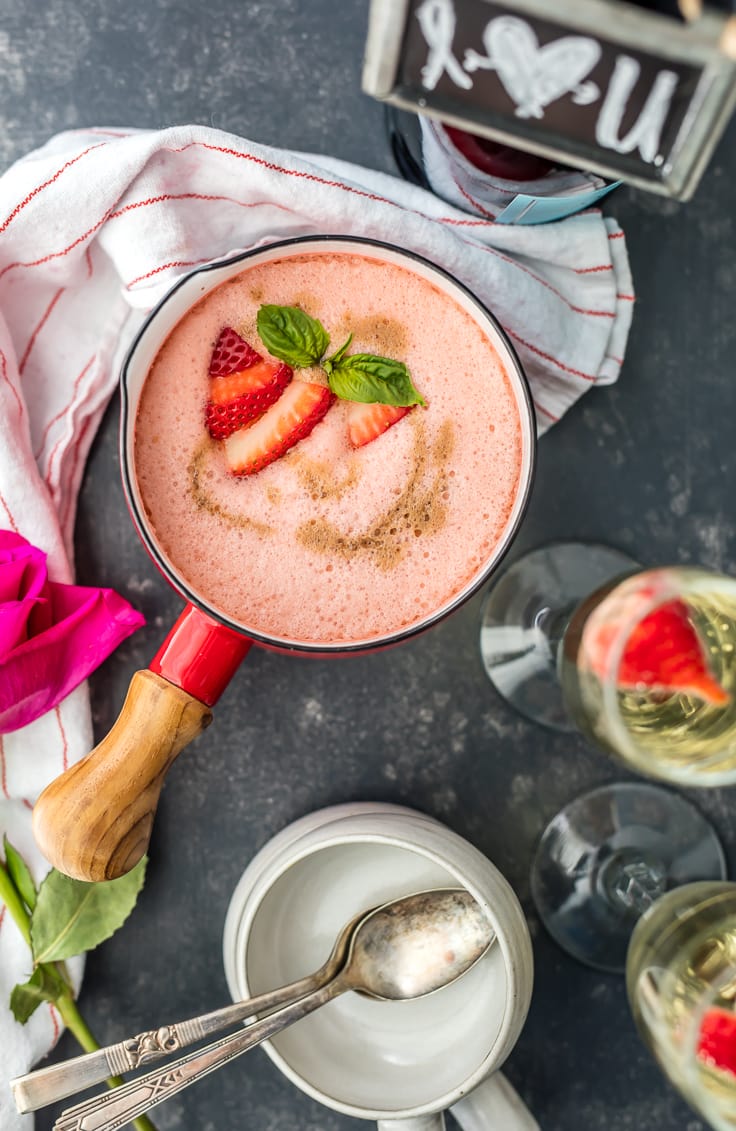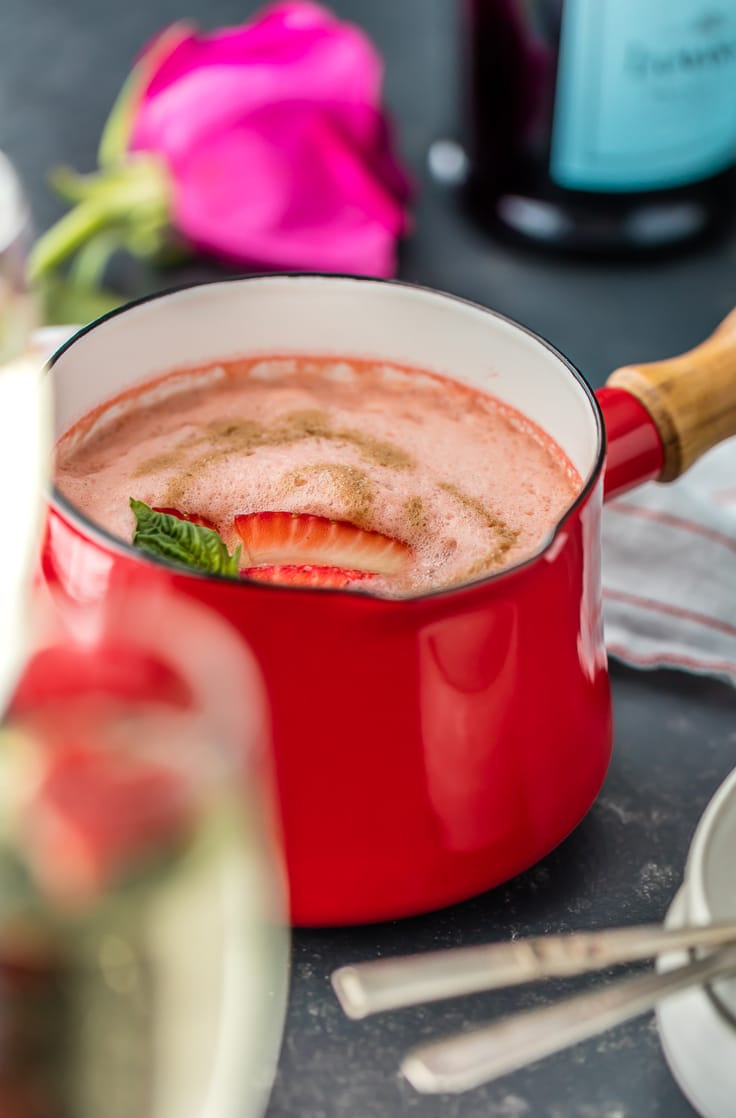 I found a similar recipe in one of my favorite new cookbooks, Saveur Soups and Stews. I have a serious cookbook addiction and this cook book is just full of SO MUCH BEAUTY. Every style of comforting soup or stew recipe is in this awesome book. When I saw they had included a recipe for Strawberry Soup with Balsamic Reduction, I knew I had to try it, tweak it, and post it. I just had to.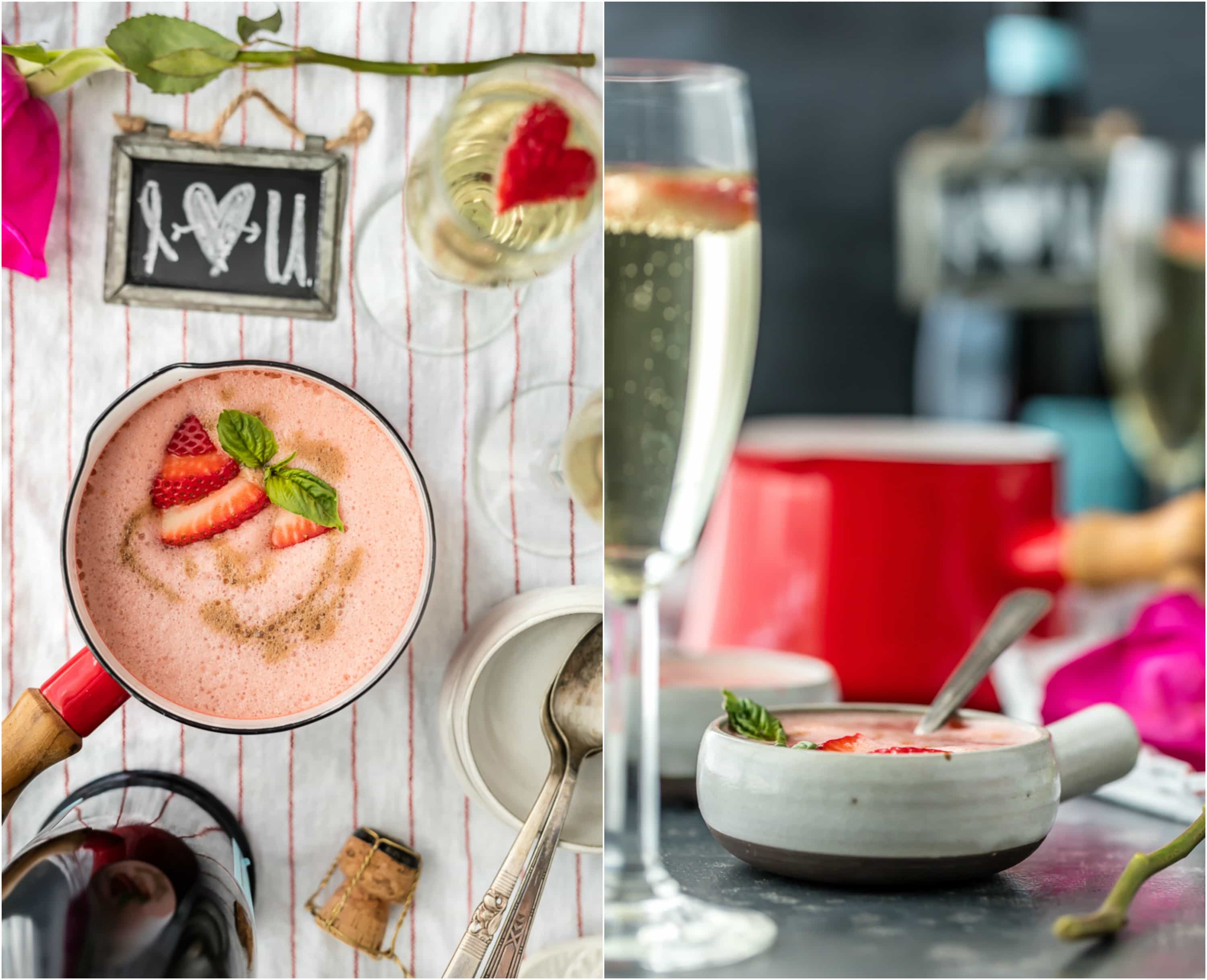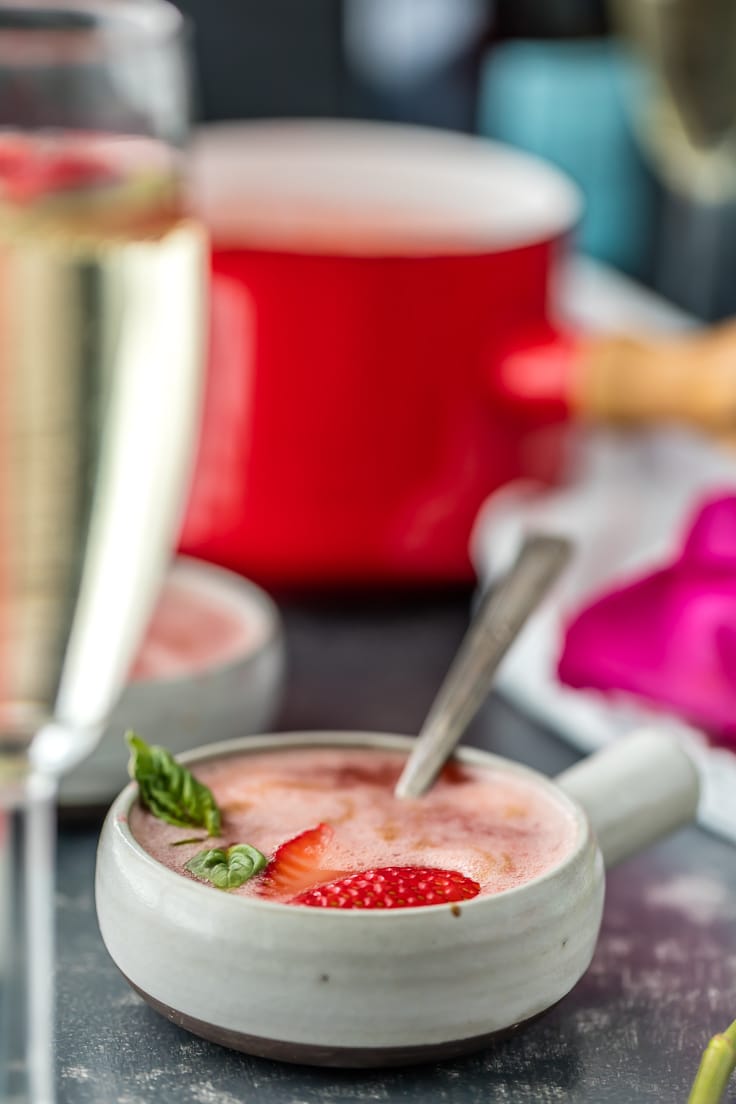 Strawberries are the perfect pairing with champagne, and both make me think of Valentine's Day. Whether you sip this soup or eat it with a spoon, serve it hot or serve a chilled soup, I think you are going to love it.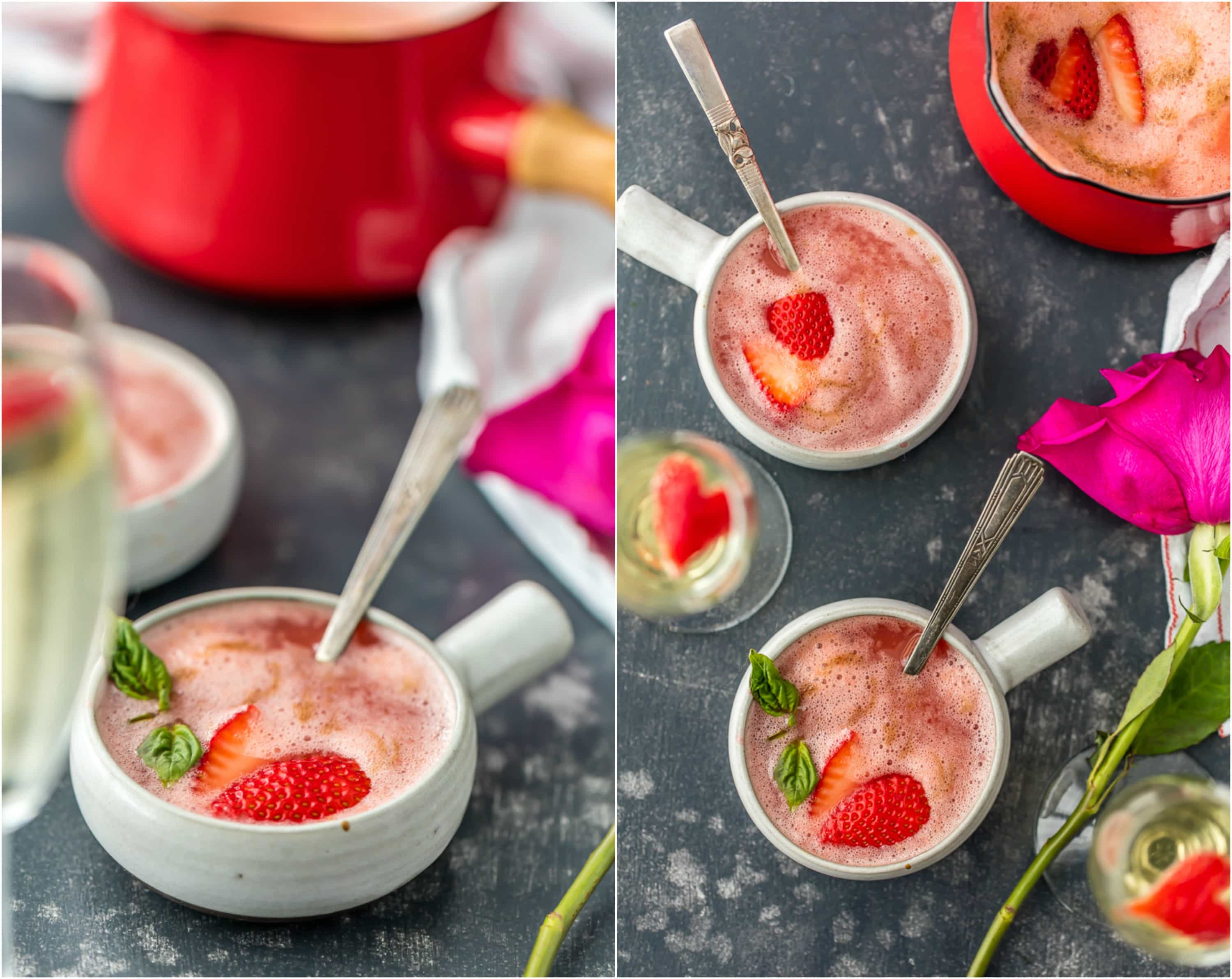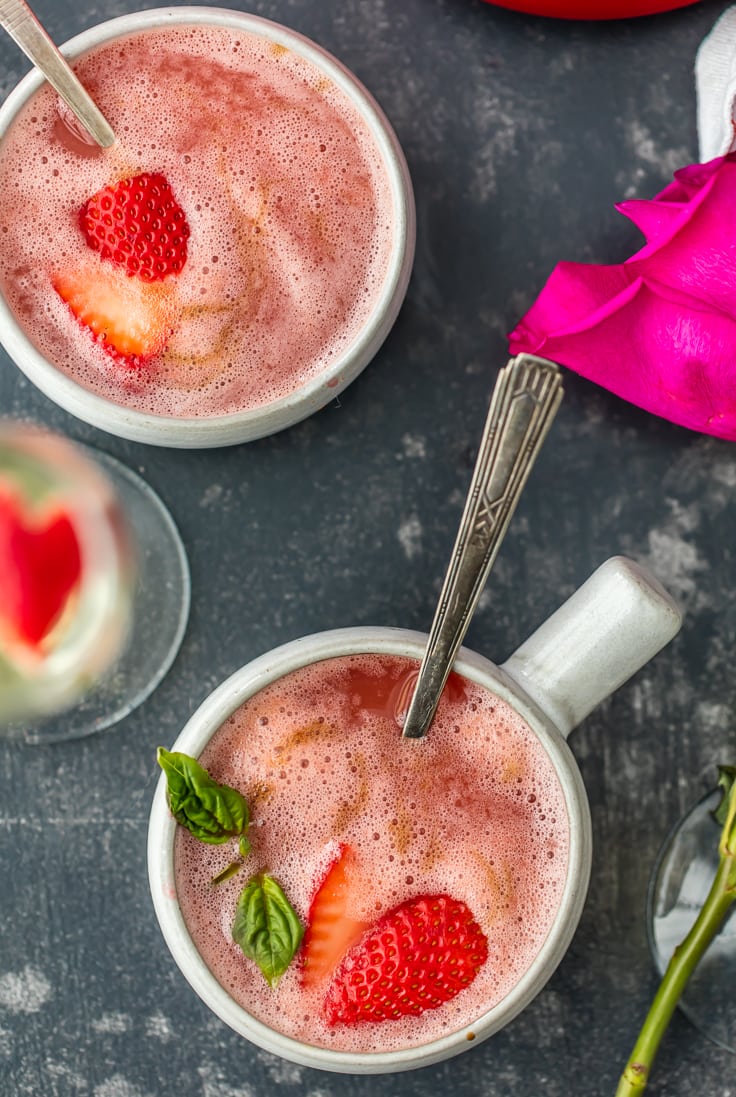 ENJOY!
With this Strawberry Champagne Soup, I sign off from Valentine's 2016!
Click HERE to see all of my Valentine's Day recipes and be sure to check out my very favorites after the recipe card. XOXO!
Ingredients
1 cup champagne or prosecco
1 cup plus 1/4 cup sugar, divided
1 1/2 cup water
pinch salt
16 large strawberries, hulled
1/2 cup balsamic vinegar
fresh basil for garnish
Instructions
Combine champagne, 1 cup sugar, and 1 1/2 cup water in a small saucepan and heat over medium high heat. Stir to dissolve the sugar. Once bubbling, reduce to a simmer and cook for 2 minutes.
Remove from the heat and pour into a high powered blender.
Add the strawberries and salt and blend on high until fully pureed and smooth.
Pour mixture though a fine mesh strainer and back into the small saucepan.
Meanwhile, cook the balsamic and 1/4 cup sugar over medium heat for about 8 minutes until it has reduced slightly and become syrupy.
If serving hot, serve the soup right away garnished with fresh basil, drizzled with 1 tablespoon of the balsamic reduction, and sliced strawberries. If serving cold, chill for 1 hour and then serve garnished the same way.
Enjoy!
7.6.4
1959
https://www.thecookierookie.com/strawberry-champagne-soup/
 BE SURE TO CHECK OUT OUR OTHER FAVORITE ROMANTIC RECIPES!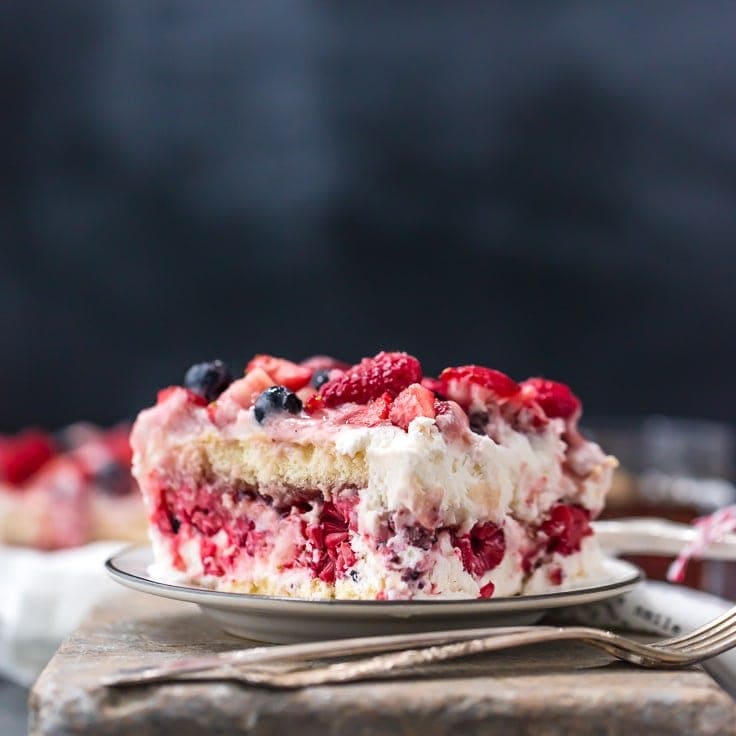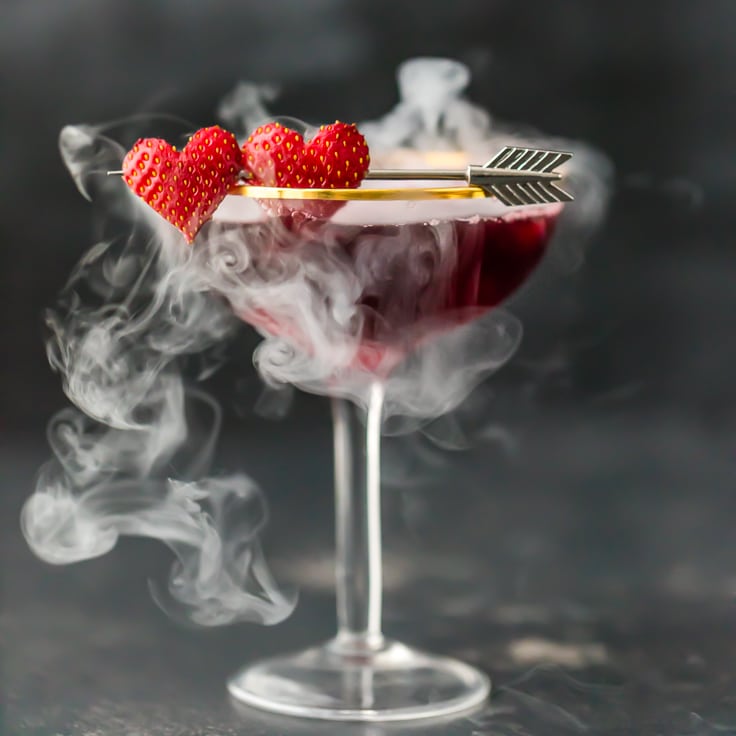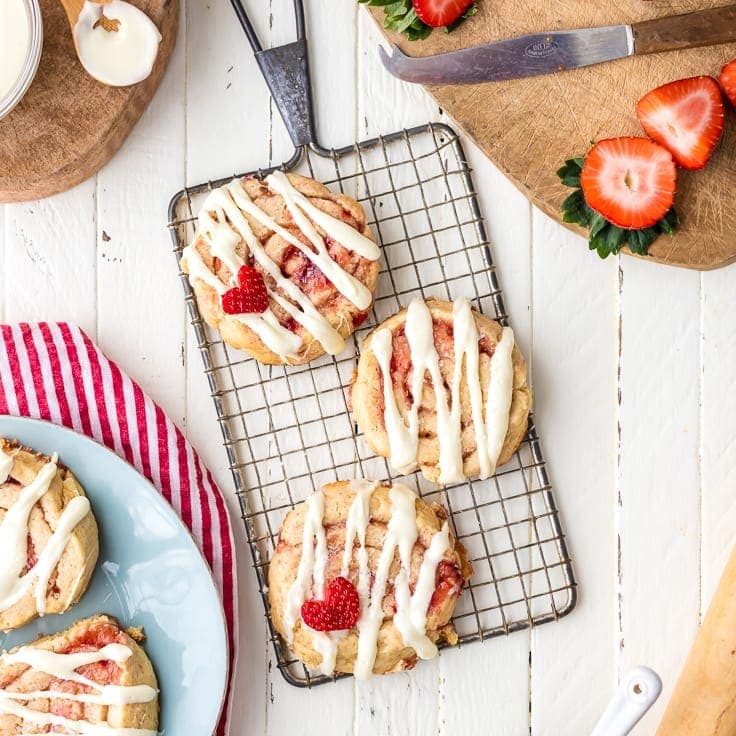 STRAWBERRY CINNAMON ROLL COOKIES

JOIN OUR MAILING LIST
TO GET COOKING!
Subscibe to recieve all the latest, greatest, and EASIEST recipes sent straight to your email inbox. If we post something yummy, you'll be the first to know.