Strawberry Salad is the perfect go-to salad recipe for any occasion. Of course it's best when strawberries are in season in the summer, but I could eat this any time! Toss it with sweet and sour dressing, some sugared almonds, and you're good to go!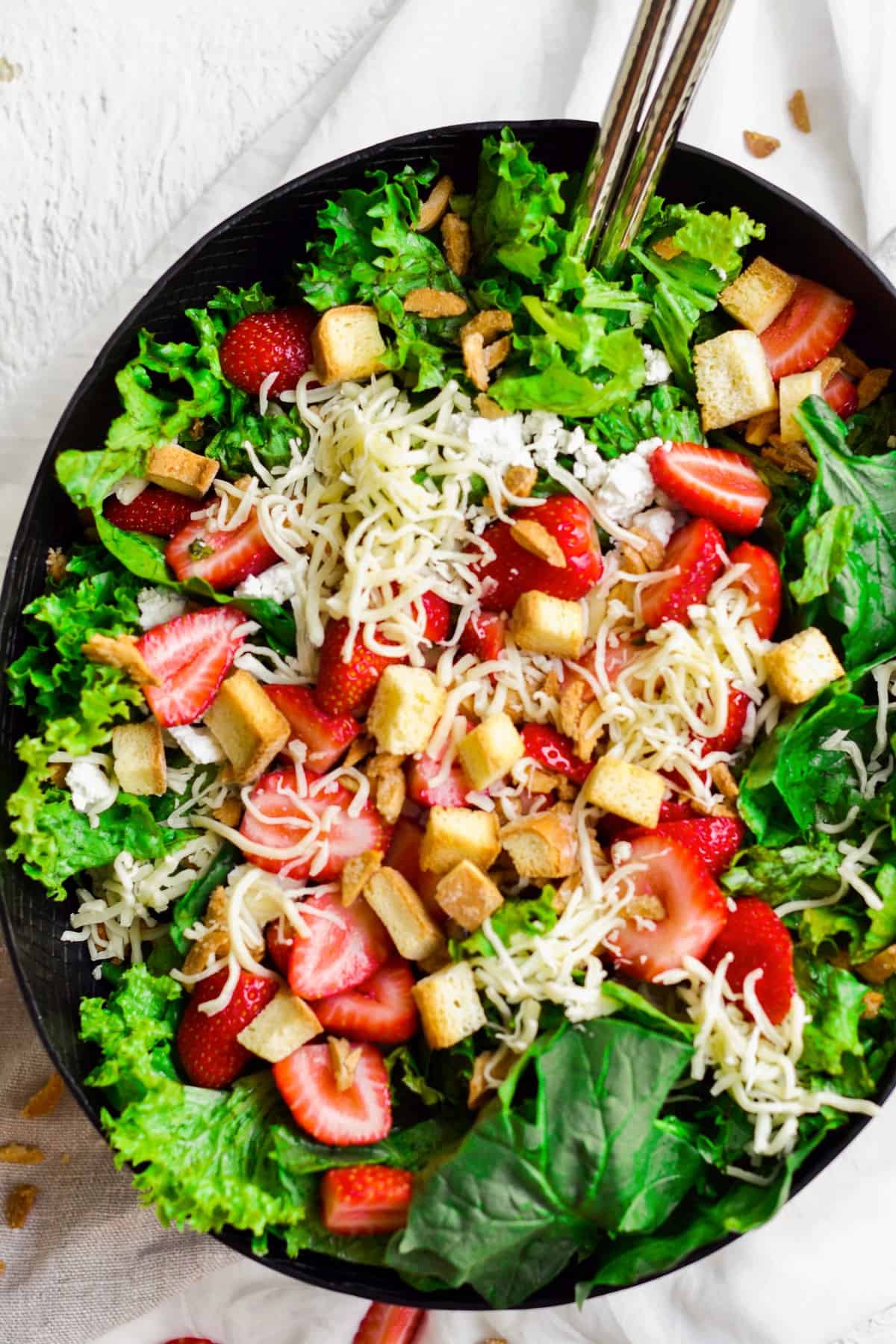 Strawberry Salad Recipe
This fresh strawberry salad is the perfect light and healthy lunch, or simple side dish. It's the best summer salad and it's just so delicious!
Salads are the best thing to eat when you're trying to be healthy, but people make the mistake of thinking salads are boring. Don't be fooled! You can throw absolutely anything you want into a salad and make it delicious! Better yet, they're so easy and quick to make.
This Strawberry Salad recipe has always been one of my favorites, because it tastes so fresh and reminds me of summer (even if I make it in the middle of winter). It's filled with so many tasty things, like fresh strawberries (obviously), plenty of cheese, croutons, sugared almonds, and topped off with sweet and sour dressing for a tangy twist.
Make this for a simple lunch, add it as a pre-dinner salad, or set out a nice big bowl of this for that summer party or BBQ. Everyone will love it!
A fresh salad filled with strawberries, almonds, and cheese is the perfect dish for lunch, parties, and potlucks!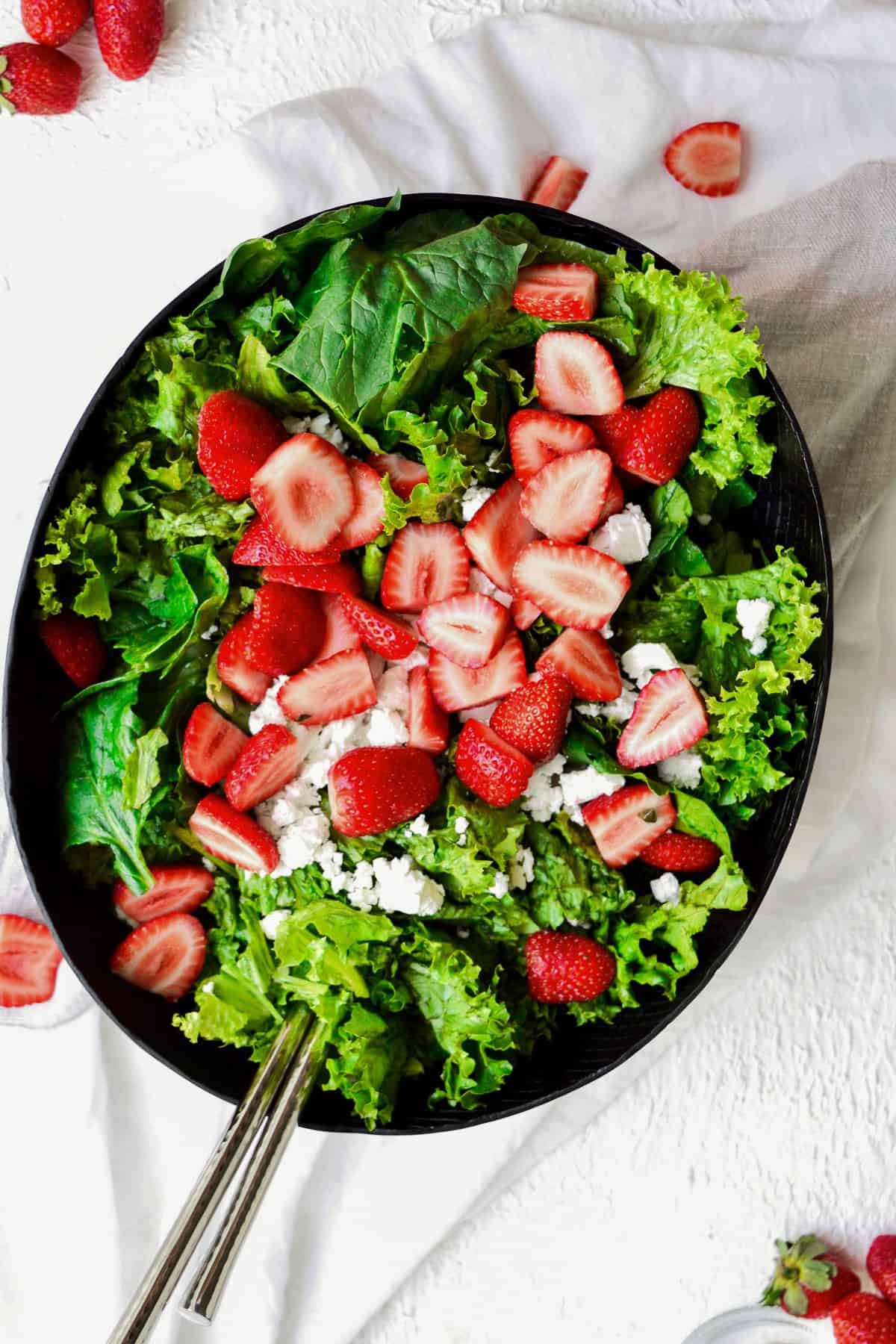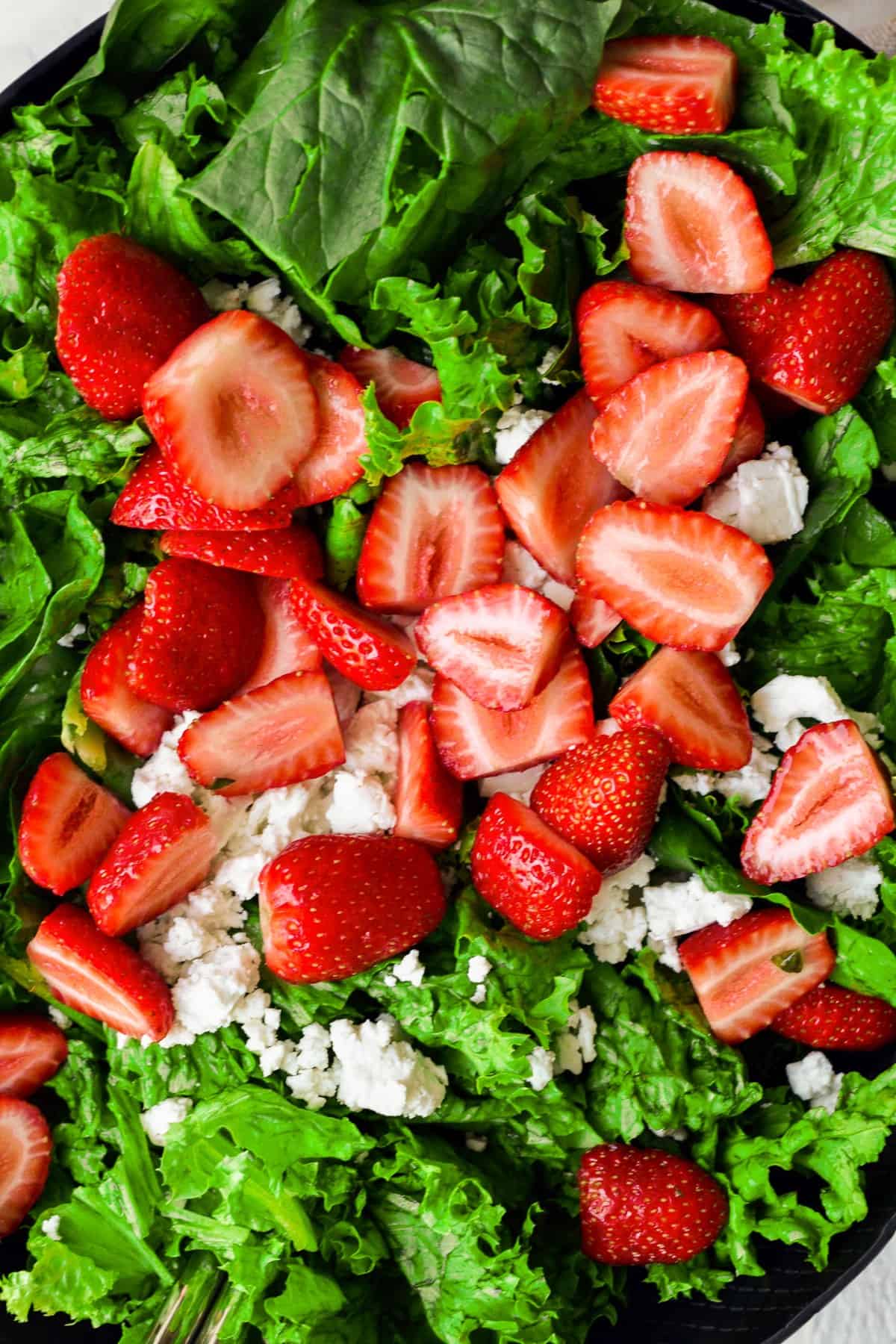 Tips for Making This Salad
This salad recipe is best tossed together right before serving, but the individual ingredients can be prepared ahead of time.
The almonds, croutons and dressing should be made at least one day early and can be made up to a week before serving.
Fresh strawberries are best for this recipe, but in a pinch you could thaw and slice frozen berries.
Make this salad your own by using different cheese, flavored croutons, mixing in your favorite type of greens, or even switching out the strawberries for another fruit. Sure, it wouldn't be a strawberry salad anymore, but the best thing about salads is that you can customize them and make them different every single time!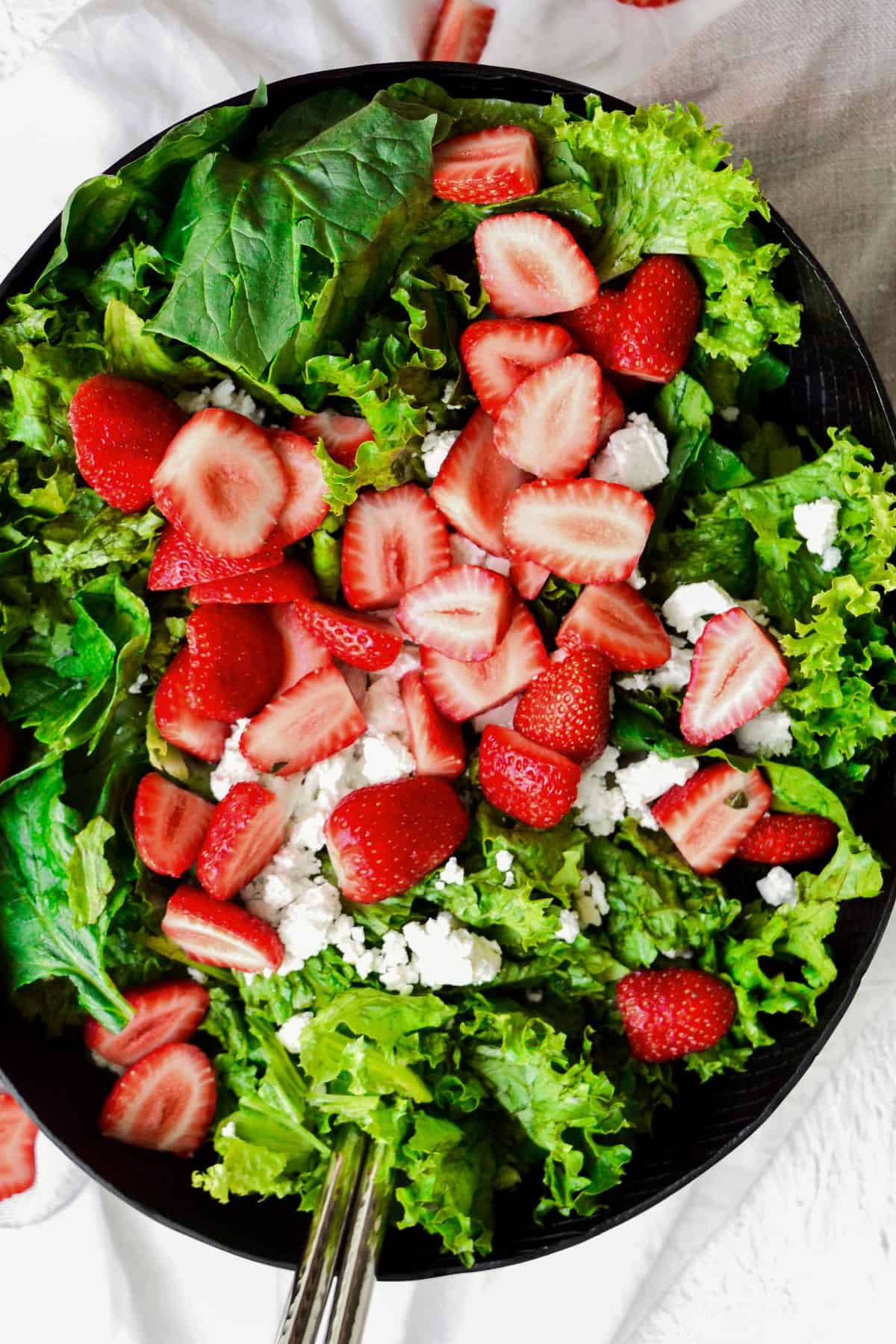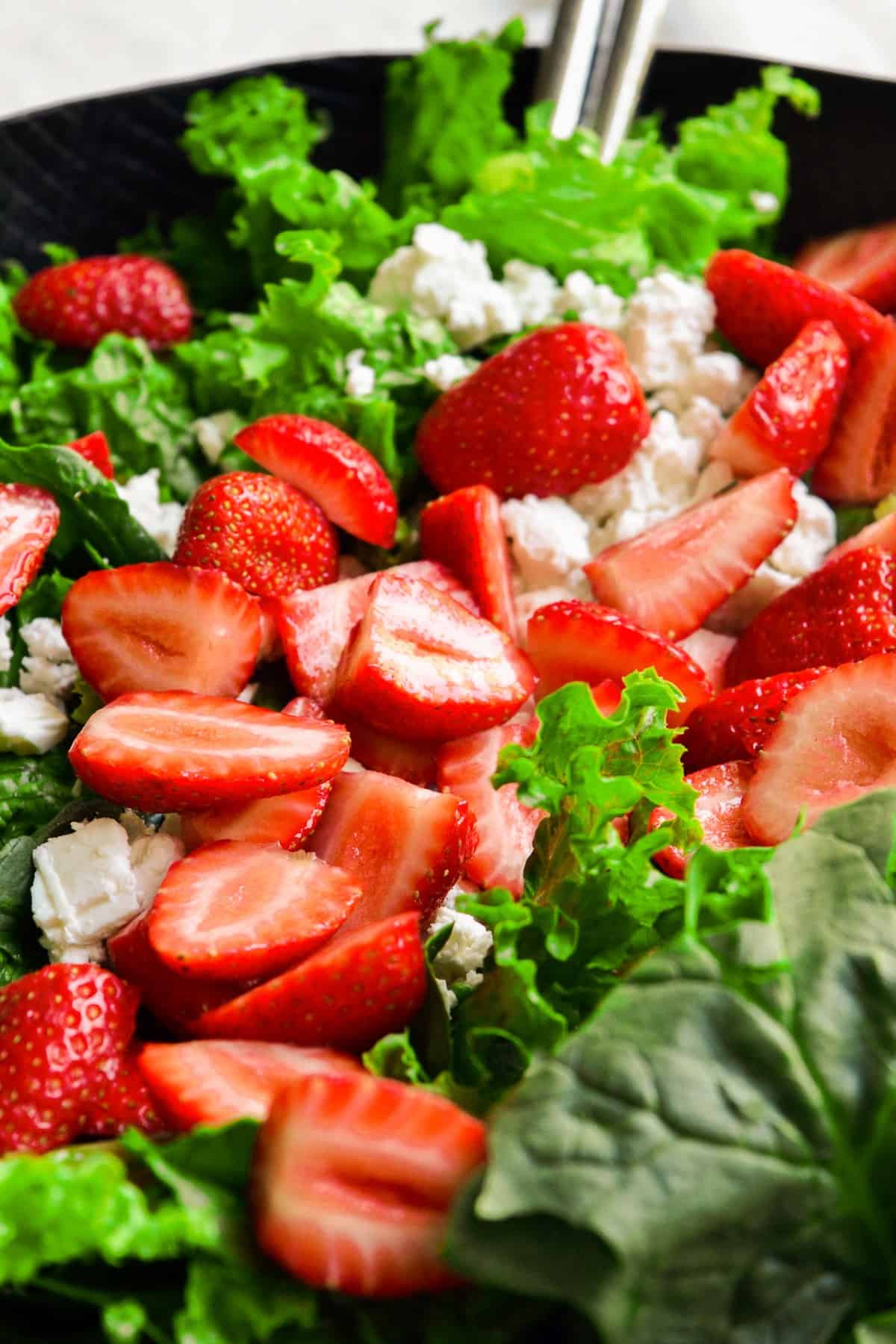 How to Make Strawberry Salad
There's almost nothing to this simple salad recipe.
Start by preparing some of the ingredients (here's our Sugared Almonds recipe and our Sweet and Sour Dressing recipe).
Gather the rest of your ingredients (mixed greens, shredded cheese, crumbled feta, croutons).
Then toss everything together in a large salad bowl and serve!
I also like making my own croutons, because this salad is just a little bit better when everything is homemade. I used these Healthy Baked Croutons, but you could also substitute Garlic Croutons or Bacon Croutons (a little bit of bacon in this salad would really push it over the top with flavor!).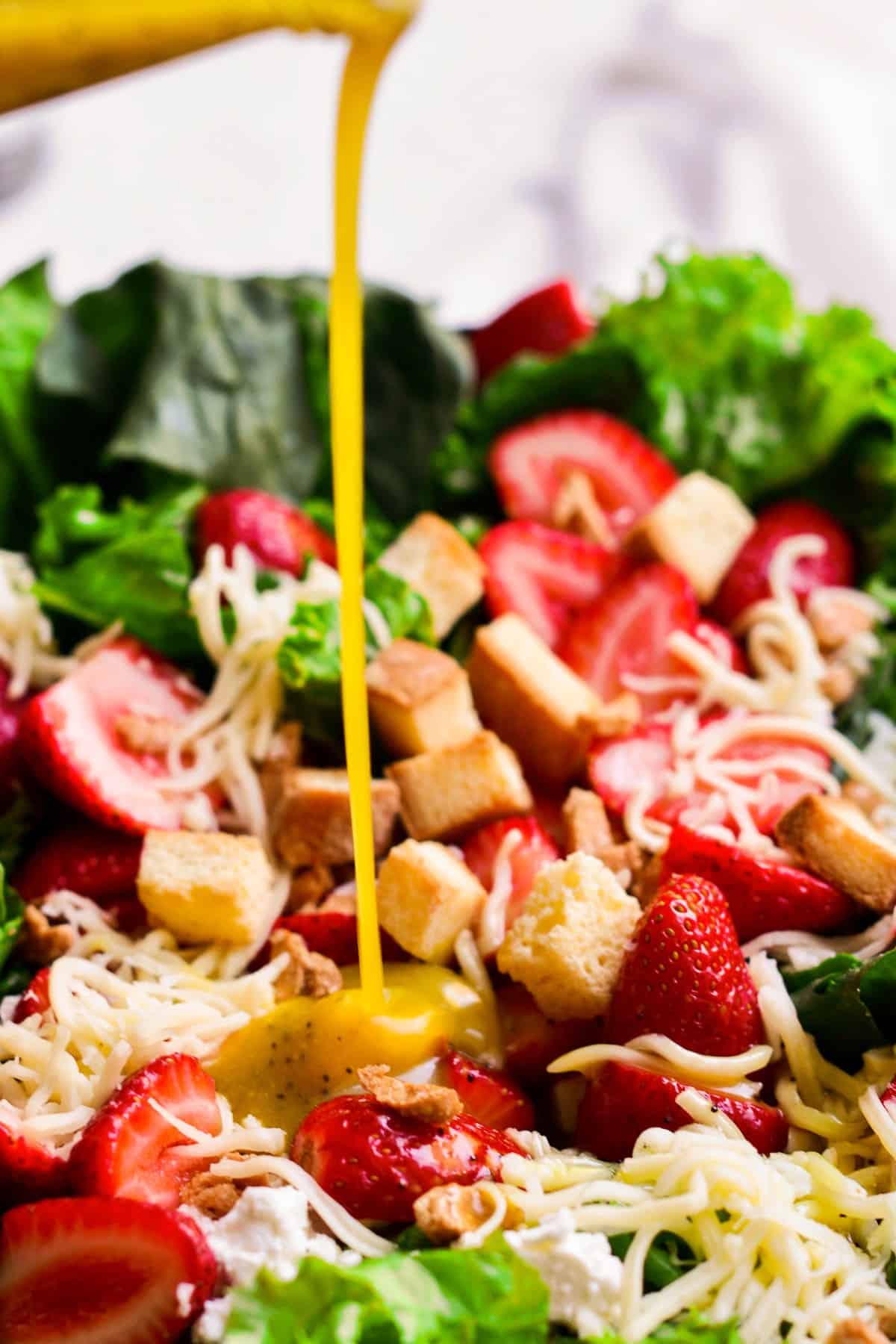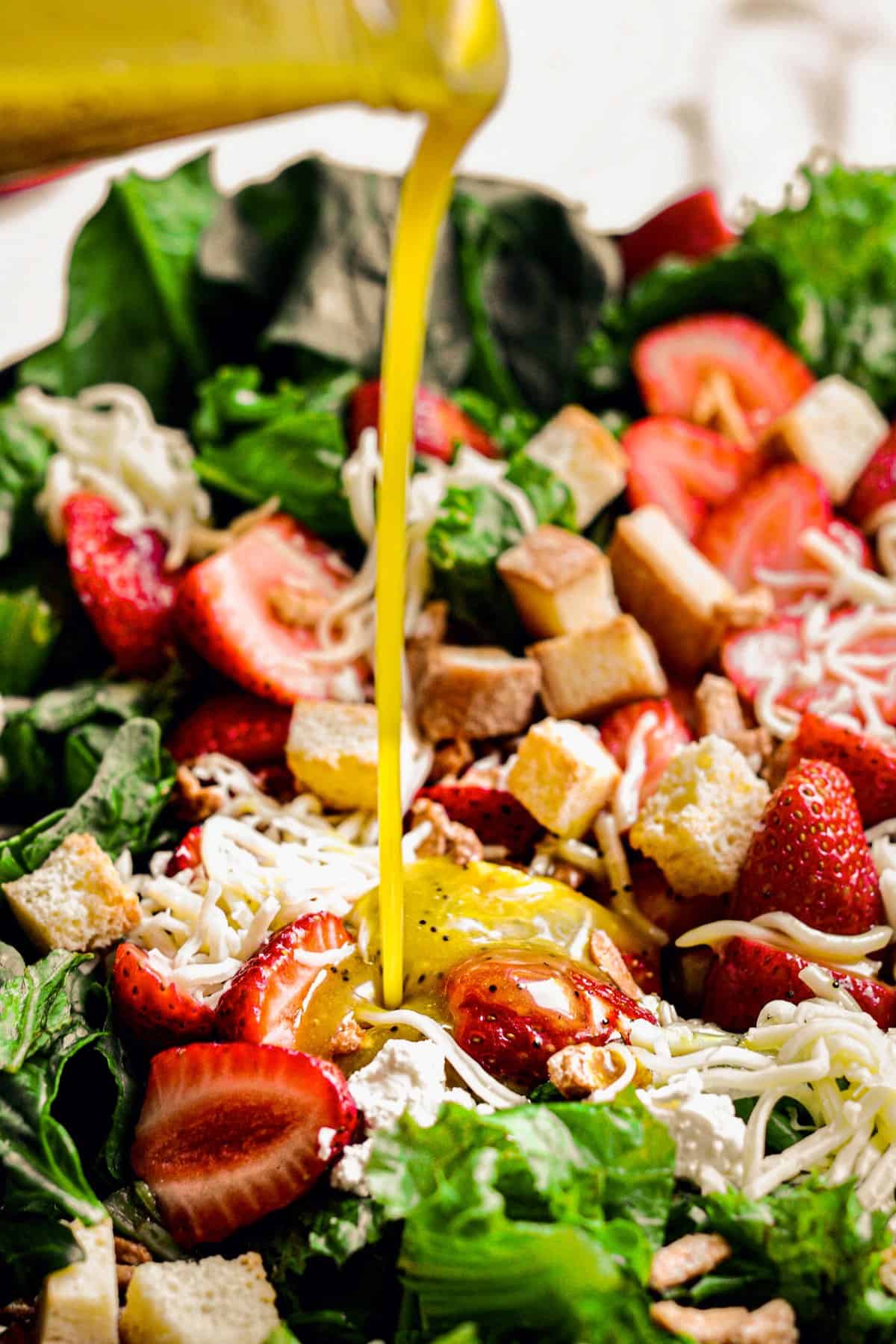 Sweet and Sour Dressing
My favorite salad dressing for this recipe is my sweet and sour dressing. It adds a perfectly tangy twist into the mix, and blends so well with the strawberries. It's super easy to make, just like this salad. Check out the full recipe for my Homemade Sweet and Sour Salad Dressing.
You could use other types of dressing if you prefer. A simple vinaigrette is perfect, or try our Poppy Seed Salad Dressing.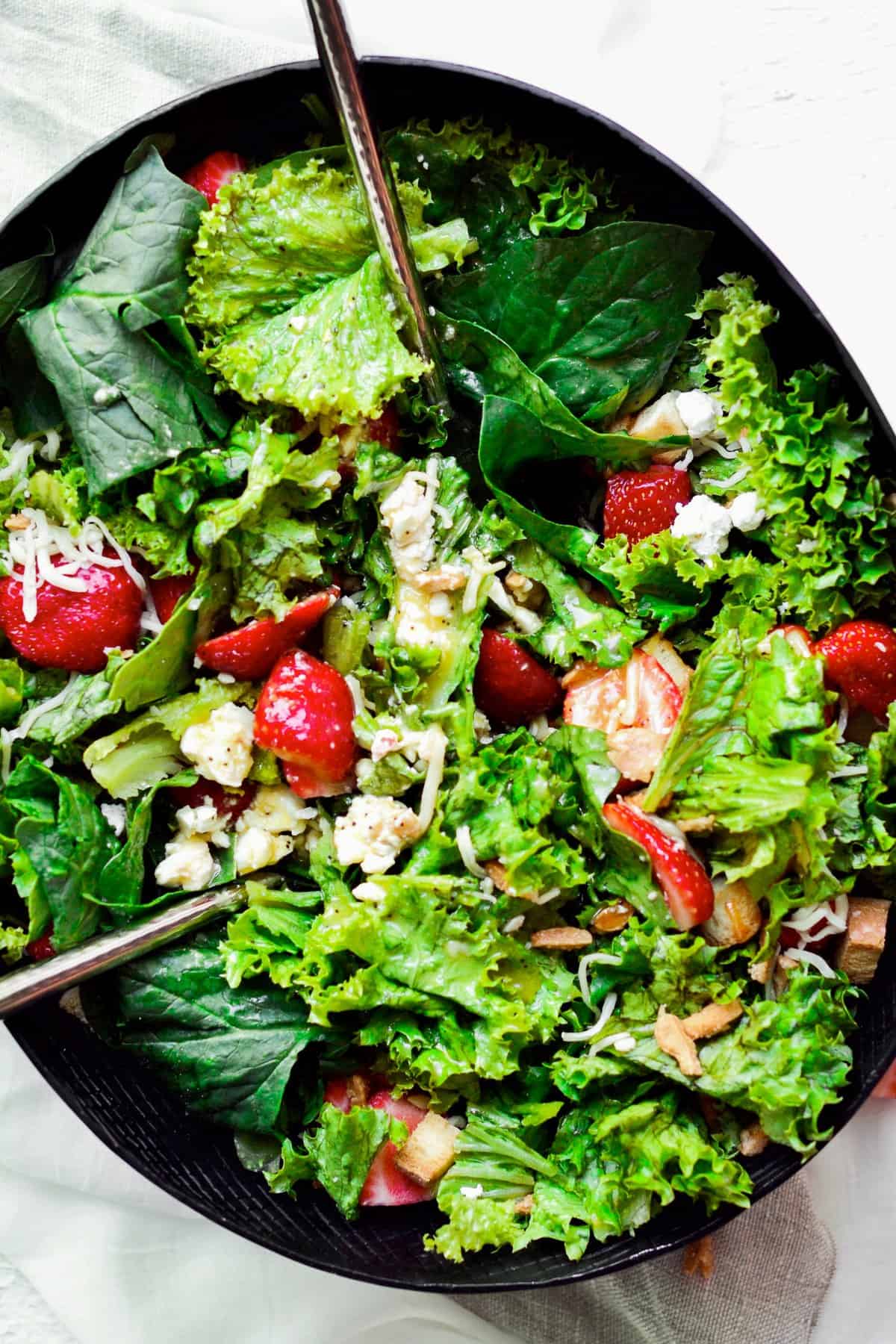 This salad is proof that you don't have to be a chef to make a delicious salad! You can eat good AND healthy by just tossing a few ingredients together. Yum!
See the recipe card for details on how to make this Strawberry Salad Recipe. Enjoy!
Be sure to try some of our other favorite salads: