Everyone I see these days is excited about Summer!! Flip Flops, big beach totes, Summer baking and cooking, its such a fun time! How 'bout an awesome giveaway to sweeten the deal that much more??
I've partnered with some of my VERY favorite bloggers to participate in a super fun giveaway! You can click on the image above to be taken to each individual giveaway…LOTS of ways to win! Each giveaway is separate…so there will be lots of winners too!! Isn't that fun! I have loved looking through everyone's summer giveaway items…I know you will too. Be sure to click on the individual circles above, or the links below, to see these awesome bloggers and what favorite summer items they're giving away!
Isn't that a great list?! I hope you click through their blogs, they really are some of my favorites on the web!
For my part of the giveaway, I chose to give away three of my Favorite Summer Items.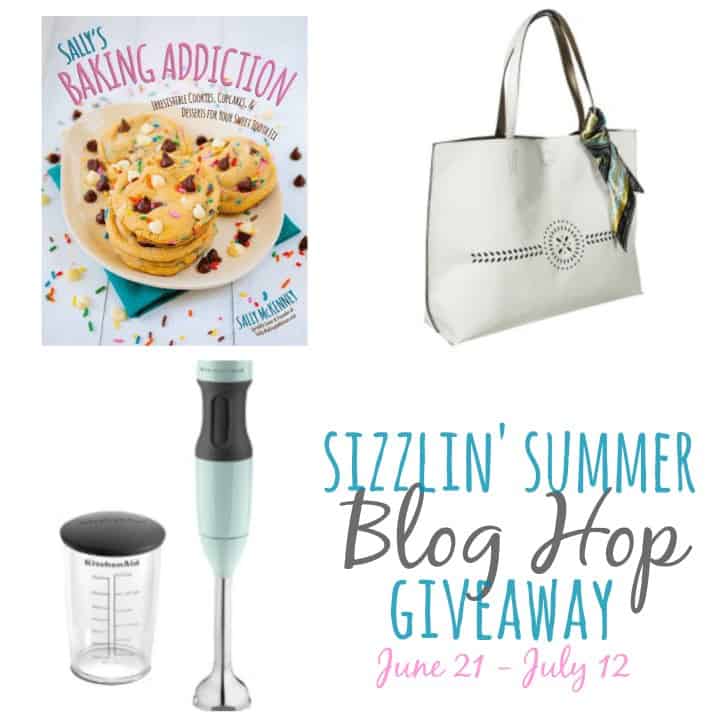 A fun baking cookbook for all of your Summer get-togethers, a hand blender (in SUCH a cute color) to make all of the baked goods found in the cookbook, and a White Summer Tote…because everyone needs a good tote :)