Pumpkin Hummus is like a healthy pumpkin pie in dip form! This sweet hummus recipe is an instant crowd pleaser, and it's made in under 10 minutes. Don't forget the sweet pumpkin pie roasted pumpkin seeds!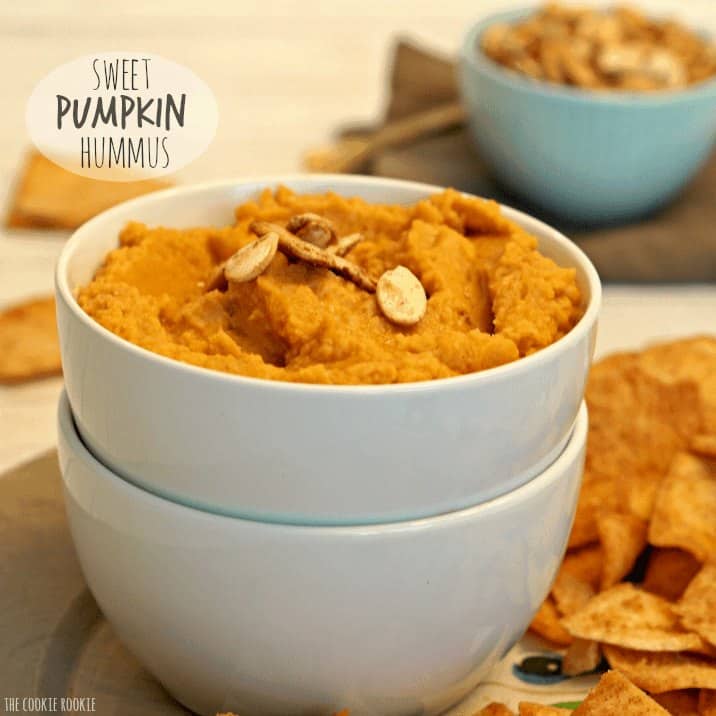 Pumpkin Hummus
This pumpkin hummus recipe is the perfect fall snack. It's sweet, easy to make, and still totally on the healthy side, so it's a total win!
I love hummus and I love pumpkin, so this sweet pumpkin hummus seemed like a no brainer. It's made the same as traditional hummus, but we've added tons of sweet pumpkin pie ingredients to turn it into a festive fall treat.
Even better, we've added sweet roasted pumpkin seeds into the mix. Yes, everything here is SWEET and delicious, just like pumpkin pie. The pumpkin seeds are super quick to make, and they really finish off the hummus nicely.
I love dipping cinnamon pita chips in this to add to the overall flavor. Such a great dip for snacking!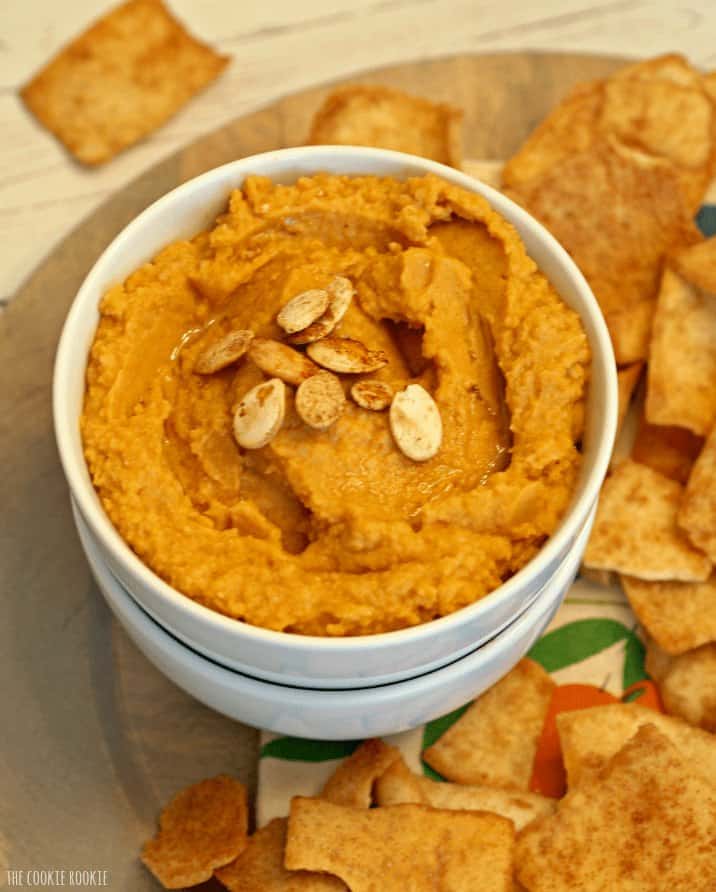 How to Make Pumpkin Seeds Sweet
Roasted pumpkin seeds are a great snack, but you don't have to make them salty. This recipe gives them the same pumpkin spice flavor as the hummus. They're the perfect topping for the pumpkin hummus, but I could snack on these all on their own too. So if you don't want to make the hummus, I still highly recommend trying these sweet pumpkin seeds.
To make the seeds:
Lay pumpkin seeds out on a parchment lined baking sheet and spray or brush with olive oil (I love olive oil spray!)

Add pumpkin seeds and toss to coat well.

Place seeds back on baking sheet and lightly spray with oil once more.

Bake for 10-12 minutes at 350°F until roasted.
If you don't use them all in the hummus, you can store extra in a resealable bag for later.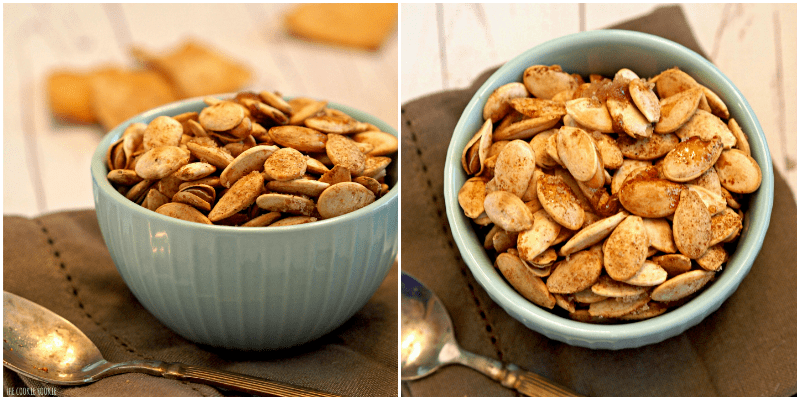 How to Make Pumpkin Hummus
I love that you can make this dip in minutes! And if you have the pumpkin seeds ready ahead of time (or skip them completely), this hummus will literally be done in 5 minutes. So convenient!
Tips for making this recipe:
Like I said, if you have the seeds roasted beforehand, you can make this hummus in a few minutes. Especially helpful for party prep.
Serve it up with cinnamon pita chips to match the sweet flavor.
Making hummus just requires blending all the ingredients together, so it's super simple.
If you leave out the sweeter ingredients (sugar, agave), you could turn this into a more savory pumpkin hummus! I haven't tried it that way, but you'd get the same pumpkin flavor, without the sweetness. Let me know if you try it this way! I'd love to hear how it turns out.
Store leftovers in an airtight container in the refrigerator for up to 1 week.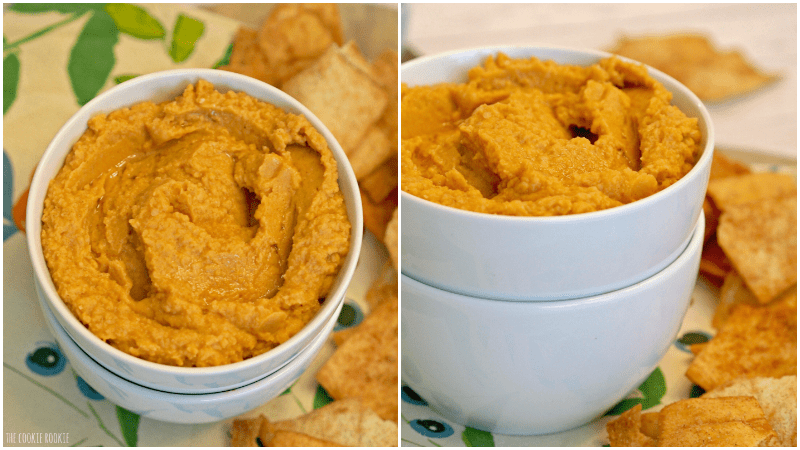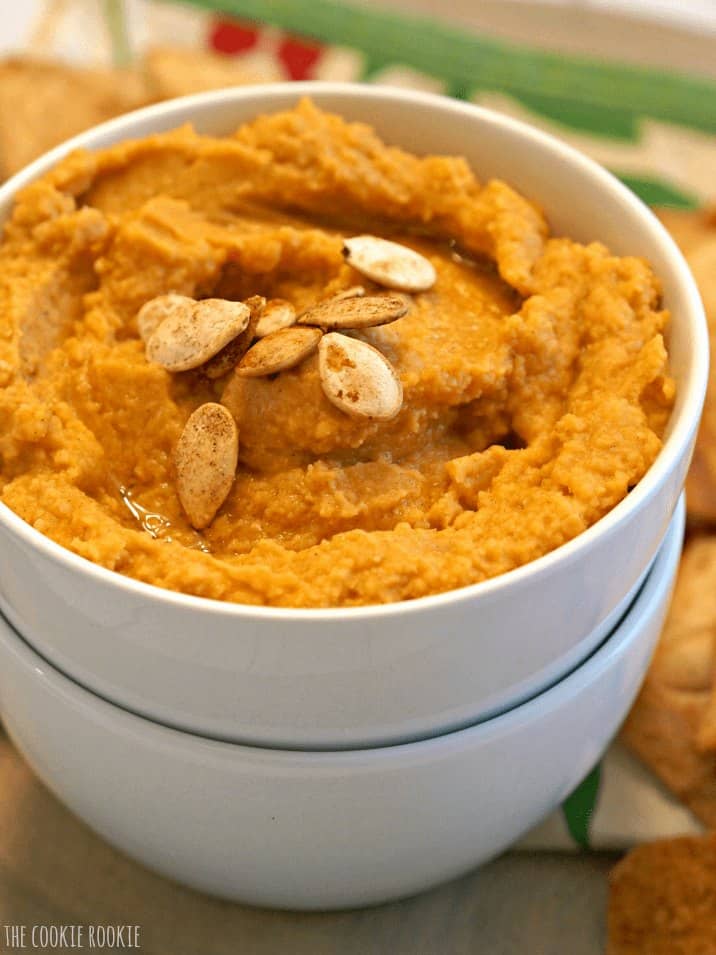 Pumpkin Snacks
These sweet pumpkin hummus and roasted pumpkin seeds both make great healthy yet tasty snacks. Whether you eat them together or separately, you'll absolutely love them.
Another great pumpkin snack is our Pumpkin Dip. It's similar to this recipe, but it's more of a dessert (and definitely not as healthy), but they are both great recipes to serve in the fall!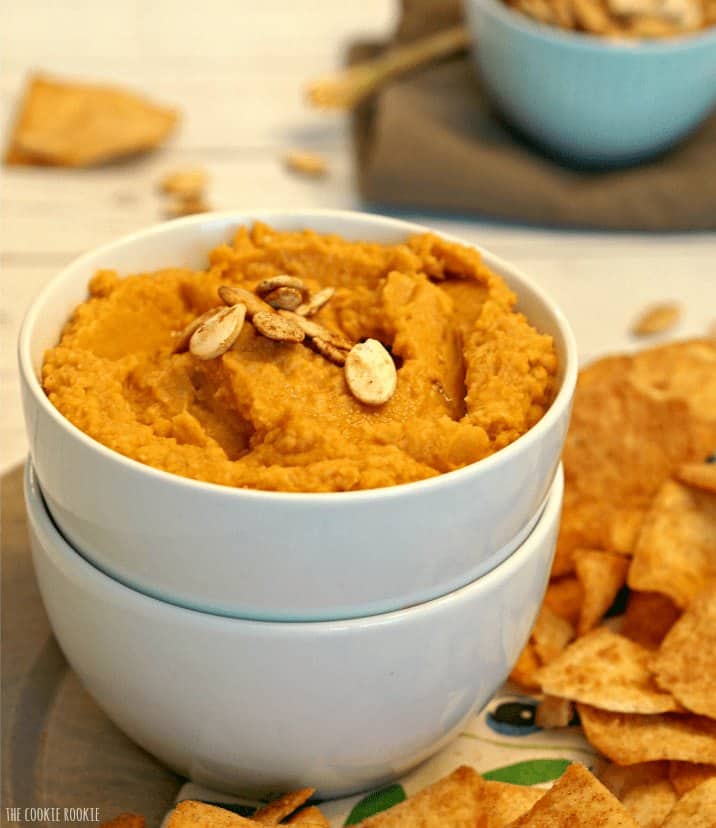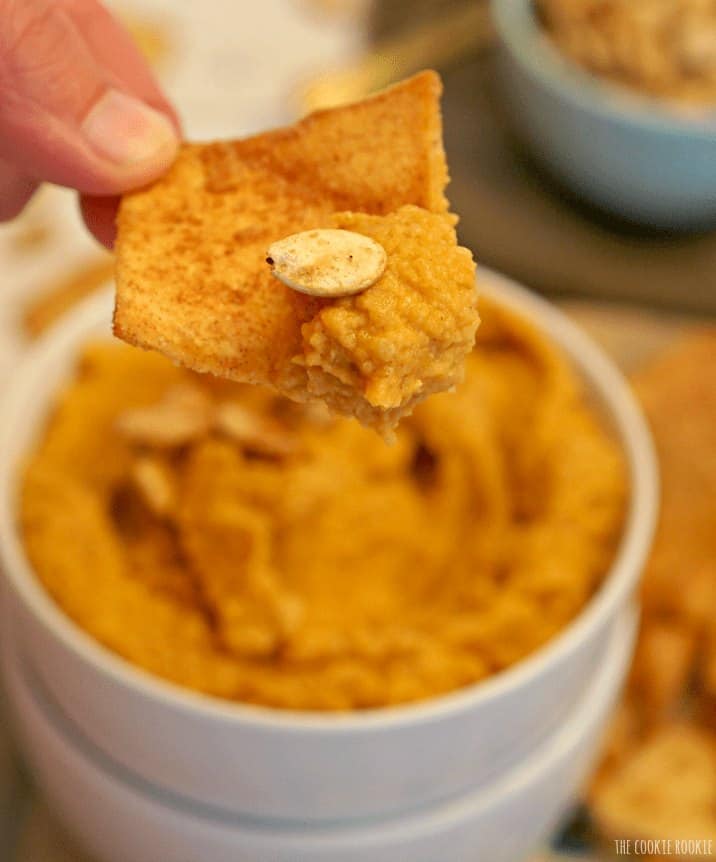 I absolutely love this healthy pumpkin hummus, and those pumpkin pie roasted pumpkin seeds are addicting!
See the recipe card below for details on how to make Pumpkin Hummus & Sweet Roasted Pumpkin Seeds. Enjoy!
If you like this recipe, you'll love these other pumpkin recipes too: