Strawberry Tiramisu with Blueberries and Raspberries is a delicious triple berry dessert! This fruity tiramisu recipe is sweet, beautiful, easy, and SO delicious. It's the perfect easy dessert recipe for Valentine's Day, 4th of July, or any other day of the year!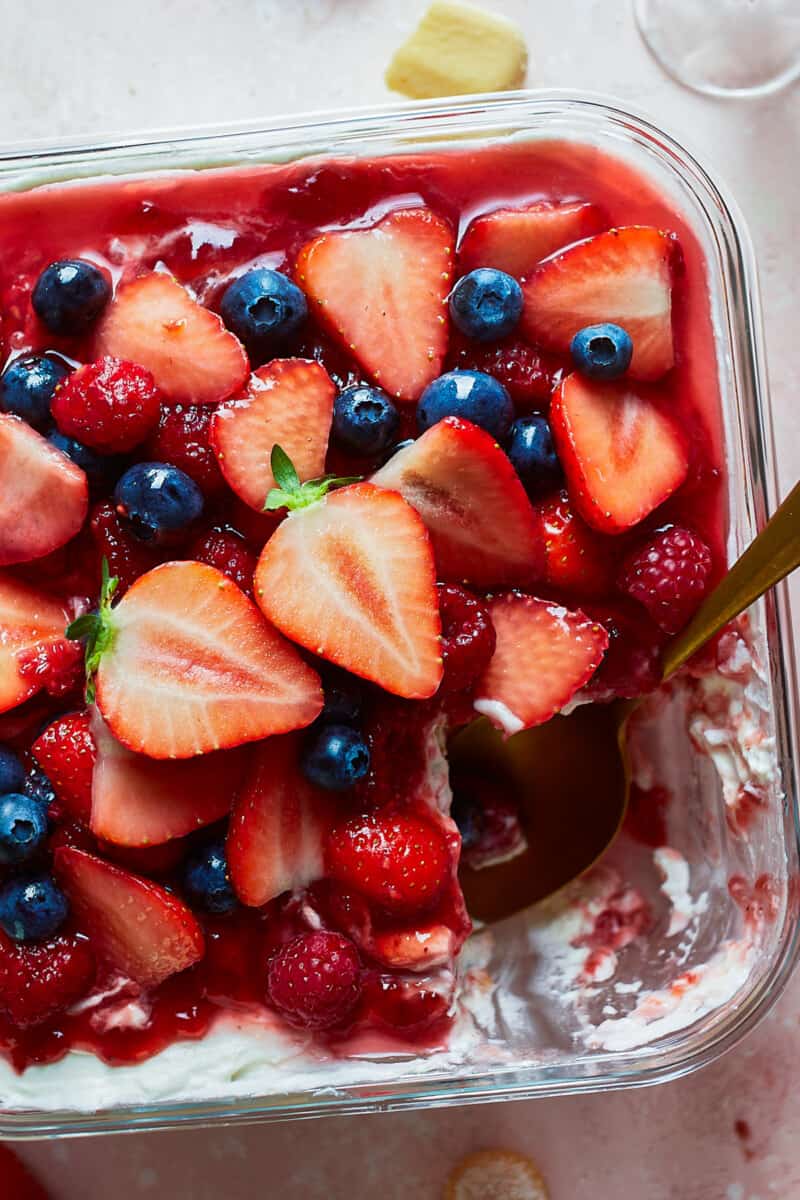 Strawberry Tiramisu with Blueberries & Raspberries
This strawberry tiramisu with blueberries and raspberries is so fruity, so colorful, and so delicious! It's the perfect berry dessert for summertime or holidays.
My new favorite dessert on the planet is Triple Berry Tiramisu! It's inspired by classic tiramisu, but with a totally new fruity flavor.
This blueberry, raspberry, and strawberry tiramisu is filled with berries, whipped cream, lady fingers, and mascarpone cheese. I even added in a bit of raspberry liqueur in there for an extra kick, and it makes all the difference. This triple berry dessert is so much fun and so easy to make!
This recipe is perfect for Valentine's Day desserts, your 4th of July menu, or just a special treat for any day. I love how fresh and fruity it is while still being sweet and indulgent. Yum!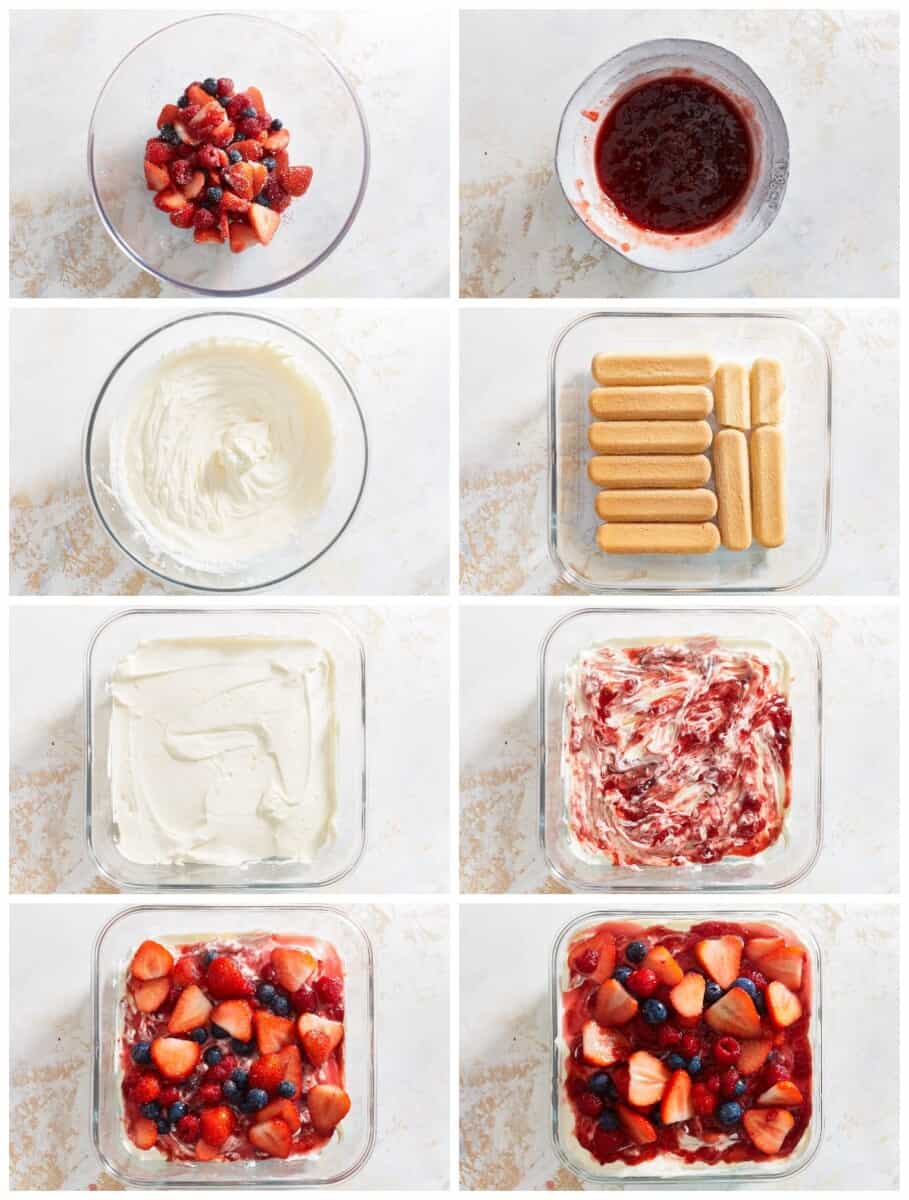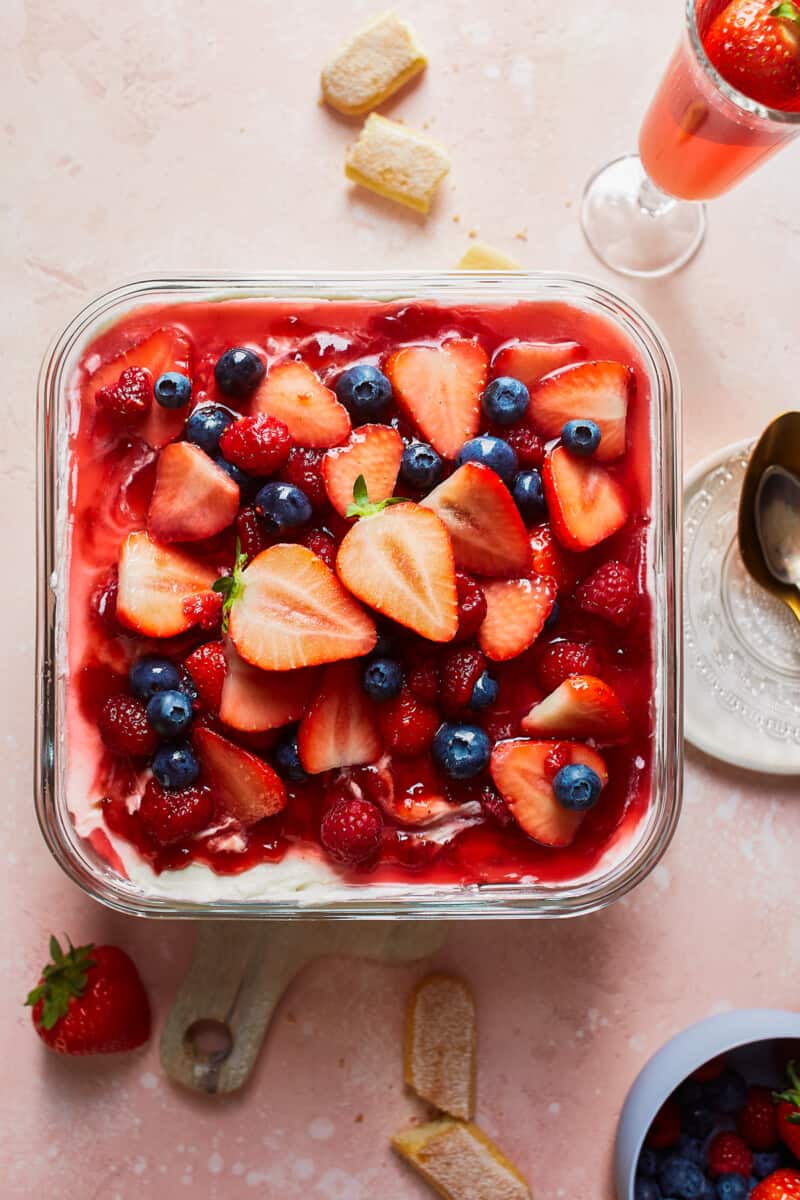 Berry Desserts
This triple berry dessert is made with blueberries, raspberries, and strawberries, plus some strawberry jam or jelly…and I even added in a bit of raspberry liqueur (Chambord) for good measure. That's A LOT of berries, and they all create the perfect flavor.
This strawberry tiramisu with blueberries and raspberries is so much fun to make, and even more fun to eat. It's so creamy and sweet, and totally addicting!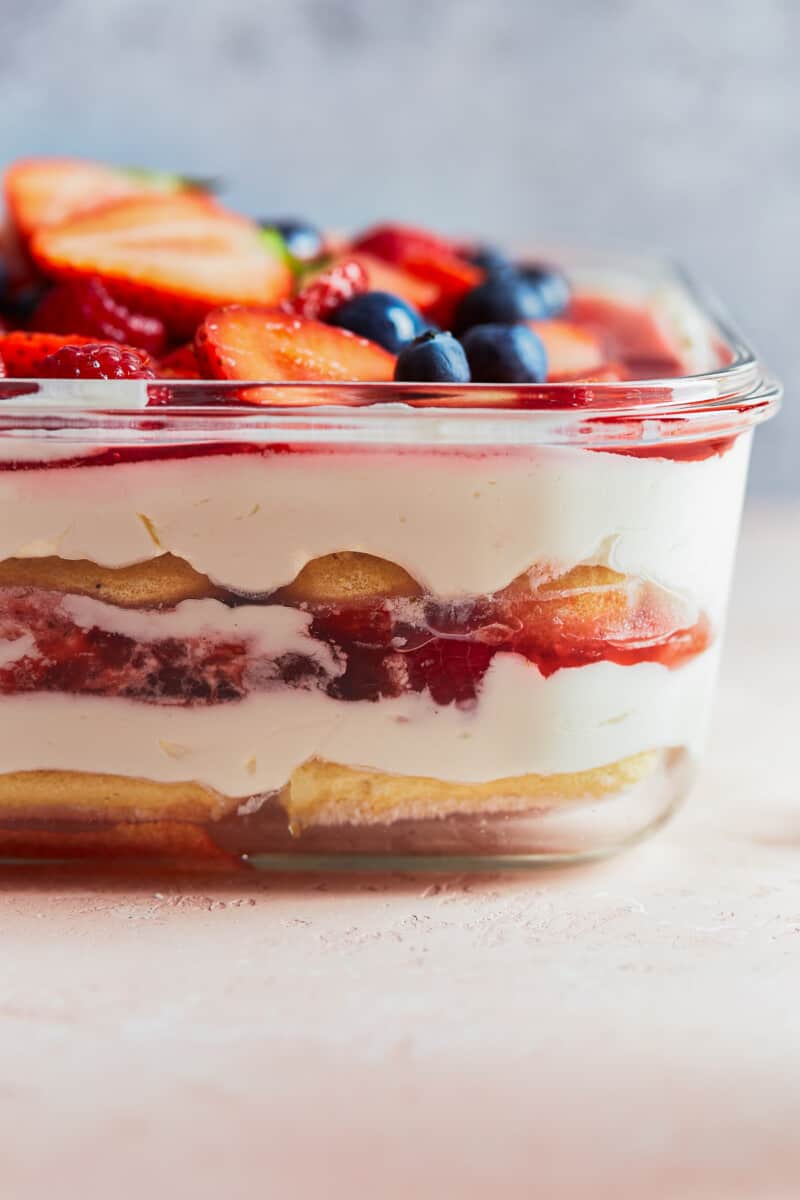 Berry Tiramisu Ingredients List
Lady Fingers
Heavy Cream
Blueberries
Raspberries
Strawberries
Chambord (Raspberry Liqueur)
Strawberry Jam/Jelly
White Sugar
Ingredient Notes: I prefer fresh berries for this recipe, but you can use either fresh or frozen berries. And make sure you get the soft lady fingers (I found them in the freezer aisle), not the crunchy cookie ones. You can buy mascarpone cheese at the store, or make your own with my Homemade Mascarpone Cheese Recipe!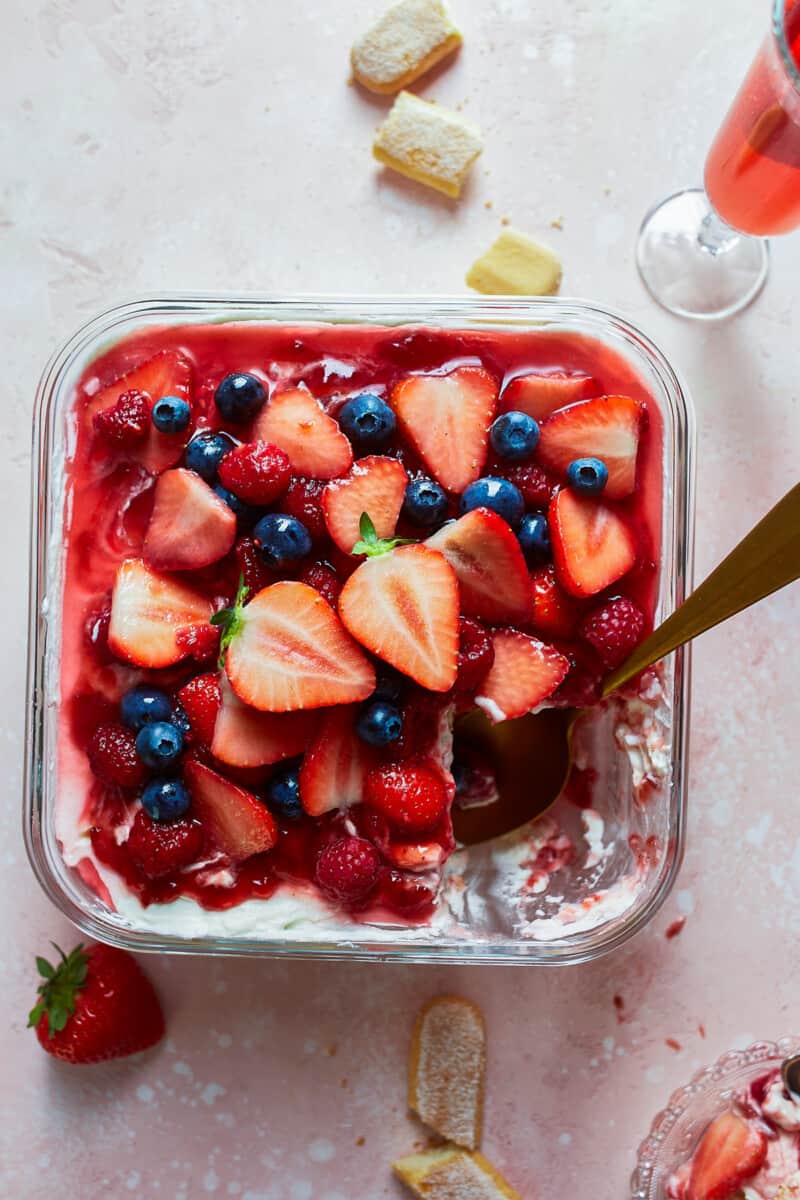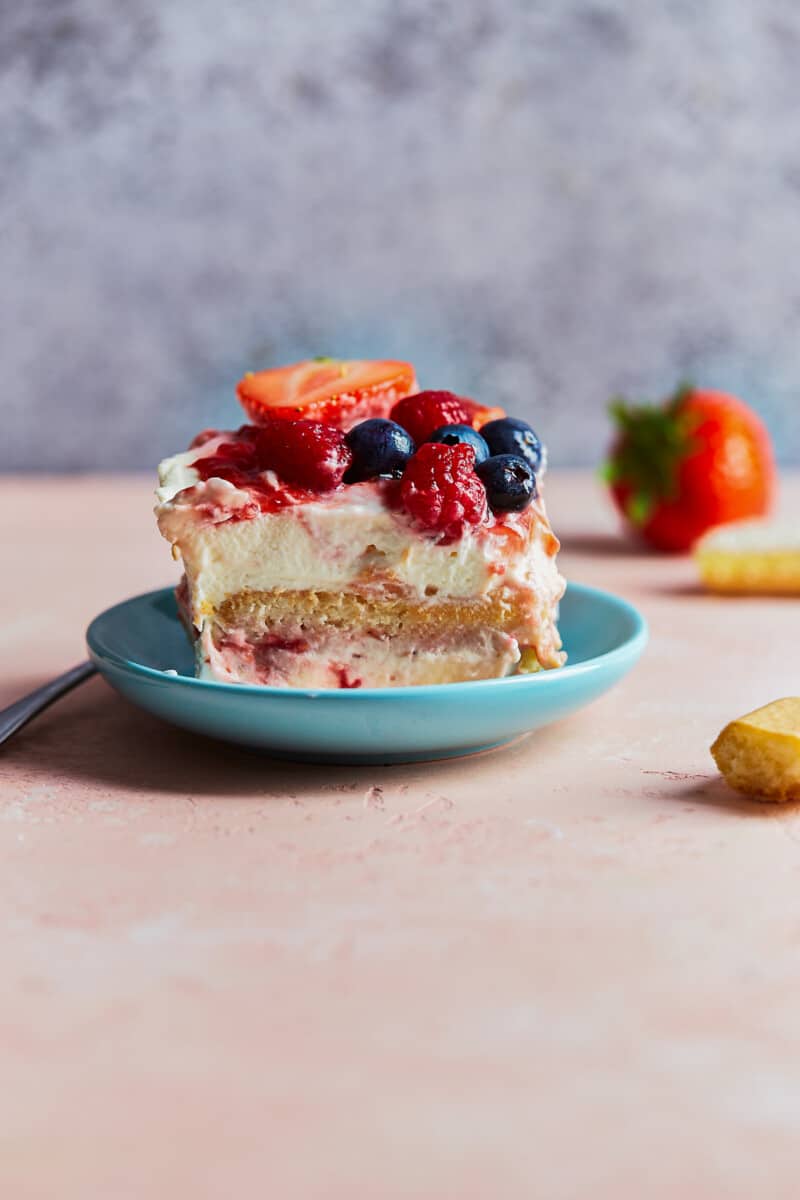 How to Make Strawberry Tiramisu (Step by Step)
You can jump to the recipe card for full ingredients & instructions!
Layered with whipped cream, mascarpone, strawberries, raspberries, blueberries, and every great thing in between, this dessert was straight up made in heaven. I cannot get enough! It's so easy to make to since there's no baking involved!
Fill the bottom of a 9×9 baking dish with the lady fingers (I made 10 on the bottom).
Beat the heavy cream for 3-4 minutes, until soft peaks form.
Then beat in the mascarpone cheese, 1/2 cup of sugar, vanilla, and 2 tablespoons of Chambord. Combine fully and then set mixture aside.
In a separate bowl, stir together the strawberry jam/jelly and the rest of the Chambord.
In a third bowl, combine all of the berries with 1/2 cup of sugar. The fruit should be fully covered in sugar and begin to macerate.
Now to assemble the tiramisu: place a layer of half of the cream mixture on top of the lady fingers, then half of the jam mixture, and half of the berries. Then place another layer of lady fingers, cream, jam, and finally top with the rest of the berries.
Cover the strawberry tiramisu and refrigerate for at least 4 hours.
Serve this delicious triple berry tiramisu cold. It's super sweet and creamy. Tastes just as good on hot summer day as it does on a cozy winter evening.
Enjoy this beautiful Blueberry, Raspberry, Strawberry Tiramisu on any holiday. It's perfect for Valentine's Day and 4th of July, but would be just as good on Easter or Christmas!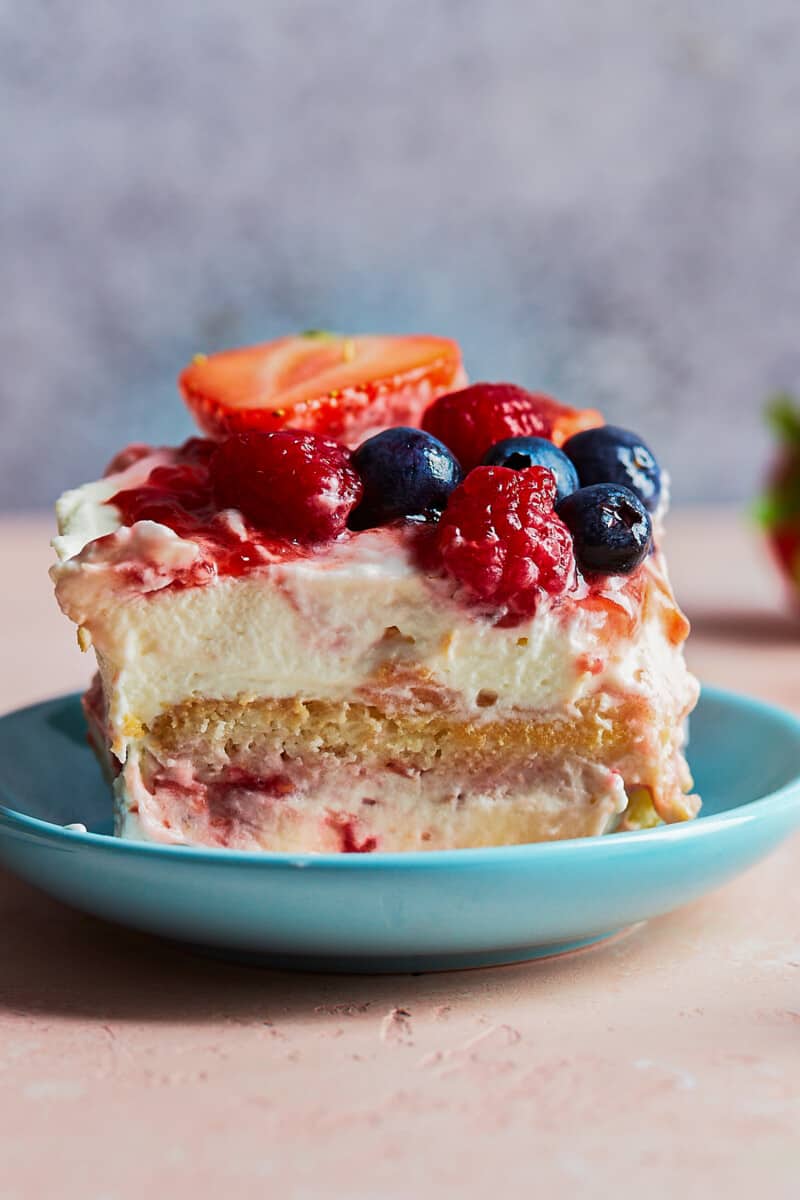 This Triple Berry Tiramisu is a delicious and easy twist on a classic. We love to make it, especially in the Summer for the 4th of July! If you're looking for another festive dessert, try this 4th of July Cake.
If you make this recipe be sure to upload a photo in the comment section below or leave a rating. Enjoy! You can also jump to recipe.