This Triple Chocolate Detox Smoothie Recipe is a healthy and delicious way to start your day. When you're stressed or busy, there's no easier breakfast than a smoothie! Why not make it healthy while still tasting good? This healthy Chocolate Smoothie has it ALL, including lots of protein.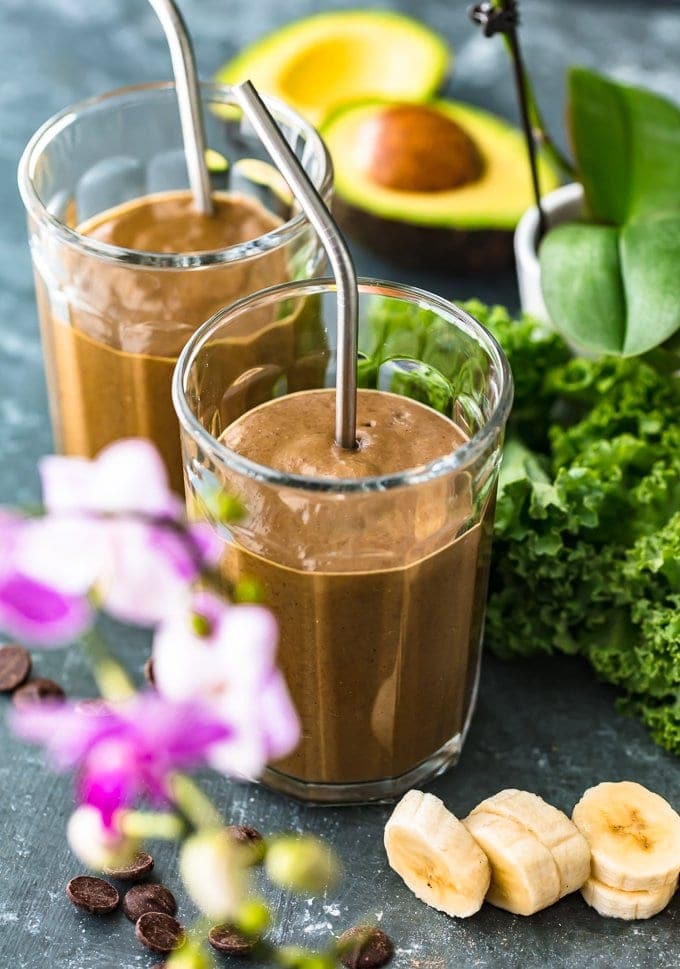 Chocolate Detox Smoothie Recipe
Yes, even a Triple Chocolate Smoothie can still be healthy! This Chocolate Detox Smoothie Recipe combines fresh ingredients with protein powder and three types of chocolate to bring you the creamiest, dreamiest way to start your morning.
What do we all REALLY want in the morning? Besides something that's delicious, filling, and easy to make, we all actually just want CHOCOLATE for breakfast, right? Well…I know that's what I want in the morning, and this Triple Chocolate Detox Smoothie recipe has it all!
This creamy Chocolate Smoothie is soooo delicious, and it's the easiest thing to make for breakfast. When you need to rush out the door, don't skip breakfast, just make a simple smoothie instead. The best thing about this recipe is that it's also really good for you. That's right, a HEALTHY chocolate smoothie full of good ingredients, lots of nutrients, and plenty of protein powder to help energize you for the day ahead.
All you need for this healthy detox smoothie recipe is a few ingredients and a blender. You can make it in just a few minutes right before walking out the door, and drink it on the go. This Triple Chocolate Smoothie is a DREAM, and I've never loved a smoothie more!
This Triple Chocolate Detox Smoothie Recipe can be your go-to weekday breakfast. It's delicious, it's healthy, and it's easy to make. It's the best Healthy Chocolate Smoothie!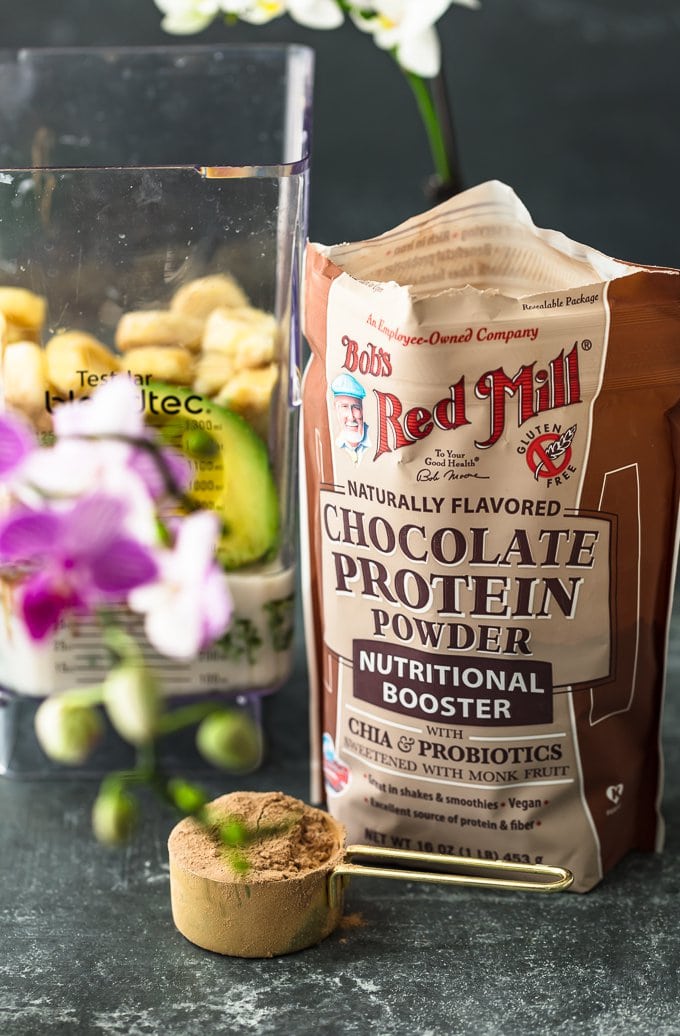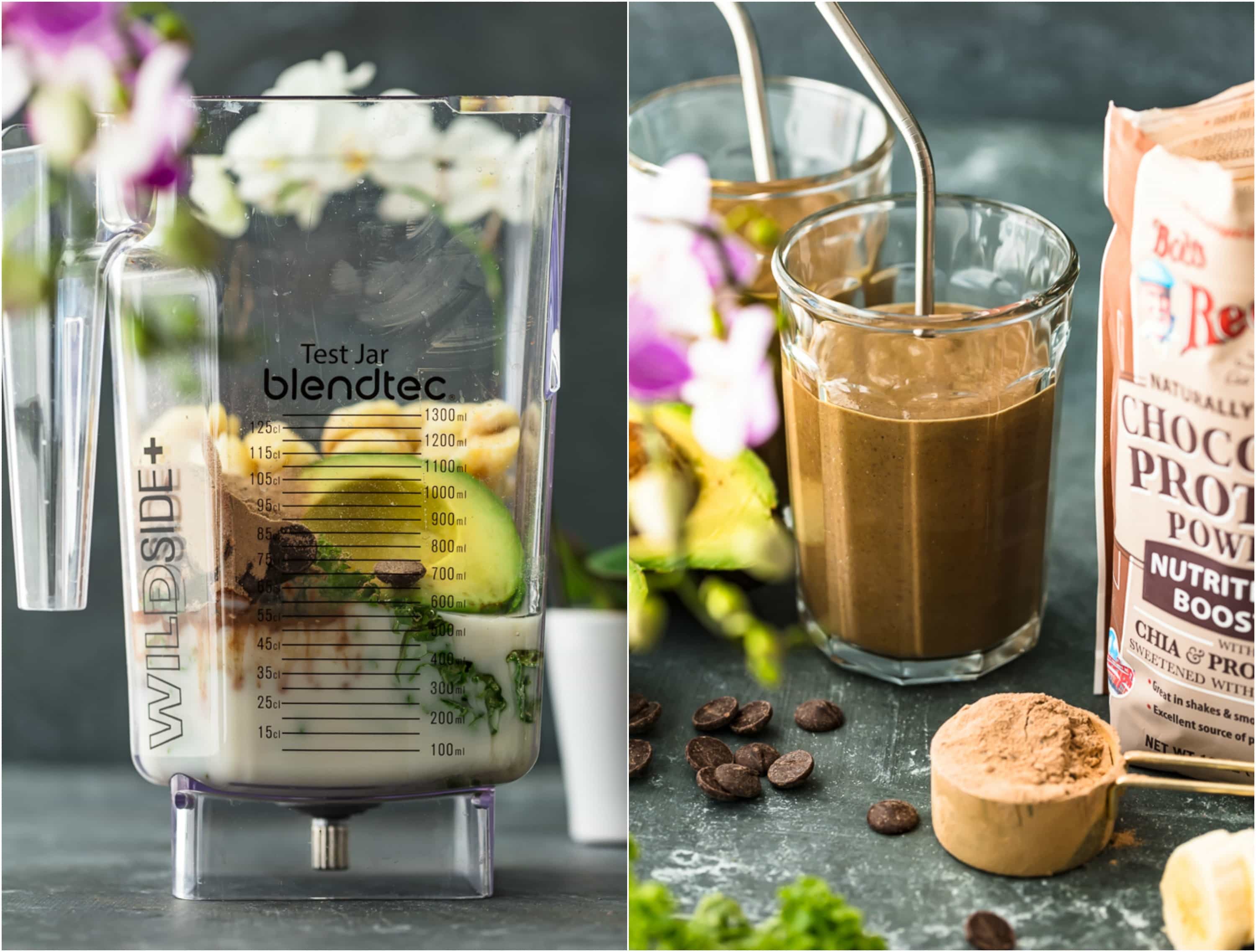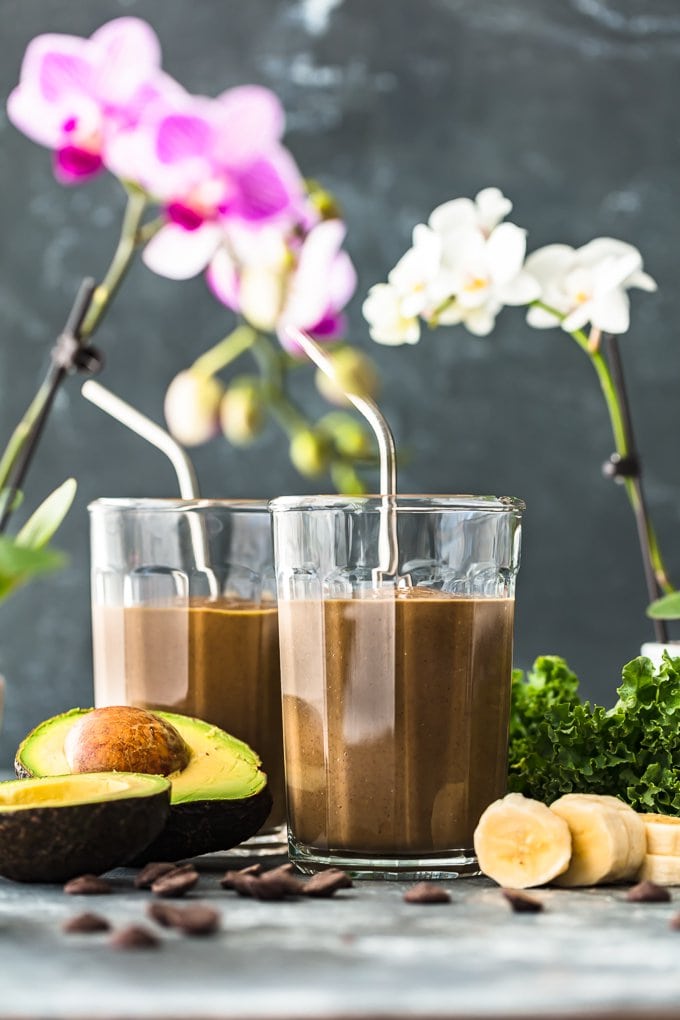 Healthy Chocolate Smoothie
For me, the most important thing when it comes to food is TASTE. So when a recipe is absolutely amazingly delicious AND it's also healthy, you know I'm all about it. This Healthy Chocolate Smoothie checks both of those boxes!
This Triple Chocolate Detox Smoothie Recipe is so rich and flavorful, but it's also filled with really good ingredients. Things that will make you feel good, and keep you energized for the day. There's protein powder, MCT Oil, avocado, greens, bananas, and more. All of these things blend together to create something that is super nutritious. And with the chocolate mixed in, the taste is really out of this world!
How to Make Triple Chocolate Detox Smoothie
Delicious? Check. Healthy? Check. Easy to make? CHECK! Smoothies are so easy to make because all you have to do is combine your ingredients in a blender, pour, and drink. It's the perfect on-the-go breakfast recipe for busy mornings. This healthy Chocolate Detox Smoothie can be made on your way out the door, so you don't have to miss out on a nutritious breakfast just because you're short on time!
Triple Chocolate Detox Smoothie Ingredients:
Avocado
Protein Powder
Vanilla Almond Milk
Bananas
Kale or Spinach
Cocoa Powder
Honey or Agave Nectar
Dark Chocolate
Coconut Oil or MCT Oil
Water
This healthy chocolate smoothie is filled with good, whole, fresh ingredients. It's a simple ingredient list, with easy substitutions based on your own preferences. Don't have honey? Use agave. Do you like using MCT oil in your smoothies? Add some in. This easy smoothie recipe is just so simple and delicious. Add all of your ingredients to a blender, mix until smooth, and you're ready to go!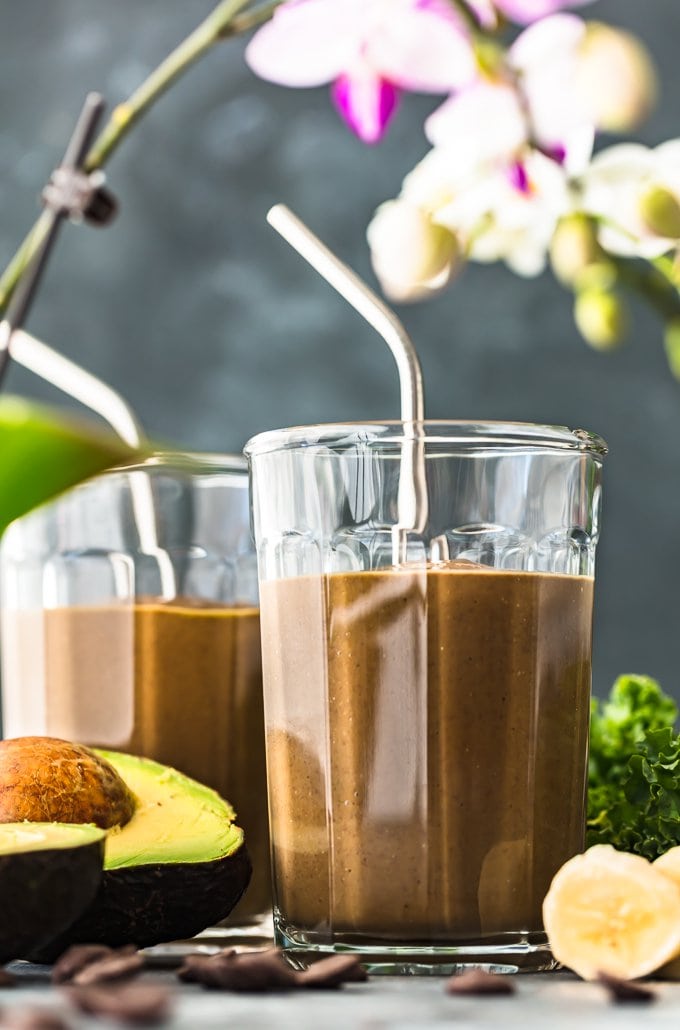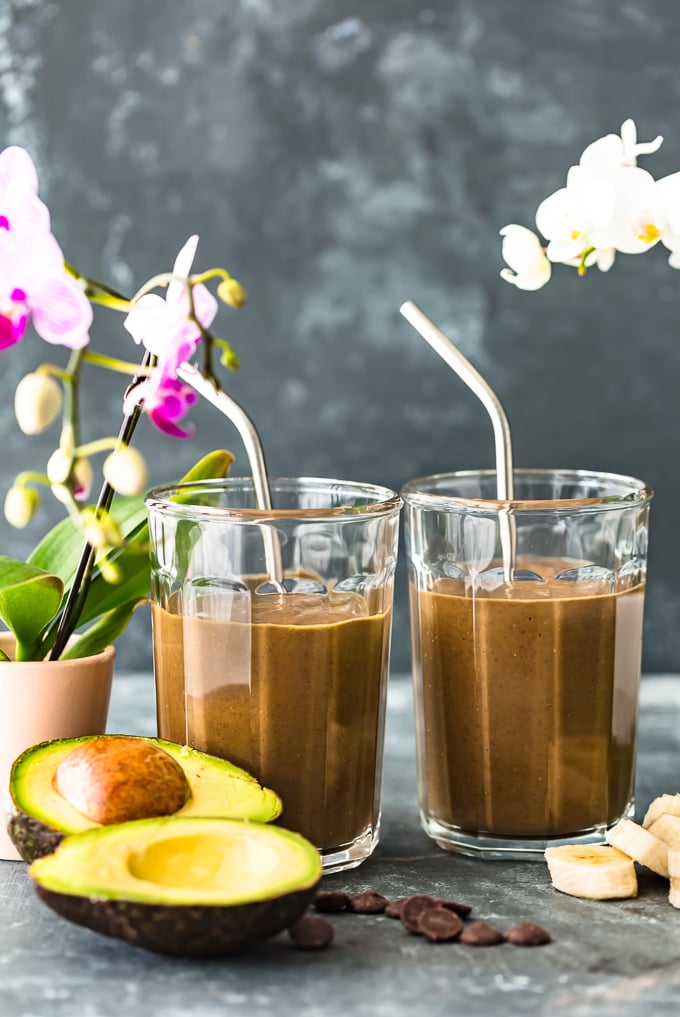 Healthy Smoothie Recipes
Smoothies are the best healthy breakfast option. They're so easy to make and so easy to make your own. You can add just about any combination of ingredients you like to create a fun and delicious smoothie. Keep your ingredients fresh, and you've got an easy healthy smoothie recipe in no time!
Try some of our other healthy smoothie recipes: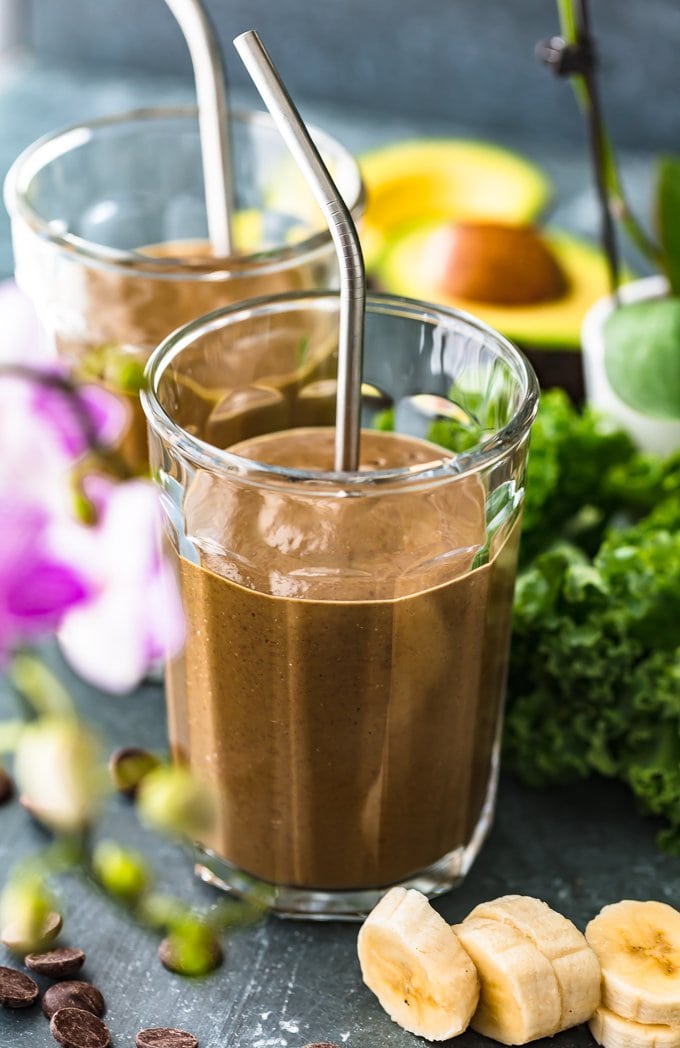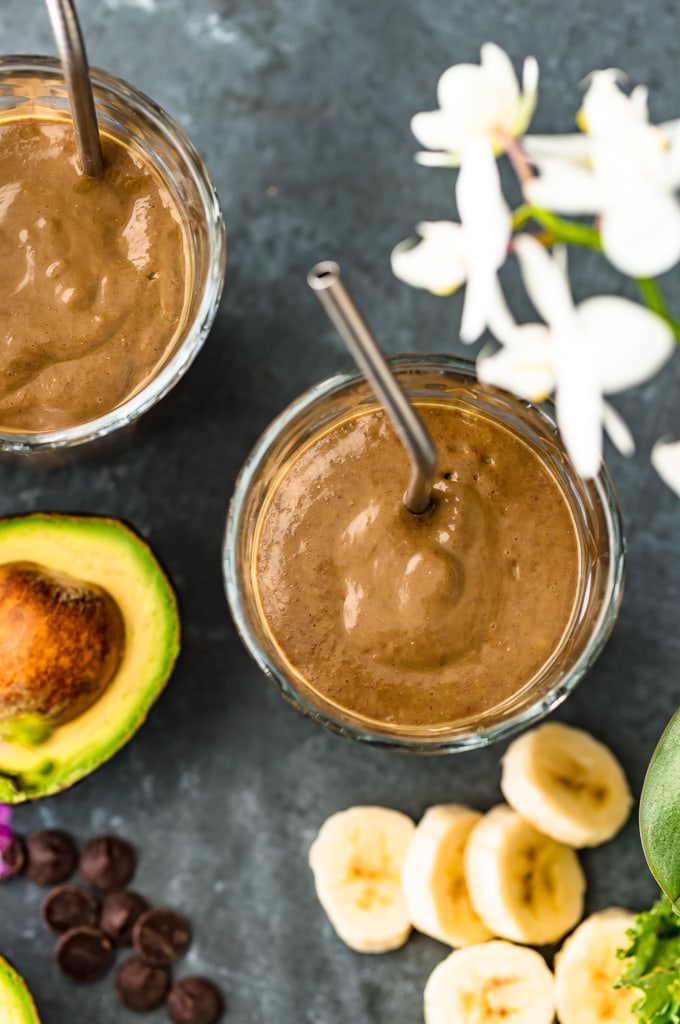 What protein powder should I use for smoothies?
I love that Bob's Red Mill is now offering Protein Powders! You guys know my obsession with Bob's Red Mill. I love their standard of quality, that they're available nationwide, that they have such a variety of products, and that they're such a wonderful company. I feel SO good talking about them on The Cookie Rookie and recommend them WHOLE HEARTEDLY. I hope that I've earned your trust along the way, and I know that Bob's has earned mine!
Bob's Protein Powders are THE BOMB and come in three great flavors, Chocolate, Vanilla, and CHAI! (Cannot wait to try the Chai). It's the perfect add-in to your smoothies, baking, and more. It tastes great and is so good for you. Win! Click HERE to find out where to buy or click in the recipe card below for where to buy the Protein Powder I used online. So easy!.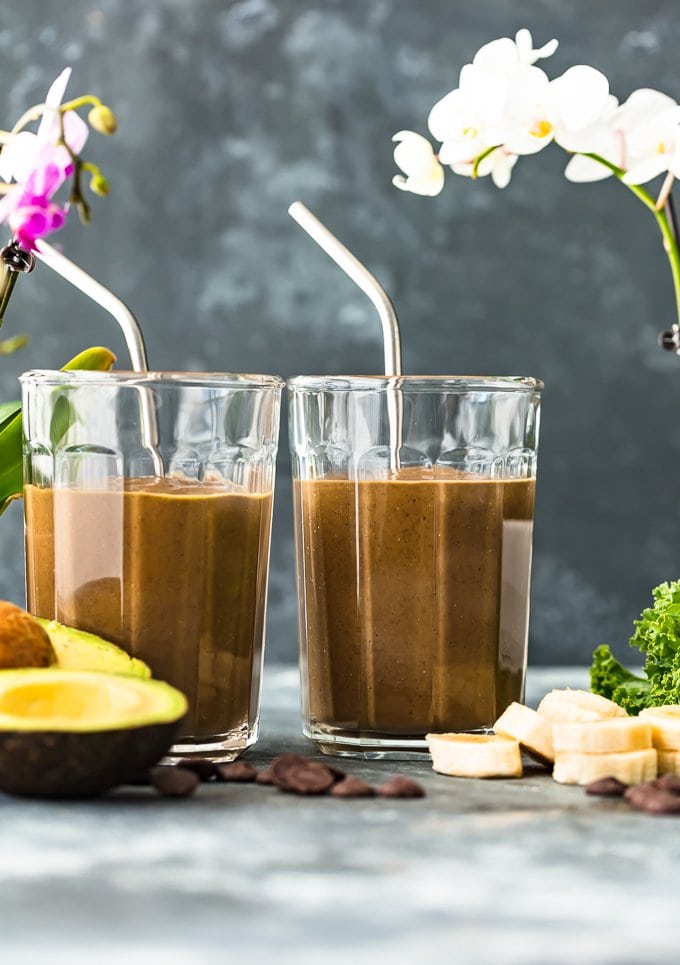 This Triple Chocolate Detox Smoothie Recipe will be your new go-to breakfast on busy weekday mornings. Start your day the right way with a nutritious and delicious chocolate smoothie. Get all the good stuff you need to get energized for the day with this healthy chocolate smoothie. You're going to love it!
See the recipe card below for details on how to make this Triple Chocolate Detox Smoothie recipe. Enjoy!
If you like this healthy breakfast smoothie recipe, try these other healthy recipes too: