Vegan Pumpkin Soup with Candied Cashews…a healthy and delicious Fall favorite made in minutes!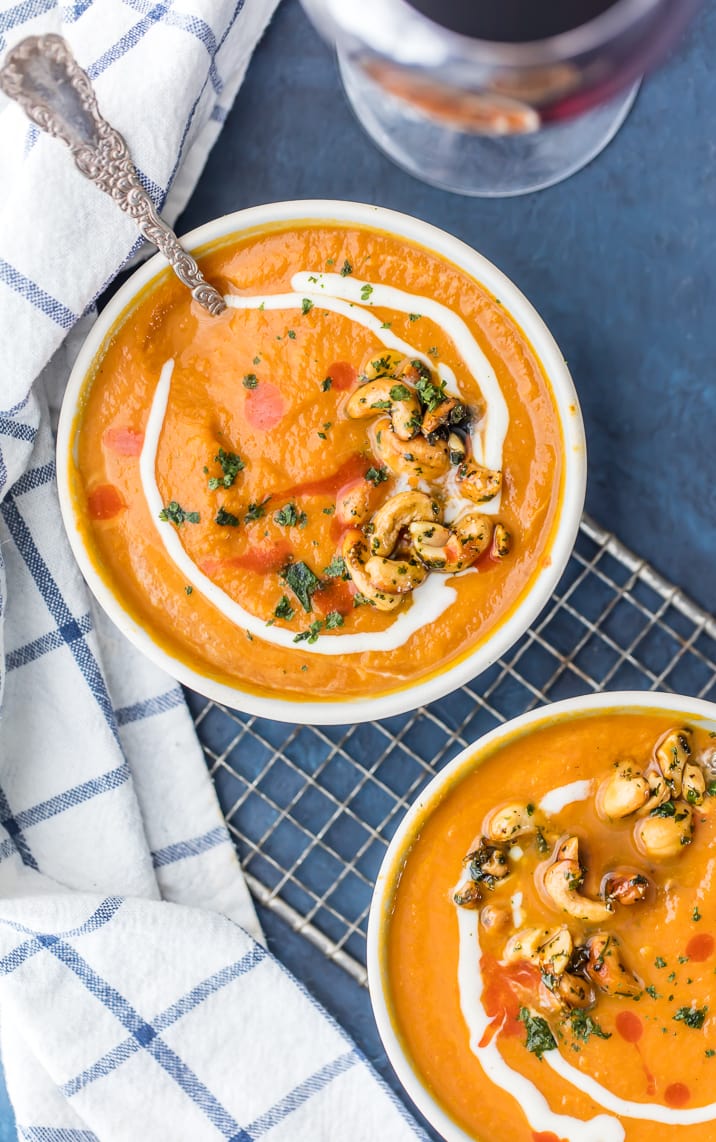 Vegan Pumpkin Soup Recipe
Vegan Pumpkin Soup is a creamy, delicious, and HEALTHY soup option to enjoy this fall season. With candied cashews sprinkled on top, it's a seriously tasty vegan recipe!
With all the food I'm likely to eat next week (YAY FOR THANKSGIVING) I'm trying to make a few healthy choices in the days before. There will be plenty of high calorie appetizers and desserts around the holiday table, so I'm making a few better choices as options as well. Just because a recipe is healthier doesn't mean it has to have less flavor! This Vegan Pumpkin Soup with Candied Cashews is packed with all the best tastes of Autumn and has just the right amount of sweet and spice. To die for!
If you love pumpkin, you'll love this soup! Looking for more soup recipes, try this Roasted Butternut Squash Soup, Easy Gazpacho and this Healthy Vegetable Soup.
Try this Vegan Pumpkin Soup recipe this fall season. It's simple, it's flavorful, and it's healthy!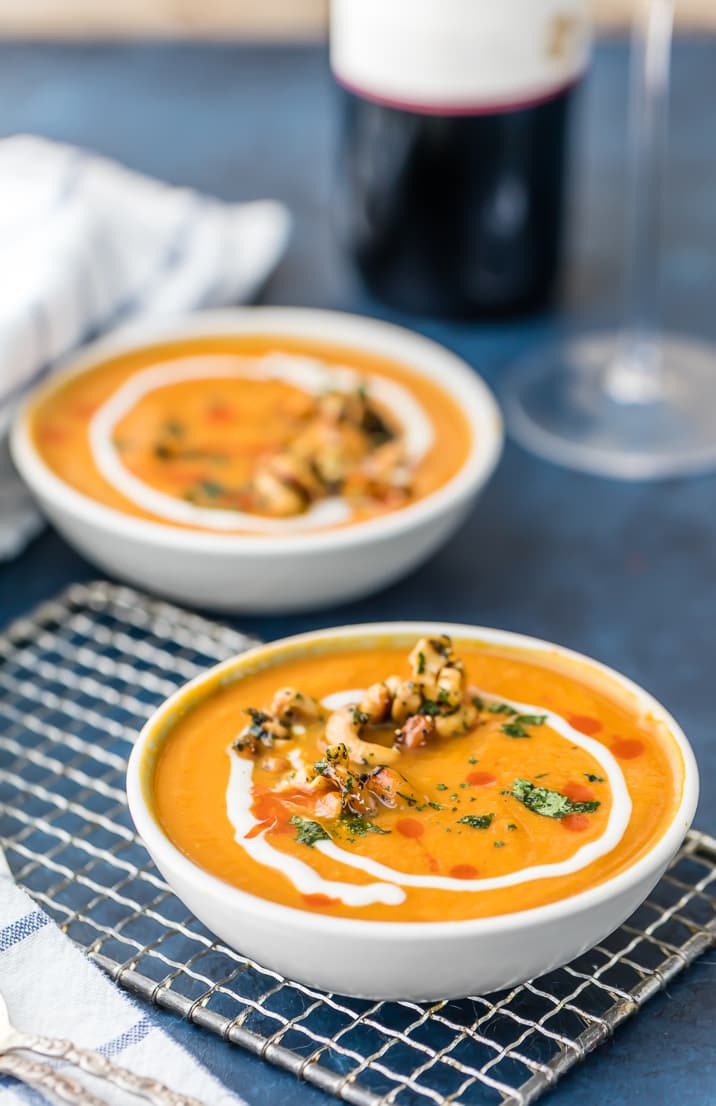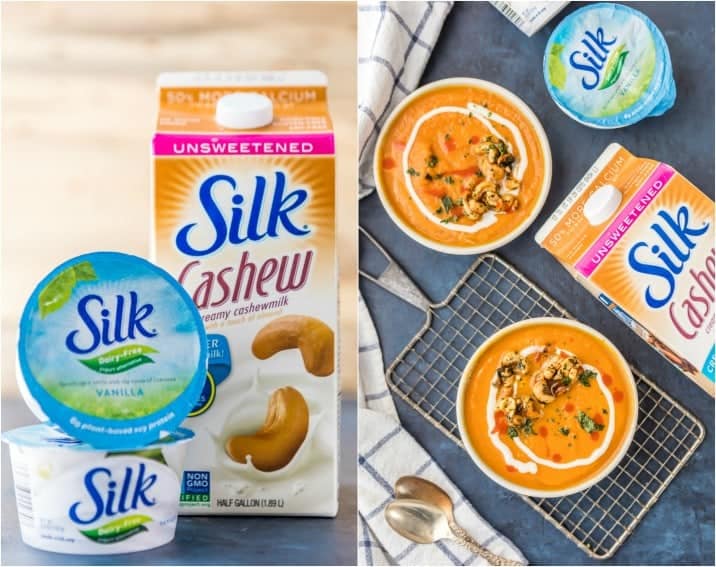 Easy Vegan Soup Recipe for Fall
You guys might remember that last month I accepted Silk's challenge to create a dairy free appetizer perfect for Gameday. I loved the recipe so much and was blown away that even I didn't miss my beloved cheese! This month I wanted to share a dairy free Fall Favorite. I immediately thought of Pumpkin Soup!
It's so simple to make this delicious power bowl with amazing alternative ingredients. Silk has so many options, but I chose Cashew Milk and Dairy Free Yogurt. You will NOT miss the dairy in this amazing Vegan Pumpkin Soup. Healthy comfort food. Doesn't get better than that!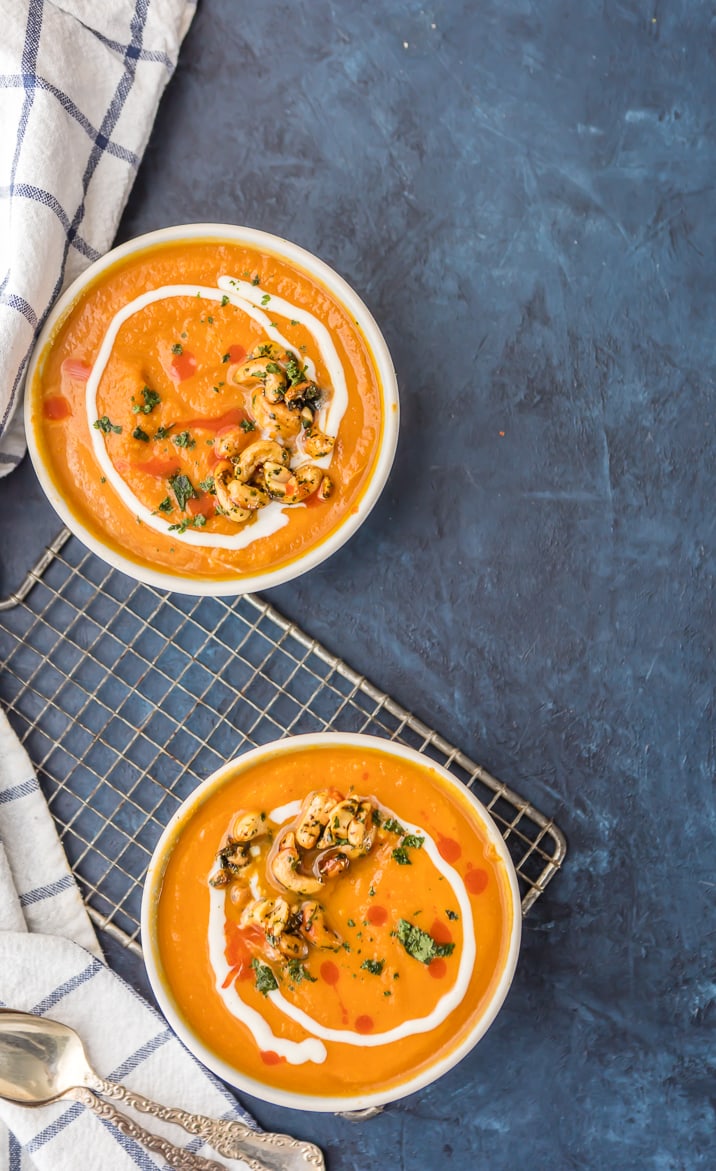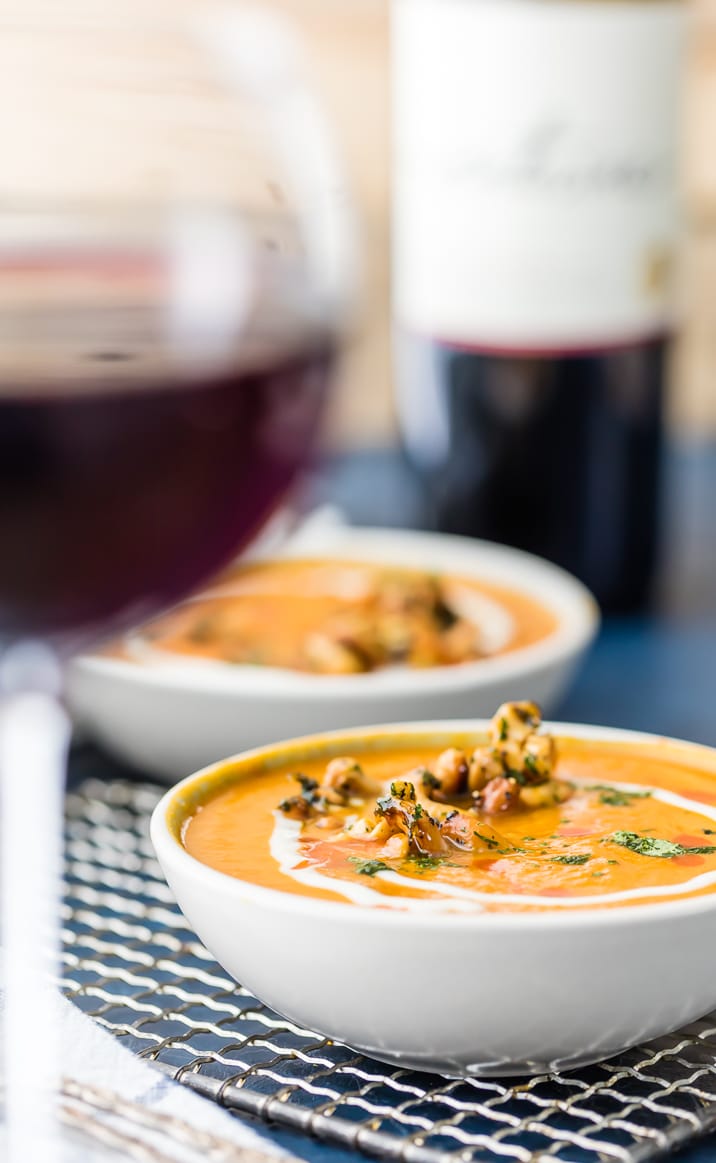 I adapted this Vegan Pumpkin Soup recipe from one of my very favorite sites (a favorite since before I started blogging!) Feed Me Phoebe. Phoebe is a constant inspiration for food that tastes good and is also good for you. Her site is such a gift and I hope you check it out!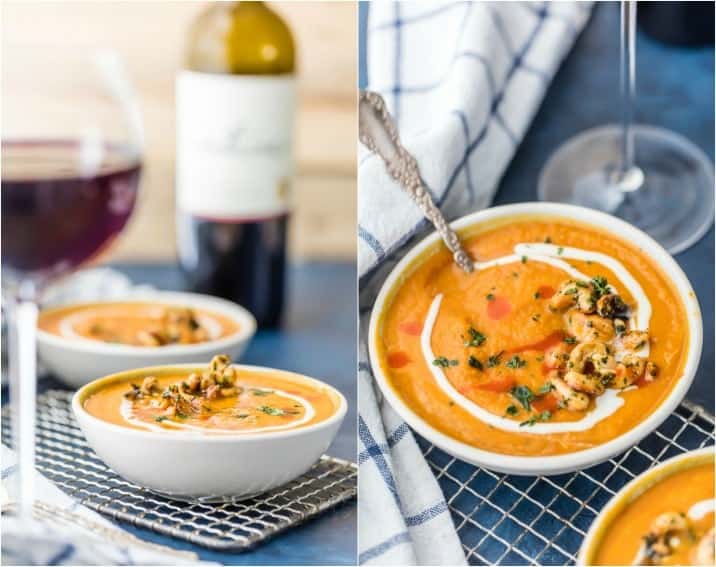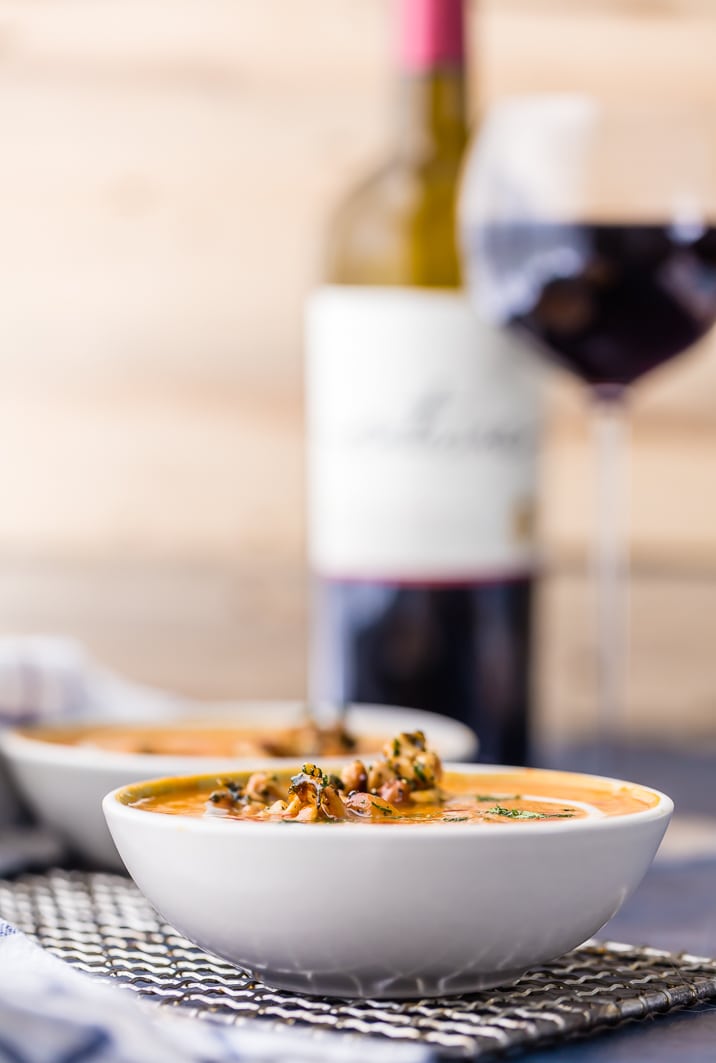 Candied Cashews
I hope you love the candied cashews as a garnish. They were a last minute addition, but they might just be my favorite part of this Vegan Pumpkin Soup recipe! This entire soup is thrown together in less than 30 minutes. It's worth a shot! Like I said, you won't miss the dairy. Enjoy! If you were left with any left overs why not use those for cashew chicken or something else delicious you'll find from the recipe recommendations!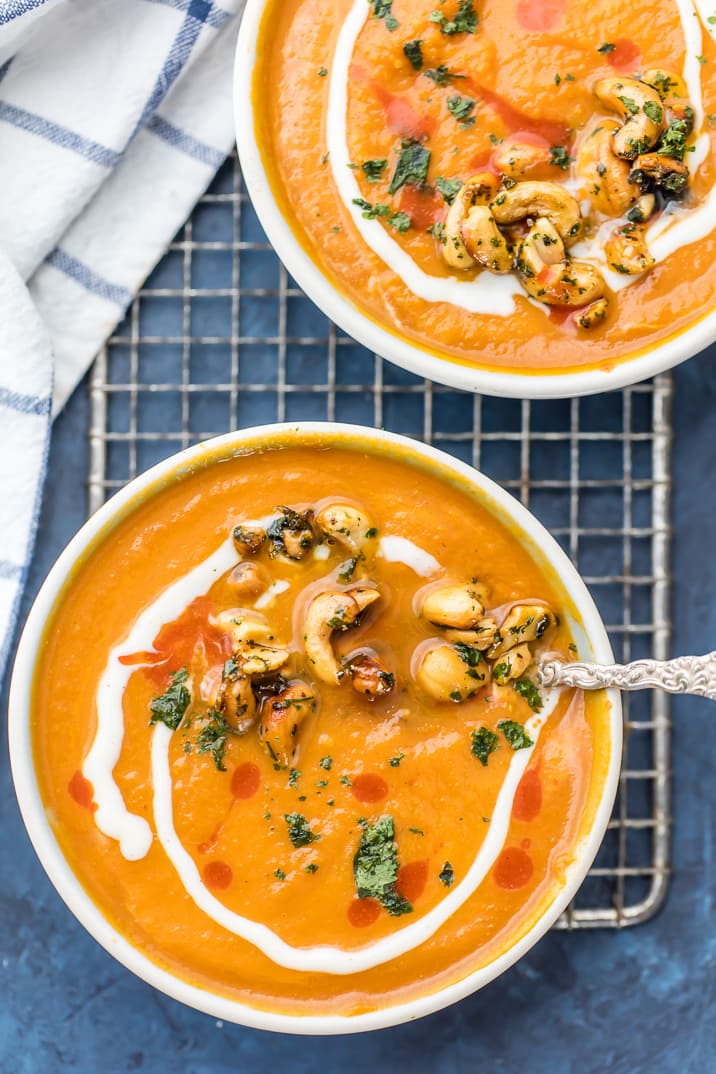 This Vegan Pumpkin Soup with Candied Cashews will warm up your tummy and your day!
See the recipe card below for details on how to make Vegan Pumpkin Soup. Enjoy!
If you like this recipe, try these other fun pumpkin recipes: