Vegan Pumpkin Soup with Candied Cashews…a healthy and delicious Fall favorite made in minutes!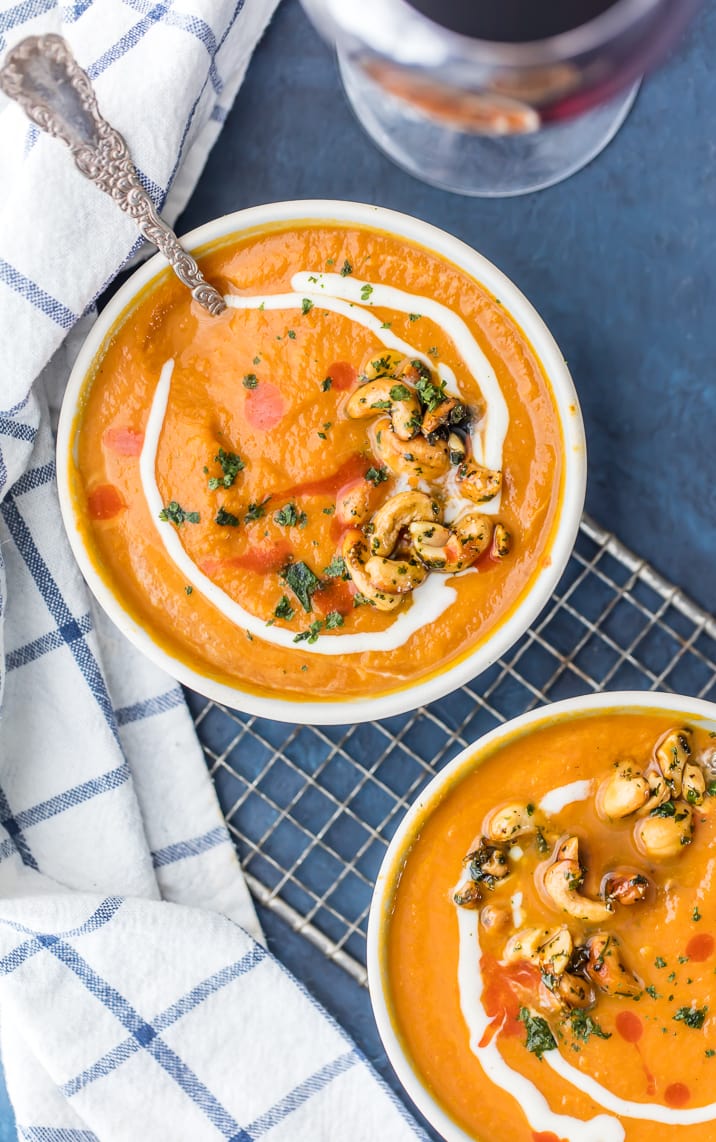 With all the food I'm likely to eat next week (YAY FOR THANKSGIVING) I'm trying to make a few healthy choices in the days before. There will be plenty of high calorie appetizers and desserts around the holiday table, so I'm making a few better choices as options as well. Just because a recipe is healthier doesn't mean it has to have less flavor! This Vegan Pumpkin Soup with Candied Cashews is packed with all the best tastes of Autumn and has just the right amount of sweet and spice. To die for!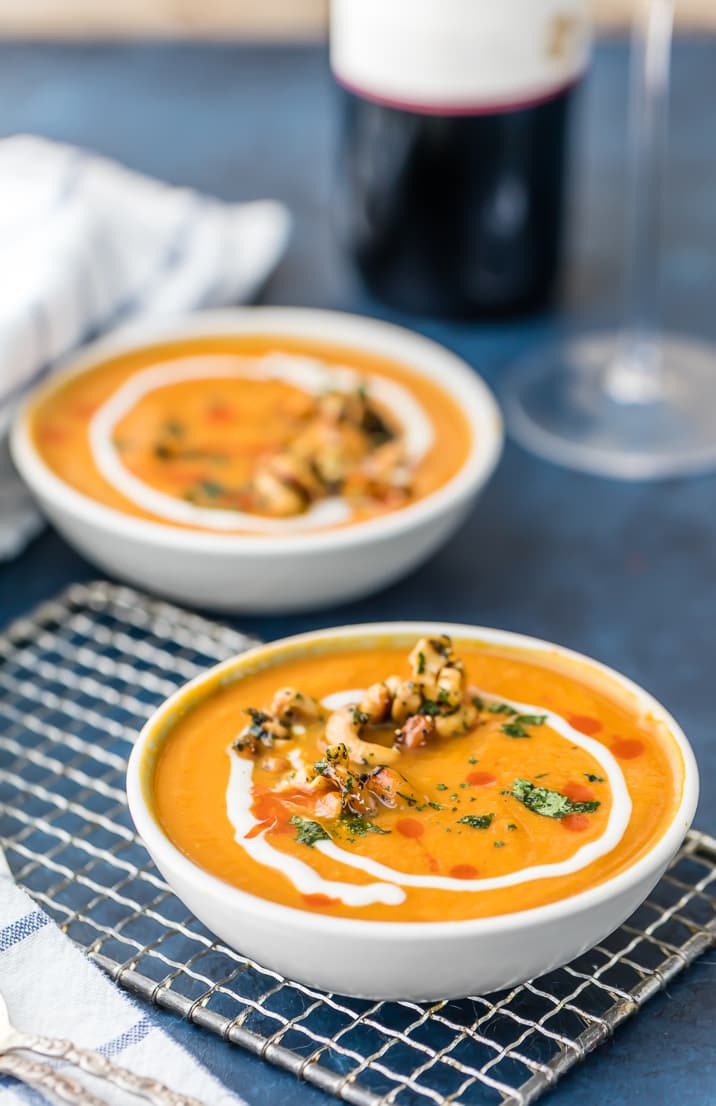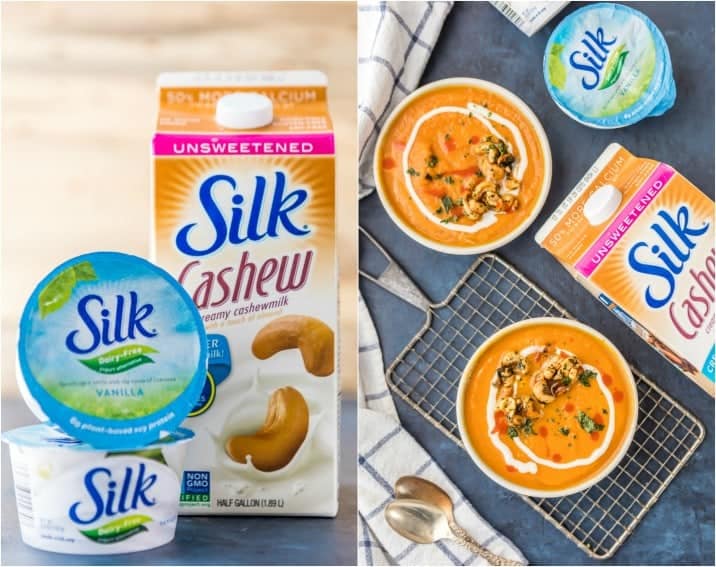 You guys might remember that last month I accepted Silk's challenge to create a dairy free appetizer perfect for Gameday. I loved the recipe so much and was blown away that even I didn't miss my beloved cheese! This month I wanted to share a dairy free Fall Favorite. I immediately thought of Pumpkin Soup! It's so simple to make this delicious starter (or meal) with amazing alternative ingredients. Silk has so many options, but I chose Cashew Milk and Dairy Free Yogurt. You will NOT miss the dairy in this amazing soup. Healthy comfort food. Doesn't get better than that!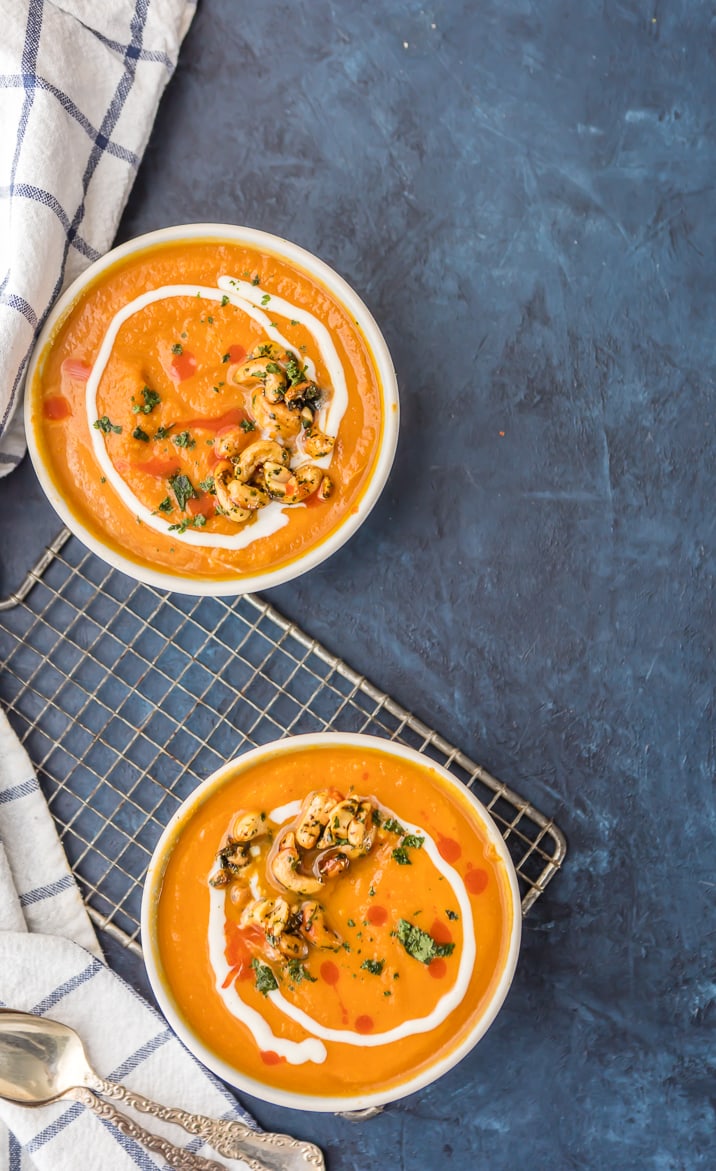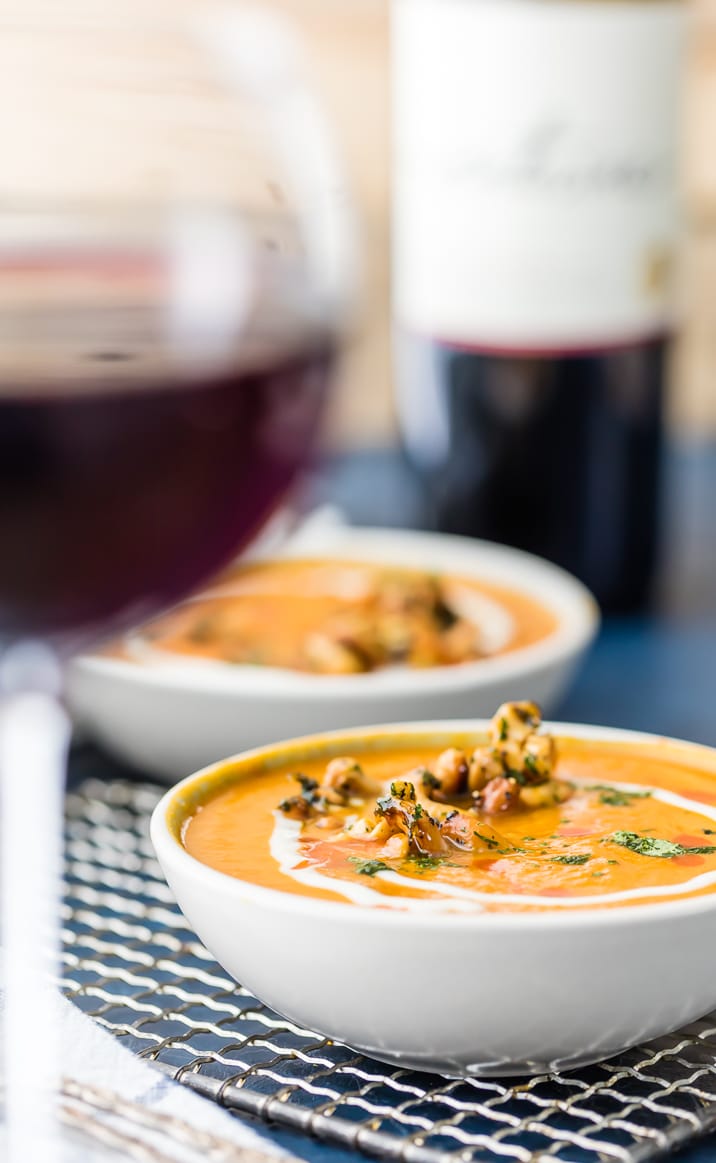 I adapted this recipe from one of my very favorite sites (a favorite since before I started blogging!) Feed Me Phoebe. Phoebe is a constant inspiration for food that tastes good and is also good for you. Her site is such a gift and I hope you check it out! You can see her original recipe HERE.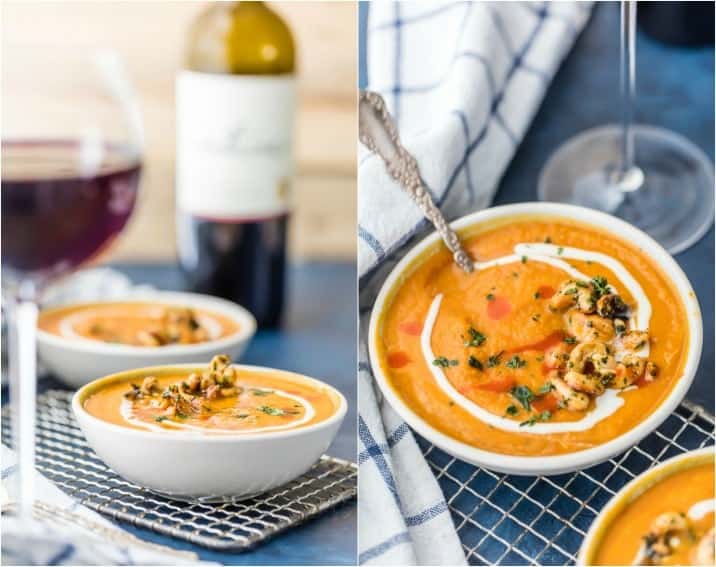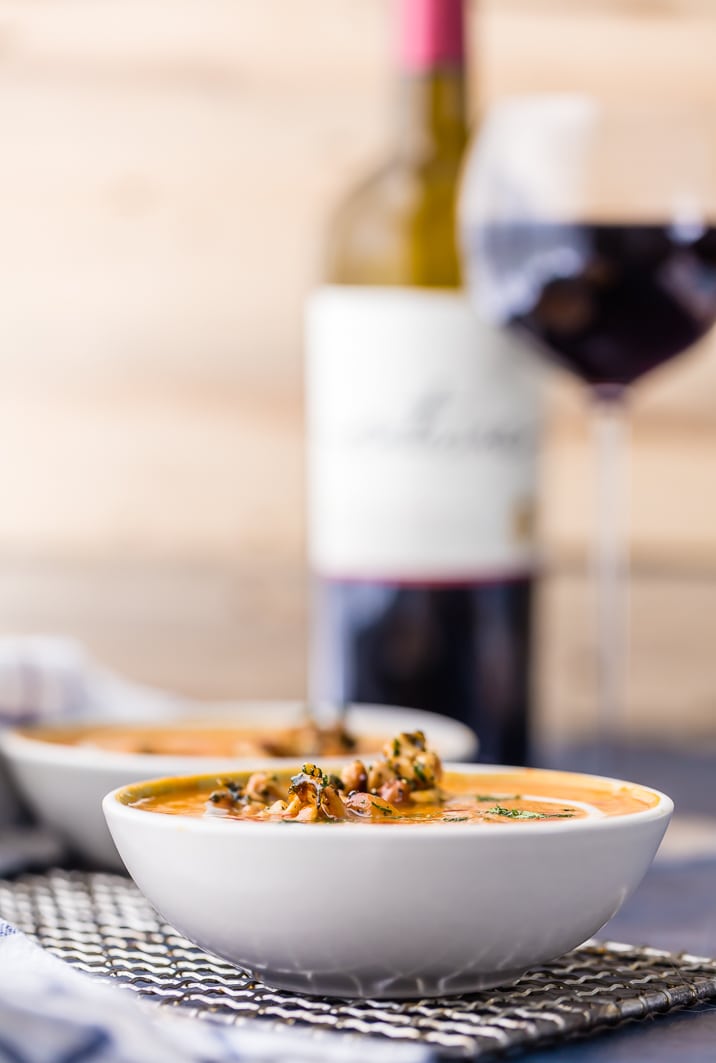 I hope you love the candied cashews as a garnish. They were a last minute addition and they might just be my favorite part! This entire soup is thrown together in less than 30 minutes. It's worth a shot! Like I said, you won't miss the dairy. Enjoy!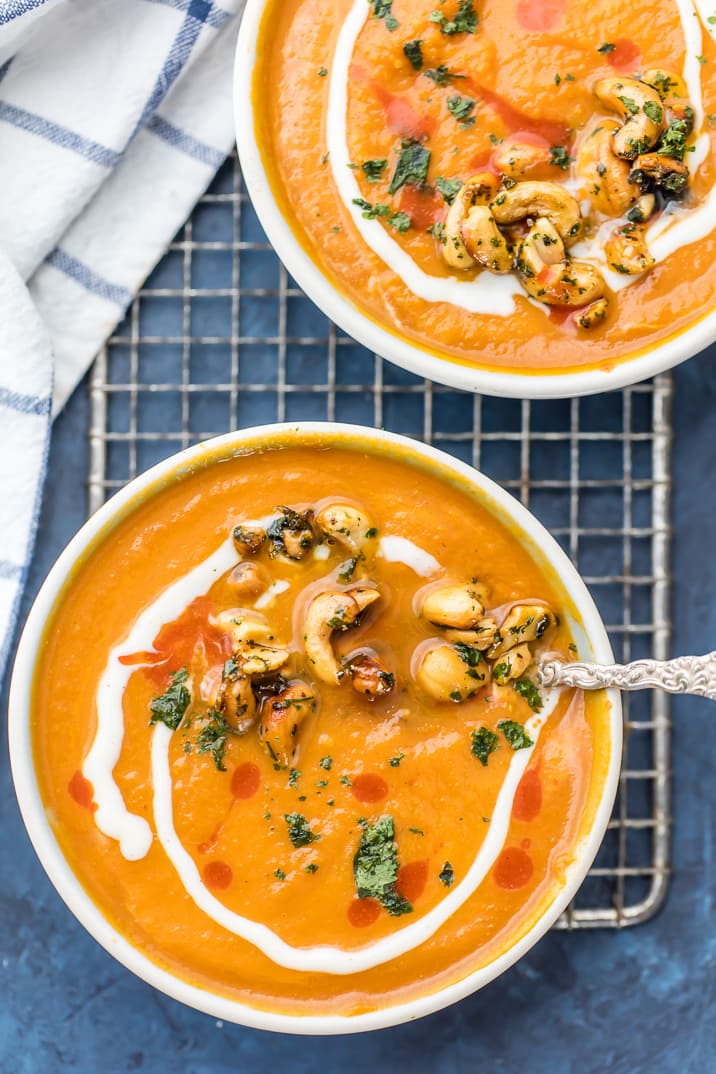 This Vegan Pumpkin Soup with Candied Cashews will warm up your tummy and your day!
Enjoy!
Vegan Pumpkin Soup with Candied Cashews
10 minPrep Time
20 minCook Time
30 minTotal Time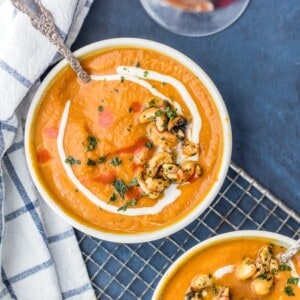 Ingredients
FOR THE SOUP

1 tablespoon olive oil
1 tablespoon minced garlic
2 15-ounce cans pumpkin puree
1 tablespoon ground ginger
2 cups Silk Cashew Milk
2 cups low sodium vegetable stock
1 tablespoon pure maple syrup
3 teaspoons sea salt
Silk Yogurt Alternative as garnish (in vanilla or plain)
dash of hot sauce, cilantro, and candied cashews for garnish

FOR THE CANDIED CASHEWS

1 1/2 cups raw cashews
1 1/2 tablespoons maple syrup
1 tablespoon chopped cilantro
salt and pepper to taste
Instructions
In a large stock pot or dutch oven, heat oil over medium/high heat. Add the garlic and let saute for about 2 minutes, or until translucent.
Add the pumpkin, ginger, Cashew Milk, vegetable stock, maple syrup, and salt. Stir to combine well. Allow to come to a boil and then reduce heat to simmer.
Allow soup to simmer for 20 minutes or until heated through and slightly reduced.
While soup is simmering, make your candied cashews.
Add cashews and maple syrup to a skillet over medium/high heat.
Stir to coat the cashews in the maple syrup as they toast.
When maple syrup begins to bubble, sprinkle the cashews with the cilantro, salt, and pepper. Continue stirring to coat and keep the cashews from sticking together. (If they stick together you can always break them apart later as well)
Once maple syrup has all reduced down and only the cashews remain (they will be slightly toasted, about 5 minutes), remove from heat and allow to cool. Break apart into smaller pieces once cooled (if necessary)
Serve the soup hot garnished with a couple dashes of hot sauce, chopped cilantro, and Silk Yogurt Alternative. Top with some candied cashews.
Enjoy!
7.8.1.2
2040
https://www.thecookierookie.com/vegan-pumpkin-soup/
This is a sponsored conversation written by me on behalf of Silk. The opinions and text are all mine.