This wine smoothie is great for all year round, but is especially fitting for Valentine's Day. And since Valentine's Day is one of my favorite holidays, I plan to make plenty of these smoothies! Made with chocolate wine, raspberries, and almond milk, it combines three very-compatible flavors, has a crisp freshness to it, and is such a pretty-looking drink. Plus, you can whip up a batch in no time!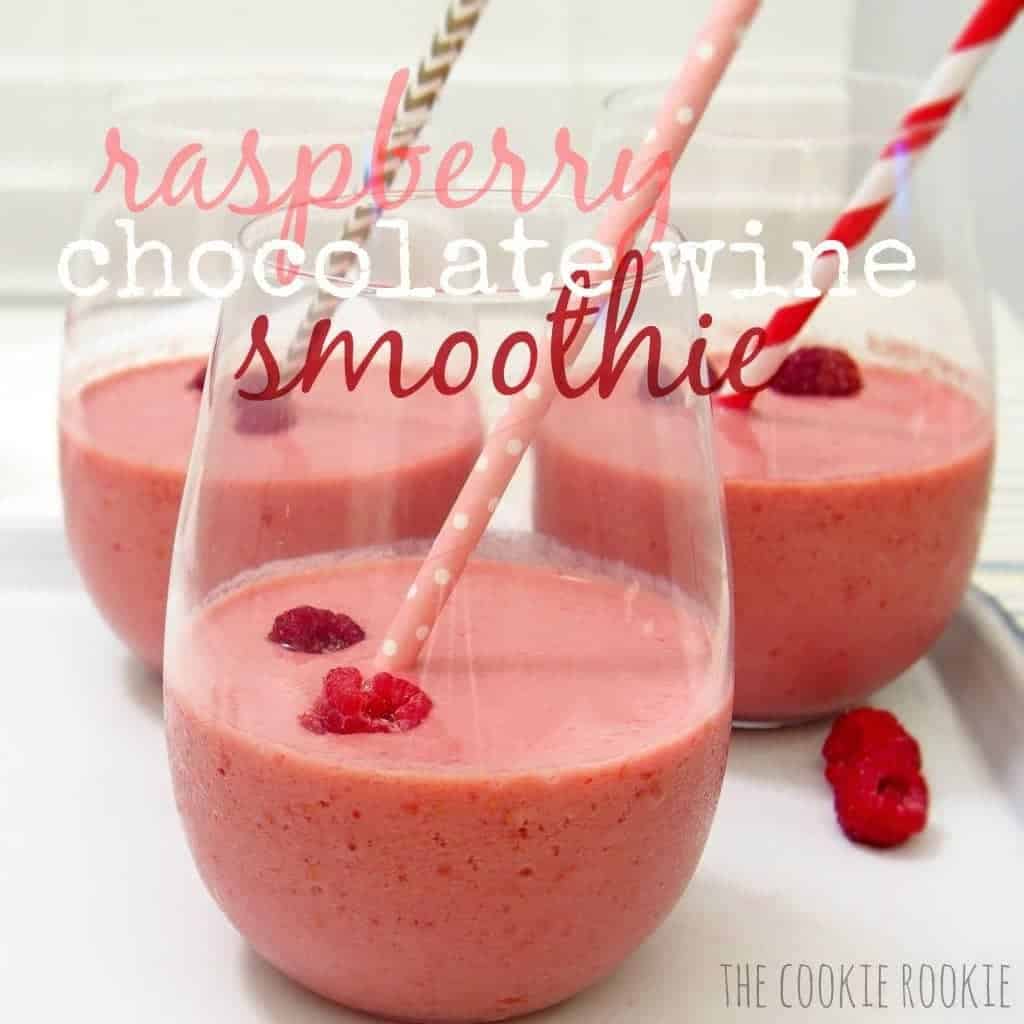 Chocolate Wine Smoothie Recipe
Whether you want to chill in the summer sun or get a bit boozy on Valentine's Day, this wine smoothie is perfect for all your cocktail needs.
The tang of the raspberries works so well with the chocolate wine, giving you a refreshing smoothie with a little buzz added in.
Why you'll love this Wine Smoothie Recipe:
Pretty Pink: This is a perfectly pink treat for Valentine's Day and Christmas (or any day, for that matter!).
Quick and Easy: It's so simple to whip up a quick batch for summer parties.
Cool and refreshing: This smoothie has all the things you love: fruit, milk, chocolate, and of course, wine!
Ingredients in These Smoothies
Chocolate wine – I went for a milk chocolate wine that emphasized the chocolate notes.
Almond milk – I find that almond milk has a lighter texture than cow's milk. And being non-dairy, it doesn't curdle as easily when combined with the acidic red wine.
Red raspberries – Go for frozen berries, as they help chill and thicken the smoothie. You can save any leftover raspberries for future libations.
Ice cubes–Crushing ice into a smoothie helps thicken it. Ice is optional, but it adds a really nice texture.
How to Make Raspberry-Chocolate Wine Smoothies
Be sure to see the recipe card below for full ingredients & instructions!
Measure the almond milk and red wine into the blender container.
Add the red raspberries and half of the (optional) ice cubes. Adding frozen elements after the liquids helps them blend smoother without creating an icy chunk in the bottom of the blender.
Process until smooth, add the remaining ice and finish blending. Serve in a pretty glass with raspberries for garnish. That's it!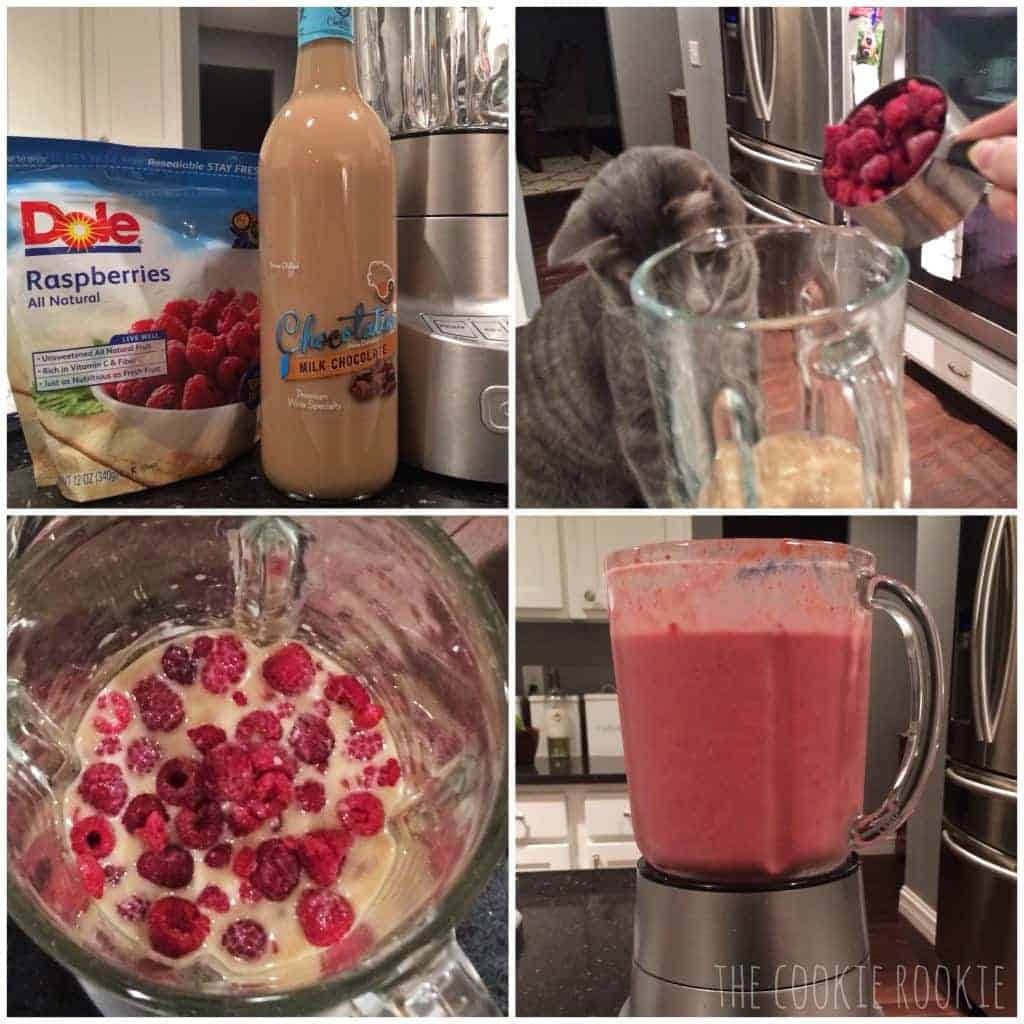 A Real Crowd Pleaser
This wine smoothie can be made with just the fruit and the wine, but I included almond milk and ice as well. I liked it with just the two ingredients (and wow, that was easy!), but adding the milk and ice made it…um…totally amazing. Perfection, even!
The silky smoothness of the almond milk helps mellow the flavors and create something very close to nectar of the gods! My husband and I were taste testing and it was mighty tempting to just polish it off right there. The photo below shows what I'm talking about!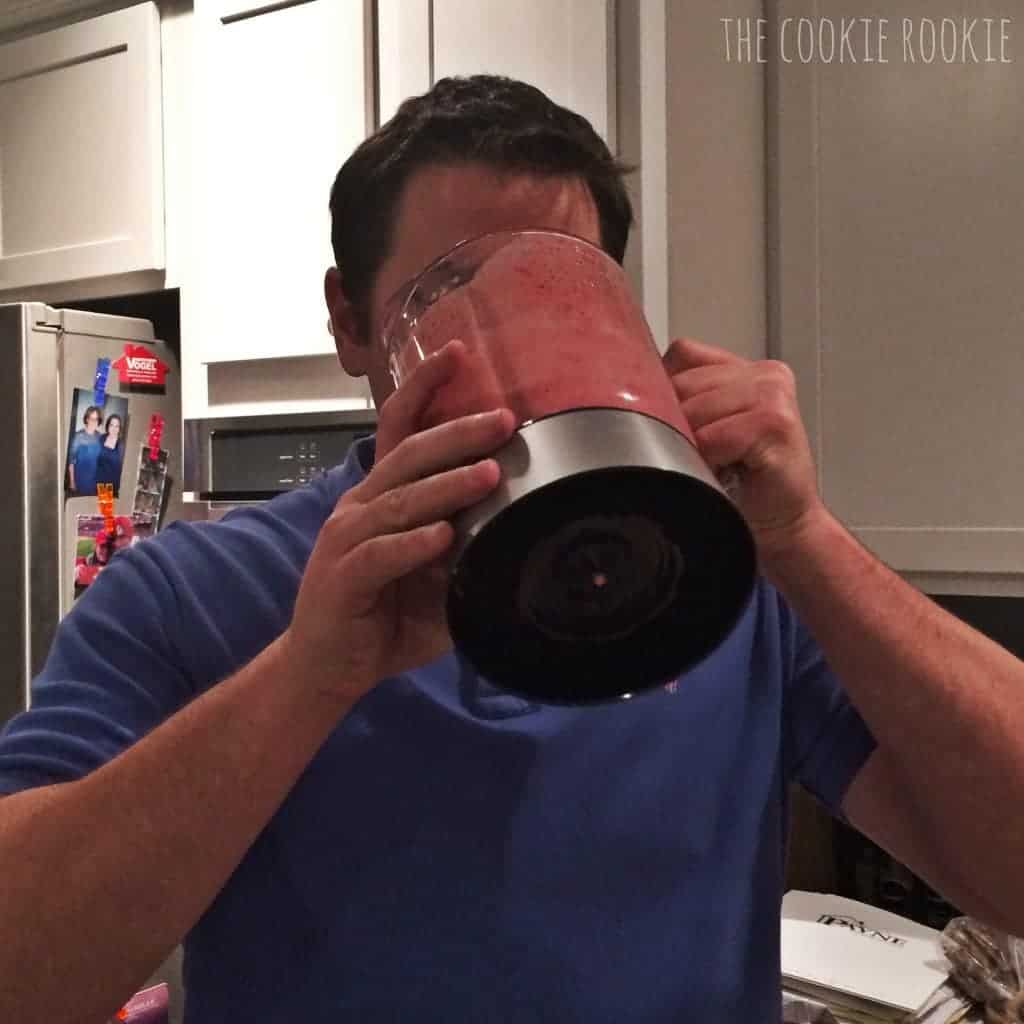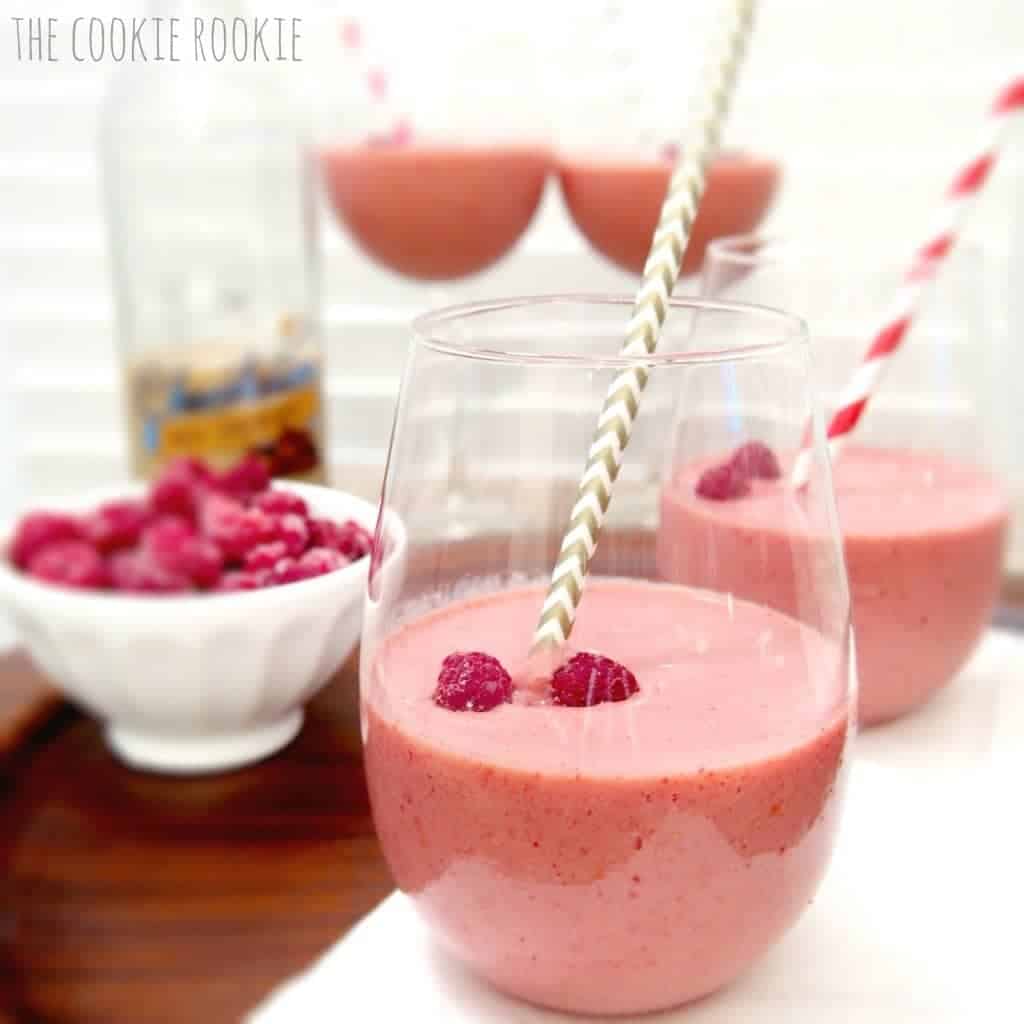 What is Chocolate Wine?
If you've never had chocolate wine before, it's a mix of chocolate and red wine; so basically, it's a wine liqueur. There are types that are heavy on the wine with notes of chocolate…and then there are some that emphasize the chocolate more strongly.
This one was heavy on the chocolate, which…is that ever a bad thing? I think not. Plus, it works perfectly with the berries in this wine smoothie.
Can You Substitute Dairy Milk for the Almond Milk?
You can. I like almond milk, though, because it has a lighter texture and resists curdling more than dairy milk. I mean, think about it: red wine is very acidic, almost like vinegar. Mixing vinegar with milk gives you buttermilk, and while that might be something to try in the future, that's not what we want in these smoothies.
It's really all about the proportions of wine to milk, so using dairy milk won't always curdle, but I like to reduce the chances. Soy, coconut, hemp and any of the other non-dairy milks are good substitutes, as well.
Can I Use Different Fruit?
Absolutely! This is an easy drink to customize. Just about any berry will be an easy match; the tartness of the fruit goes well with the smoothness of the wine and milk.
Other fruits may or may not complement the red wine, so give your favorites a try and you may develop a new flavor sensation!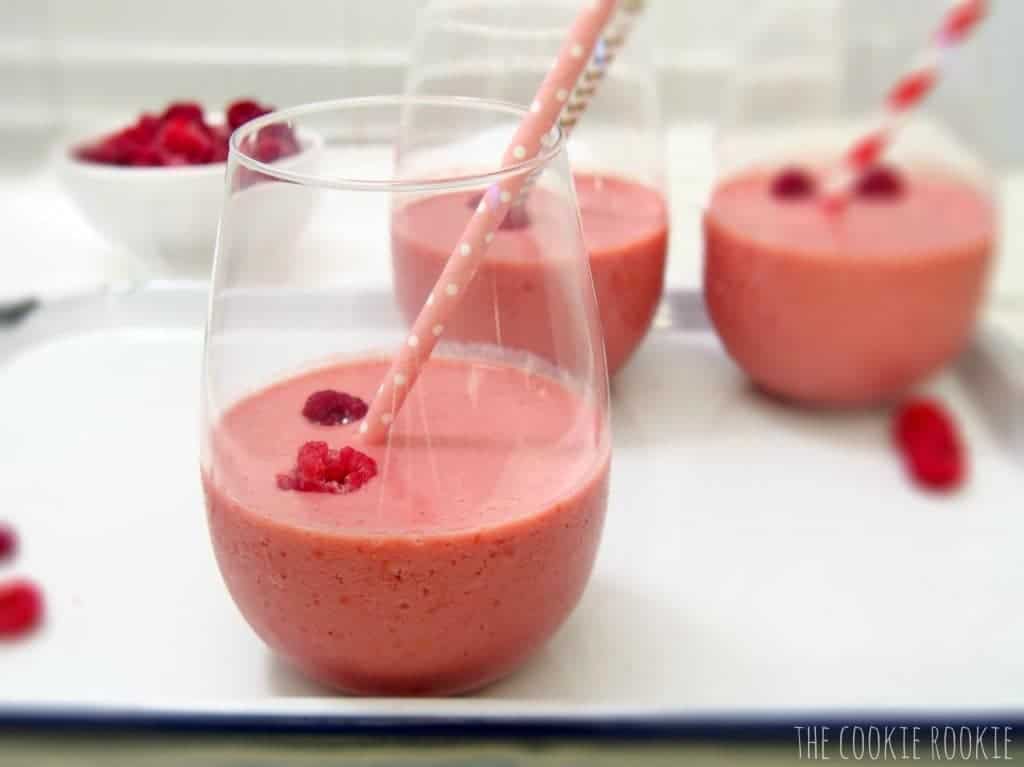 Recipe Variations
The tart flavor of the raspberries really comes through, but you can mix it up and try different fruity combos. You could try blackberries for a slightly more mellow flavor, strawberries, or maybe mixed berries – get creative with the fruit! Cherries and peaches would work as a treat, too.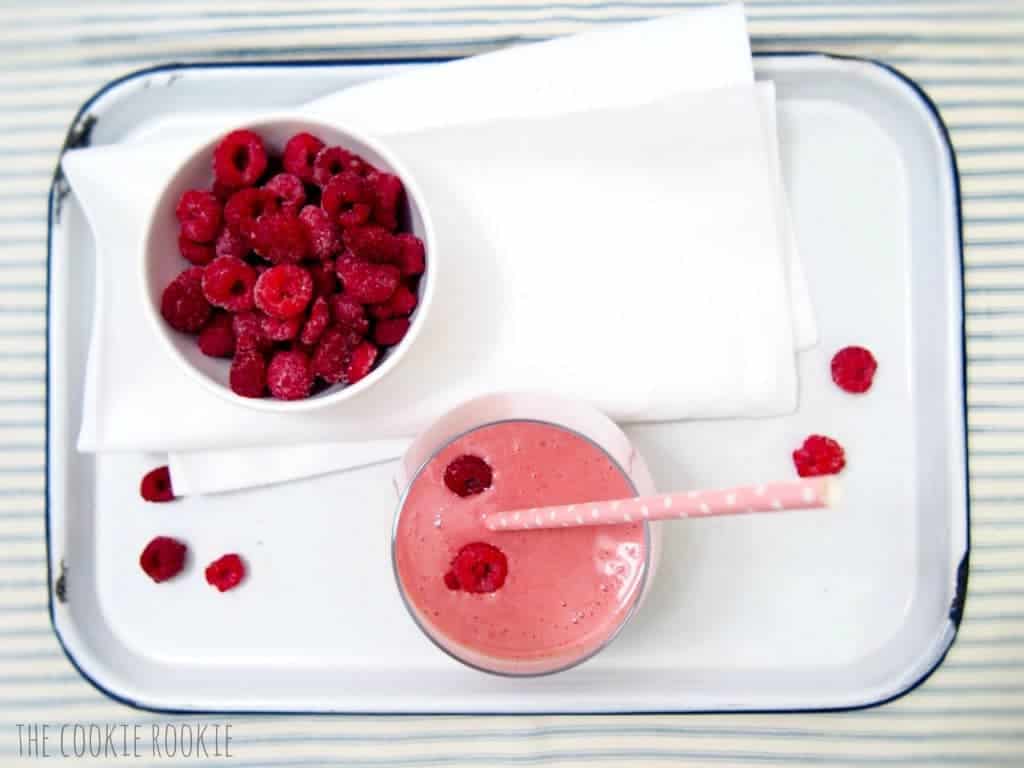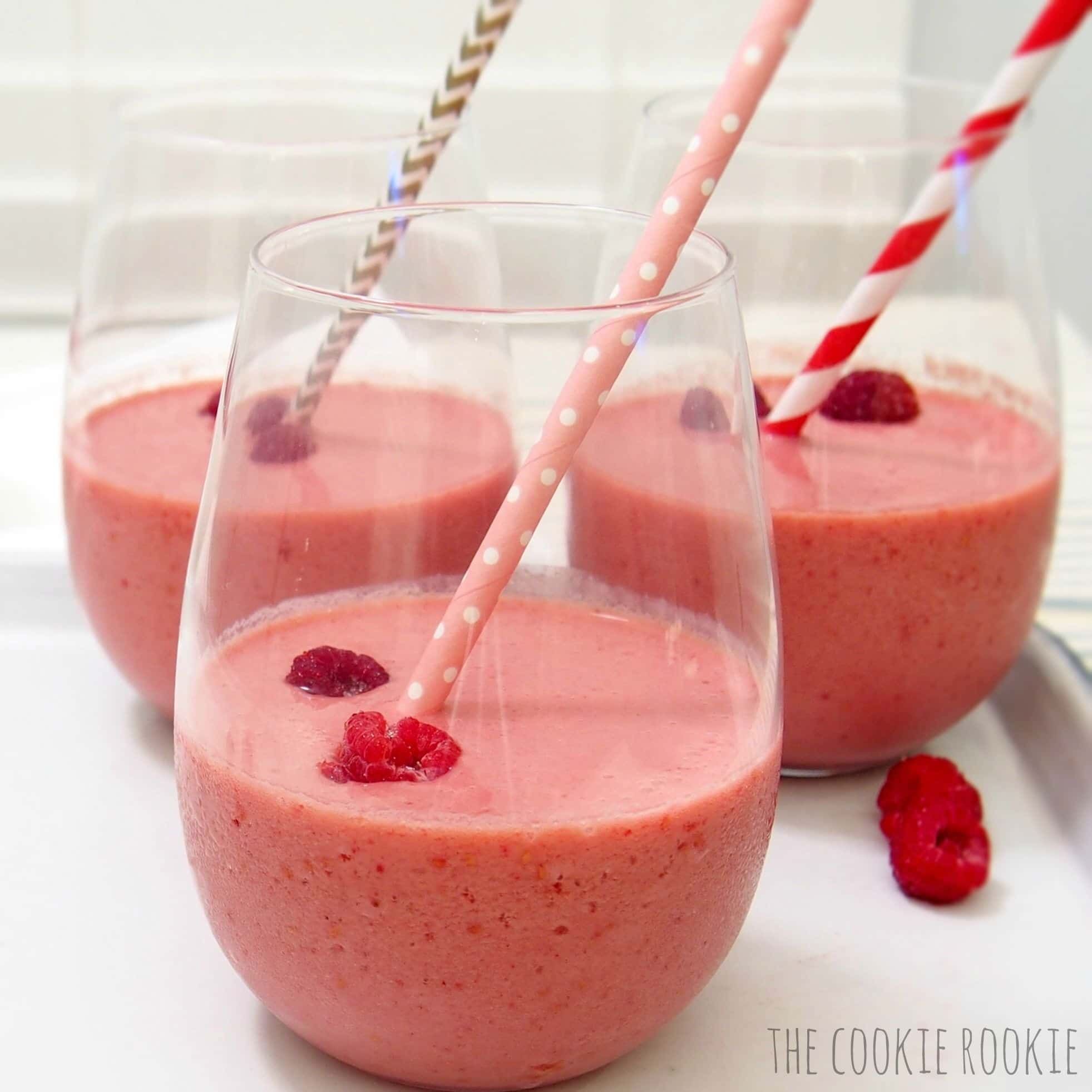 Check Out More Delicious Cocktails
Have you tried this wine smoothie? Feel free to leave a star rating and I'd love to hear from you in the comments below!