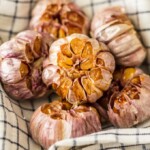 Oven Roasted Garlic
HOW TO ROAST GARLIC. I absolutely love Oven Roasted Garlic. It is a surprisingly easy and delicious way to make your kitchen feel like an upscale restaurant! The bold flavor of freshly Roasted Garlic is just so goooood and I can't get enough of the aroma either. I love eating it with pasta, steak, or anything that needs an extra kick. And it's such an easy thing to do!
Print Recipe
Preheat oven to 400F

With your hands, peel the paper outside of the garlic, to expose the cloves. Take care to keep the bulbs together and not break them apart while you're peeling

Top each bulb with 1/4 tablespoon and massage into the cut side of each bulb.

Wrap each bulb in tin foil and place into the cups of a muffin pan, cut side up.

Bake for 35-40 minutes or until each clove is tender.

To eat, pinch from the outside and the clove should come easily out of the skin. Enjoy!
Calories:
35
kcal
|
Fat:
3
g
|
Potassium:
12
mg
|
Vitamin C:
0.9
mg
|
Calcium:
5
mg
|
Iron:
0.1
mg