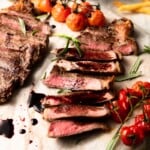 Seared New York Strip Steak with Red Wine Balsamic Reduction
This Seared New York Strip Steak with Red Wine Balsamic Reduction is favorite for any time of year!
Print Recipe
FOR BALSAMIC REDUCTION:
In a small saucepan, combine wine, balsamic vinegar, and brown sugar. Stir to combine. Heat over medium high heat until boiling, then reduce to a simmer. Continue cooking until sauce is reduced by about half. It will become thicker and more like a syrup.
TO PREPARE STEAKS:
Drizzle olive oil (2 tablespoons between all four steaks) on and massage into each steak. Top with garlic, sea salt, and rosemary. Place steaks in a ziplock bag and allow to marinate for at least 30 minutes.

When you're ready to cook the steaks, heat a large skillet over high heat for about 4 -5 minutes. Add the remaining 2 tablespoons olive oil to the pan and add the steaks immediately.

Sear each side for 1 1/2 minutes. When each side has been seared, place pan in the oven for approximately 4-5 minutes. If you prefer your steak more rare, about 4 minutes is perfect. Remove from the oven and allow to rest for 5 minutes before slicing. Slice steak and top with Red Wine Balsamic Reduction.
Marinate your steaks for at least 30 minutes so the flavors infuse the steak. You can also do this overnight or a few hours in advance if you need to.
Bring your steaks out of the fridge 10-15 minutes before cooking to avoid the meat turning tough (cold steaks on a high heat will shrink and tighten up).
Make sure to let your steaks rest after cooking so they're juicy and tender.
You can easily switch up the flavors by using different herbs and spices in the marinade.
Serve with your favorite sides.
Calories:
637
kcal
|
Carbohydrates:
13
g
|
Protein:
45
g
|
Fat:
39
g
|
Saturated Fat:
15
g
|
Cholesterol:
137
mg
|
Sodium:
1292
mg
|
Potassium:
717
mg
|
Sugar:
10
g
|
Vitamin A:
50
IU
|
Vitamin C:
0.7
mg
|
Calcium:
43
mg
|
Iron:
4.5
mg