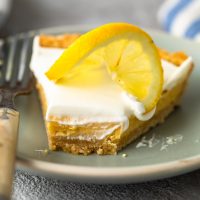 Sour Cream Lemon Pie with Saltine Crust
Sour Cream Lemon Pie is perfectly tart and creamy. This easy lemon pie recipe is filled with simple flavors that mix together beautifully. The lemon pie filling, saltine cracker pie crust, and sour cream topping combine to create the most delicious lemon tart for spring time!
Print Recipe
For the Filling:
1

14 ounce can sweetened condensed milk

4

large egg yolks

¼

cup

heavy cream

1

tablespoon

grated lemon and/or lime zest

1/8

teaspoon

table salt

½

cup

plus 1 tablespoon fresh-squeezed lemon or lime juice

or a mixture of both
For the Sour Cream Topping:
For the Saltine Cracker Crust:
Spray a 9-inch pie plate with nonstick cooking spray.

Heat oven to 350°F and set oven rack to middle position.

Place saltines, sugar, melted butter and salt in a food processor fitted with the steel blade. Pulse until saltines become coarse crumbs (10-15 pulses).

Press the saltine crumbs into an even layer covering the bottom and sides of the pie plate. To ensure the crust isn't a little soft after cooking, be careful not to make it too thick.

Transfer the pie plate to a baking sheet and bake the crust until it is golden brown and smells so good, 18-20 minutes. Leave the pie plate with the crust on the sheet pan and set aside to cool slightly after baking.
For the Filling:
In a large bowl, whisk condensed milk, egg yolks, cream, zest, and salt. Add the lemon and/or lime juice and whisk until fully incorporated.

Pour the filling mixture into the crust and set the pie (still on the sheet pan) on the center rack of the oven.

Bake the pie about 16-18 minutes or just until the filling has set. Transfer pie to a cooling rack and allow to completely cool.
For the Sour Cream Topping:
In a small bowl, whisk together sour cream and sugar. Spread the topping evenly over the pie and sprinkle with lemon and/or lime zest, if desired.

Refrigerate the pie at least 4 hours or up to overnight.

Enjoy!
Calories:
247
kcal
|
Carbohydrates:
29
g
|
Protein:
4
g
|
Fat:
12
g
|
Saturated Fat:
6
g
|
Cholesterol:
122
mg
|
Sodium:
441
mg
|
Potassium:
91
mg
|
Sugar:
12
g
|
Vitamin A:
420
IU
|
Vitamin C:
0.2
mg
|
Calcium:
53
mg
|
Iron:
1.4
mg