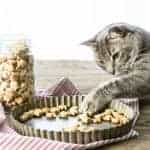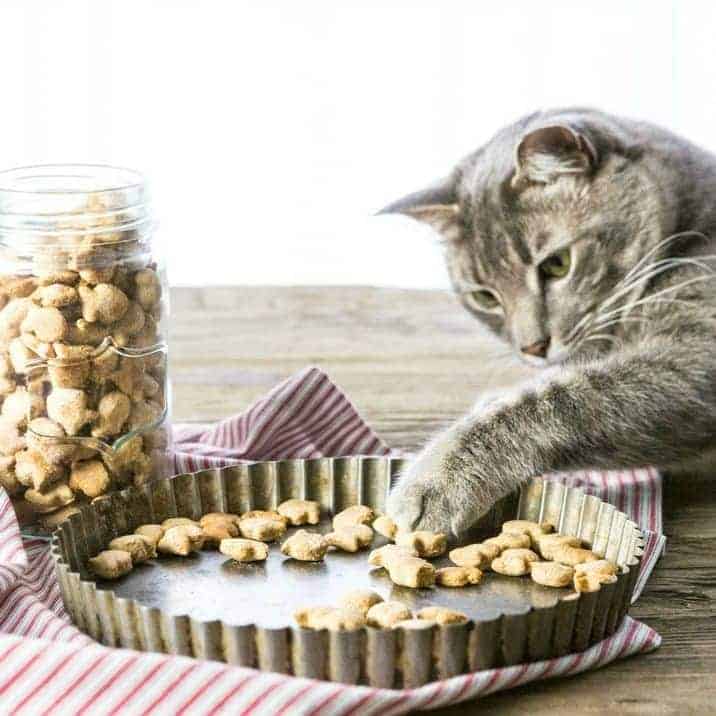 Homemade Cat Treats (Salmon and Catnip Cat Treat Croutons)
Homemade Cat Treats: Tuna and Catnip Cat Treat Croutons! Recipe Inspired by Joy The Baker:
http://joythebaker.com/2014/01/tuna-catnip-kitty-treats/
Print Recipe
1 5

ounce

bag or can tuna

drained

1

cup

coconut flour

for a stickier, thicker consistency, you can use whole wheat flour or oat flour. those flours might work better if you want to roll these into balls. if making the crouton shape, the coconut flour works just fine :

1

tablespoon

extra light olive oil

1

tablespoon

dried catnip

1

egg

1-2

tablespoons

water

add more water if you want the dough a bit stickier
Preheat oven to 350 degrees and line a baking sheet with parchment paper. Set aside.

Combine drained tuna, egg, coconut flour, water, olive oil, and catnip. Blend in a food processor until mixture is smooth and completely combined.

The mixture is different than normal dough. It is not very sticky and is a bit powdery.

Pinch or roll pieces of the dough into "croutons" and place on baking sheet.

Bake cookies for 12 - 15 minutes until they are dried on top and browned. It's okay for them to be slightly burned, you want them crunchy!

Allow cooling completely.

These will store in your fridge for about a week. Since they contain egg and tuna, you shouldn't keep them longer than that. Store in an airtight container.

Enjoy!
Calories:
204
kcal
|
Carbohydrates:
16
g
|
Protein:
12
g
|
Fat:
9
g
|
Saturated Fat:
5
g
|
Cholesterol:
53
mg
|
Sodium:
166
mg
|
Potassium:
78
mg
|
Fiber:
10
g
|
Sugar:
2
g
|
Vitamin A:
1.6
%
|
Calcium:
1.2
%
|
Iron:
8.6
%