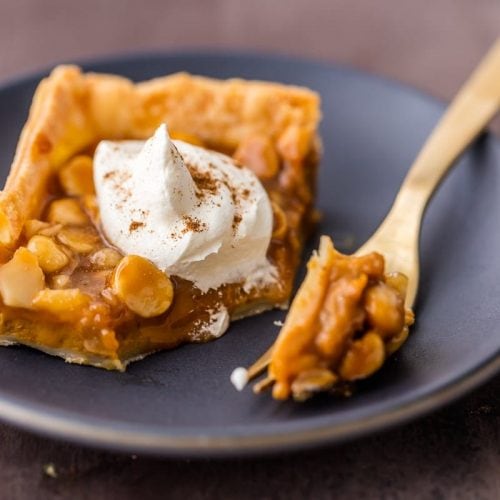 Caramel Macadamia Nut Pumpkin Pie Bars
Pumpkin Pie Bars are just another great way to enjoy pumpkin during the fall season. These Caramel Macadamia Nut Pumpkin Pie Bars are truly heaven on Earth! These easy pumpkin bars are a twist on a classic that will be the absolute WINNER on your Thanksgiving Menu!
Print Recipe
Ingredients for the Pie:
2

premade pie crusts – enough for 2 single crust pies

½

cup

granulated sugar

½

teaspoon

salt

1

teaspoon

ground cinnamon

½

teaspoon

ground ginger

½

teaspoon

pumpkin pie spice

¼

teaspoon

ground cloves

2

large eggs

slightly beaten

1

can

15 oz. Libby's 100% Pure Pumpkin

1

can

12 fl. oz. evaporated milk

Garnish: freshly whipped cream or whipped topping
Ingredients for the Caramel Macadamia Topping:
Directions for the Pie:
Preheat oven to 450 degree F.

If using premade piecrusts, remove from the crusts from the refrigerator 15 minutes before using.

Line a jellyroll baking pan* (10 1/2 x 15 1/2 x 1) with parchment paper, allowing 2 inches of overhang on the two longer sides. Roll pie dough discs into one rectangular piecrust, and transfer dough to the pan. Press the dough up the sides and across the bottom of the pan. Trim any overhanging dough.

Now, it is time to "blind bake" the crust: cover the top crust with parchment paper or aluminum foil. Cover the parchment paper with beans and bake the crust until it is partially cooked – about 10 minutes. Remove the crust from the oven and remove the beans and parchment (or foil). Save the beans for another "blind bake" and set the crust aside to cool until filling is ready.

In a medium bowl, combine sugar, salt, cinnamon, ginger, pumpkin pie spice and cloves. Mix well and set aside.

In a larger bowl (or in a mixer bowl), combine eggs and canned pumpkin and mix together two minutes. Add sugar/spice mixture and mix well. Slowly add evaporated milk and mix until completely incorporated.

Pour filling into prepared crust and bake 10 minutes at 425F. Reduce temperature to 350F and bake 19-24 minutes more, until filling is set

(a toothpick inserted in the middle should come out clean).

Transfer pan to a cooling rack to cool completely before topping with caramel macadamia sauce.
Directions for Caramel Macadamia Sauce:
Mix together caramel and macadamia nuts. Spread mixture evenly over the pumpkin pie bars.

Refrigerate at least 3 hours or overnight to allow caramel to set.

Cool completely before cutting into bars.

Optional: top with whipped cream and sprinkle with pumpkin pie spice

Enjoy!

*If using a ½ sized baking sheet, double the filling recipe and use 1-2 more pie crusts.

**Refrigerate unused pumpkin pie bars.
Calories:
346
kcal
|
Carbohydrates:
44
g
|
Protein:
5
g
|
Fat:
16
g
|
Saturated Fat:
5
g
|
Cholesterol:
54
mg
|
Sodium:
448
mg
|
Potassium:
75
mg
|
Fiber:
1
g
|
Sugar:
16
g
|
Vitamin A:
1.6
%
|
Calcium:
2.2
%
|
Iron:
10
%