Do not skip the perfect homemade croutons when making a salad! The extra step of making these is so easy and you will NOT regret it – trust me!!! You will also never want store bought croutons again. YUM!
Susie here with another how-to! We are working on some amazing Valentine's day recipes…and this crouton recipe is an important part of our valentine's salad!
I am a crouton snob. I am a crouton snob because I have been spoiled by the best croutons – anywhere!! They used to be served at The Pear Tree Restaurant in Bevier, MO, but unfortunately that restaurant burned to the ground last November. Thank goodness they are still served at the family's other restaurant, AJ's Eat & Drink in Macon, MO. These little crunchies are so good, I sometimes stop while traveling through Macon to get a soda and a bag of croutons for a tasty snack.
Anyway, once I tasted the best in 1997, I began looking for a recipe to replicate them.
I came across this recipe December, 1999 while laid-up with a broken foot. I was watching one of the shopping networks (since that was my only means of Christmas shopping that year) and they happened to be selling a cookbook entitled The Recipe Hall of Fame Cookbook, which I purchased for myself. (oops – that wasn't supposed to happen:-) Within the cookbook, I found a recipe for croutons, this recipe, and I gave it a try…after a little tweaking…voila! Terrific, crunchy, spicy, buttery, yummy croutons. These will disappear if left within reach. Seriously, I have to tape a "DO NOT EAT" note to the container so I still have some when it is salad-making time. These are not a true replica of my all-time favorites, but…they are DELICIOUS!!
See below for the detailed recipe. Enjoy!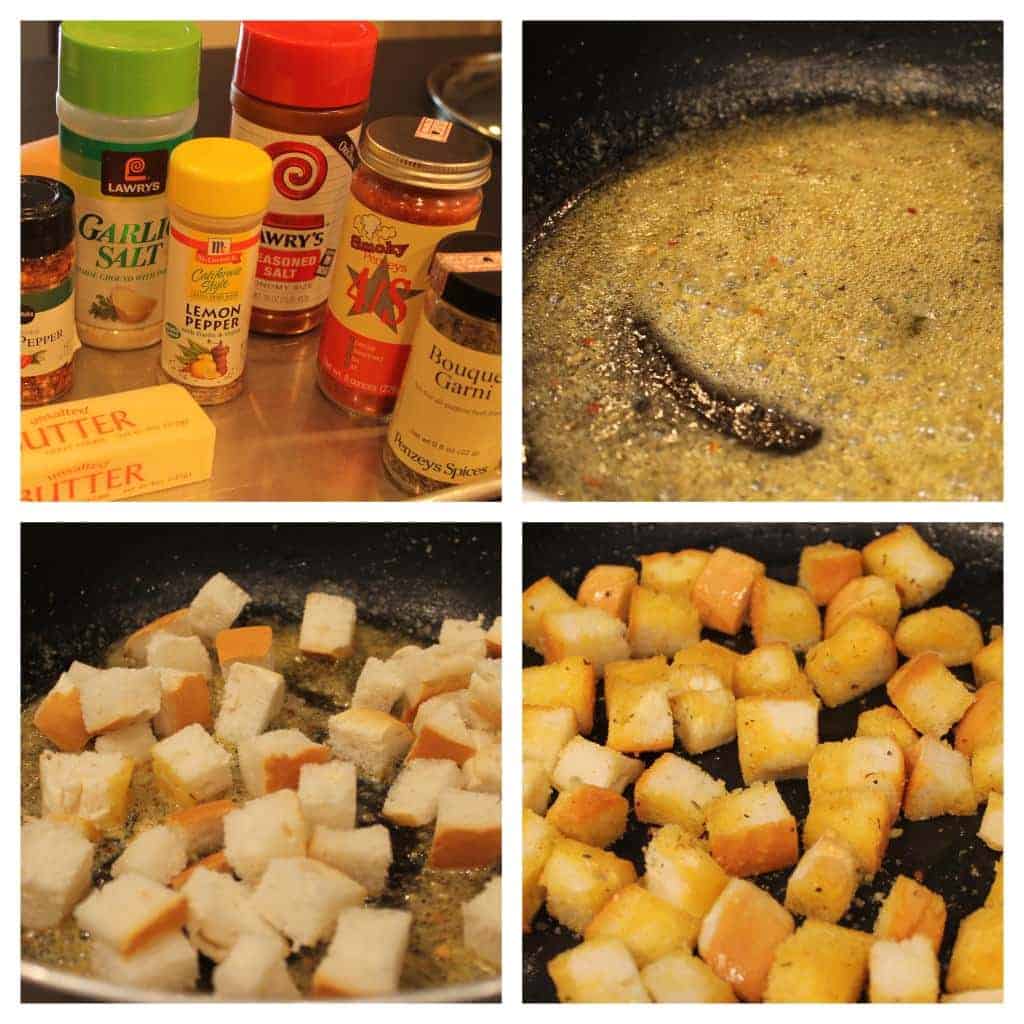 these are so good!! perfect for entertaining.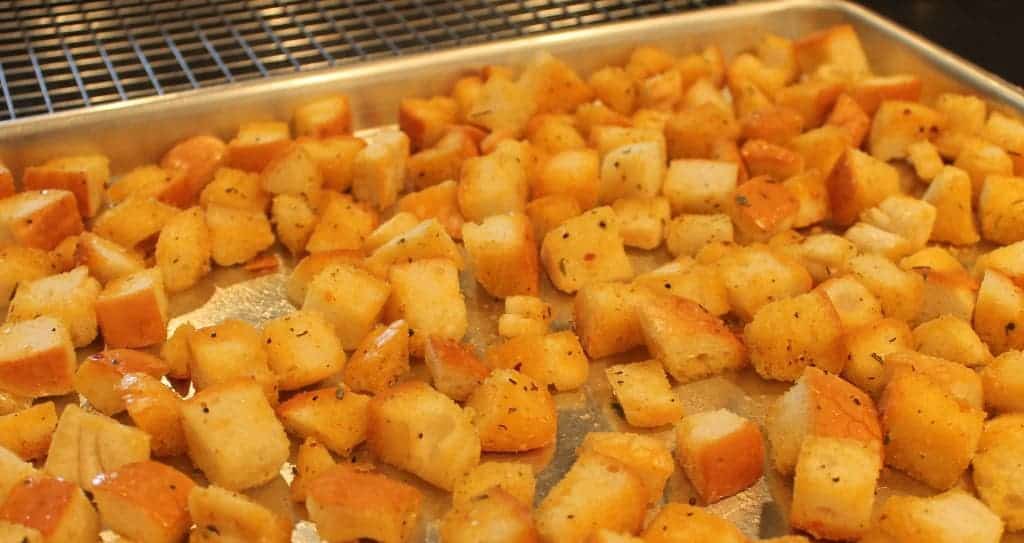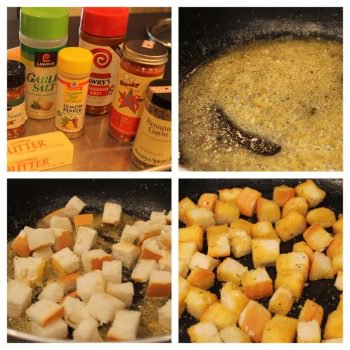 Homemade Croutons
the perfect croutons for any salad. take your salad from good, to amazing! enjoy.
Ingredients
1

Baguette of day-old bread or 6-8 slices of Texas Toast

or whatever bread you like

8

T

Butter

3

T

Olive Oil

1/4

t.

Kosher Salt

or whatever kind you have

1/4

t.

Lowry's Seasoned Salt

or Penzeys 4s Seasoned Salt

3

dashes Lemon Pepper

3

dashes Red Pepper Flakes

1/2

t.

Bouquet Garni

or dried parsley or another herb you like

1/2

t.

Garlic Pwdr.
Instructions
Preheat oven to 325 degrees

Lightly spray a cookie sheet with cooking spray.

Cube the bread to the size you desire.

In a large skillet, melt the butter.

Add all seasonings.

Add the bread and stir until the bread is well coated.

Spread the buttered bread evenly onto the cookie sheet.

Place in the preheated 325 degree oven.

Bake for 10 minutes.

Turn off the oven, but do NOT open the door.

Leave the croutons in the oven at least two hours or overnight.

Store in an airtight container.

ENJOY !!
Nutrition Facts
Homemade Croutons
Amount Per Serving
Calories 233
Calories from Fat 153
% Daily Value*
Total Fat 17g 26%
Cholesterol 30mg 10%
Sodium 305mg 13%
Potassium 34mg 1%
Total Carbohydrates 15g 5%
Protein 2g 4%
* Percent Daily Values are based on a 2000 calorie diet.