MANDARIN ORANGE SALAD with ALMONDS AND CIDER VINAIGRETTE has been a favorite in our family forever! My Mom always makes this Mandarin Orange Salad Recipe for family dinners and holidays. This Orange Salad is SO flavorful and easy. It's such a great Mandarin Salad to throw together anytime! Fresh, light, and easy.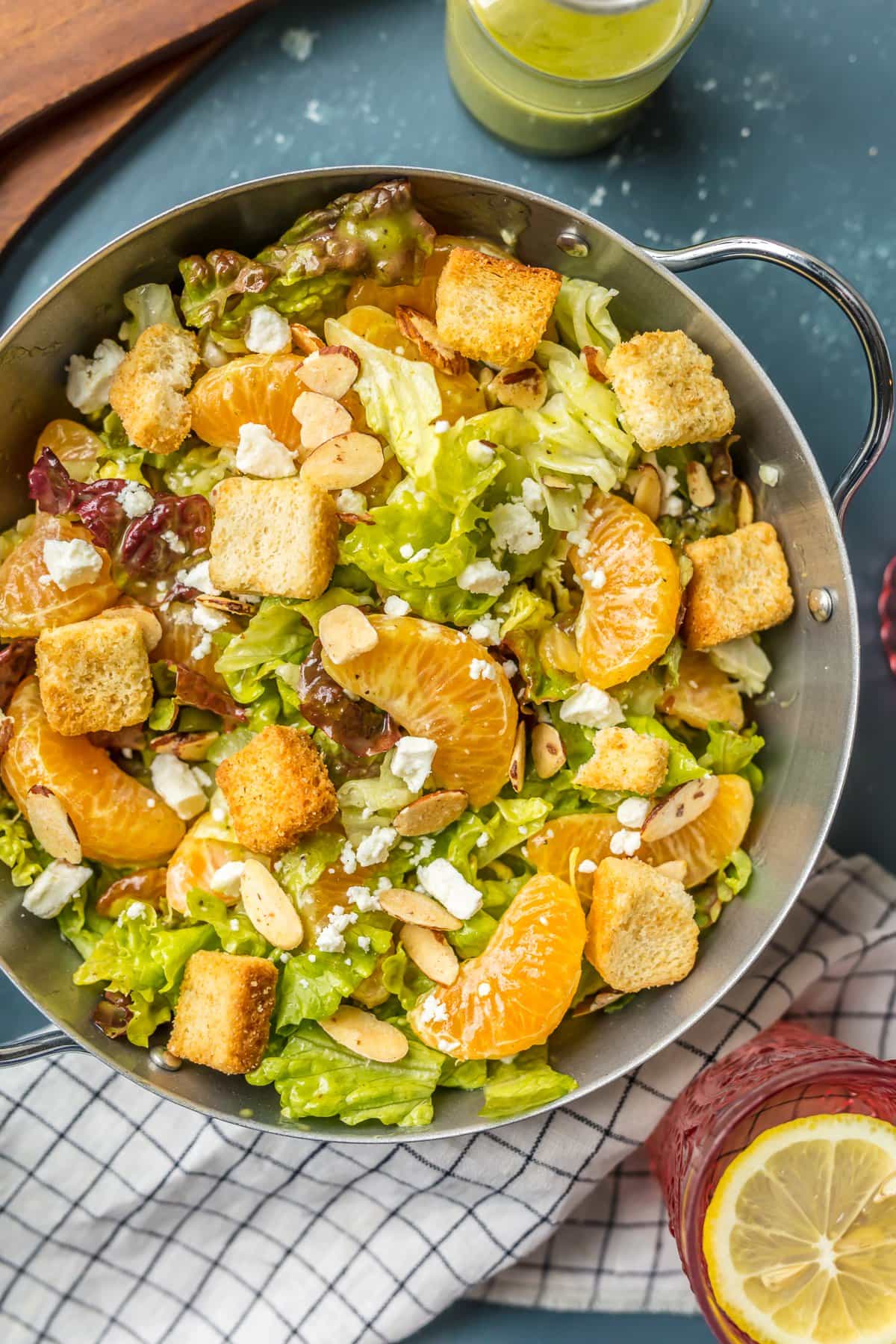 Mandarin Orange Salad
Mandarin Orange Salad with Cider Vinaigrette is a light, healthy, and delicious salad to serve for any occasion.
Every household needs a great and easy go-to salad recipe. This MANDARIN ORANGE SALAD WITH ALMONDS AND CIDER VINAIGRETTE has been a favorite of ours for years. My mom always has a great salad on the table with almost every meal, and I'm always secretly hoping for this one.
I love the combo of the citrus with the almonds and feta on this Mandarin Orange Salad…just SO good! It's crunchy, sweet, savory, and everything else great salads call for.
It's SO simple to throw together, and sure to wow any guests at your get together! I love the pretty colors and bright flavors. That Cider Vinaigrette…DELICIOUS! The perfect complement for the Mandarin Salad.
This Mandarin Orange Salad is simply light, healthy, and delicious! Serve this easy Mandarin Salad with any meal, or make it a meal of its own.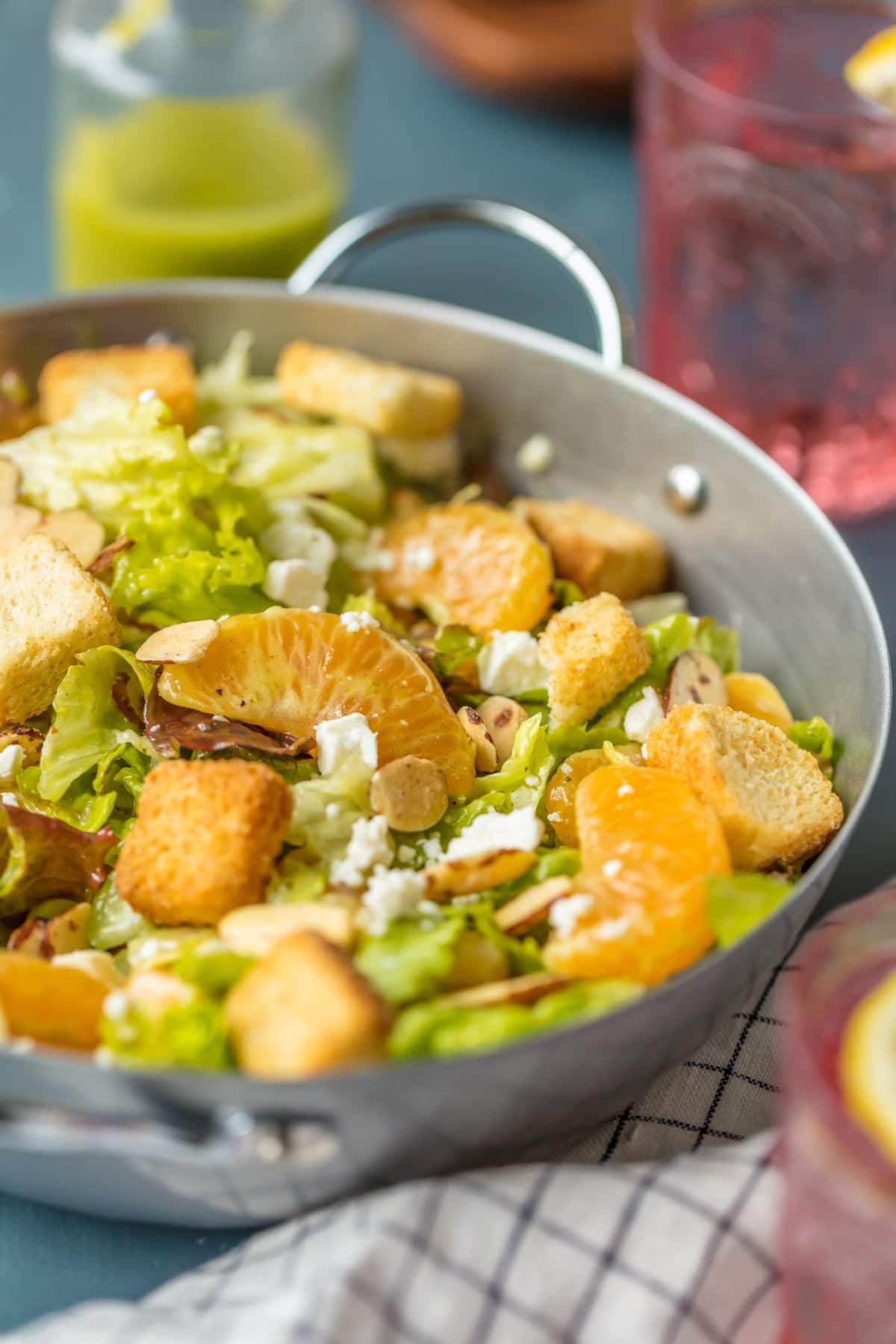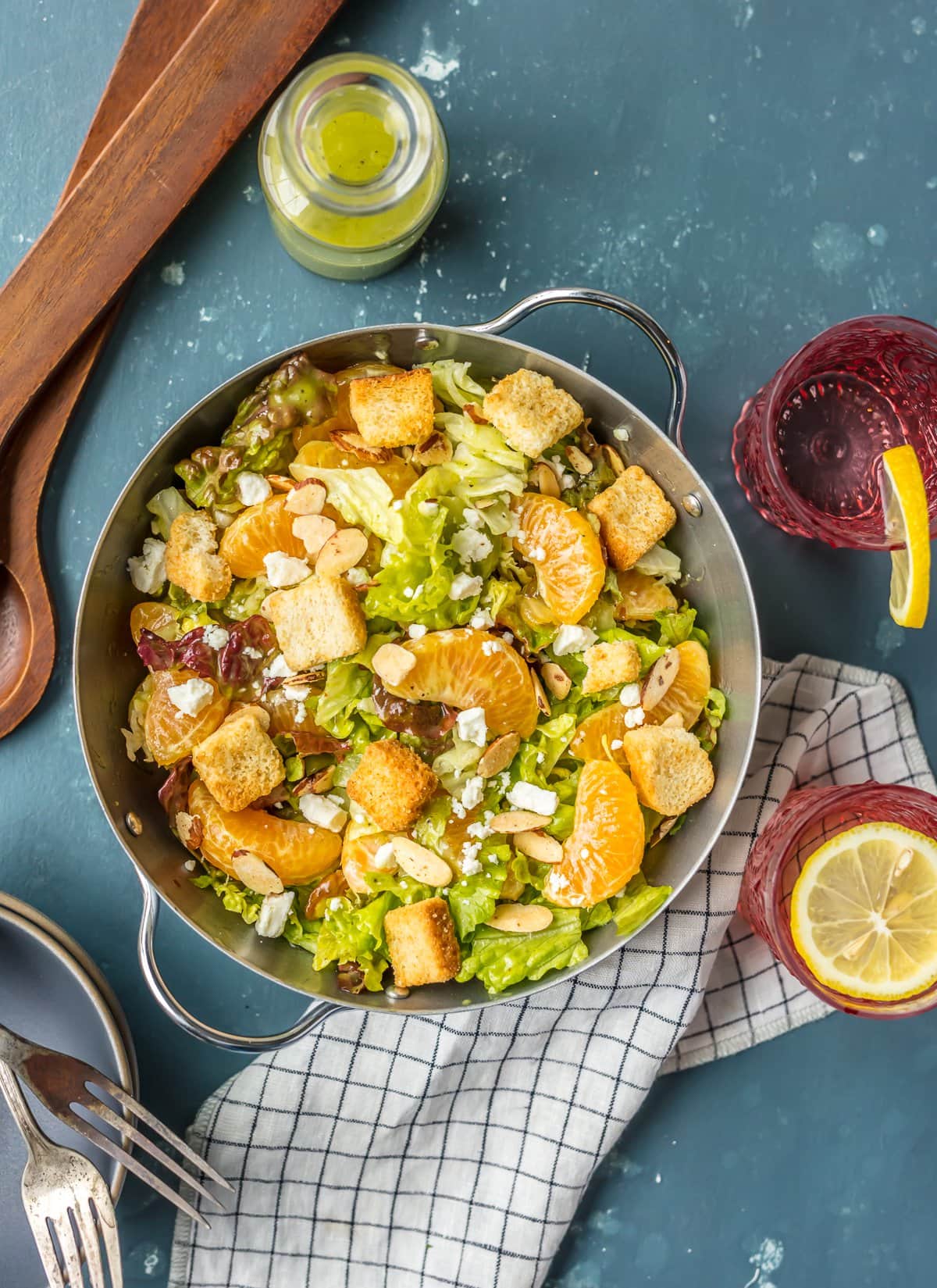 What are Mandarin Oranges?
Mandarins are sometimes classified as Tangerines. They're a small, oblique fruit similar to oranges. They have a loose peel that is easily removed to produce sweet, delicious fruit. They're awesome when eaten alone or on Mandarin Salad. They just so happen to be Henry's favorite fruit, so I'm sure you love them as well.
Why do Mandarin Oranges taste SO good in a salad recipe?
This Mandarin Orange Salad with Almonds is the type of salad that is the perfect side for any main dish. It's light enough to go with seafood (like Seafood Lasagna) or vegetarian meals (like our Really Good Vegetarian Chili!), and full of enough flavors to compliment a creamy pasta (Cheesy Baked Gnocchi) or steak (Best Ever Skillet Steak). A little fruit, a little cheese, and a little crunch. Plus, it's pretty. And that's always a bonus!
Nothing beats a bright and colorful salad on a table full of delicious food. We made this with some crisp iceberg lettuce, but its also delicious with spinach! And the cider vinaigrette? MMMMMM. Is your mouth watering yet?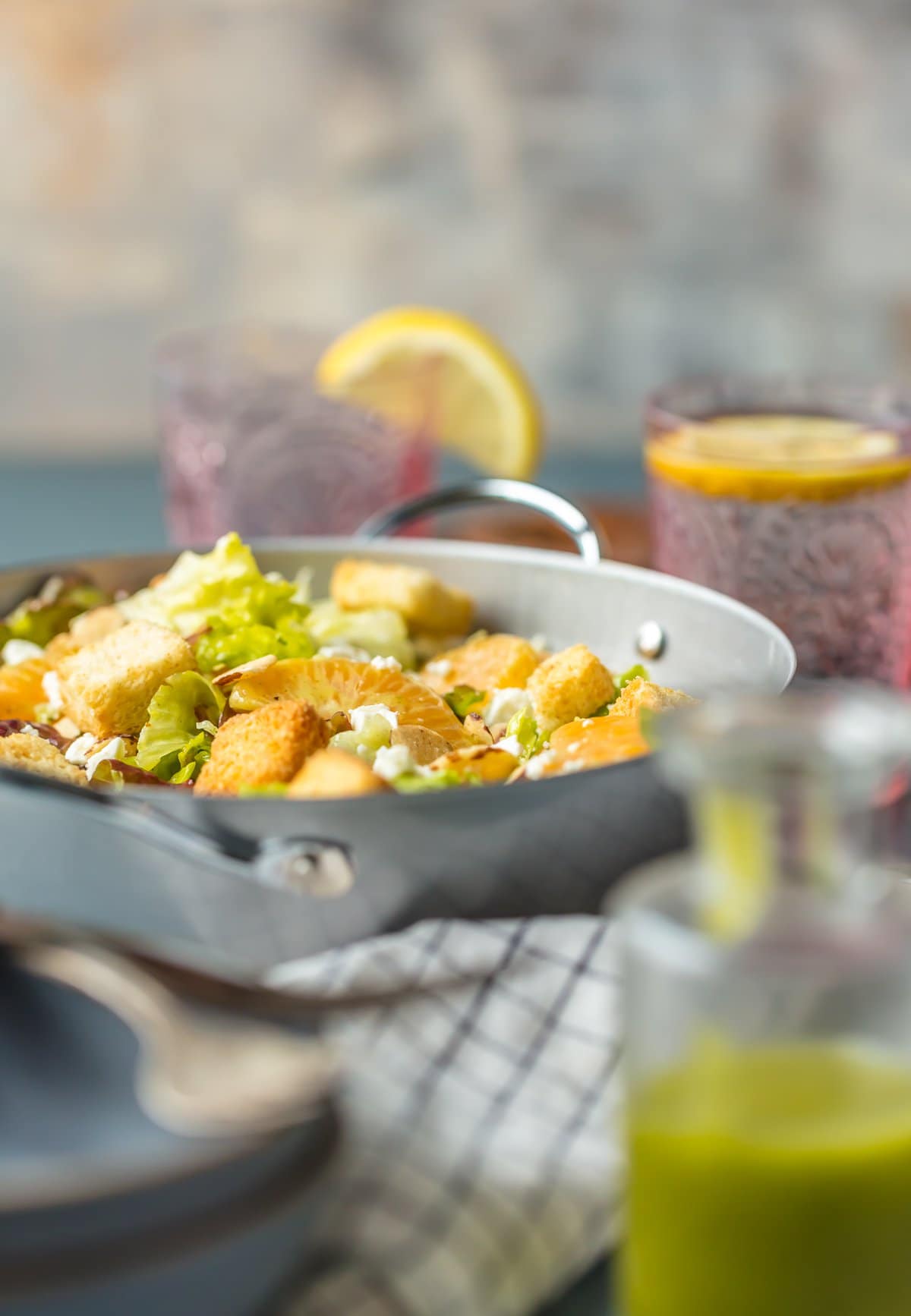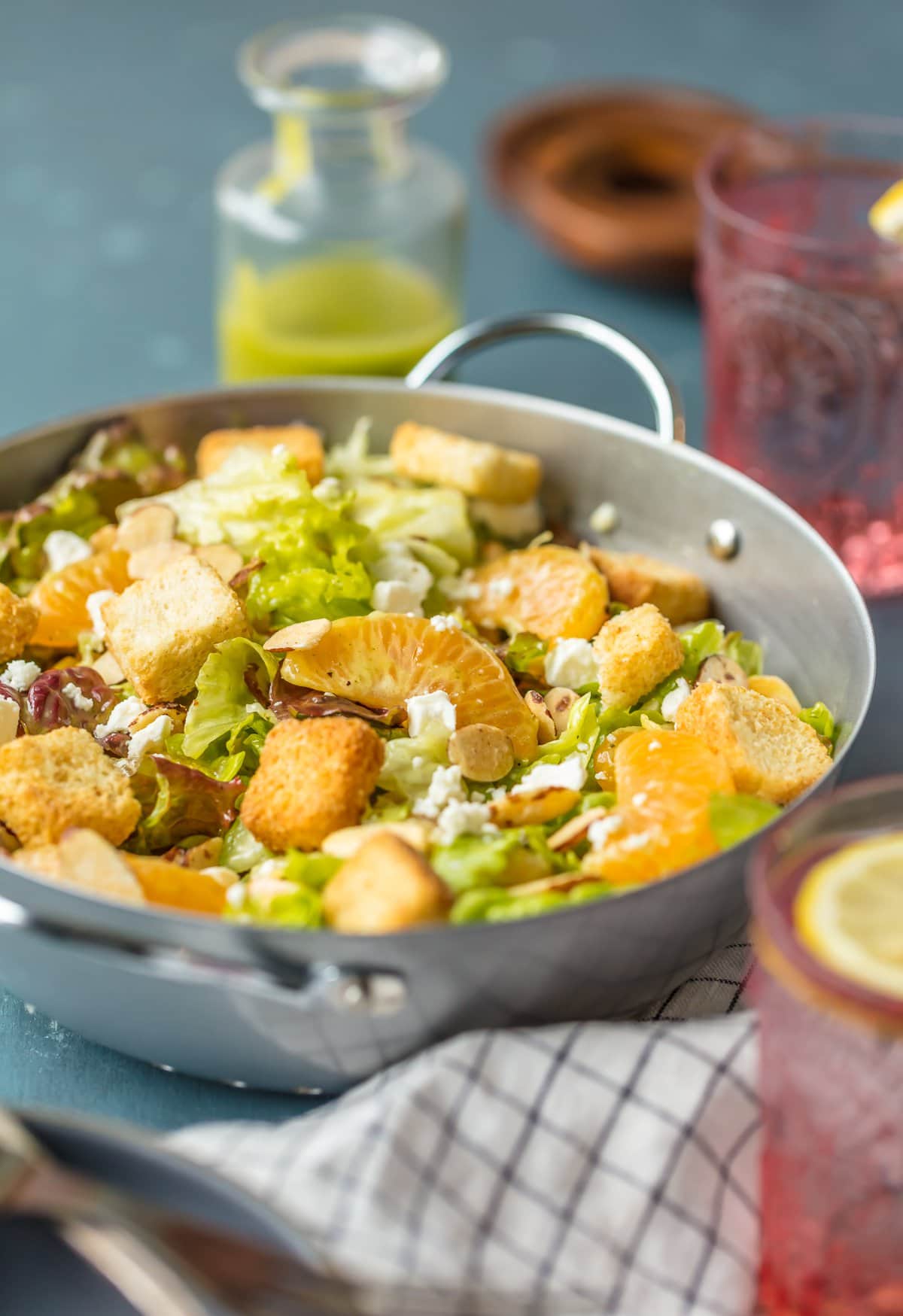 Tips for making the perfect Mandarin Orange Salad Recipe:
Make sure everything is chopped into manageable sized pieces. No one wants to have their fork overwhelmed by a huge piece of iceberg.
Season the salad itself. Add the salt and pepper directly to the salad leaves when beginning to make your salad. Gives flavor throughout!
Dress the salad before serving. If serving this Salad with Mandarin Oranges add the Cider Vinaigrette in the kitchen and toss fully to combine. Bring it to the table totally ready to go. Easier for your guests plus more delicious. The dressing will be more evenly distributed this way…much better!
Don't forget the feta! THERE IS NEVER ENOUGH FETA!
How to Make Sugared Almonds
If you want to make your own sugared almonds for this tasty mandarin orange salad, use this recipe:
Combine water, sugar, and cinnamon in a saucepan over medium heat.
Bring to a boil and add in almonds.
Cook and stir the mixture until there is no longer liquid and syrup-like coating on the almonds.
Pour the almonds onto a baking sheet lined with waxed paper. While still hot, separate almonds using a fork.
Allow to cool before eating or using on this Mandarin Orange Salad!
Alternately, you can use our famous EASY Candied Walnuts in this recipe! That would be SO DELISH!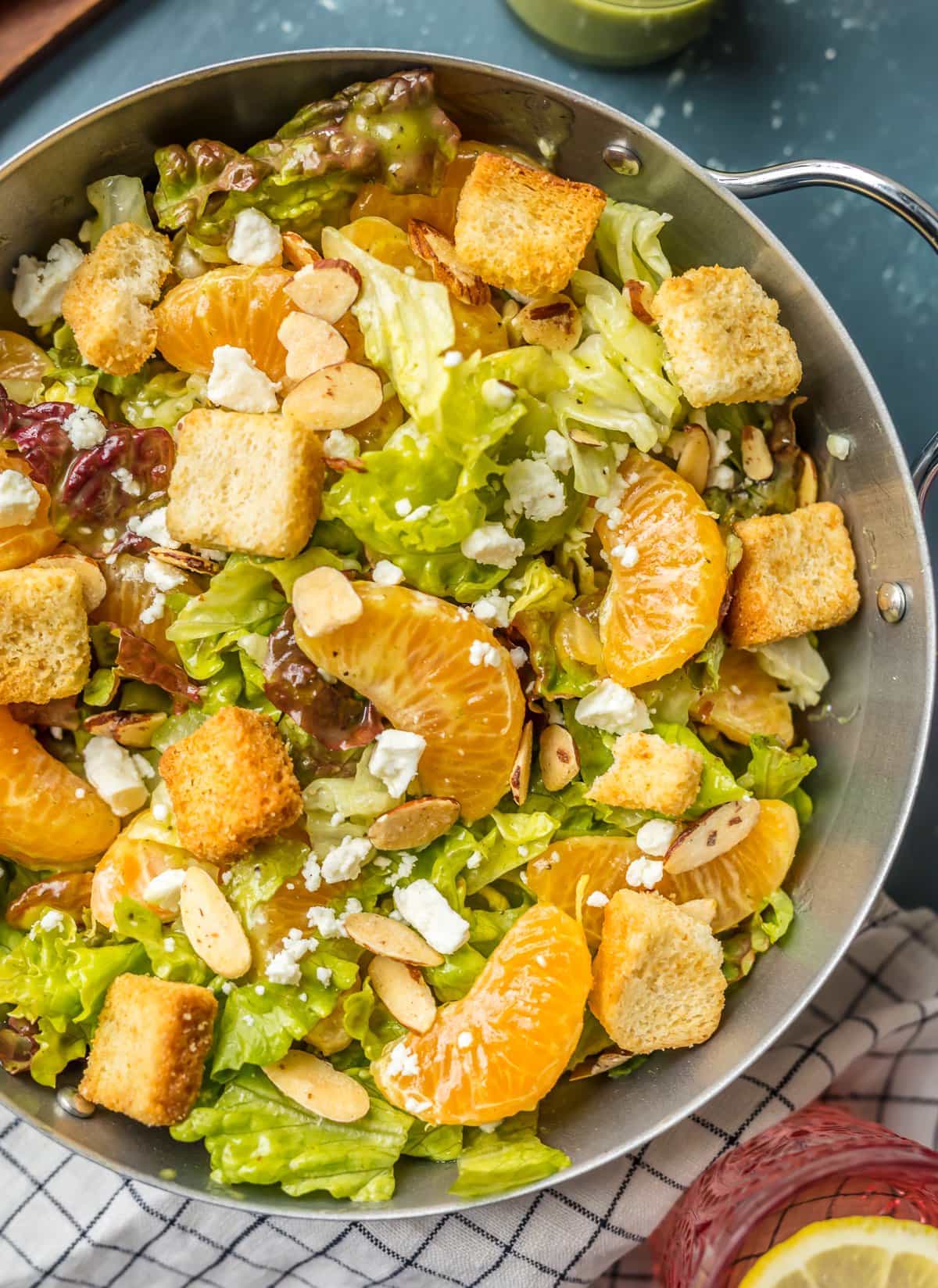 Mandarin Orange Salad – Easy Salad Recipe
I have a feeling your family will love it just as much as we do! We have been making it for years, and it's still a favorite. It's great as a side dish, or pop in some protein like chicken and you have an amazing main dish salad! Enjoy!
Looking for a great Summer Recipe to pair with this Mandarin Orange Salad? Check these out:
See the recipe card below for full details on How to Make Mandarin Orange Salad. Enjoy!
If you like this mandarin orange salad, here are some more Salad Recipes you MUST MAKE for Summer: