This easy Chicken Wings recipe is a healthier and more flavorful way to cook your favorite appetizer recipe because they're baked instead of fried! A simple seasoning rub creates the best flavor and gives these oven-baked wings the crispiest skin. Make plenty, because they'll go fast–especially if you're making them for game day parties.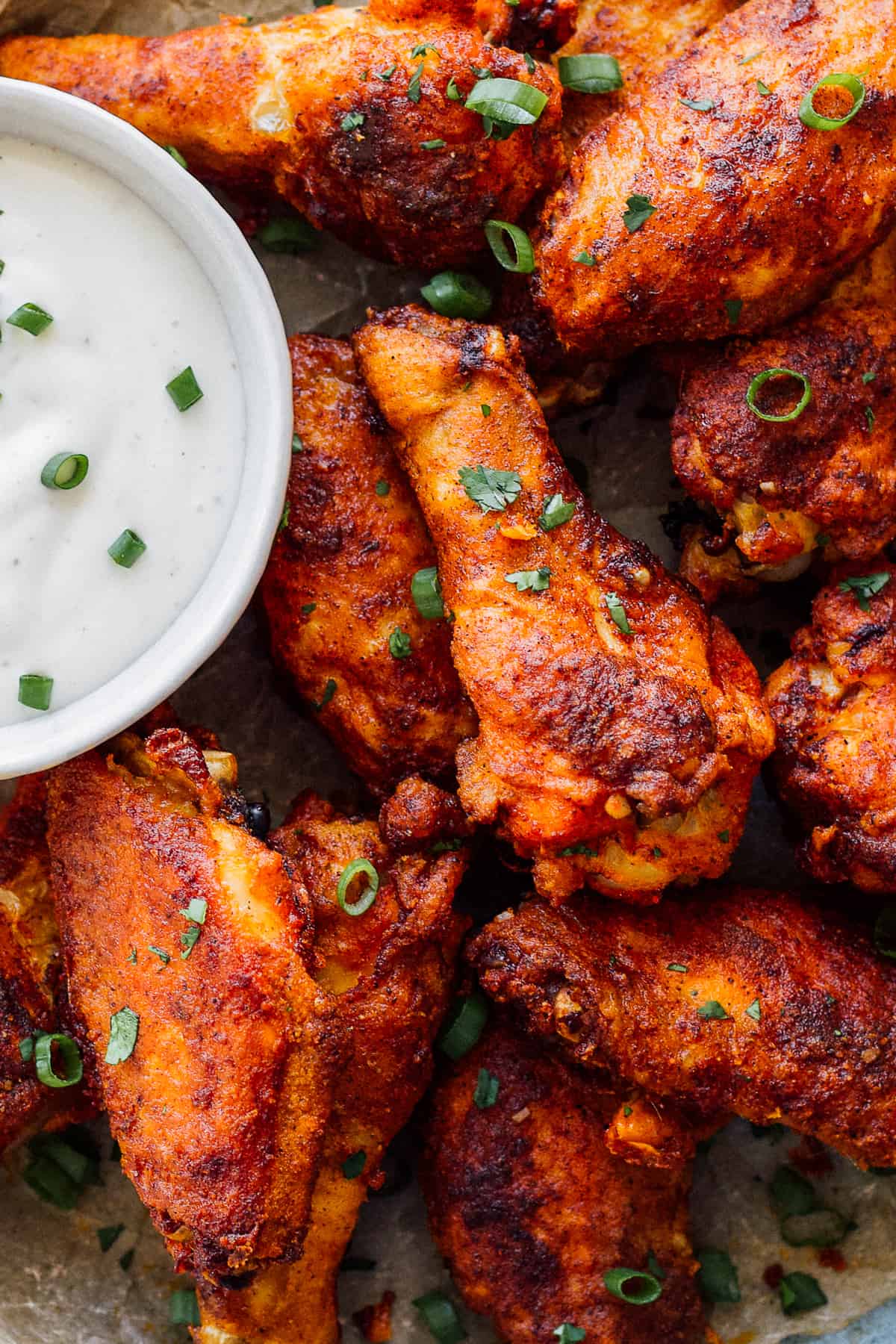 Don't get me wrong, I love fried wings–but cooking chicken wings in the oven gives you incredible flavor and crispy skin, without the hassle and oil required for deep-frying. And these are the best Super Bowl food, so don't forget to make a batch!
What's in this Chicken Wings recipe?
You only need a few ingredients and an oven to turn these wings into the most delicious appetizer you'll ever taste!
Chicken Wings: I prefer to use chicken wingettes (the middle part of the wing, sometimes called the 'flat') for this recipe. Not only are they easier to cook and eat, but they get really nice and crispy in the oven.
Flour: When combined with the spices listed below, this becomes a flavorful seasoned coating. It helps the seasoning stick to the wings, and it creates a crispy skin.
Butter: Dot the baking sheet with pats of butter–it melts while the wings are in the oven, and helps to add moisture, flavor, and it crisps up the skin.
Seasoning Blend: The dry rub is what makes these baked wings so irresistible! It's a simple mix of paprika, garlic powder, and salt and pepper, and it tastes amazing.
Pro Tip: Feel free to change up the seasoning rub for your wings with some different herbs and spices. Try chili powder or cayenne pepper for more heat. Or use a dry ranch mix or your favorite seasoning blend.
Best Dipping Sauces for these Baked Wings
No matter how good the chicken wings are (and trust me, these seasoned baked wings are finger-lickin' good!), a few tasty dipping sauces are a must.
The flavor of the spice rub goes well with literally any type of dipping sauce you love. Pair them with buffalo sauce, ranch dressing, honey mustard, garlic parmesan, BBQ sauce, Korean BBQ sauce, Chick fil A sauce, or yum yum sauce.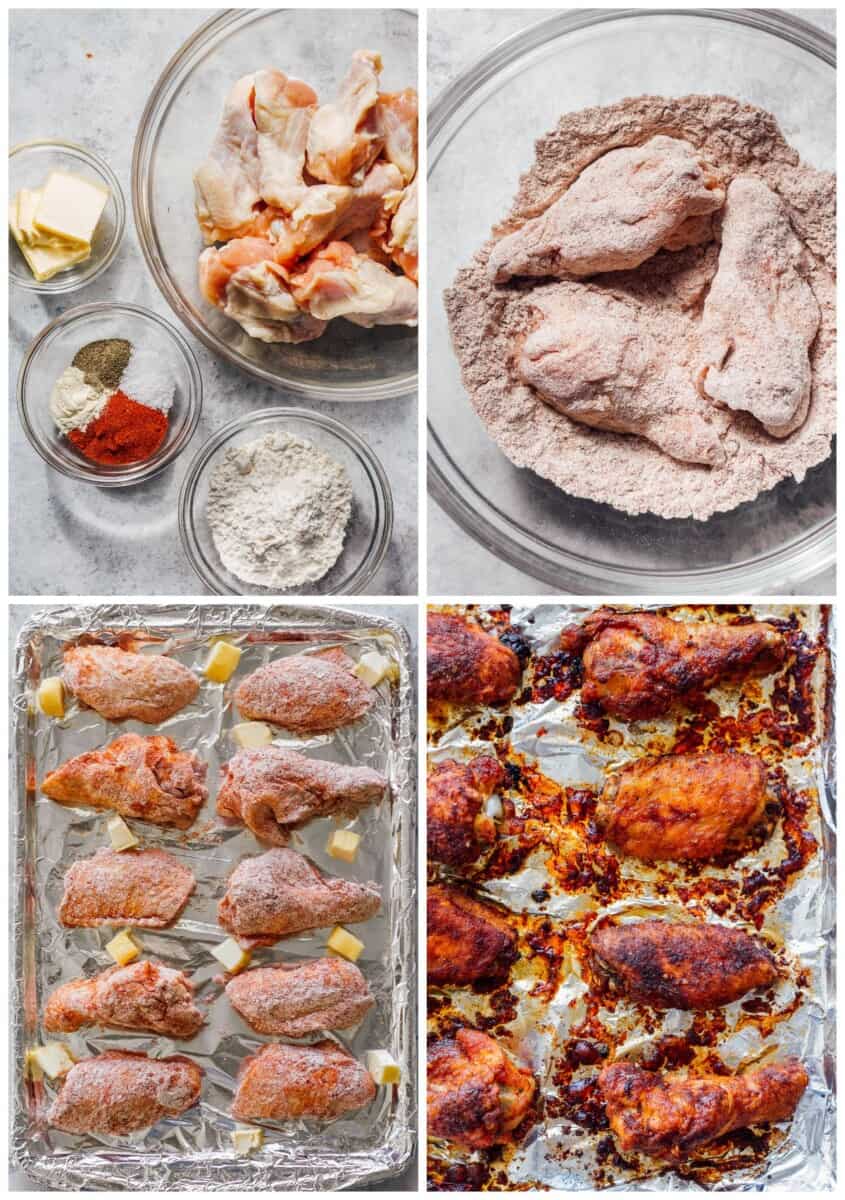 What's the correct internal temperature for chicken wings?
The safe-to-eat temperature for all chicken is 165°F. However, for wings, you might consider cooking them up to 190°F for tender, melt-in-your-mouth meat.
How long does it take to bake chicken wings in the oven?
Bake wings in a 425°F oven for 30 minutes, flip, and then bake another 10-15 minutes. So it should take a total of 40-45 minutes to cook.
Is it better to bake or fry chicken wings?
Deep-frying requires a lot of oil, and it's a pretty hands-on cooking process. While it does give you the ultimate crispy skin, it also adds a lot of fat and calories. Oven-baking, however, requires a lot less cooking fat, and it's really easy to simply pop them in the oven. You'll still get a nice crispy bite, with a lot less calories.
How do you make chicken wings crispy in the oven?
There are two ingredients I use to make sure the skin gets nice and crispy on my wings. 1.) Coating them with flour helps build texture. 2.) Cooking them on a tray with butter helps them brown, and lends more crispiness.
Can I use other parts of the chicken wing for this recipe?
Yes, you can bake any part(s) of the chicken wing in the oven with this seasoning rub. I prefer wingettes, but you can also cook drumettes, tips, and whole/partial wings. Just keep in mind that cooking different parts may require different cooking times.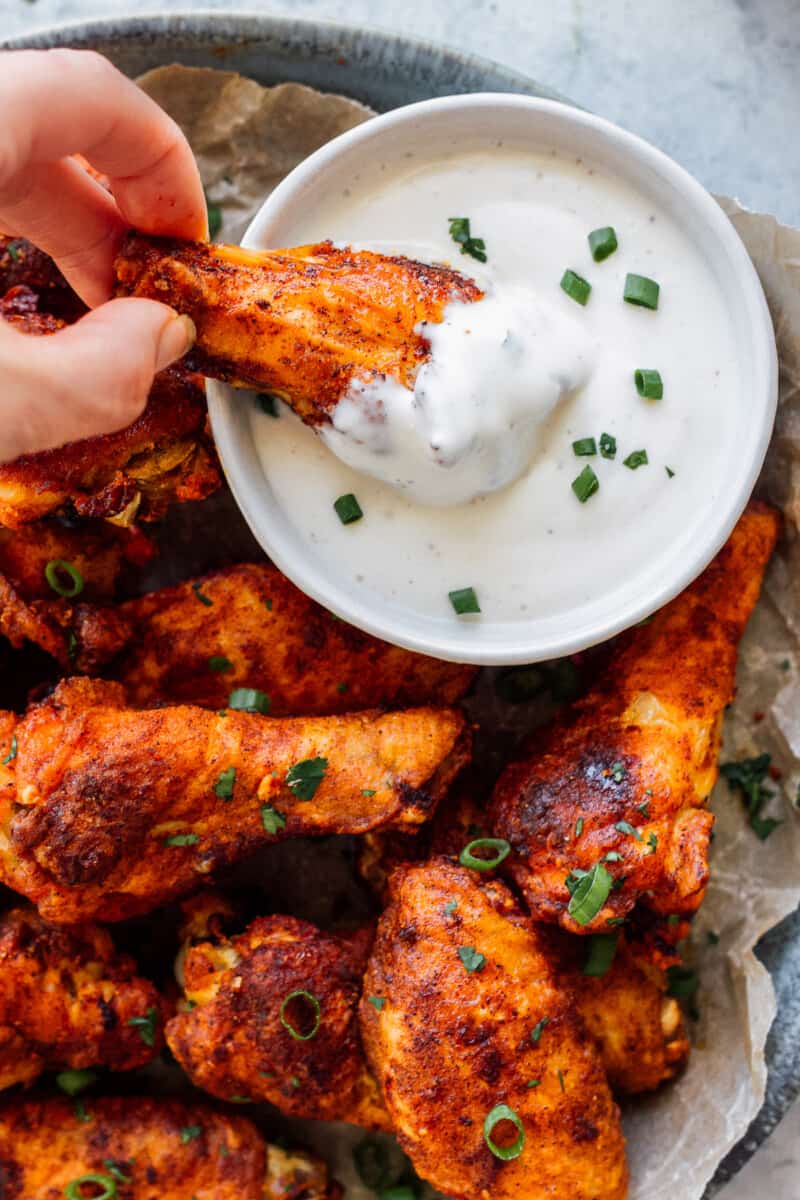 How to Store and Reheat
If you manage to have any of these baked chicken wings leftover, store them in an airtight container in the refrigerator for up to 3 days.
To reheat, place them back in the oven at 350°F, for about 15 minutes, or until 165°F internally.
How to Freeze
Freeze chicken wings in a single layer on a baking sheet until solid, then transfer to a Ziplock bag for up to 3 months. Allow wings to thaw overnight in the refrigerator before reheating in the oven.
What to Serve with Chicken Wings
Besides all the dipping sauces you'll want to serve with these chicken wings, you can add some side dishes to make it a meal. They go great with french fries and potato wedges, veggie sticks, and other dippale items. Or go the comfort food route, with creamy coleslaw, mashed potatoes, or mac and cheese casserole, and some cornbread for good measure.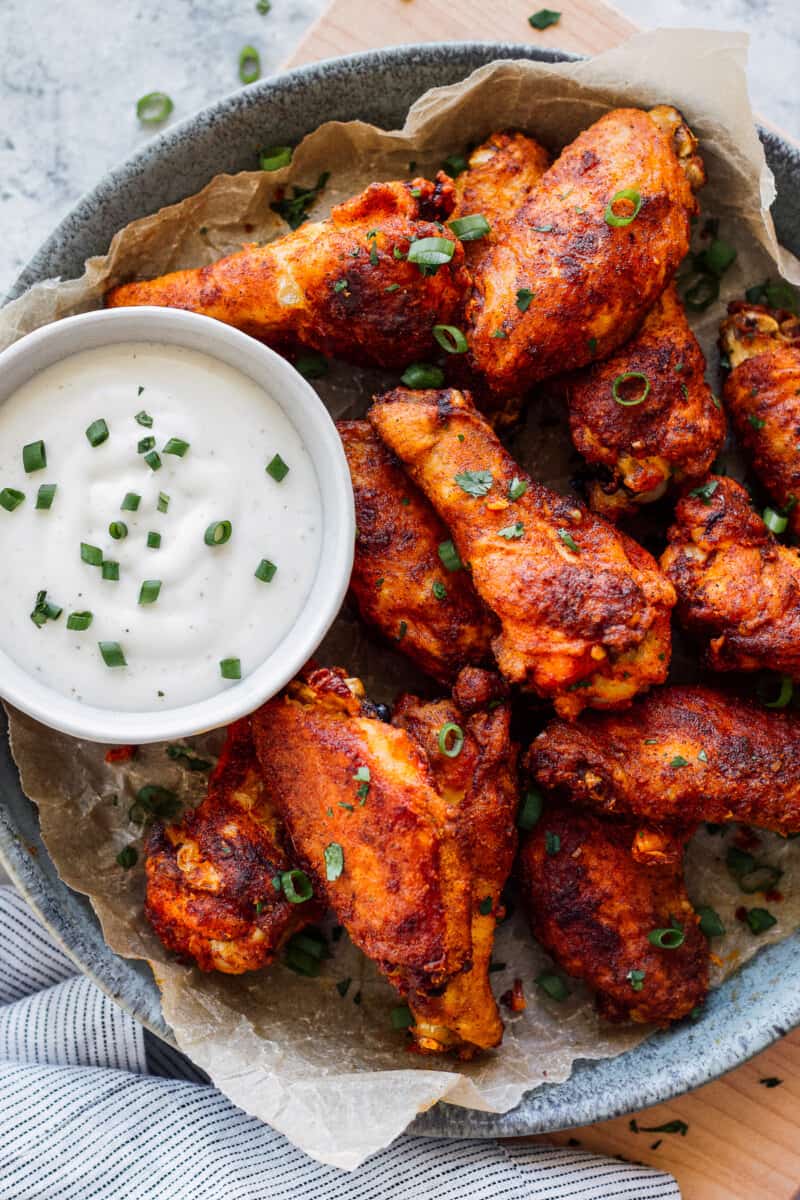 5-Star Review
"Came across this recipe a while back and decided to give it a try and it is the best! I had only cooked wings a few times before this recipe and now we have them at least once a month. Everyone raves about how good they are every time I make them. Thanks for sharing the recipe!" – Jill W.
More Chicken Wing Recipes We Love