Tortilla Roll Ups are filled with cream cheese, ham, cheese, and ranch seasoning. It's the easiest and quickest appetizer for game day, Easter, or any party or occasion. And it's always delicious. It only takes about 10 minutes to prep this ham and cheese pinwheels recipe, no cooking required!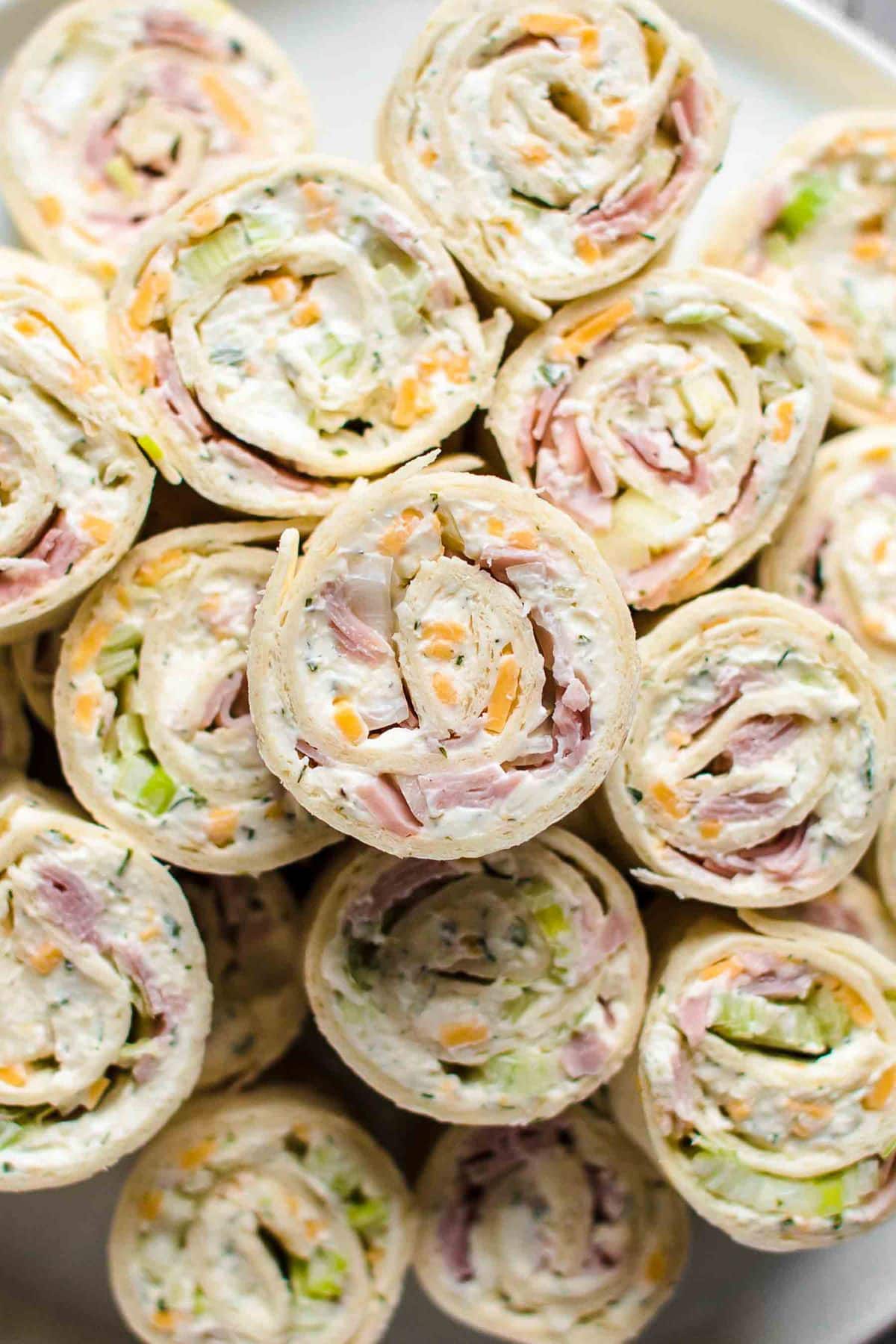 What's in Tortilla Roll Ups
The best thing about this easy pinwheel recipe is that you only need a handful of ingredients (6 to be exact) and about 10 minutes to to put it all together!
Tortillas: Flour tortillas work best for this recipe. 8-10 inch tortillas are the ideal size, but you can follow the steps with any size–you'll just need to adjust how much filling goes in each if they're smaller.
Cream Cheese: This creates a creamy base for the filling. Let blocks of cream cheese soften and come to room temperature before using. Low-fat and fat-free versions work too.
Ham: Use finely chopped pieces of ham to mix into the filling. This could be substituted with chopped chicken or turkey.
Cheese: Use shredded cheese. Sharp cheddar is my favorite for these pinwheels, but use whatever you like.
Ranch Seasoning: Mix a packet of this into the cream cheese for a nice savory flavor. You can make your own dry ranch seasoning if you like.
Green Onion: Chopped green onion adds a nice bit of texture and crunch into this snack.
This is such a versatile appetizer recipe. It's easy to swap out ingredients to make your own variations, so get creative!
Ham and Cheese Pinwheel Recipe Variations
Spicy: Make these roll ups spicy with the addition of chili seasoning, red pepper flakes, or a spicy ranch mix.
Mexican: Swap out the ranch mix for taco seasoning, use a Monterey Jack or Mexican cheese blend, and sprinkle in cilantro if you like. These would be delicious dipped in taco sauce! This Mexican pinwheel recipe takes it up a notch with chorizo sausage.
Vegetarian: Skip the ham, and these still taste amazing. You could sprinkle in some veggies if you like: try bell peppers or cauliflower for some texture.
Jalapeño Popper: These jalapeño cream cheese roll ups are filled with bacon, jalapeños, and a bit of spice.
Skip the Tortilla: Make these ham roll ups if you want to skip the tortilla and wrap ingredients in slices of ham instead. This is a great option for keto and gluten-free eaters.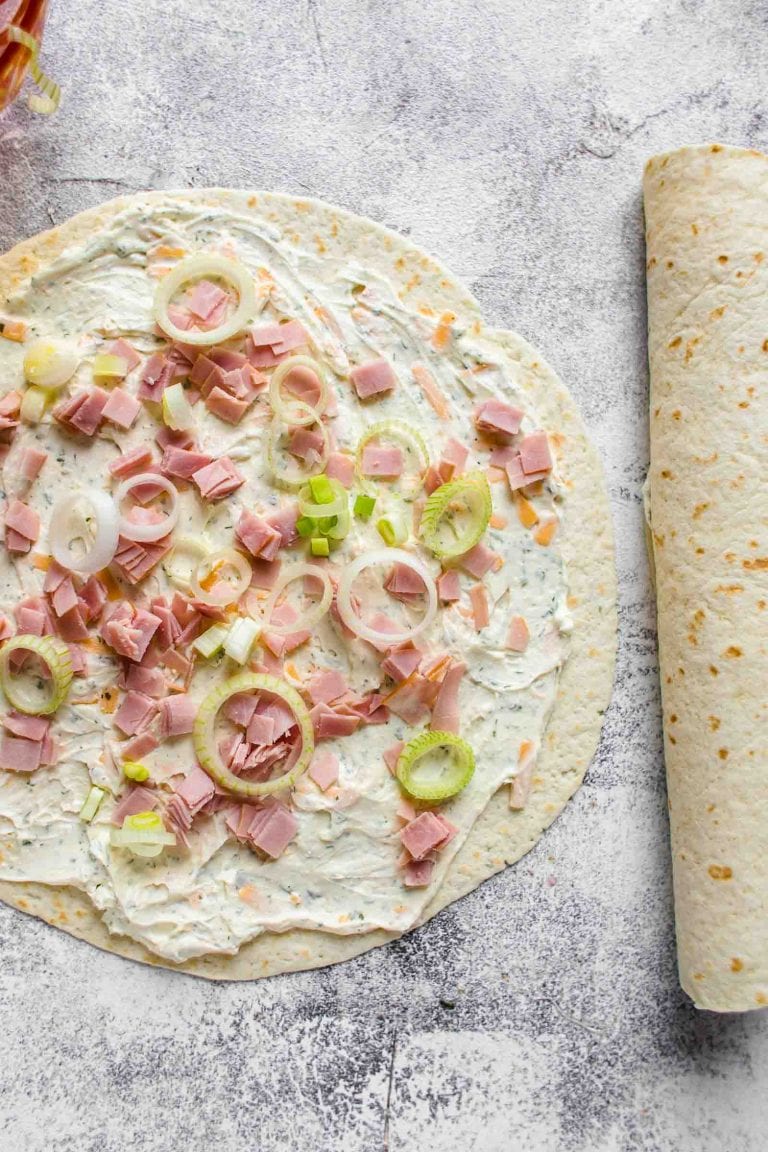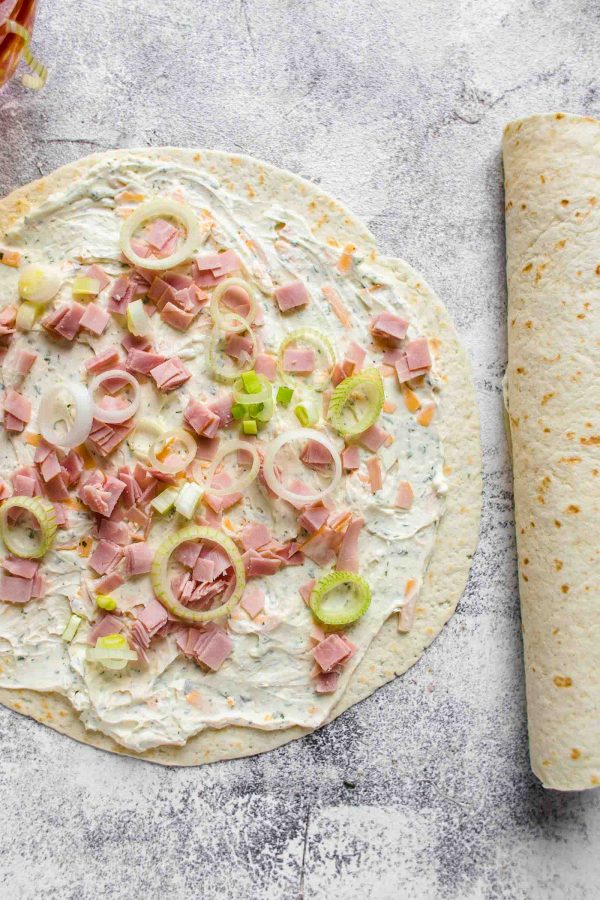 How do you keep tortilla roll ups from getting soggy?
As long as you eat these within 2-3 days, there shouldn't be any issues with sogginess. The fresher they are when you serve them, the better.
How long do you refrigerate pinwheels before cutting?
I recommend refrigerating the roll ups for 1-2 hours before slicing. Chilling helps meld the ingredients together so they don't fall apart after cutting.
Are these served cold or warm?
These ham and cheese pinwheels are best served cold.
Can you make tortilla roll ups ahead of time?
Yes. These are great to make the night before serving, and can be made up to 2 days ahead of time.
How to Store Cream Cheese Pinwheels
Store leftovers in an airtight container in the refrigerator up to 4 days (although they are best if eaten within 2 days). If you haven't sliced the tortilla rolls yet, keep them whole, and wrap in plastic wrap.
How to Freeze Tortilla Roll Ups
Wrap rolls tightly in a double layer of plastic wrap, and place in a freezer-safe resealable bag. Freeze up to 1 month. Let them thaw in the fridge before serving.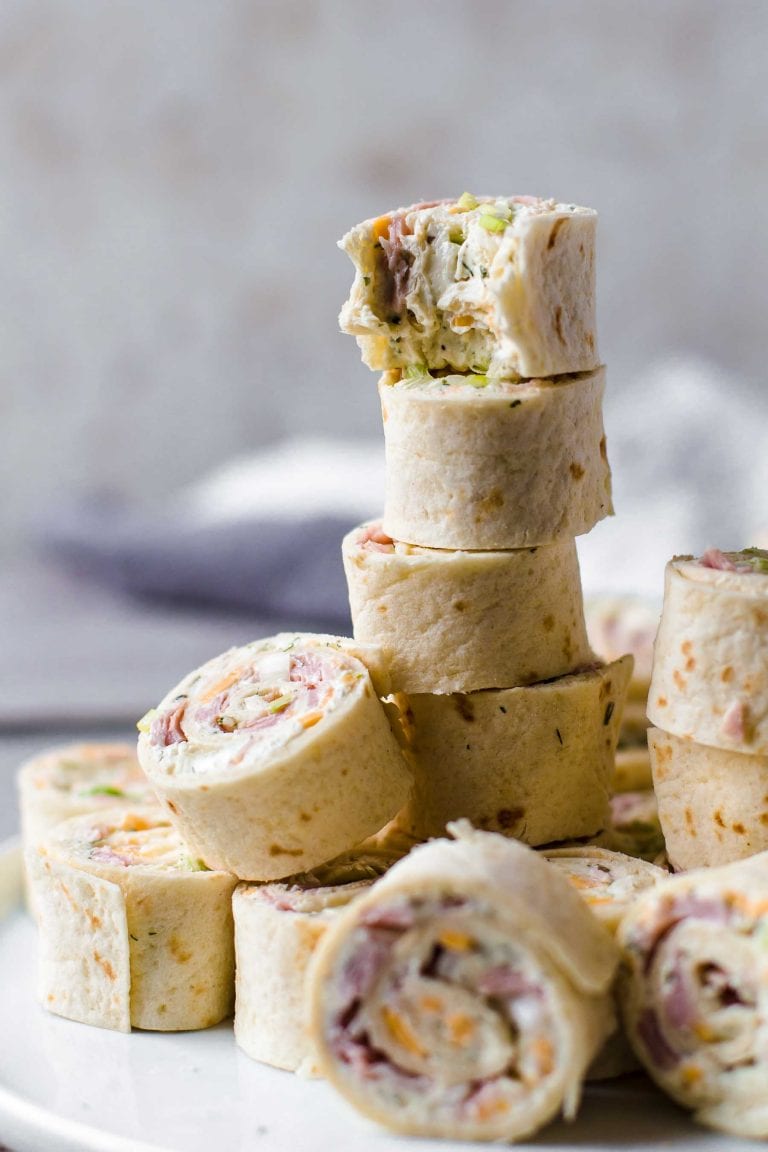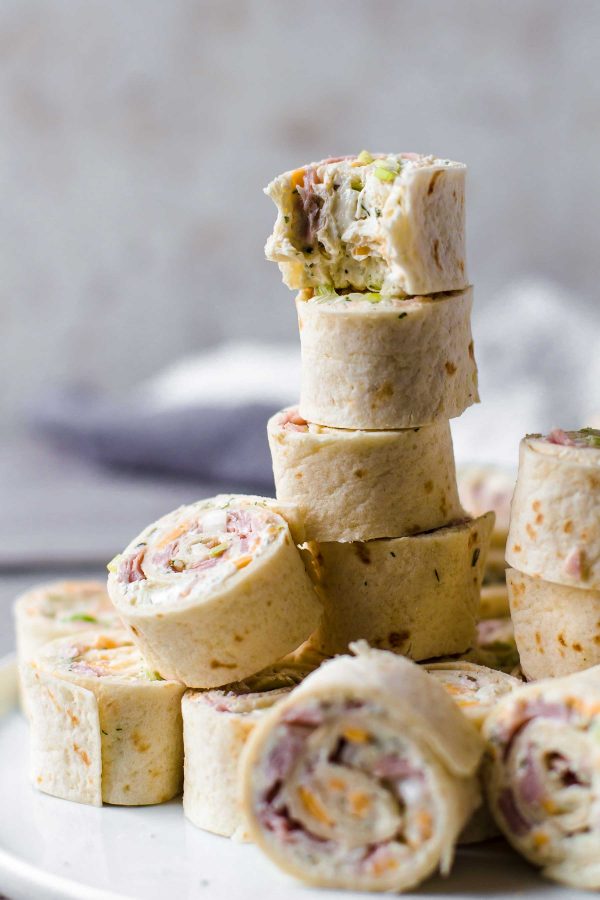 These easy ham and cheese tortilla roll ups are the perfect party appetizer for any occasion. Bring them to a potluck, Super Bowl party, Easter lunch, or serve them for New Year's Eve or game day.
If you make this recipe be sure to upload a photo in the comment section below or leave a rating. Enjoy! You can also jump to recipe.