Oven Baked Steak with melted butter and thyme leads to the most tender boneless ribeye! I'll show you how to cook steak in the oven with a good cast iron skillet, less than 5 ingredients, and just under 30 minutes in the kitchen! There's no need to fire up the grill when you can make a steak this incredible right in your oven!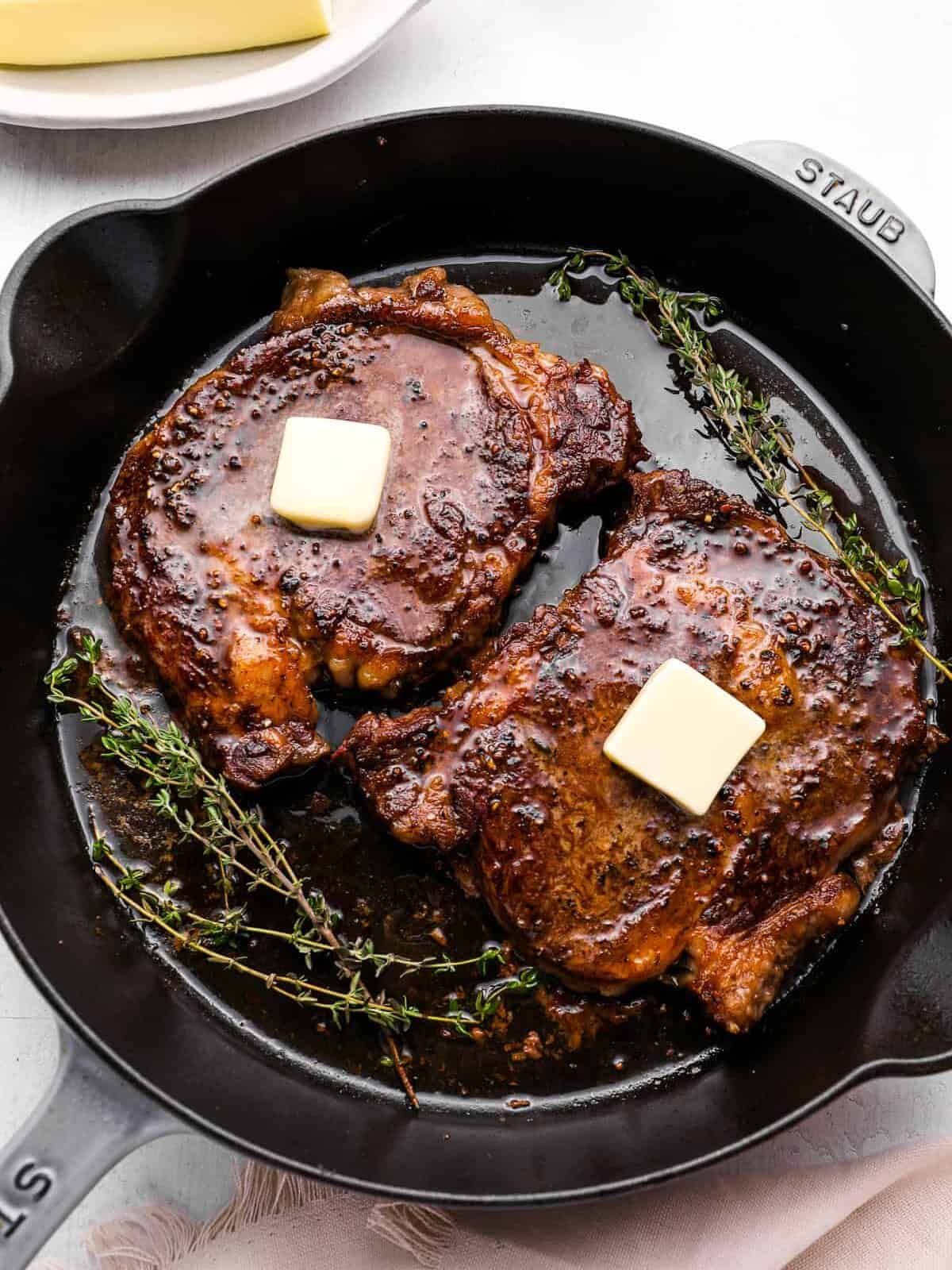 What's in this Oven Baked Steak Recipe?
You don't need much to cook the most flavorful and juicy steak! Grab your ribeye and a couple of staple ingredients and you'll are ready to go.
Boneless Ribeye Steaks: Let your steaks sit at room temperature for 20 minutes before cooking. This will allow them to cook more evenly.
Olive Oil: You can cook the steak in avocado, vegetable, or canola oil instead of olive oil.
Salt and Pepper: Kosher salt and freshly cracked black pepper will create the best flavor.
Fresh Thyme: This is an optional ingredient, but I like the way the herbaceous flavor complements the oven baked steak. Feel free to use your favorite herbs instead.
Butter: I like to use unsalted butter since we're adding salt separately.
Pro Tip: Do not press on the steaks as they sear in the pan; this will remove the juices.
Can I use another cut of steak?
Yes, you can cook any steak in the oven with this recipe. Instead of ribeye, you can also use sirloin, NY strip, t-bone, porterhouse, or filet.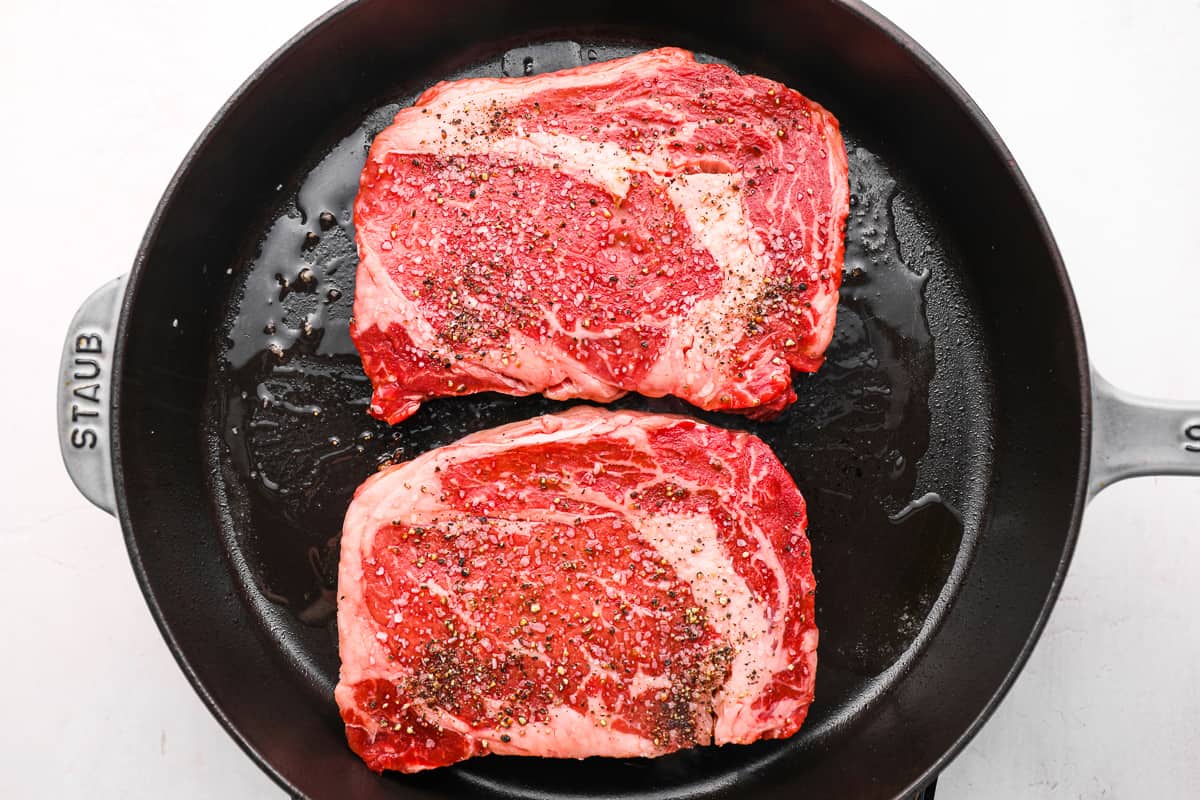 How long does it take to cook steak in the oven?
That depends on how you like your steak done! I like my steaks medium-rare, so I cook them for about 10-12 minutes. For rare, cook the steaks for about 8-10 minutes; for medium, cook the steaks for 12-15 minutes; for medium-well, cook the steaks for 15-17 minutes; and for well done, cook the steaks for 17+ minutes.
Can you cook a steak in the oven without searing it?
Yes, you sure can! The steak will take a bit longer to cook if you skip searing, though, and it won't have that lovely crust!
How do I know when the steak is done cooking?
Use a meat thermometer to check that the steaks are to the temperature you like.
Internal Temperature Guide:
For rare steak: 125-130°F
For medium-rare steak: 130-140°F
For medium steak: 140-150°F
For medium-well steak: 150-160°F
For well-done steak: 160-165°F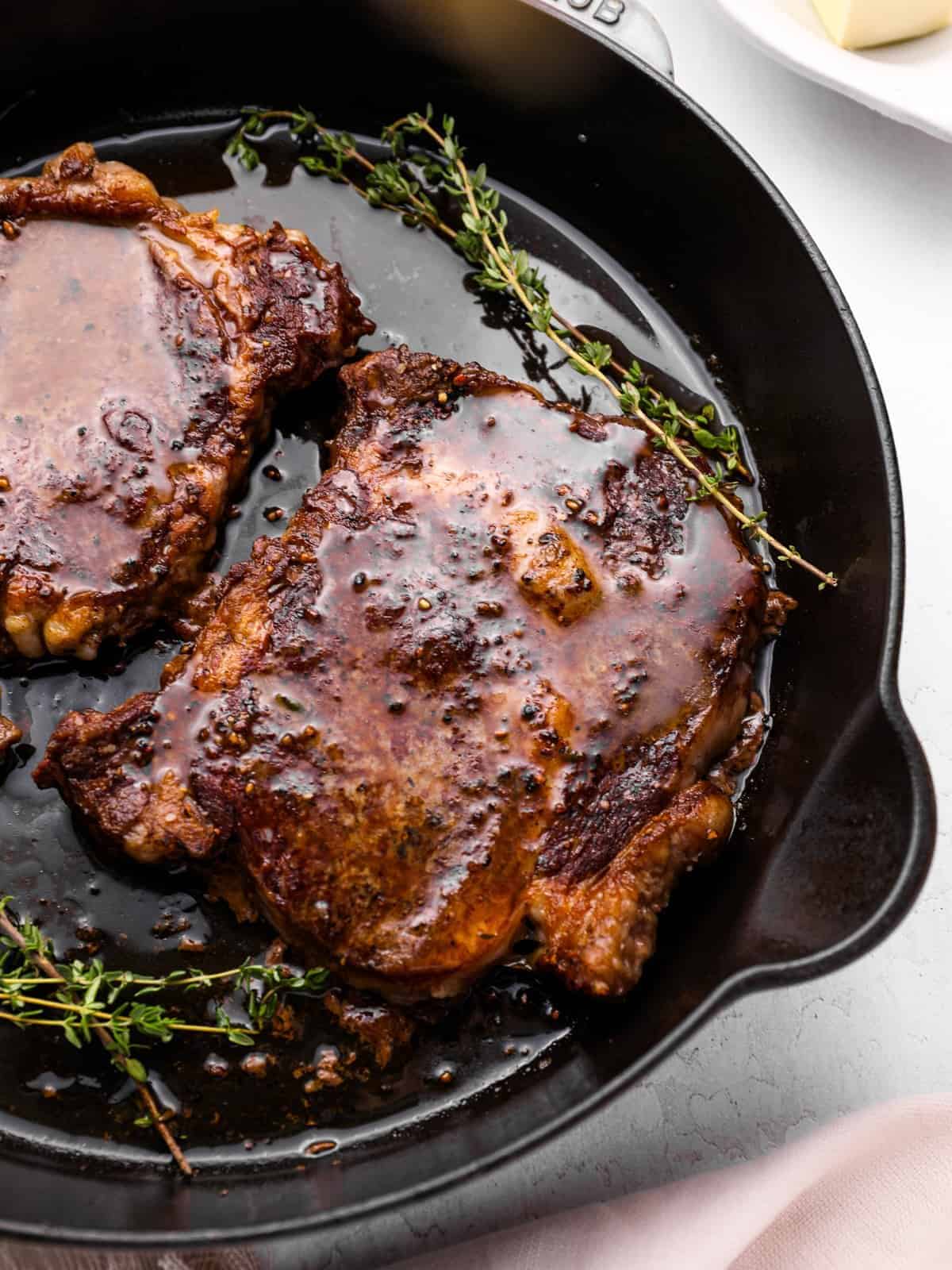 How to Store and Reheat
Store leftover oven baked steaks in an airtight container in the refrigerator for up to 4 days. Reheat gently in the microwave or in a skillet set over medium-low heat until warmed through.
How to Freeze
Freeze oven cooked steak in an airtight container for up to 3 months. Let thaw overnight in the refrigerator before reheating.
What to Serve with Oven Baked Steak
While you're cooking the steaks in the oven, focus on the side dishes! These ribeyes pair beautifully with creamy mashed potatoes, asparagus with sun-dried tomatoes, and no knead focaccia.
If you're feeling fancy, pair your steak with a lobster tail to enjoy your own homemade surf and turf night.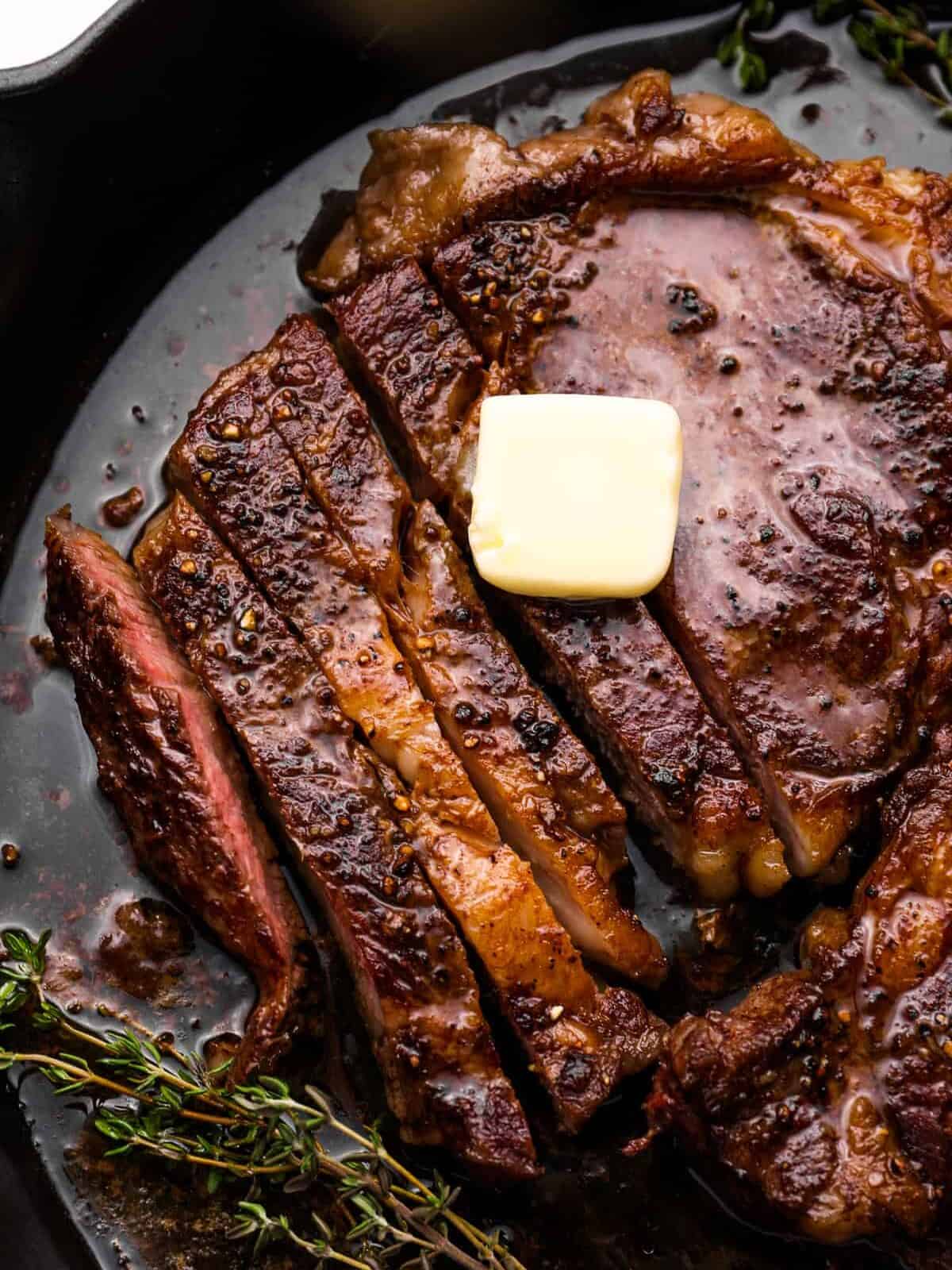 More Steak Recipes We Love