These Birria Tacos are supremely delicious! Melt-in-your-mouth beef, rich in Mexican flavors, all mingling with melted cheese and wrapped in a crunchy tortilla. You have to give these a try!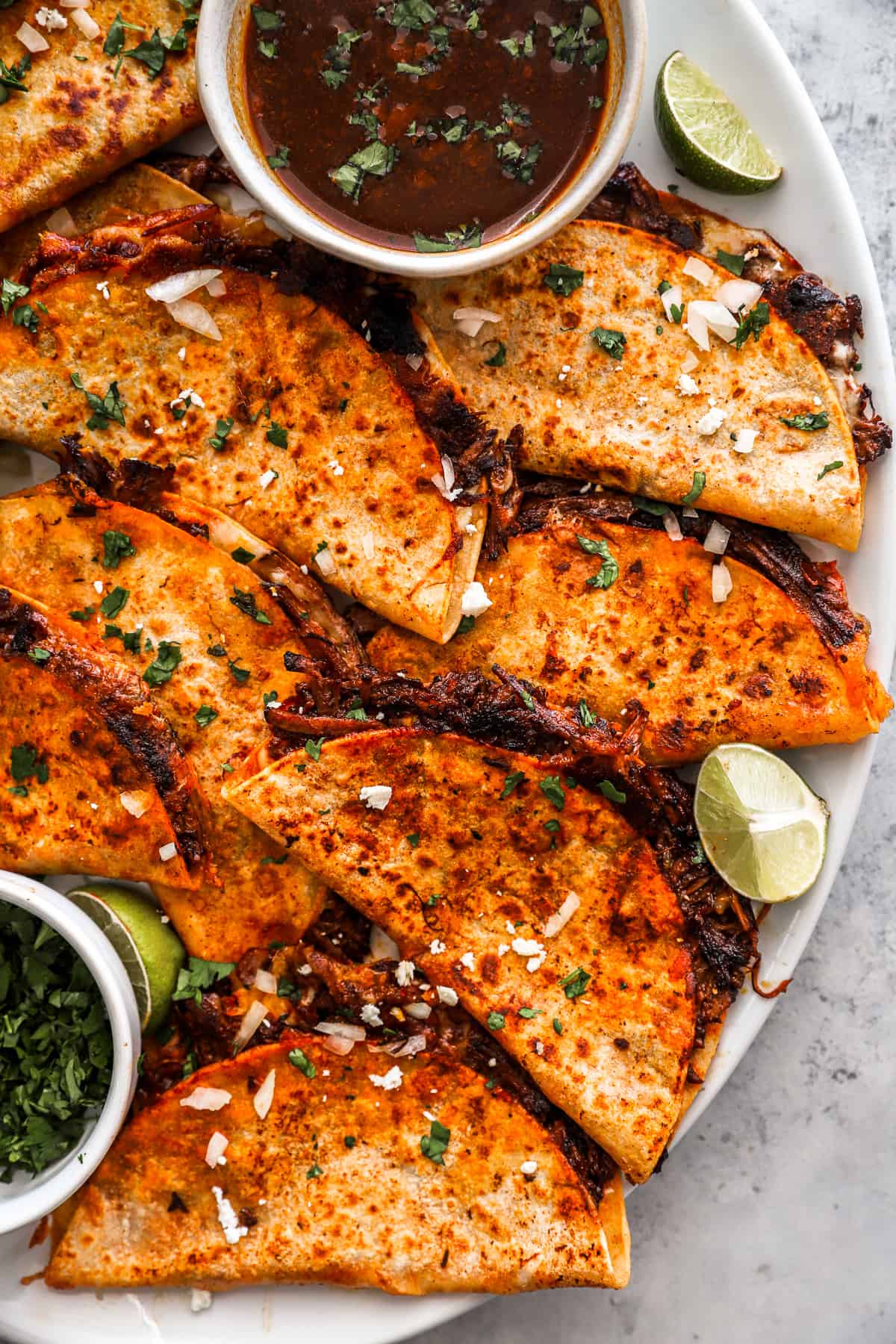 What's in this Birria Tacos Recipe?
Cheesy, juicy, crispy, and loaded with flavor, these birria tacos are a must-try. Slow-cooked beef birria, encased in a crispy taco, with a divine dip – you will love them!
Chiles: Stemmed and seeded dried Guajillo chiles and dried Ancho chiles give birria its characteristic deep red color and rich, complex flavor.
Beef: I like the combination of chuck roast and bone-in short ribs, but you could use just one or the other. If you have it available, you can also use oxtail in place of the short ribs.
Salt + Pepper: Season the beef thoroughly to bring out the flavor.
Vegetable Oil: Helps the beef to cook without burning.
Tomatoes: Help form the base of the braising liquid and add acidity and rich tomato flavor,
Onion + Garlic: Add earthy flavor.
Beef Broth: Forms the base of the braising liquid.
Spices: Coriander, cumin, oregano, chili powder, and cinnamon are classic Mexican seasonings.
Orange Juice: Adds acidity and citrus flavor to the braising liquid.
Apple Cider Vinegar: Adds acidity to the braising liquid.
Tortillas: I like corn tortillas for birria, but flour or cassava flour tortillas also work.
Cheese: I'm a big fan of Monterey jack, but you can substitute your favorite cheese here.
Cilantro: Adds a pop of freshness.
Pro Tip: These are dipping tacos! Save some of the braising liquid for a delicious dipping sauce.
Variations on Tacos Birria
Believe it or not, you can make birria with just about any meat. For chicken birria tacos, swap the beef for boneless, skinless chicken thighs. For pork birria tacos, use pork shoulder. For vegetarian birria, try using jackfruit and vegetable broth. To make vegan birria tacos, you'll also need to swap out the cheese for a vegan alternative. Or try this Quesabirria recipe for an even cheesier version!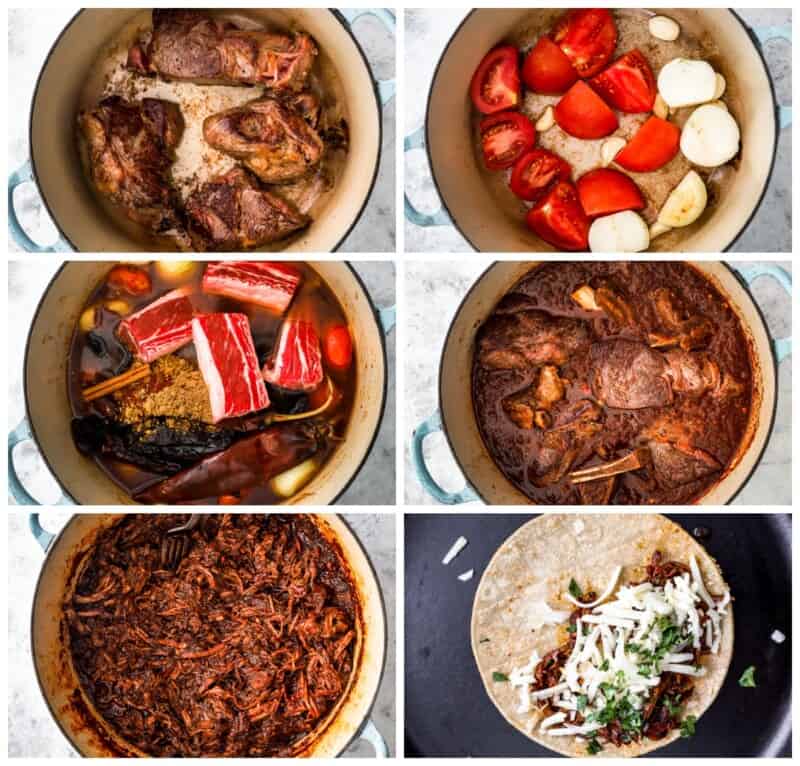 What are birria tacos?
Birria is traditionally a deliciously rich beef stew which mixes sweet, savory and slightly spicy flavors. Birria tacos take that stew and stuff them into crispy tacos – so good!
Are these tacos gluten free?
As long as you use corn tacos, this recipe is gluten free.
What is the best kind of beef for birria tacos?
Birria Tacos are best with two kinds of beef. I love using chuck roast and short ribs.
Can I use any kind of dried peppers?
I use dried Guajilo and Ancho chiles as they give you this wonderfully smoky, fruity flavor. However you can use others. Just be aware that the spice levels and flavor will change slightly.
Where can I find dried peppers?
Typically they are found in the spice or condiment aisles.
Are birria tacos spicy?
These tacos are medium spicy but you can dial it up by adjusting the chili powder.
What kind of tortillas should I use?
I love using corn tortillas as they hold up well and they give you an awesome crunch!
What can I use instead of an immersion blender?
You can use a hand mixer, stand mixer, or food processor.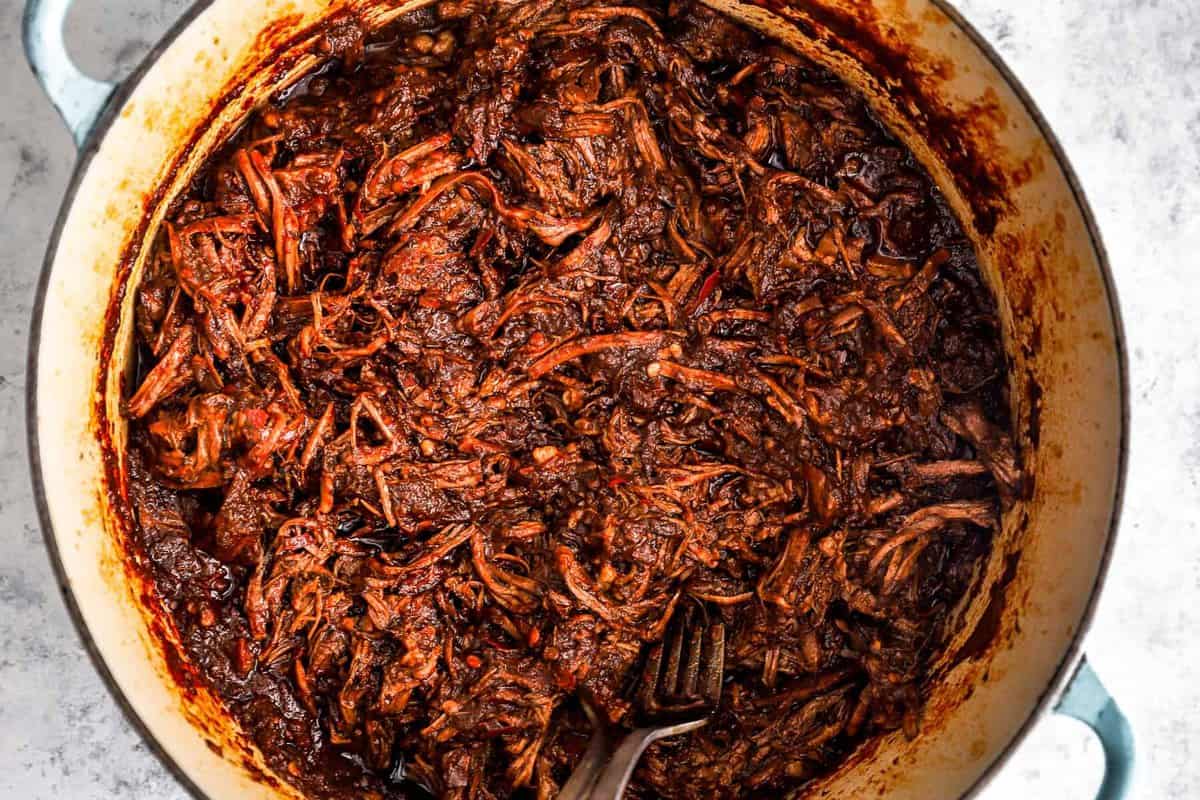 How to Store and Reheat Beef Birria Tacos
Store leftover birria taco meat in an airtight container in the refrigerator for up to 3 days. Keep separate from the braising liquid until ready to assemble. Reheat in the microwave or in a pot set over medium-low heat until warmed through.
How to Freeze Mexican Birria Tacos
Freeze birria taco meat separately from the braising liquid in an airtight container for up to 2 months. Let thaw overnight in the refrigerator before reheating.
What to Serve with Homemade Birria Tacos
Whether you are serving this up for a party or as a weeknight meal, you can level yummy side dishes, like Mexican Corn on the Cob, Mexican Street Corn Dip, Rotel Dip, or Tomatillo Avocado Salsa. Sides or no sides, these satisfying tacos are really going to please those taste buds!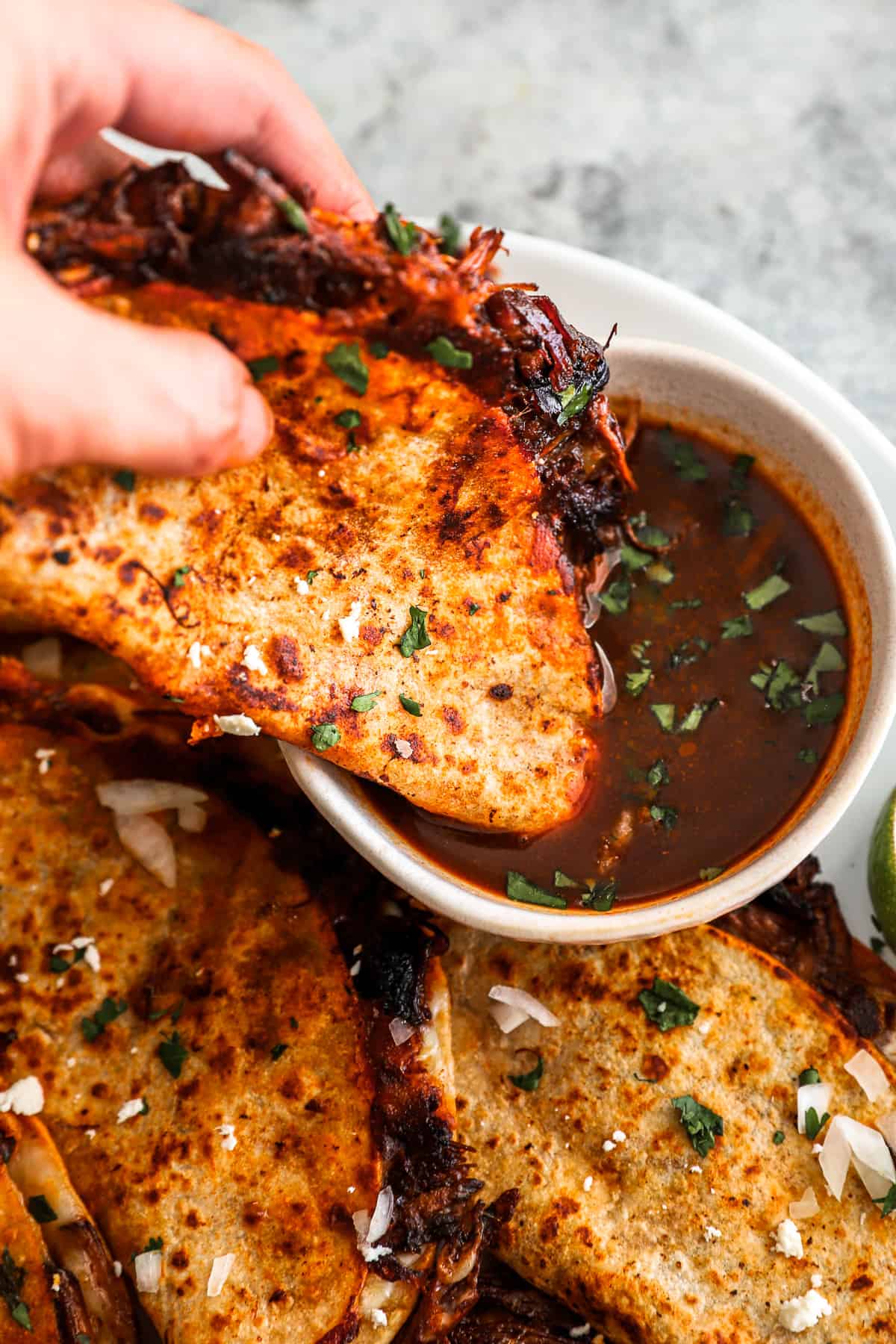 More Flavorful Taco Recipes We Love: