This simple 3 Ingredient Pie Crust recipe is so easy to make with butter, flour, and water in a food processor. The dough comes together so quickly, and it'll make all of your homemade pies that much better!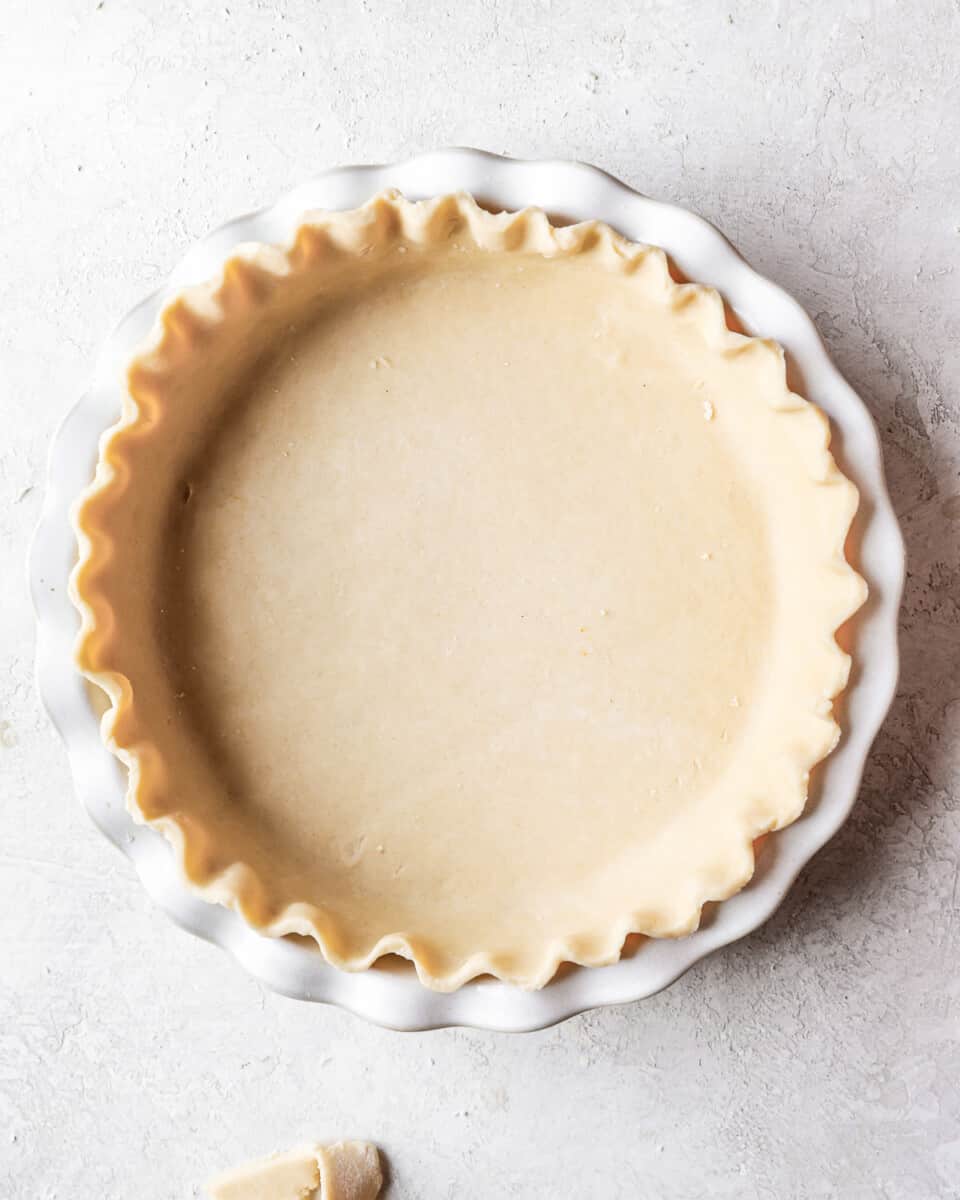 Why We Love This Food Processor Pie Crust
Easy. Armed with just 3 ingredients (plus salt!) and a food processor, you'll have this pie crust conquered in no time!
Flaky. Salted butter helps to create rich, flaky layers.
Versatile. This crust can be used for so many applications, from sweet to savory!
3 Ingredient Gluten Free Pie Crust
Did you know it's just as easy to make 3 ingredient gluten-free pie crust? Simply swap out the all-purpose flour for an equal amount of gluten-free 1:1 flour!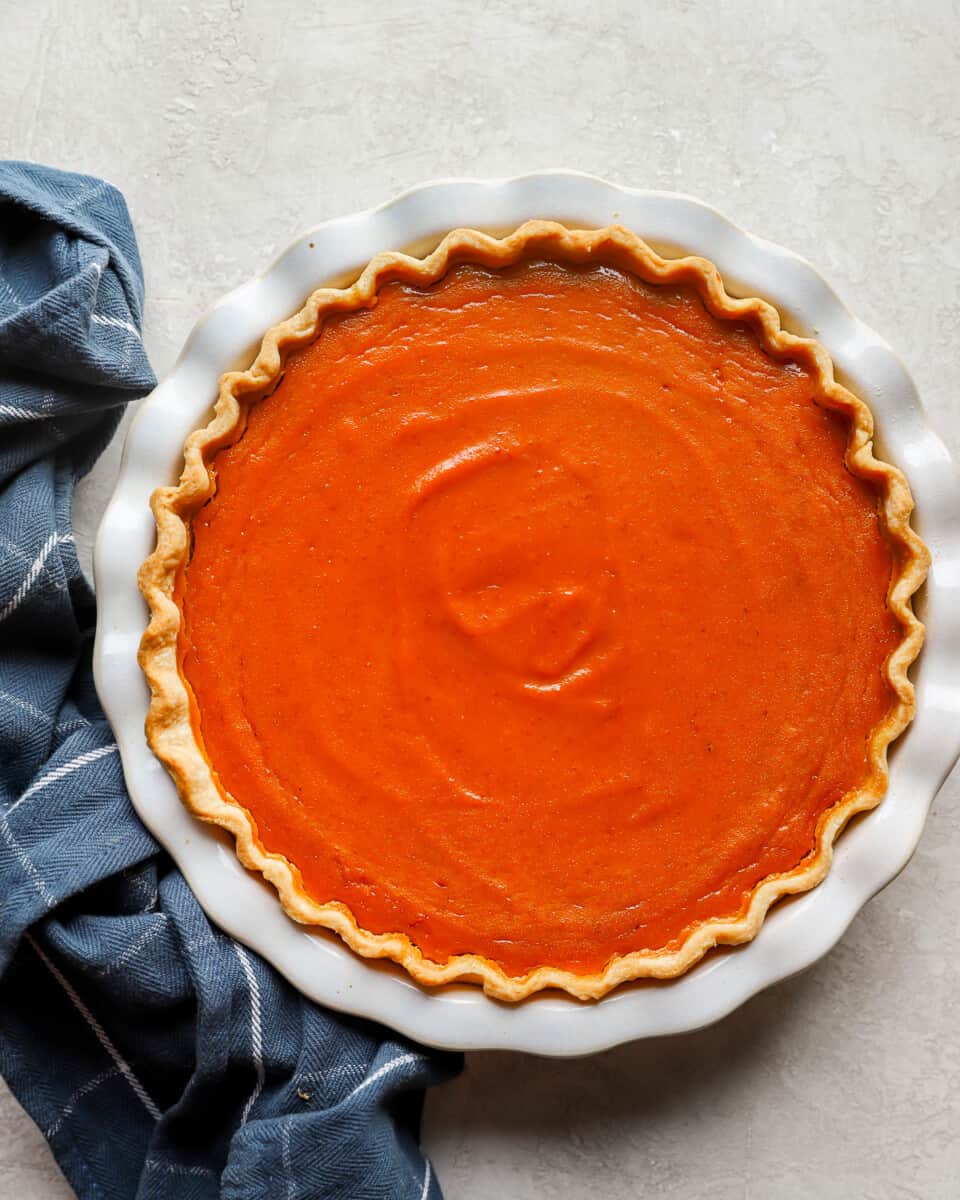 How to Make Ahead and Store
You can make food processor pie crust dough, roll it into a disc covered in plastic wrap, and keep it in the refrigerator for up to 3 days. Then roll it out, shape it into the pie plate, and finish your pie recipe.
How to Freeze
If you want to make the 3 ingredient pie crust further in advance, follow the same instructions above (make it, shape it, wrap it tightly), and store in the freezer up to 3 months. When ready to use it, thaw it in the refrigerator overnight.
What to Make with Your Pie Crust
Use this 3 ingredient pie crust in your next baking project to take it to the next level. It's perfect for apple pie, fresh strawberry pie, french silk pie, banana cream pie, pumpkin pie, pecan pie, cherry pie, sweet potato pie, caramel pie, or any of your favorite Thanksgiving pies.
This food processor pie crust also works beautifully for savory applications, like quiche Lorraine, chicken salad pie, beef pot pie, chicken pot pie, or baked chicken empanadas.
What kind of flour makes the best pie crust?
All-purpose flour works great for a tender pie crust that can hold up to a variety of fillings. For a more delicate crust, you can use lower-protein pastry flour if you prefer.
Is pie crust better with butter or shortening?
Butter creates a more tender, flakier, and sturdier crust than shortening. However, it also melts faster, so it is a bit more finicky. But as long as you keep your ingredients cold, this recipe should work out perfectly!
Does homemade pie crust need to be baked before filling?
The answer depends on what kind of pie you're making. Just fill it and bake the entire pie according to the recipe you're following. A general rule of thumb: If you're using a filling that doesn't need to be baked (or doesn't need to be baked long), you'll bake the crust before filling it. Otherwise, bake it after filling.
Should you poke holes in bottom of pie crust?
There's no need to do this unless you are blind baking the crust without any weights inside. I recommend filling the crust with pie weights, beans, or even sugar to weigh it down while blind baking, but you can dock it in a pinch to help prevent it from puffing up.
How long should you blind bake a pie crust?
If your recipe calls for blind baking the crust, you can do so at 450°F for about 10 minutes, or until just beginning to turn golden.
Why does my pie crust fall apart after baking?
If your crust falls apart after baking, it may have been too dry or overworked. It's important to add water just until the dough is moistened, but you don't want it to be dry and crumbly. It's a delicate balance! You also need to mix the dough gently to avoid developing too much gluten, which could cause the same issue.
Why is my bottom pie crust always soggy?
Pie crust can go soggy if it doesn't set before the filling soaks in. The best way to ensure a crispy crust is to use a metal or glass pie pan and bake the pie on a lower oven rack. Metal and glass conduct heat more quickly and efficiently than ceramic, and the lower rack helps the crust to brown more quickly. If you have a particularly wet filling, you can also brush the pie crust with egg whites to help seal out excess moisture.
Why did the butter melt out of my pie crust?
If the crust is warm before it's placed in the oven, or if the oven isn't hot enough, the butter can melt out. Make sure to check your oven temperature with an oven thermometer before baking, and when in doubt, chill the crust for a few minutes before baking.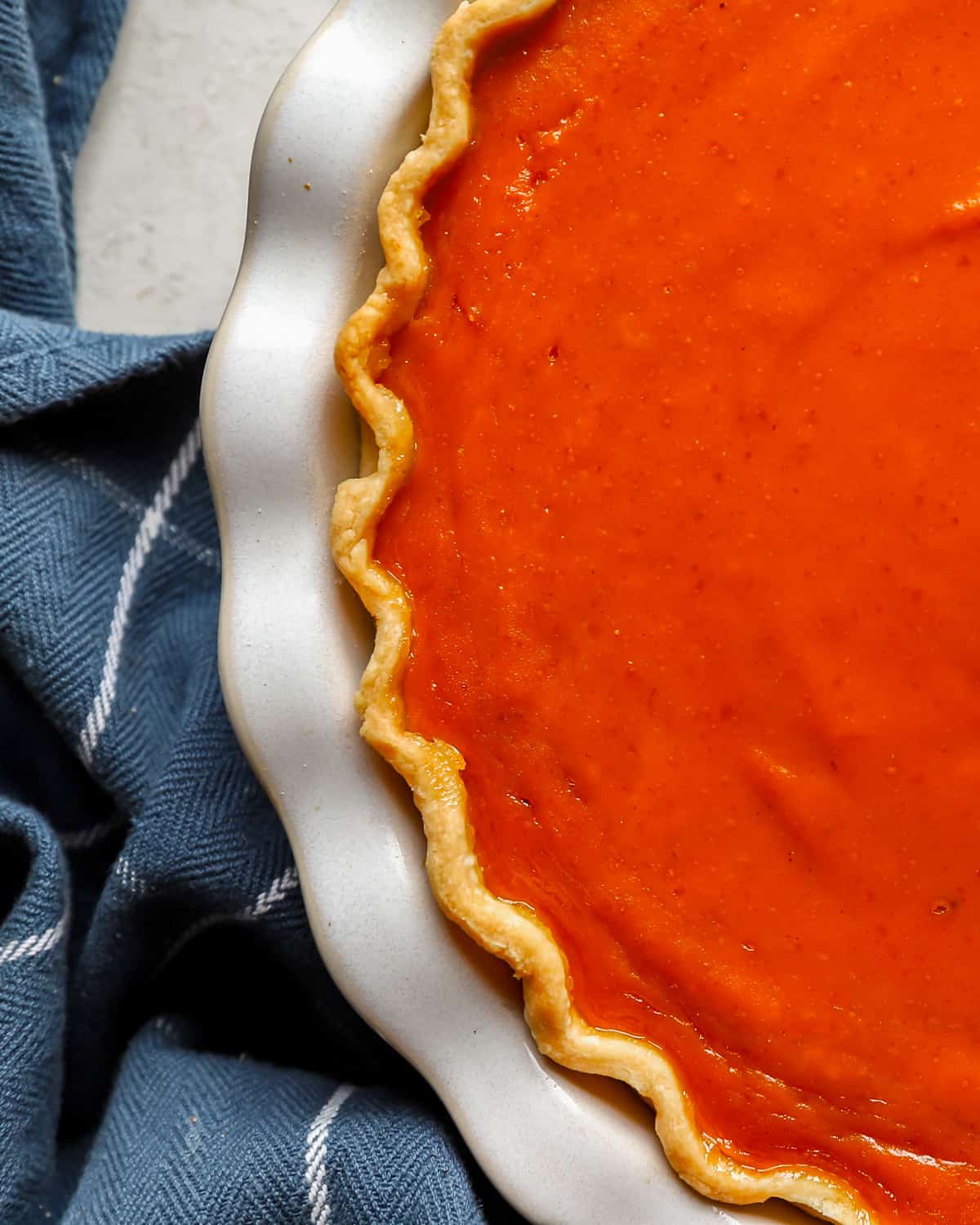 More Pie Crust Recipes To Try
How to Make 3 Ingredient Pie Crust Step by Step
Cut the Butter: Cut ½ cup (1 stick) of butter into small cubes. Place the butter cubes, 1½ cups of all-purpose flour, and ⅛ teaspoon kosher salt into the bowl of a food processor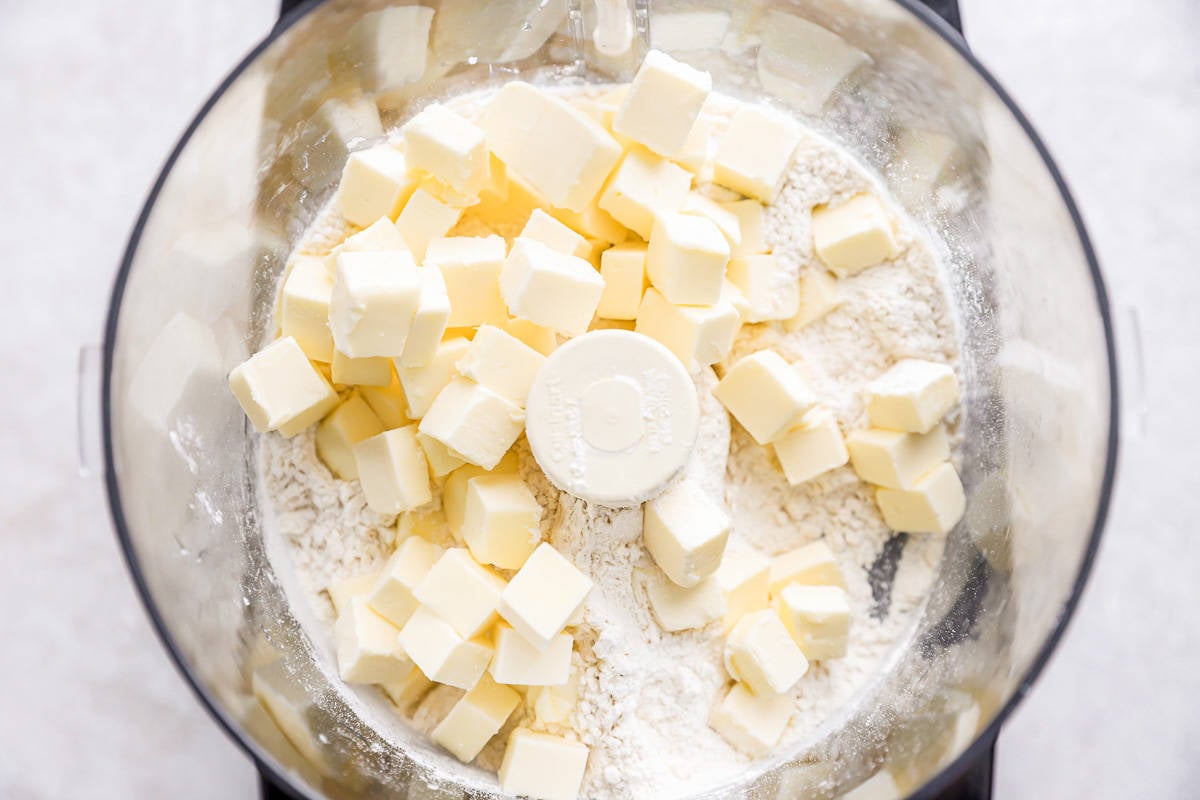 Pulse the Dough: Pulse until the mixture resembles coarse crumbs.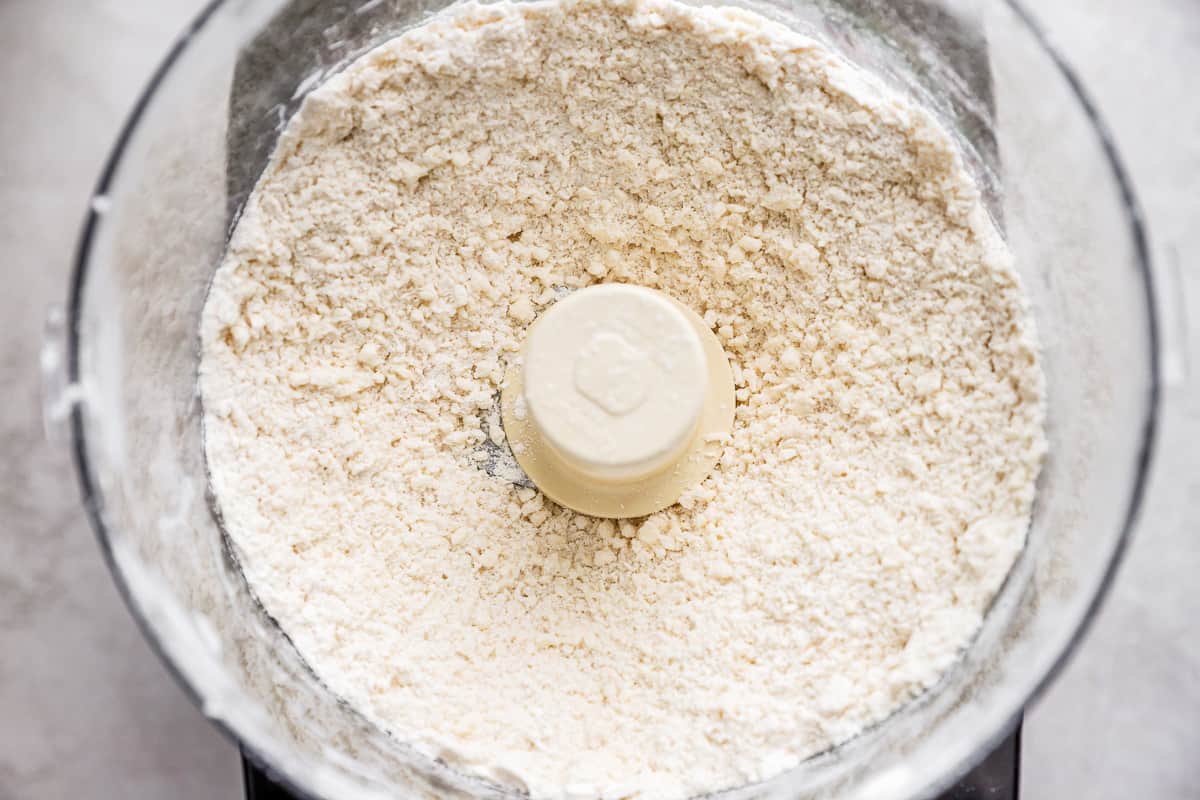 Hydrate the Dough: Add 1 tablespoon of water to the dough and pulse a couple of times. Continue adding water to the dough in 1-tablespoon increments until it begins to form a ball. You should use 4-5 tablespoons total.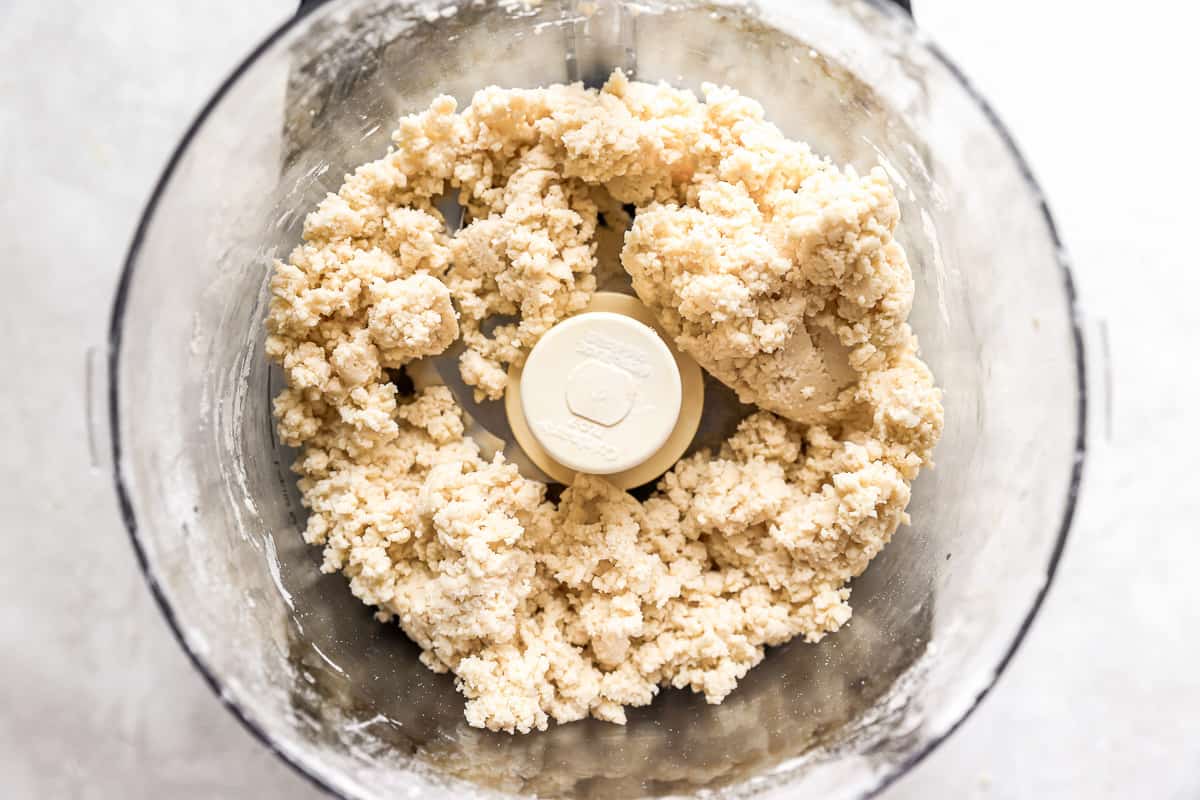 Chill the Dough: Transfer the dough to a clean work surface and form it into a ball. Wrap it in plastic wrap and chill it in the refrigerator for at least 30 minutes before using.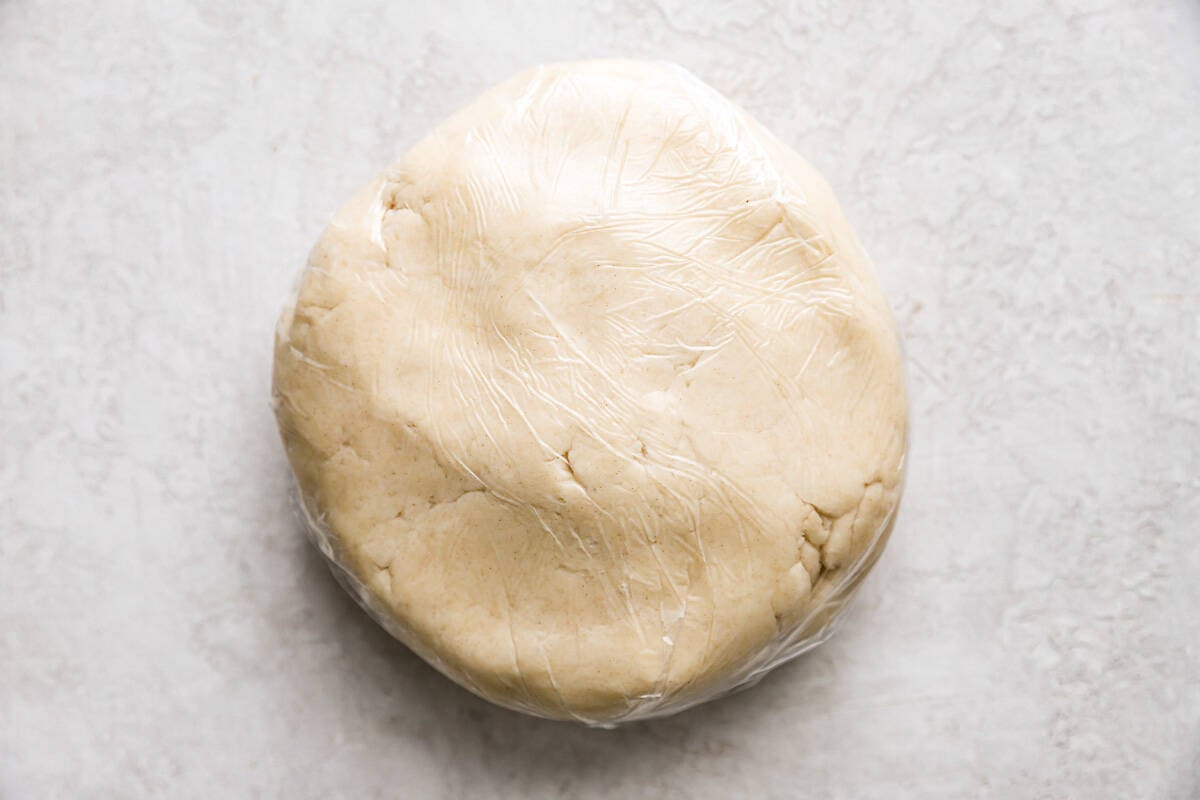 Roll it Out: Once chilled, roll out the dough with a rolling pin into a large circle about ⅛-inch thick.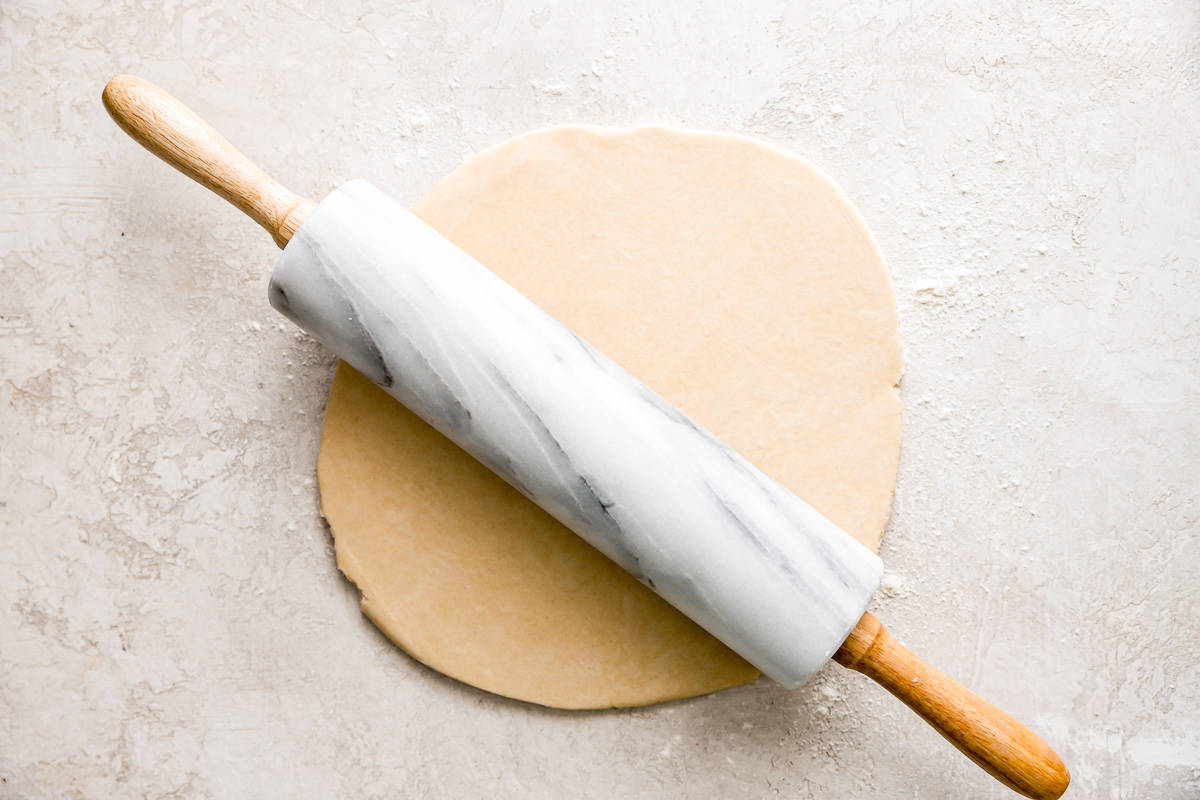 Make a Pie: Line a 9-inch pie pan with the crust and cut away any excess dough from the edges. Fill with pie filling and bake according to the recipe. The pictures in this post are of my favorite sweet potato pie!