Learn how to use your slow cooker to make Crockpot Chicken Breasts for easy weeknight dinners. This slow cooker chicken breast recipe is easy and perfect as a base for a meal or for meal prepping!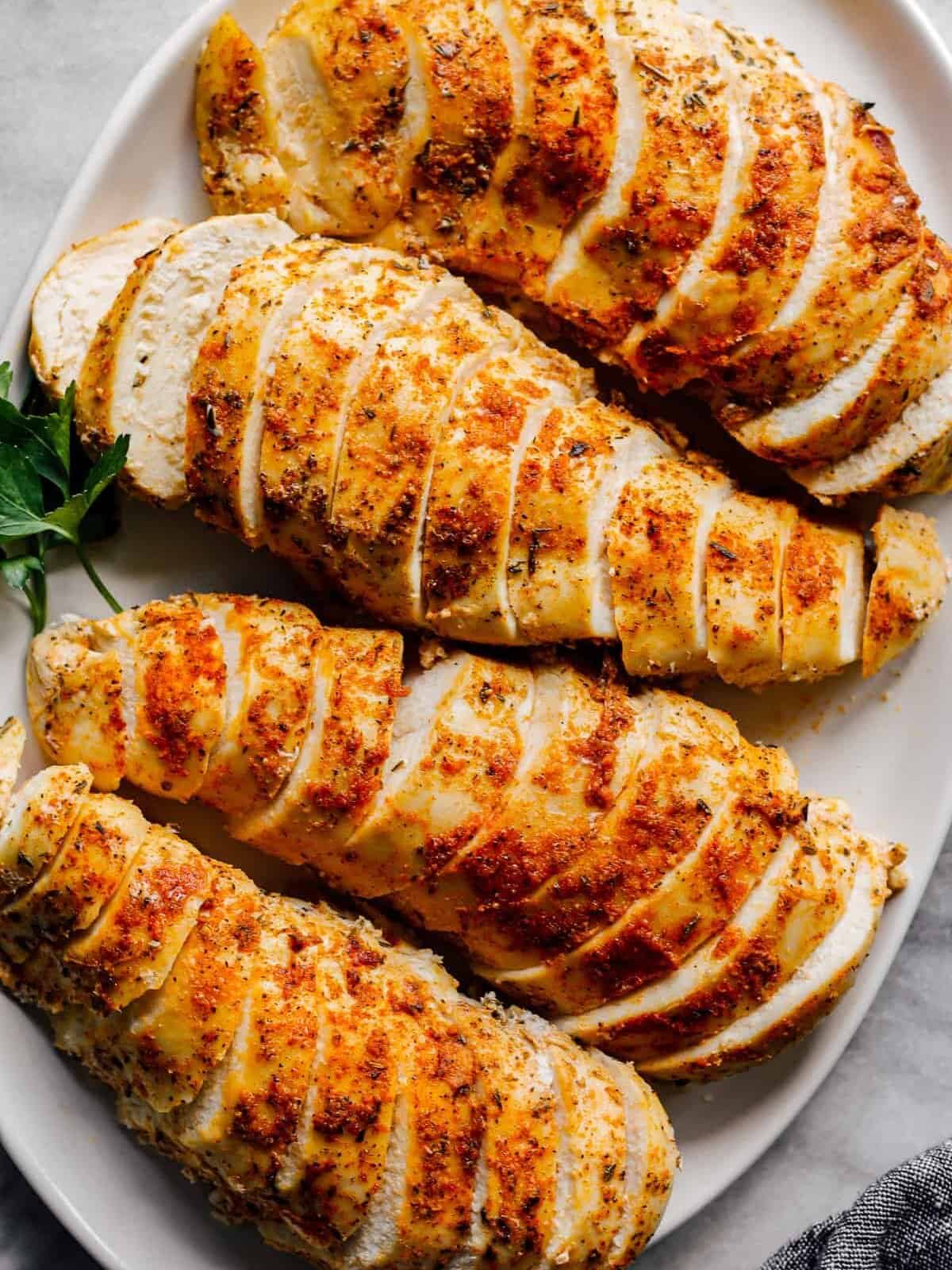 Why We Love This Crockpot Chicken
We make this seasoned slow cooker chicken breast about once a week. We are known for simple recipes like this, and this is a family favorite. The chicken can be meal prepped for the week in one simple recipe, and used for all different recipes that the family will love.
Easy. Just toss in a handful of ingredients, set the cooker, and it'll come out deliciously juicy!
Tasty. I used a mix of onion and garlic powder, dried thyme, paprika, and salt and pepper for a simple flavor that works for everyday meals.
Versatile. This crockpot chicken makes a great base for a ton of different lunches, dinners or for weekly meal prep.
Variations on Slow Cooker Chicken
While this Crockpot recipe works best with boneless chicken breasts, you can use the same ingredients and instructions to make boneless, skinless chicken thighs.
While you can also cook bone-in and/or skin-on chicken breast and thighs, the cooking times may change. Make sure to check the internal temperature of any chicken you cook, and be sure it reads 165°F before consuming.
You can easily switch out all of the herbs and spices to create any flavor you like. Try ranch seasoning or taco seasoning if you want a quick flavor swap for your chicken.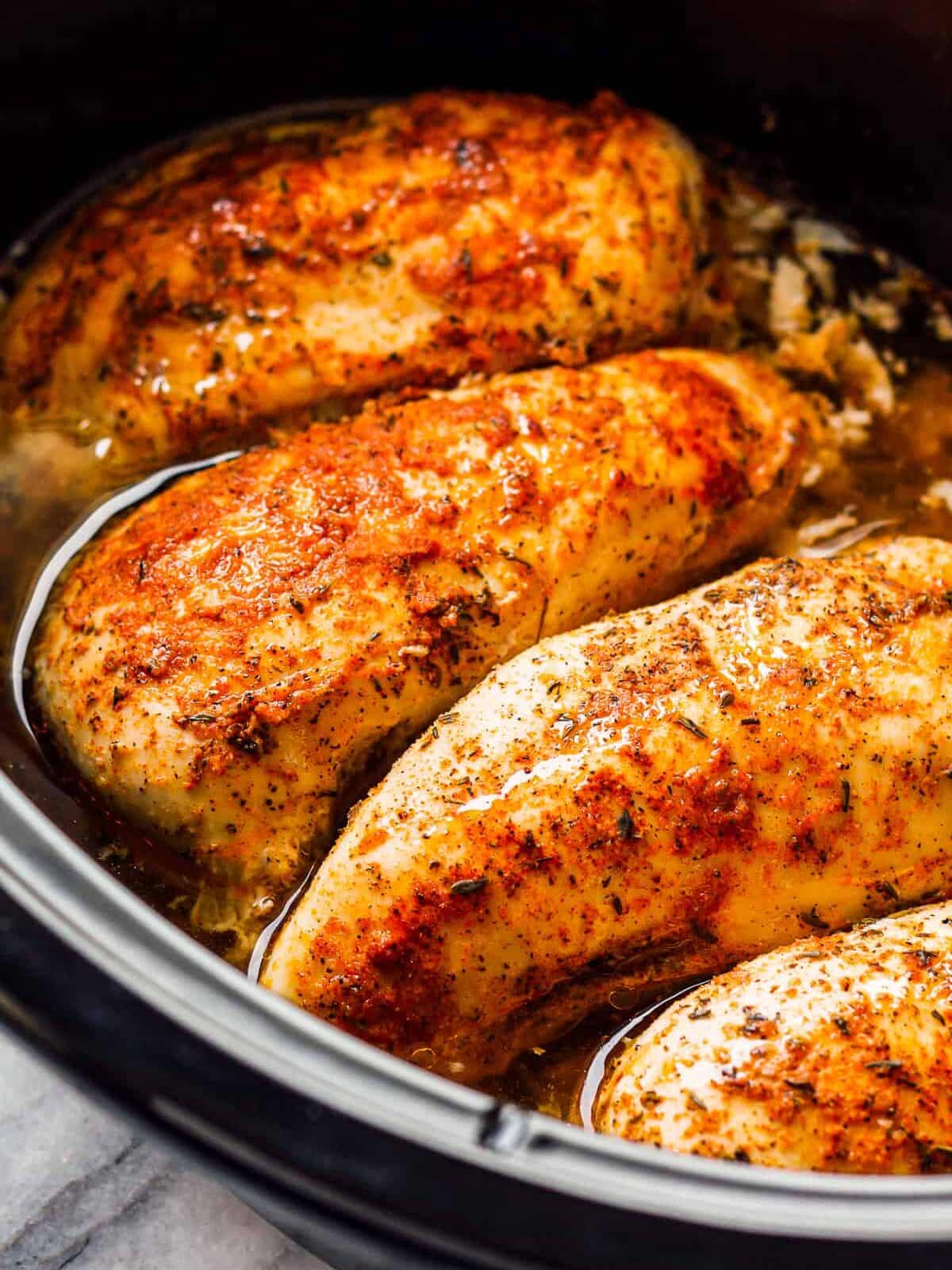 How to Store and Reheat
Store leftover Crockpot chicken in an airtight container, and keep in the refrigerator for 4-5 days. Reheat in a pan set over medium-low heat, or in the microwave in 30-second increments until warmed through.
How to Freeze
After removing the chicken breasts from the Crockpot, let them cool. Store them in freezer-safe, resealable bags or containers, and keep them in the freezer for up to 3 months. You can wrap pieces in foil or plastic wrap if you want extra protection from freezer burn. Let chicken defrost overnight in the fridge before reheating and eating.
Serving Suggestions
The best thing about this slow cooker chicken recipe is how versatile it is! It makes a healthy and tasty main dish for any dinner or lunch, and pairs well with all kinds of side dishes. Serve it with mashed potatoes, creamed green beans, cucumber salad, and Hawaiian rolls.
You can also use leftovers to make pulled chicken sandwiches, chicken noodle soup, or chicken fajitas. The possibilities are endless with this amazing chicken breast recipe!
Can I cook frozen chicken breasts in a crockpot?
Unfortunately, it's not best to cook frozen chicken breast in a slow cooker. The temperature of the crock pot doesn't get high enough fast enough for the bacteria to be killed. It's best to only use freshly thawed chicken or thaw them in the microwave before adding them to the crockpot.
How long do I cook chicken in the crock pot?
Crockpot chicken cook time will depend on the setting you want your crock pot on. If you are like me, you like to add everything to the crockpot in the morning and let your crockpot cook on low. In this case, it will need to cook for 4 to 6 hours. If you want to wait till later in the day to get your crockpot chicken breasts cooking, you can cook on high for 2 to 4 hours.
What's the best spice rub for chicken breasts?
You can add/remove ingredients as you see fit but I use salt, onion powder, dried thyme, paprika, pepper and garlic powder. Feel free to adjust the spices to your personal preferences.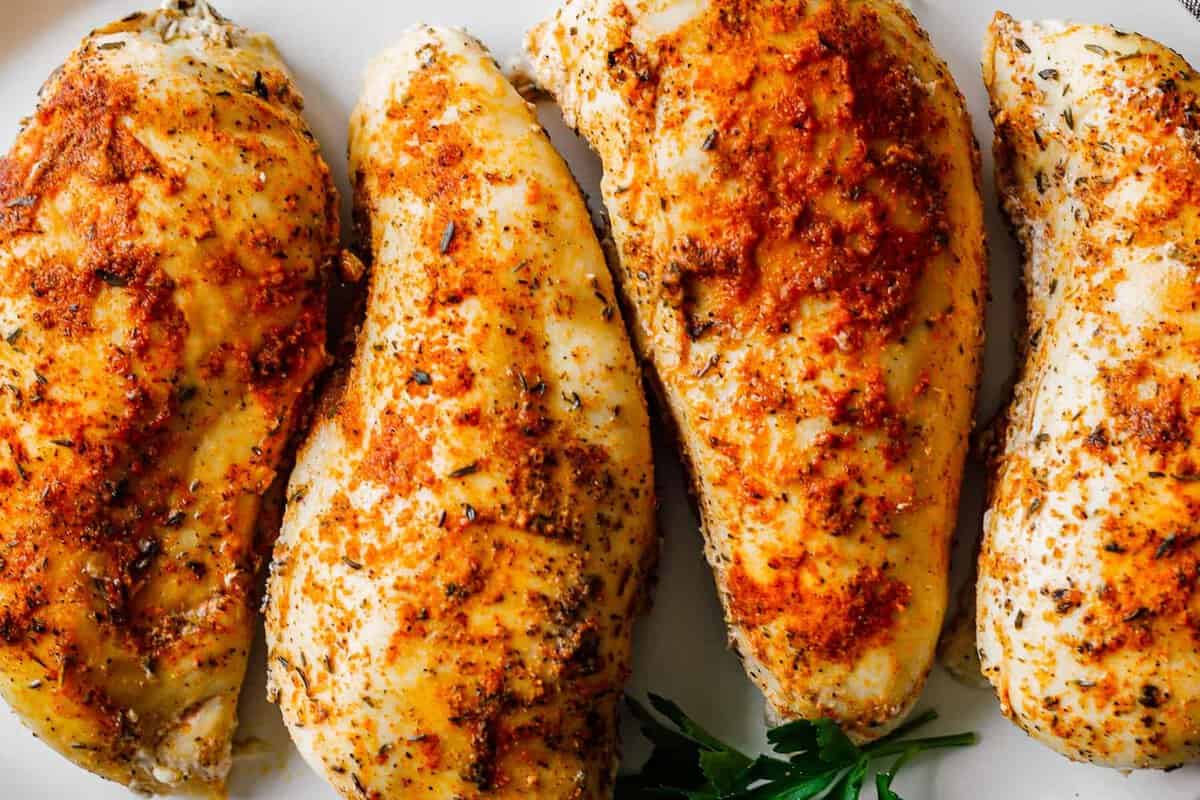 More Ways to Cook Chicken
If the crockpot isn't your thing, these other simple ways to prepare chicken in bulk are sure to please (and make life easy!).
5-Star Review
"So juicy! My new favorite way of cooking chicken!" – Nikki
How to Make Crockpot Chicken Breasts Step by Step
Season the Chicken: Pour the ½ cup of low-sodium chicken broth into your slow cooker. Combine 1 teaspoon of kosher salt, ½ teaspoon of onion powder, ½ teaspoon of dried thyme, ½ teaspoon of ground paprika, ¼ teaspoon of ground black pepper, and ¼ teaspoon of garlic powder in a small dish. Rub 2 tablespoons of olive oil and the seasonings over 4 large chicken breasts, and place them into the slow cooker.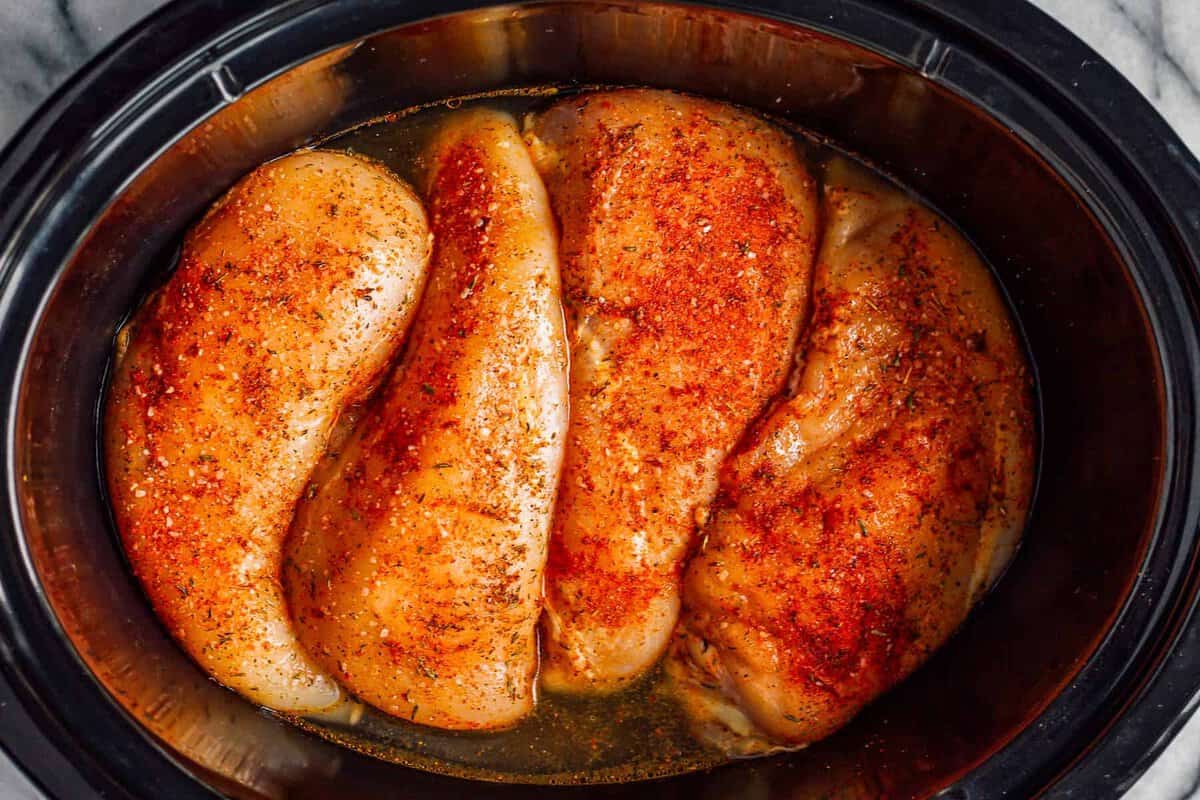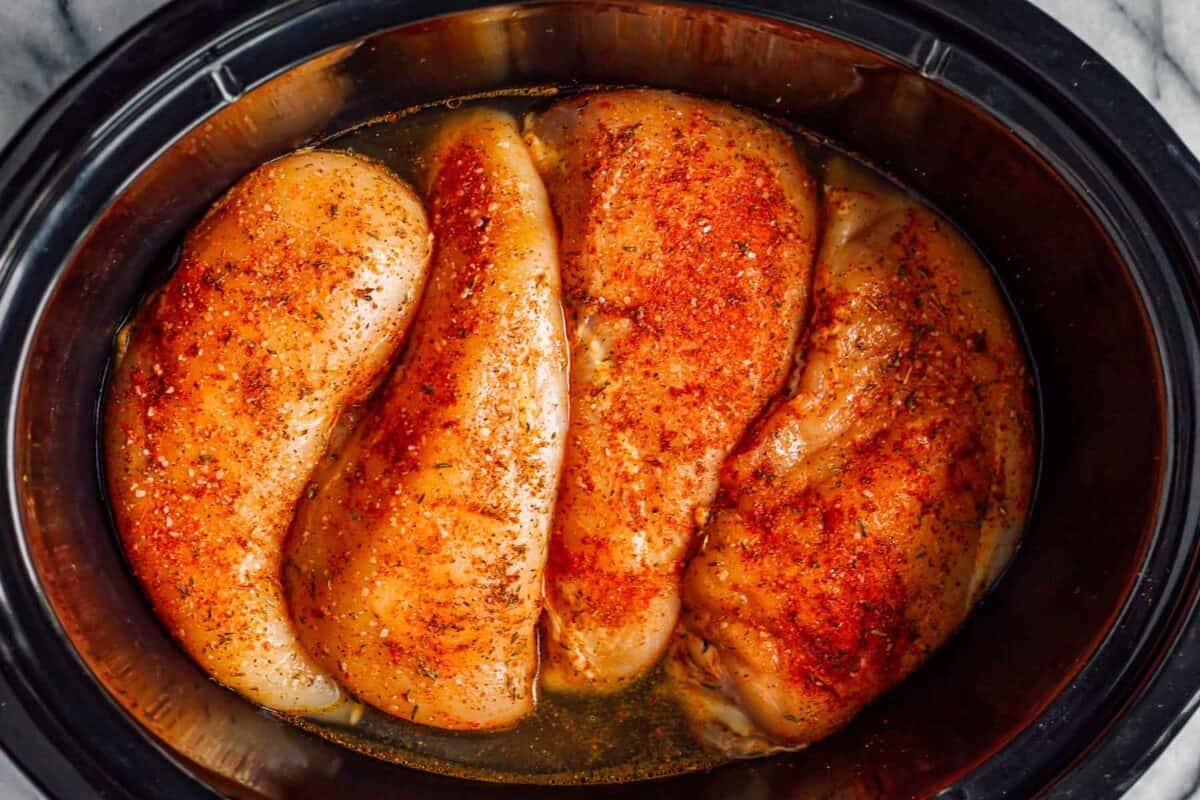 Cook the Chicken: Cook the chicken breasts on high for 3-4 hours or on low for 4-6 hours, until they reach 165°F internally.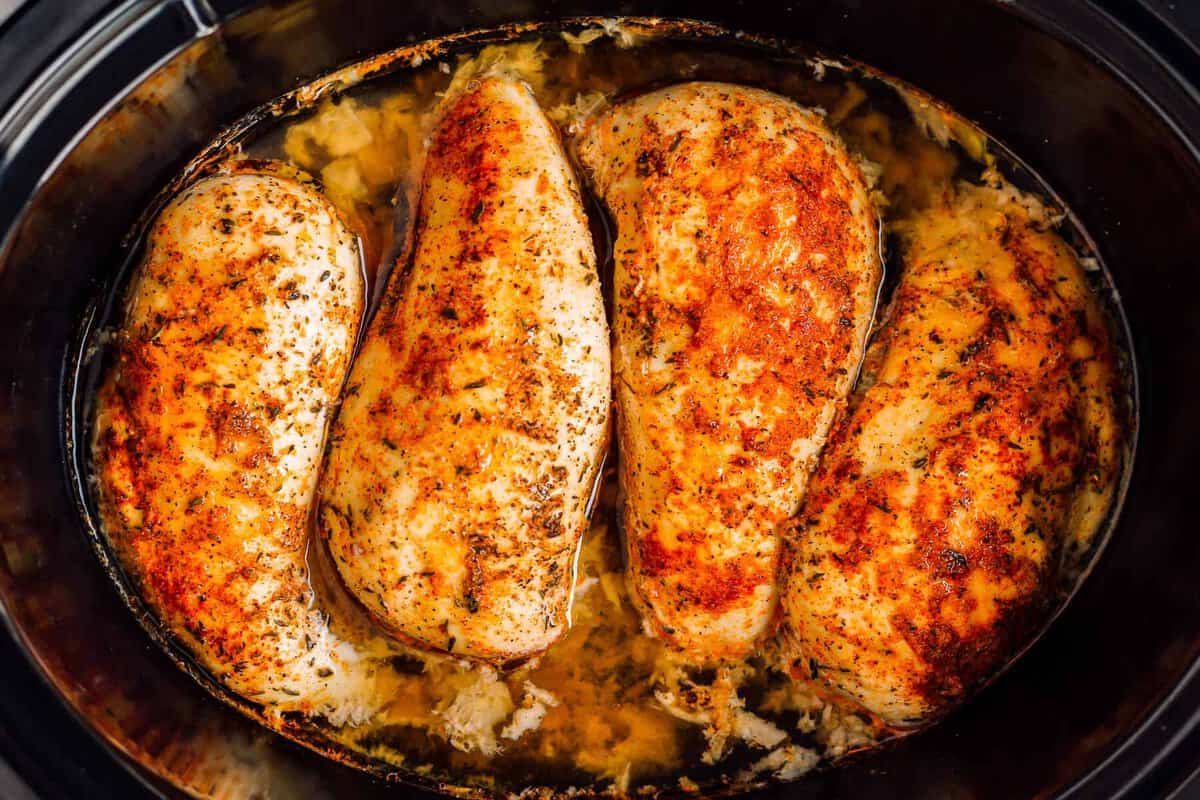 Slice and Serve: This is where the fun comes in. Slice and seal for the week, using this deliciously juicy chicken for salads, tacos, casseroles, sandwiches, and more. The sky is the limit as to how this simple and deliciously seasoned crockpot chicken can be used throughout the week.