This Homemade Vanilla Extract recipe only requires 2 ingredients! It's a basic cooking staple you'll want to have in your pantry for all kinds of recipes, and it's easy to make yourself. This pure vanilla extract has the perfect flavor so it will taste delicious no matter how you use it.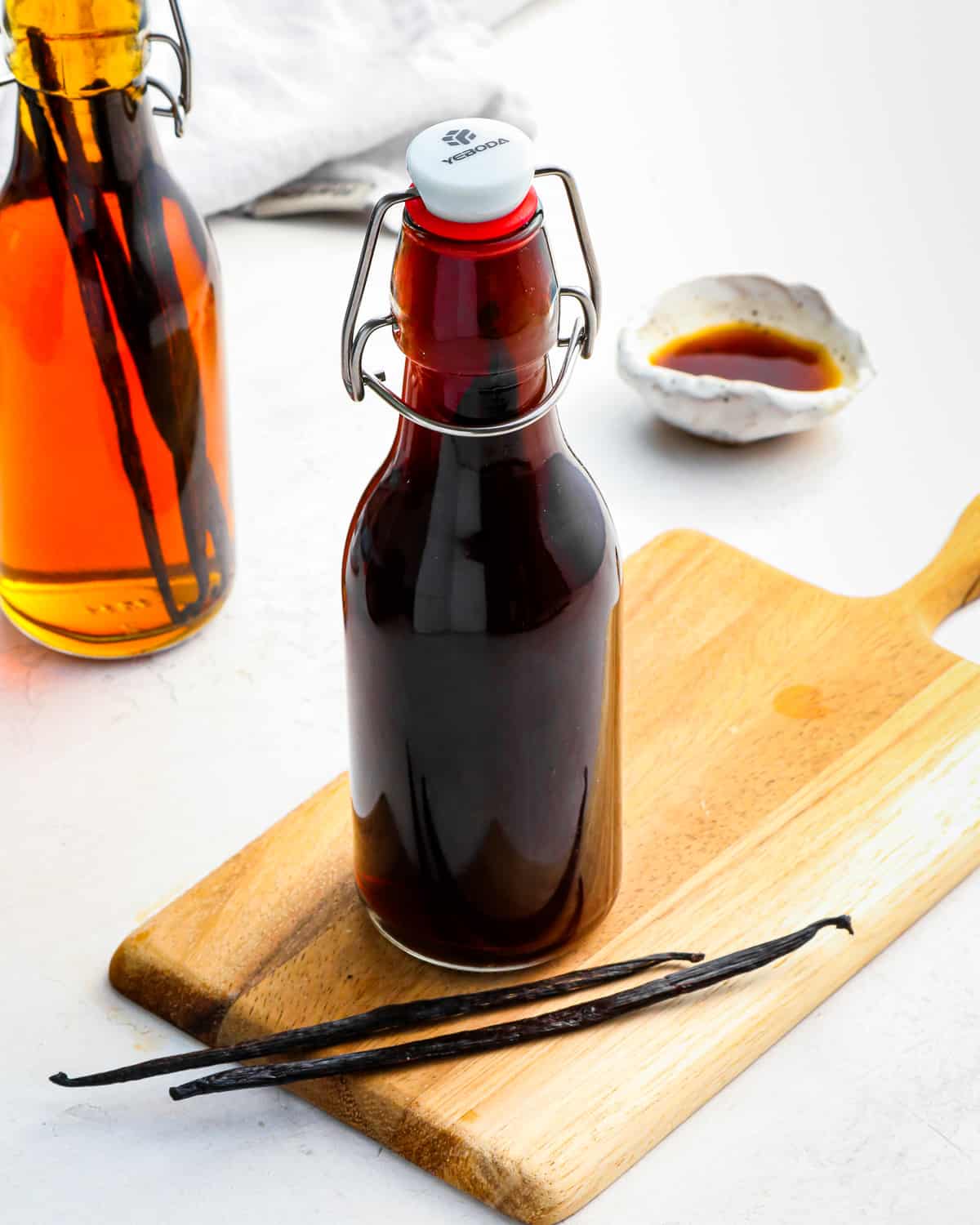 What's in Vanilla Extract?
Just two simple ingredients, vanilla beans and vodka, go into this pantry staple. It's the best homemade vanilla extract recipe, ready to use any time you need it.
Vanilla Beans: This is the fruit of an orchid plant known for its warm, spicy, and sometimes fruity flavor. There are three main types of vanilla beans: Madagascar, Mexican, and Tahitian. For extract, I prefer Madagascar or Tahitian, as they both have richer, spicier flavors, whereas Tahitian is fruity.
Vodka: Vodka has a pretty neutral smell and flavor, so it is perfect for making extracts. Use at least 80 proof (40% alcohol) vodka for the best results.
Pro Tip: Use grade B vanilla beans for extract, as they are cheaper, drier, and more well-suited to extraction.
Variations on Pure Vanilla Extract
There are two main ways to subtly change the flavor of your homemade vanilla extract.
Type of Beans: For the most classic, American-tasting extract, opt for creamy, rich Madagascar vanilla beans. For a smokier, more complex taste that still has that classic vanilla flavor, try Mexican vanilla beans. If you're feeling adventurous, try fruity Tahitian vanilla beans for a totally different vanilla experience.
Type of Alcohol: For the purest vanilla flavor, I always recommend vodka because it is so neutral and doesn't take away from the flavor of the beans. However, you can use different alcohols to bring out different characteristics of the beans. Try Bourbon or spiced rum for a richer, spicier vanilla extract. White rum will yield a sweeter (but still pretty neutral) extract. Just be aware that infusions made with darker alcohols may take longer to reach their fullest flavor.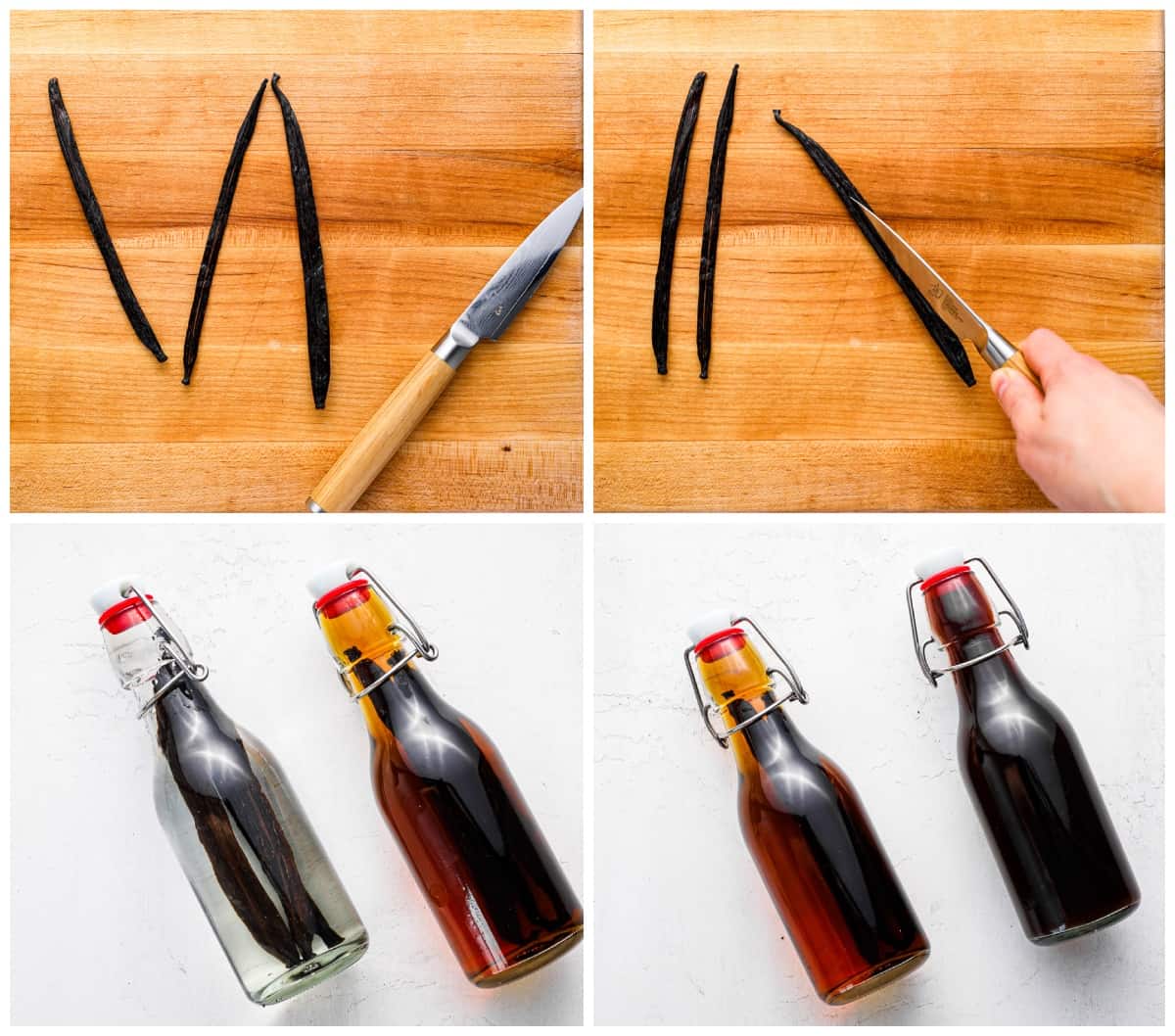 Is it worth making homemade vanilla extract?
Yes! With the rising costs of store-bought vanilla extract, now is the perfect time to get your own homebrew going. Store-bought can cost anywhere from $3-$5 per ounce, and homemade vanilla extract can be adapted to any budget. Grade B vanilla beans are usually $10-$15 for a pack of 5, and a handle (about 60 ounces) of mid-grade vodka is $30. That comes down to about $2 per ounce of homemade!
Where does vanilla extract come from?
Vanilla beans come from the fruit of an orchid plant that only grows very close to the equator. A traditional extract is made by soaking these beans in alcohol for a long period of time to draw out the flavor.
Is imitation vanilla the same as vanilla extract?
No! Imitation vanilla is flavored with synthetic vanillin, a lab-made version of the compound that makes vanilla taste like, well, vanilla. Furthermore, imitation vanilla is often cut with propylene glycol, a viscous liquid with a lightly sweet taste.
What is the difference between single-fold and double-fold vanilla extract?
A single-fold vanilla extract is probably what you're used to buying at the grocery store. It has a weaker flavor, using about ¼-ounce of vanilla beans (about 3-4 beans) per 8 ounces of alcohol. This recipe is for double-fold vanilla extract, which has a much stronger flavor and uses anywhere from ½-1 ounce of vanilla beans (about 5-8 beans) per 8 ounces of alcohol. I find the sweet spot to be right around the 5-6 bean mark for the best balance of price and flavor.
Does vanilla extract go bad?
Technically speaking, vanilla extract can go bad, but this is most often due to contamination. Properly sealed and stored vanilla extract can last indefinitely. For the best flavor, I recommend using it within 5 years. If your vanilla smells off, discard it!
Is vanilla extract healthy?
Vanilla extract is low in calories, carbs, fat, and sodium, so it is a great addition to baked goods. It is also naturally sweet, so it can help you to cut down on the sugar needed in a recipe, leading to a healthier outcome.
Can babies have vanilla extract?
Children can have vanilla extract as long as it is not too much and it has been cooked or heated in some way to cook off the alcohol. Vanilla extract is a fine additive to baked goods for your kiddos, but it is not recommended to rub raw vanilla extract on the gums of babies to soothe toothaches, as vanilla extract contains alcohol.
Is vanilla extract gluten free?
That depends on the vodka you use. If you're a gluten-free baker, make sure to use gluten-free vodka for your extract.
Can you get drunk off of vanilla extract?
You most certainly can! Remember, vanilla extract is made with 80-proof vodka, so it is that strong. While I don't think you'd enjoy drinking it (the flavor is very strong), you definitely could get a buzz from too much.
Can I reuse vanilla beans after making extract?
Yes, but only to make more extract. In my opinion, the best way to make vanilla extract is to keep a "mother" jar that you continuously add vanilla beans to over time. Continue to top off the jar with more beans and vodka as it gets low to keep it brewing and flavorful. You can then decant the liquid portion into smaller containers to give as gifts and continue to brew more extract in the "mother" jar indefinitely.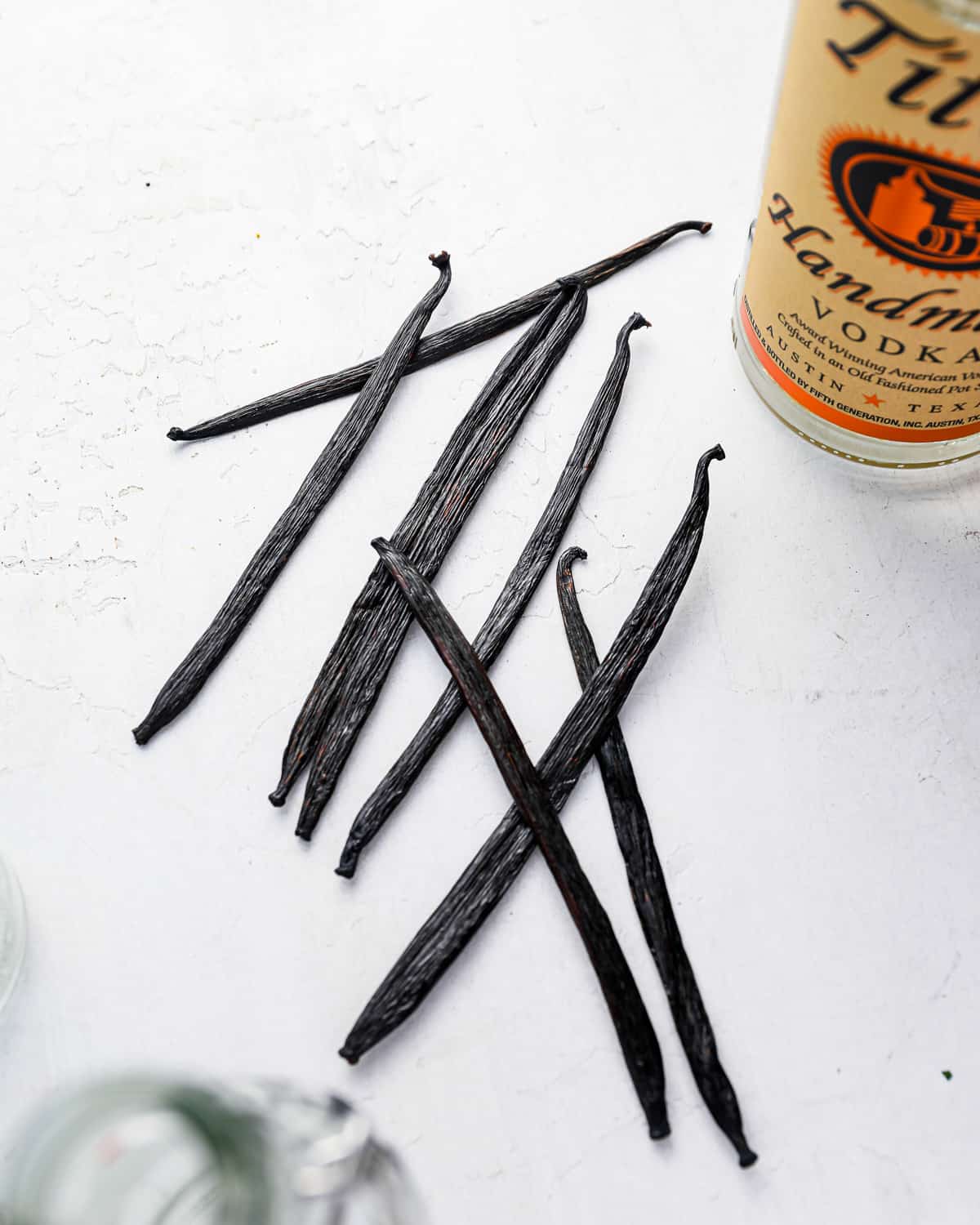 How to Store
Store homemade vanilla extract in an airtight container in a cool, dark place (such as the pantry) indefinitely. Use within 5 years for the best flavor, or use indefinitely if you continue to top off the jar with vodka and beans over time. Gently shake the jar at least once a week to help the flavor continue to infuse, and gently shake the jar just before using for the best flavor.
How to Use
Homemade vanilla extract is the perfect addition to any baking recipe! Use it any time a recipe calls for vanilla extract, vanilla flavoring, or even imitation vanilla. I love it in shortbread cookies, homemade oat milk, gooey butter cake, buttermilk pancakes, chocolate chip cookies, and vanilla frosting.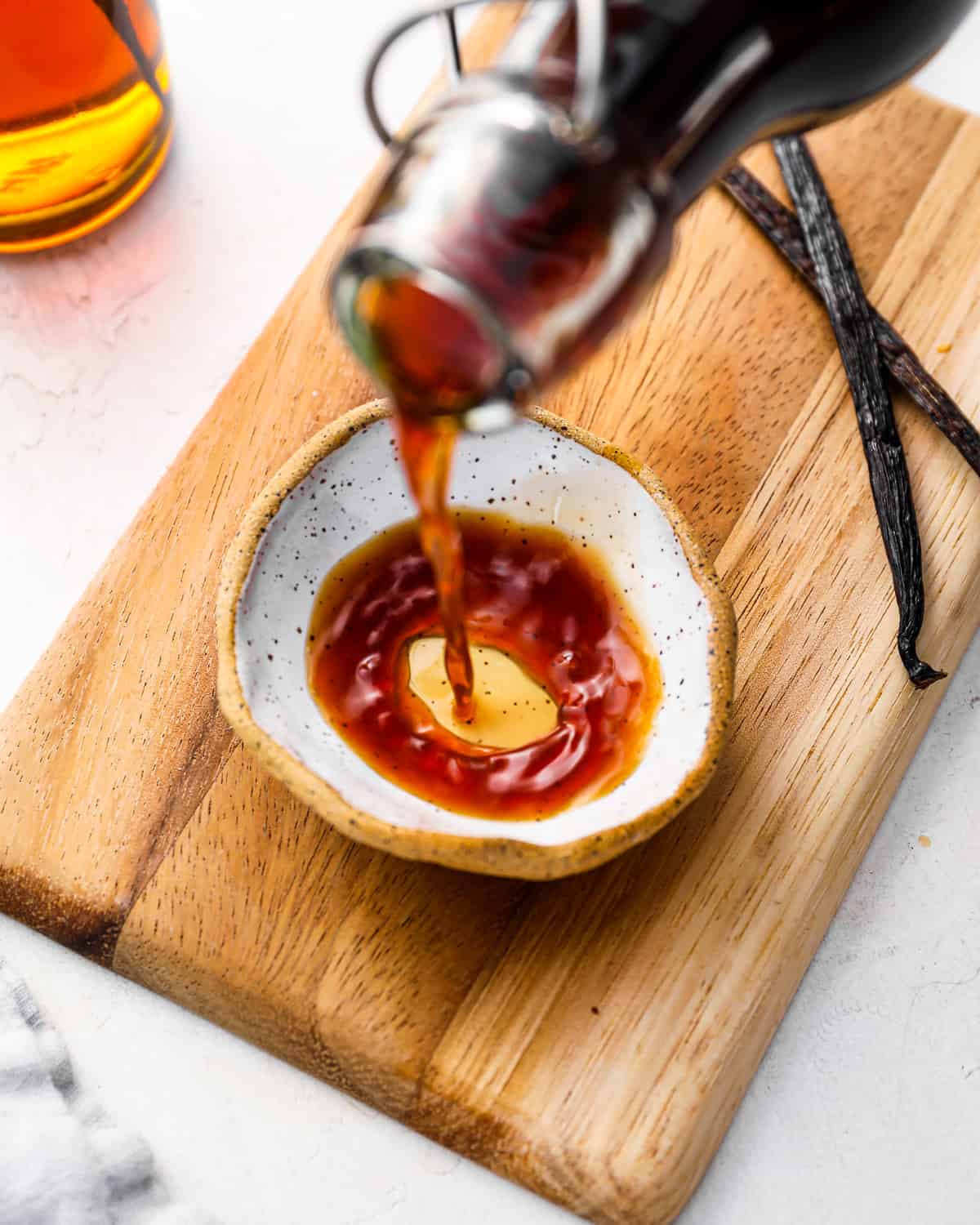 More Baking Staples We Love