This queso recipe is the most delicious white cheese dip you will ever taste. If you're looking for an easy queso dip recipe, you've come to the right place. No velveeta here, just real quality cheese and ingredients melted together and ready to dip. Learn how to make queso from scratch, just like what you get at your favorite Mexican restaurant!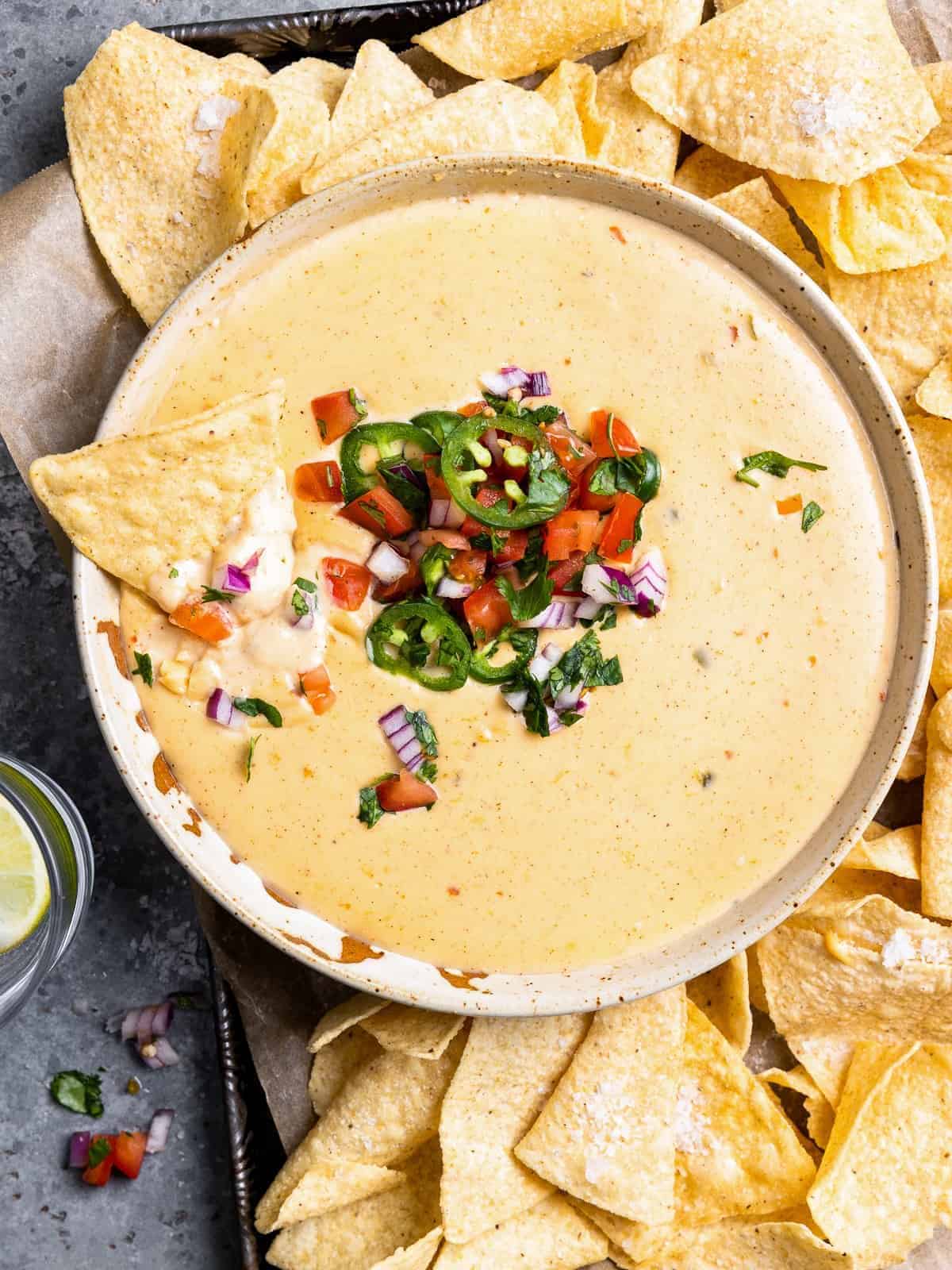 What's in this Homemade Queso Blanco recipe?
This authentic queso recipe will rival any of your favorite Mexican restaurants! This has been my go-to white cheese dip for years, and readers seem to agree–it's delicious, and it's super easy to make at home with just a few ingredients.
White American Cheese: This is the best cheese for white queso dip. Buy slices, or a block, and chop into small cubes so that it melts evenly.
Mozzarella: I like to mix in some shredded mozzarella to add more depth of flavor. Shred your own cheese for the best results.
Evaporated Milk: This creates a creamy and smooth texture that is ideal for any good queso blanco. Milk, heavy cream, or half and half can be used instead, but evaporated milk has given me the best results.
Cornstarch: Helps to thicken the queso sauce mixture to a perfectly dippable consistency. If you prefer a thinner consistency, skip the cornstarch at the start–but keep it on hand in case you need to thicken it later.
Jalapenos: These add some heat and spice. You can also use green chiles.
Spices: A mix of salt and pepper, red pepper flakes, chili powder or cumin, and nutmeg perfect the flavor.
Pro Tip: Cumin and nutmeg add a nice warmth to this queso recipe, but feel free to skip them. Some readers prefer this recipe without them! You can add garlic or onion powder, or any spices you like instead.
What else can I add to this easy white queso dip?
This white queso recipe is pretty simple as is, but you can easily change it up in so many ways by adding in different ingredients.
Mix in some chorizo, taco meat or ground beef, or even some rotisserie or shredded chicken (these ingredients should all be fully cooked first). You can also add black beans, corn, diced tomatoes or Rotel, onions, and more for a chunkier cheese dip. Lastly, change up the type of cheese and mix in some pepper jack or Monterey jack with the white american cheese.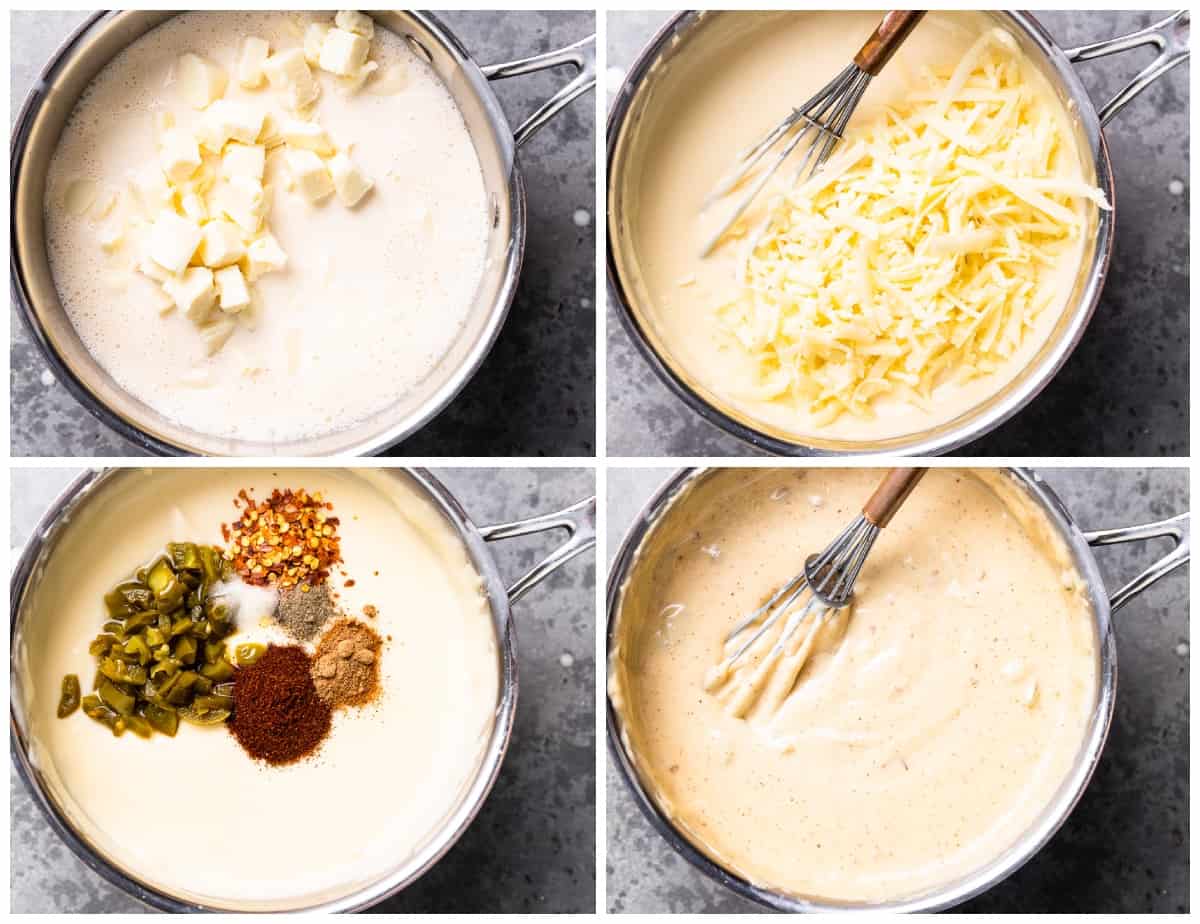 What is queso? Is it just melted cheese?
The literal translation of queso is cheese, but when we talk about it (in America), we're talking specifically about the melty, liquidy, amazing goodness that is queso dip. I always think of the traditional kind you get at Mexican restaurants, which is why I wanted make this authentic white queso recipe.
What kind of cheese should I use for queso?
To get that classic Mexican restaurant-style queso dip, use white American cheese (it melts really smoothly). You might also come across other varieties of "queso blanco" or "queso fresco" at your local grocery store. If you can't find any of that, try white cheddar, Muenster, or Swiss.
I also mixed in a small amount of Mozzarella to enhance the texture and flavor, but you could use pepper jack, Monterey jack, or another type of cheese instead.
Why is my queso grainy?
If your cheese ends up grainy, the problem is usually overcooking. The milk should be heated just to a mild-simmer (not boiling), then immediately reduced to low heat before adding the cheese. It's also best to use freshly chopped and shredded cheese, because pre-shredded cheese has ingredients that can make it grainy when melted.
Can I use cream, milk, or half and half in place of the evaporated milk?
I've tested this white queso recipe with every option (whole milk, heavy cream, half and half), but evaporated milk has given the best results over the years, both for me and for readers. It has less moisture, so it creates a smooth and creamy consistency, and doesn't separate while cooking. However, some people have luck with the other ingredients–you might need to adjust the amount of liquid or cornstarch.
How do you thicken queso dip?
Cornstarch is used to thicken cheese dip. This recipe starts by combining it with the evaporated milk, in order to get the consistency we want. If you prefer a thinner consistency, skip it in the first step–you can always add it in later (mixed with milk) if it's too thin.
Can I make white queso in a slow cooker?
1.) Set slow cooker to HIGH and add in the evaporated milk/cornstarch, and all of the cheese. 2.) Cover and let the cheese fully melt, stirring regularly. 3.) Once melted, switch cooker to LOW and stir in any add-in ingredients and spices. 4.) Let it thicken up with the lid off, if needed. 5.) Keep it in the slow cooker while serving (great option for parties) on warm, and be sure to stir it occasionally.
I recommend following this Crockpot queso for something formulated and tested for the slow cooker.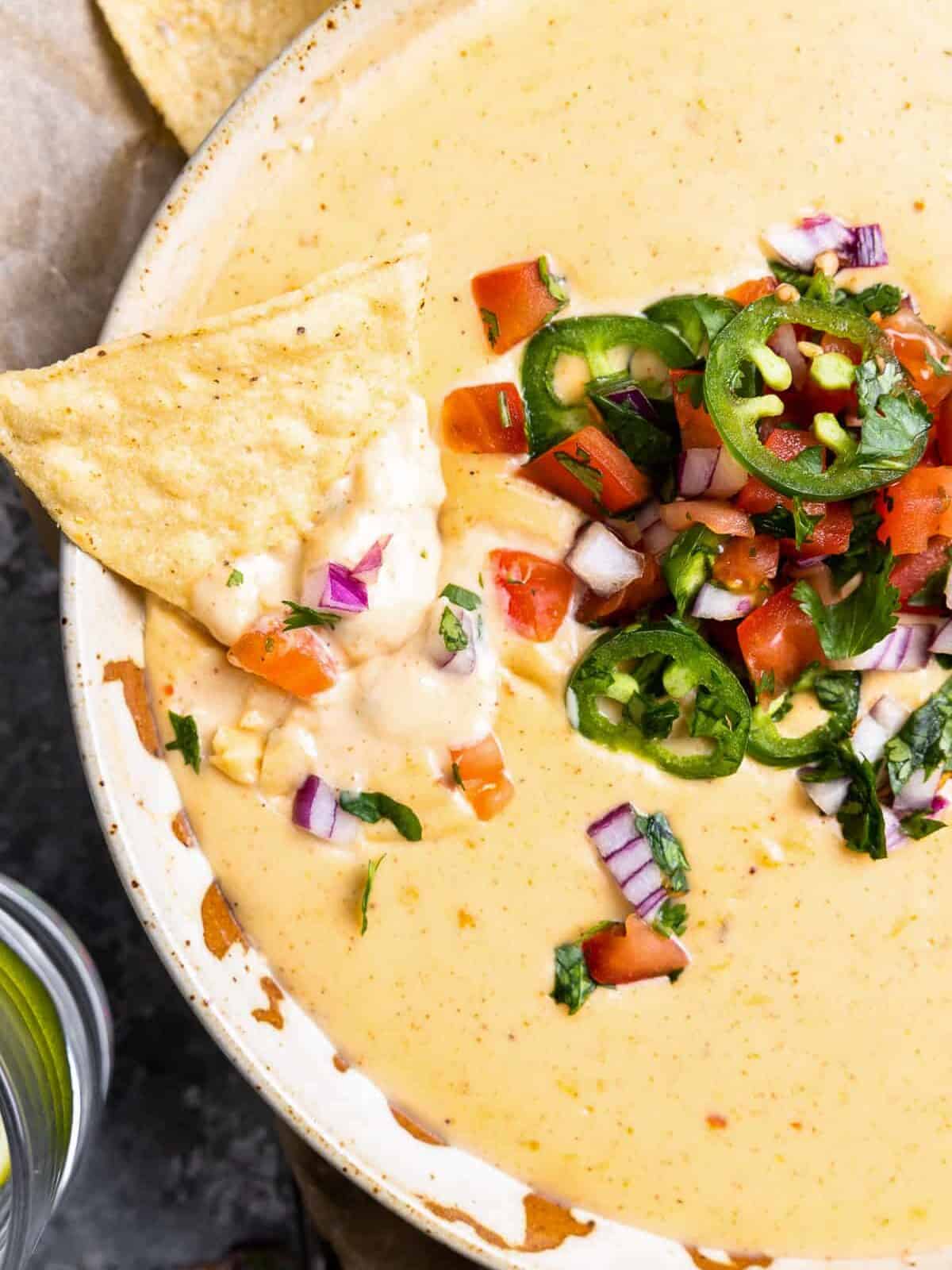 How to Store and Reheat Queso Dip
If you have any leftover cheese dip, pour it into an airtight container and store in the refrigerator for 3-4 days.
To reheat, add a splash of milk and heat in the microwave in 15-30 second increments, stirring between each increment to make sure it's fully heated through.
I do not recommend freezing queso because it will be too grainy when thawed and reheated.
How to Keep it Warm
It's normal for queso to harden as it cools, so stir regularly and keep it warm while serving. I like to serve it out of a Crockpot at parties for this reason.
After making queso blanco on the stovetop, pour it into a slow cooker, and set it to WARM. This will keep it hot, smooth, and creamy through the whole party.
Otherwise, just warm it up in the microwave for 30 seconds and stir generously once it starts to get cold.
What to Serve with Homemade Queso
This white queso is made for dipping tortilla chips, but it's delicious with any dippers you like, including pita chips, crackers, wonton chips, and breads.
And don't stop at dipping, because this queso works as a sauce for all your favorite Mexican dishes. Pour it over chicken enchiladas, baked tacos, chimichangas, chicken quesadillas, chicken nachos, steak fajitas, or these smothered chicken fajitas.
This is our favorite dip for Cinco de Mayo, Taco Tuesday, Super Bowl Sunday, or any time we need football snacks. It makes an appearance at every occasion!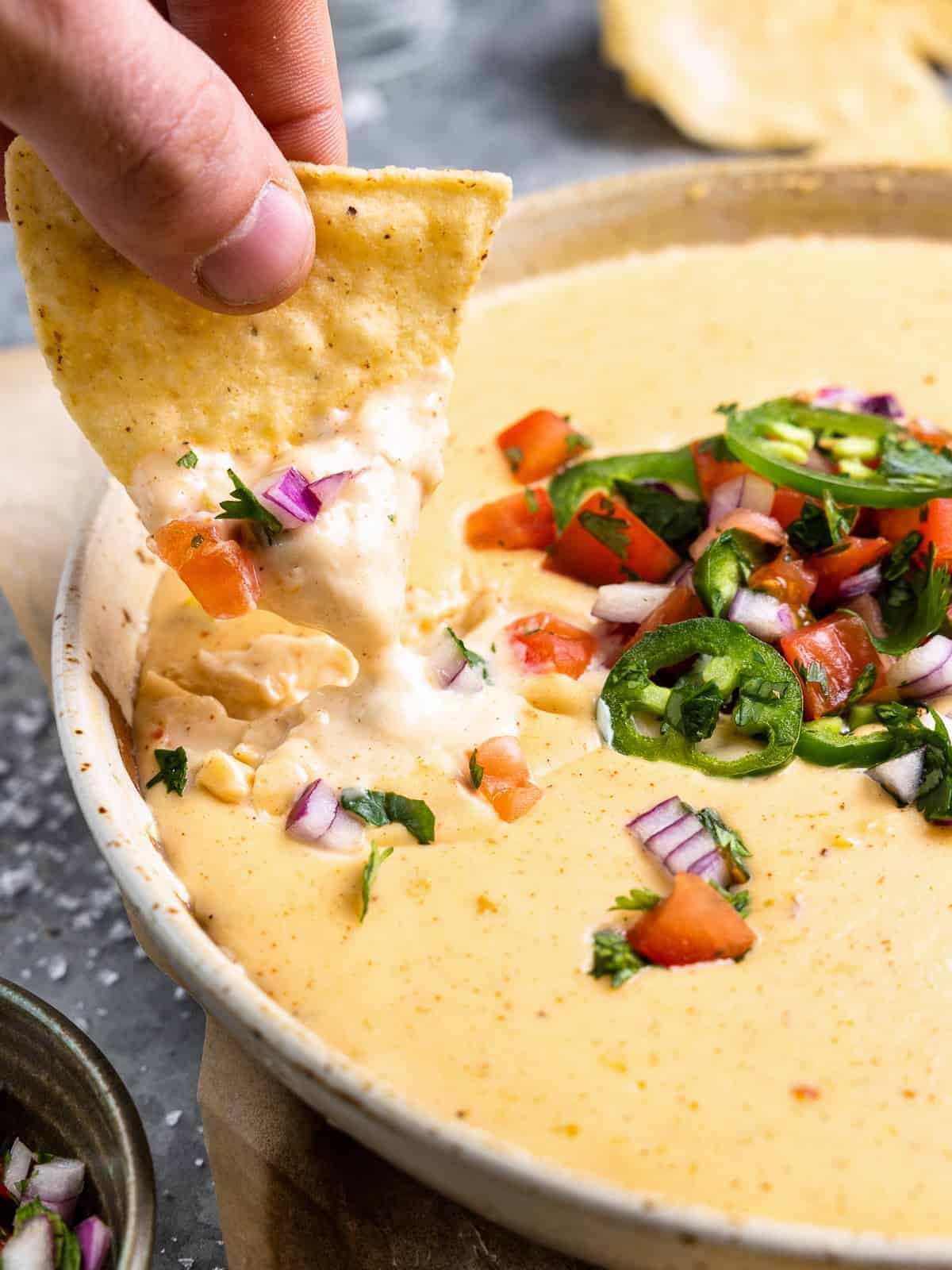 5-Star Review
"Made this today as written. Husband kept going back for more and more spoonfuls while we waited for the rest of the dinner to be done. Then he kept telling me different variation ideas. He loved it and was apparently very inspired by the taste. Will definitely make again soon." – Kimber
Watch the video and see the recipe card below for details on How to Make Queso Dip. Be sure to let us know in the comments if you've made it. Enjoy!
More Queso and Cheese Dip Recipes We Love