This Queso recipe is the most delicious white cheese dip you will ever taste. If you're looking for an easy queso dip recipe, you've come to the right place. No velveeta, just real quality cheese and ingredients melted together and ready to dip. Just like what you get at your favorite Mexican restaurant!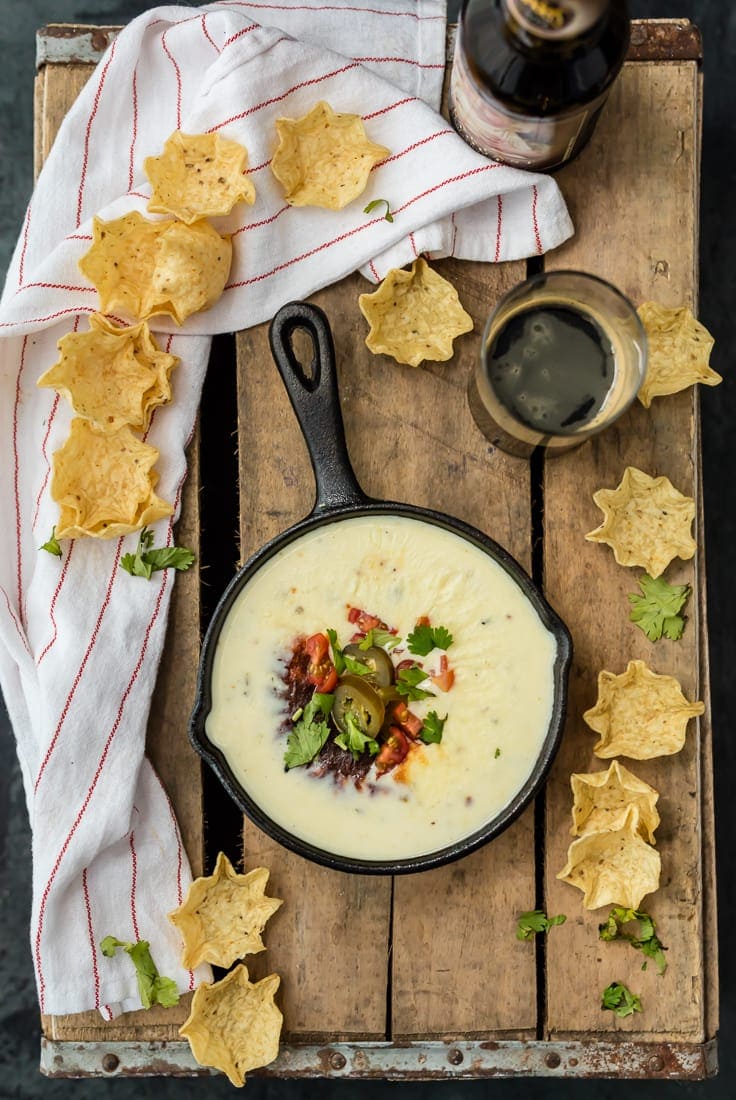 Why this is the BEST queso recipe
White Queso Dip is the stuff dreams are made of. A great salsa or queso recipe can be life changing!
I've been on the hunt for the perfect white cheese dip recipe for years and years, and this one has finally completed me. If you haven't made homemade queso blanco before, then today is the day. SO YUMMY!
I feel like I've been searching for the perfect restaurant style queso recipe to serve on Taco Night and Cinco de Mayo my entire life. Why is it so hard to find? All I want is ooey gooey amazing cheese and I want it in molten liquid form. For every meal! For every dish!
I've made so many queso and cheese dip recipes, and this is hands down my classic go -to!
Making restaurant style dip is SUPER EASY and amazingly addicting…so you've been warned.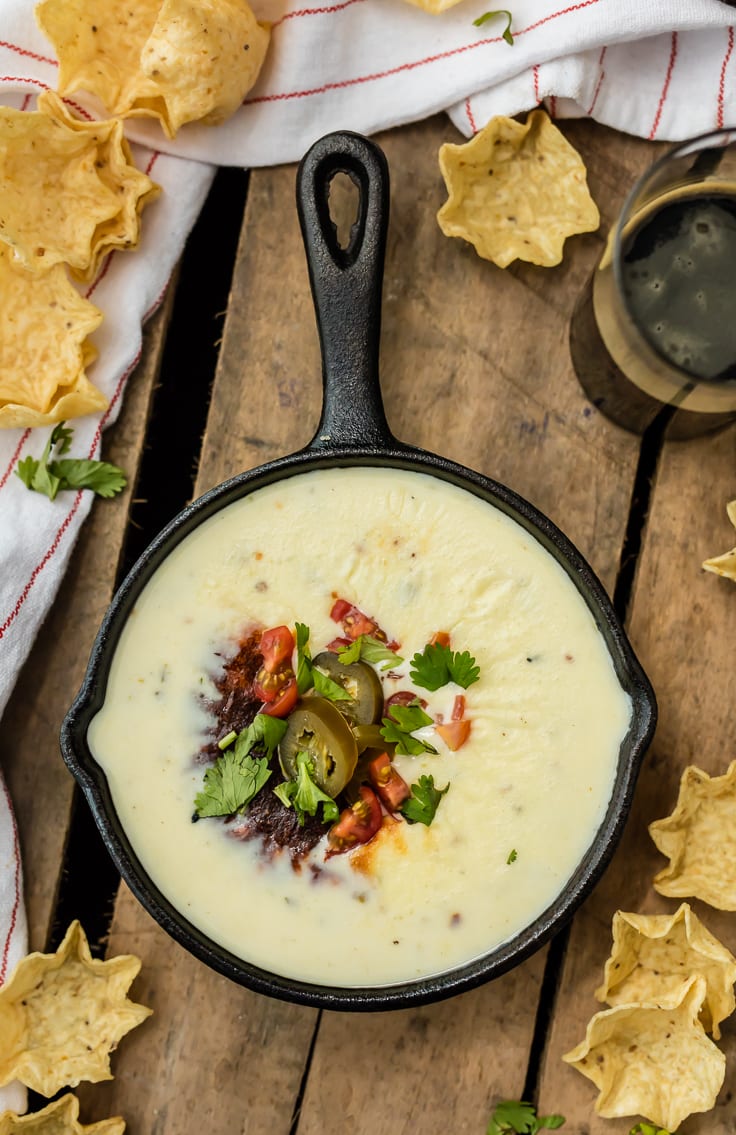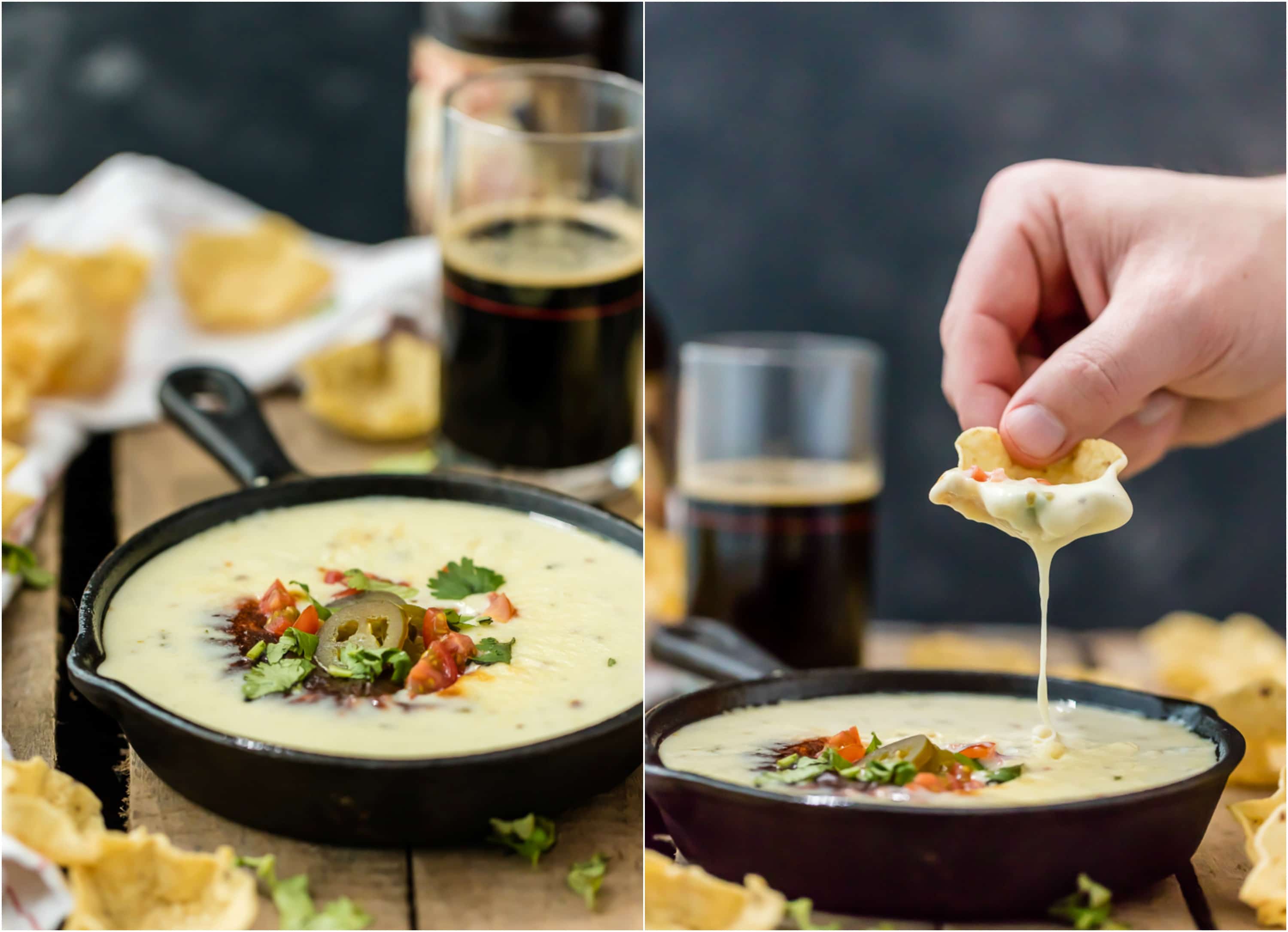 White Queso Dip Recipe
This white cheese dip is what I serve at every tailgating party, every summer bbq, and every night where I'm simply craving cheese. I have a lot of cheesy dips on this site, but this Queso Blanco is HANDS DOWN my favorite.
I've made dips of all kinds, from Chicken Enchilada Dip to Vegan Queso. I love them all and each one has their place, but this recipe is my go-to. It can be served anywhere and anytime and with literally ANYTHING. If it doesn't actually go with the meal you're preparing…then just make it as an appetizer.
Be sure to try this Queso Blanco with Chorizo too. Similar cheesy dip but with chorizo added into the mix!
As a rule, I almost always make Homemade Tortilla Chips for dipping. It's worth the extra time it takes to make them (but it doesn't take that much extra time), and bonus: they're baked and not fried!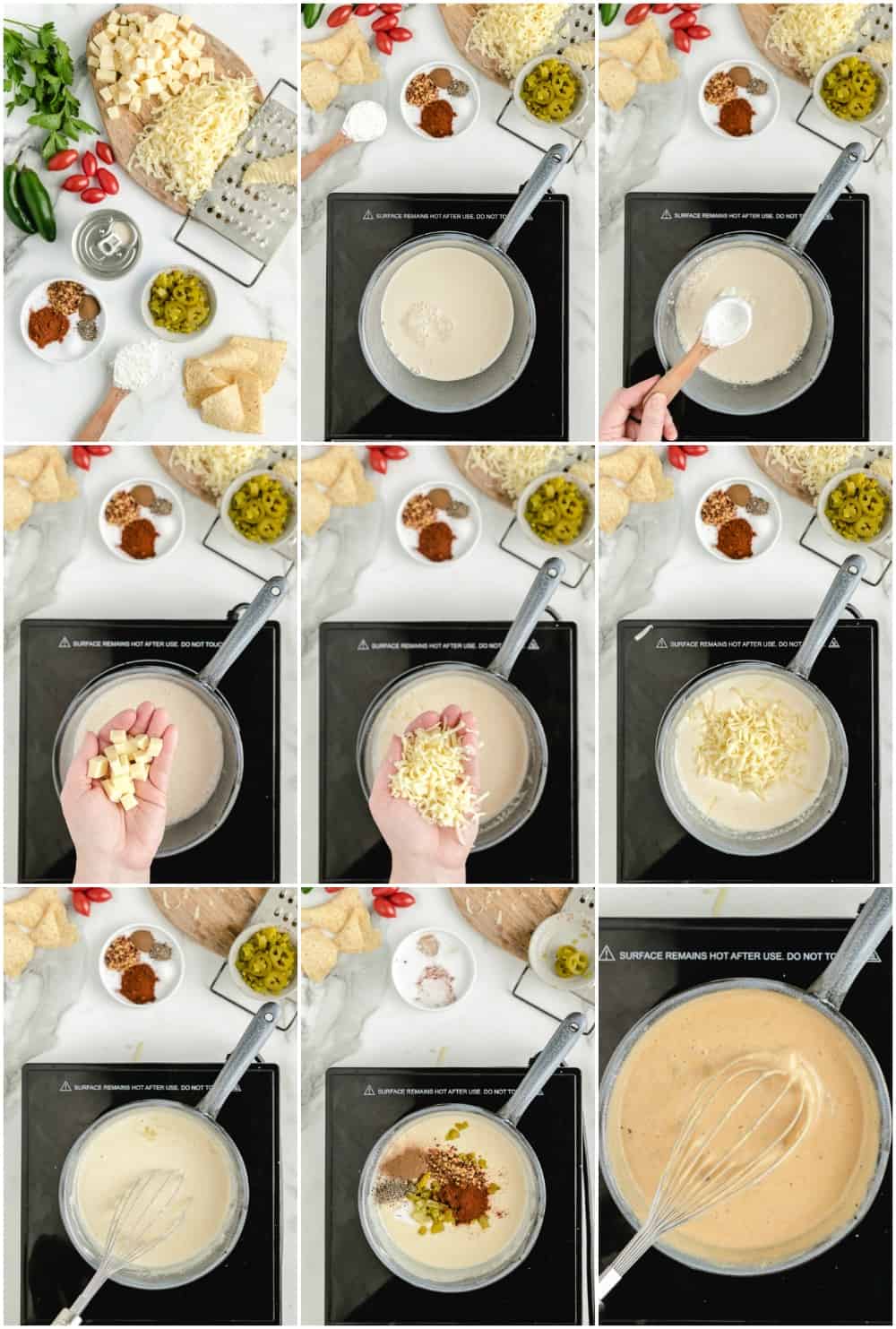 How to Make Queso Dip at Home
Making the perfect queso from scratch is easier than you can imagine. It does involve some time standing at the stove, but I have faith that you can handle it. You can do it! (and it's SO worth it).
Here are the steps in a nutshell:
Heat evaporated milk over medium/high heat.

Once simmering, reduce heat to low. TIP: Don't allow the milk to actually boil over, it can happen quickly!

Stir in your cheese in batches by the handful. Stir until fully melted, and then add more. See…it's easy!

Once all the cheese is melted, stir in any add-ins you might want, such as cooked hamburger, jalapenos, or tomatoes. This White Queso Recipe below is pretty simple, but to me the sky is the limit when it comes to delicious additions! Don't be scared to try new things.

Grab your chips and ENJOY! Or use it to make good recipes even greater like our Smothered Chicken Fajitas or Perfect Chicken Nachos.
Be sure to watch the video to see the step by step recipe in action, and see the recipe card below for full ingredients and instructions.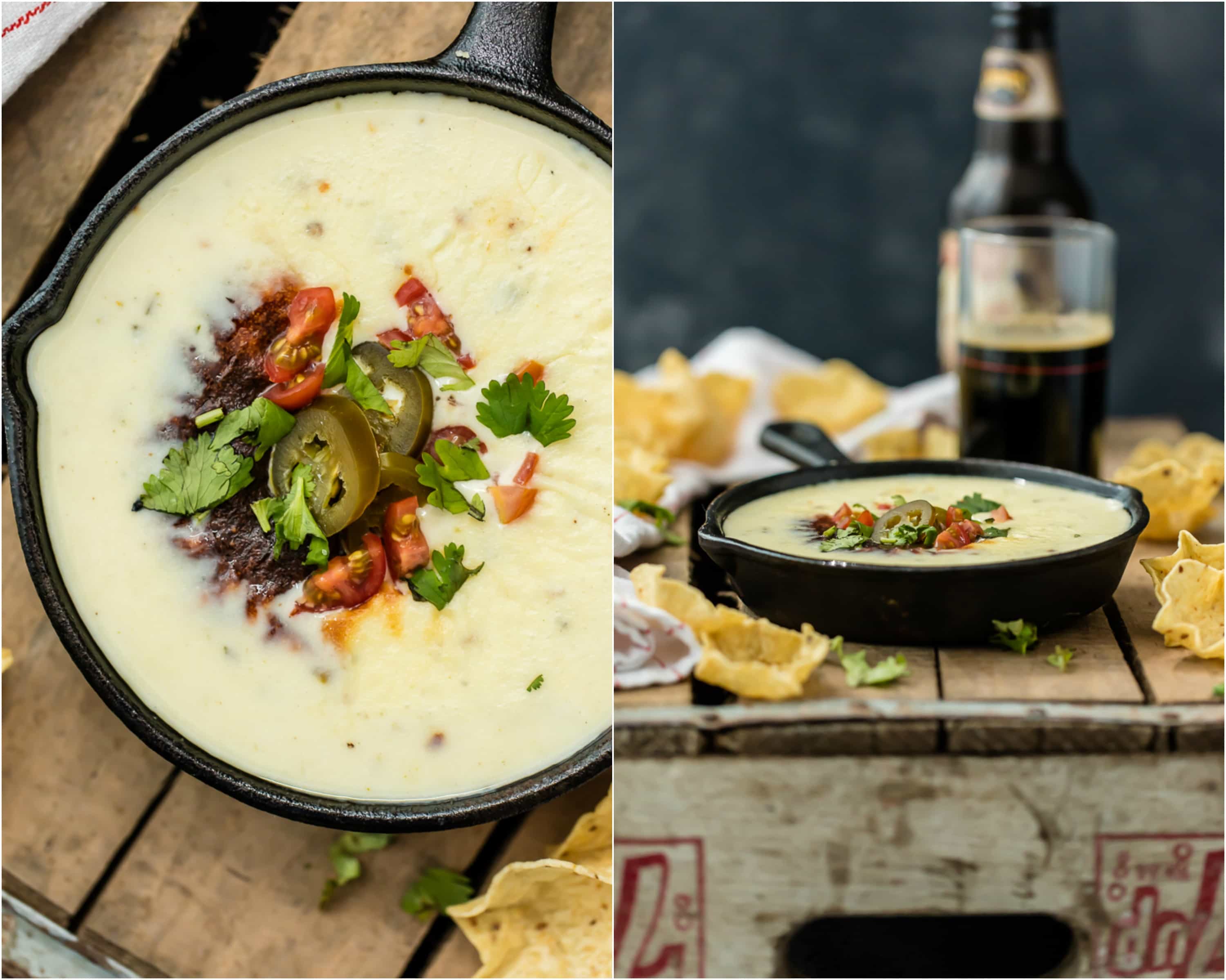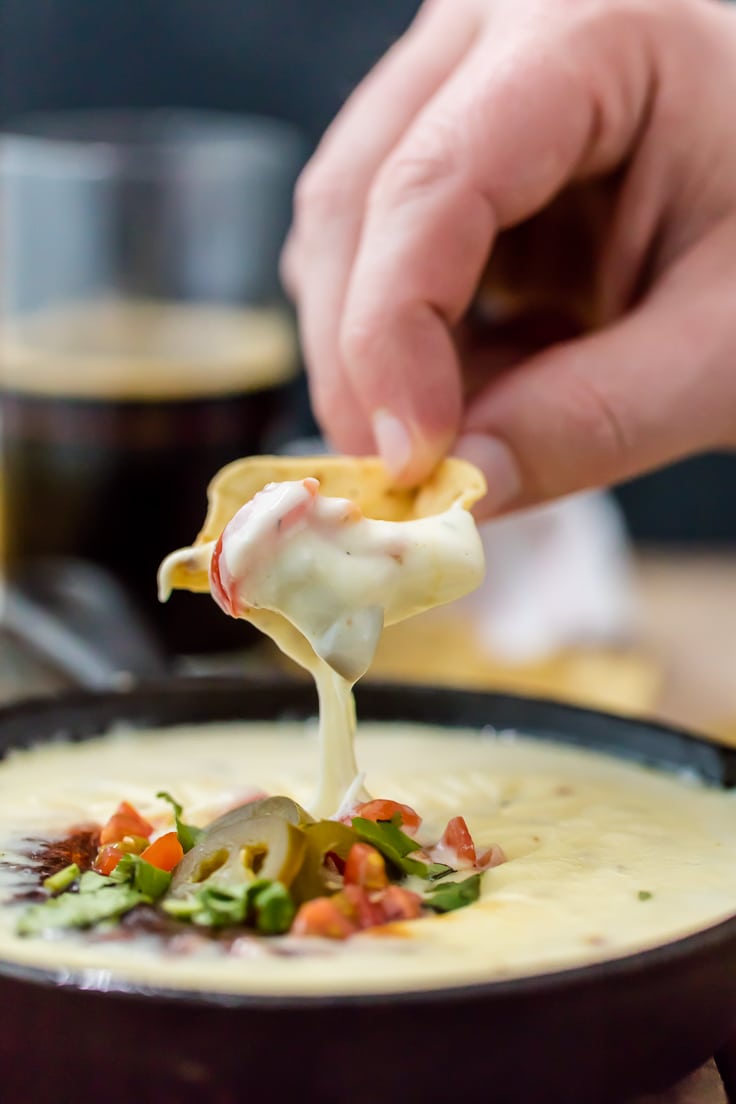 What is queso?
The literal translation of queso is just cheese, but when we talk about it here in the U.S., we're talking specifically about the melty, liquidy, amazing goodness that is queso DIP. I always think of the traditional kind you get at Mexican restaurants, which is why I wanted make this authentic white queso recipe.
This is truly the cheese dip of your DREAMS! It's a copycat recipe from your favorite restaurant. I've loaded mine with green chiles, spices, and topped with cilantro, jalapeños, and tomatoes. Perfect!
Does this stay smooth and creamy as it cools?
This one is a little bit different than the rotel cheese dip you might have had at a Super Bowl Party. Since it's made with real quality cheese, it does harden as it cools.
To keep it warm:
After making it, move it into a slow cooker and set it to WARM. You can easily serve the dip straight out of the crock pot, AND keep it warm, smooth, and creamy through the whole party.
Otherwise, just heat it up in the microwave for 30 seconds and stir generously once it starts to get cold.
It reheats beautifully after refrigerating too! Add a bit of milk while stirring and reheating on the stove to help rehydrate it and add creaminess back in.
This is perfect for Taco Night! Check out the full Taco Tuesday Guide for more tips, ideas, and recipes.
Best Queso Recipe Tips
We have tried to make this homemade queso as easy as possible so that anyone can make it and be sure that it comes out PERFECT each and every time. Here are some tips we have come up with over the years:
Use evaporated milk instead of milk, cream, or half and half. When I first posted this recipe, you might remember I used half and half, which is half milk/half cream. The recipe always worked for us, but I had some readers comment that their recipe was separating while cooking. NO BUENO! Using evaporated milk should fix that issue as it has less moisture. Voila!
Don't let the milk overheat. Once the milk reaches a light simmer, immediately reduce to low. Never bring the heat over medium/low past that point. Cheese dip that gets too hot can become grainy, and we don't want that!
We've added cornstarch. Cornstarch is used to thicken the queso dip and works great!
Since I make this over and over again throughout the years, I'm always working to make the recipe better and better. I'll be sure to keep you guys updated with any new tips and changes.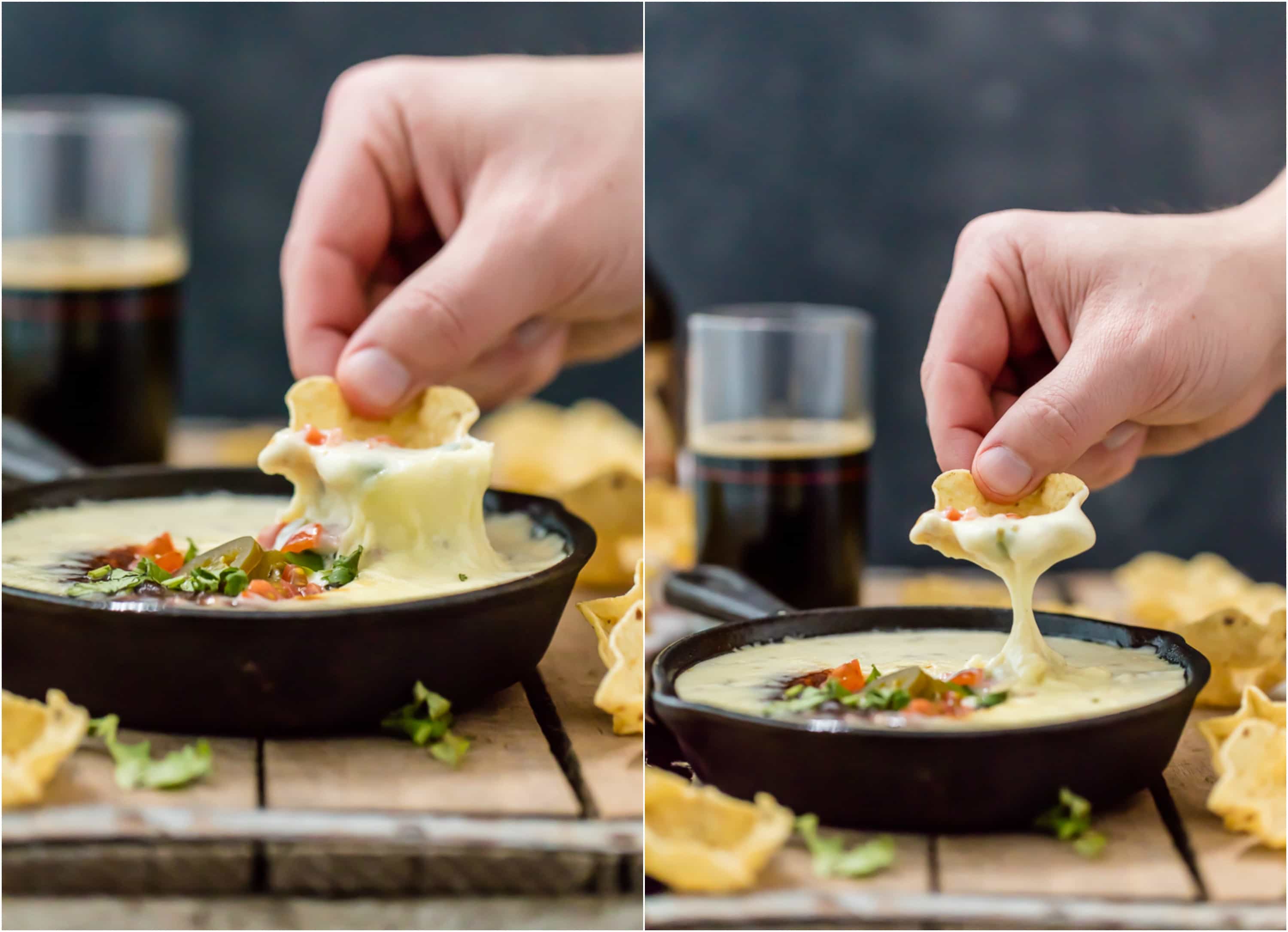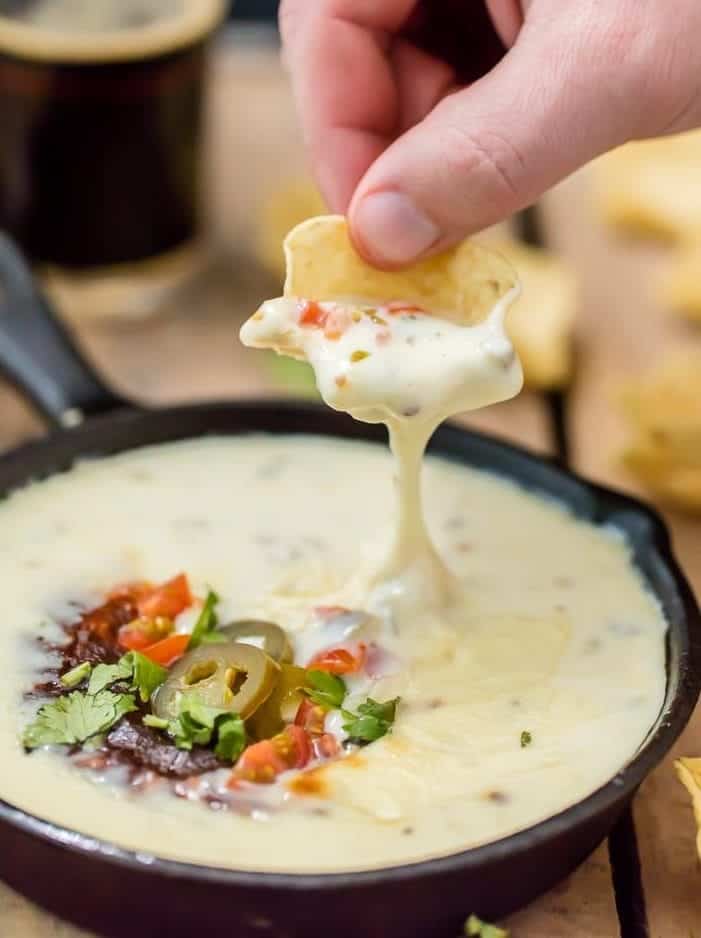 Best Cocktail Pairings
There's nothing better to pair with Homemade Queso than an amazing Margarita! We have compiled all our favorite Margarita Recipes in the ULTIMATE MARGARITA GUIDE. From classic to unique to flavored to frozen, we have you covered! Be sure to check it out today.
When I made this for the first time Pat was beaming with pride, Dill and Scout were super jealous, and I was just fat and happy. I had finally found my white whale. I'd finally found my SUPER EASY Restaurant Style White Queso dip. This is the perfect time for a mic drop. Of all the recipes I've tried, this is a clear favorite.
Easy Queso Recipe
I love everything I post on here, but this easy queso recipe is one I REALLY want to shout from the blog-tops. It's the perfect consistency, the perfect flavor, and perfectly simple. My kind of recipe.
If you're looking for some awesome recipes that pair well with this dip recipe, be sure to check out our Baked Chicken Tacos, Easy Tex Mex Rice, and Best Stuffed Peppers. High fives all around! If you're looking for an easy restaurant style white queso recipe, this is the ticket.
Watch the video and see the recipe card below for details on How to Make Queso Dip. Enjoy!
If you're looking for more cheese dip recipes, we have you covered!