This Queso recipe is the most delicious white cheese dip you will ever taste. If you're looking for an easy queso dip recipe, you've come to the right place. No velveeta here, just real quality cheese and ingredients melted together and ready to dip. Learn how to make queso from scratch, just like what you get at your favorite Mexican restaurant!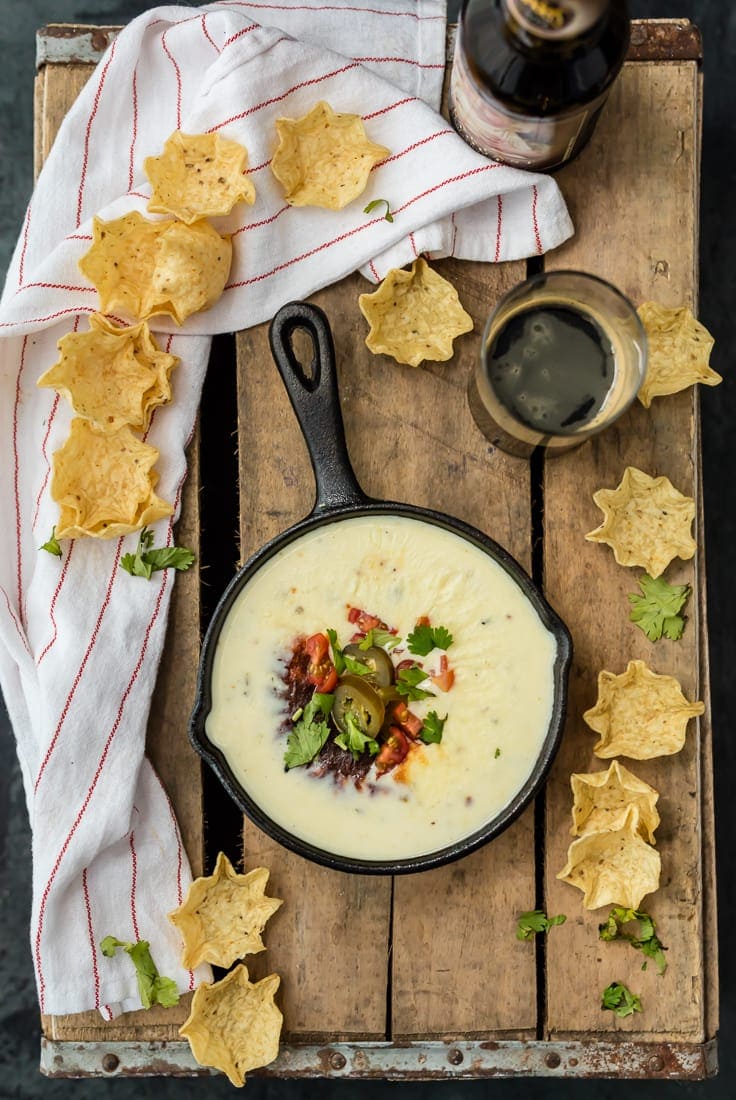 Why this is the BEST queso recipe
White Queso Dip is the stuff dreams are made of. A great salsa or queso recipe can be life changing!
I've been on the hunt for the perfect white cheese dip recipe for years and years, and this one has finally completed me. If you haven't made homemade queso blanco before, then today is the day.
I feel like I've been searching for the perfect restaurant style queso recipe to serve on Taco Night, Super Bowl, and Cinco de Mayo my entire life. One that's smooth, creamy, cheesy, and just perfect for dipping, nachos, and pouring over my favorite Tex-Mex dishes.
I've made so many queso and cheese dip recipes, and this is hands down my go-to option! It's become a reader favorite since I first posted this and I'm certainly not surprised.
Making restaurant style Mexican cheese dip is SUPER EASY and amazingly addicting…so you've been warned.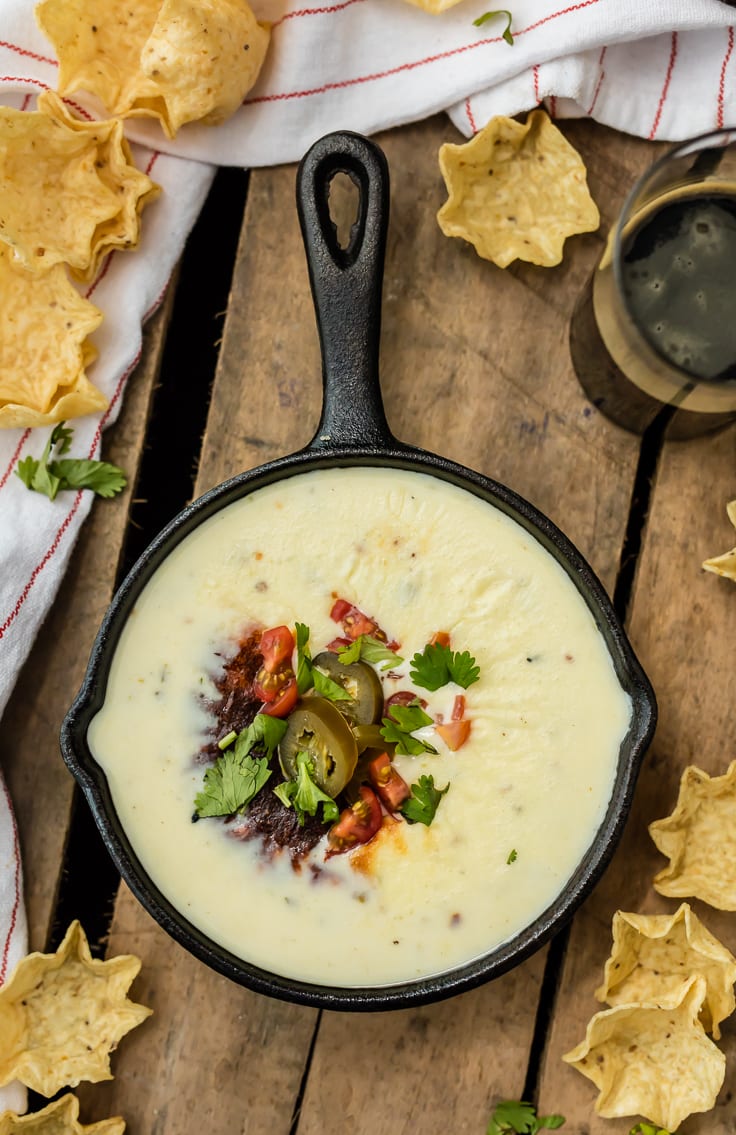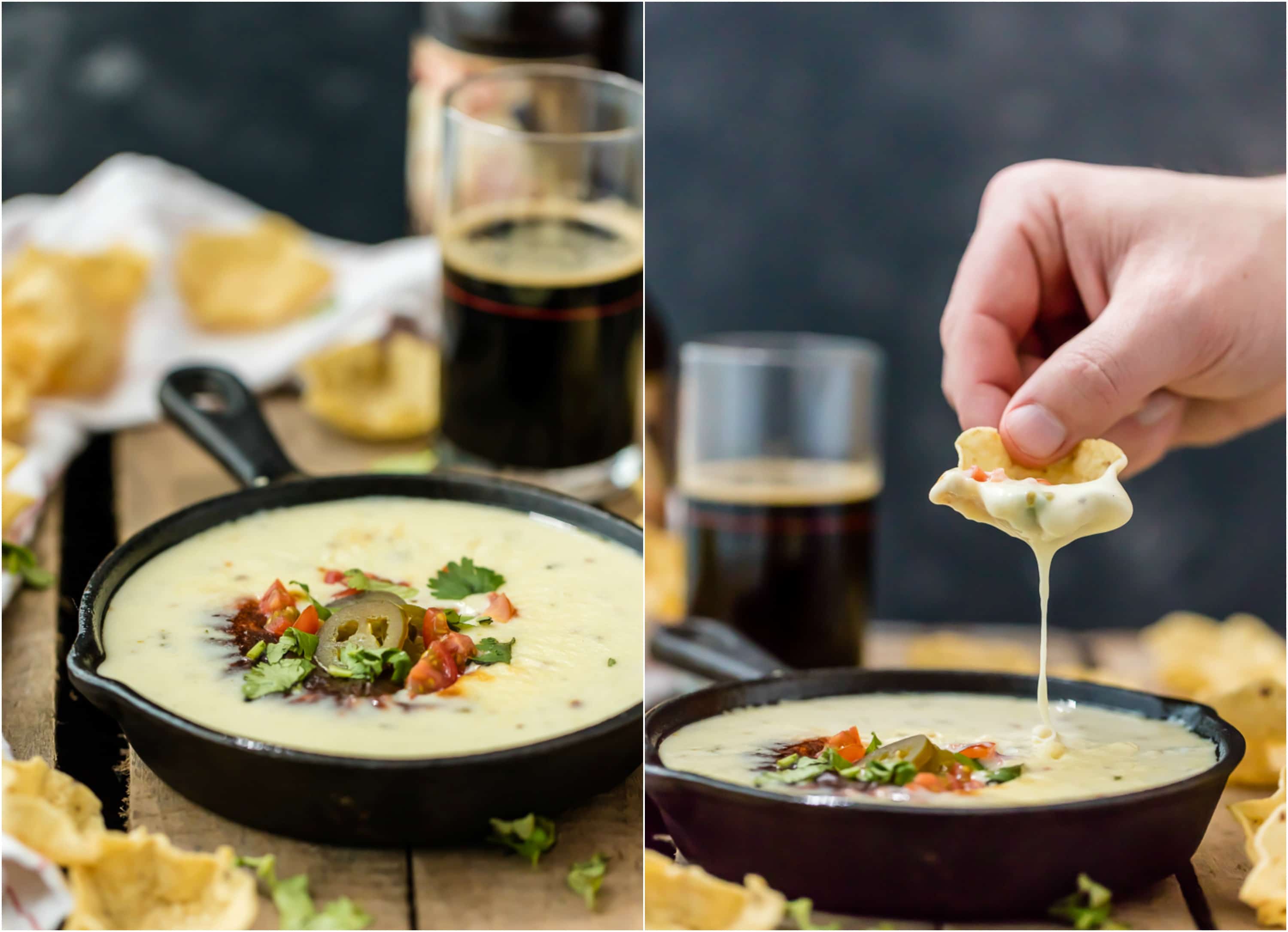 White Queso Dip Recipe
This white cheese dip is what I serve at every tailgating party, every summer bbq, and every night where I'm simply craving cheese. I have a lot of cheesy dips on this site, but this Queso Blanco is HANDS DOWN my favorite.
I've made dips of all kinds, from Chicken Enchilada Dip to Vegan Queso. I love them all and each one has their place, but this recipe is my go-to. This makes the perfect appetizer for any meal.
As a rule, I almost always make Homemade Tortilla Chips for dipping. It's worth the extra time it takes to make them (but it doesn't take that much extra time), and bonus: they're baked and not fried!
What kind of cheese should I use for queso?
To get that classic Mexican restaurant queso blanco, use white American cheese. I also mixed in a small amount of Mozzarella to enhance the texture and flavor.
You could also mix in pepper jack, Monterey jack, or another type of cheese instead of Mozzarella.
What is queso sauce made of?
White American Cheese and Mozzarella
Evaporated Milk: I prefer this over cream, milk, or half & half
Cornstarch: a good thickening ingredient
Jalapenos or Green Chiles (or both!)
Chili Powder
Red Pepper Flakes
Salt & Pepper
Optional Spices: Cumin and/or nutmeg (I personally love the flavor, but you can certainly make this queso sauce without them)
Garnish: top with cilantro, diced tomatoes, and jalapenos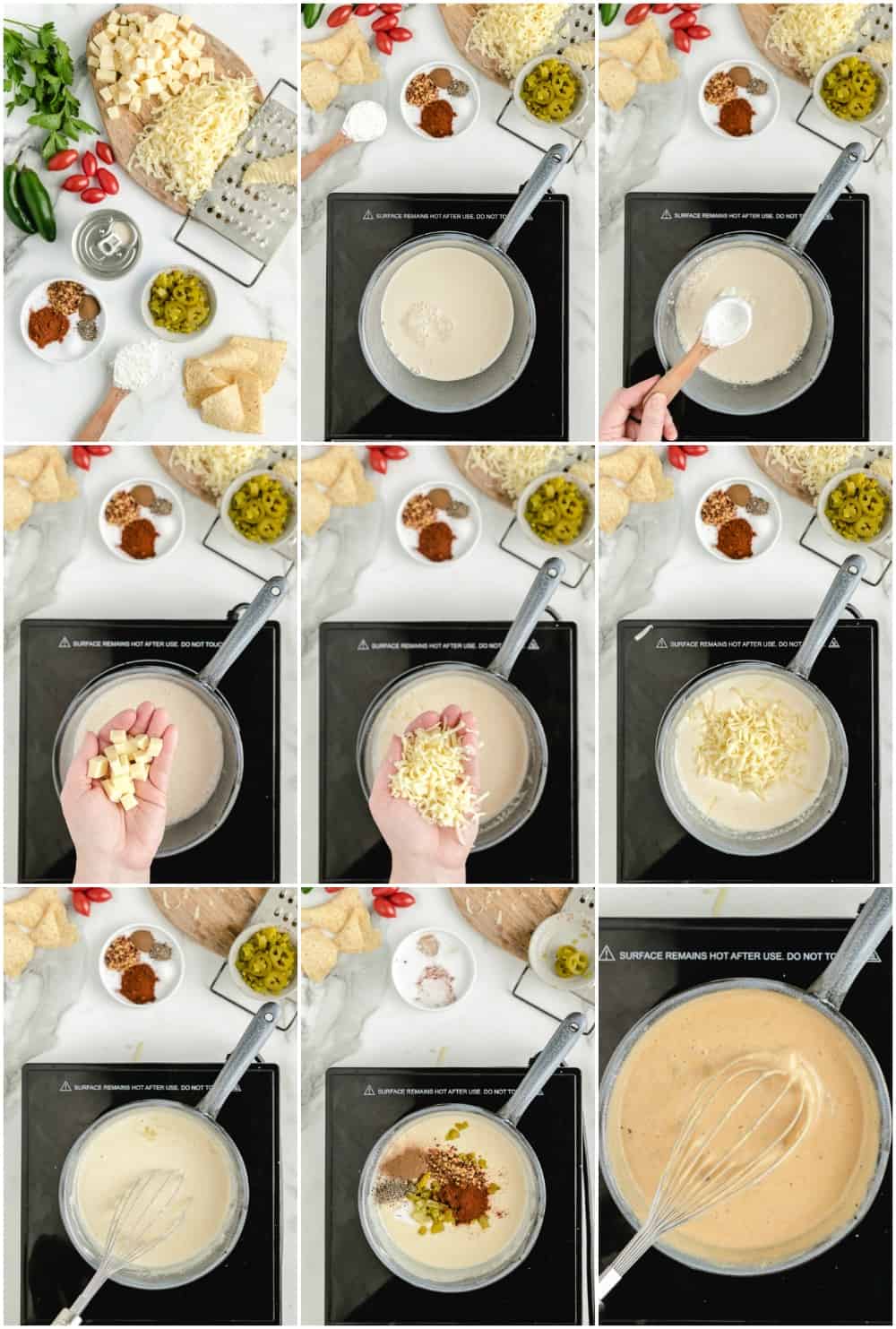 How to Make Queso Dip from Scratch
Making the perfect queso from scratch is easier than you can imagine. It does involve some time standing at the stove, but I have faith that you can handle it. This is really about melting the cheese perfectly and adding in a few things for flavor.
Here are the steps in a nutshell:
Heat evaporated milk and whisk in cornstarch. Once simmering, reduce heat to low.

Stir in your cheese in batches by the handful. Stir until fully melted, and then add more and stir until all cheese has been added and melted together.

Stir in any add-ins, chili powder, red pepper, jalapenos, etc.

Grab your chips and ENJOY! Or use it to make good recipes even better like our Smothered Chicken Fajitas or Perfect Chicken Nachos.
Be sure to watch the video to see the step by step recipe in action, and see the recipe card below for full ingredients and instructions.
Recipe Variations
This White Queso Recipe is pretty simple as is, but you can easily change it up in so many ways by adding in different ingredients. Follow the basic recipe, then try some new things to add in.
Here are some ideas:
Add in chorizo (like I did in this recipe).
Mix in hamburger. Cook it separately (with taco seasoning) and then stir in.
Add black beans, corn, and diced tomato for a chunkier dip.
Make it in a Slow Cooker:
Set slow cooker to HIGH and add in the evaporated milk/cornstarch and all of the cheese.
Cover and let the cheese fully melt, stirring regularly.
Once melted, switch cooker to LOW and stir in any add-in ingredients and spices.
Keep it in the slow cooker while serving (great option for parties) on warm, and be sure to stir it occasionally.
Storing Queso Dip
If you have any leftover dip, pour it into an airtight container and store in the refrigerator up to 3-4 days.
To reheat: Add a splash of milk and heat in the microwave in 15-30 second increments, stirring between each increment to make sure it's fully heated through.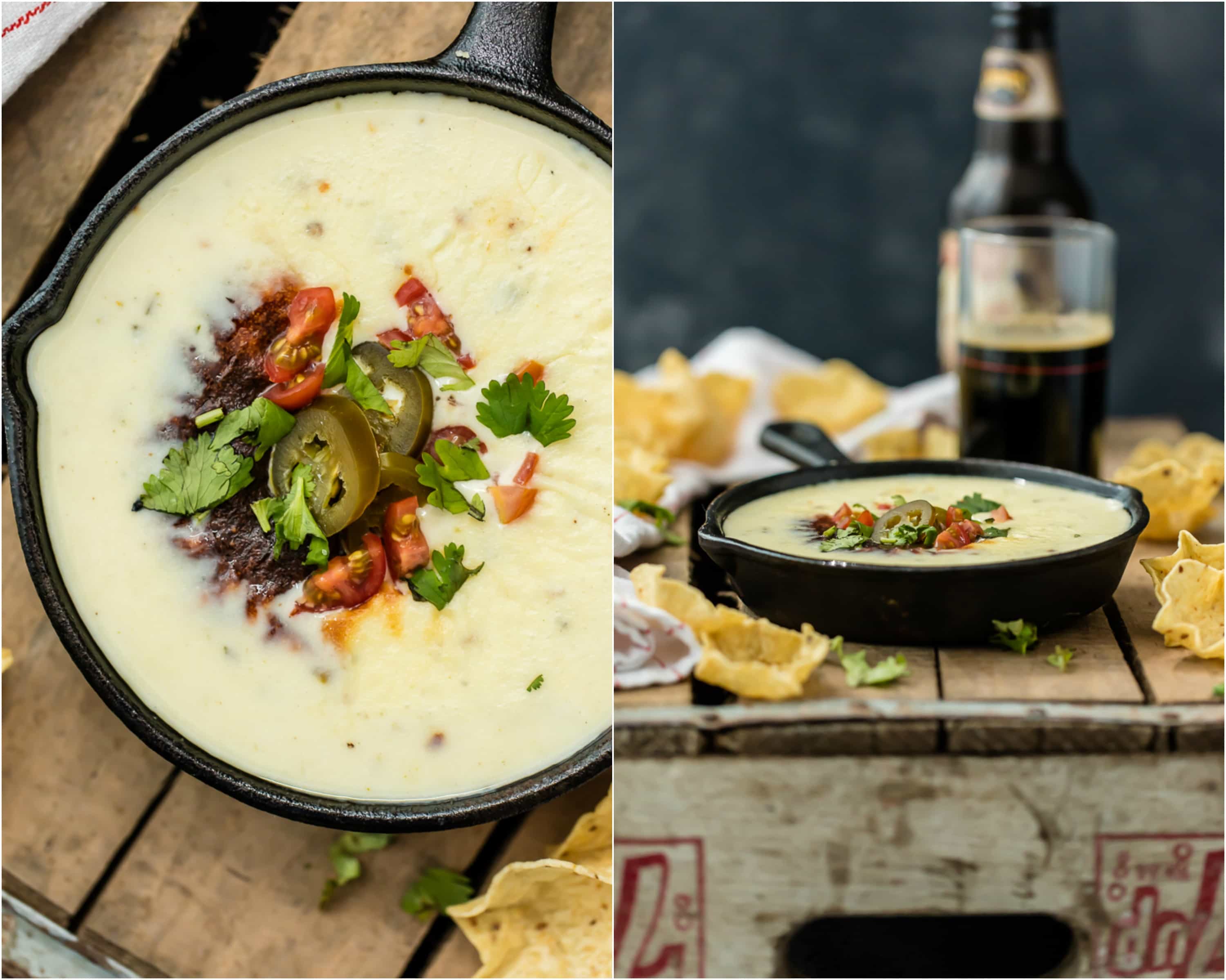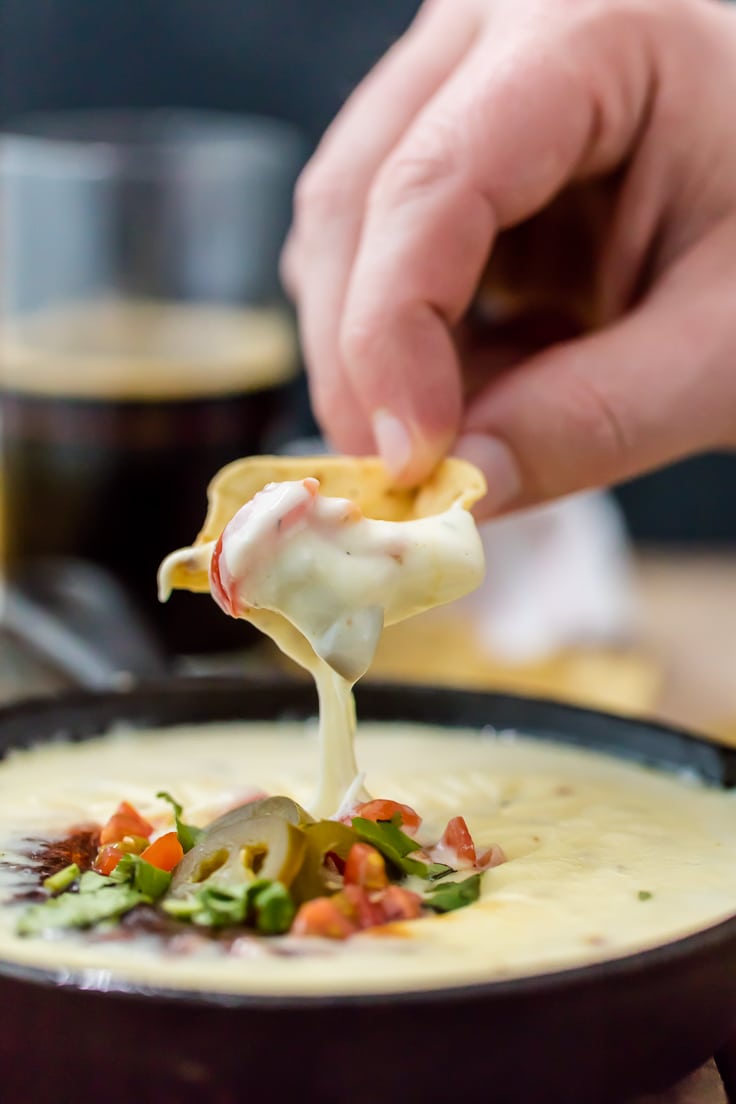 What is queso? Is it just melted cheese?
The literal translation of queso is cheese, but when we talk about it, we're talking specifically about the melty, liquidy, amazing goodness that is queso DIP. I always think of the traditional kind you get at Mexican restaurants, which is why I wanted make this authentic white queso recipe.
This is truly the cheese dip of your DREAMS! It's a copycat recipe from your favorite restaurant. I've loaded mine with green chiles, spices, and topped with cilantro, jalapeños, and tomatoes. Perfect!
Does this stay smooth and creamy as it cools?
The evaporated milk helps this Mexican cheese dip stay creamy, but it will still harden as it cools (that's just what cheese does). So if you're not going to be inhaling this in 10 minutes, follow these tips to keep it nice and warm (and smooth and creamy).
To keep it warm:
After making it, move it into a slow cooker and set it to WARM. You can easily serve the dip straight out of the crock pot, AND keep it warm, smooth, and creamy through the whole party.
Otherwise, just heat it up in the microwave for 30 seconds and stir generously once it starts to get cold.
It reheats beautifully after refrigerating too! Add a bit of milk while stirring and reheating on the stove to help hydrate it and add creaminess back in.
Best Queso Recipe Tips
We have tried to make this homemade queso as easy as possible so that anyone can make it and be sure that it comes out PERFECT each and every time. Here are some tips we have come up with over the years:
Use evaporated milk instead of milk, cream, or half and half. When I first posted this recipe, I used half and half (half milk/half cream). The recipe always worked for us, but I had some readers comment that their recipe was separating while cooking. NO BUENO! Using evaporated milk should fix that issue as it has less moisture. Voila!
Don't let the milk overheat. Once the milk reaches a light simmer, immediately reduce to low. Never bring the heat over medium/low past that point. Cheese dip that gets too hot and overcooks can become grainy, and we don't want that!
We've added cornstarch. Cornstarch is used to thicken the queso dip and works great!
Always be stirring! As you add in batches of cheese to melt, be sure to whisk constantly to make sure it stays creamy and melts perfectly.
Since I make this over and over again throughout the years, I'm always working to make the recipe better and better. I'll be sure to keep you guys updated with any new tips or recipe changes as I go. And of course, I always appreciate any feedback from you guys in the comments below.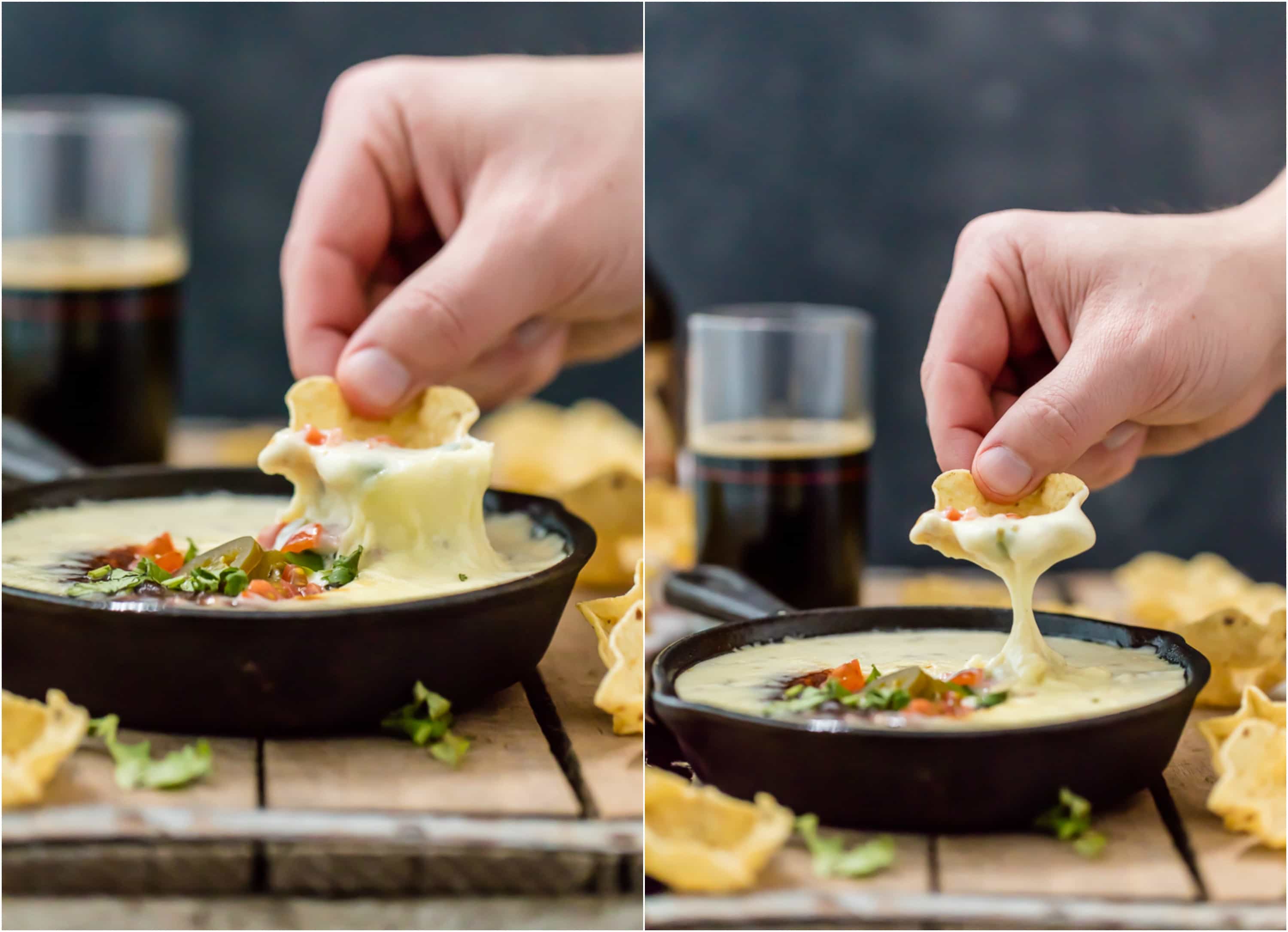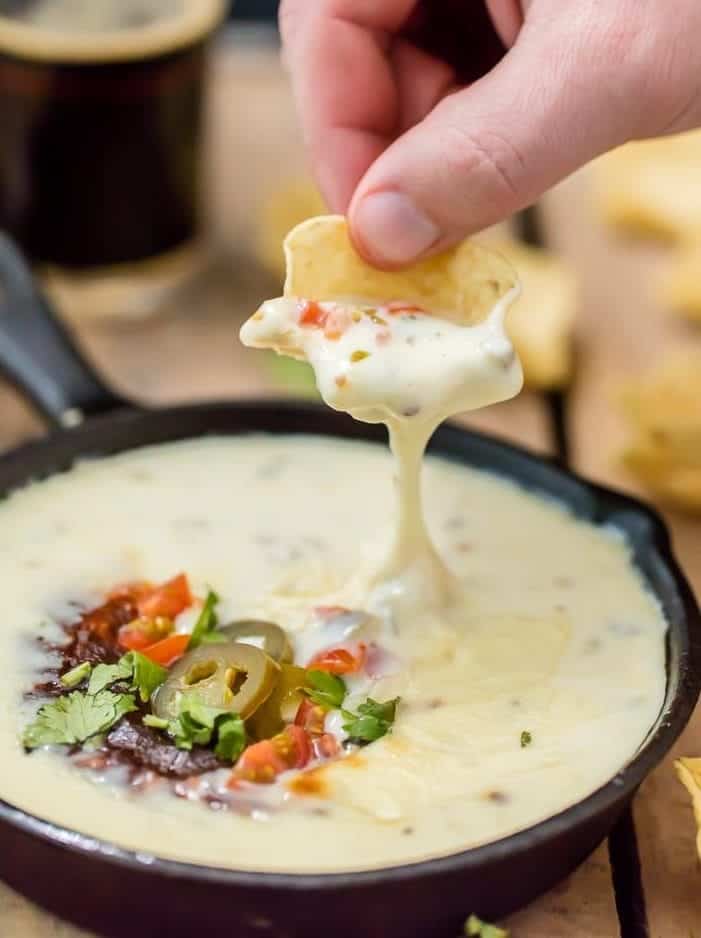 Cocktail Pairings
There's nothing better to pair with this Homemade Queso recipe than an amazing Margarita! We have compiled all our favorite Margarita Recipes in the ULTIMATE MARGARITA GUIDE. From classic to unique to flavored to frozen, we have you covered!
When I'm making this restaurant queso for a little appetizer, I also love serving it with this Spicy Cucumber Margarita or this Blood Orange Paloma.
Easy Queso Recipe
I absolutely love this easy white queso recipe and it's always a hit at parties, It's the perfect consistency, the perfect flavor, and perfectly simple. My kind of recipe.
If you're looking for some awesome recipes that pair well with this dip recipe, be sure to check out our Baked Chicken Tacos, Easy Tex Mex Rice, and Best Stuffed Peppers.
Watch the video and see the recipe card below for details on How to Make Queso Dip. Enjoy!
If you're looking for more dip recipes, we have you covered!