QUESO RECIPE – EASY QUESO BLANCO
This EASY WHITE QUESO RECIPE (EASY QUESO BLANCO) is our favorite white queso dip recipe, EVER. This easy white cheese dip recipe creates a creamy dip that tastes just like the queso at your favorite Mexican Restaurant. If you've ever wanted to know how to make queso on the stove…this recipe is for you! No velveeta, just real quality cheese and ingredients melted together and ready to dip.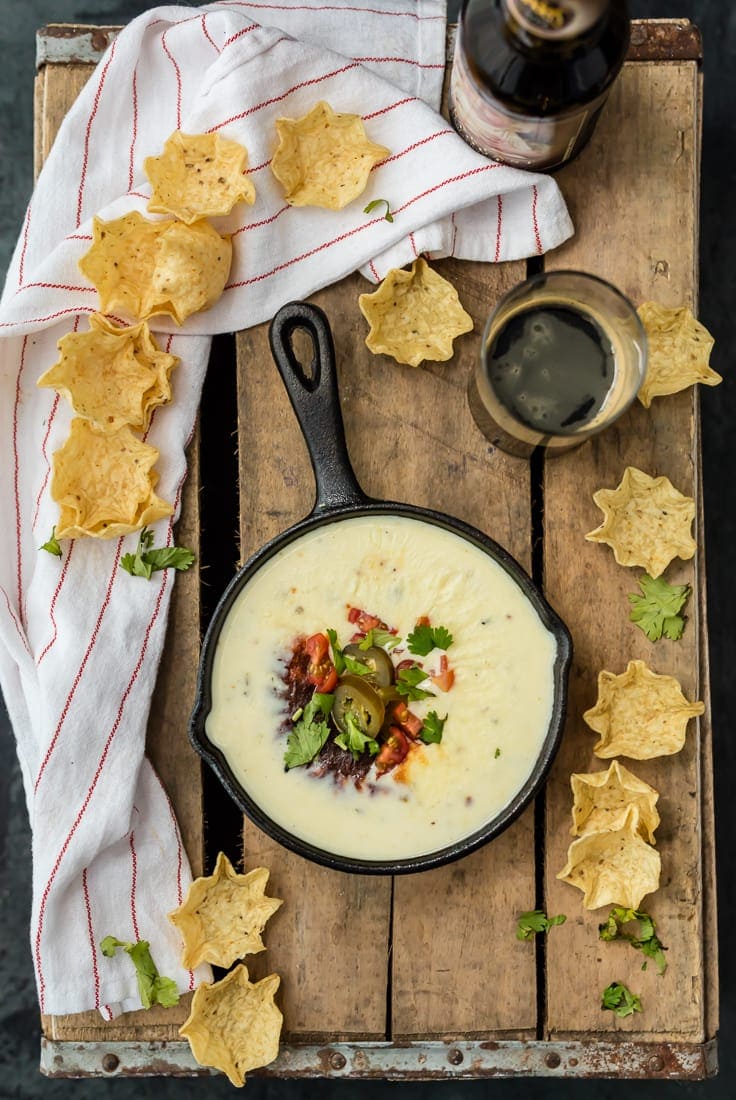 QUESO!!!! My absolute favorite thing on the planet.
I've been on the hunt for the perfect queso recipe for years and years and this one has finally completed me. If you haven't made homemade queso blanco before…today is the day. SO YUM!
I feel like I've been searching for the perfect restaurant style white queso recipe my entire life. Why is it so hard to find?? All I want is ooey gooey amazing cheese and I want it in molten liquid form. For every meal. My dream is to master the perfect easy queso recipe, but for some reason, I've only been able to find that perfection at Mexican restaurants. Their secret recipes have alluded me for years. Well now we can all enjoy it at home.
Making restaurant style white queso is SUPER EASY and amazingly addicting…so you've been warned.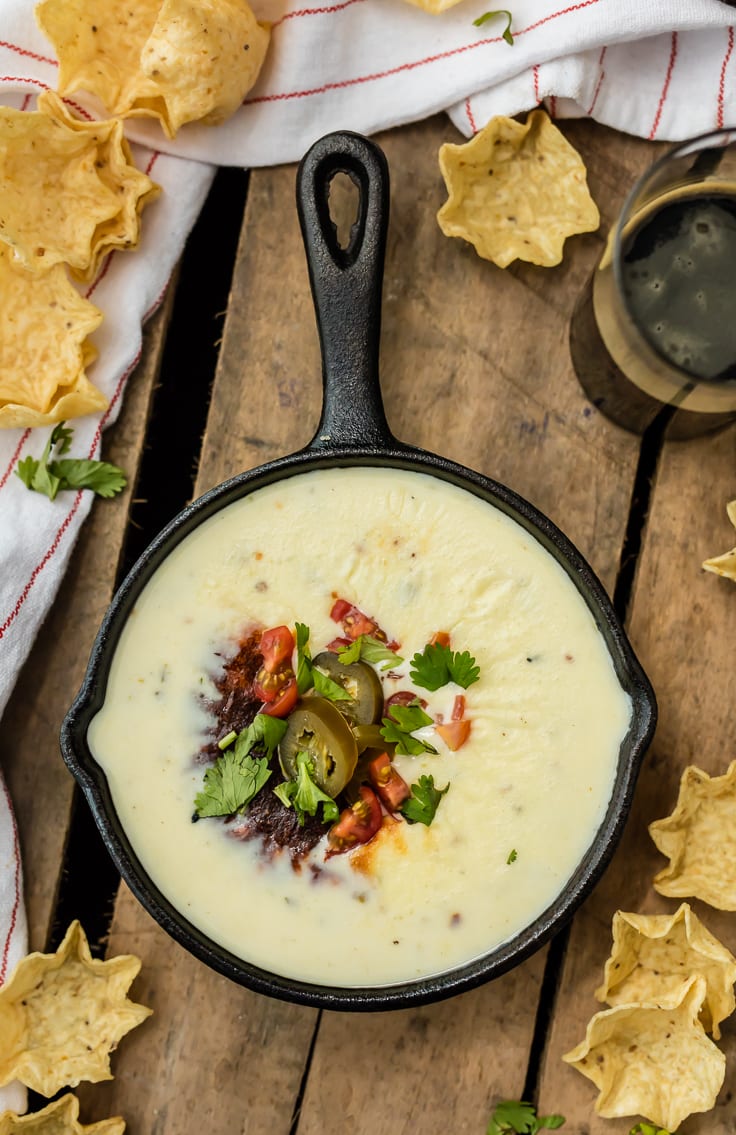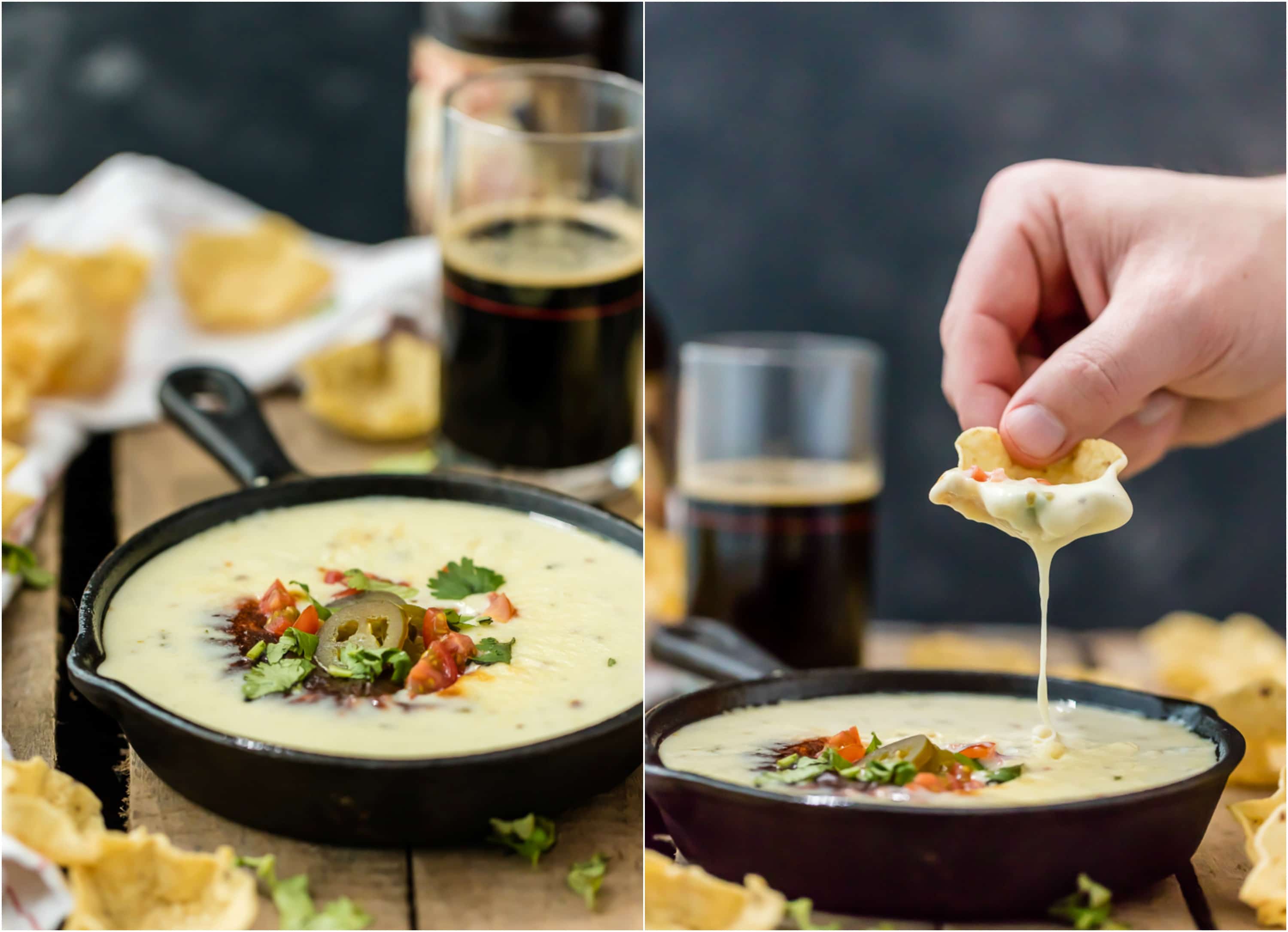 This QUESO DIP RECIPE is what I serve at every tailgating party, every summer bbq, and every night where I'm simply craving cheese. Which is a lot.
I've made cheese dips of all kinds, from Chicken Enchilada Dip to Cowboy Queso to Dairy Free Queso. I love them all and each one has their place, but this White Queso Recipe is my go-to. It can be served anywhere and anytime and with literally ANYTHING. If it doesn't actually go with the meal you're preparing…then make it as an appetizer. If I could eat it for every meal…I would.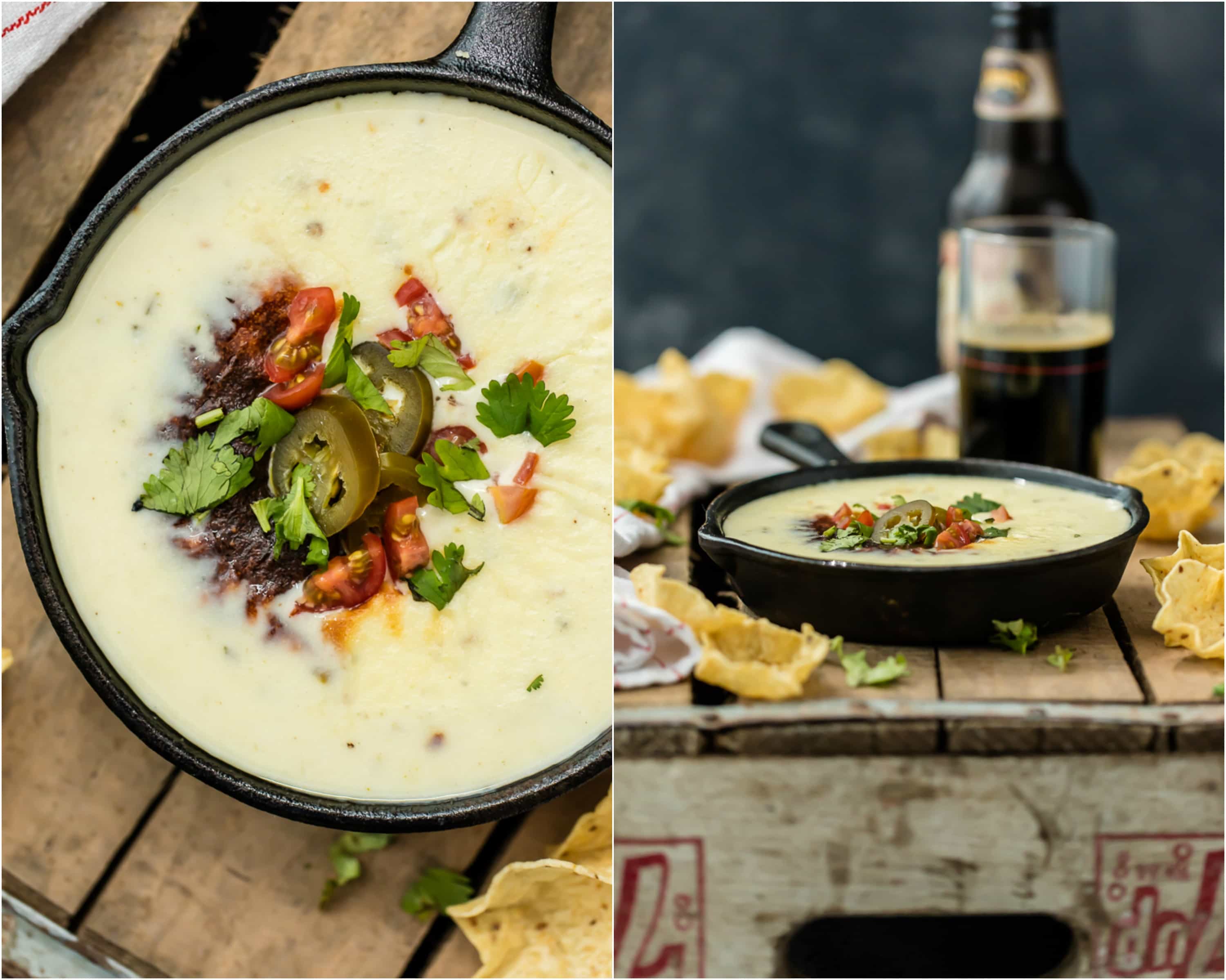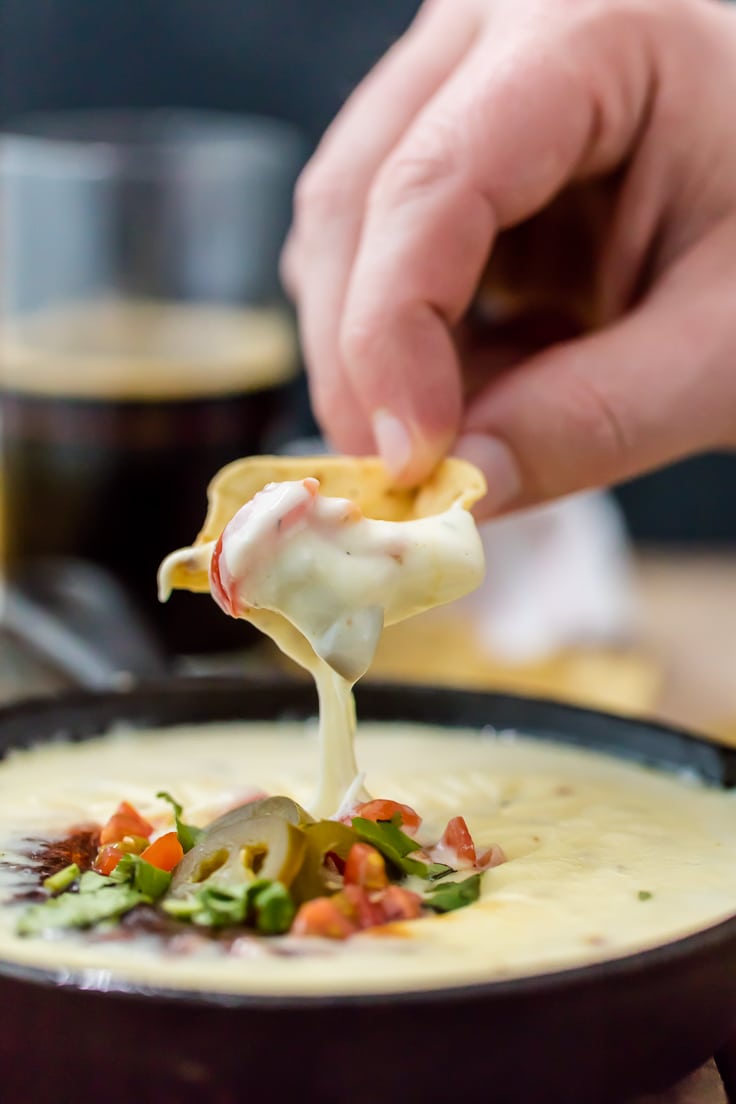 What is queso?!
Queso Cheese Dip It's the cheese dip of your DREAMS! It's a copycat cheese dip from your favorite restaurant chips and cheese. I've loaded mine with green chiles, spices, and topped with cilantro, jalapeños, and tomatoes.
Does this White Queso Recipe stay smooth and creamy as it cools?
This one is a little bit different than the rotel cheese dip you might have had at a Super Bowl Party. Since it's made with real quality cheese it does harden as it cools. You can keep it warm in a slow cooker after making or just reheat as you're enjoying it. It reheats beautifully! Add a bit of milk when reheating if necessary.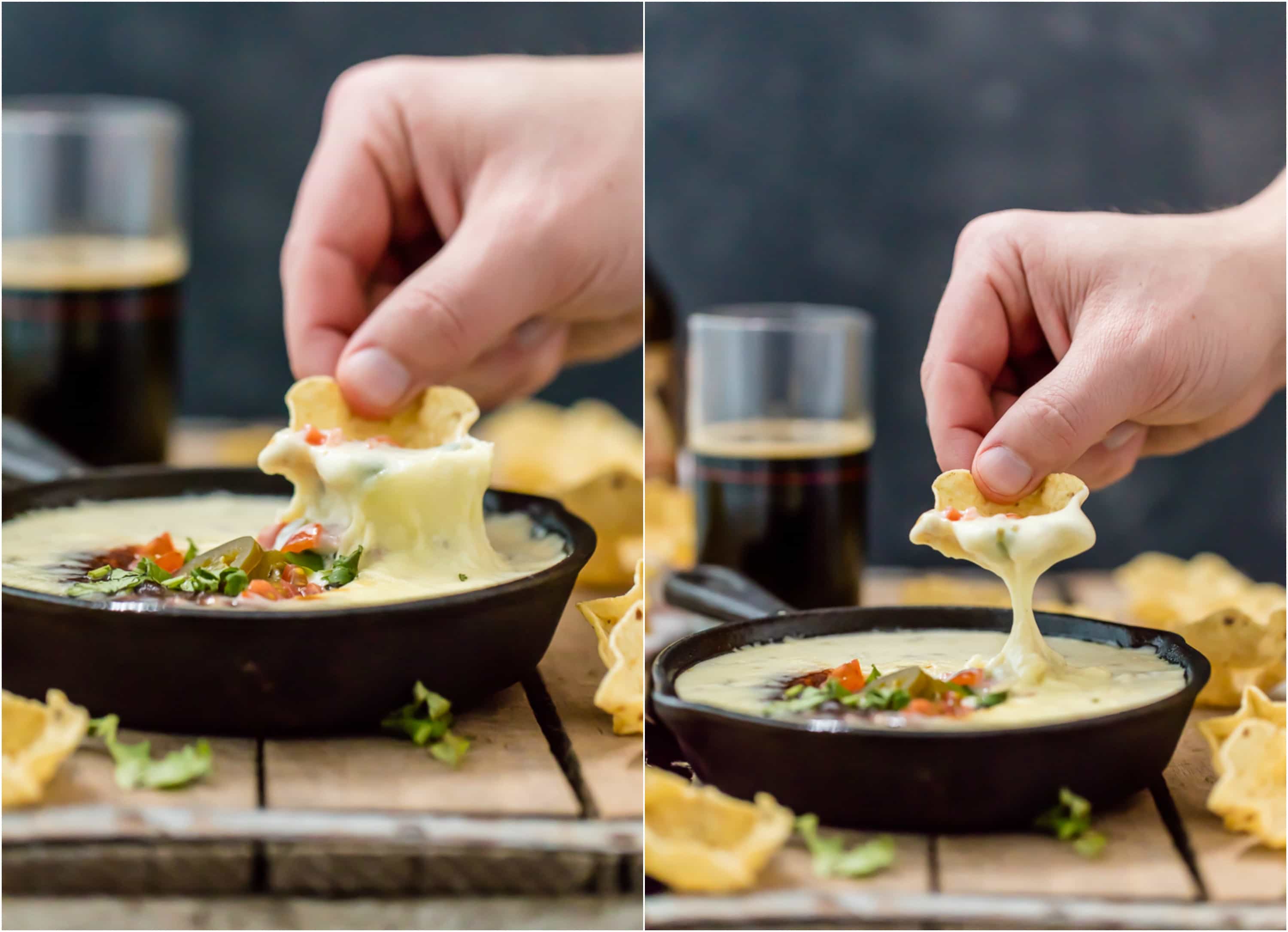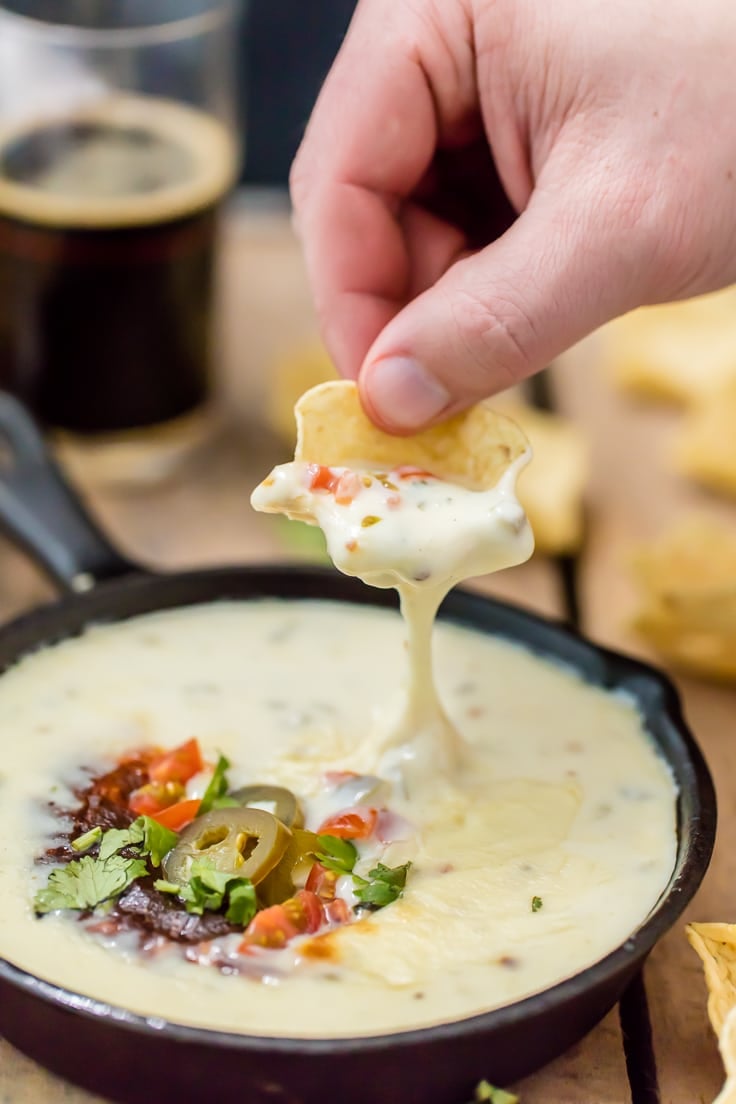 Queso Blanco is my all-time favorite appetizer. If you're in the mood for a cheese dip, I hope you give this queso recipe a try.
When I made this for the first time Pat was beaming with pride, Dill and Scout were super jealous, and I was just fat and happy. I had finally found my white whale. I'd finally found my SUPER EASY Restaurant Style White Queso. This is the perfect time for a mic drop. Of all the queso recipes I've tried, this is a clear favorite.
I love everything I post on here, but this easy queso recipe is one I REALLY want to shout from the blog-tops. It's the perfect consistency, the perfect flavor, and perfectly simple. My kind of recipe.
If you're looking for some awesome recipes that pair well with this queso recipe, be sure to check out our Baked Chicken Tacos, Easy Tex Mex Rice, and Tequila Lime Chicken Nachos. High fives all around!
If you're looking for an easy restaurant style white queso recipe, this is the ticket. Enjoy!
Easy Restaurant Style White Queso
This is our favorite Easy Queso Recipe!
5 minPrep Time
10 minCook Time
15 minTotal Time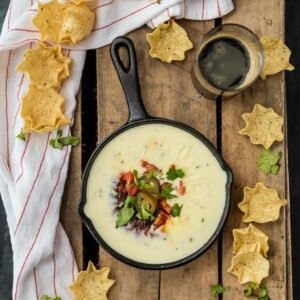 Ingredients
3/4 lb good quality white american cheese (buy it sliced at the deli counter at your grocery store. Then chop into small squares), finely chopped
4 ounces (1/4 pound) good quality fontina or mozzarella cheese, shredded
1 1/4 cup half-and-half
2 tablespoons canned jalapenos, finely chopped (You can also use Green Chiles. I love Old El Paso SO MUCH for both types!)
1 teaspoon chili powder (you could also use cumin if you prefer that taste)
1/2 teaspoon ground nutmeg (optional. some readers haven't liked this spice although some did, SEE NOTE) ***
1 teaspoon red pepper flakes
1/4 teaspoon salt
1/4 teaspoon black pepper
chopped cilantro, tomatoes, and jalapenos for garnish
Instructions
***You can also make this in a CROCKPOT! See below for details***
Heat 1/2 and 1/2 over medium/high heat in a small saucepan.
Once simmering (bring to JUST before boil...when it starts bubbling up the sides it's ready), reduce heat to low.
Immediately stir in the cheese in batches, starting with the white american cheese. As you stir in the cheese, increase heat to medium and whisk CONSTANTLY while the cheese melts. Once each batch is melted/creamy, add more. Don't stop stirring, you have to whisk the entire time while adding cheese.
Once done with the white american, add in the shredded fontina or mozzarella. Again, which CONSTANTLY while the cheese melts, insuring you have a creamy blend. If you prefer the cheese a bit thicker, add a bit more of the mozzarella.
Once all the cheese is melted, stir in the jalapenos, chili powder, nutmeg, red pepper, and salt and pepper. *** (see below)
If you want the queso to be browned like in my pictures, pour the queso into a small nonstick skillet and place in the oven. Broil for 3-4 minutes or until cheese begins to bubble and brown (optional)
Top with cilantro, tomatoes, and more jalapenos if desired.
Serve with tortilla chips and enjoy!
(Dip can be kept in an airtight container in the fridge for 3-4 days. Microwave with a splash of half and half or milk to keep it creamy)

*** Some readers haven't liked the extra spice from the cumin and nutmeg. Totally understandable as all tastes are different. We liked it, but I think add a smidgen at a time and make sure you like it before adding the full amount. If you prefer just the cheesy taste, leave them out completely! Thanks so much for the readers that have given me good feedback!! <3

***For making this in a slow cooker, start on high, adding the cheese and 1/2 and 1/2. Once melted, turn the setting to low and add in the spices and remaining ingredients. Stir often. Enjoy!***
7.6.7
2219
https://www.thecookierookie.com/easy-restaurant-style-white-queso/
AROUND THE WEB: Some other favorite Mexican Dishes that are must makes; Best Tamales, Red Sauce Enchiladas, and Authentic Guacamole.