This Classic Caesar Salad recipe is so easy and so delicious. This Caesar salad is made entirely from scratch, from the homemade croutons to the Caesar Salad Dressing. If you want to impress your guests or family, this amazingly flavorful and perfect salad is the perfect starter to any delicious meal.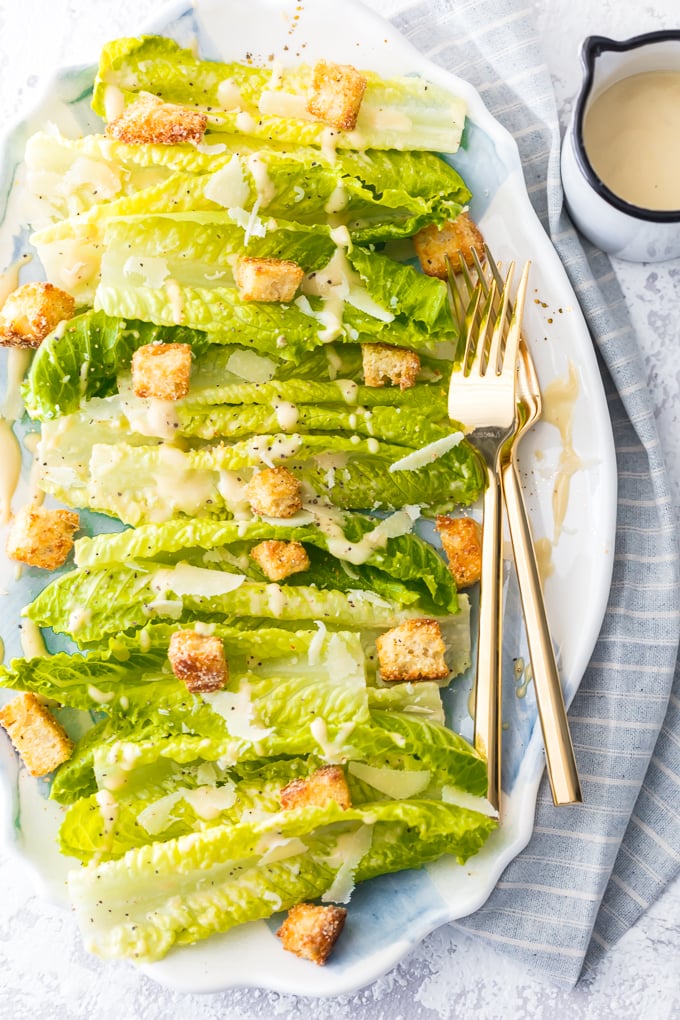 Caesar Salad Recipe
This recipe is something everyone should keep on hand. A Classic Caesar Salad with homemade croutons and homemade Caesar Salad Dressing!
Some recipes are considered classics for a reason. They don't need to be messed with or turned into complicated dishes. A Classic Caesar Salad is one of those recipes! It's a go-to salad that you can throw together at a moment's notice for any meal, and everyone will love it.
I'm going to show you how to make Caesar salad, and it's so easy to do! Plus we're going to make the whole thing from scratch to keep it extra fresh.
I'm also showing you how to make Homemade Croutons AND how to make Caesar Salad Dressing. The flavors are so much better when everything is homemade!
This salad goes well with any meal, any dish, any time of year. Of course you'll want to make it as a pre-dinner salad for your pastas dishes, but it's just as good with these chicken recipes or on its own for a light lunch.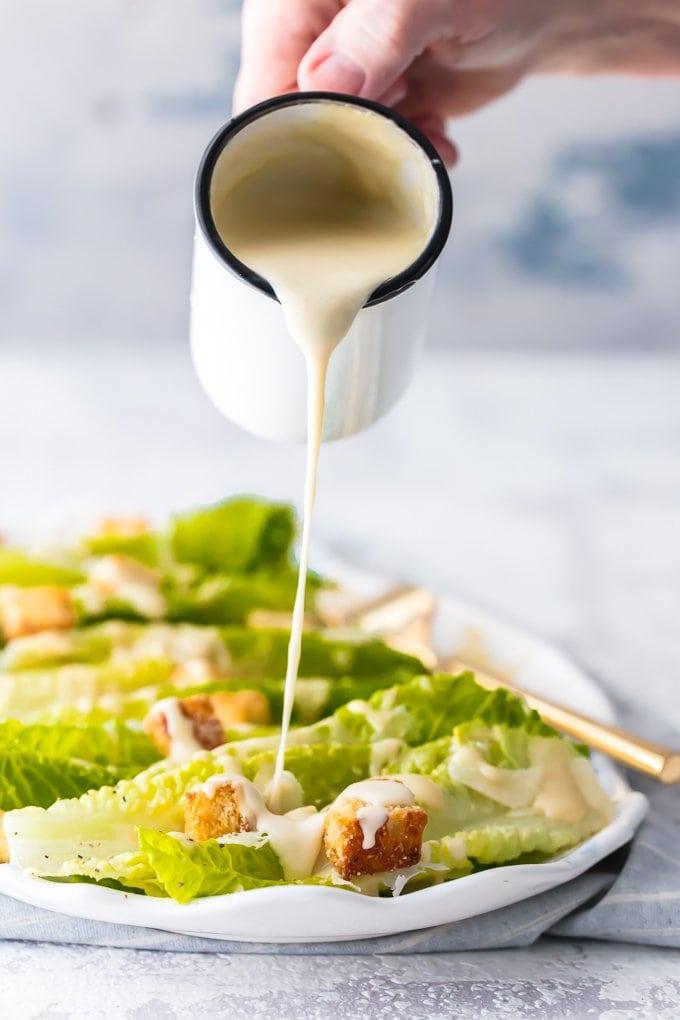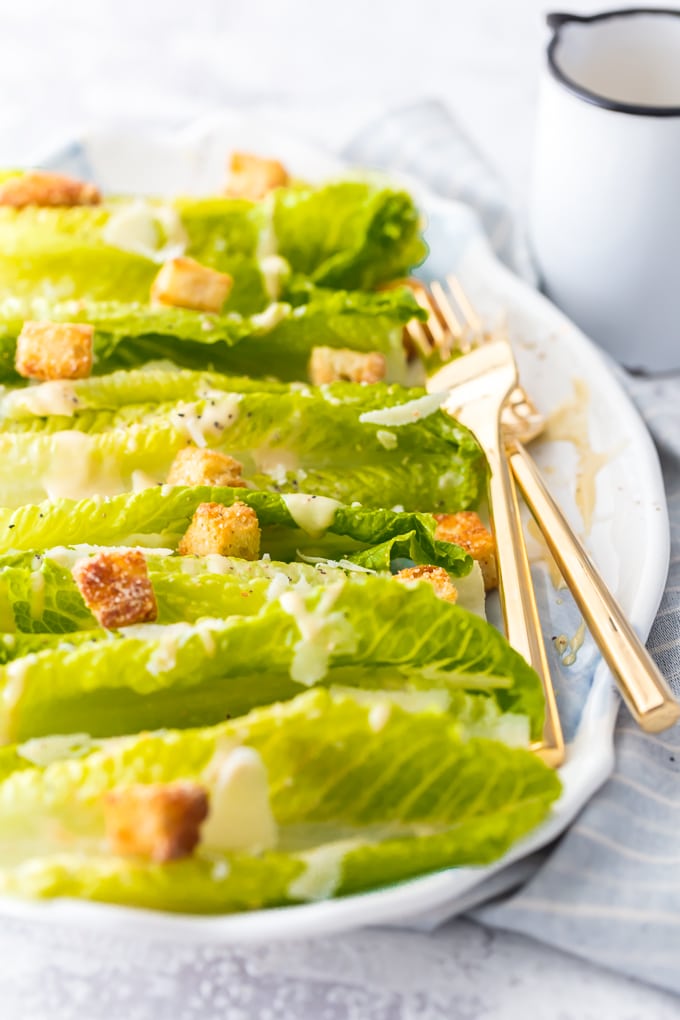 What makes this a CLASSIC Caesar salad?
A true Classic Caesar Salad is made with whole leaves of Romaine, drizzled with Caesar dressing, and topped with croutons and freshly grated Parmesan cheese. The salad was originally meant to be eaten with your hands, leaf by leaf.
Of course, you could also make it with chopped up Romaine lettuce, but I think it looks so much prettier this way! You can still eat it with a fork, but the whole leaves makes it feel a bit dressier, don't you think?
Caesar Salad Ingredients
A CLASSIC Caesar Salad recipe contains just a few basic things. I love the flavor combination of all of these fresh ingredients mixed together into one simple yet delicious salad.
Ingredients:
Romaine lettuce
Croutons
Caesar Salad Dressing (individual ingredients listed in the section below)
Parmesan cheese
These ingredients can be found at any grocery store, and it's so quick to throw them together into the perfect salad. But since we're making our own Caesar dressing and croutons, we'll need a few more things…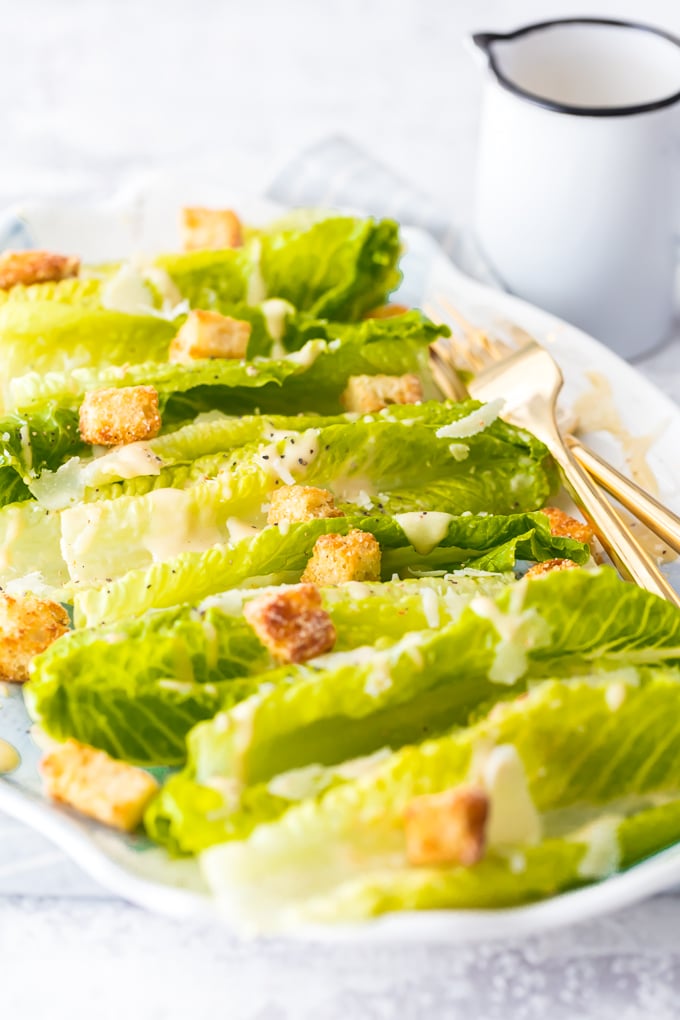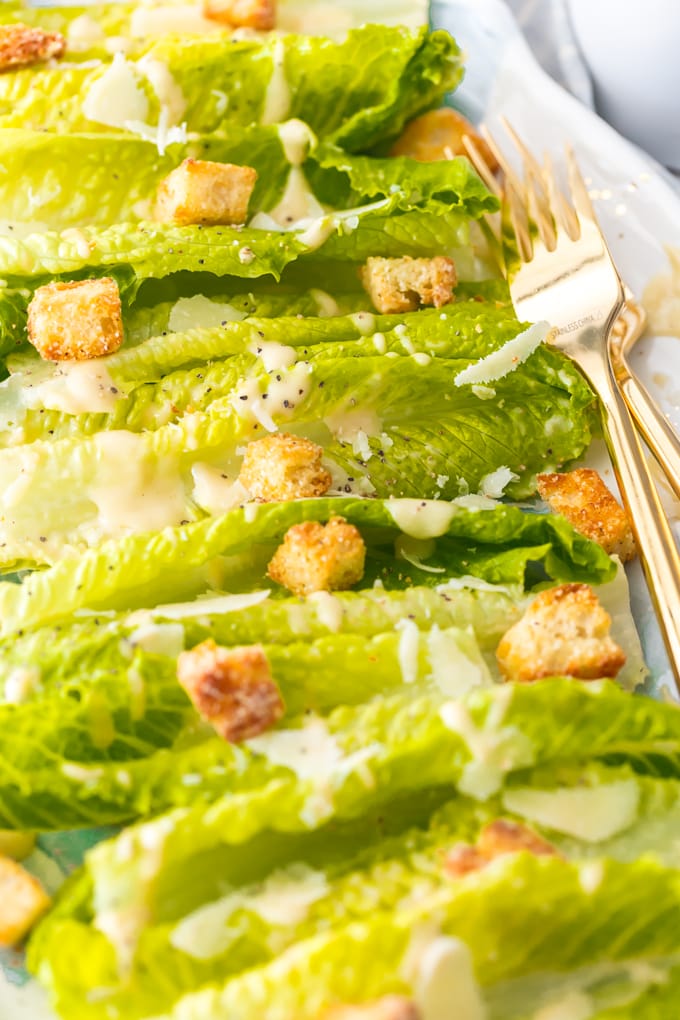 Homemade Caesar Salad Dressing Recipe
The best part of this salad is the dressing. So what's in Caesar dressing anyways?
I wanted to make the entire salad from scratch instead of relying on store-bought ingredients, just to challenge myself. This is the best homemade Caesar Salad Dressing recipe and it's not as complicated as you might think!
Ingredients:
Extra-virgin olive oil
Garlic
Lemon juice
Worcestershire sauce
Dry Mustard
Anchovies
Eggs
Salt & Pepper
How to Make it:
Soak, drain, and dry anchovies, then mince and mash them into a paste.
Bring water to a boil, pierce a tiny hole into the top of the eggs (using a pushpin or needle), and boil for 75 seconds, then remove them from water.
Rub the sides of the mixing bowl with garlic, crack eggs into the bowl, then whisk them while adding lemon juice.
Add anchovies, Worcestershire, mustard, black pepper, and whisk.
Whisk while drizzling in olive oil until emulsified, then season with salt and pepper.
Keep the dressing in an airtight container in the refrigerator until you're ready to use it. You can make this ahead of time so that it's ready to use when you make the salad.
Check the recipe card below (and watch the video) for full recipe and instructions.
Does all Caesar dressing have anchovies?
Anchovies are a traditional ingredient in this dressing, so most of the time when making, eating, or ordering Caesar salad/dressing, you should expect anchovies. There are certainly recipes out there that don't include it though. You could simply leave the anchovies out of my dressing recipe if you prefer!
Make Homemade Croutons
This classic Caesar wouldn't be complete without the croutons, and we're making those for ourselves too! I created this homemade croutons recipe for any salad, but it's absolutely perfect for this recipe. The croutons are baked instead of fried, making them a little bit healthier too.
To make the croutons, you'll just need a baguette (or other bread), olive oil, garlic, and Parmesan cheese. Head over to my Homemade Croutons Recipe for full instructions on how to make them.
If you feel like switching it up, you could also try adding garlic croutons or bacon croutons instead!
Serving Suggestions
I love this classic Caesar salad because it really does go with EVERYTHING. It's the perfect salad to pair with pasta dishes, like this Chicken Parmesan Pasta or Baked Pasta Primavera. But it would also make a great pre-dinner salad for these chicken recipes, like this Caesar Chicken recipe or Spinach Stuffed Chicken Breast.
This homemade Caesar salad could also be eaten alone as a quick, light lunch, or add this delicious homemade garlic bread to the side.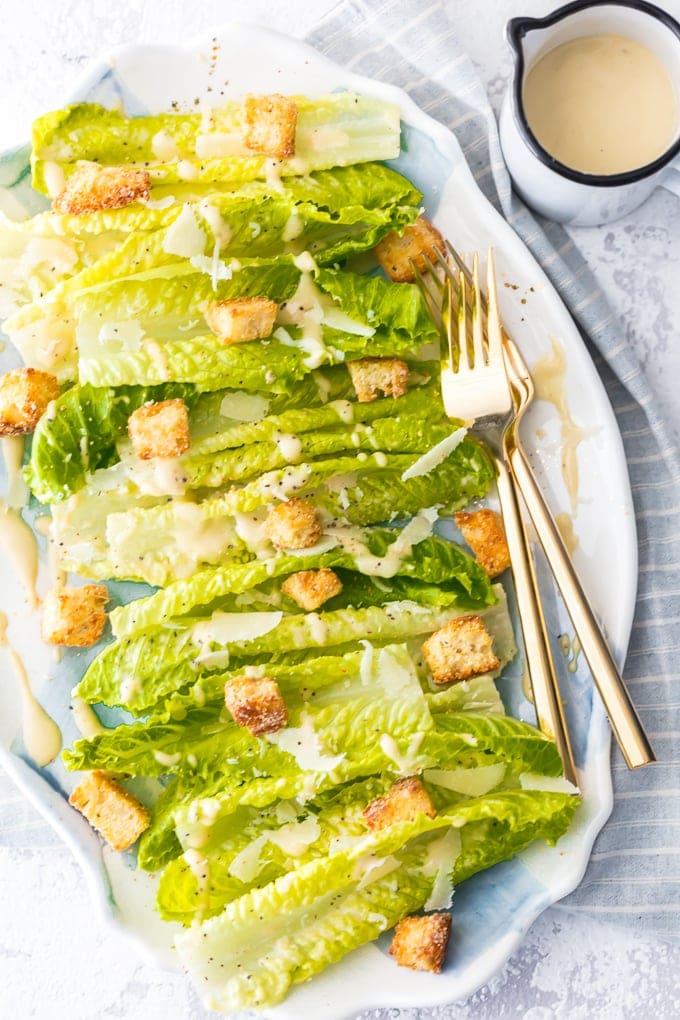 Top Recipe Tips
Be sure to WASH lettuce before using. A gentle rinse is fine, but make sure you clean the full leaves.
Soak anchovies and dry before mashing them into a paste for the dressing.
You can easily add chopped or shredded chicken to add protein and turn this into a light lunch.
You can use kale instead of romaine if you like. The leaves are similar in size and texture and make for a great kale caesar.
If you prefer, you can make a chopped salad by chopping or tearing up the leaves (instead of leaving them whole).
Don't forget the shaved Parmesan and croutons!
Make the Caesar dressing and the croutons ahead of time so you can quickly make the salad at dinner time!
I know you're gonna love this Classic Caesar Salad recipe! It's so simple, so fresh, and so delicious. You'll be making it everyday with every meal before you know it.
Looking for more salad ideas?