This Caesar Salad Cream Cheese Chicken Dip is the ultimate fun and easy appetizer! I turned the classic caesar salad into a delicious cream cheese dip perfect for parties. We make this for tailgating, bbqs, potlucks, and any party, any time. It's loaded with crisp lettuce, cream cheese, caesar dressing, chicken, parmesan, croutons, and more. This Chicken Caesar Salad Dip is just too good!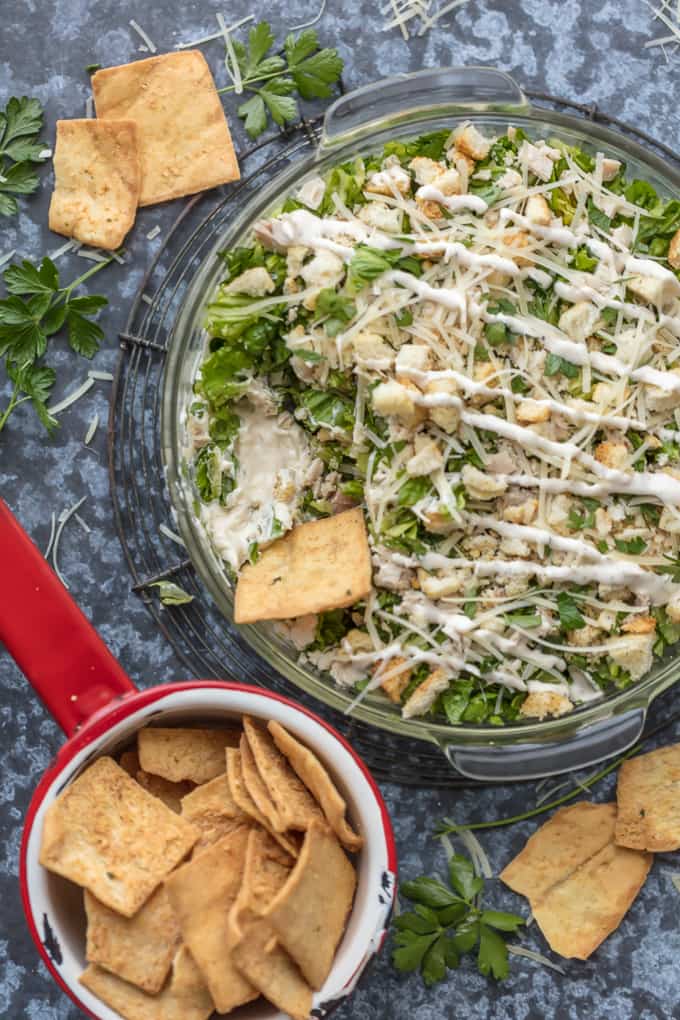 Chicken Caesar Salad Dip
Caesar Salad meets cream cheese chicken dip with this tasty Chicken Caesar Salad Dip recipe! Serve it at any party with pita chips, tortilla chips, or vegetables.
Caesar Salad Cream Cheese Chicken Dip…that's a mouthful. A mouthful of goodness! Turning Chicken Caesar Salad into a creamy dip might be the best idea I've ever had.
Does it count as a salad if it's a dip? If you can eat it with pita chips and it has a layer of cream cheese? These are the things I ponder at night. The answer is no, its not actually a salad. But I've realized that I prefer dips to salads anyway, so that's okay with me. This cream cheese dip tastes just like chicken caesar salad, but better! All those perfect flavors in a dippable party appetizer. YUM!
This Creamy Chicken Caesar Dip recipe is AMAZING and I crave it like crazy. It's so tasty. Just like your favorite salad (which, let's face it…caesar salad was never healthy to begin with) in a cheesy dip form. YES.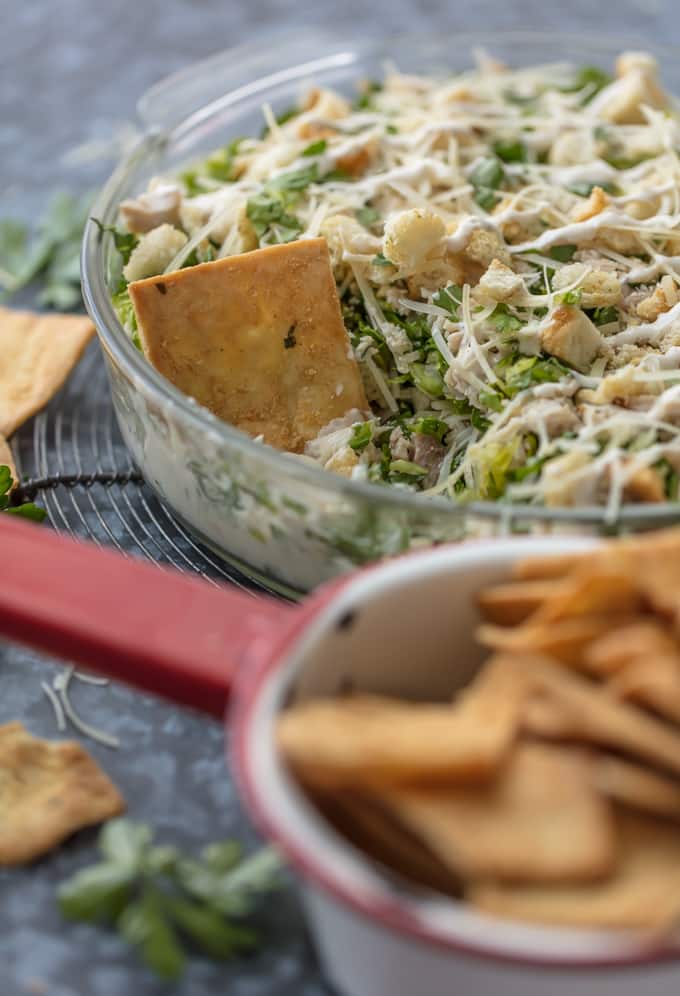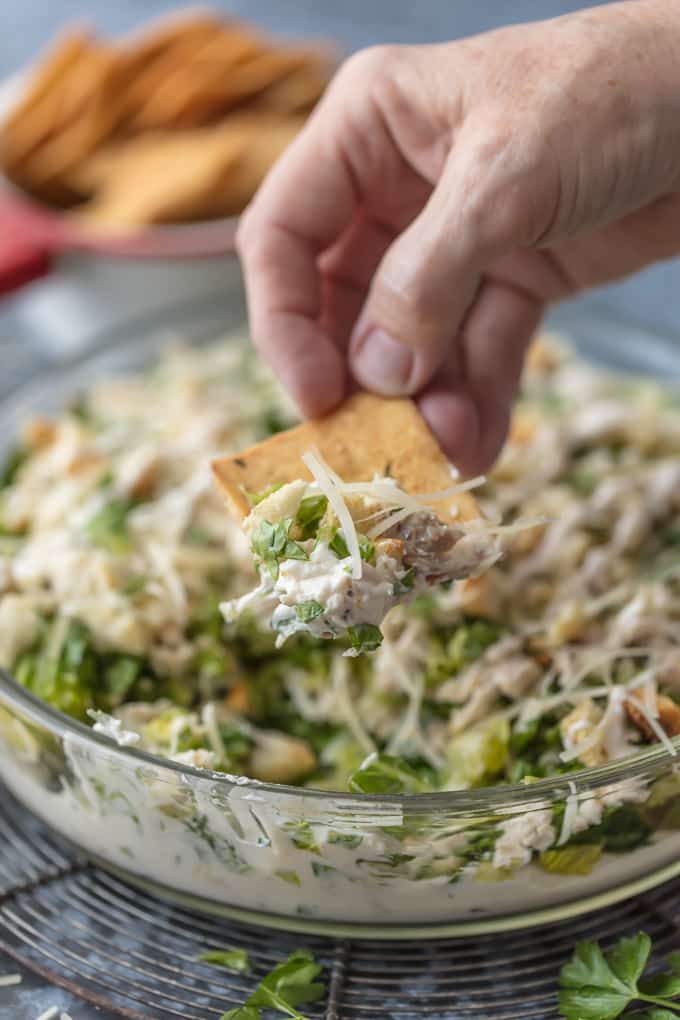 Caesar Salad Cream Cheese Chicken Dip
Your favorite restaurant salad just became your favorite party dip! Make it for the Super Bowl, college football, Christmas, or any old Saturday. Heck, Labor Day is coming up…MAKE IT FOR LABOR DAY! So yummy, trust me.
Sure you can eat a salad. But if you're eating a delicious chicken caesar salad, it's already pretty loaded with calories (let's be honest). Just go a step further and make it into a dip, because dips are more fun! Scoop it up with some pita chips and really enjoy yourself. I know we did! Chopped Chicken Caesar Dip for the WIN.
Layers of cream cheese mixed with homemade caesar dressing, lettuce, chicken, parmesan cheese, and crushed croutons means DELICIOUS flavor and a dip gone in minutes. That's just all there is to it.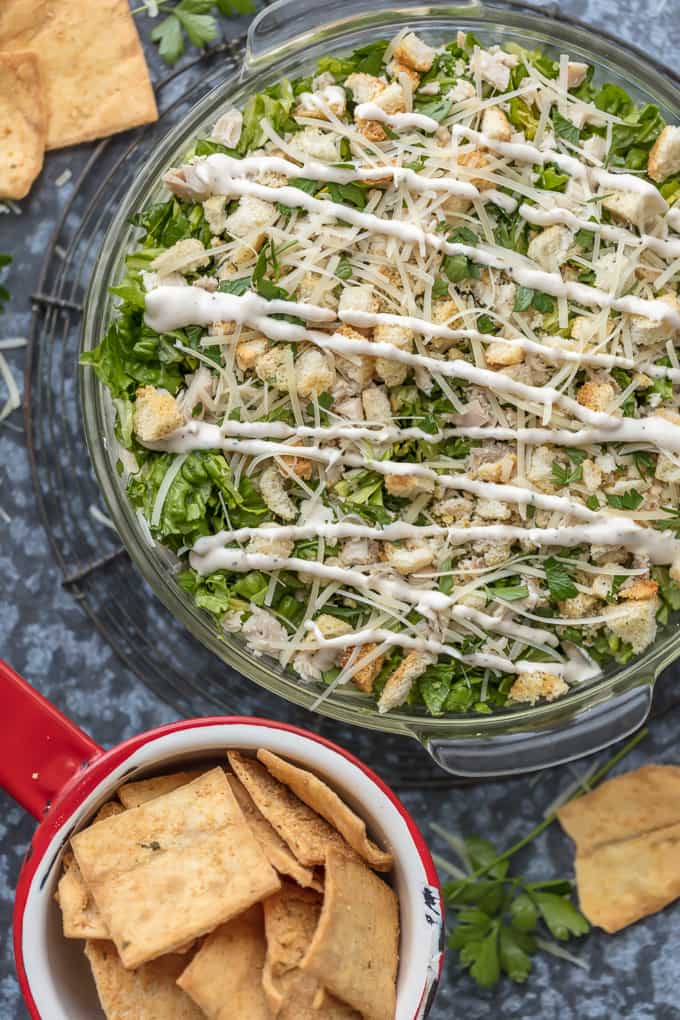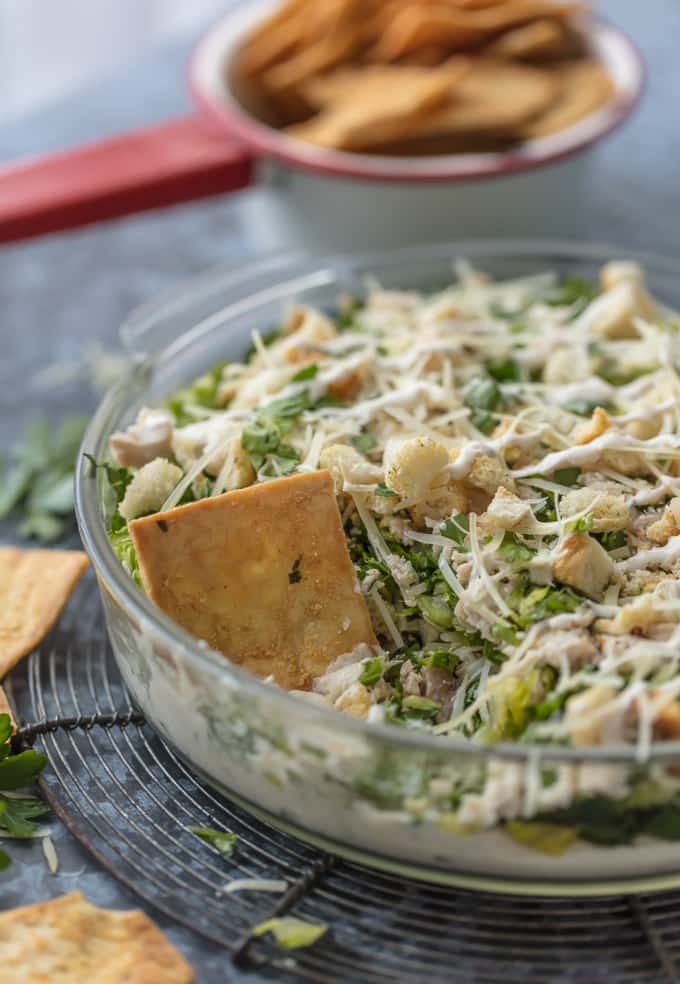 How to Make Creamy Chicken Caesar Dip
This CREAMY Chicken Caesar Dip is perfect in every way. It tastes like a chicken caesar salad, but WAY better, because it's creamy and cheesy and delicious! I mean, Caesar salads are delicious too, but you can't dip a pita chip into it! This cream cheese chicken dip is perfect for parties and easy to make, so make a nice big bowl and dip away.
How to Make Caesar Salad Dip
Use an electric mixer to beat cream cheese & caesar dressing into a fluffy consistency
Spread the mixture onto the bottom of a baking dish
On top of the cream cheese, add a layer of shredded chicken and chopped lettuce
Sprinkle grated Parmesan cheese and homemade croutons on top
Drizzle more Caesar dressing over the whole thing
Now you've got a beautiful, delicious layered dip to serve with chips or vegetables. I think it tastes really great with pita chips, but you can use whatever you want.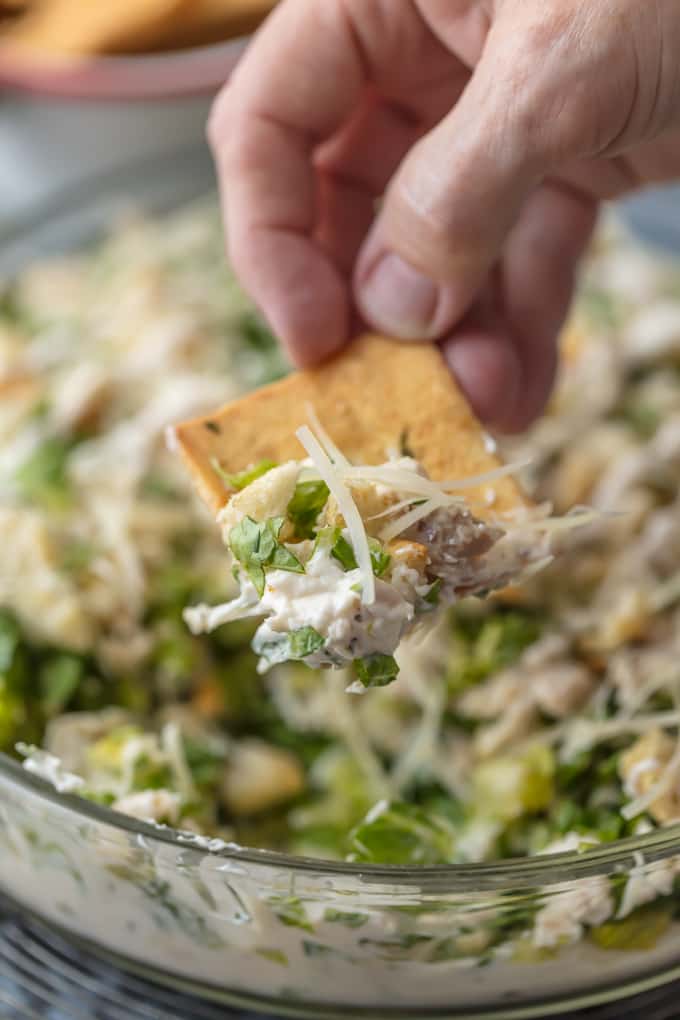 You and your guests are going to DEVOUR this Caesar Salad Cream Cheese Chicken Dip recipe so fast. Who wouldn't love the taste of a chicken caesar salad in the form of a creamy, cheesy dip? It's easy to make and ultra delicious, so don't hesitate to try it!
See the recipe card below for details on how to make Chicken Caesar Salad Dip. Enjoy!
If you like this cream cheese chicken dip recipe, try these other amazing dips!