If you're cooking with oil, there's something you should know about if you want the best quality food: cooking oil smoke points! I'm telling you everything you need to know about the smoke point of common cooking oils (including olive oil, vegetable oil, avocado oil, and lots of others), and why it matters. I even made a handy chart so you can pick the right oil for different methods of cooking (including those important high smoke point oils for frying!).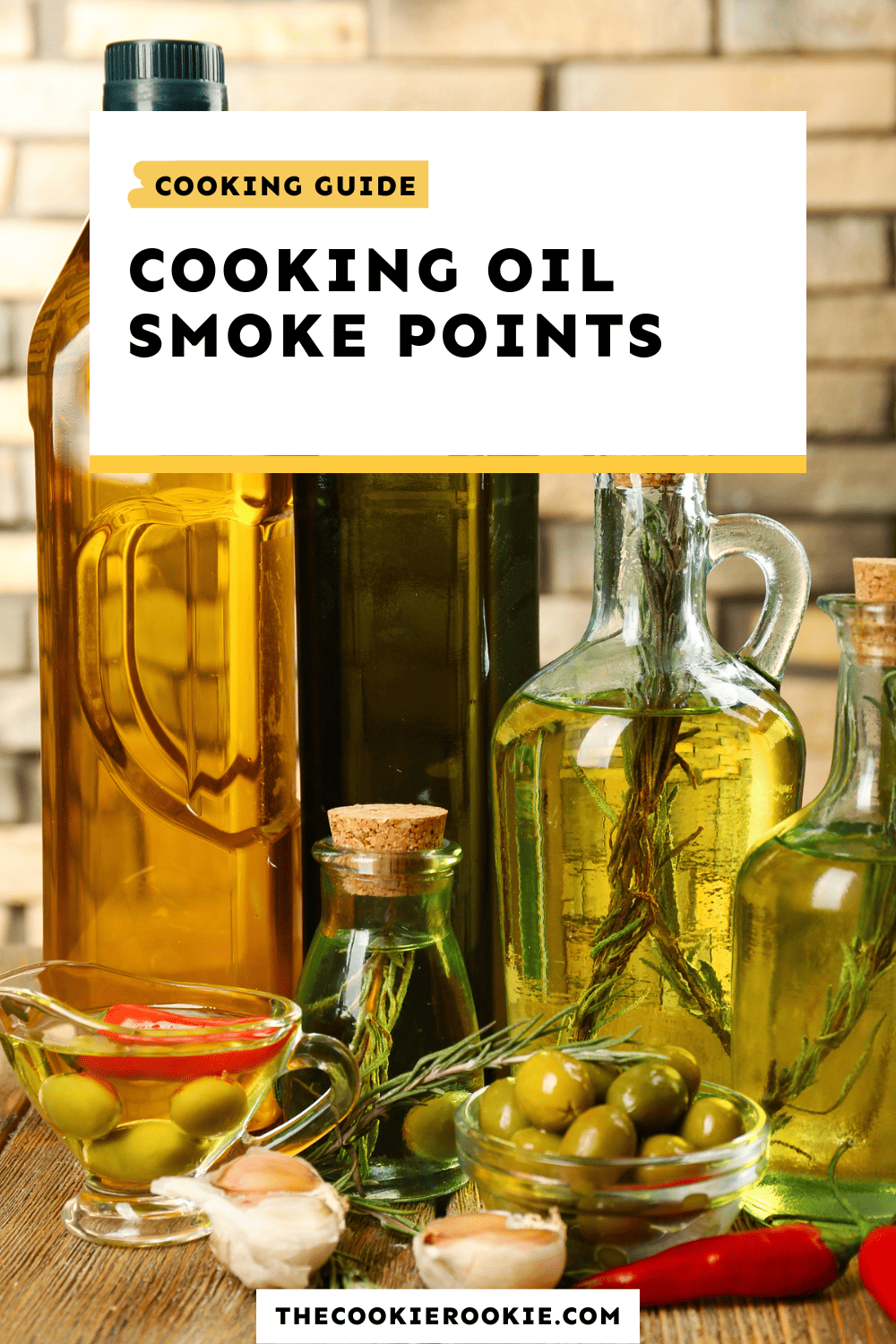 Cooking with Oils
Cooking oils are one of those basic ingredients that's used in just about every recipe. Whether you're baking, frying, roasting, or cooking on the stove, your recipe likely calls for some kind of oil or fat.
You might think of that bottle of olive oil as your go-to any time you cook (and it is definitely one of the most versatile), but it's not always the best oil to use. There are many factors to consider when choosing the right oil, but something the average home cook might not think about is the smoke point.
The smoke point of cooking oils makes a big difference to the overall taste and quality of your food, so this is a useful thing to know! I've got a chart below to help you find the ideal temperatures and cooking methods for each oil. But first, let's go over some basic info.
What is a smoke point?
The smoke point is the temperature at which cooking oils and fats start to burn–you'll know it's burning when it stops shimmering and starts to smoke.
Since different types of cooking oils have different smoke points, it's a major factor in deciding which oil is best for each type of cooking. High temperature cooking methods (like frying) need oils with high smoke points, while low temperature cooking works best with oils with lower smoke points.
Why does the oil smoke point matter when cooking?
Once the oils reach their smoke point, they essentially go bad. They will start to break down at this temperature and release chemicals that can ruin the flavor of food. They aren't necessarily inedible, but it can really mess with the overall quality of your dish. So you don't want to use the wrong one.
Cooking Oil Smoke Point Chart
Here's a quick guide to the smoke points of common cooking oils (listed from lowest to highest smoke points). Keep in mind, refined oils will typically have a higher smoke point than their unrefined counterparts, so check the label.
| Cooking Oil | Smoke Point °F |
| --- | --- |
| Flaxseed Oil | 225°F |
| Extra Virgin Olive Oil | 325-350°F |
| Coconut Oil (Unrefined) | 350°F |
| Sesame Oil (Unrefined) | 350-410°F |
| Grapeseed Oil | 390°F |
| Canola Oil | 400°F |
| Vegetable Oil | 400-450°F |
| Sunflower Oil | 450°F |
| Soybean Oil | 450°F |
| Peanut Oil | 450-475°F |
| Olive Oil (Refined) | 465°F |
| Avocado Oil | 480-510°F |
| Safflower Oil | 510°F |
What oil has the highest smoke point?
Avocado oil and safflower oil have some of the highest smoke points of any cooking oils, so they are good options to keep around. But refined olive oil isn't too far behind, which makes it a popular option in most kitchens.
What's the best cooking oil for deep frying?
The best oils for frying are going to be the ones with high smoke points and low price points. Since frying requires high temperatures, you need an oil that will hold up. I recommend using vegetable oil, peanut oil, sunflower oil, or any oil with a smoke point above 400°F. These are also less expensive than other high smoke point oils, like olive oil or avocado oil.
What's a healthy oil with a high smoke point?
Avocado oil has a high smoke point, and it's good for you! So it's the best option for frying and high-heat cooking if you want to keep things healthy. It tends to be more expensive than other options though.
Which oils should not be used for high heat?
The temperatures on the smoke point chart correspond to cooking temps, so it's easy to align your oil choice with your cooking method. Anything below 400°F is not going to work well for high heat. Ideally, use oils with smoke points over 450°F.
Choosing the right oil for your recipe
The best way to choose your cooking oil is to simply check the temp chart above. You'll want the smoke point of your cooking oil to match with your cooking temperature. So low-heat cooking is best with the lighter, unrefined options; whereas high-heat cooking needs those high-temp, refined options.
Let's use olive oil as a good example. Extra virgin olive oil (unrefined) is best for finishing and low heat dishes, because it has a much better flavor. But "regular" olive oil (refined), is better for roasting and sautéing–if you used it on a no-heat recipe, you just wouldn't get the same quality of flavor. That means you'd want to use regular olive oil for roasting vegetables, but extra virgin olive oil for a salad dressing.
While you can use high smoke point oils on lower heat cooking, you're going to get best results with lighter oils that correspond with the cooking temp. It will just give you a better taste and food quality–although you can use a refined, high temp oil with lower heat.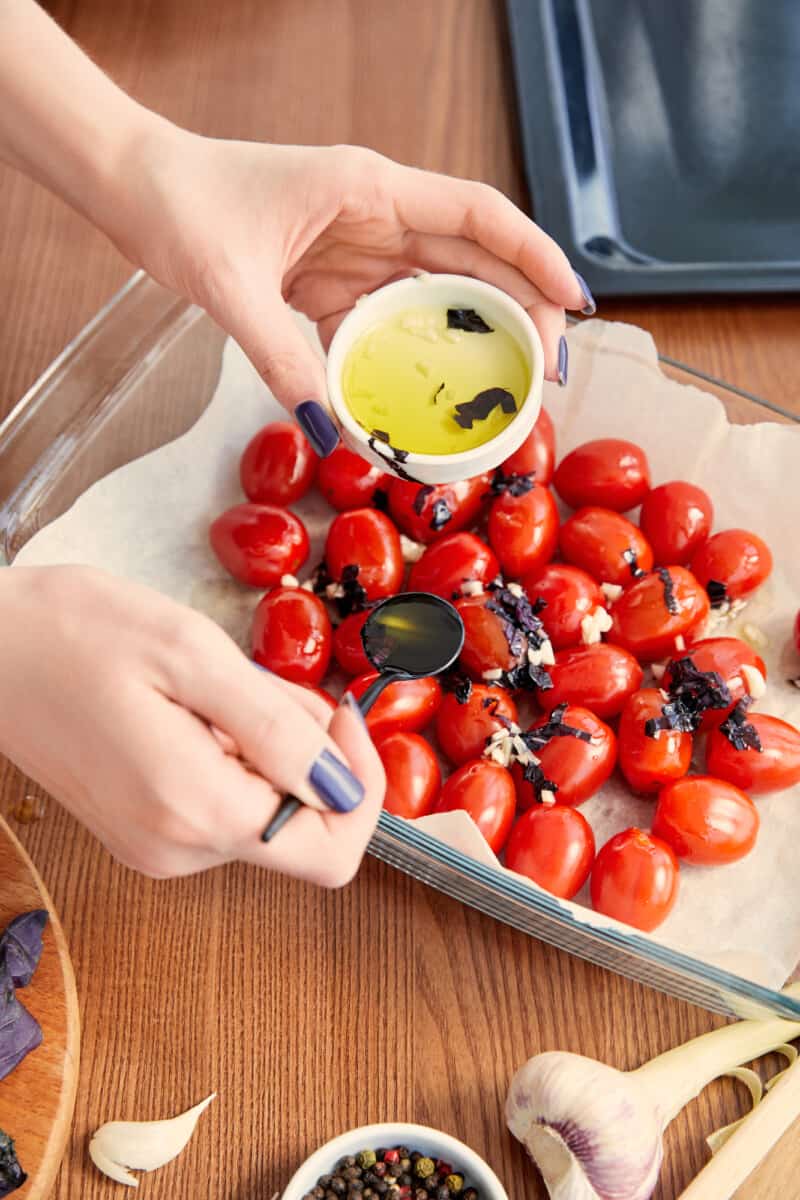 Now that you know the smoke points for every cooking oil, you'll be able to choose the right one for your recipes and get the best-tasting food! This is most important with high-temp cooking methods, but it's helpful no matter what you're making. Keep that bottle of olive oil within reach, but stock up on a couple of other options so you're always prepared!
Cooking Knowledge
Learn all the basics about cooking, stocking your kitchen, choosing the right ingredients, and more with these helpful guides!
Kitchen Guides