This Cucumber Salad Recipe comes together quickly and easily with just a few ingredients. Fresh cucumber and red onion slices are dressed simply in a homemade vinegar salad dressing. It's a refreshing and tangy side salad, and it's a great accompaniment to chicken, grilled meat, seafood and so much more. This easy Cucumber Onion Salad is a must make for any Spring or Summer get together!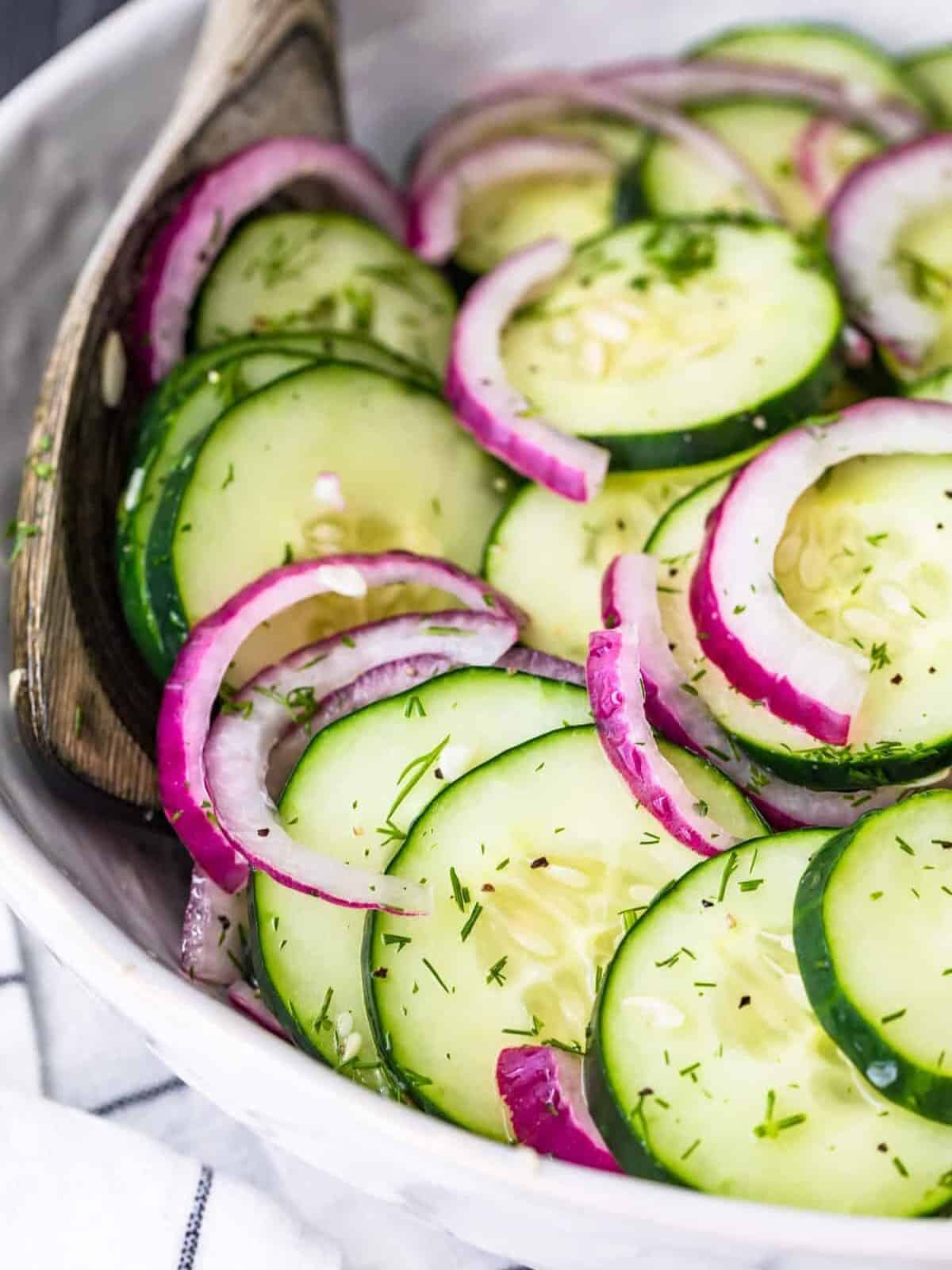 What's in this Cucumber Onion Salad Recipe?
If you're wondering what to do with those cucumbers, you can make this easy, refreshing, healthy, and delicious salad! All you need are fresh veggies and some pantry staples to make a simple vinegar dressing.
Cucumbers: Start with fresh, juicy cucumbers, cut into slices.
Red Onion: Red onion has a nice bite that "spices" this salad up. I like cutting them into half moons, but you can chop or dice onions if you prefer.
Apple Cider Vinegar: This is the base of our vinegar salad dressing. It's tangy and slightly sweet, and less acidic than some other vinegars, which is perfect for a light salad.
Sugar: Add just a little bit of granulated sugar into the dressing for sweetness.
Water: Water fills out the dressing. No oil needed here!
Salt & Pepper: Some salt and pepper to gently season the dressing.
Pro Tip: If the red onion flavor is overpowering, try soaking slices in water before adding them to the salad.
Cucumber Salad with Vinegar Dressing Variations
This healthy cucumber salad recipe is so simple, it's easy to make a few adjustments without any extra stress.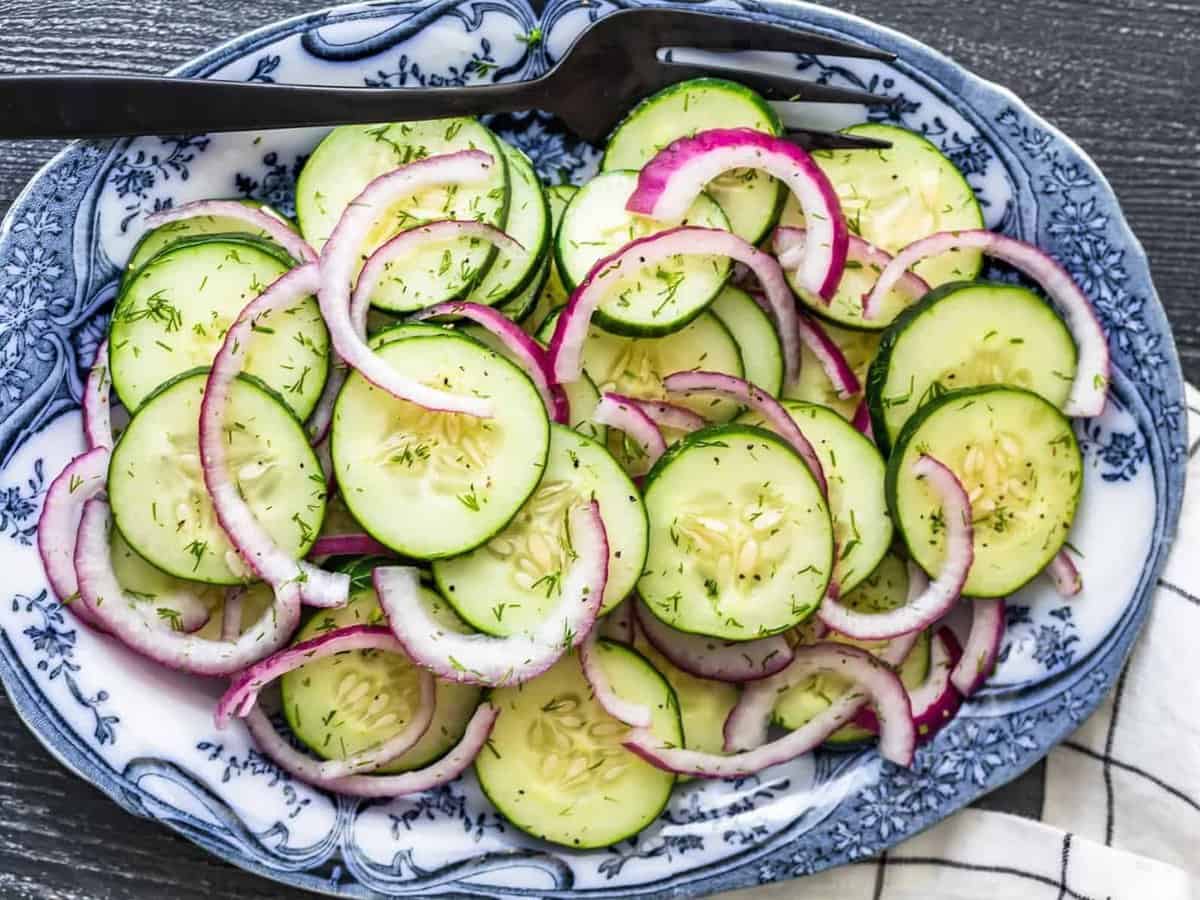 How do you keep cucumbers crisp in cucumber salad?
Generously sprinkle salt over the cucumber slices before tossing them into the salad. The salt will draw out extra water and moisture, so that they don't get water-y or soggy. You can salt them in a colander to prevent too much salt from accumulating on the slices.
Do I need to peel cucumbers before making a salad?
It depends on the type of cucumbers you use. Most varieties at the grocery store here in North America (English cucumbers and "garden cucumbers" are common) will be fine without peeling. But if you use a variety with thick or bumpy skin, feel free to gently peel them.
How should I cut cucumbers for salad?
I cut them into ¾ inch slices for this salad recipe, but you can really slice them however you like. A mandolin works really well for quick slicing. Thinner or thicker slices work, as do diced or cubed cucumbers. A chopped cucumber and onion salad is great too!
What's the best vinegar for salad dressing?
I highly recommend using apple cider vinegar for this cucumber salad dressing. Other vinegars can be overwhelming on such a simple and light salad, but white wine vinegar is one of the better substitutes.
What can I do with extra cucumbers?
If you have leftover cucumbers, try making little cucumber sandwiches. You can also add slices to water for a refreshing and healthy beverage.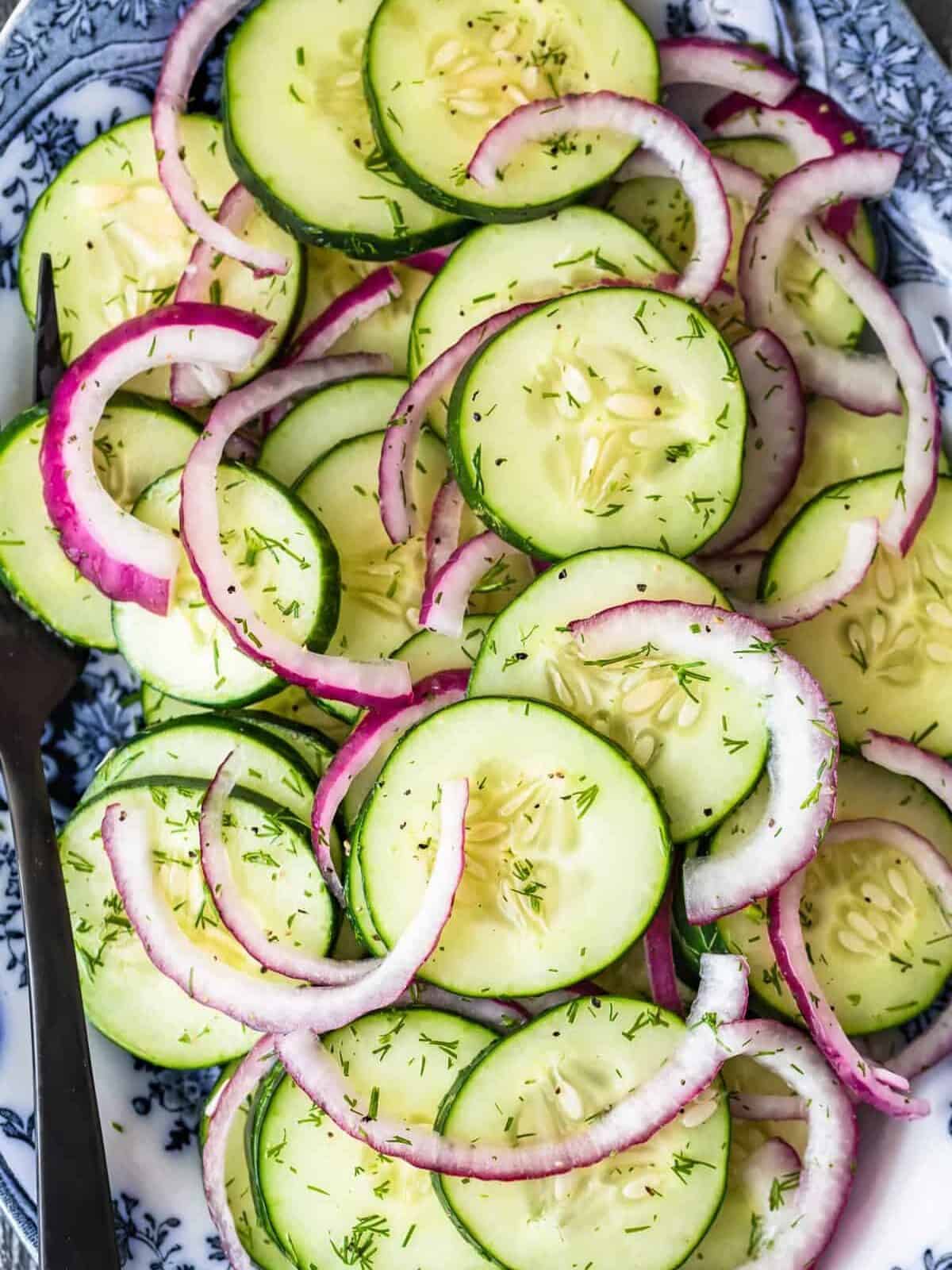 Can I make this Cucumber Vinegar Salad ahead of time?
This quick and easy cucumber salad with vinegar dressing can be prepped and/or made ahead of time.
Veggies: Slice cucumbers and onions ahead of time, and store them in airtight containers (separately) until ready to use. If you do this, I recommend salting the cucumbers so they don't accumulate moisture. You can also go ahead and soak the onions if you want to cut their intensity.
Dressing: Combine the vinegar dressing ingredients in a jar as instructed in the recipe card. This can be kept in the fridge for up to 4-5 days. Just shake or stir before tossing into the salad.
Toss everything together when you're ready to serve it.
How to Store Fresh Cucumber Salad
If you prefer to make the full salad, or if you just need to keep leftovers, that works too. Store the cucumber and onion salad (in the vinaigrette is fine) in an airtight container, and keep it in the fridge for up to 3 days. You can also cover the entire salad bowl with plastic wrap to store until you're ready to serve. This is perfect if you're planning to bring it to a potluck!
What to Serve with Cucumber and Red Onion Salad
This easy cucumber salad is one of my all-time favorite spring and summer salad recipes. I love to serve it for light lunches outside along with grilled chicken breast, garlic butter salmon, or grilled pork chops. It's also a great side salad for Easter dinner, along with herb-crusted lamb or brown sugar glazed ham. It really pairs beautifully with some many dishes!
More Cucumber Salad Recipes We Love