If you like to drink wine but don't know much about it, then this Beginner's Guide to Wine is for you! Learn about different types of wine (red, white, sparkling, and more), decipher those terms you hear all the time but don't understand, and go from newbie to expert. You'll be able to talk about wine confidently, and choose the perfect wine for dinner!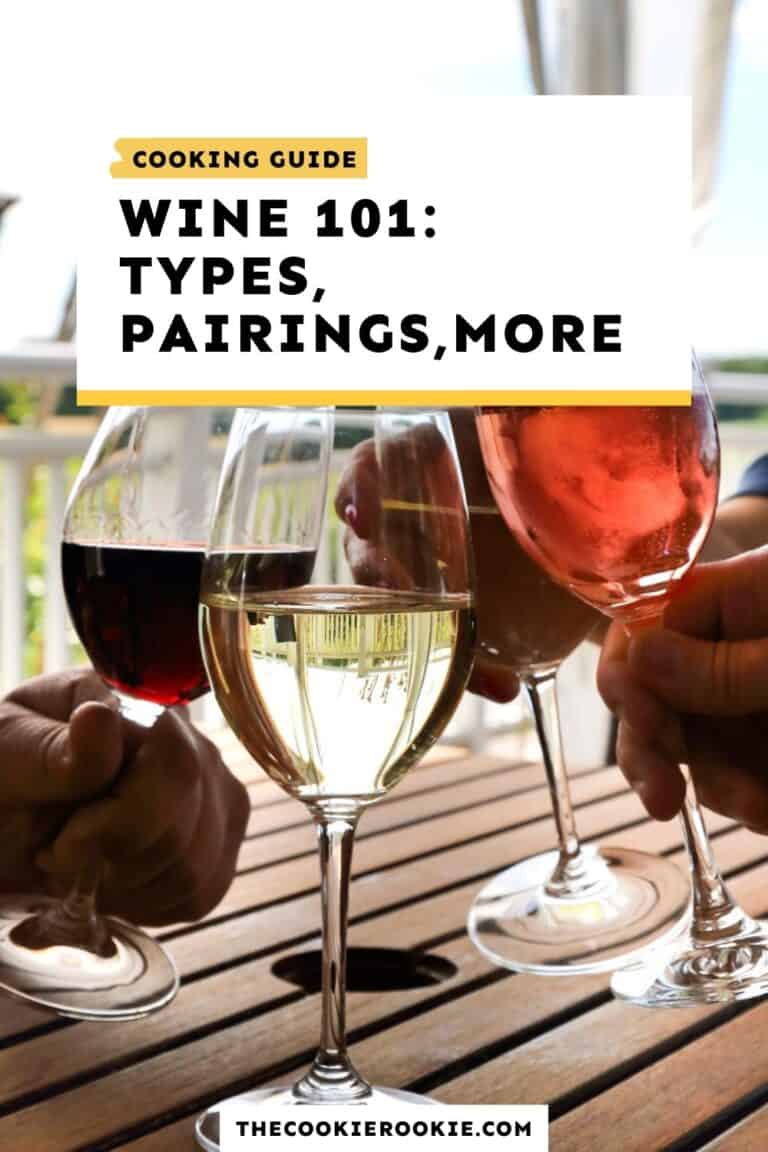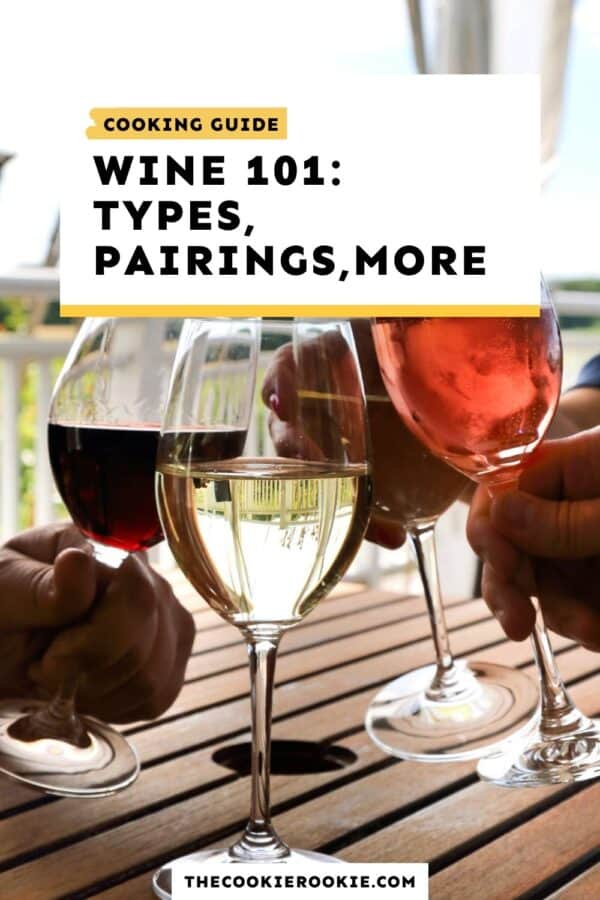 Guide to the Types of Wine
There are so many different types of wine, it's hard to keep them straight. But you don't have to be a sommelier to understand the basics of wine, wine types, and flavors!
I'm here to teach you a thing or two about wine, so you can easily impress your friends and dinner guests when you order the perfect bottle. Or at the very least, you'll be able to nod along at that wine tasting and know what they're talking about when they hand you a glass of Merlot.
I'm not claiming to be a wine EXPERT here, but I do have enough experience drinking it to go around. So sit back and take notes because this is WINE 101 for all the beginners out there.
What You Need to Know to About Wine
Let's start with the absolute beginner basics about wine. What is it and how is it made?
Wine is made from fermented grapes. The juice is released from the grapes by pressing or macerating them, exposing the sugars to yeast until it ferments, and then it turns into wine.
Some wines are named based on the grape they come from (varietals, such as Pinot Noir), and some are named based on the region they originate from (like a Burgundy). Wines named based on the region can either be a single varietal, or a mix of grapes.
Wines get their color from grape skins. Red wine is made by soaking the juice with the skins (using black/red grapes), while white wines are usually made without the grape skins (using green grapes).
Wine labels typically have the wine producer/vineyard name, the year it was produced, the region where the grapes were grown, and the type of grape.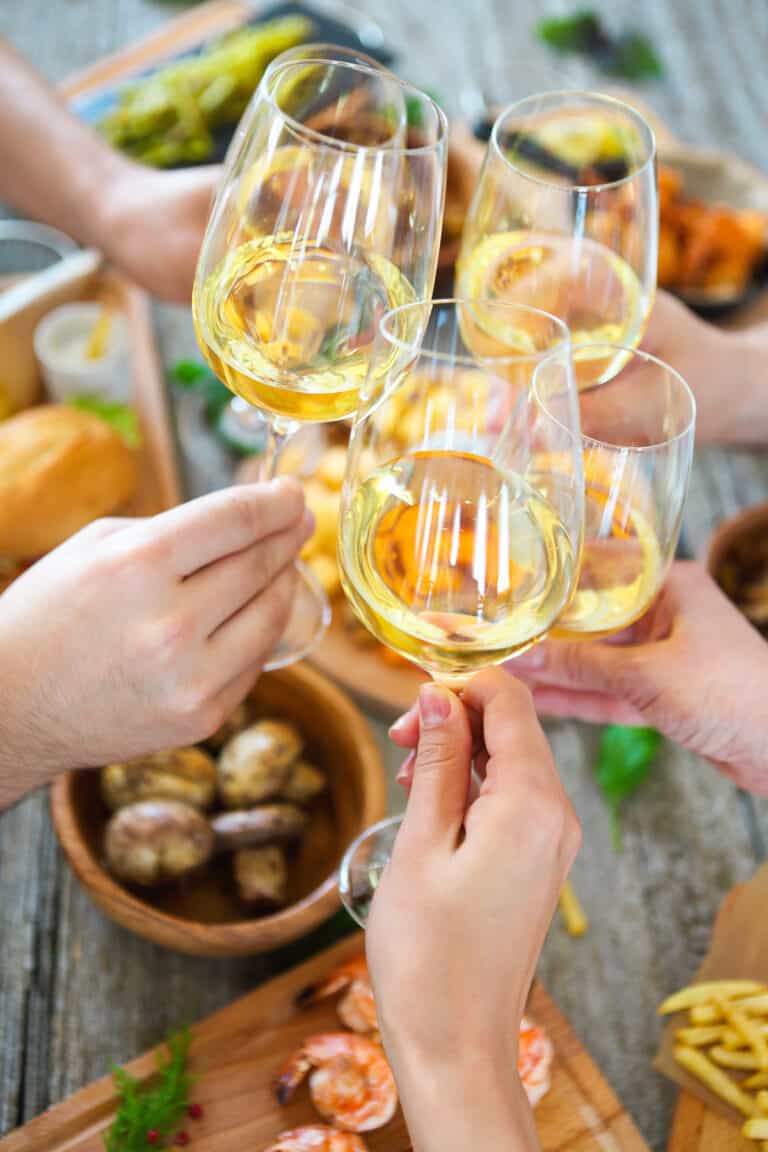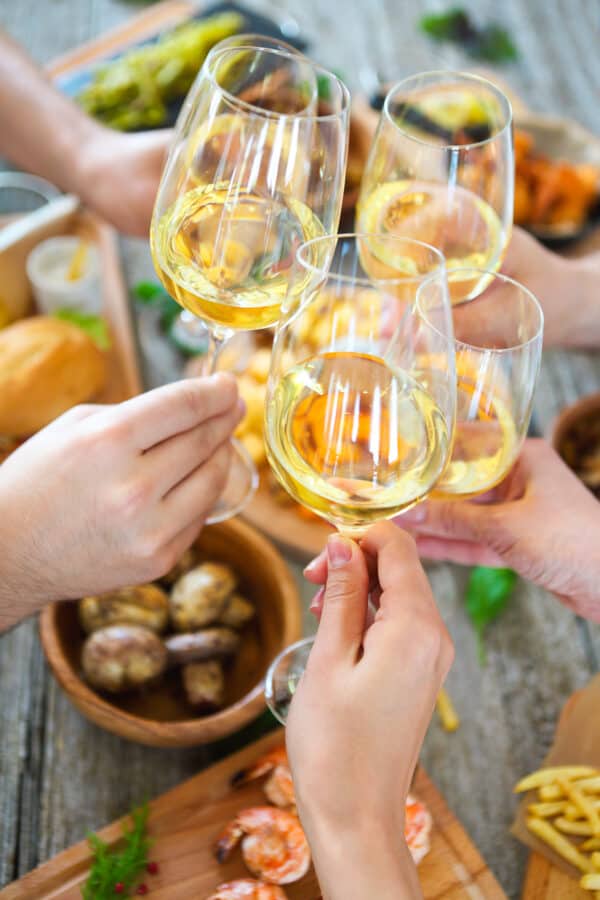 How to Talk About Wine
People use a lot of words and phrases to describe wine, and if you're a beginner in the world of wine, they might not make a whole lot of sense. So here are some of the top terms you might come across. Use these words and you'll sound like an expert!
Sweet: Sweet wine is exactly what it sounds like. Some sugar remains from the fermenting process, which gives it a noticeable sweetness.
Dry: Dry wines are the opposite of sweet wines. No sugar is left after the fermentation process, so there is no sweetness in the flavor.
Off-Dry: A wine described as "off-dry" is somewhere between dry and sweet. Some sweetness is noticeable, but it's not a heavily-sweet wine.
Body: Body refers to how "heavy" the wine feels in your mouth, as well as how prominent the flavors are. So a full-bodied wine will feel full and complex, while a light-bodied wine will feel lighter (more like water) and less rich. The terms "light" vs "bold" are another way to refer to this difference.
Acidity: When talking about the acidity of wines, think about fruit. Many fruits are acidic, which makes them taste crisp or tart. The same goes for wines. Acidity will make it taste more crisp and "fresh".
Tannins: These are present in the skins of grapes and can add bitter flavors to the wine. Tannins are mainly present in red wines, and less so in white wines. This is also what causes a drying feeling in your mouth with some wines (not to be confused with "dry wine")
Oak: Some wines are aged in oak barrels, which can leave an "oaky" aroma in the wine. This might come across as flavors of vanilla, spice, or smokiness.
Bitter: Wines tend to become bitter when there is a high presence of tannins.
Smooth: This usually means the wine has less acidity and bitterness. People might also say it's "soft" or "round", referring to the tannins softening (causing less bitterness) as the wine ages.
Tart: Wines taste tart (the way that fruits can be tart) when there is a high concentration of acidity.
Old World/New World: "Old World" refers to wines made in traditional/historical wine regions (France, Italy, Portugal, and many others) that have stricter wine-making standards. "New World" mostly refers to wines made anywhere outside of the Old World (like the U.S., New Zealand, and South American countries).
Different Types of Wine
Despite the fact that all wine is made from grapes, there are so many different types that vary in taste, aroma, acidity, body, sweetness, etc.
To help you figure out which wines you like and don't like (and maybe understand why you like certain wines more than others), I've listed out some of the main descriptors for the most common types of wine. You might start to notice some patterns in what you drink.
Types are separated by white wine, red wine, regional wines, and other types of wine. Wines made from the same grape can still vary, but these details are what's typical for the listed varietal.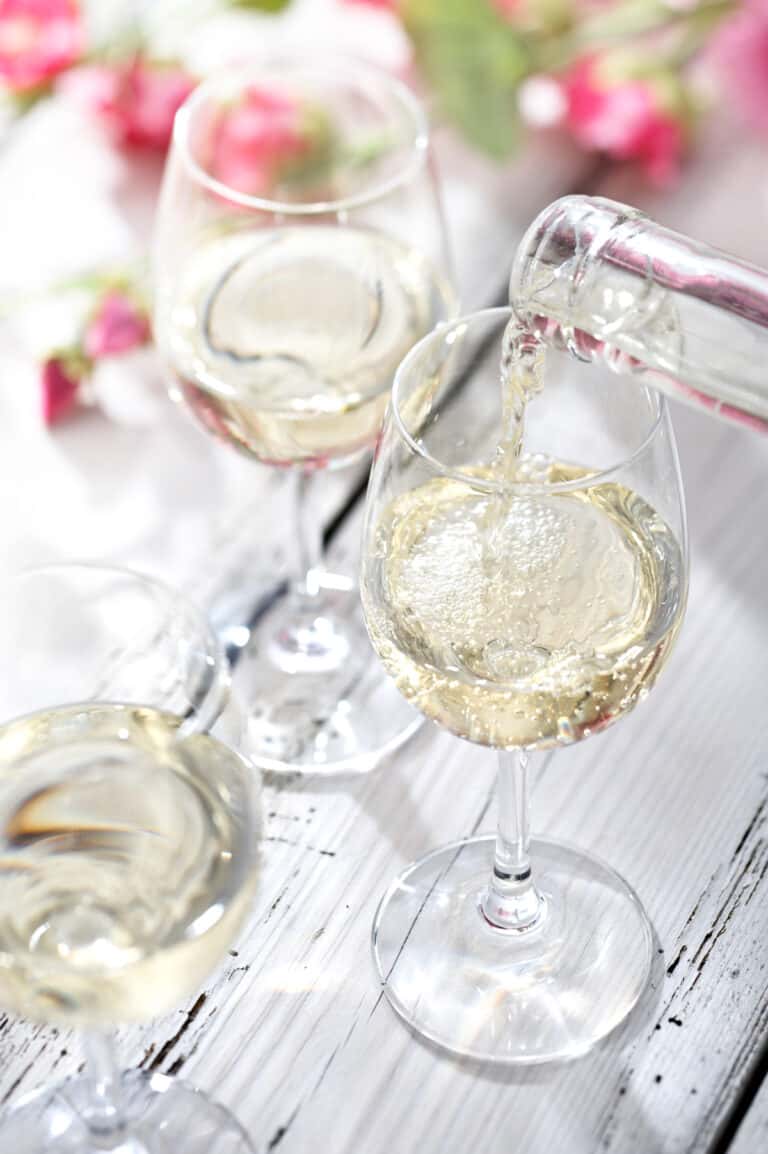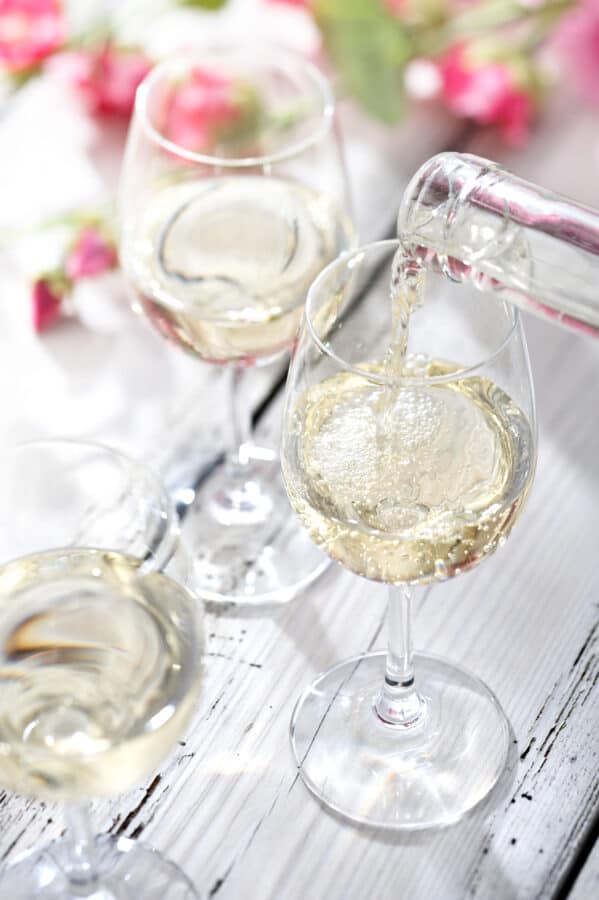 Types of White Wine
Chardonnay: Dry, flavors of apple, citrus, and tropical fruit flavors, medium-bodied.
Riesling: Ranges from off-dry to sweet, fruity flavors of green apple and lime, light-bodied.
Moscato (Muscat Blanc): Sweet, juicy fruity flavor, light-bodied.
Pinot Grigio/Gris: Off-dry, light fruit flavors like peach and citrus, light- to medium-bodied.
Sauvignon Blanc: Off-dry, green fresh fruity flavors, light- to medium-bodied, acidic.
Pair with these recipes: Salmon with Avocado Salsa, Parmesan Tilapia, Garlic Butter Shrimp, Honey Garlic Salmon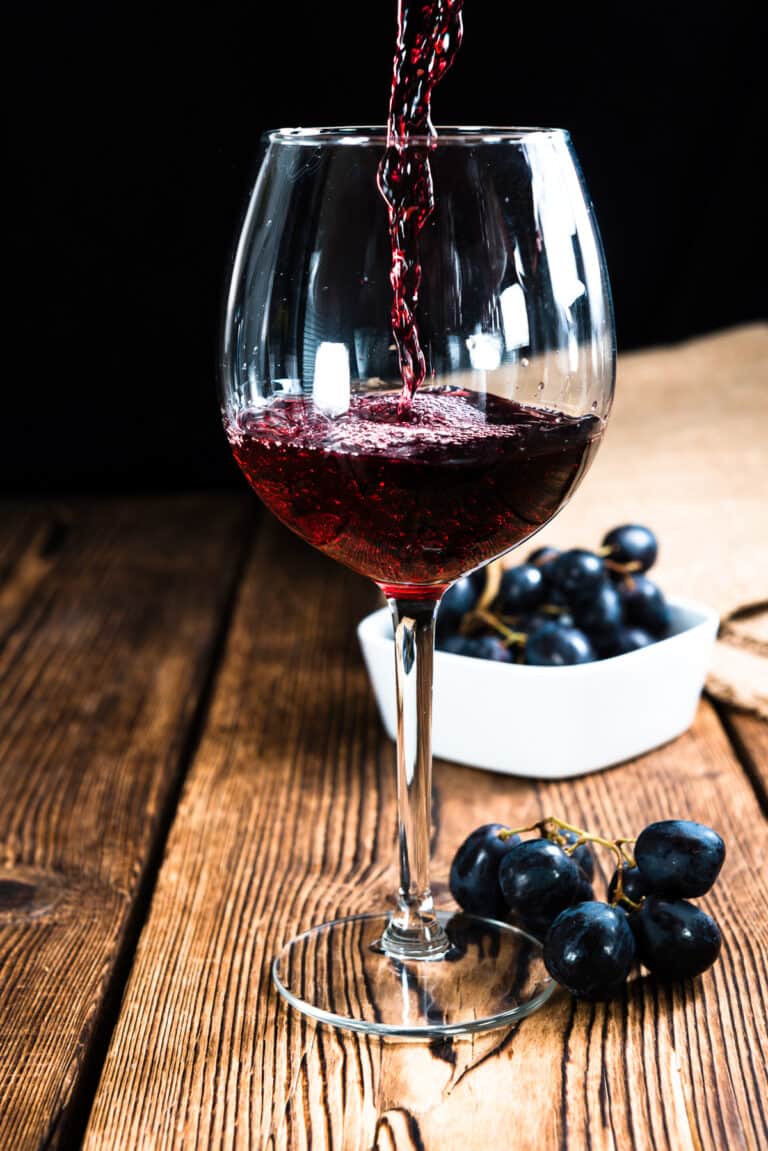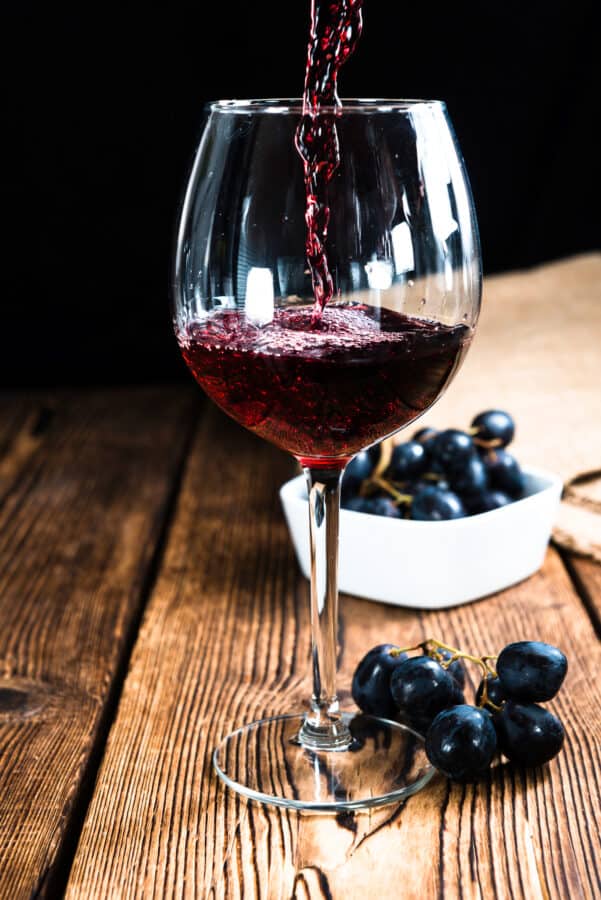 Types of Red Wine
Cabernet Sauvignon: Dry, flavors of black cherry and black currant, full-bodied.
Merlot: Dry, flavors of black cherry and chocolate, medium- to full-bodied.
Pinot Noir: Off-dry, flavors of cherry and raspberry, light- to medium-bodied.
Zinfandel: Off-dry, berry and fruit flavors, medium- to full-body, high alcohol level.
Malbec: Dry, flavors of dark fruit and chocolate, full-bodied.
Syrah: Dry, flavors of blueberry, plum and chocolate, full-bodied.
Pair with these recipes: Carne Asada, Restaurant Style Steak, Red Wine Pot Roast, Steak Fajitas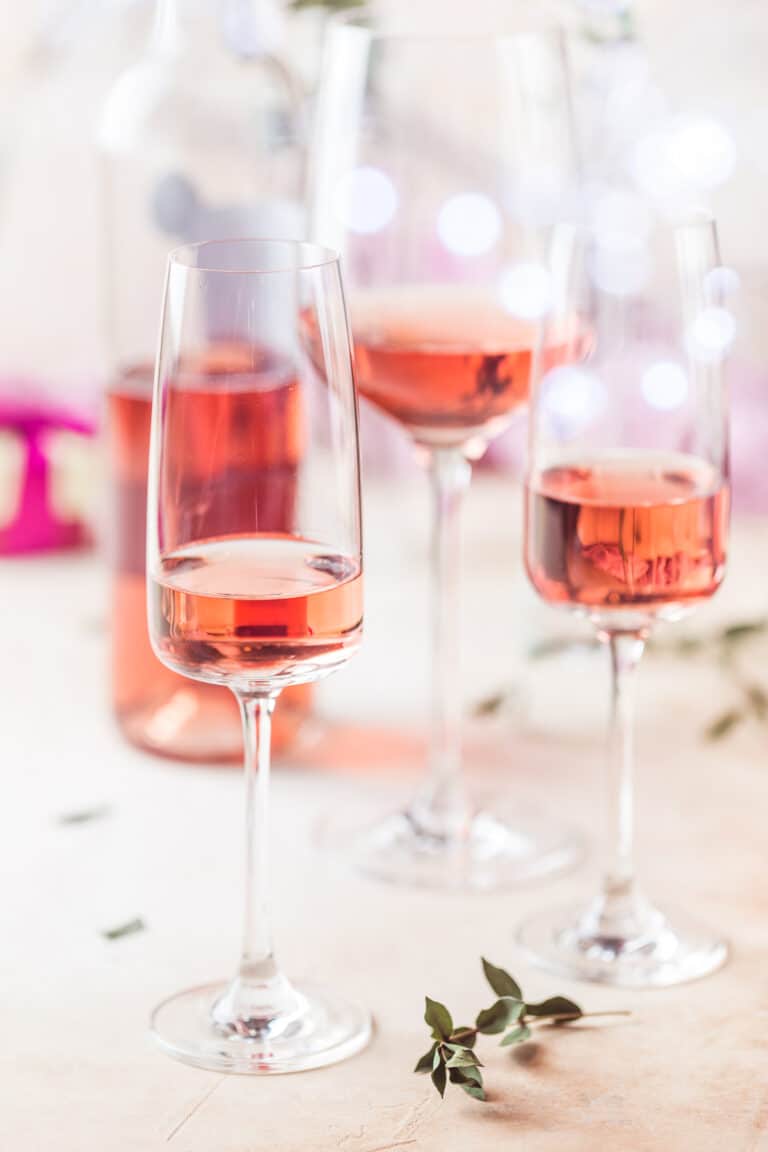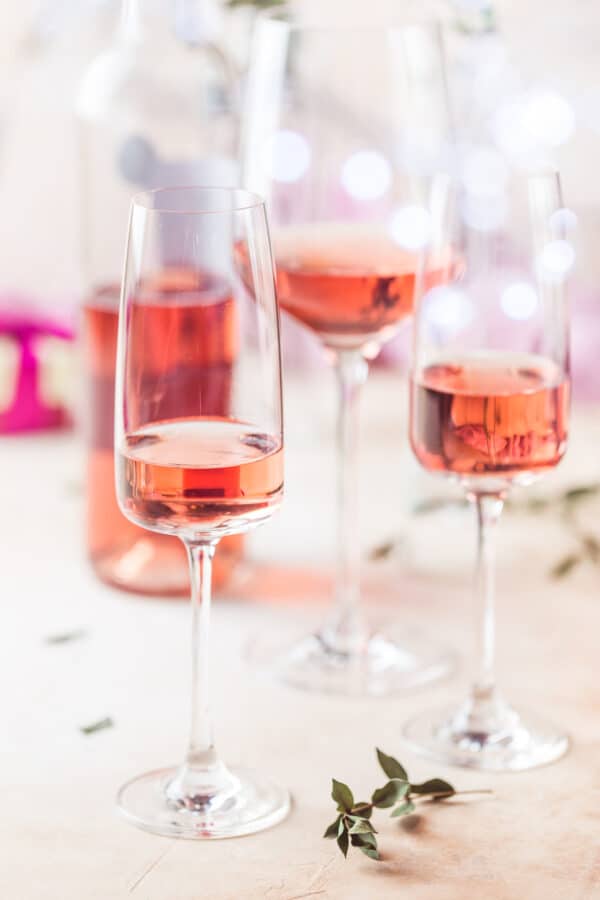 Other Types of Wine
Rosé: Rosé wines are made from red/black grapes, but they're lighter in color than red wine because the skins are only left to soak (macerate) in the grape juice for a short period of time. Types of Rosé can vary just as much as Reds and Whites, from dry to sweet, and are made from all different types of grapes.
Sparkling Wine: The difference between wine and sparkling wine is the bubbles, a result of carbon dioxide that gets trapped in the wine during a second fermentation process. These can also be made from various types of grapes, and range in flavor, sweetness, and more.
Pair with these recipes: Bacon Wrapped Scallops, Shrimp Scampi, Chicken Dijon, Chicken Stew
Regional Wine Types
Bordeaux Wine: These are wines produced in the Bordeaux region of France. While a variety of grapes are grown in the region, the most common types are Merlot and Cabernet Sauvignon.
Burgundy Wine: These are wines produced in the Burgundy region of France. A Red Burgundy is usually a Pinot Noir, while a White Burgundy is usually a Chardonnay.
Champagne: Champagne is sparkling wine, but the name can only be applied to wines produced in the Champagne region of France.
Pair with these recipes: Burgundy Mushrooms, Angel Food Cake, Black Magic Cake, Red Wine Beef Stew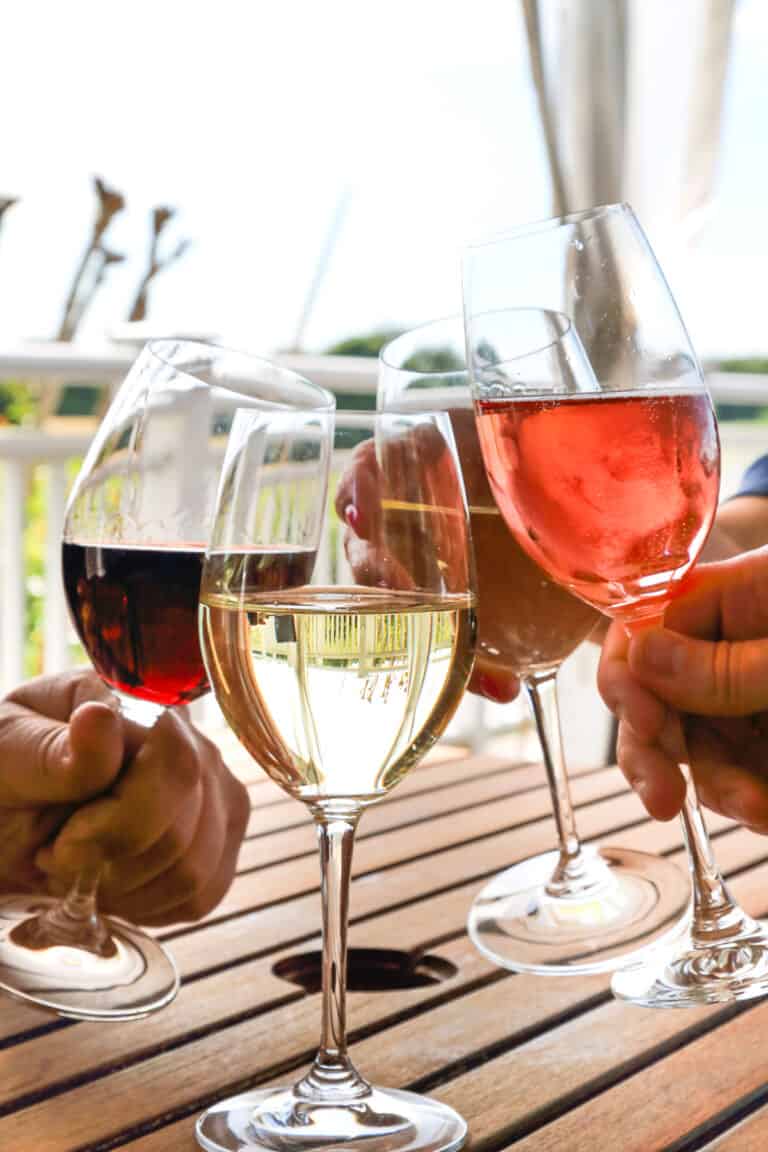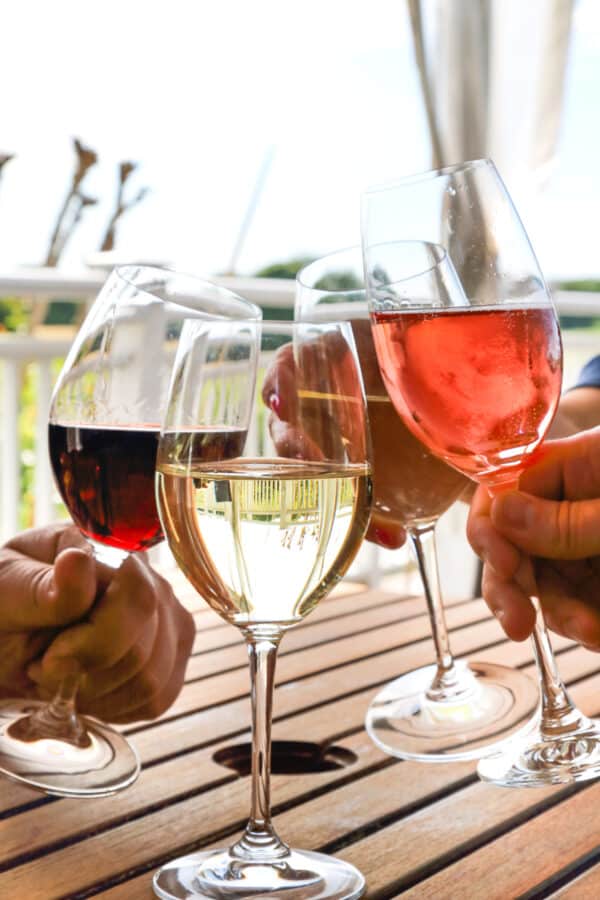 Red Wine vs. White Wine
What are the main differences between red wines and white wines? They differ in color, grape varietal, flavors, and a lot more.
Color: Red wines are made from grapes with dark skins & skins are left on during the winemaking process. White wines are typically made from grapes with green skins & skins are removed.
Age: Red wines tend to age much longer than white wines. The tannins in grape skins act as a preservative; red wines keep the skin on, so have more tannins, while whites typically don't.
Body: Reds are usually more on the rich and bold side, while whites are often on the lighter, more refreshing side (although there are exceptions).
Flavors: Reds have darker fruit flavors (blackberries, strawberries, black currant). They sometimes have flavor notes of chocolate or vanilla. Whites tend to be much lighter in taste, with flavors like apple, citrus, or florals.
Alcohol: Red wines usually have a higher percentage of alcohol than white wines.
Temperature: For the best flavor, red wines should be served close to room temperature (between 55-70°F). White wines are best when served chilled (40-55°F).
How to Choose a Good Wine for Beginners
Choosing a "good wine" starts with understanding what you like and don't like…which is where this whole Beginner's Guide to Wine comes in. Once you start to understand all the wine basics, flavors, terms, etc., you'll start to understand what you prefer. Doing a lot of wine tasting helps too, of course.
Some questions to keep in mind while tasting so you know what types of wine to choose:
Do you prefer sweet or dry wine?
Do you like light fruity flavors, or do you prefer richer flavors?
Do you prefer wines that are tart or smooth?
Do you like full-bodied wines or light-bodied wines?
What kind of aromas or flavor notes stick out to you the most while tasting, and which ones do you like best?
My top tip for good wine, though…is to drink whatever you like. Take a sip, decide whether you like it or not, and stick to the ones you enjoy most. There's no right or wrong wine to drink!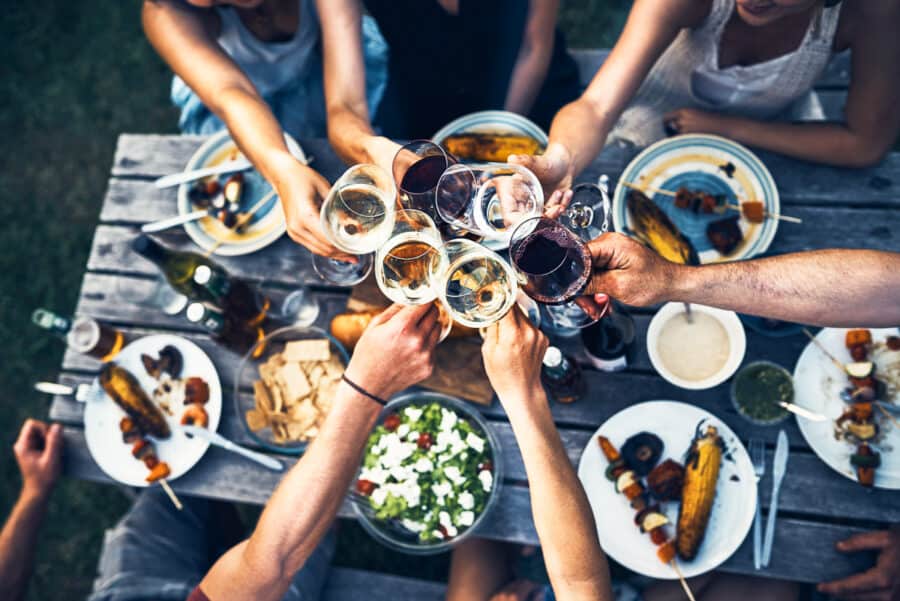 How to Store Wine
Here are a few guidelines for storing wine at home:
Store unopened bottles of wine in a cool, dark place with mid-range levels of humidity (50-70%).
Ideally, wine should be stored at 55°F, and should stay in a temperature-stable area.
While 55°F is considered the perfect temperature, anywhere from about 45-60°F is okay for long-term storage.
Store wines horizontally rather than standing up, especially if they have corks (rather than screw tops).
After opening a bottle, re-cork or use a rubber stopper to close off the bottle, and re-store for 3-5 days.
If you're going to store a lot of wine, or store for a long time, consider getting a wine fridge for the best storage temperature and humidity. A regular fridge is usually too cold for long-term wine storage, but it's fine for casual wine drinking or chilling.
Most wines do not benefit from aging (beyond the aging by the producer). Anything you buy at the store is ready to drink, although you can store it for years (it's recommended to drink a bottle of wine within 5 years).
Now that you've made it through this Wine 101 guide, you can graduate from Wine Beginner to Wine Expert, and start enjoying it on a whole new level. Or, at least, you'll finally be able to talk about wine confidently, and choose the right bottle for dinner. Enjoy!
Learn More Cooking Basics
Learn more about how to cook, meal prep, and stocking up your kitchen with our easy cooking guides!
Cooking Guides