This Mexican Street Corn Dip recipe is hot, cheesy, and delightfully spicy. Inspired by classic Elote, the mix of cream cheese, corn, hot sauce, jalapeños, lime, and feta makes the most delicious party dip for Cinco de Mayo and beyond. Grab the chips and get to dipping!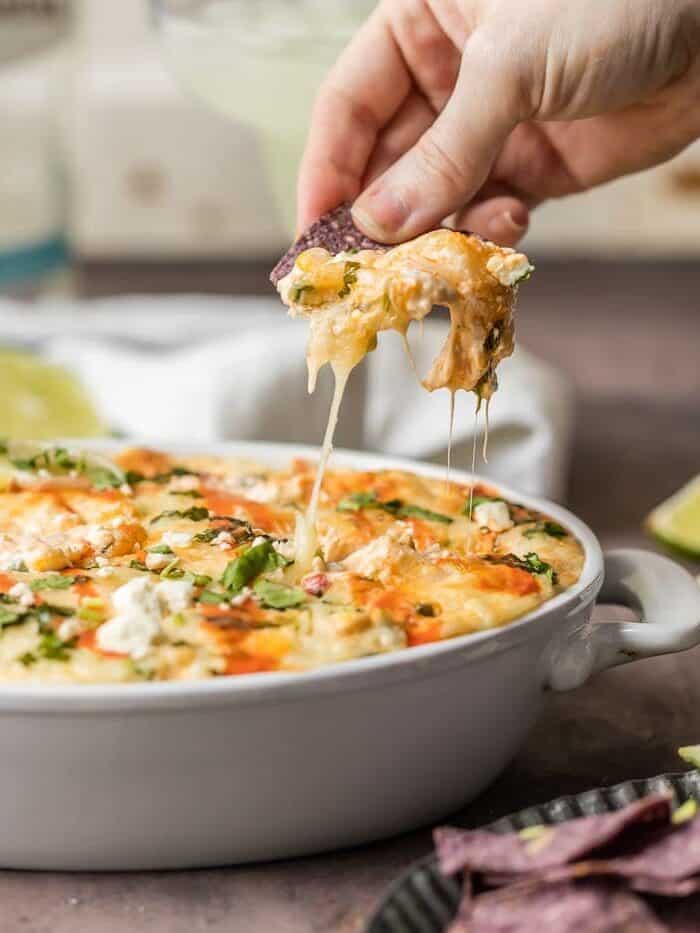 What's in this Hot Street Corn Dip Recipe
This recipe kicks street corn up a notch by baking everything into a hot and cheesy Mexican dip. Cream cheese, corn, hot sauce, jalapenos, and more make a deliciously spicy appetizer that's sure to get the party started!
Corn: Canned corn works best–be sure to fully drain and rinse it. You can use frozen corn, but you'll need to fully defrost and warm before adding it to the dip.
Cream Cheese: This is the base of the Mexican corn dip, which gives it a creamy, cheesy consistency. Use softened blocks of cream cheese.
Sour Cream: This adds more creaminess and a tangy flavor. You can swap it for plain Greek yogurt or mayo.
Hot Sauce: Use your favorite hot sauce to add some spice into the cheese dip mixture. You can also use taco sauce.
Pepper Jack Cheese: Pepper jack adds more flavor and spice. Use freshly shredded cheese for the best melting consistency. You can swap a different type of cheese (like a Mexican blend) if you prefer.
Feta Cheese: Feta crumbles add more tanginess and texture. You can use Cotija cheese instead.
Jalapenos: Chopped jalapeno peppers add more heat and spice. Remove the seeds if you want to keep it mild.
Red Onion: Chopped onions add texture and color. Red onions have a nice bite, but you can use white or yellow onion instead.
Garlic: Minced garlic cloves add a bit more savoriness.
Lime Juice: Fresh lime juice adds acidity and brightness into the creamy dip.
Pro Tip: To elevate this hot corn dip, make this grilled Mexican corn to use instead of canned corn.
Variations on Mexican Corn Dip
Switch up this baked Mexican street corn dip with some simple ingredient variations.
Briefly grill, sear, or char the corn in a skillet before adding it into the dip to enhance the flavor.
Add some Elote spices, like chili powder, smoked paprika, or cayenne. You can also use a pre-made seasoning blend, like taco seasoning.
Mix in a can of green chiles for flavor and mild heat.
To make it less spicy, skip the jalapeños and hot sauce.
Mix in shredded chicken or chorizo to bulk it up. Be sure any meat you use is already fully cooked.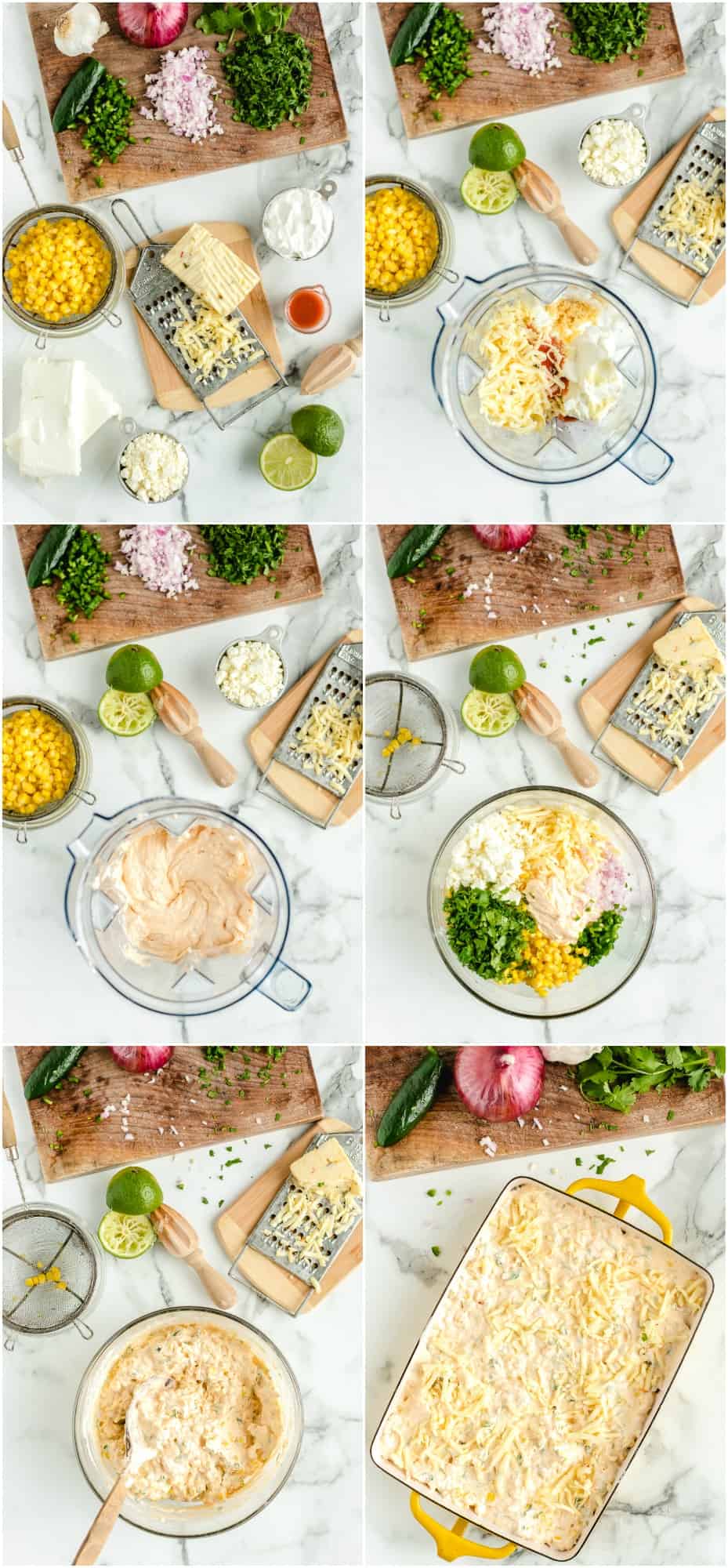 What is street corn?
Often called "Elote", street corn is grilled and then layered with sauces like sour cream or mayo, layers of fresh cilantro and lime juice, spices like chili powder, and cheeses like feta, parmesan, or cojita cheese.
Can I make this dip in a crockpot?
To make this Mexican corn dip in a slow cooker, place all ingredients in a Crock Pot, cover, and cook on low heat for 4 hours (or high heat for 2 hours). Or try this Crockpot corn dip recipe instead for a slightly different version.
Can I serve this street corn dip cold?
This oven-baked dip is best served hot if you ask me, but it can certainly be served cold if you prefer. Feel free to serve it straight from the fridge.
How long do you bake Elote dip?
Bake this dip at 350F for 15-20 minutes, or until fully warmed through.
How can I keep this corn dip warm?
If you're serving this dip at a party, keep it warm in a slow cooker set to low.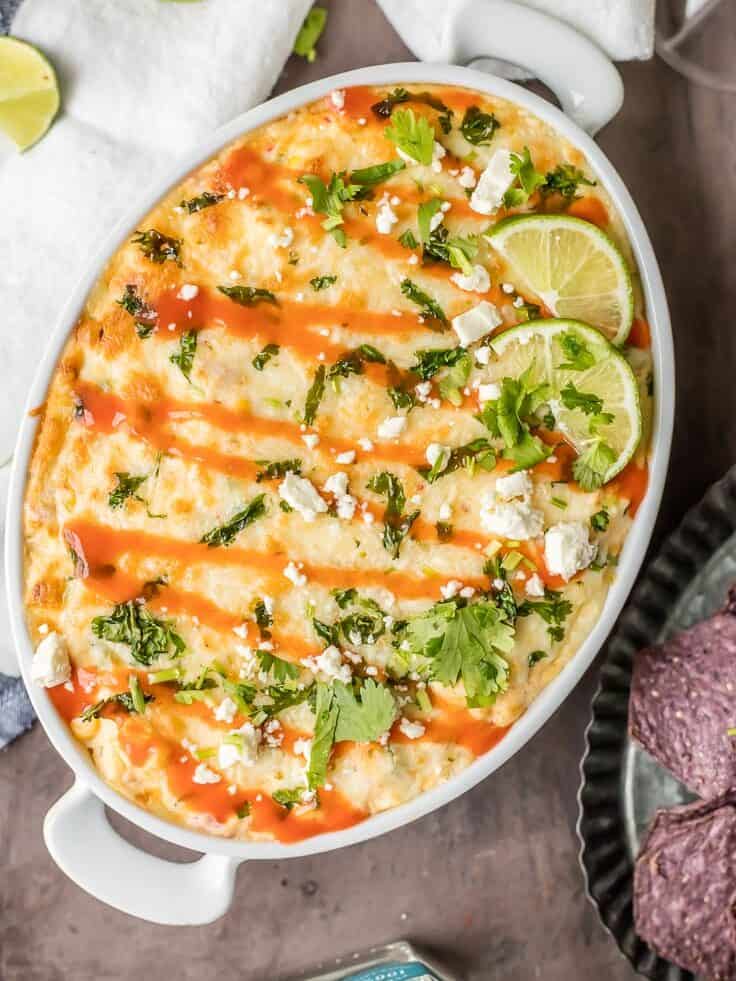 How to Store and Reheat
Store leftover Mexican street corn dip in an airtight container, and keep it in the refrigerator for up to 4 days. Reheat in the oven at 350F until warmed through.
I don't recommend freezing this dip since it's filled with dairy, which doesn't hold up well when frozen and reheated.
What to Serve with Elote Dip
You can't eat this hot street corn dip without tortilla chips! But of course you can use any dippers you like, from hearty crackers to crisp veggies. It's one of my favorite hot party dips for all occasions, but especially for Cinco de Mayo parties along with a few margaritas.
More Mexican Dip Recipes We Love