These perfect stovetop burgers make it easy to have a perfect burger, even in the middle of winter when you can't grill! I know some people still grill in the cold temps of winter, but I just can't do it sometimes. There are a few tricks that mom taught me that I am sharing with you today for the perfect stovetop burgers – enjoy!
WHEW! its been a long time since I've cooked!! there has been A LOT going on around the Hardin (!!) household!  (posts about all the craziness will be up soon!) but i'm back ladies and gentlemen! i'm back and ready to learn how to make all sorts of new things.  i'm back and ready to make my husband quit eating nutrisystem! not that nutrisystem is bad, it was great for the wedding diet, but I want to be the domestic goddess I was born to be.  I want him to enjoy eating home cooked meals!
last weekend we had the very sad opportunity to watch the final episode of our all-time favorite show, breaking bad.  I was so excited for it, and so bummed out by it, all at the same time.  if you haven't seen this show, I recommend you quit reading this post, and go immediately to Netflix.com to order their service.  then immediately begin watching the first season of breaking bad.  you will have to take a couple weeks off of work to watch all 5 seasons in a row, but it will be worth it.  you can thank me later.  UNBELIEVABLE television.  I could geek out about it all day, but I digress.  point being, the breaking bad finale brought me back to cooking again.  we had some friends over to watch the finale, and I needed to feed them! I scoured pinterest for some cute ideas, and here were the themed foods I made: (note: the funyuns were not actually made by me ;)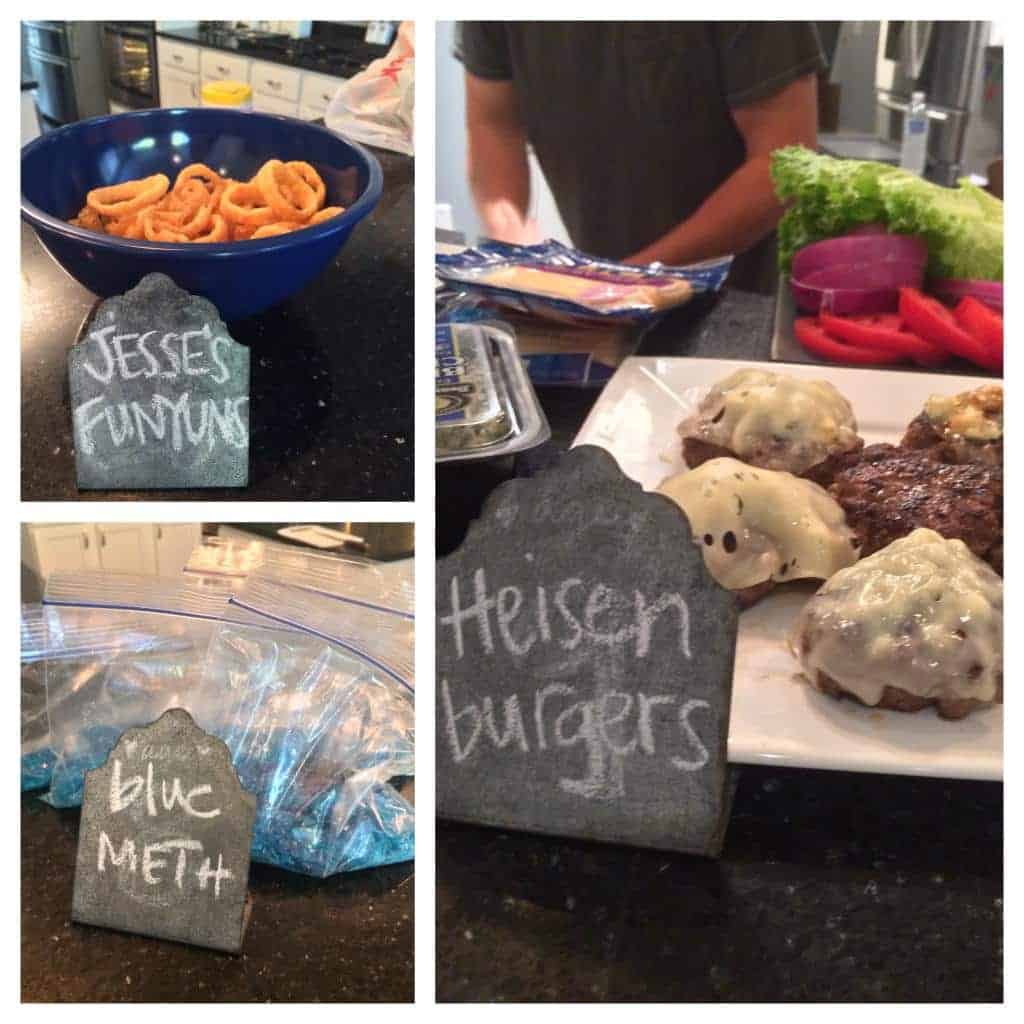 cute, right? the 'heisenburgers' were made with blue cheese and swiss (yum), and the 'blue meth' is just blue-raspberry rock candy.  two recipes that intimidated me, that both ended up being VERY easy.
for the perfect stove-top burgers, there are a few handy tricks for cooking it just right:
don't over do it:  when adding the spices and making the patties, if you can avoid over-working the meat, it will be more tender

create a ridge around the outside of each patty:  for some reason this really helps.  I don't really know why, my mom taught me!

don't make them too thick:  its easy to create little round burgers.  they're better when they are about an inch thick and flatter.  1/4 pound burgers are a great size (and easy to make, buy 2 lbs and that easily makes 8 perfect sized burgers)
buy lean meat: I like an 80% blend.  this gives the burger tons of flavor but also makes it a little better for you.  you could even go leaner and it would still be great.

flip just once:  brown the first side until the brown color inches up the sides of the patty and you can see the moisture leaving the top.  then flip to the other side until browned.  this will help so that you don't overcook the burger. (we like our burgers slightly pink in the middle)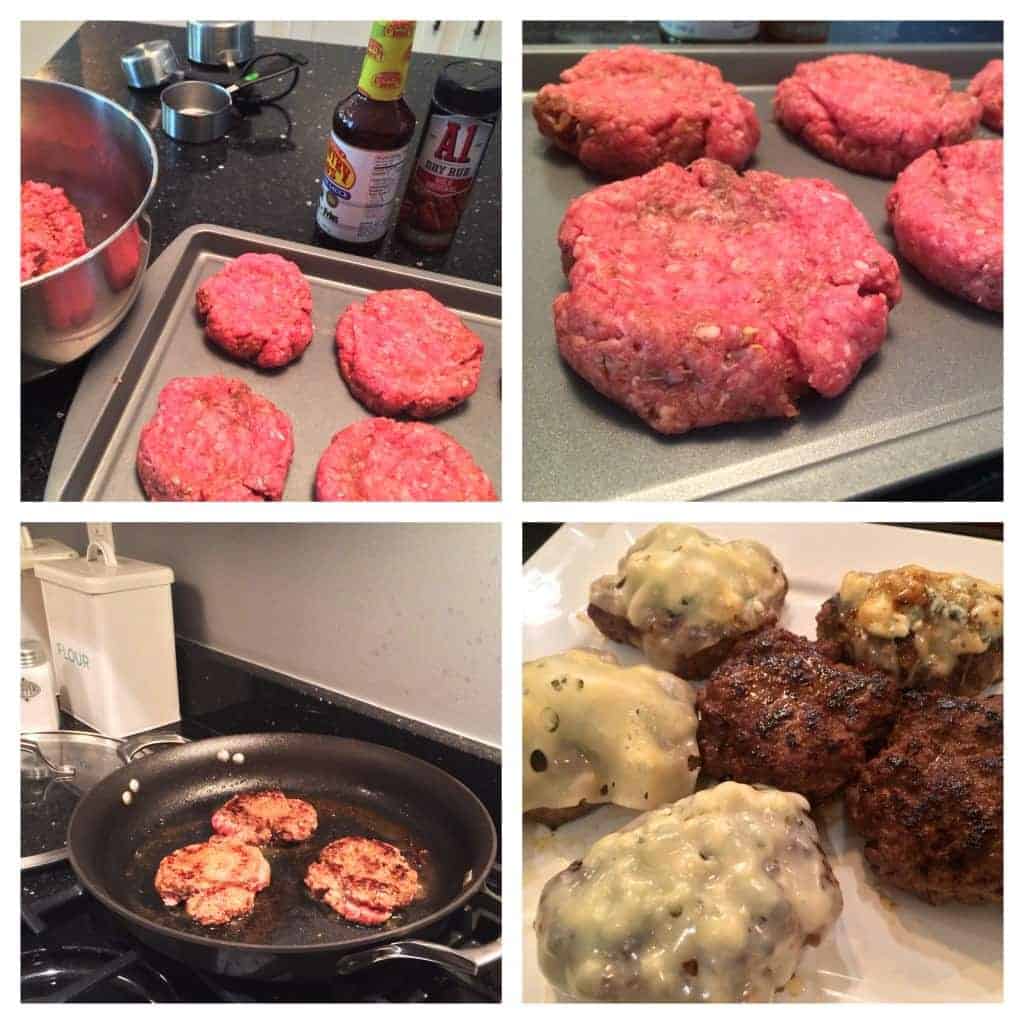 so its really that simple.  I always had anxiety about cooking burgers because I assumed I would burn them.  I realize this is a silly thing to have anxiety about, and that there are few 31 year olds out there that have never cooked a hamburger.  but they turned out GREAT and I can't wait to make them again.  victory!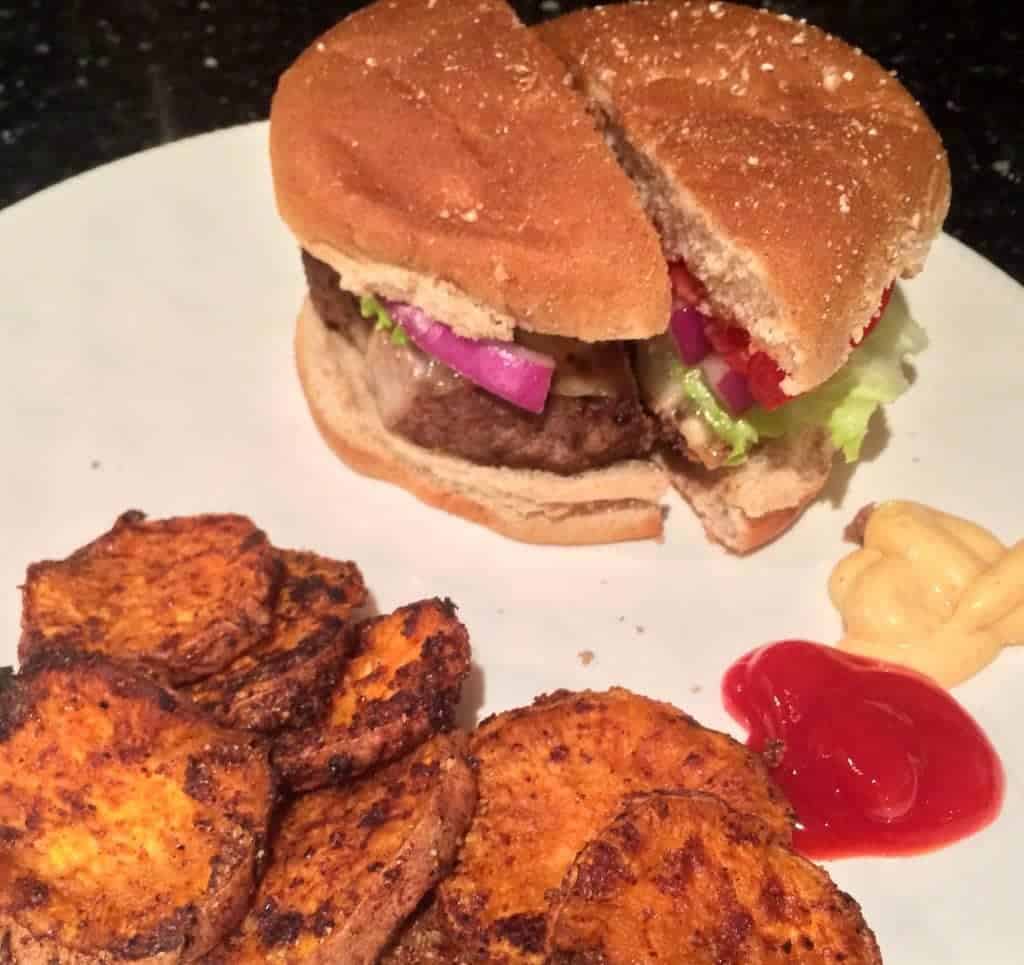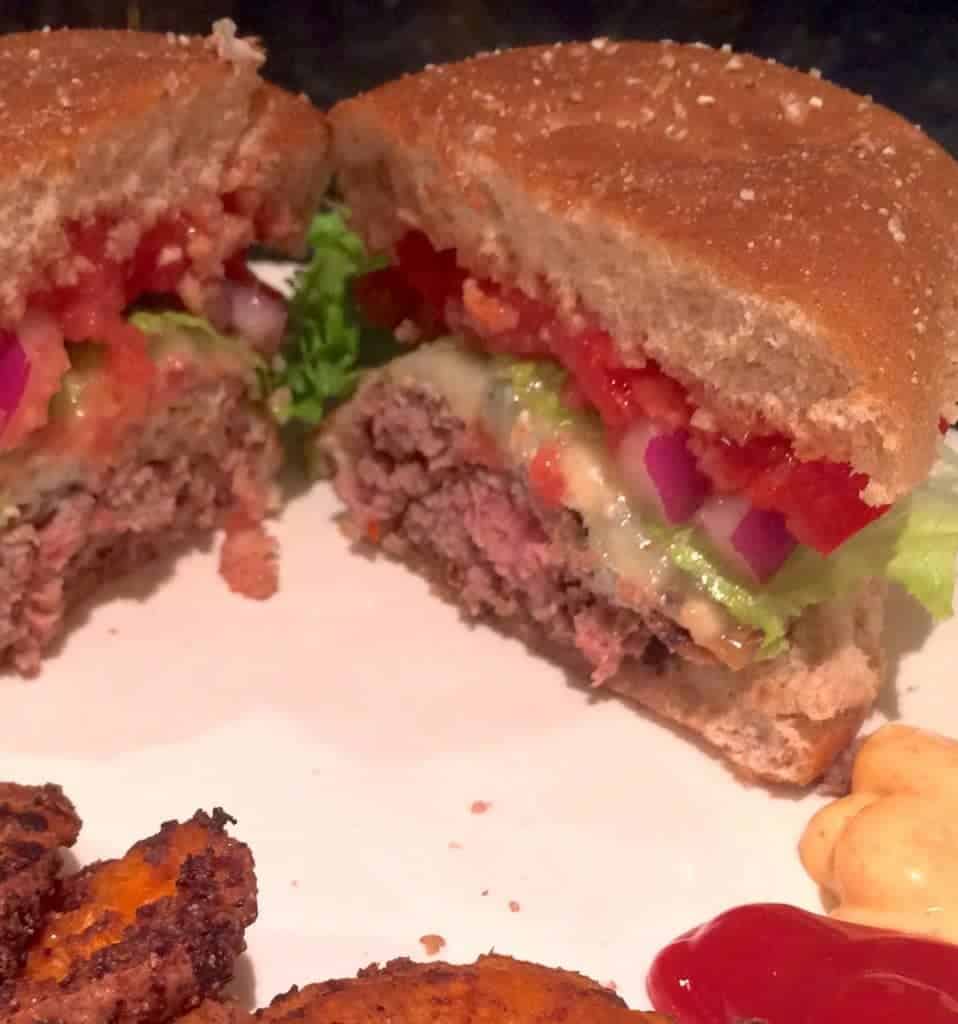 the cooking virgin
Yields 8
perfect stovetop burgers
grilling burgers on the stove-top was SO much easier than I thought!
20 minPrep Time
10 minCook Time
30 minTotal Time
Ingredients
2 lbs. 80% ground beef
spices for seasoning (we chose A1 seasoning rub)
sauce for seasoning (we chose country bobs)
cheese for topping (we chose blue cheese and swiss)
Instructions
knead the beef with your hands, folding in the spices and sauce to your liking
break into 8 burgers (this makes 1/4 lb burgers which are the perfect size)
make the burgers approx. 1 inch thick and create a ridge around the top of the patty
place in a pan over medium-high heat (do not add any oils to pan, the meat will create enough of this on its own)
once you see brown color reaching up the sides and bottom is sufficiently browned, flip the burger once and brown the other side. this will ensure the burger isn't burned.
top your burger with cheese if desired, and continue to grill until cheese is melted down onto burger.
enjoy!
7.6.4
1546
https://www.thecookierookie.com/stovetop-burgers/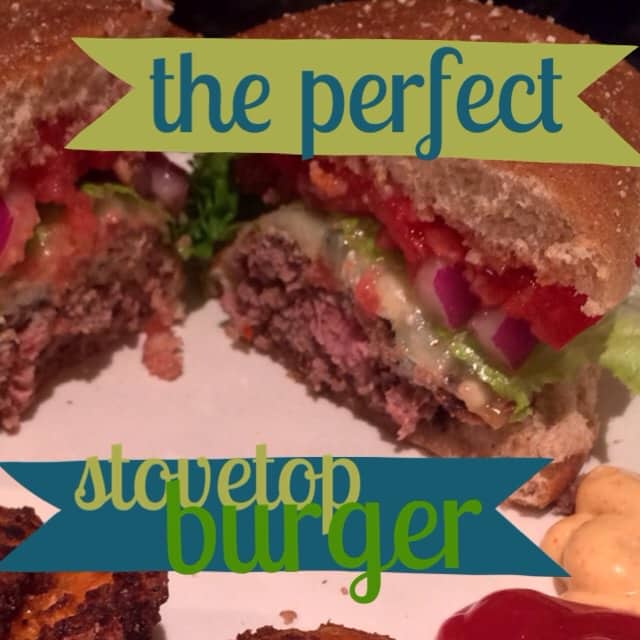 JOIN OUR MAILING LIST
TO GET COOKING!
Subscibe to recieve all the latest, greatest, and EASIEST recipes sent straight to your email inbox. If we post something yummy, you'll be the first to know.