Stovetop Burgers are easier than you might think! Once we learned How to Cook Burgers on the Stove it's our go-to easy dinner for anytime of year. This is a great way to make sure you cook a JUICY and PERFECT cheeseburgers each and every time. Now you can make the best burgers year round.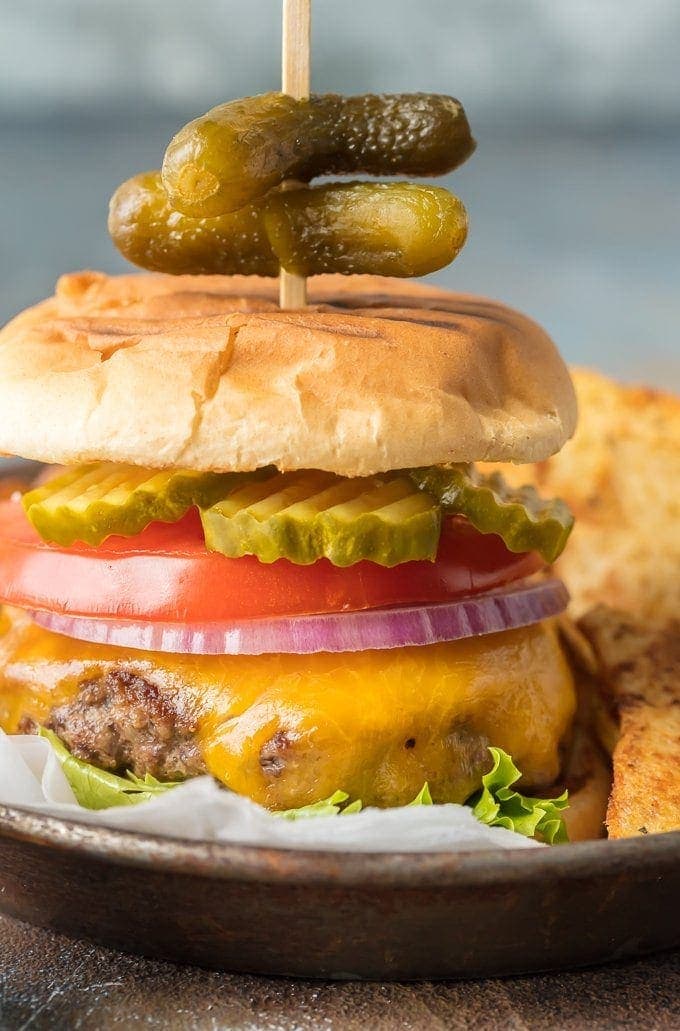 Best Stovetop Burgers Recipe
Once we learned how to make burgers on the stove that were juicy, perfect, and easy every time, this has become our go-to stovetop burgers recipe.
I love that you can cook cheeseburgers year round; regardless of a grill! These ridiculously delicious hamburgers are delicious and cooked to order every time!
If you're a true hamburger or cheeseburger lover, then you NEED this Stovetop Burgers Recipe. Get ready to sink your teeth the BEST PAN FRIED BURGER you have ever tasted!
See all the tips and tricks below for making it absolutely perfect every time. There have become a reader favorite recipe and we love them too!
Once you know how to make stovetop burgers, you'll be able to make them in any season–no grill needed!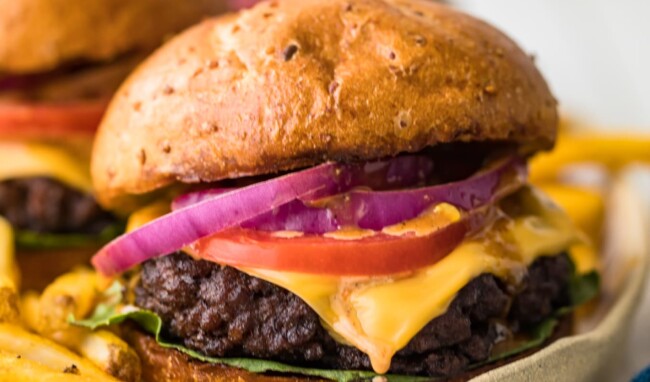 Burger Guide
Cook Burgers ALL the Ways
Our Burgers Guide has all the tips and tricks for perfect burgers each and every time.
See Burgers Guide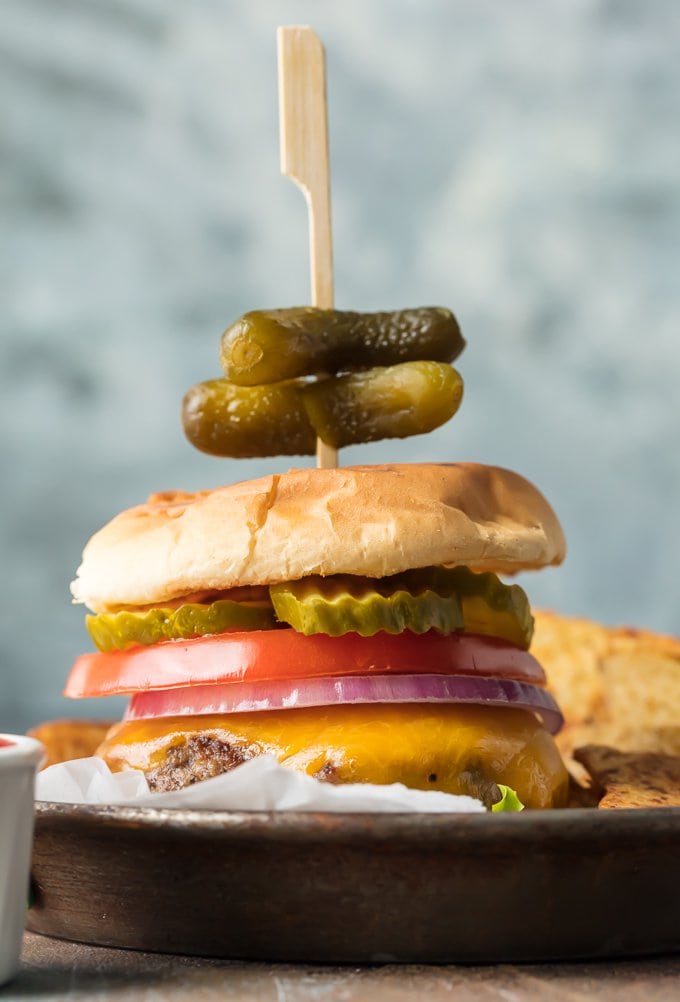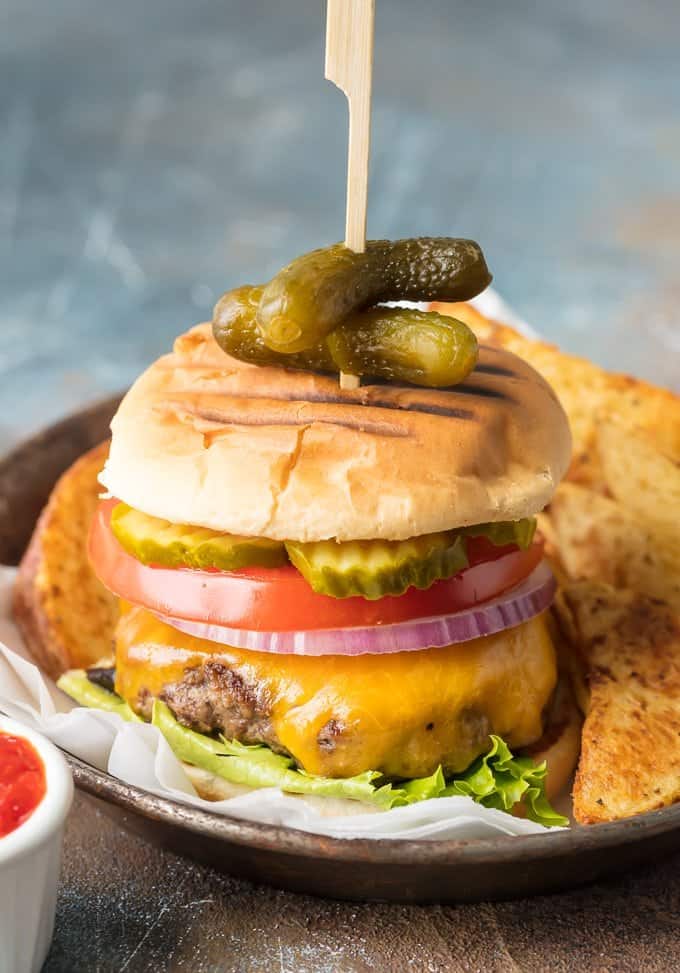 Tips for Stovetop Burgers
The key to a perfect Stovetop Burger is knowing how long to cook burgers, testing your internal temperatures, and keeping things simple.
There are lots of great loaded burger recipes out there, and we have some we love ourselves like our Mediterranean Chicken Burgers and these Cowboy Burgers. When it comes down to it, we love a simple and classic cheeseburger better than anything.
These Stovetop Burgers are the type of meal I could eat every day for the rest of my life. It's seasoned with just salt and peppers, letting the juicy beef really shine.
Tip!
Of course there are lots of variations you can make, but we stand by the fact that a perfectly cooked pan fried burger covered in melted cheese is the ONLY way to make a Stovetop Burger.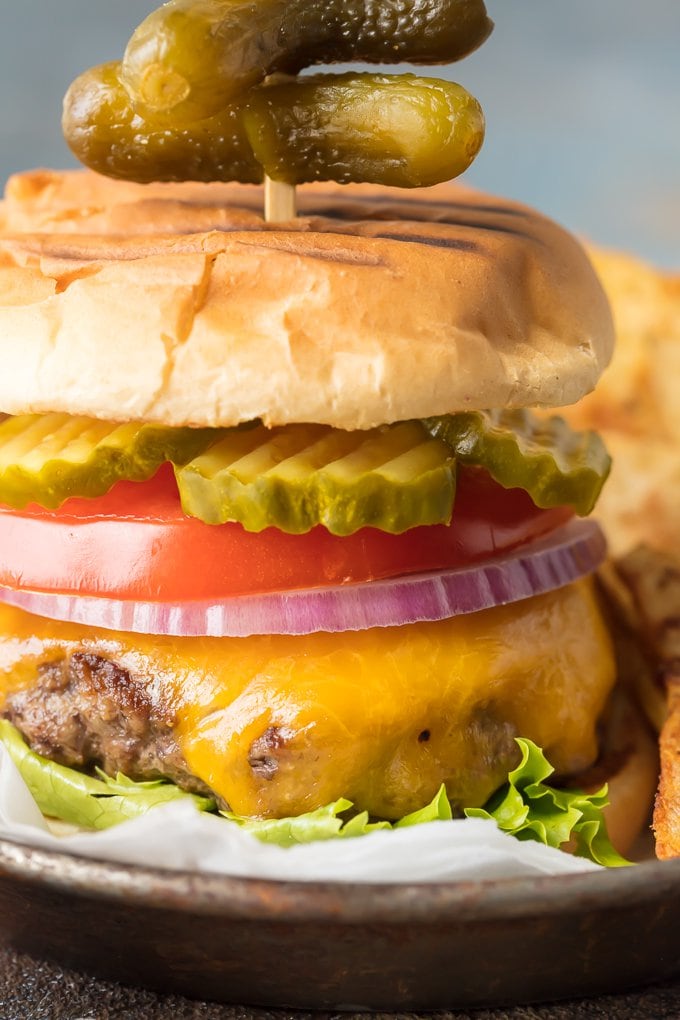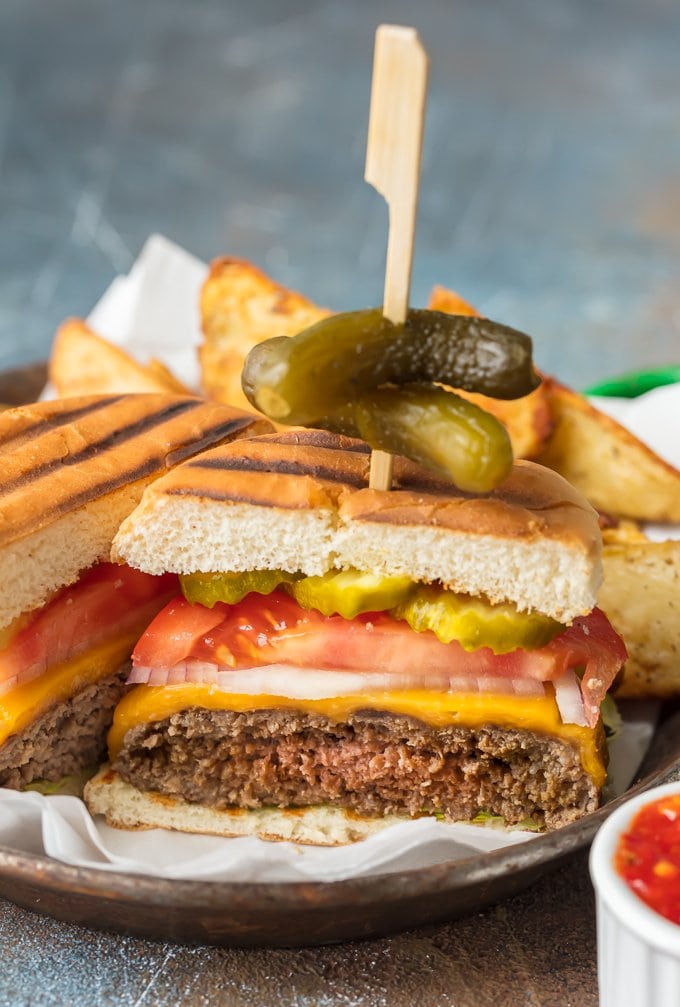 Can you cook frozen hamburgers on the stove?
You can, and sources say if done correctly you can get them to taste almost as juicy as a fresh beef burger, but I don't recommend it. Fresh is best for cooking a truly juicy and amazing burger on the stove!
Can you cook a burger in the oven?
Yes, you can cook burgers in the oven if you prefer. We just want to make sure we can make delicious burgers year round, so oven or stove top works!
Check my recipe on How to Broil Hamburgers for the perfect oven baked burgers.
What are the internal temperatures when cooking beef?
Internal temperatures for a ground beef burger are as follows:
Medium Rare: 130-135°F
Medium: 145°F
Medium Well: 150-155°F
Well Done: 160-165°F
*NOTE: The FDA officially recommends that hamburgers be cooked to an internal temperature of 160°F to ensure all bacteria is killed. If you choose to do more of a Medium cook, be sure you're using the freshest beef or even making your own ground beef!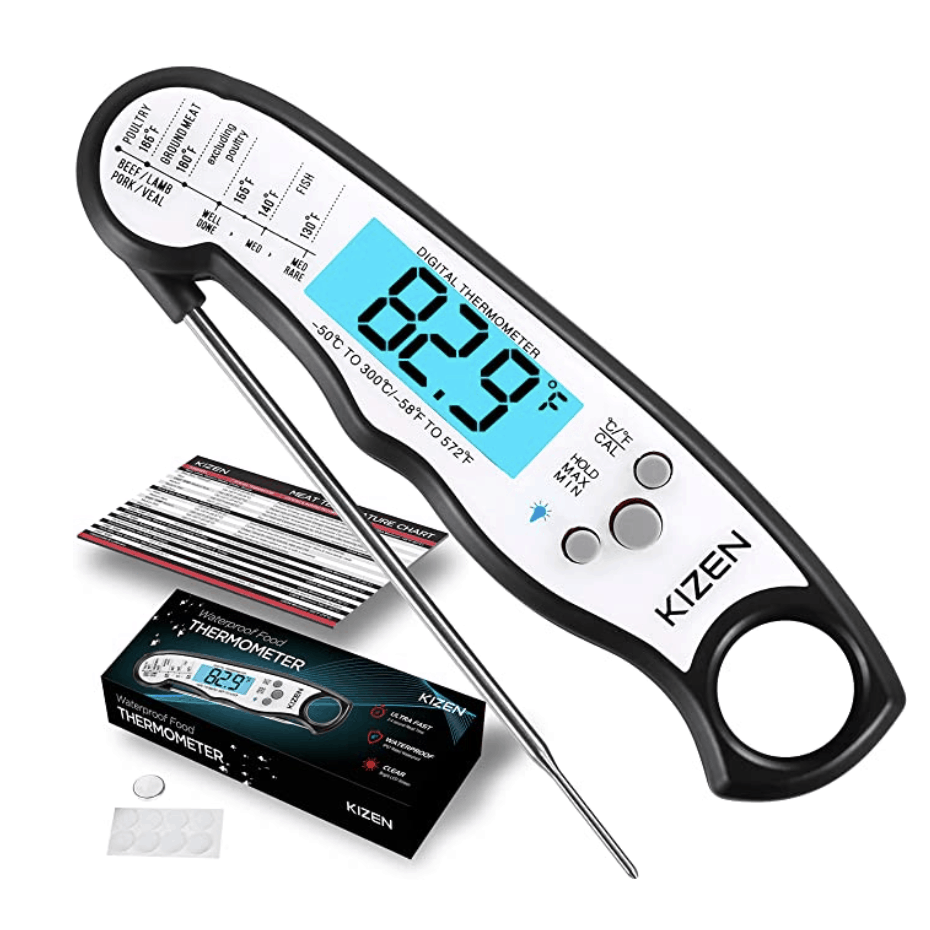 The Best meat thermometer!
I love using this meat thermometer for making sure the meat is at 165 degrees! Easy for beginners & totally worth the $10 cost!
We have created an internal temperature guide as well as FREE PRINTABLE for easy tips on cooking meats! Click HERE to print your free version.
How long to cook burgers for medium rare – well done stovetop burgers?
GOOD QUESTION! This is the easiest and safest way to make sure your burgers are cooked to perfection every time. Cook times for cooking burgers in a skillet (that are about 1 inch thick and cooked on medium high heat) are as follows:
Medium Rare (red in the middle): 6 minutes total (3 minutes on each side)
Medium (pink in the middle): 7-8 minutes total
Medium Well (smidge of pink in the middle): 9 minutes total
Well Done (no pink): 10 minutes total
Again, the FDA recommends at least close to a well done burger at 160F. So about 9-10 minutes total cooking time is what we are shooting for.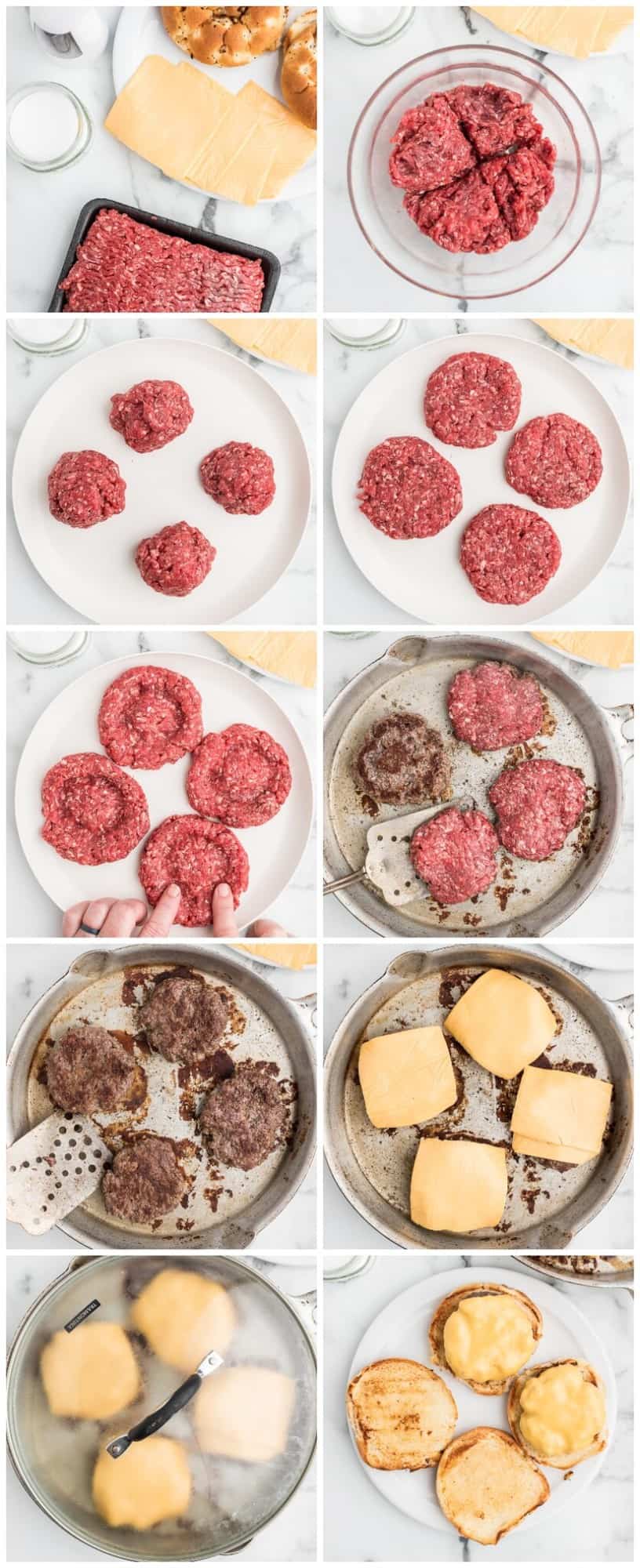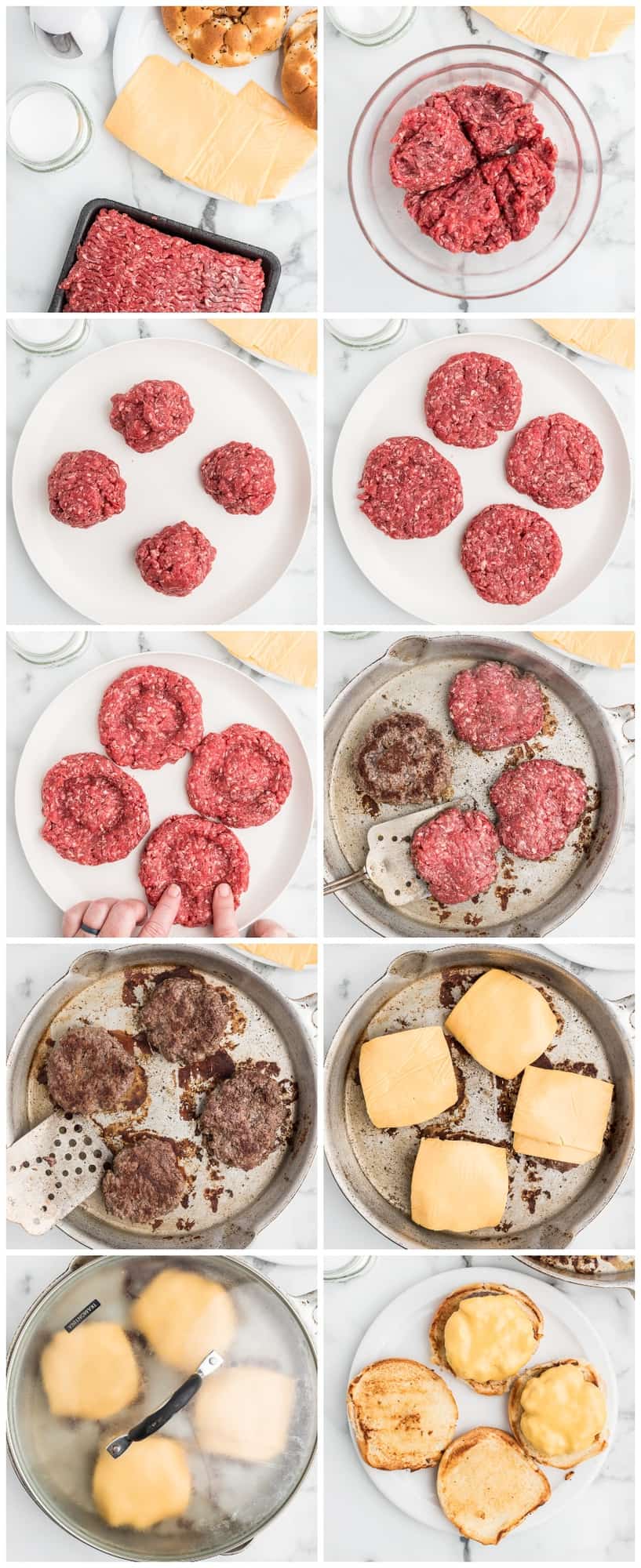 What do you serve with Stovetop Burgers?
When we finally learned how to make burgers on the stove, I knew we also needed the perfect side dishes. We love to serve these juicy stovetop cheeseburgers with a few favorites.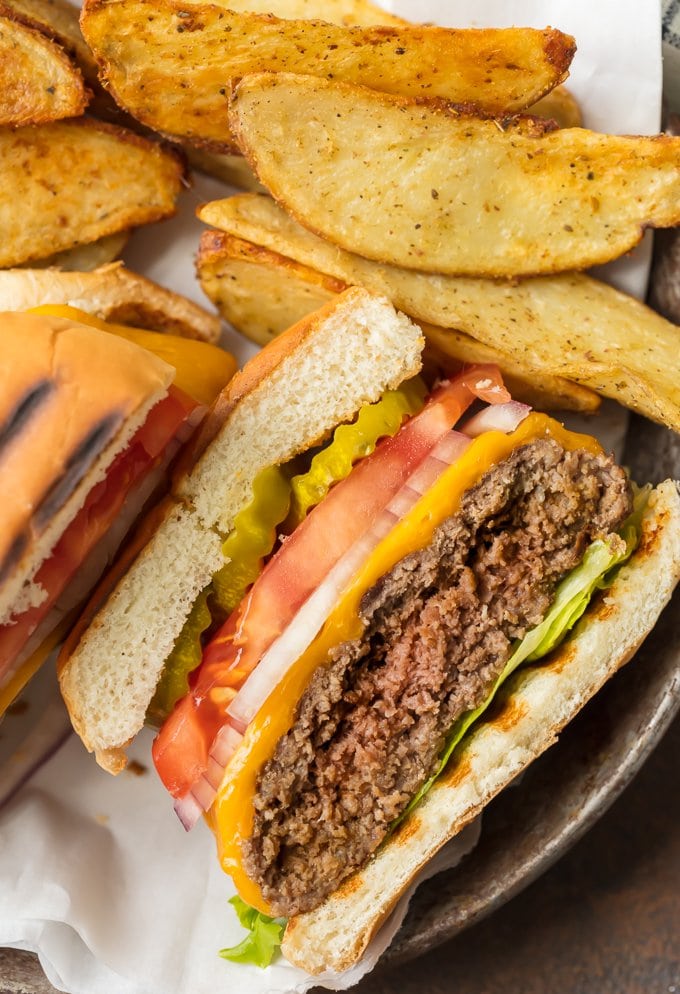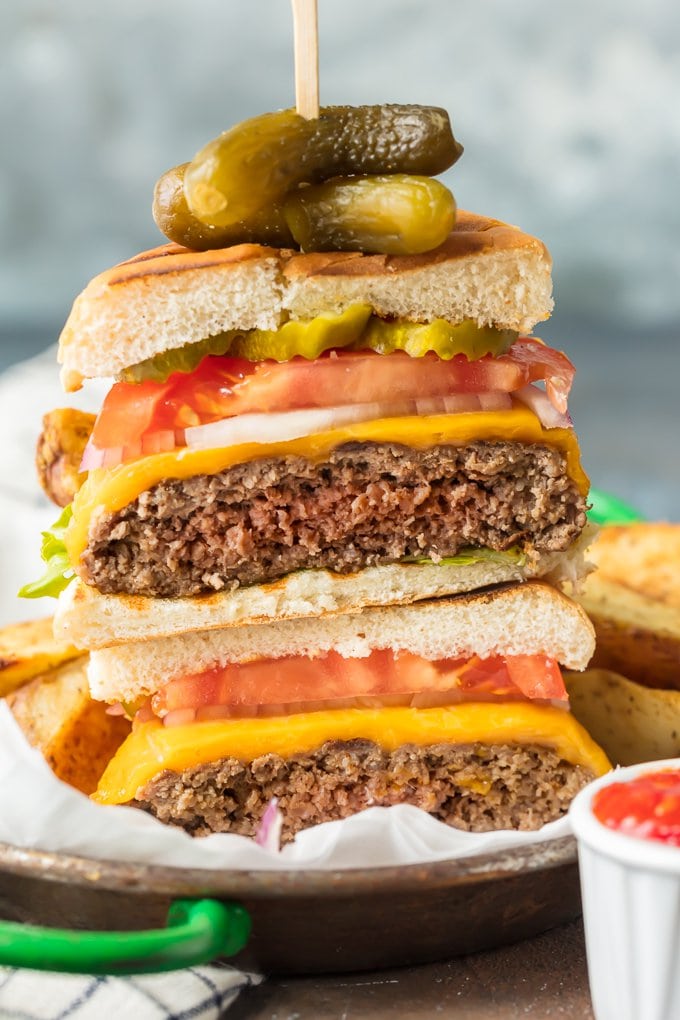 How to Make Skillet Burgers
You too can cook the PERFECT Stovetop Burgers! I believe in you. Be sure to fully read the instructions as well as all the tips for how to cook burgers on the stove above.
Decide which temp you're going for and then kick some butt! Your family is going to love these. Who needs Summer? We can excel at cooking perfect cheeseburgers ALL YEAR LONG!
You can jump to the recipe card for full ingredients & instructions!
More Burger Recipes we Love
We love creating fun and delicious burgers. Here are some favorites to try after you master the Stovetop version!
See All Burgers
If you make this recipe be sure to upload a photo in the comment section below or leave a rating. Enjoy! You can also jump to recipe.