Stovetop Burgers are easier than you think! Learning how to cook the perfect burgers on the stove means you can make this easy dinner anytime of year. Form simply-seasoned burger patties, pan-fry them in a skillet, and find the exact cooking time and temperature to make sure you get it right. You'll be cooking the best hamburgers and cheeseburgers, with your toppings of choice, each and every time!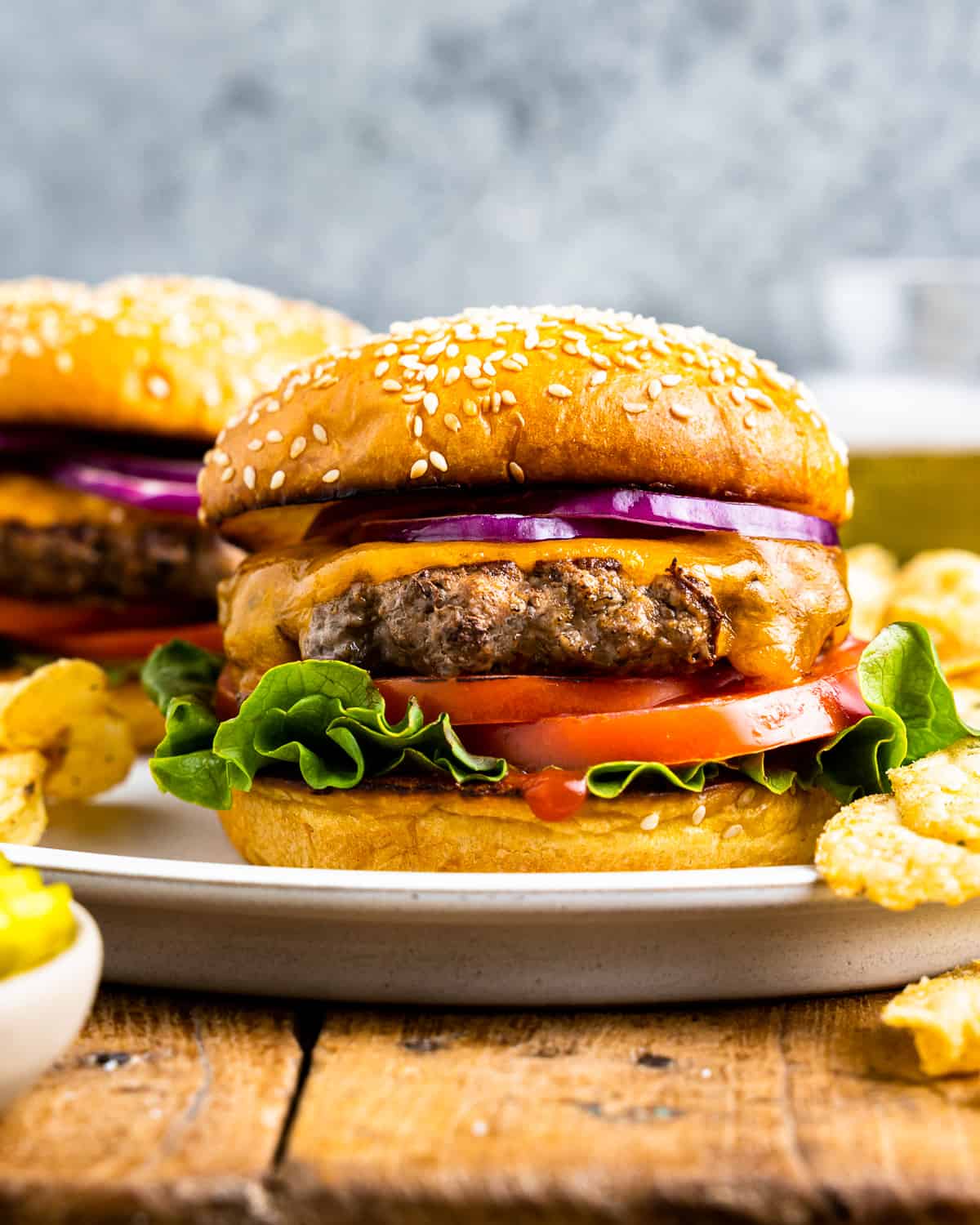 What's in this Hamburger Recipe?
Cooking burgers on the stove only requires a few ingredients and 20 minutes to make. The main thing you need is ground beef, and then the cheese, toppings, and seasonings are all up to you. This is one of my favorite burger recipes because it's so simple and versatile!
Ground Chuck: Ground chuck is ideal for burger patties. I recommend a lean 80/20.
Seasoning: I keep the seasoning simple with salt and pepper to taste. But feel free to add in garlic and onion powder, paprika, or your favorite burger seasoning blend.
Cheese: A slice of American or cheddar cheese is perfect for cheeseburgers, but any type works fine (try pepper jack or swiss). Or you can skip the cheese if you prefer a hamburger.
Hamburger Buns: Grab your favorite buns for serving. Brioche buns are a great way to make them feel a little more gourmet, but any type is fine.
Toppings: Top with your favorite ingredients! Add lettuce, tomatoes, onion, pickles, caramelized onions, sweet relish, and more.
Condiments: Add mayo, mustard, ketchup, burger sauce, relish, or any condiments you like.
Tips!
The key to a perfect Stovetop Burger is knowing how long to cook burgers, testing your internal temperatures, and keeping things simple. Don't overdo it–just let the juicy beef speak for itself!
How long do you cook burgers on the stove? (medium-rare to well-done)
From medium-rare to well-done, here are the internal temperatures and cooking times (per side and total) when making burgers in a skillet. (See our Burger Temperature Chart for even more info!)
| Doneness | Color | Internal Temp | Cook Time (per side) | Cook Time (total) |
| --- | --- | --- | --- | --- |
| Medium-Rare | red in the middle | 130-135F | 3 minutes | 6 minutes |
| Medium | pink in the middle | 145F | 3-4 minutes | 7-8 minutes |
| Medium-Well | smidge of pink | 150-155F | 4-5 minutes | 9 minutes |
| Well-Done | no pink | 160-165F | 5 minutes | 10 minutes |
Note: The FDA officially recommends that hamburgers be cooked to an internal temperature of 160°F to ensure all bacteria is killed. If you choose to do more of a Medium cook, be sure you're using the freshest beef or even making your own ground beef!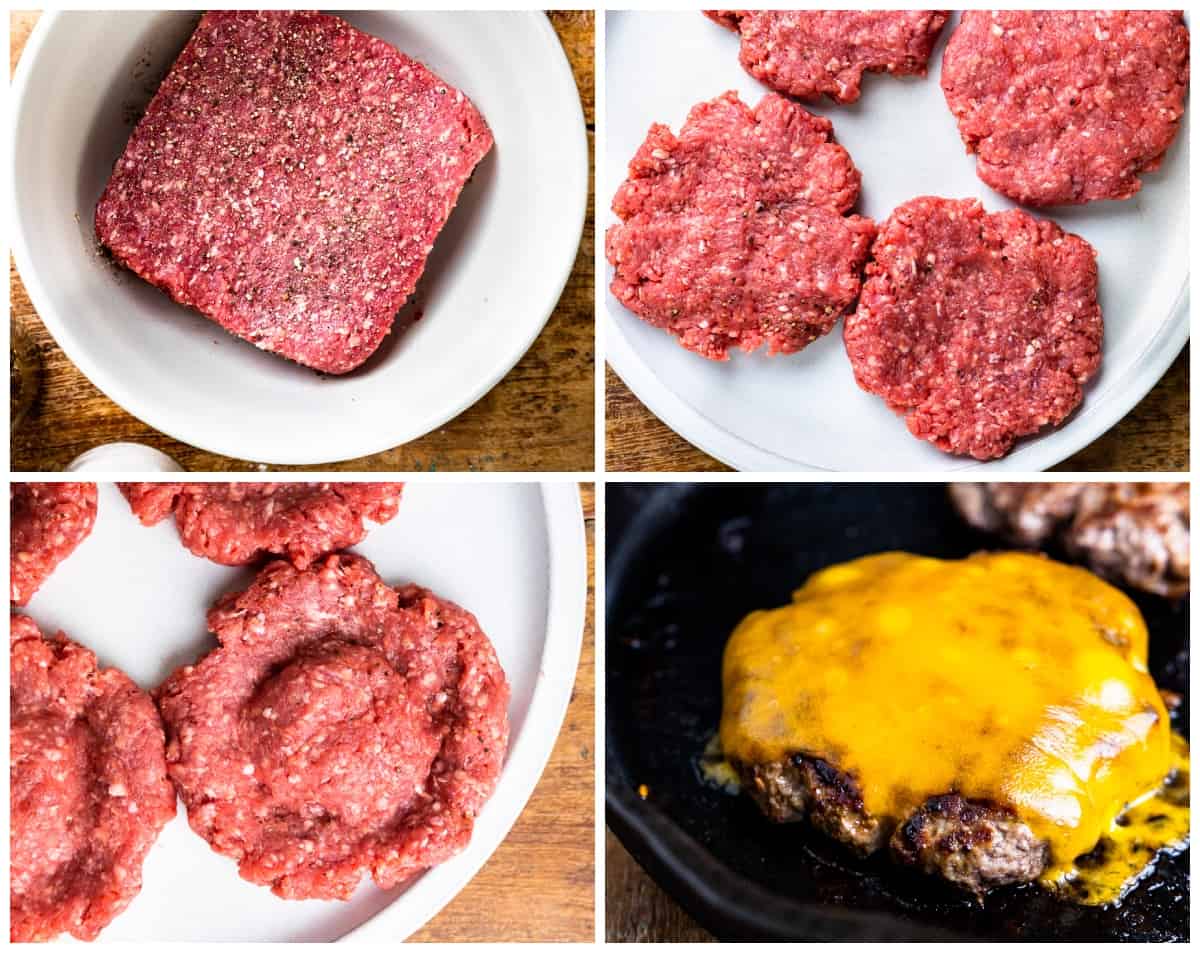 How do you season burger patties?
Add salt, pepper, and any other seasonings you want to add directly into a mixing bowl with the ground chuck. Mix enough to evenly distribute the seasoning, but don't overwork it. Some common seasonings (besides salt and pepper) are garlic powder, onion powder, paprika, cayenne pepper, brown sugar, and oregano.
What's the internal temperature for burgers?
Burgers should be cooked between 135-160F, depending on your preferred doneness level. Check the burger cooking chart above for specifics.
How do I make a cheeseburger on the stovetop?
To turn a hamburger into a cheeseburger, simply add a slice of cheese on top of the burger patty right after it's done cooking. Remove the pan from heat and place a lid on top. The leftover heat will create steam and melt the cheese.
Can you cook frozen burger patties on the stove?
I don't recommend cooking burgers directly from frozen on the stovetop. Instead, defrost patties in the fridge before cooking.
How thick should a burger patty be?
I recommend making burger patties about 1-inch thick. If it's too thick, it will get dry and crispy on the outside before cooking through fully in the center.
How do you shape burger patties?
Combine seasonings with ground chuck, divide the meat into 4 equal parts, then use your hands to loosely form each ball of beef into a round patty–it does't need to be perfect.
Is it better to cook burgers in butter or oil?
Butter will create a richer flavor and give you a more traditionally pan-fried result. But oil is a great option as well.
How can you tell when a burger is done cooking?
I recommend using an instant read meat thermometer to check the internal temperature at the center of each patty to be sure it's properly cooked.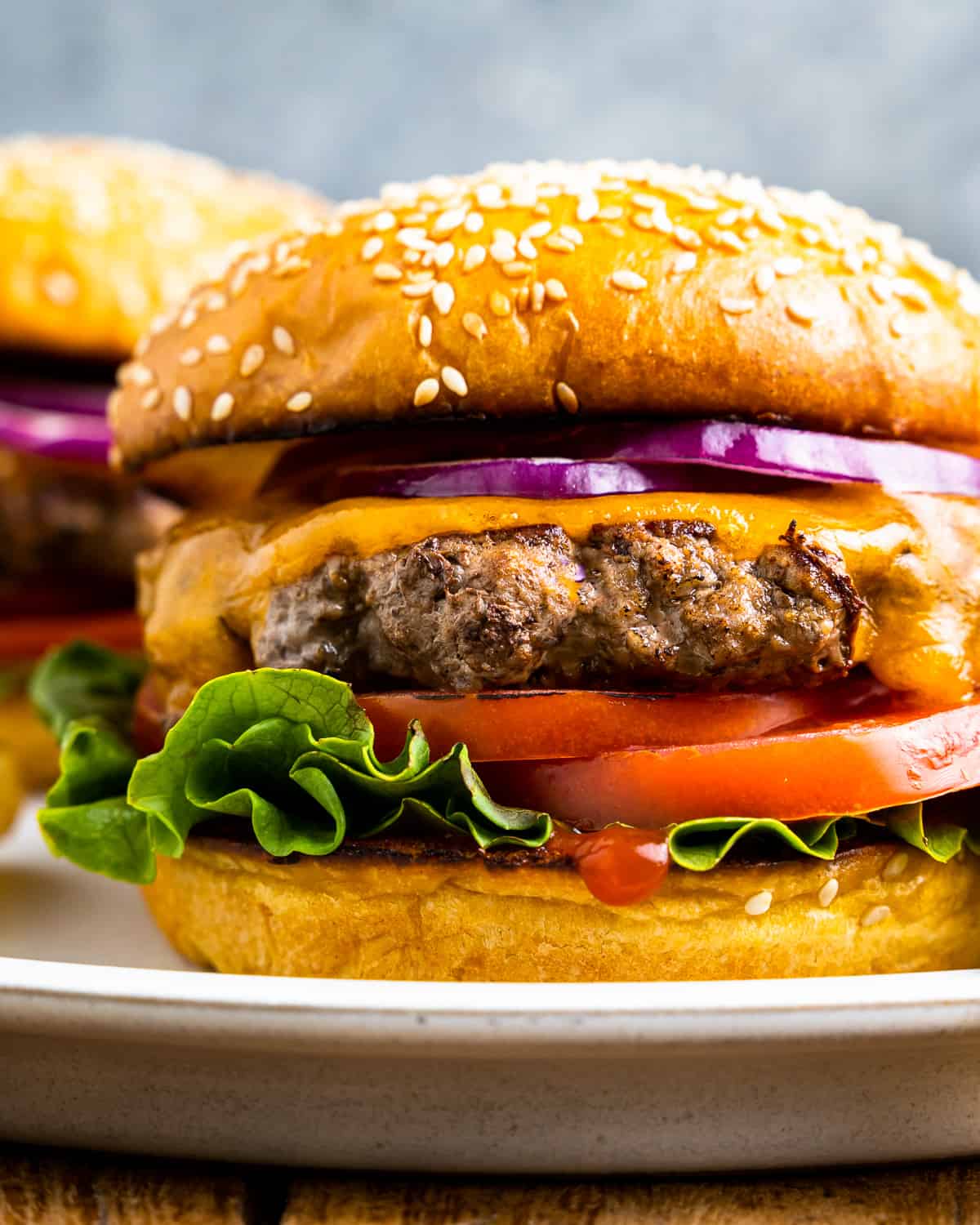 How to Store and Reheat
Once cooked, let burgers cool to room temperature. Store them in a resealable bag, airtight container, or wrapped tightly in aluminum foil. Keep them in the refrigerator for up to 4 days.
For best results, reheat burgers in a non-stick pan on the stovetop until they are fully heated through. Try adding about 3 tablespoons of water to the pan to create steam–this will keep the patties from drying out.
How to Freeze Burger Patties
To freeze homemade burger patties, let them cool completely. I recommend wrapping each one separately with aluminum foil, and then placing them all in a freezer-safe, resealable bag. Freeze for 3 months.
Let them fully defrost in the fridge before reheating.
What to Serve with Burgers
The best stovetop burgers deserve the best side dishes! These classic French fries are my favorite, but any kind of fry will do. Try baked sweet potato fries, shoestring fries, parmesan potato wedges, or even zucchini fries.
Or make corn on the cob, homemade coleslaw, air fried tater tots, BBQ baked beans, baked potatoes, corn casserole, or any classic BBQ sides.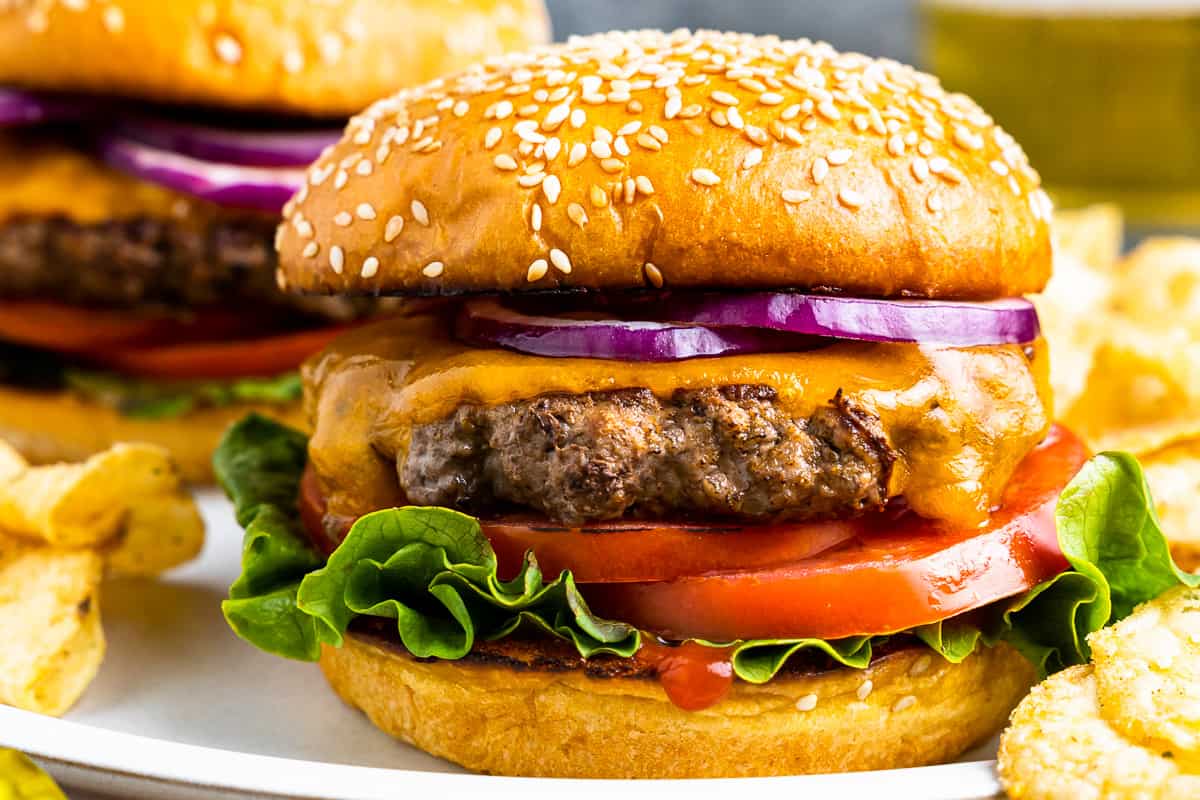 If you make this recipe be sure to upload a photo in the comment section below or leave a rating. Enjoy! You can also jump to recipe.
More Ways to Cook Burgers