Roasted Vegetables are just what you need for a healthy side dish at dinner tonight. It doesn't get easier (or more delicious) than this Simple Oven Roasted Vegetables recipe. Colorful, beautiful, and oh so tasty!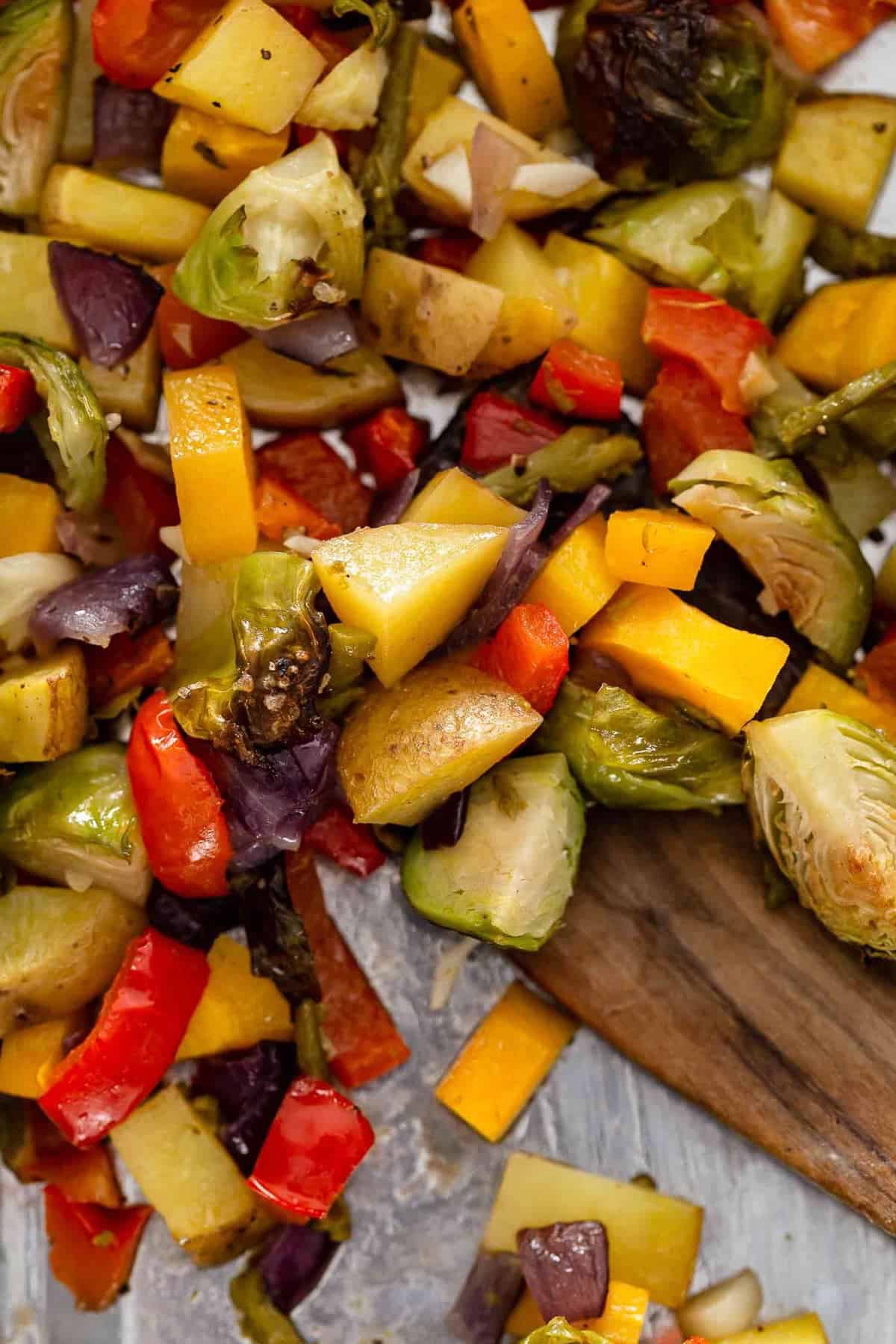 Roasted Vegetables
Oven roasted vegetables are an absolute necessity for any home cook. This recipe is so simple, and it's the perfect side dish for any meal!
Finding healthy and easy recipes that also happen to be bursting with flavor is a constant struggle. But this simple roasted vegetables recipe solves that problem!
Making oven roasted vegetables is the perfect healthy option for any and every meal. This side dish goes with everything, and you can really use any veggies you want with this recipe.
All you need is some olive oil, salt & pepper, and some chopped veggies to throw in the oven. I like using brussels sprouts, squash, potatoes, garlic, and a few other things, but like I said, you can use whatever you have to mix in. This is a great simple side dish for meal prep too!
This roasted vegetables recipe is so simple, it's guaranteed to turn out amazing every time!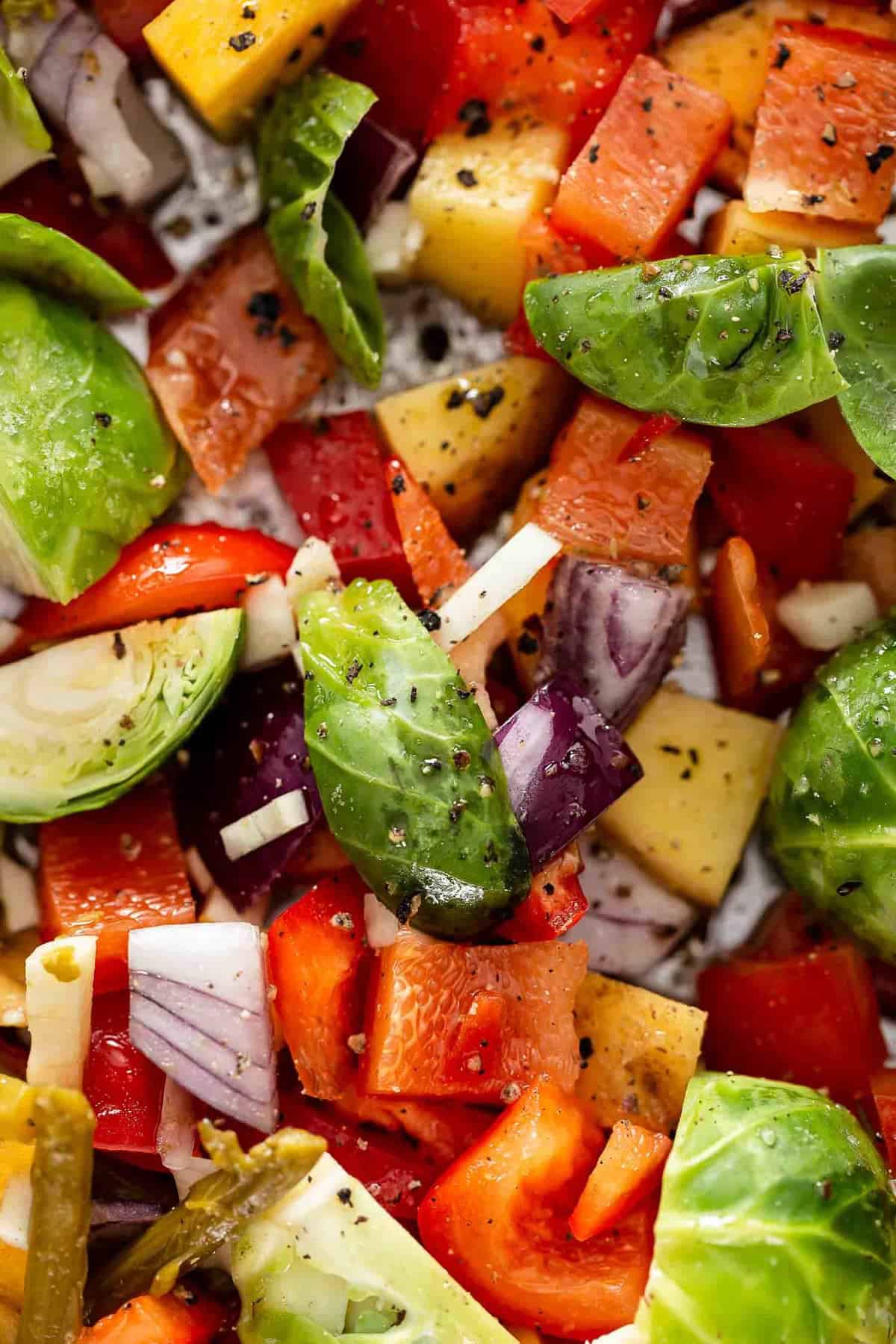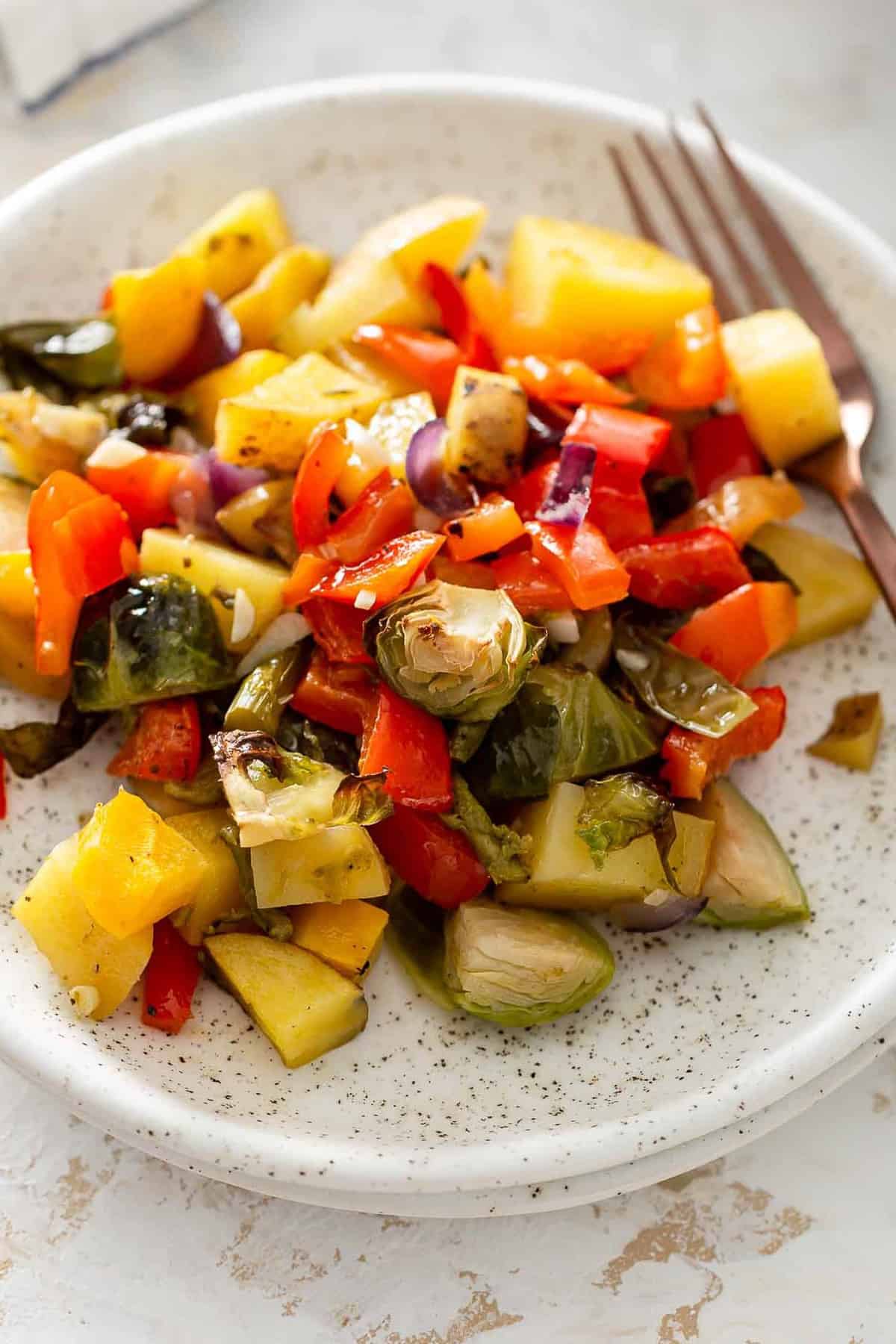 How to Roast Vegetables in the Oven
Oven roasted vegetables are the easiest thing ever. This recipe is so simple, it will become your go-to easy, healthy side dish for all occasions.
Here's the quick step-by-step recipe:
Cut the veggies into medium sized pieces. You want bite sized pieces of everything. Preheat oven to 400F

Spray a baking sheet with nonstick spray Arrange veggies and garlic on baking tray. Some overlap is fine, but you want the vegetables to all touch the baking sheet if possible.

Drizzle with olive oil and sprinkle with salt and pepper to taste. Bake for 30 minutes, then flip the veggies and bake for another 20-25 minutes.
Watch the video to see the step by step process!
How long to roast vegetables?
To get the PERFECT roasted vegetables, bake for about 30 minutes, flip, then baked another 20 minutes. So they'll take a total of about 50 minutes to an hour.
What temperature to roast vegetables?
The best temperature to cook oven roasted veggies is 400°F.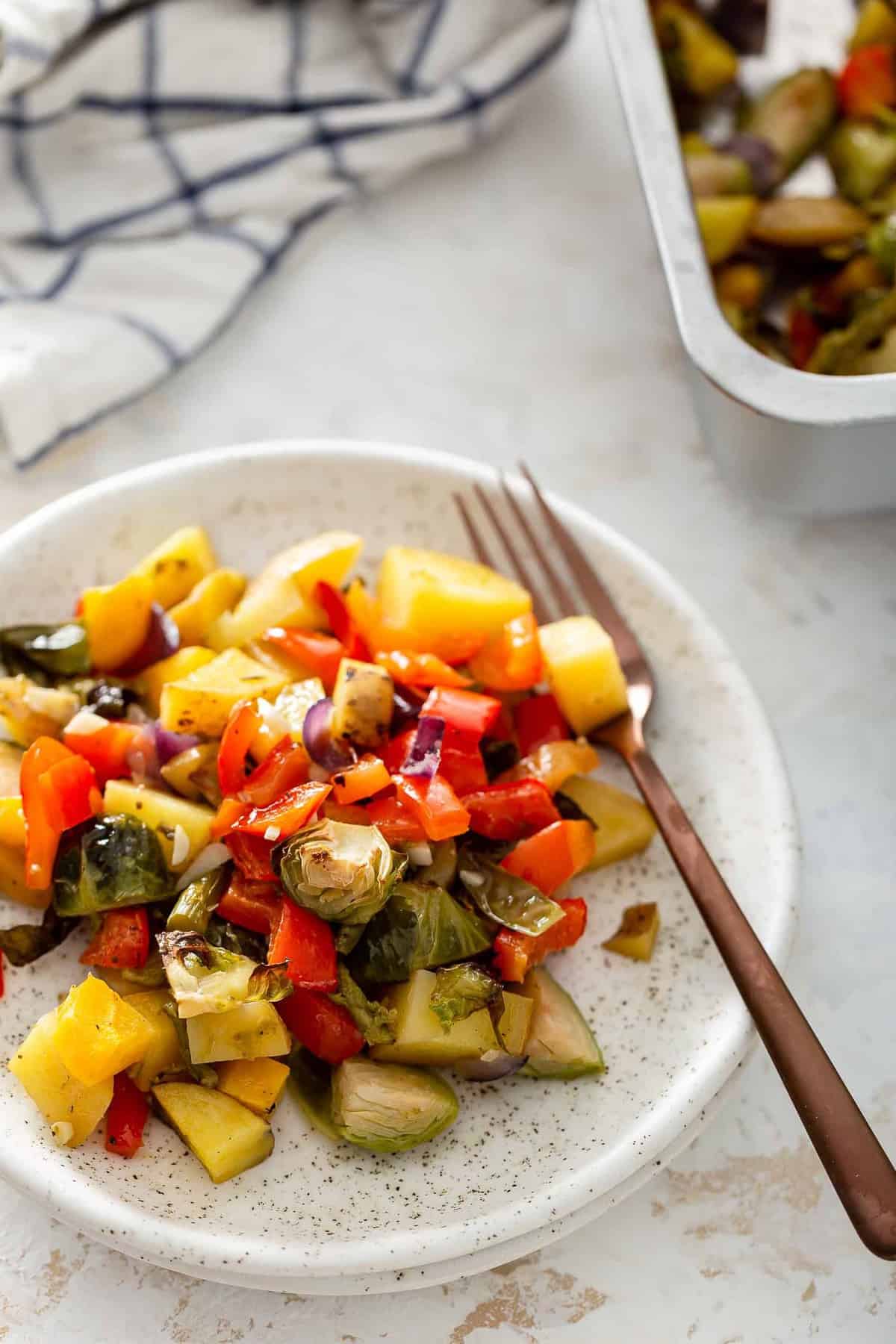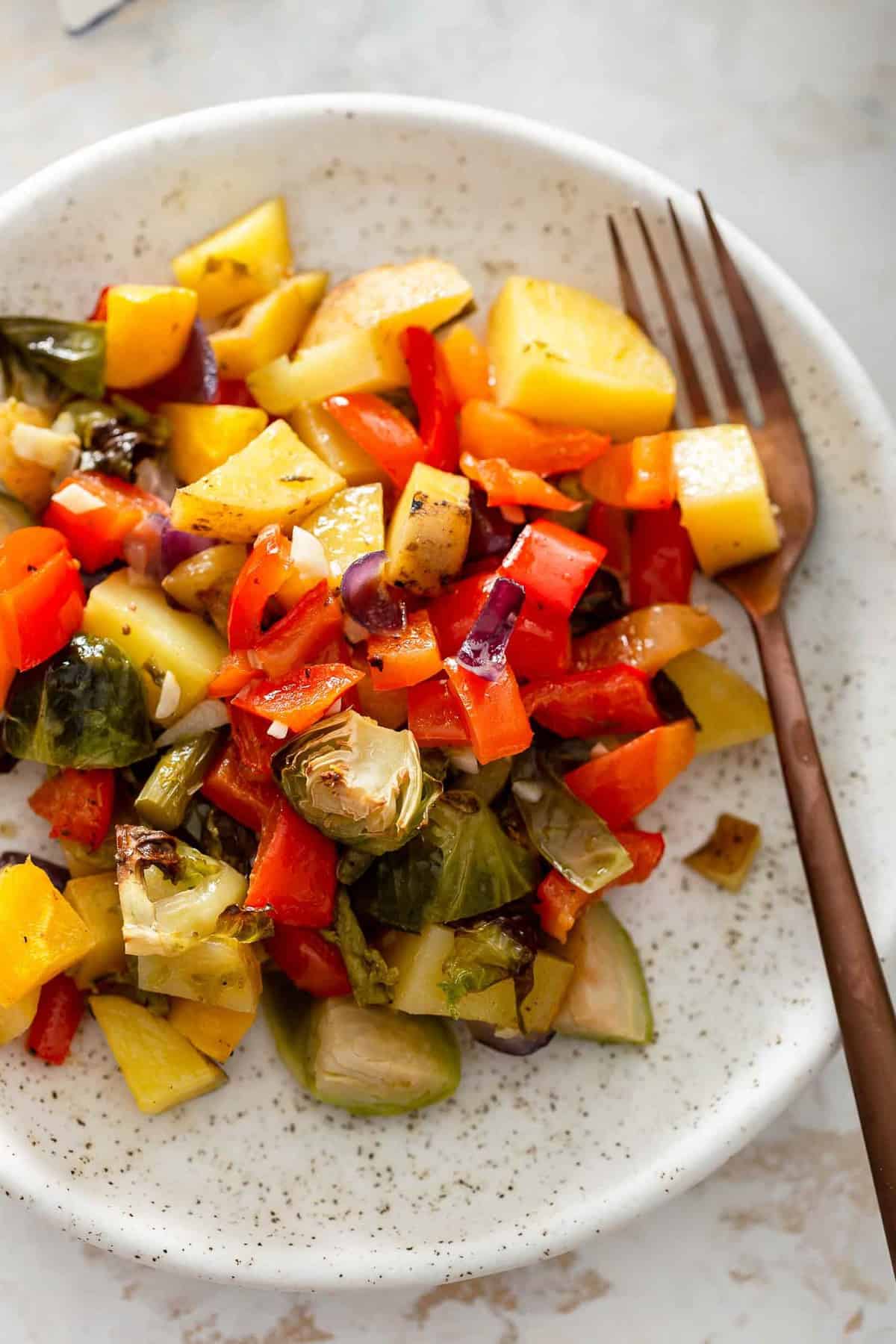 Best Vegetables to Roast
You can cook just about any vegetables you want with this oven roasted vegetables recipe. Keep it simple with olive oil, salt & pepper, set them in the oven at 400°F, and let them cook.
With this recipe, we're using brussels sprouts, red peppers, potatoes, onion, asparagus, squash, and garlic.
Some other veggies that are great for roasting include:
Broccoli
Cauliflower
Any kind of summer or winter squash
Carrots
Beets
This recipe is also a great way to clean out your fridge. Use whatever veggies you have, throw them in the oven, and you'll have a tasty side dish!
How to Store Oven Roasted Vegetables
Roasted vegetables are the perfect thing to make ahead of time for easy dinners or meal prepping. Make a bunch and save them for later!
To store: The best way to store roasted veggies is in an airtight container in the refrigerator for up to 3-5 days.
To reheat: They'll be best if you reheat them in the oven each time (5 minutes at 450°F should do the trick), but you can quickly heat them up in the microwave if you're in a rush.
To freeze: You can also freeze them if you want to keep them for a longer period. Keep them in a freezer safe bag, and to reheat, let them thaw in the fridge, then reheat in the oven. Kind of like homemade frozen veggies! Super easy and convenient.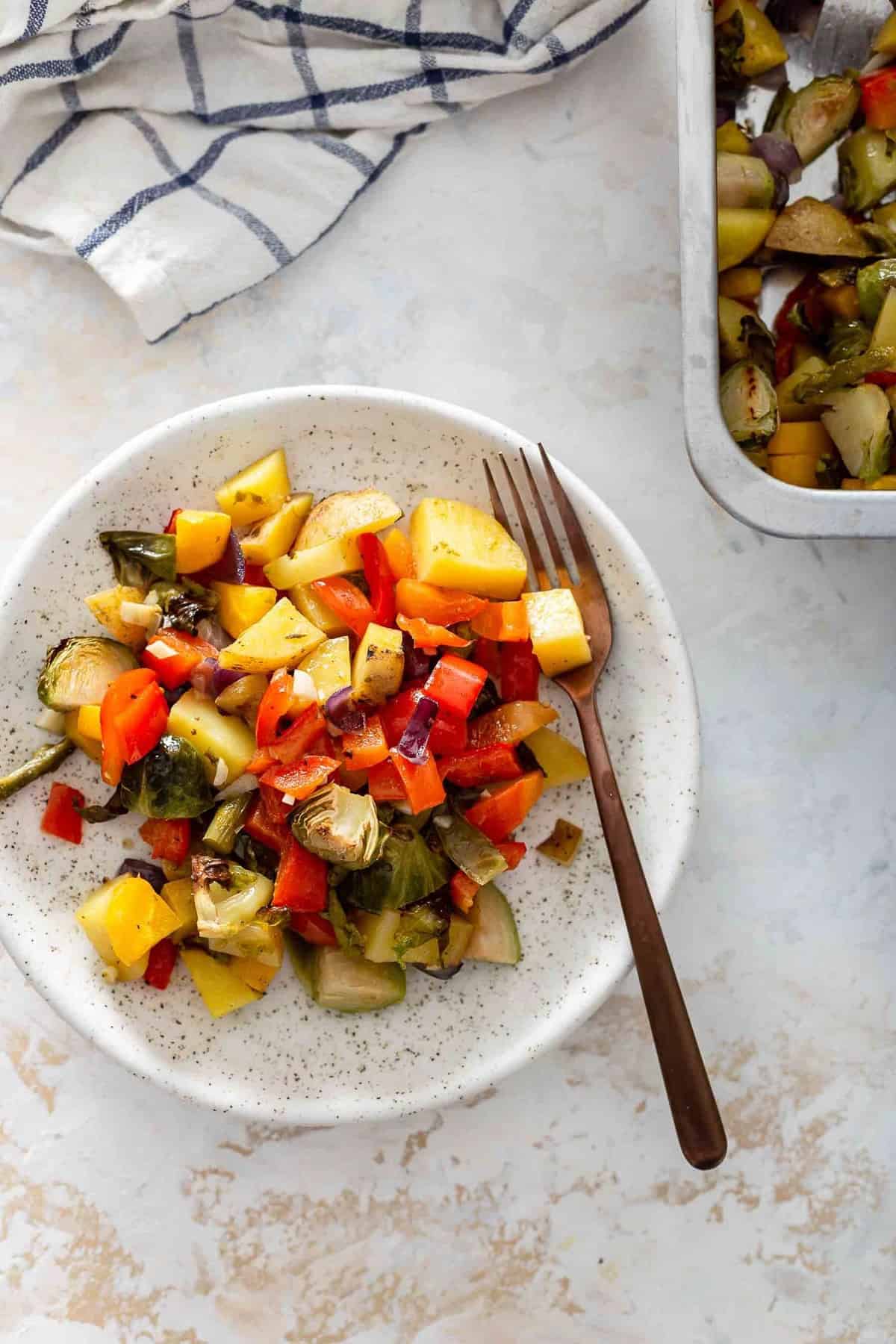 What to Eat with Oven Roasted Vegetables
Hands down, this simple roasted vegetables recipe is the BEST side dish ever. It's easy, it's delicious, it's healthy, and it goes with absolutely everything! It's my "I don't know what to make with dinner tonight" recipe, and it never fails. I especially love it with Baked Chicken for a healthy meal.
It's also perfect for holidays! While we have a million side dishes on the table, having some simple roasted veggies for Thanksgiving or Easter is a must.
Here are some of my favorite dinner recipes to cook these veggies with: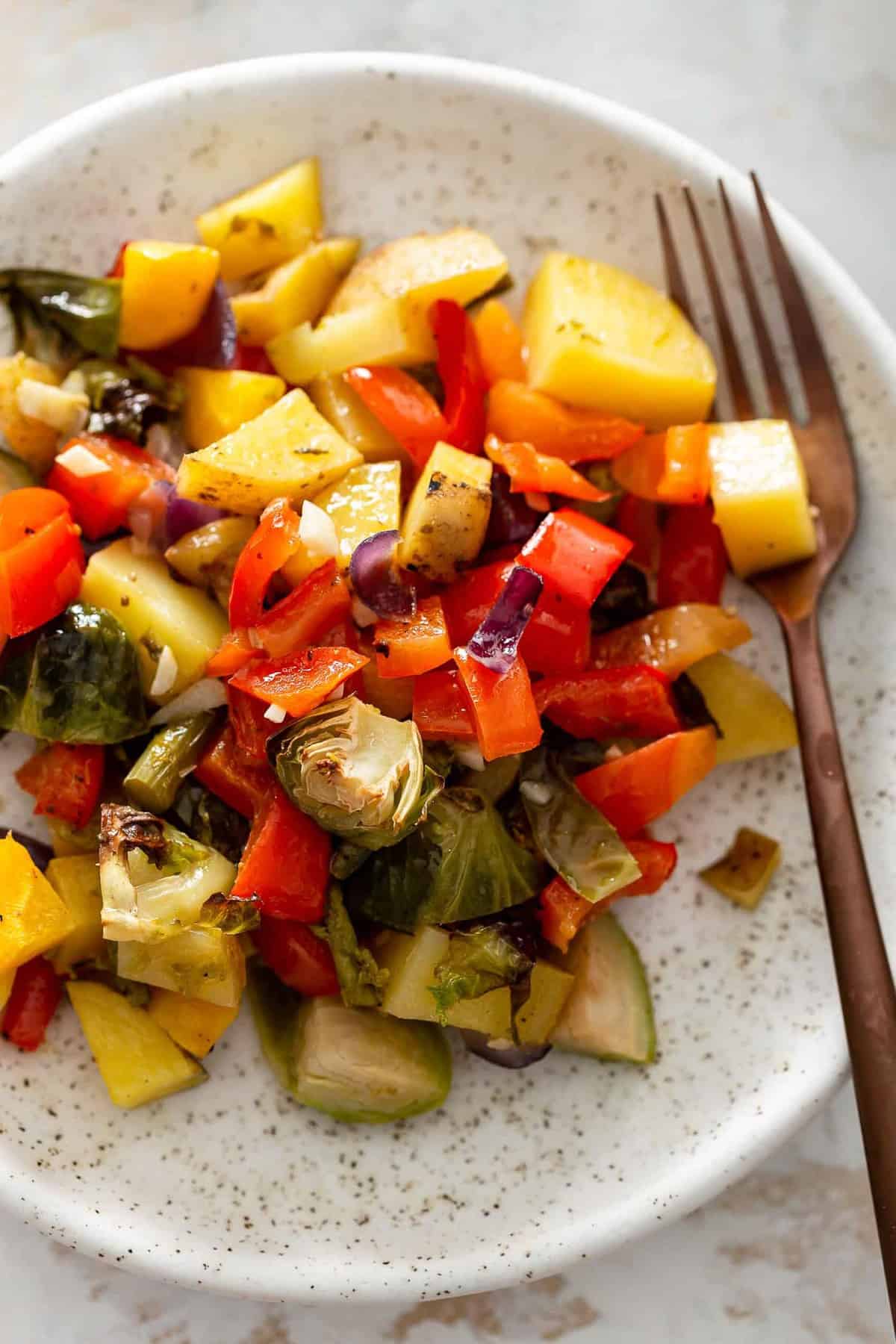 This simple oven roasted vegetablesrecipe really is the best of the best for easy side dishes. Eat it with everything for a healthy dish. And if you want to get a little crazy, make some Garlic Aioli to dip them in. You won't regret it!
Watch the video to see how to make Roasted Vegetables in the Oven. Enjoy!
Looking for more veggie side dishes? Try these favorites: