Roasted Vegetables are just what you need for a quick and healthy side dish at dinner tonight. It doesn't get easier (or more delicious) than this oven roasted vegetables recipe. Colorful, beautiful, and oh-so tasty!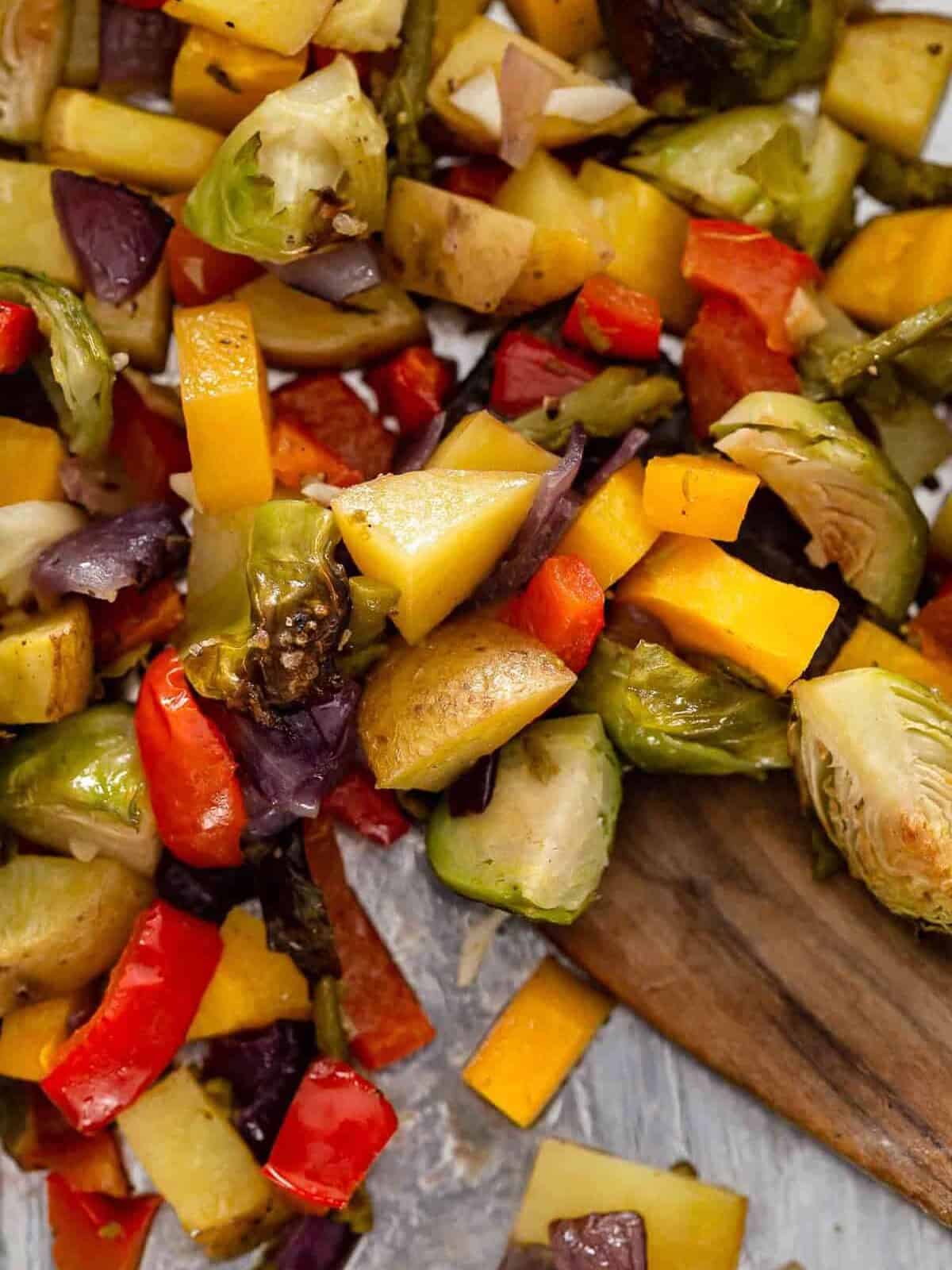 What's in this Roasted Vegetables Recipe?
Making oven roasted veggies is the perfect healthy option for any and every meal. This side dish goes with everything, and you can really use any veggies you want with this recipe.
Vegetables: You can cook just about any vegetables you want with this oven roasted vegetables recipe. Here, I used Brussels sprouts, red peppers, potatoes, onion, asparagus, squash, and garlic. Other veggies that are great for roasting include broccoli, cauliflower, carrots, and beets.
Olive Oil: Helps the veggies crisp up in the oven.
Salt + Pepper: Bring out the natural flavor of the veggies.
Pro Tip: If you don't have one of the vegetables I've listed in the ingredients, don't worry! This recipe is also a great way to clean out your fridge or use whatever veggies are in season. Use whatever veggies you have, throw them in the oven, and you'll have a tasty side dish!
Variations on Oven Roasted Vegetables
I kept the seasoning in this roasted vegetables recipe super simple with salt and pepper, because the roasting itself brings out so much natural flavor from the veggies. But if you want to change it up, some of my favorite seasonings are rosemary, thyme, Italian seasoning, oregano, chili powder, Ranch seasoning, and taco seasoning.
And you can toss veggies in different sauces during/after roasting for even more flavor options! These are great covered in sweet chili sauce, garlic aioli, or chimichurri sauce. The possibilities are endless.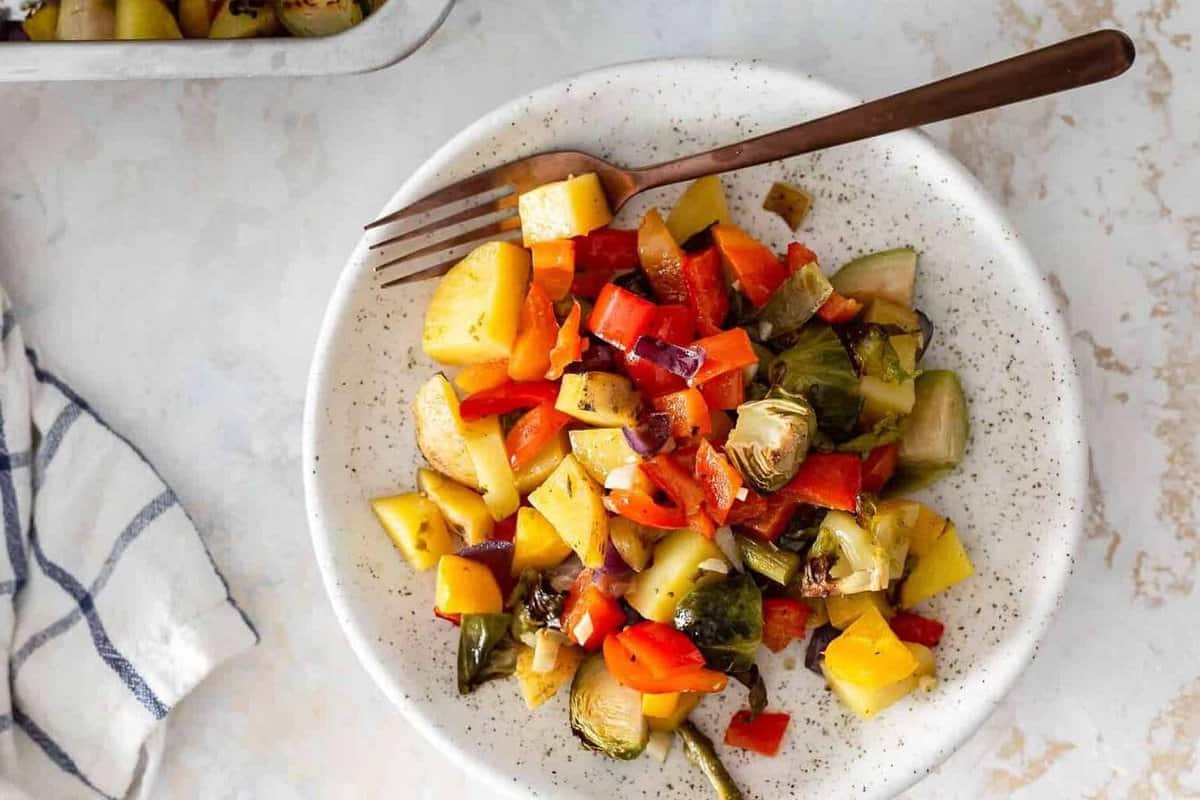 Which vegetables are best for roasting?
Root vegetables always do well in the oven because you can fully cook them and make them tender and flavorful. But I have yet to find a veggie that doesn't taste good after slow-roasting.
Can you roast frozen vegetables?
Yes, however, they may not turn out as crispy as fresh. Roast them directly from frozen, tossing them in oil and seasonings before placing them in the oven. Be sure to separate any veggies that are stuck together as well to prevent steaming.
What temperature is best for roasting vegetables?
You can roast anywhere from 350-450°F (lower temp will take a little longer and won't get as crispy, higher temp will get crispy fast), but the ideal temperature to cook oven roasted veggies is 400°F.
How long does it take to oven roast vegetables?
To get the perfect roasted vegetables, bake for about 30 minutes, flip, then baked another 20 minutes. So they'll take a total of about 50 minutes to an hour.
Should vegetables be covered when roasting?
Generally, no, I don't recommend covering veggies in the oven. They cook and crisp up beautifully uncovered. However, if they haven't quite finished cooking towards the end and you want to prevent them from getting too dark and crispy, you can loosely cover the sheet pan with aluminum foil for the last 5-10 minutes.
Why won't my roast veggies go crispy?
If your veggies get soggy while roasting, you are probably trying to cook to many on one tray. Spread your veggies out more on the pan and give them space to roast, otherwise moisture will get trapped in between and make them soft/soggy. The hot air needs to be able to reach all sides of the vegetables. Use a second baking sheet if you have too many vegetables.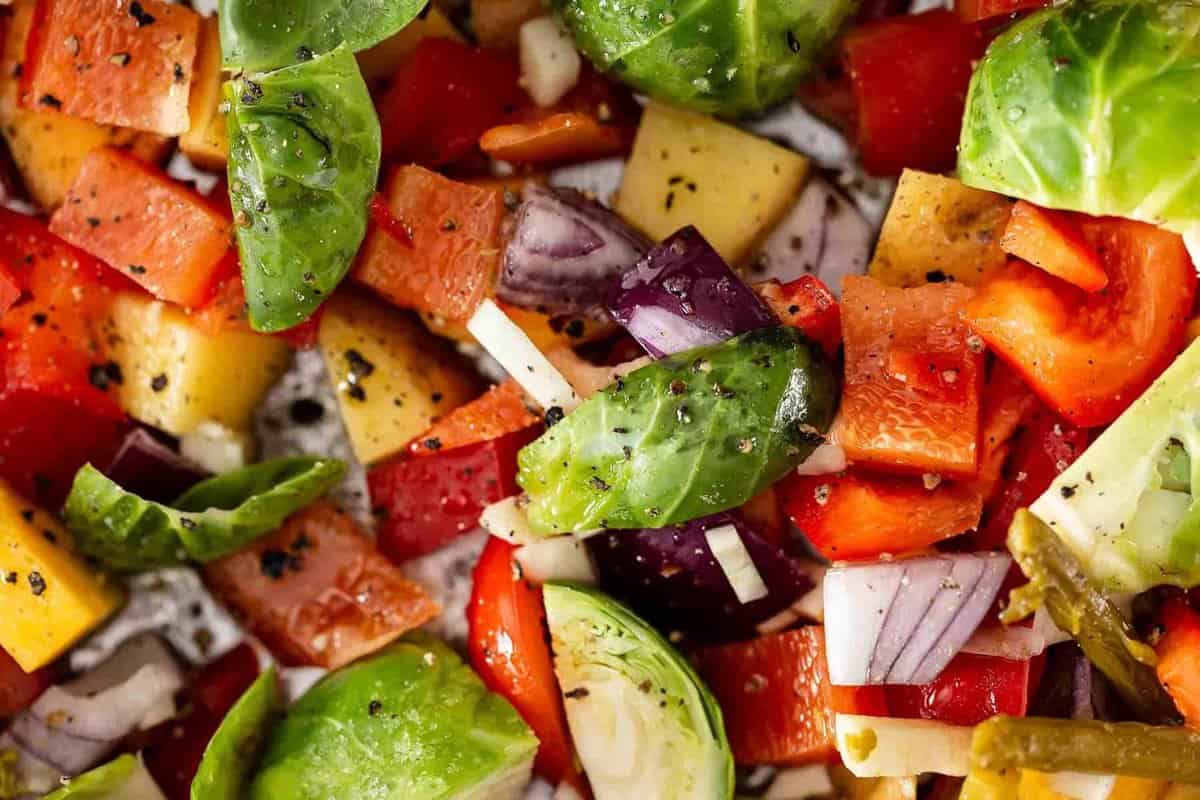 How to Store and Reheat
The best way to store roasted vegetables is in an airtight container in the refrigerator for up to 3-5 days. They'll be best if you reheat them in the oven each time (5 minutes at 450°F should do the trick), but you can quickly heat them up in the microwave if you're in a rush.
How to Freeze
You can also freeze roasted vegetables if you want to keep them for a longer period. Keep them in a freezer-safe Ziplock bag, and to reheat, let them thaw in the fridge, then reheat in the oven. Kind of like homemade frozen veggies! Super easy and convenient.
Serving Suggestions
Hands down, this simple roasted vegetables recipe is the best side dish ever. It's easy, it's delicious, it's healthy, and it goes with absolutely everything! It's my "I don't know what to make with dinner tonight" recipe, and it never fails. I especially love it with seasoned chicken for a healthy meal.
It's also perfect for holidays! While we have a million side dishes on the table, having some simple roasted veggies for Thanksgiving or Easter is a must.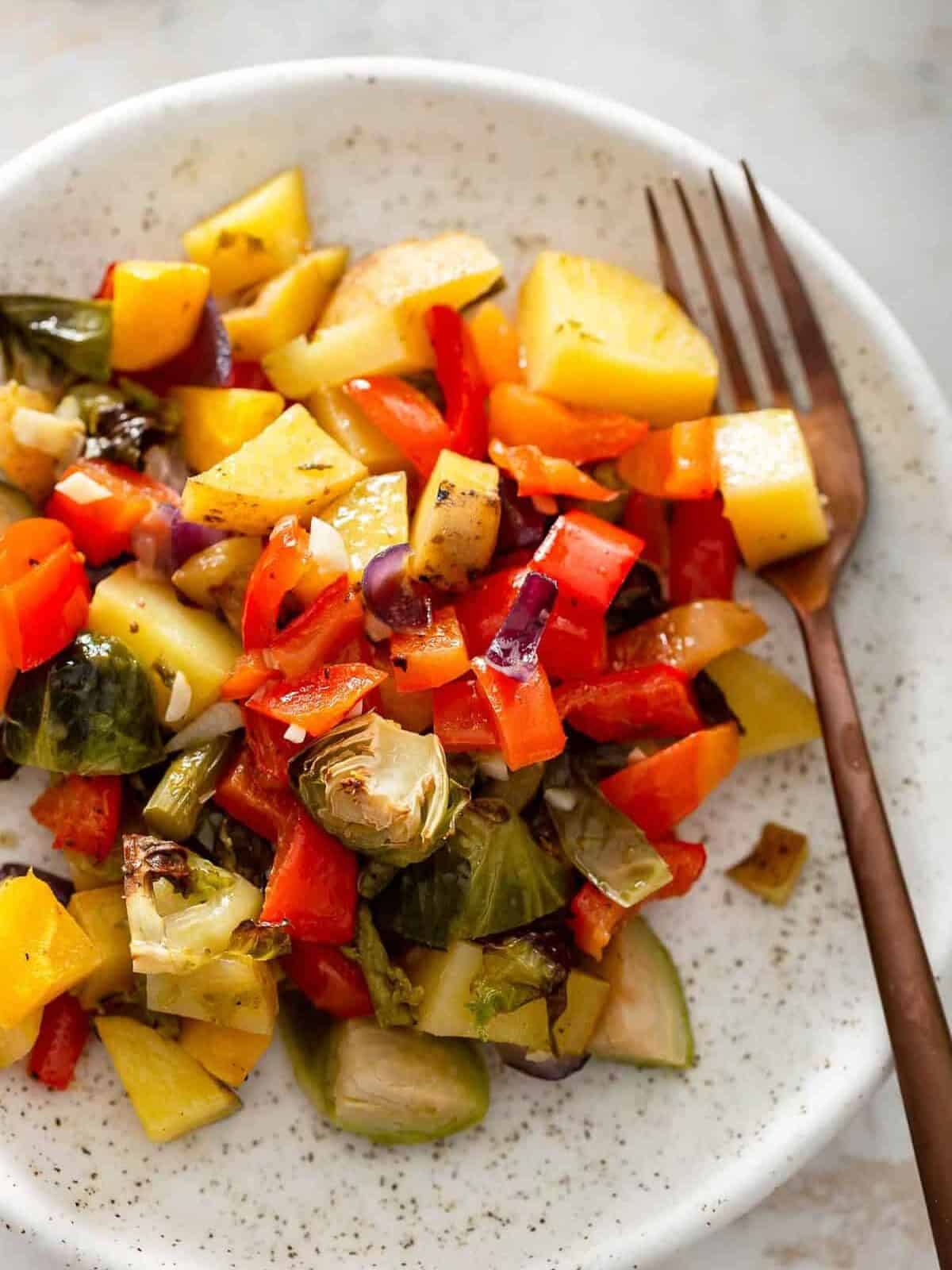 5-Star Review
"I honestly could eat these roasties for every meal of the day! So delicious and comforting!" – Julia Frey
More Roasted Vegetable Recipes We Love