Roasted Vegetables are just what you need for a quick and healthy side dish at dinner tonight. It doesn't get easier (or more delicious) than this Simple Oven Roasted Veggies recipe. Colorful, beautiful, and oh so tasty!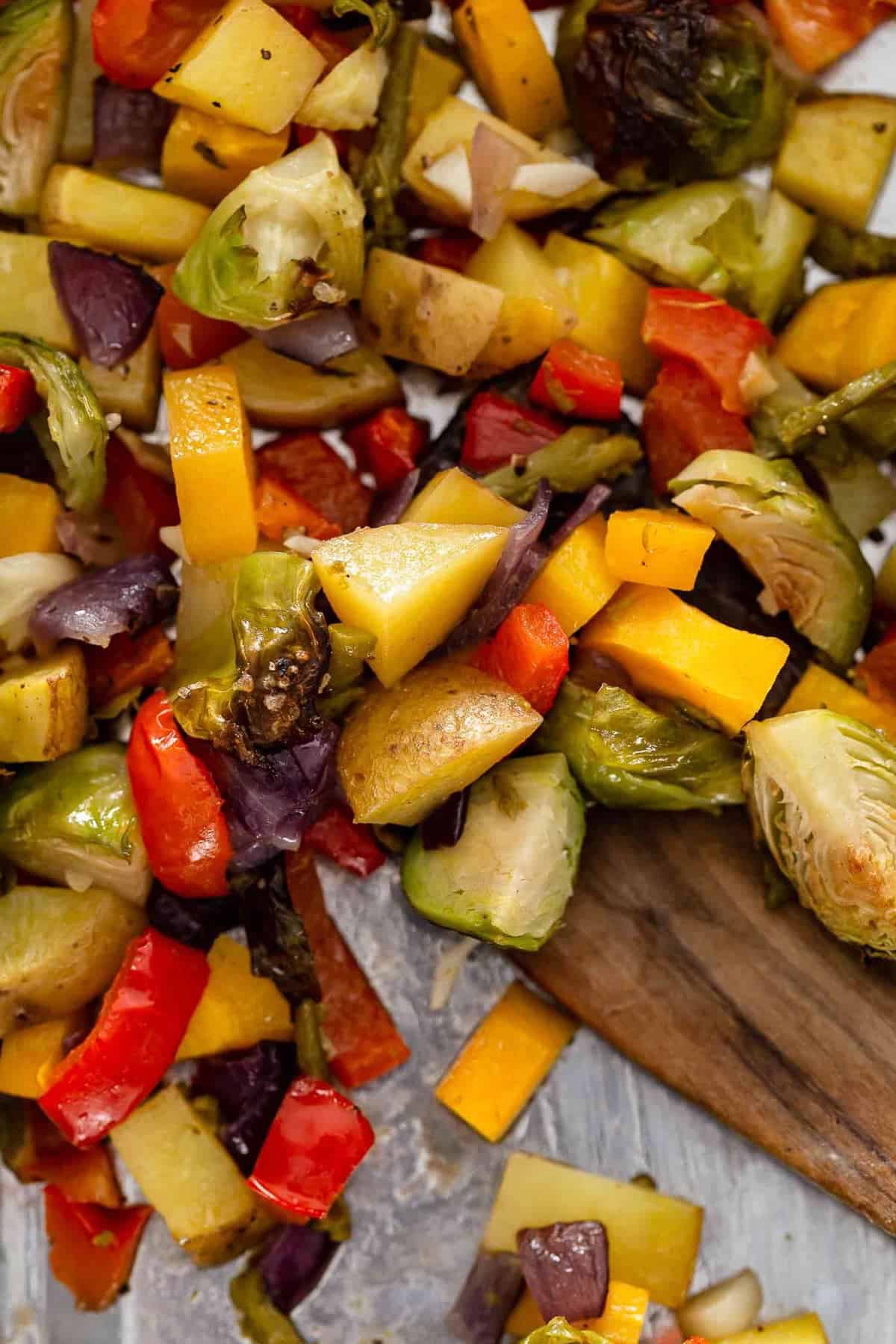 Roasted Vegetables
Oven roasted vegetables are an absolute necessity for any home cook. This recipe is so simple, and it's the perfect side dish for any meal!
Finding healthy and easy recipes that also happen to be bursting with flavor is a constant struggle. But this simple roasted vegetables recipe solves that problem!
Making oven roasted veggies is the perfect healthy option for any and every meal. This side dish goes with everything, and you can really use any veggies you want with this recipe.
All you need is some olive oil, salt & pepper, and some chopped veggies to throw in the oven. I like using brussels sprouts, squash, potatoes, garlic, and a few other things, but like I said, you can use whatever you have to mix in. This is an easy idea for meal prep too!
Top Tips for Making Roasted Veggies
Line the baking sheet with parchment paper if you want to avoid sticking (and it makes clean up easier), or use a non-stick cooking spray.

Remove pan from oven to gently toss or flip veggies around for best results (do this half-way through cooking time).

Arrange veggies in a single layer on the sheet pan, with some space between them (don't pile them up).

If you're in a rush, you can spread veggies out on the baking sheet and drizzle oil, salt, and any seasoning over them. But I recommend tossing everything together in a bowl before laying them on the sheet to make sure all vegetables are thoroughly covered in oil and seasoning.

Roast until crispy to increase the flavor & texture

Chop veggies to a uniform size (relatively) so they cook evenly.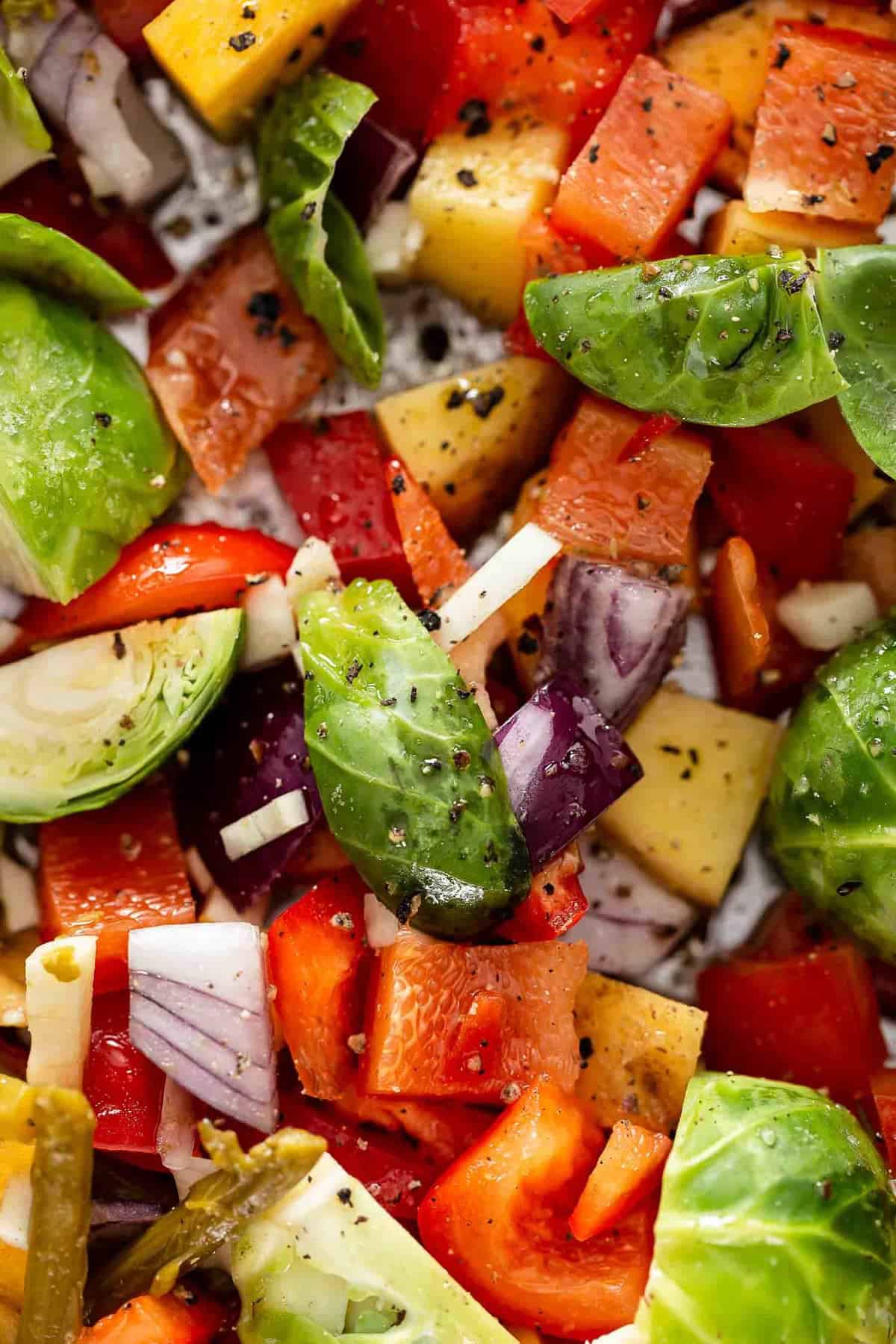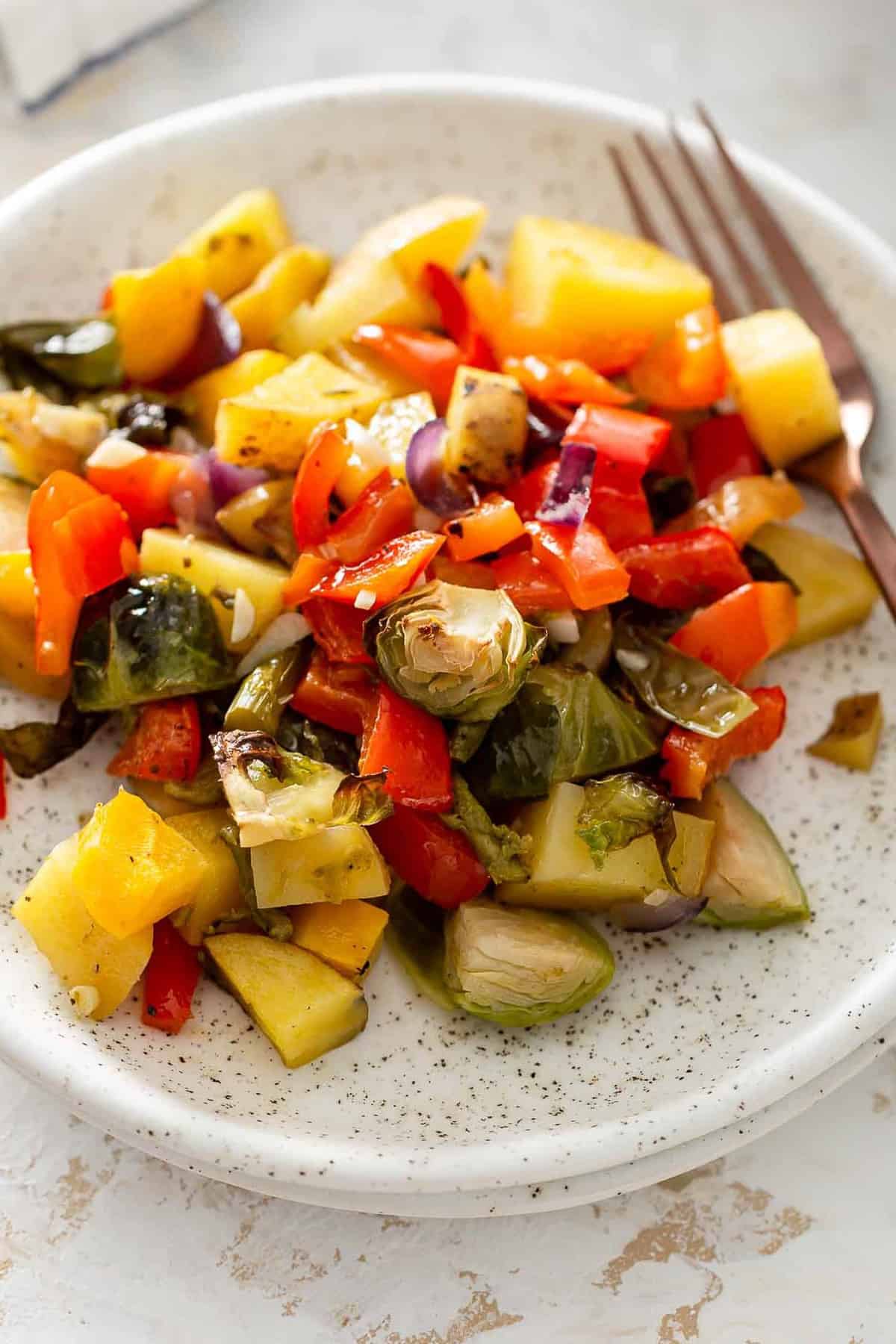 How to Roast Vegetables in the Oven
Oven roasted vegetables are the easiest thing ever. This recipe is so simple, it will become your go-to easy, healthy side dish for all occasions.
Here's the quick step-by-step recipe:
Prep: Preheat oven to 400°F. Cut the veggies into small-to-medium sized pieces. Spray a baking sheet with nonstick spray.
Season: Arrange veggies and garlic on sheet pan. Drizzle with olive oil and sprinkle with salt and pepper to taste.
Roast: Bake for 30 minutes, then flip the veggies and bake for another 20-25 minutes.
How long does it take to roast vegetables?
To get the PERFECT roasted vegetables, bake for about 30 minutes, flip, then baked another 20 minutes. So they'll take a total of about 50 minutes to an hour.
What temperature should I cook roasted vegetables?
You can roast anywhere from 350-450°F (lower temp will take a little longer and won't get as crispy, higher temp will get crispy fast), but the ideal temperature to cook oven roasted veggies is 400°F.
Should I cover vegetables while roasting?
Generally, no, I don't recommend covering veggies in the oven. They cook and crisp up beautifully uncovered.
However, if they haven't quite finished cooking towards the end and you want to prevent them from getting too dark and crispy, you can loosely cover the sheet pan with aluminum foil for the last 5-10 minutes.
What kind of oil should I use?
I always use olive oil for this recipe and find it to be the best option. You could also use grapeseed oil, avocado oil, or almost any type of oil you prefer.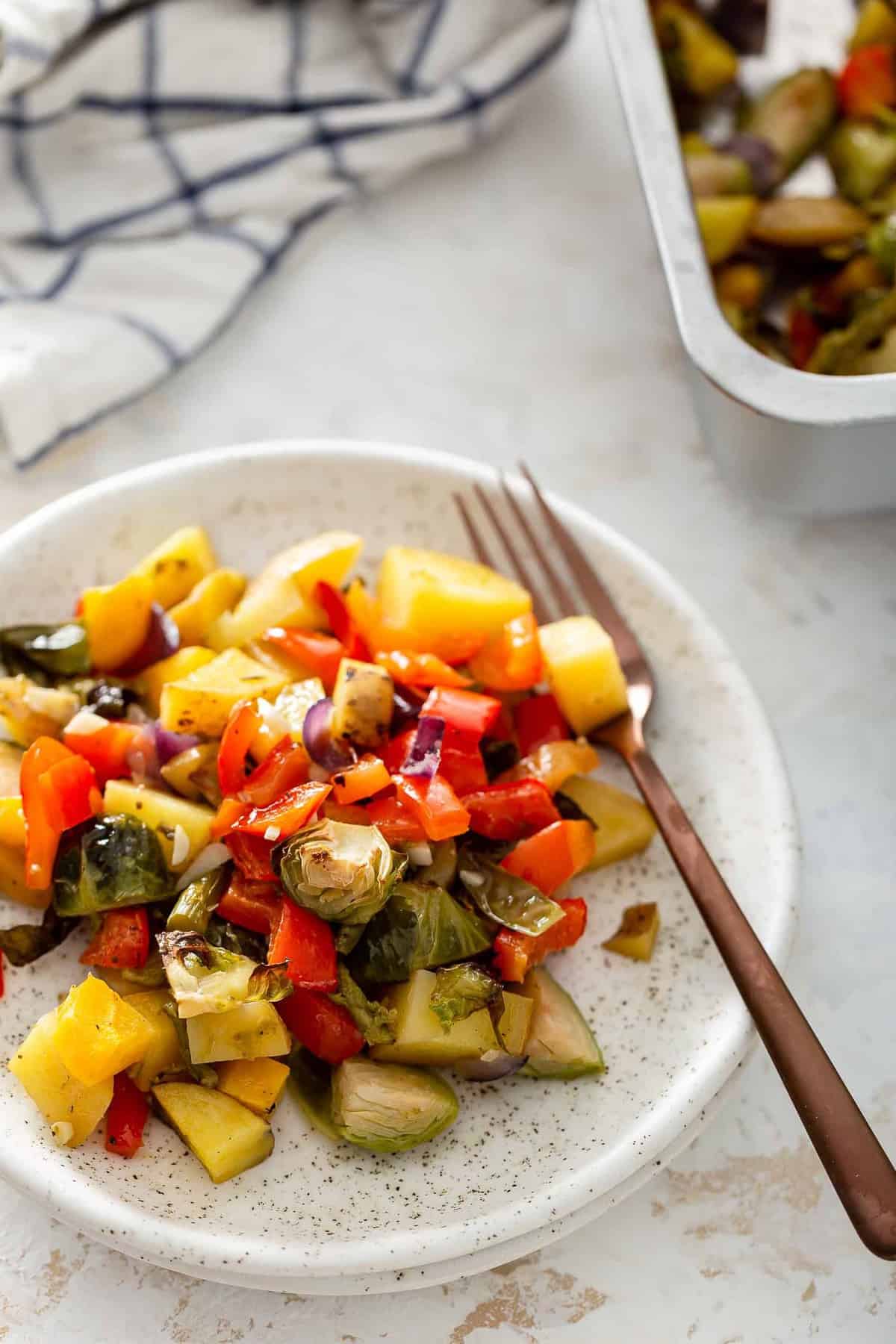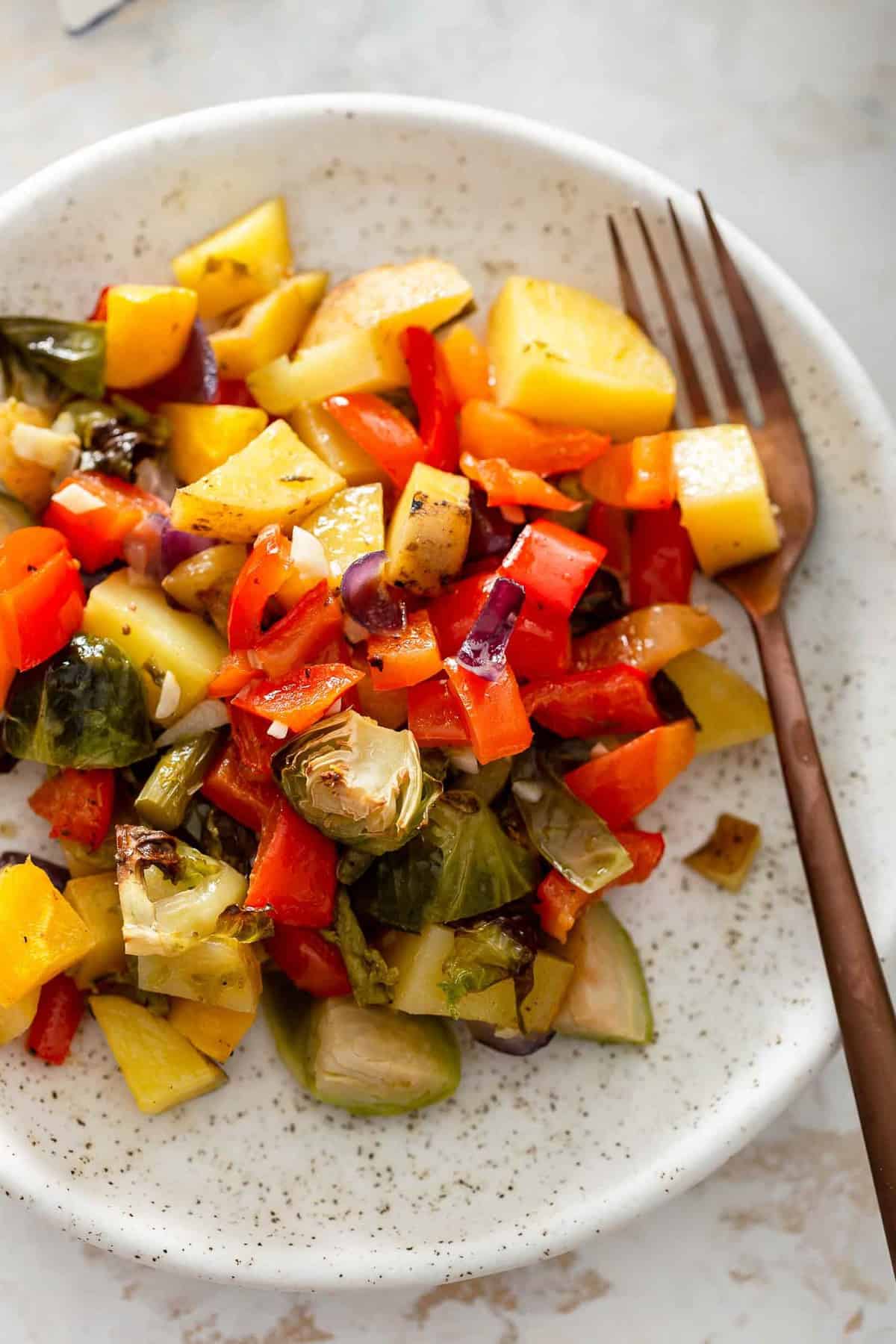 What are the best vegetables for roasting?
You can cook just about any vegetables you want with this oven roasted vegetables recipe. Here, I used brussels sprouts, red peppers, potatoes, onion, asparagus, squash, and garlic.
Some other veggies that are great for roasting include:
Broccoli
Cauliflower
Any kind of summer or winter squash
Carrots
Beets
Root vegetables always do well in the oven because you can fully cook them and make them tender and flavorful. But I have yet to find a veggie that doesn't taste good after slow-roasting.
Tip: If you don't have one of the vegetables I've listed in the ingredients, don't worry! This recipe is also a great way to clean out your fridge or use whatever veggies are in season. Use whatever veggies you have, throw them in the oven, and you'll have a tasty side dish!
Why do my veggies get soggy?
If your veggies get soggy while roasting, you are probably trying to cook to many on one tray. Spread your veggies out more on the pan and give them space to roast, otherwise moisture will get trapped in between and make them soft/soggy.
The hot air needs to be able to reach all sides of the vegetables. Use a second baking sheet if you have too many vegetables.
How to Store Oven Roasted Vegetables
Roasted vegetables are the perfect thing to make ahead of time for easy dinners or meal prepping. Make a bunch and save them for later!
To store: The best way to store roasted veggies is in an airtight container in the refrigerator for up to 3-5 days.
To reheat: They'll be best if you reheat them in the oven each time (5 minutes at 450°F should do the trick), but you can quickly heat them up in the microwave if you're in a rush.
To freeze: You can also freeze them if you want to keep them for a longer period. Keep them in a freezer safe bag, and to reheat, let them thaw in the fridge, then reheat in the oven. Kind of like homemade frozen veggies! Super easy and convenient.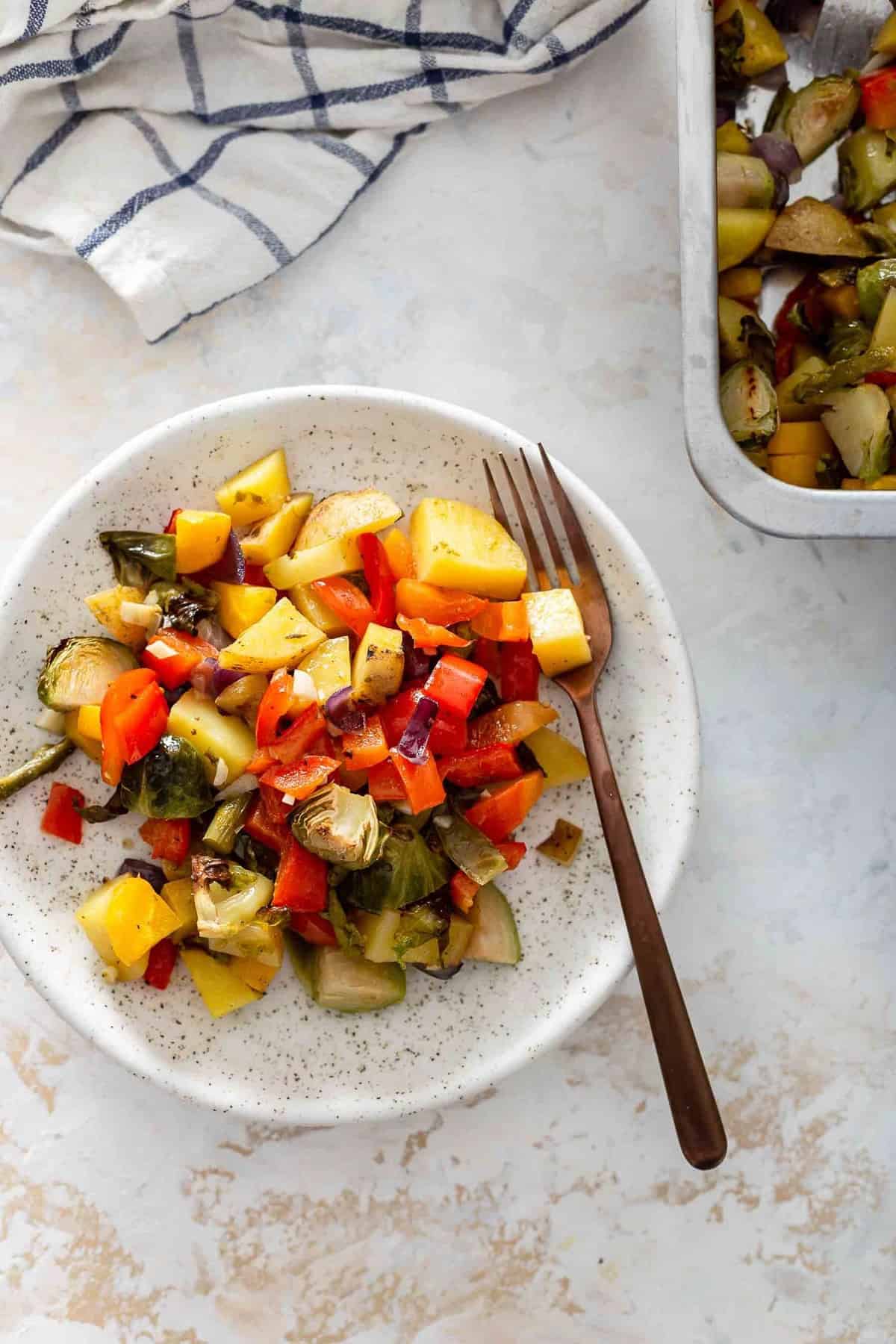 What spices go best with vegetables?
You can truly spice and season your veggies any way you like!
I kept the seasoning in this roasted vegetables recipe super simple with salt and pepper, because the roasting itself brings out so much natural flavor from the veggies.
But if you want to change it up, here are some of my favorite seasonings to use with vegetables (not necessarily all together, of course):
Rosemary
Thyme
Oregano
Chili Powder and Red Pepper Flakes (for spice)
Onion and Garlic Powder
And you can toss veggies in different sauces to during/after roasting for even more flavor options! These are great covered in sweet chili sauce, garlic aioli, or chimichurri sauce. The possibilities are endless.
What to Eat with Oven Roasted Vegetables
Hands down, this simple roasted vegetables recipe is the BEST side dish ever. It's easy, it's delicious, it's healthy, and it goes with absolutely everything! It's my "I don't know what to make with dinner tonight" recipe, and it never fails. I especially love it with chicken for a healthy meal.
It's also perfect for holidays! While we have a million side dishes on the table, having some simple roasted veggies for Thanksgiving or Easter is a must.
Here are some of my favorite dinner recipes to cook these veggies with: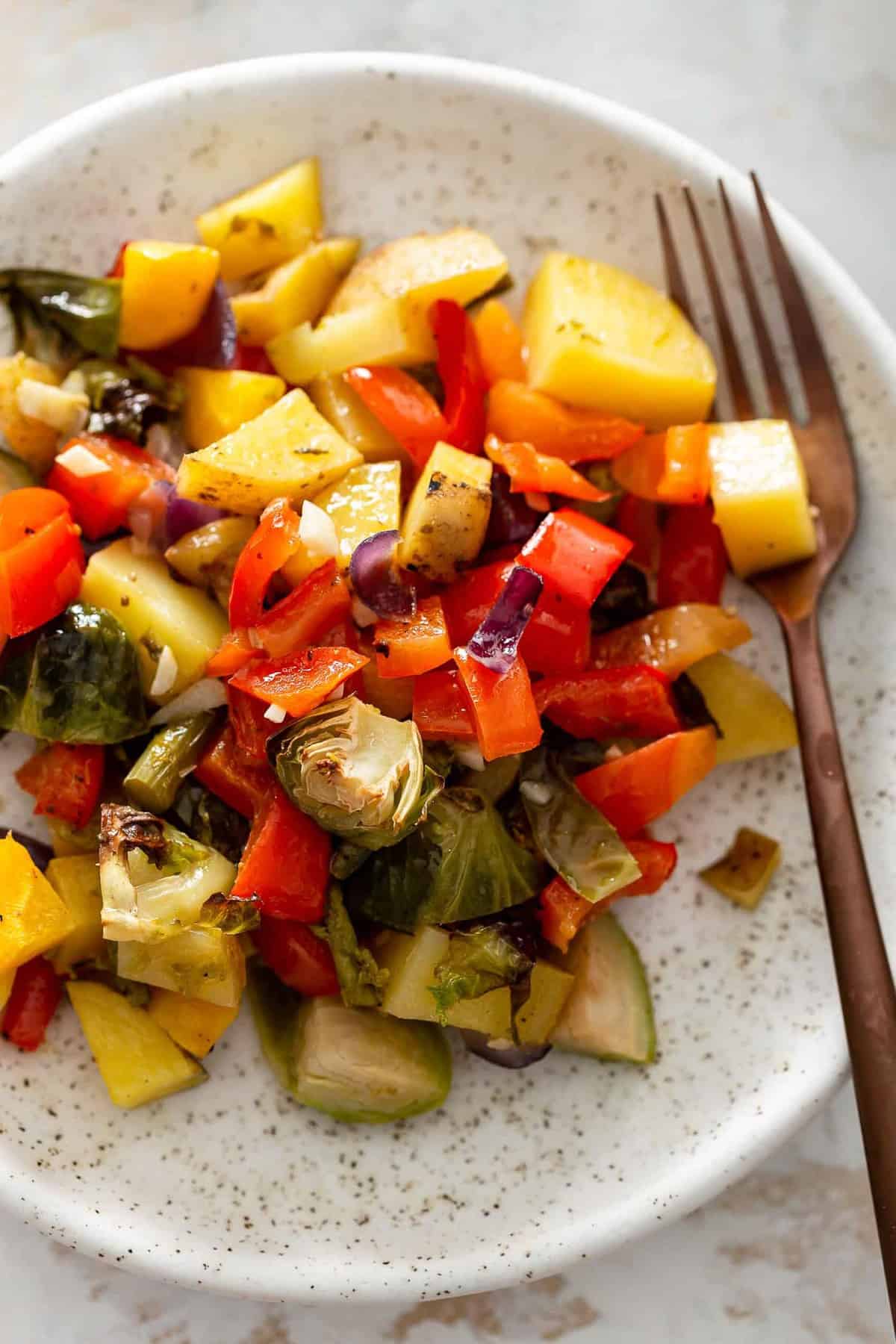 This simple oven roasted vegetables recipe really is the best of the best for easy side dishes. Eat it with everything for a quick, healthy dish!
Looking for more veggie side dishes? Try these favorites:
If you make this recipe be sure to upload a photo in the comment section below or leave a rating. Enjoy! You can also jump to recipe.