This EASY Stromboli Recipe is one of our go-to weeknight meals the entire family LOVES. Meat Lover's Stromboli is stuffed with juicy sausage, pepperoni, and bacon and loaded with cheese. The crust bakes up crispy on the outside and fluffy on the inside for the ultimate and perfect Stromboli!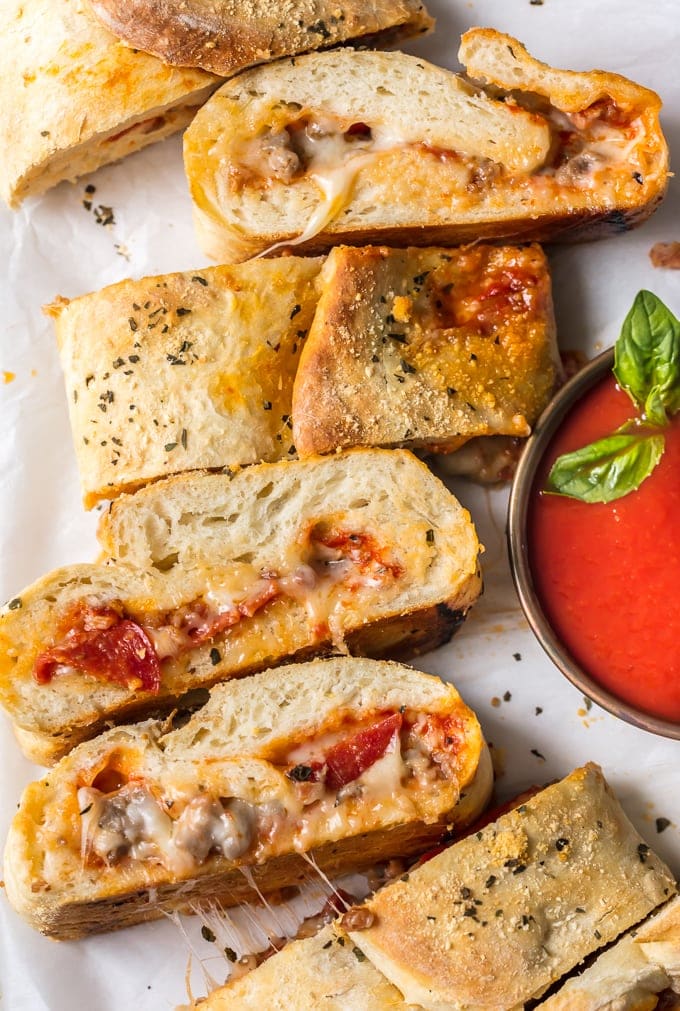 Easy Stromboli Recipe
This Easy Stromboli Recipe is loved by our entire family, which is such a relief on busy days. When the question "What's for Dinner?" rears its ugly head…I usually am at a loss for something that will satisfy everyone equally. Even as a full-time food blogger, making the entire family fat and happy can be easier said than done.
This Meat Lover's Stromboli never fails to satisfy us all, from my picky husband to my cheese loving 1 year old. It's SO easy to prepare and absolutely fool-proof. You can stuff it with all sorts of ingredients, the sky is the limit. This recipe is one we go back to again and again and I can't wait for you to try it!
If you love pizza, you'll be obsessed with this Easy Stromboli Recipe. We have loaded ours with sausage, pepperoni, bacon, cheese, and the best pizza sauce. Delicious doesn't even begin to describe this Stromboli!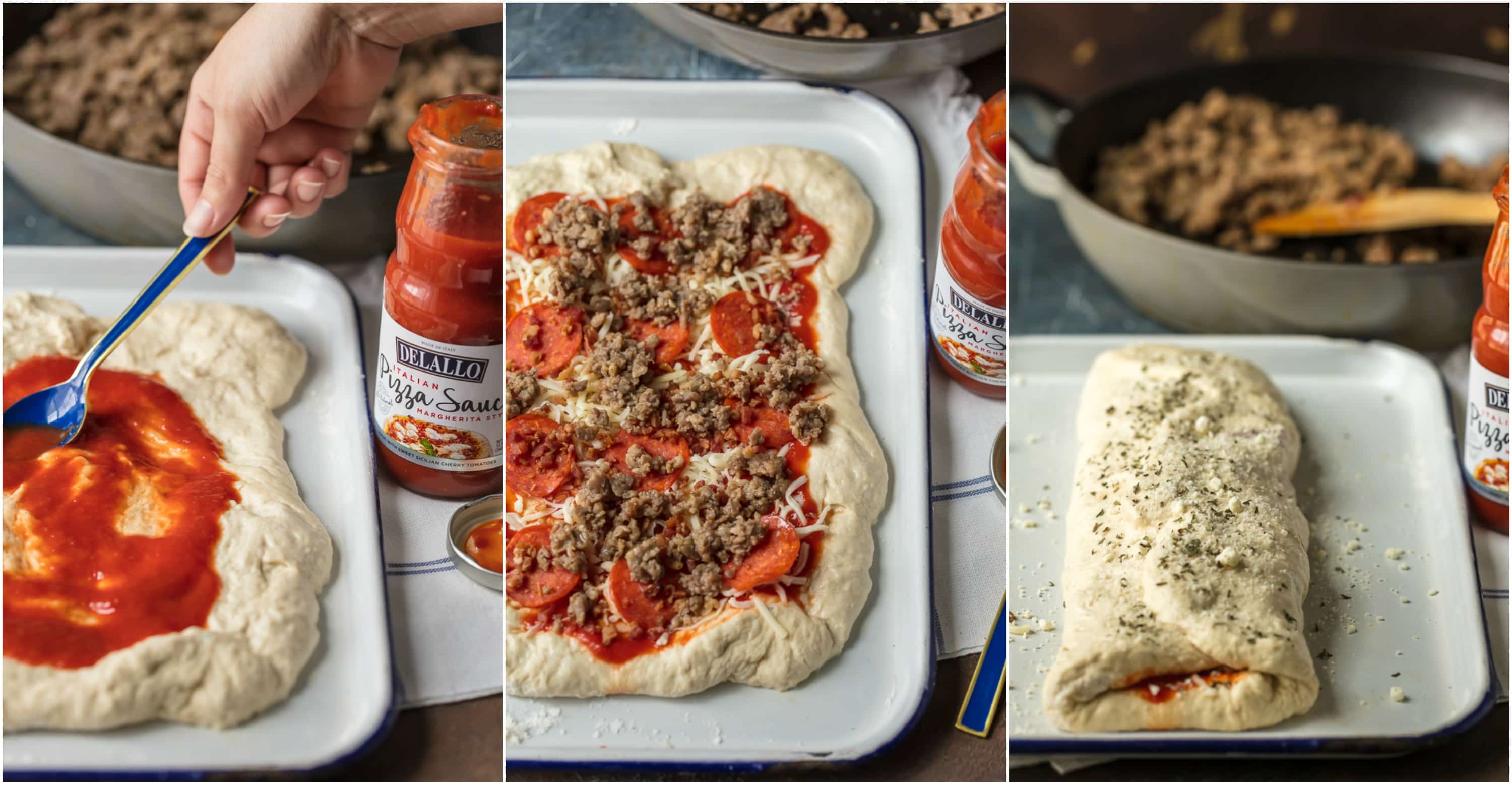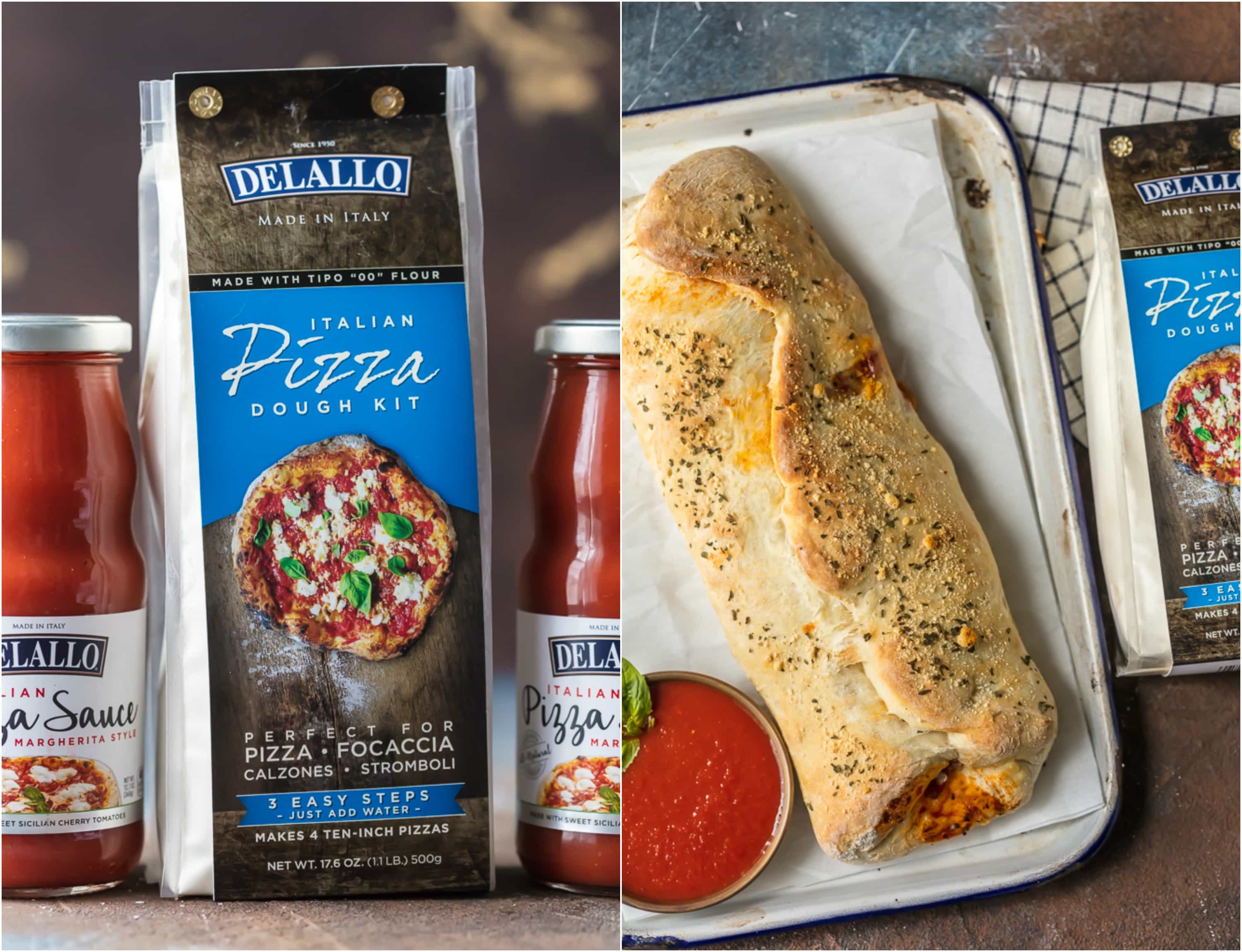 Tips for Making This Stromboli Recipe
If you're like me, cooking came first and baking comes second. I put pizza, calzones, and strombolis up there with baking because a perfect pizza dough is a MUST when planning your recipe. I'll be the first to admit that in the past I would have ordered delivery before attempting to cook a stromboli at home, because of the dough. I'm just scared a homemade dough won't turn out perfect every time.
WELL LUCKY FOR US WE NO LONGER HAVE TO WORRY! DeLallo's NEW Pizza Dough Kit is my recent obsession and I simply can't get enough. I'm not exaggerating when saying I'll never use another dough again. It requires minimal effort (YAY) and is as simple as adding water and kneading for about 3 minutes. You cannot, and will not, mess up this amazing pizza dough.
When baked it comes up crispy and golden on the outside and fluffy/chewy on the inside. The taste is such a different from refrigerated dough. It takes this Stromboli Recipe from good to STRAIGHT UP AMAZING.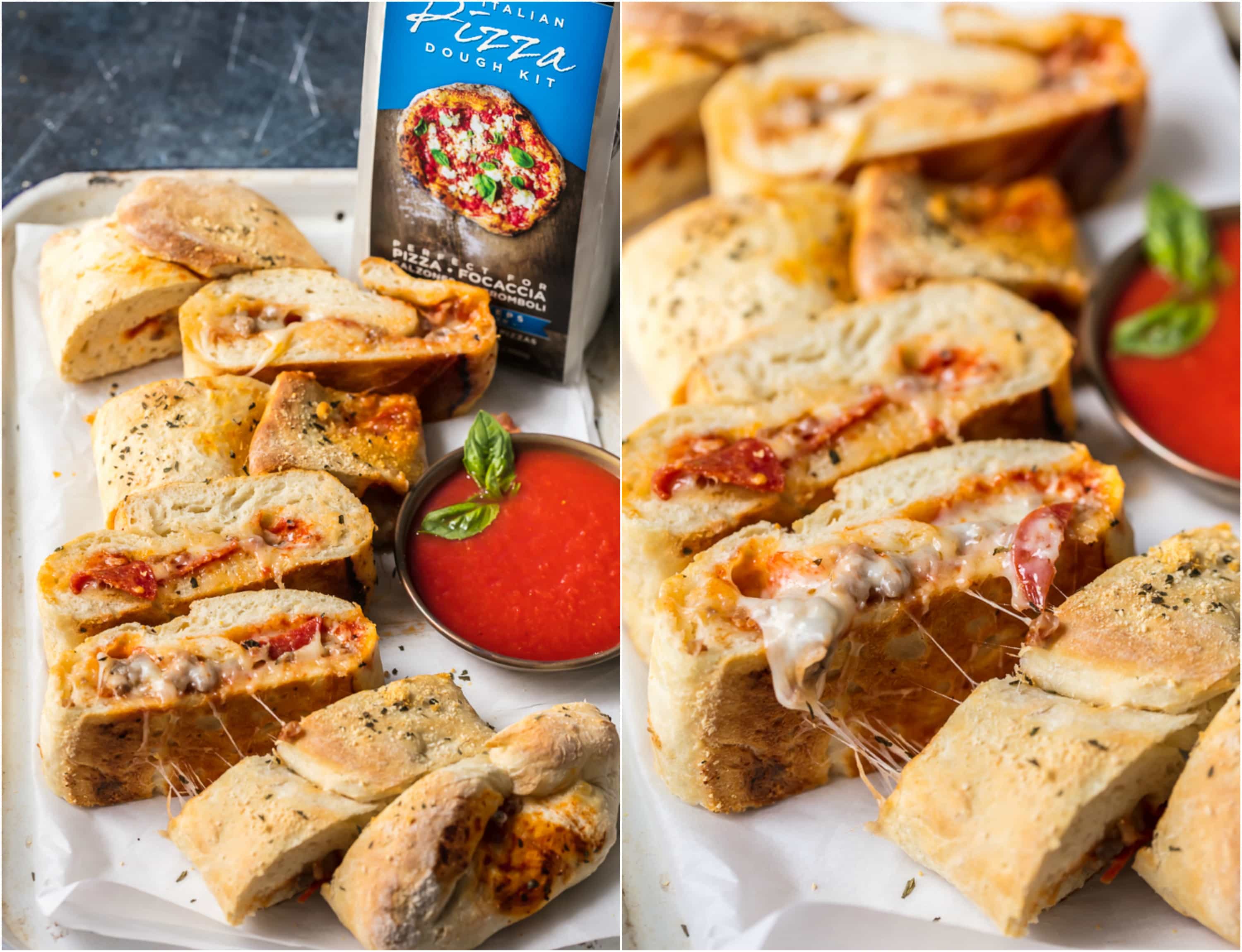 How to Make Stromboli
Making a Homemade Stromboli can be SO easy. It's all about finding your perfect ingredients and baking to perfection.
Be sure to roll our your dough onto a floured surface and make a rectangle. I like my stromboli dough approximately 1/2 inch thick.
I didn't fully roll the stromboli (because that is harder than it looks), but I brought up each side (length-wise) and layered one side over the other and then pinched closed.
I recommend brushing the top of your stromboli with some garlic butter and sprinkling with Italian herbs and parmesan cheese. It's the added bit of flavor that really makes a difference.
I love the flavor combo of the sausage, bacon, and pepperoni, but you could leave one of those out.
You're going to love this stromboli recipe.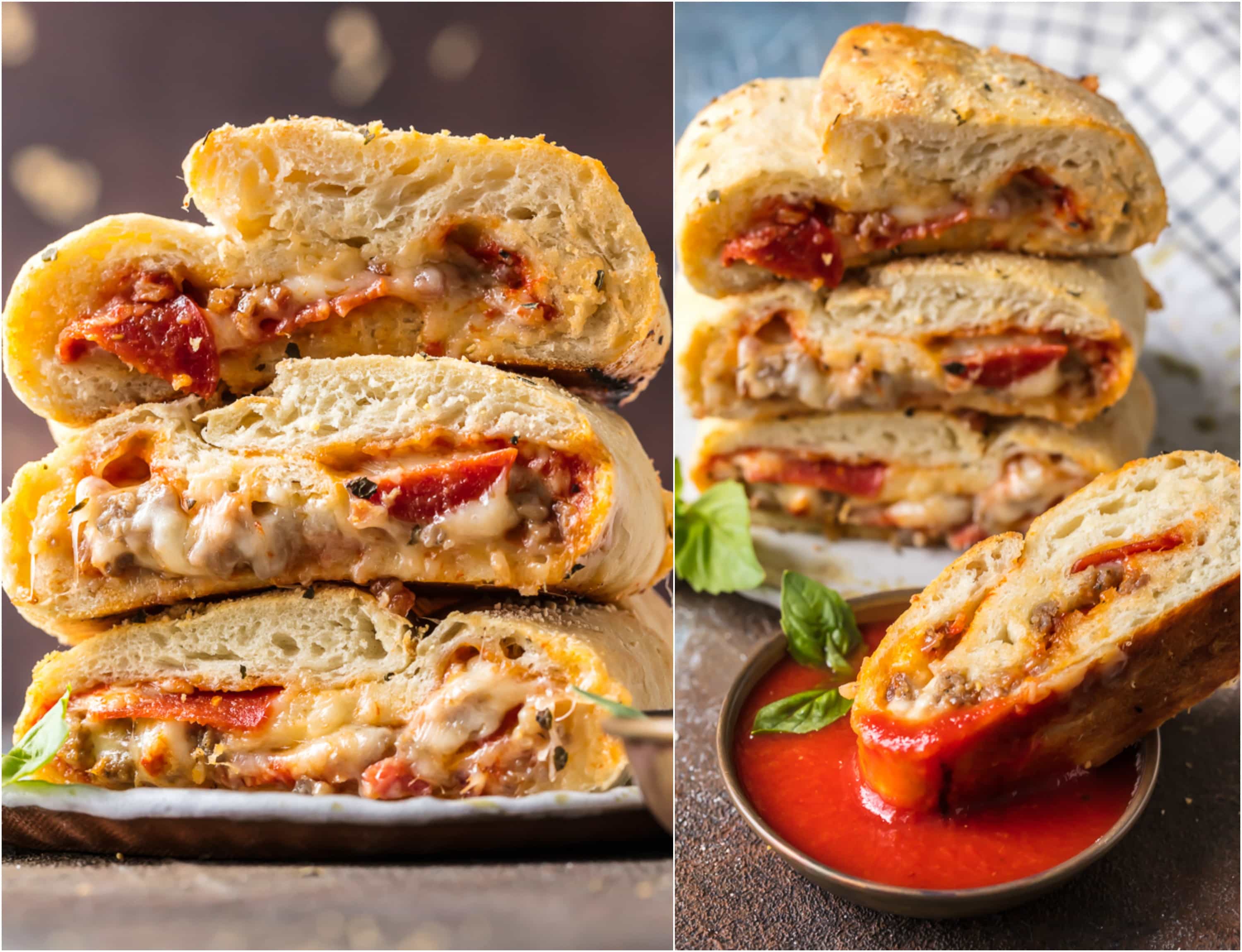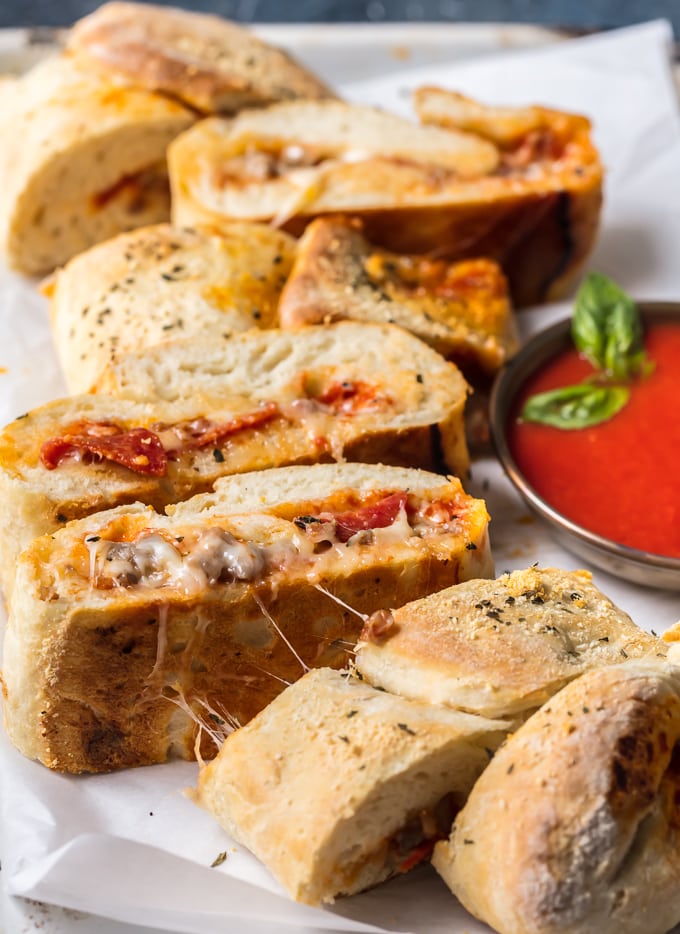 What is the difference between a calzone and stromboli?
A calzone is typically simply folded over, with the ingredients inside. They also typically have the sauce served on the outside instead of the inside. Stromboli's are a rolled pizza, with the sauce inside. I prefer Strombolis because I like a good and saucy pizza. I've used DeLallo's Pizza Sauce in this recipe and I give it two HUGE thumbs up!
How do you reheat this?
You can keep this fully cooked stromboli in the fridge for a week or you can freeze it for up to 6 months.
When ready to reheat, preheat your oven to 350°F and cook for 30-40 minutes until crisped and fully warmed through.
While you COULD microwave it in a hurry, I promise it will be worth the wait to reheat it properly in the oven!
Serving Suggestions
When we cook this Meat Lover's Stromboli recipe at home, I love to serve it with appetizers and side dishes similar to what we would order from our favorite local Pizza joint. Pat always requests baked wings and I always want Mozzarella Sticks. This is one of our favorite dinners to make for game day!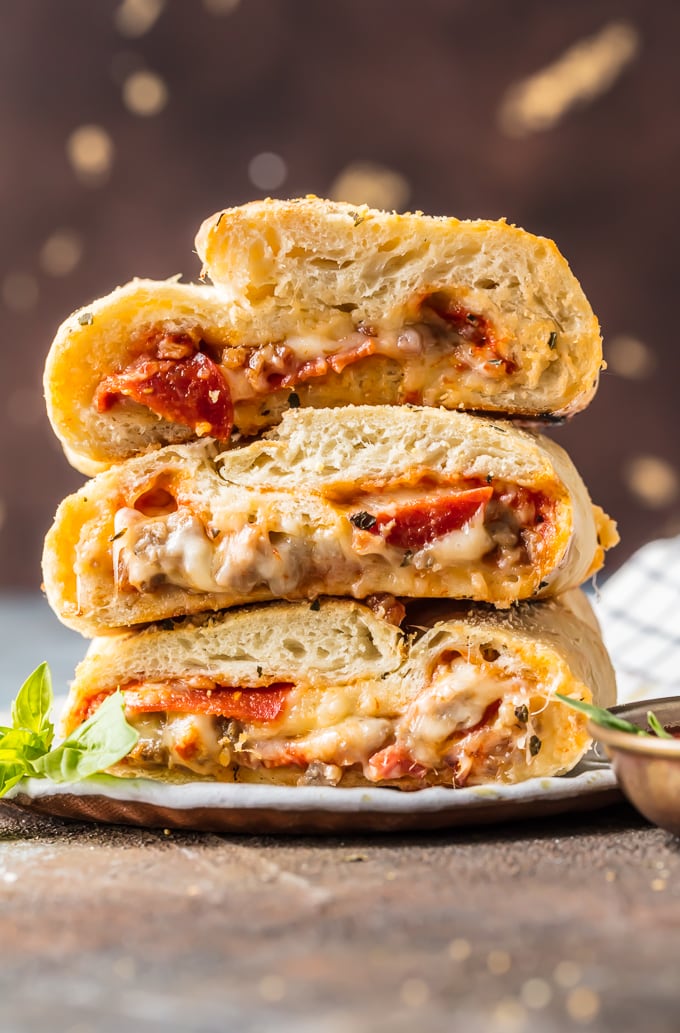 This Meat Lover's Stromboli Recipe is a favorite for our family and I hope you make it again and again, just like us. Load it up with your family's favorite toppings and enjoy…you can't go wrong!
Watch the video or see the recipe card for details on How to Make this Easy Stromboli Recipe. Enjoy!