MINI PAVLOVAS topped with fresh fruit, whipped cream, and fruit syrup is the ULTIMATE holiday dessert. This mini pavlova recipe is the perfect dessert for Christmas or any celebration. They're beautiful, delicious, and EASY to make!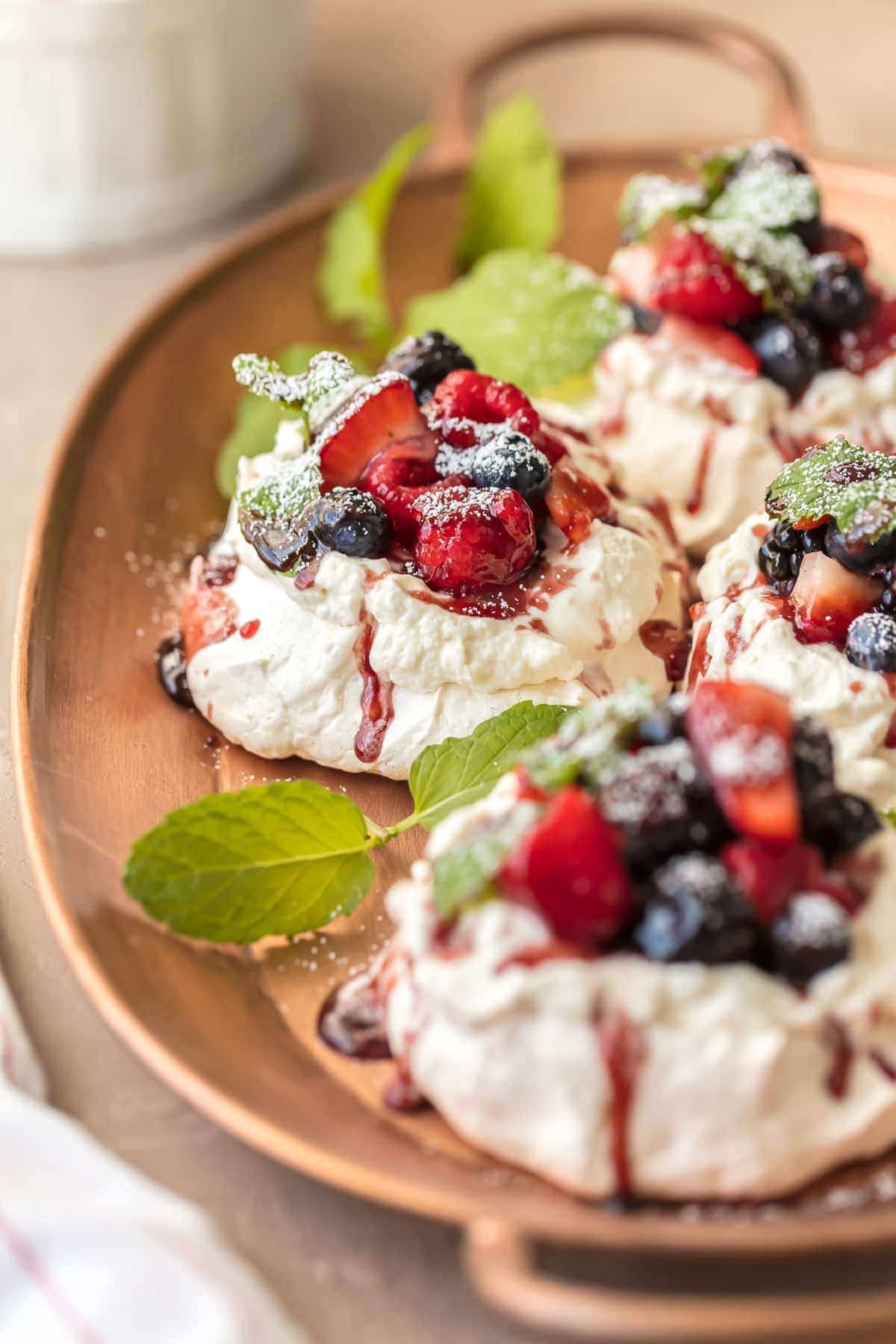 Easy Pavlova Recipe for Christmas
This Mini Pavlova recipe is the perfect thing to serve over the holidays. This beautiful meringue-based dessert is so flavorful, and it fits right in on the Christmas dessert table.
Holy beautiful dessert alert! These Mini Pavlovas blow me away with how pretty they are, how AMAZING they taste, and also how easy they are to make. They aren't the quickest dessert on the sweets table, but they are worth that little extra bit of time and TLC. They are the absolute star of the show, and will leave everyone with happy stomachs and a smile on their face this Christmas. Aren't they just lovely?
This mini pavlova recipe is the perfect thing to serve during the holiday season. The bright berries are so cheerful, and the meringue feels so decadent. Add in the whipped cream and fruit filling, then top it off with the most amazing sauce. Yum! It all comes together to create something so delicious.
Make this dessert to celebrate Christmas, New Year's, Valentine's Day, or any time you want something extra special.
This Mini Pavlova recipe is the most beautiful dessert to serve on holidays or special occasions. Meringue filled with cream, topped with fresh berries, and finished off with a sweet sauce.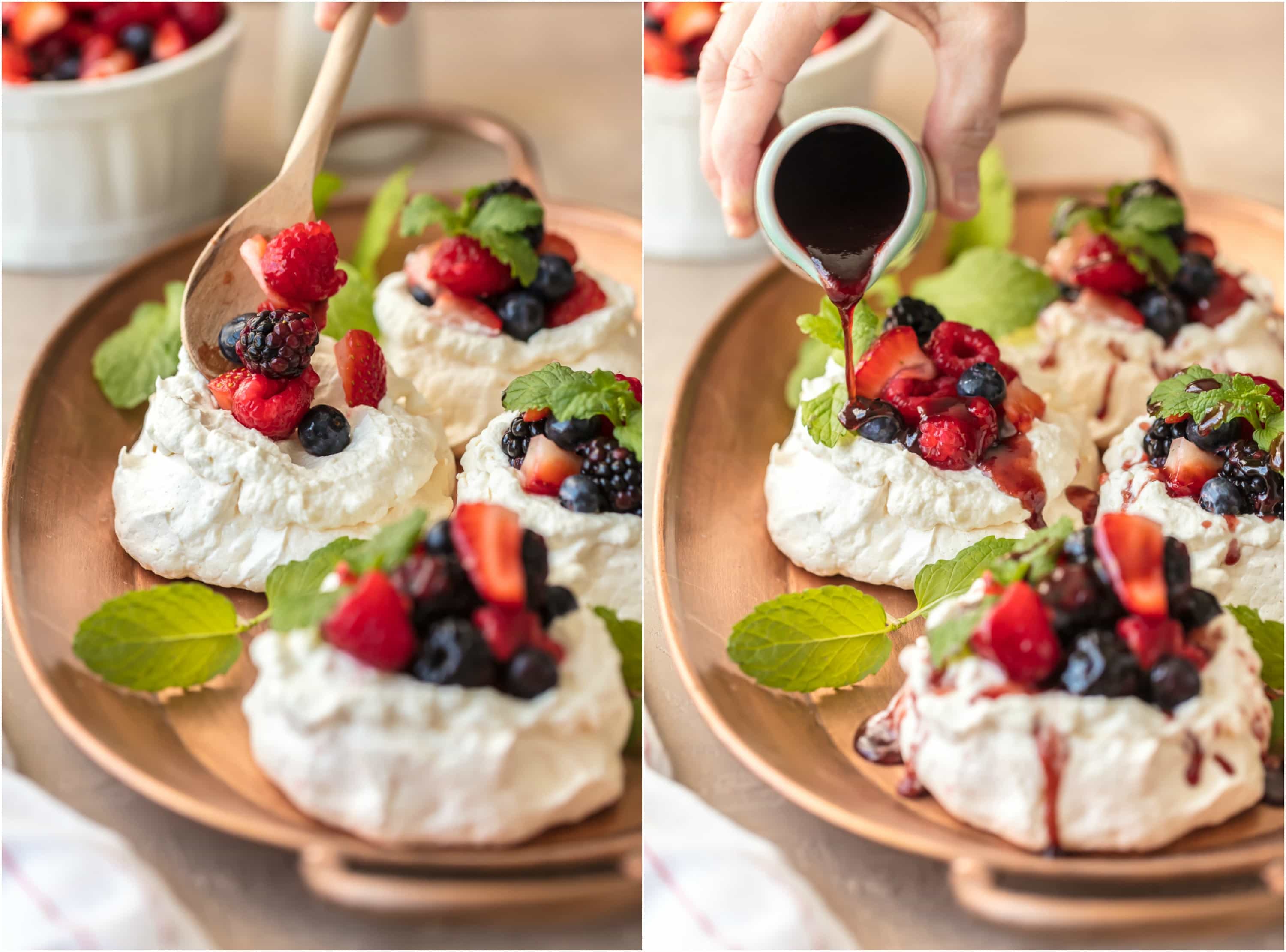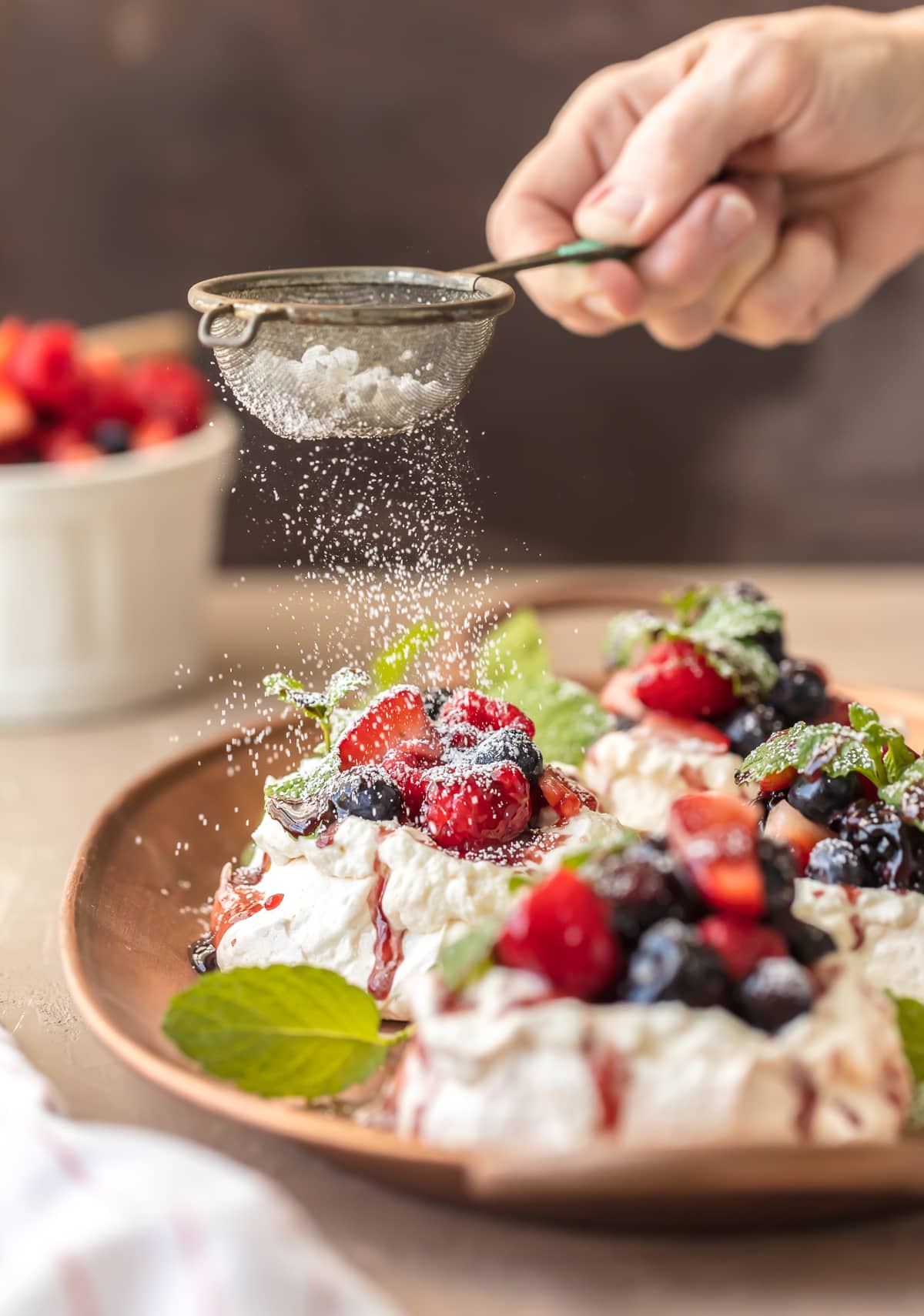 Easy Holiday Dessert Recipe
Don't these Mini Pavlovas just scream Christmas? The colors, the beauty, the little powdered sugar "snow". I'm obsessed. I love the combination of flavors and textures, and (BONUS) they aren't all that bad for you.
The bottom layer is made of meringue (egg whites), the middle from freshly whipped cream (Mom makes me use fresh whipped cream…and I have to say…she's right), and on top is fresh fruit. I mean, this is kinda diet food…right? At least for holiday recipe standards.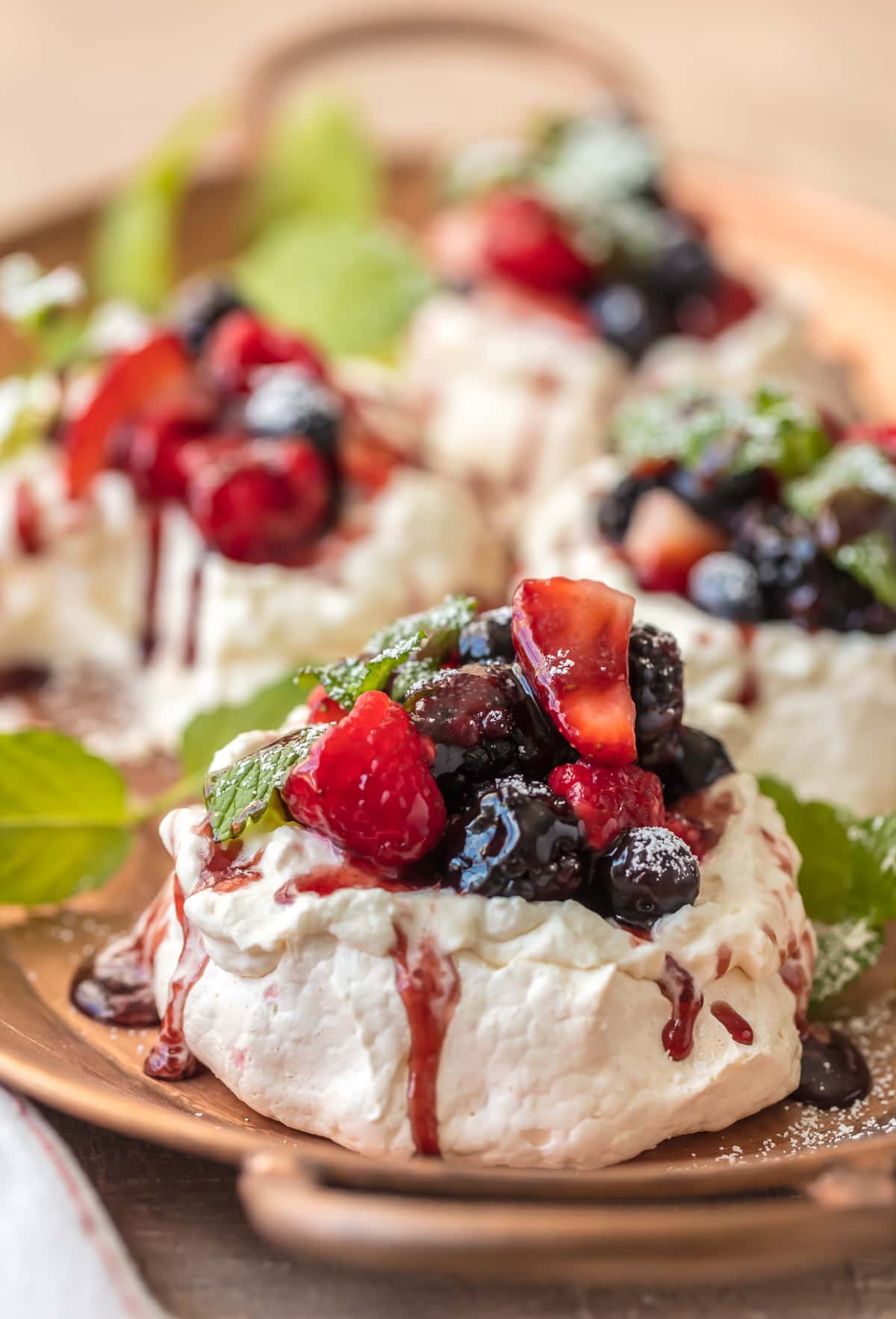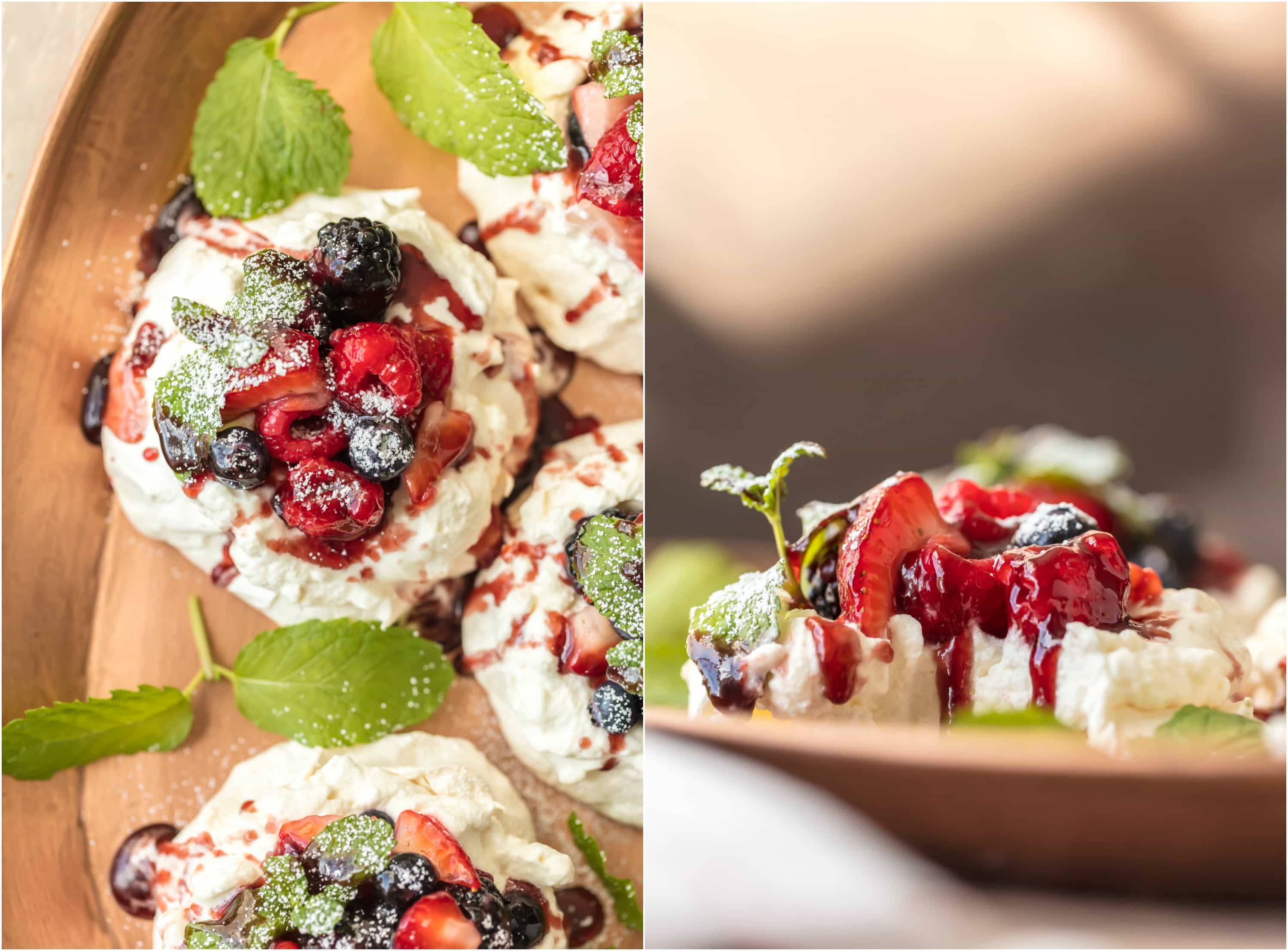 How to Make Mini Pavlovas
There are essentially four parts to this mini pavlova recipe: the meringue "bowls", the whipped cream filling, the fresh berries, and the sauce. The meringue is the most intricate part, while the other three parts mostly just require mixing ingredients together.
To make the Meringue:
Lay out a sheet of parchment paper on a baking sheet, and trace 3.5 inch circles (this will be your guide for creating the meringue bowls).
Using a mixer, whisk the egg whites until they look like clouds.
Slowly add in the sugar as you continue whisking, until egg whites become stiff.
Combine cornstarch, vinegar, and extract in a bowl, and then add that into the egg whites by whisking for about 5 seconds.
Pile the meringue in the middle of each circle, then use a spoon to push it outwards. You want to create a bowl shape with the meringue, so the sides come up higher than the middle.
Bake the meringue bowls for about 1 hour at 200°F, then turn the oven off and let them sit in there for another hour.
Let the meringue cool completely before assembling the mini pavlovas.
Once each part has been made, you'll assemble the mini pavlovas. Fill each meringue bowl with the whipped cream filling, spoon on the fruit, and then drizzle the sauce over top. Add fresh mint and sprinkle with powdered sugar to finish them off, and then serve immediately. Check the recipe card below for detailed instructions.
Can you make Pavlova ahead of time?
This recipe definitely takes some time, but you can make the meringue bases ahead of time and freeze them until ready to create your Mini Pavlovas. You won't want to put them together until right before serving, to make sure your egg white meringues stay crisp, but it's a great way to cut time and think ahead. I love recipes like that! These are just too perfect, don't you agree?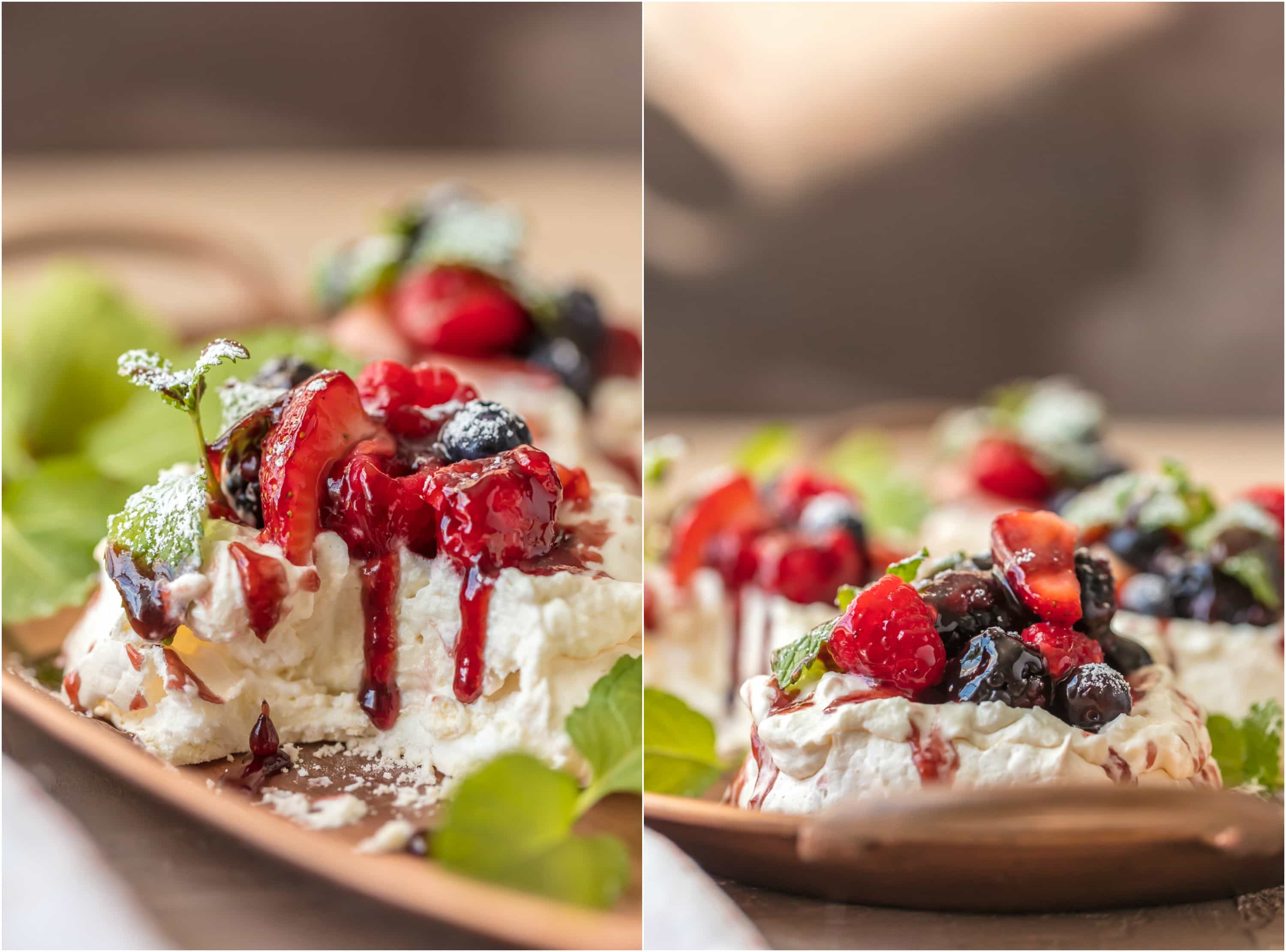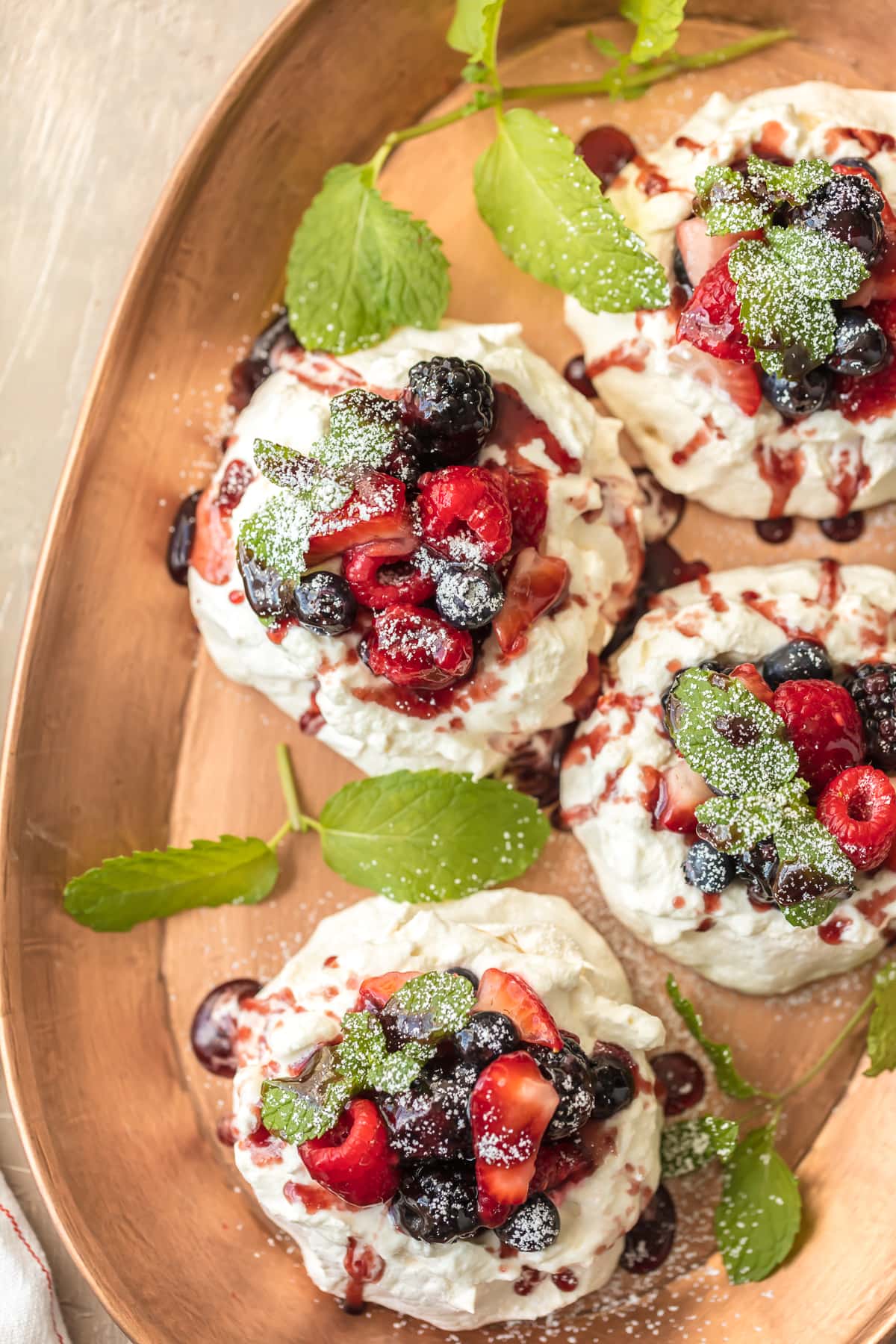 Christmas tunes are blaring on Pandora, Slow Cooker Hot Chocolate is in the crockpot, Dill is in the Christmas tree creating an utter mess, and we are serving MINI PAVLOVAS! Come on over!
See the recipe card below for details on how to make this Mini Pavlova Recipe. Enjoy!
If you like this mini pavlova recipe, try these other delicious desserts:
Mini Red Velvet S'mores Tarts