Cheesy Mashed Cauliflower is a healthy (and tasty) alternative to regular mashed potatoes. Learn how to make cauliflower mash with this simple recipe!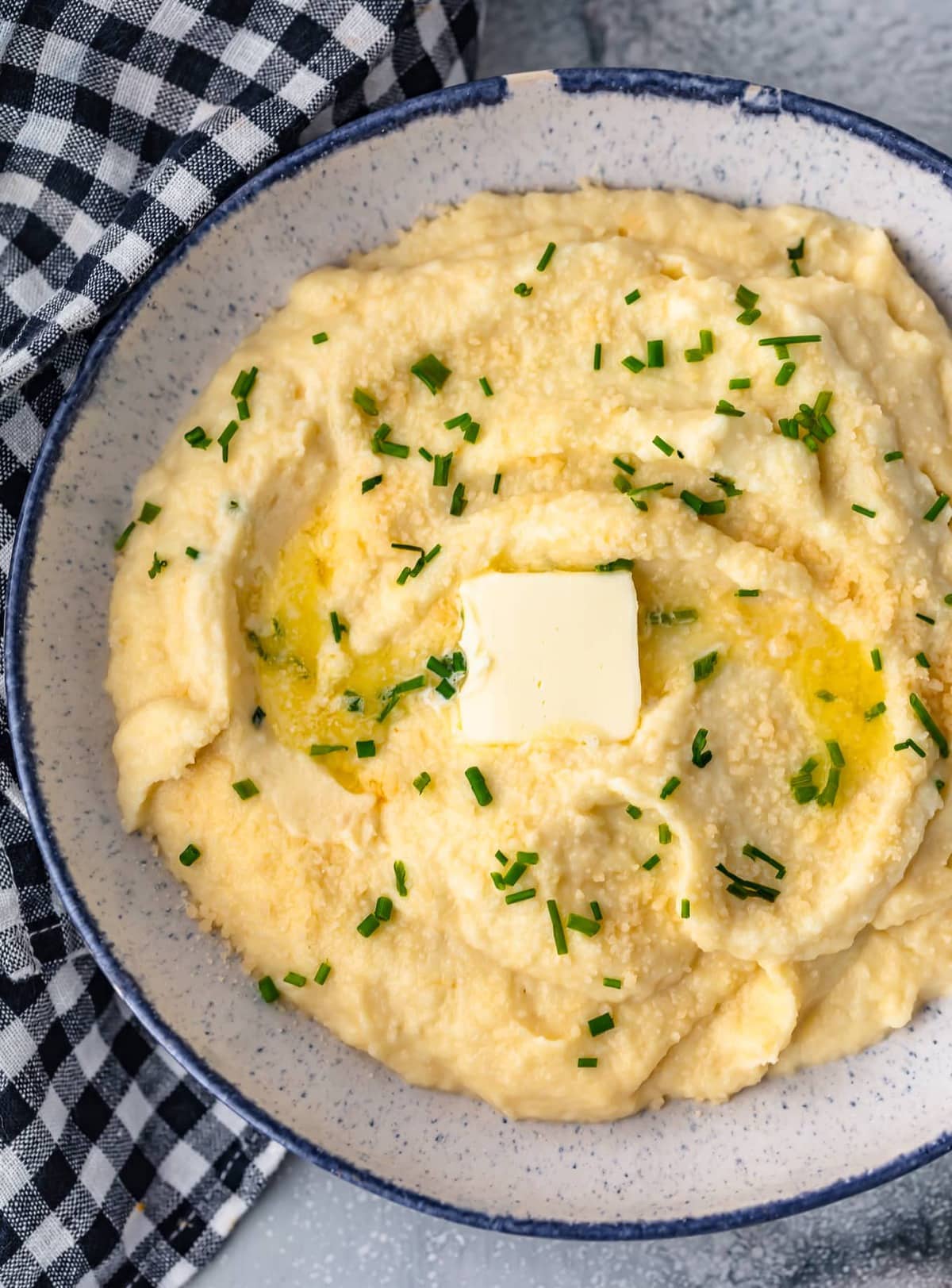 Cheesy Mashed Cauliflower
Cheesy Mashed Cauliflower is the perfect balance of healthy and…well, cheesy. Food should be all about balance, so this recipe is a great way to cut out the carbs from regular mashed potatoes, but keep alllll the amazing flavor by mixing in some cheese. And if you really want to be healthy, the cheese is totally optional. Either way, you're going to love this tasty Cauliflower Mash recipe!
I've made Garlic Mashed Cauliflower in the past, and you all LOVED it, so I just wanted to give you another delicious option. If you missed it, I'll show you how to make cauliflower mash right here, and then you can check that recipe out later. Both are so yummy! They're great options for healthy Thanksgiving side dishes.
This cheesy cauliflower mashed potatoes recipe is all about getting that cheesy, creamy texture in a much healthier dish. So if you're looking to skip the regular mashed potatoes in favor of cauliflower mash, you're in the right place. Let's get to cooking!
This CHEESY Mashed Cauliflower will make you forget about regular old mashed potatoes. Cauliflower mash is healthy AND delicious!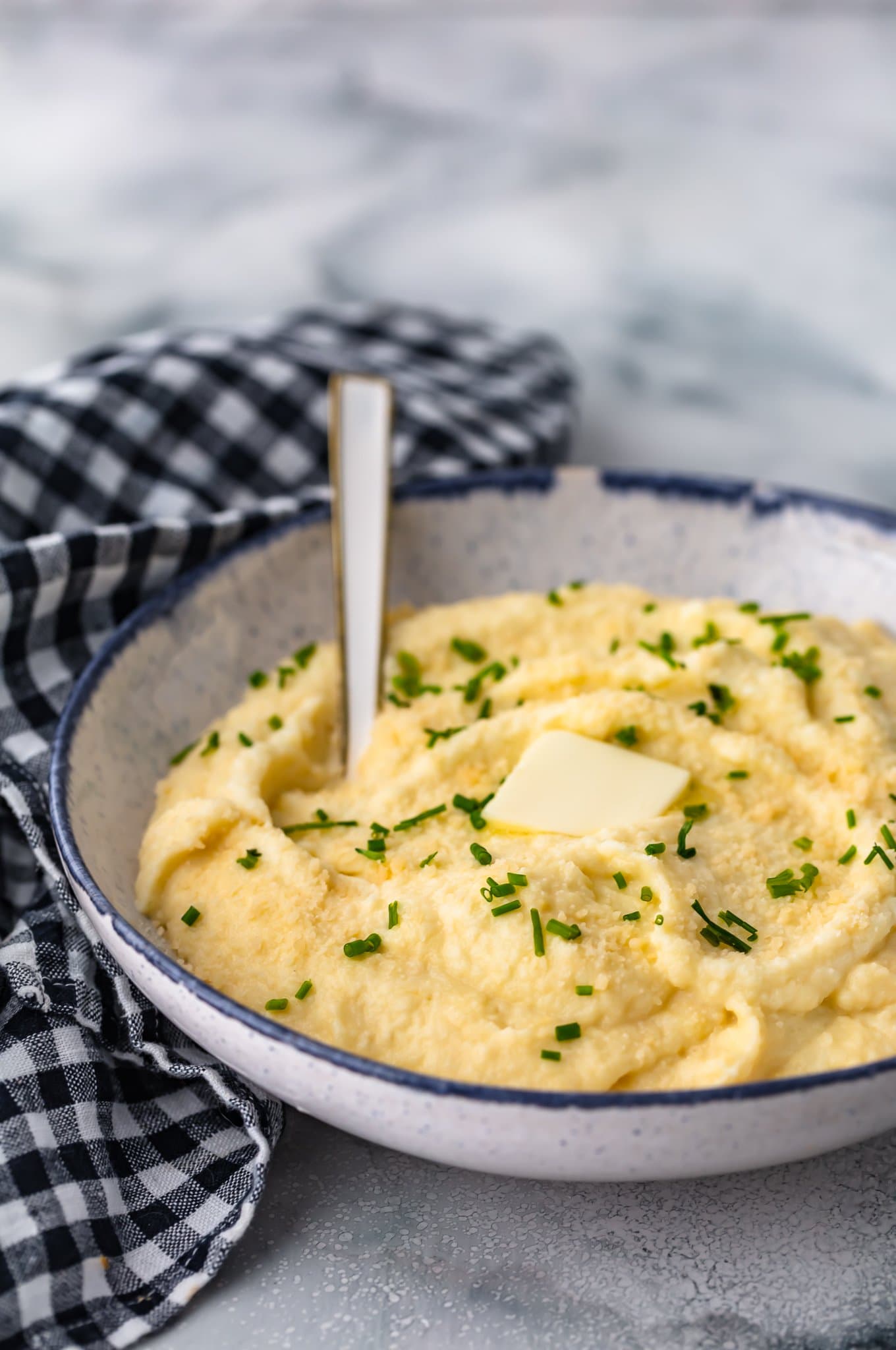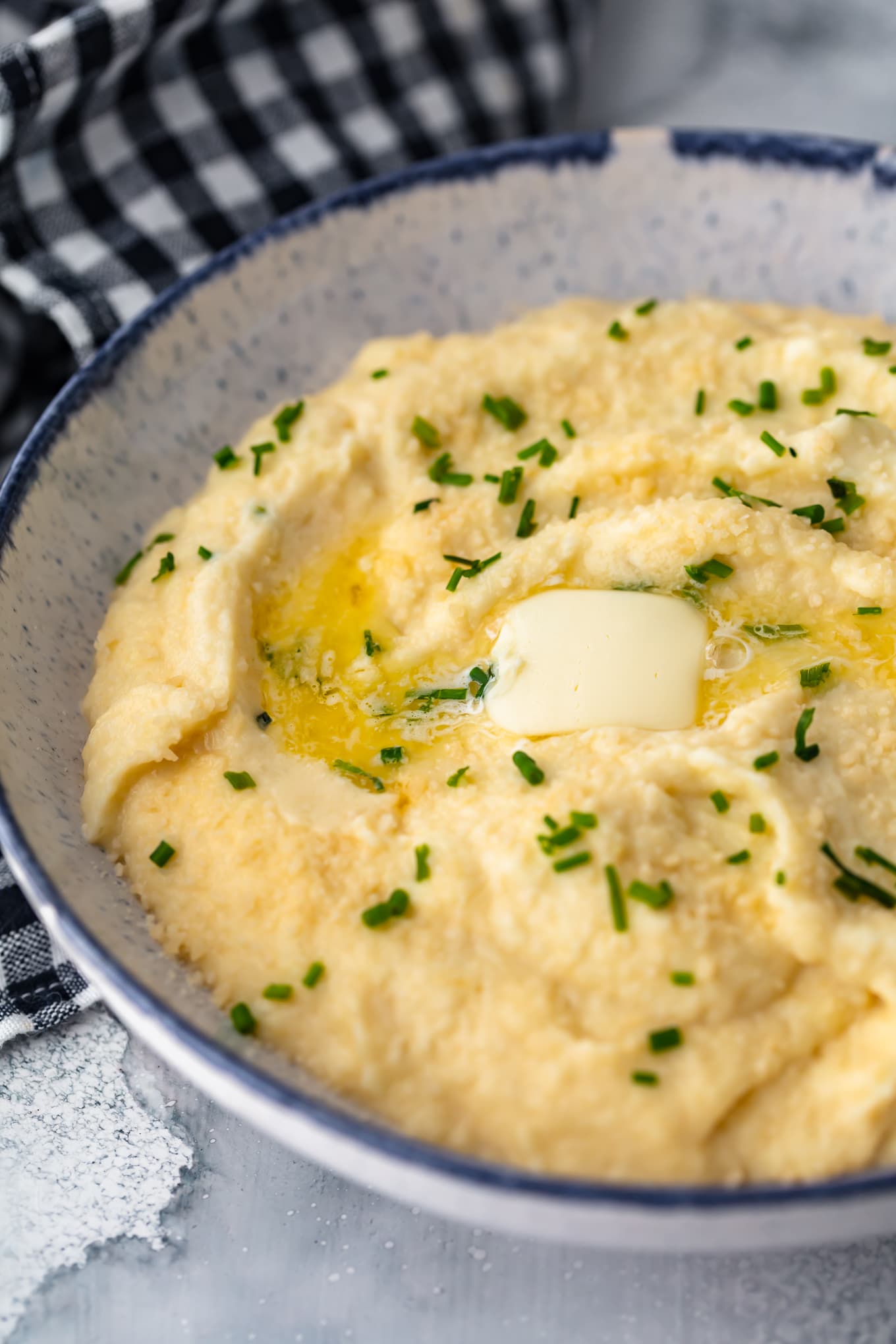 Healthy Cauliflower Mash
This low carb Cauliflower Mash is an easy way to cut down on carbs this holiday season without sacrificing flavor. I mean, what's the point in eating something at all if it doesn't taste good, right? (Or do some people eat things JUST for health? I don't know. I'm in it for the taste!) Luckily this Cheesy Mashed Cauliflower checks all the boxes!
Mashed cauliflower doesn't taste exactly the same as mashed potatoes, but it does the trick. Having that same smooth, creamy texture is what really matters, and that's easy to do. Adding in the butter and cheese is what gives it that irresistible flavor. You'll barely notice the difference, and you won't miss the potatoes at all!
Looking for more healthy cauliflower recipes? Try these favorites: Roasted Cauliflower with Chimichurri Sauce, Cauliflower Tikka Masala, Cauliflower Steak Recipe.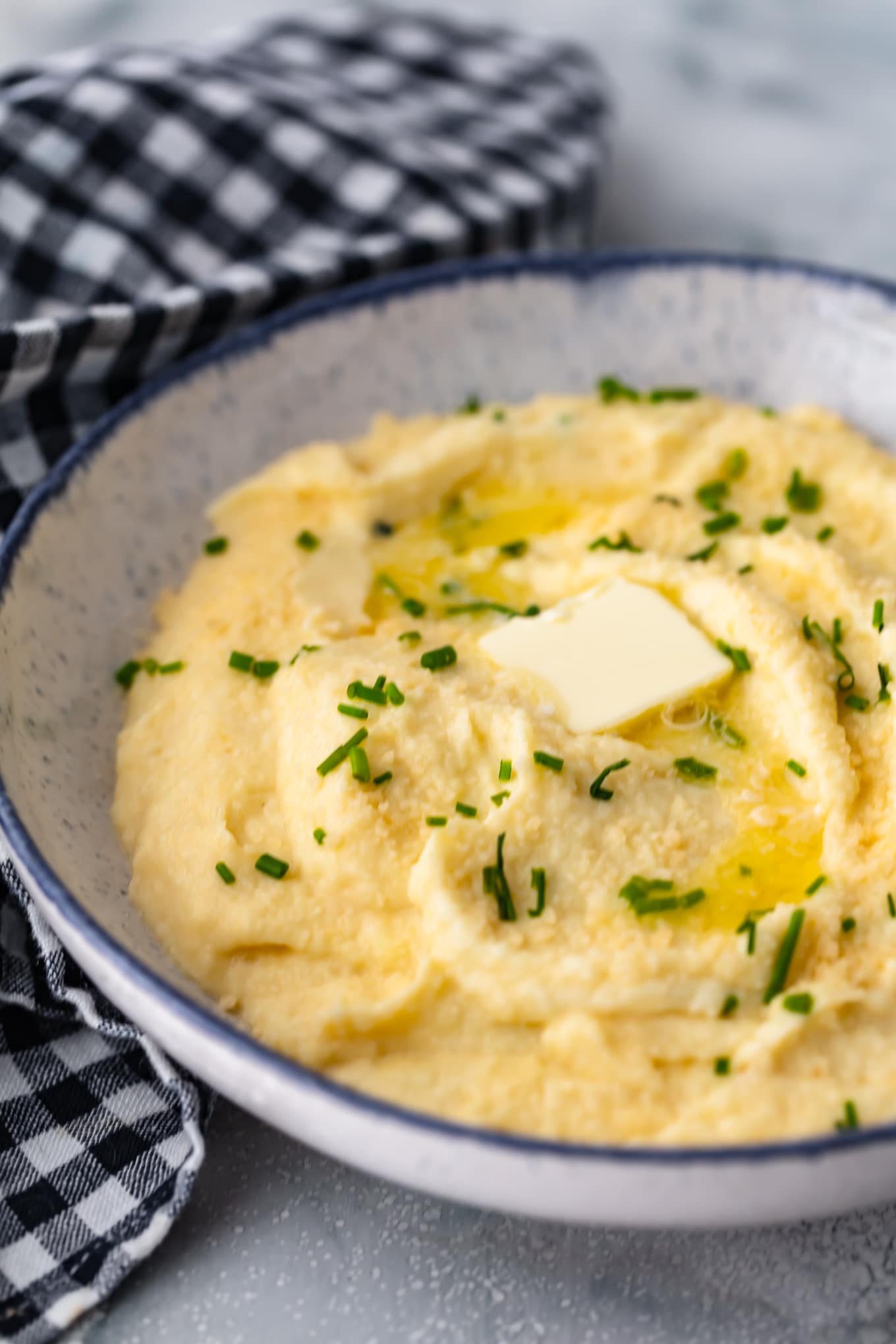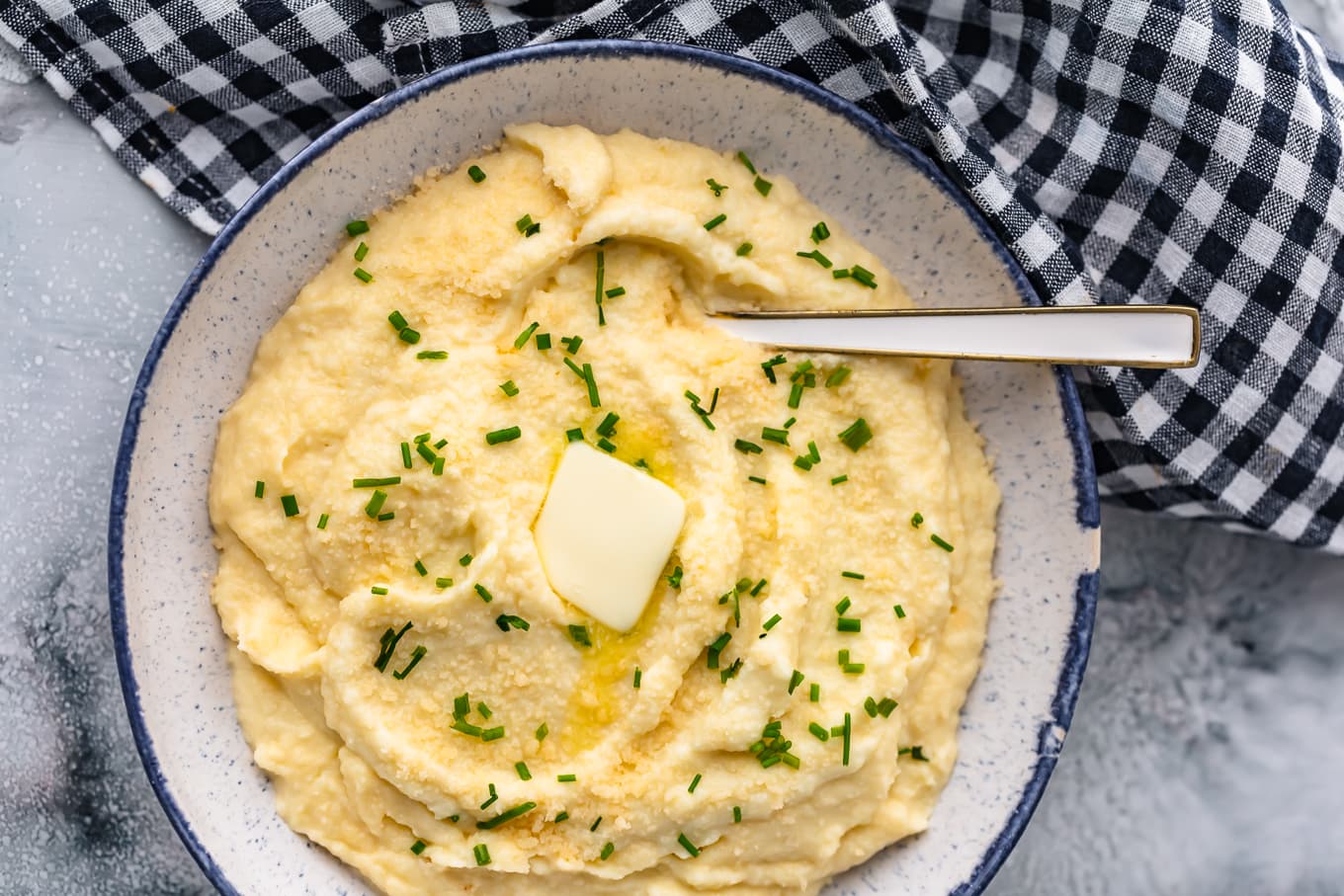 How to Make Cauliflower Mash
Cauliflower mash is actually so easy to make. It's basically the same process as making mashed potatoes, but with cauliflower instead! Boil the cauli, blend it into a creamy consistency, then add in the extras.
How to make cheesy mashed cauliflower:
Cut a large head of cauliflower into 2-inch pieces. You want them all to be similar in size.
Fill up a dutch oven or stock pot about 2/3 of the way with water, and bring to a boil on the stove top.
Add the salt and the cauliflower pieces, then reduce heat to a simmer.
Let the cauliflower cook for about 20 minutes until it is very tender (it needs to be soft enough to mash).
Drain the water and return cauliflower to the pot. Cook on low to get rid of excess moisture in the cauli and then remove from heat.
Add in butter, heavy cream, and pepper with the cauliflower and puree.
Add in the cheese and mix gently.
Serve it while it's hot! Throw on an extra pat of butter and sprinkle with some chives. This cheesy mashed cauliflower comes out soooo creamy and delicious.
Recommended Products to make this recipe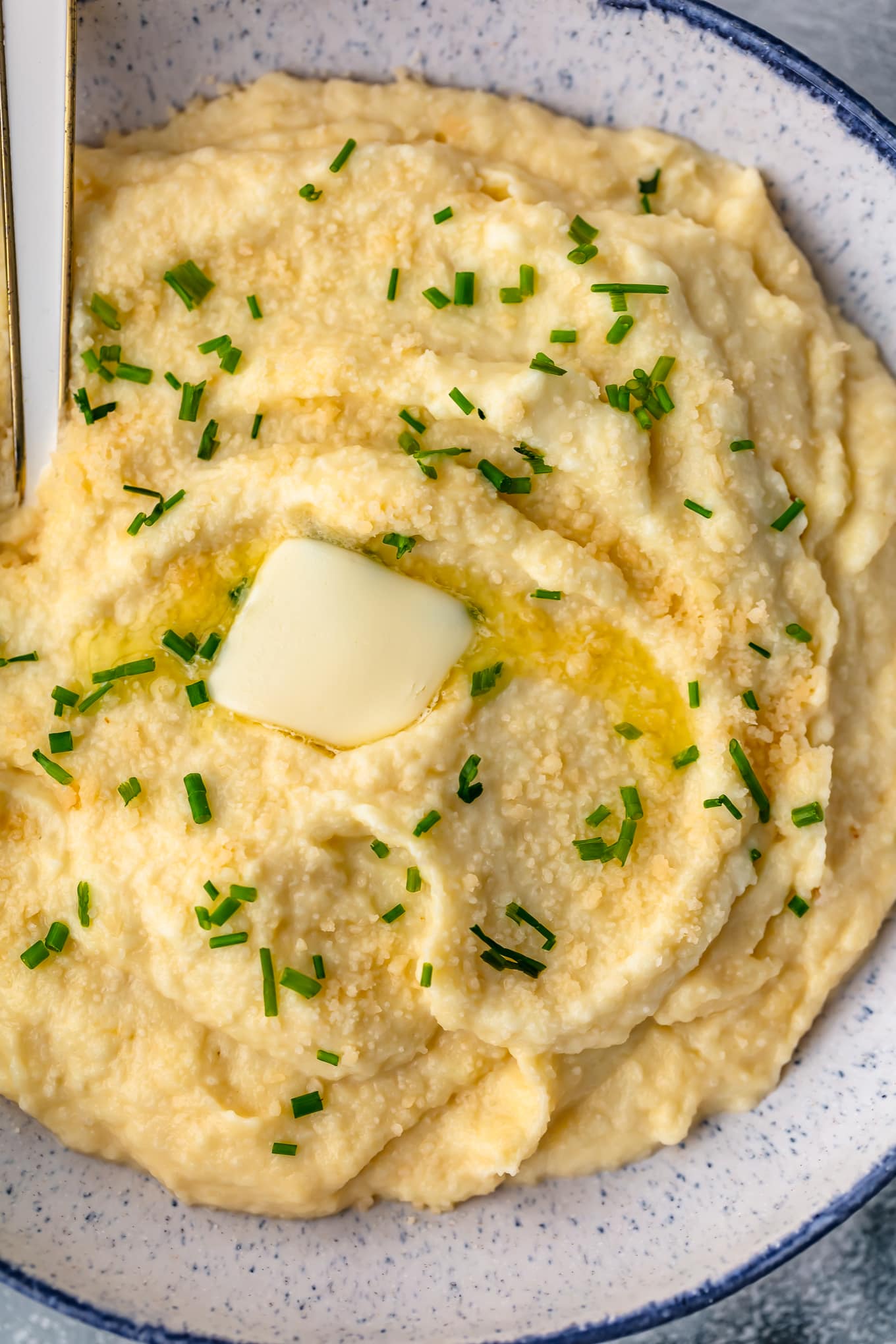 This healthy cauliflower mash recipe is the answer to those carb heavy mashed potato woes. Skip the potatoes, keep the taste! This Cheesy Mashed Cauliflower recipe won't disappoint.
See the recipe card below for details on how to make Cheesy Mashed Cauliflower. Enjoy!
If you like this cheesy cauliflower mash, try these other healthy side dishes:
And if you want to go with traditional potatoes instead, try these recipes: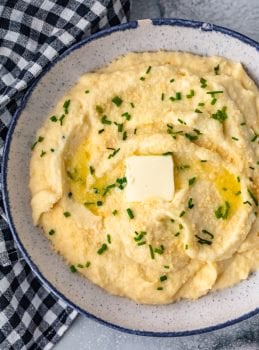 Cheesy Mashed Cauliflower Recipe (Cauliflower Mash)
Cheesy Mashed Cauliflower is a healthy (and tasty) alternative to regular mashed potatoes. Learn how to make cauliflower mash with this simple recipe!
Keyword:
cheesy cauliflower, cheesy mashed cauliflower, mashed cauliflower recipe
Ingredients
1

large head cauliflower

1

tablespoon

table salt

4

tablespoons

unsalted butter

divided

¼

cup

heavy cream

¼

teaspoon

ground white or black pepper

2/3

cup

shredded

sharp cheddar cheese

2

tablespoons

grated Parmesan cheese

optional

Garnish: chopped fresh chives
Instructions
Cut the stalk off the cauliflower and chop the cauliflower head into 2-inch pieces.

Fill a Dutch oven or stockpot 2/3rd full of water and bring it to a boil over medium-high heat.

Add 1-tablespoon table salt and the cauliflower and reduce the heat to medium-low. Cook the cauliflower until very tender, about 20 minutes.

Drain the cauliflower, and return it to the pot.

Set the heat to LOW, and cook just until the excess moisture from the cauliflower cooks off, about 1 minute. Remove pan from the heat.

Add 2 tablespoons butter, heavy cream, and pepper. Use an immersion blender or countertop blender to puree the cauliflower.

Add the cheeses and season to taste with kosher salt, if needed.

Serve immediately with a tab of butter and a sprinkle of fresh chives.

Enjoy!
Recipe Video
Nutrition Facts
Cheesy Mashed Cauliflower Recipe (Cauliflower Mash)
Amount Per Serving
Calories 254
Calories from Fat 198
% Daily Value*
Total Fat 22g 34%
Cholesterol 67mg 22%
Sodium 1949mg 81%
Potassium 455mg 13%
Total Carbohydrates 8g 3%
Protein 8g 16%
* Percent Daily Values are based on a 2000 calorie diet.