This loaded cauliflower bake recipe is super cheesy, creamy, and delicious! Like a loaded baked potato, it's filled with cheese, bacon, and sour cream. Make this cheesy cauliflower casserole for an easy side dish that everyone will love!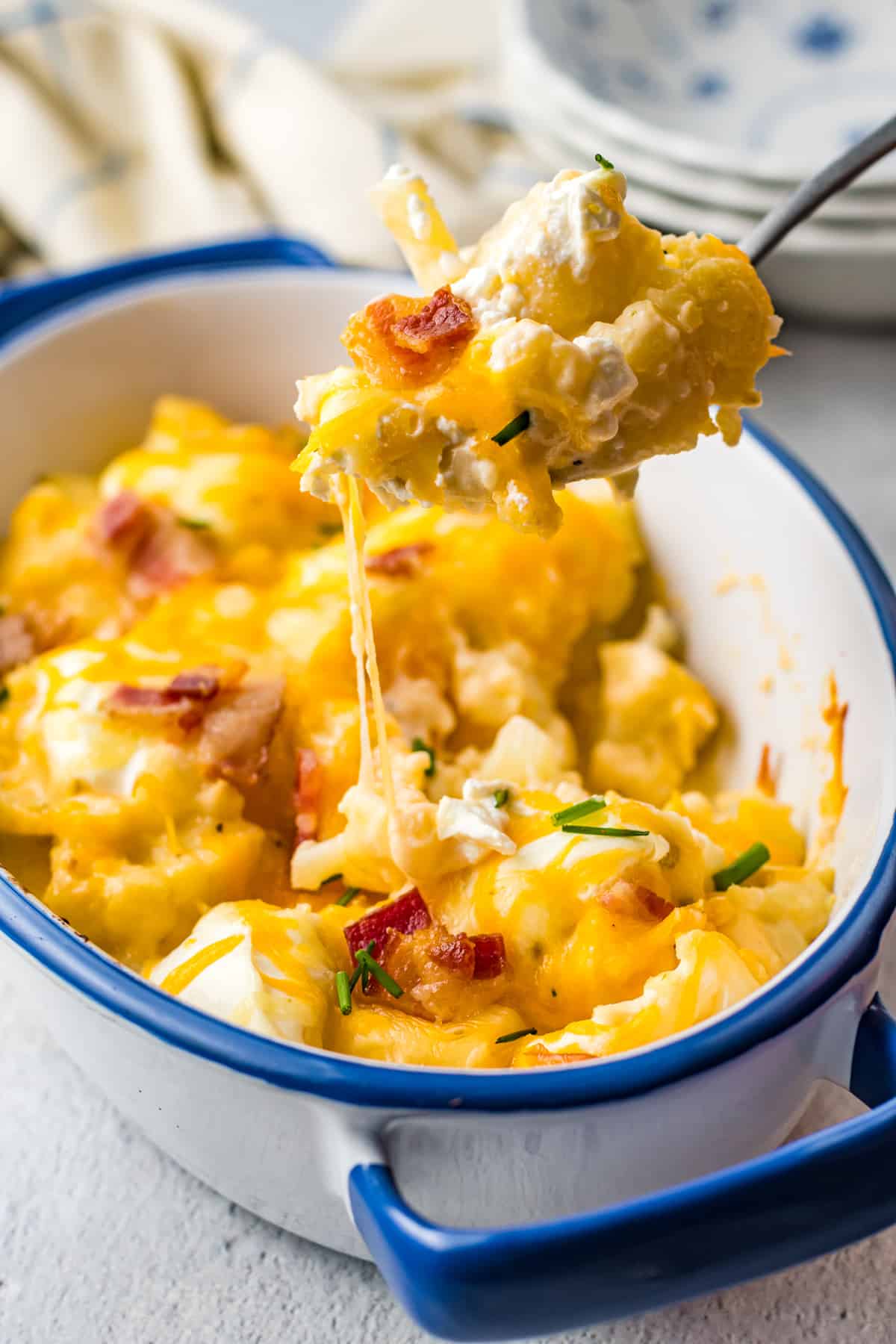 Creamy Cauliflower Casserole
This loaded cauliflower bake is the perfect dish to serve any time. It's easy to make vegetables more fun when you cover them in cheese and bacon! Think loaded baked potato, but in a casserole, with more veggies, and low-carb. Yum!
Bake this super creamy, cheesy cauliflower casserole recipe to serve alongside chicken, pork, beef, or any of your favorite main dishes. It goes with everything and tastes delicious!
Why You'll Love this Loaded Cauliflower Casserole Recipe:
EASY CASSEROLE: Casseroles are always so easy to make, and this recipe is no different.
CHEESY AND CREAMY: This cauliflower bake is loaded with cheeses, including cream cheese, for a super creamy consistency.
VEGGIE SIDE DISH: Get those veggies in with this recipe. There's lots of cauliflower to go around!
Cauliflower is such a versatile vegetable. If you want more easy cauliflower recipes, be sure to try this cheesy mashed cauliflower, vegetarian tikka masala, and this Thai peanut cauliflower steak.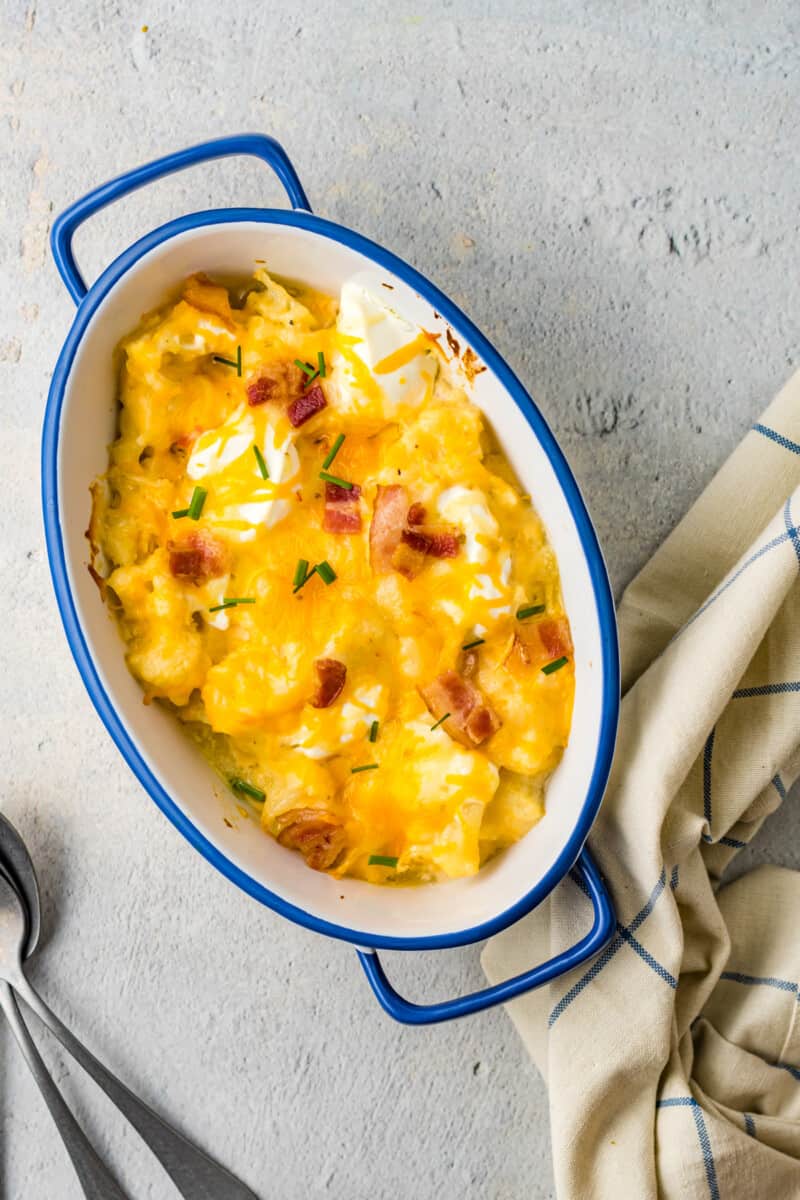 How to Make Loaded Cauliflower Bake
You can jump to the recipe card for full ingredients & instructions!
Preheat oven and prepare casserole dish.
Prepare the cauliflower by cutting and steaming (or use the microwave).
Make a roux, then add the cheese to make the cheese sauce.
Place cauliflower in the casserole dish, and pour the cheese sauce over it.
Top with sour cream, bacon, and more cheese.
Bake in the oven about 10-15 minutes, until bubbly and browned.
Garnish with chives and serve!
Cauliflower Bake Ingredient Notes
Cauliflower: Cut up a head of cauliflower or use pre-cut bags of cauliflower to save time.
Flour: All-purpose flour thickens the cheese sauce.
Milk: Use 2% or whole milk.
Cream Cheese: Makes the cheese sauce extra creamy.
Shredded Cheese: Use 3 cups total of your favorite cheeses like cheddar, Colby jack, Monterey jack, or pepper jack.
Recipe Variations
Make It A Main: Add chicken to this loaded cauliflower bake to add more protein to this meal. See below for some tips on how to do this.
Vegetarian: It's easy to make this a vegetarian-friendly recipe. Just skip the bacon and you're good to go!
Spicy: Add diced chiles and use pepper jack cheese for a spicier cauliflower casserole.
Add Broccoli: The more veggies the better! Try adding half the cauliflower, and the same amount of broccoli.
Add Potatoes: If you're not worried about carbs, add in some potatoes for a heartier dish. Boil potatoes, chop into bite-sized cubes, and add into the casserole dish before baking.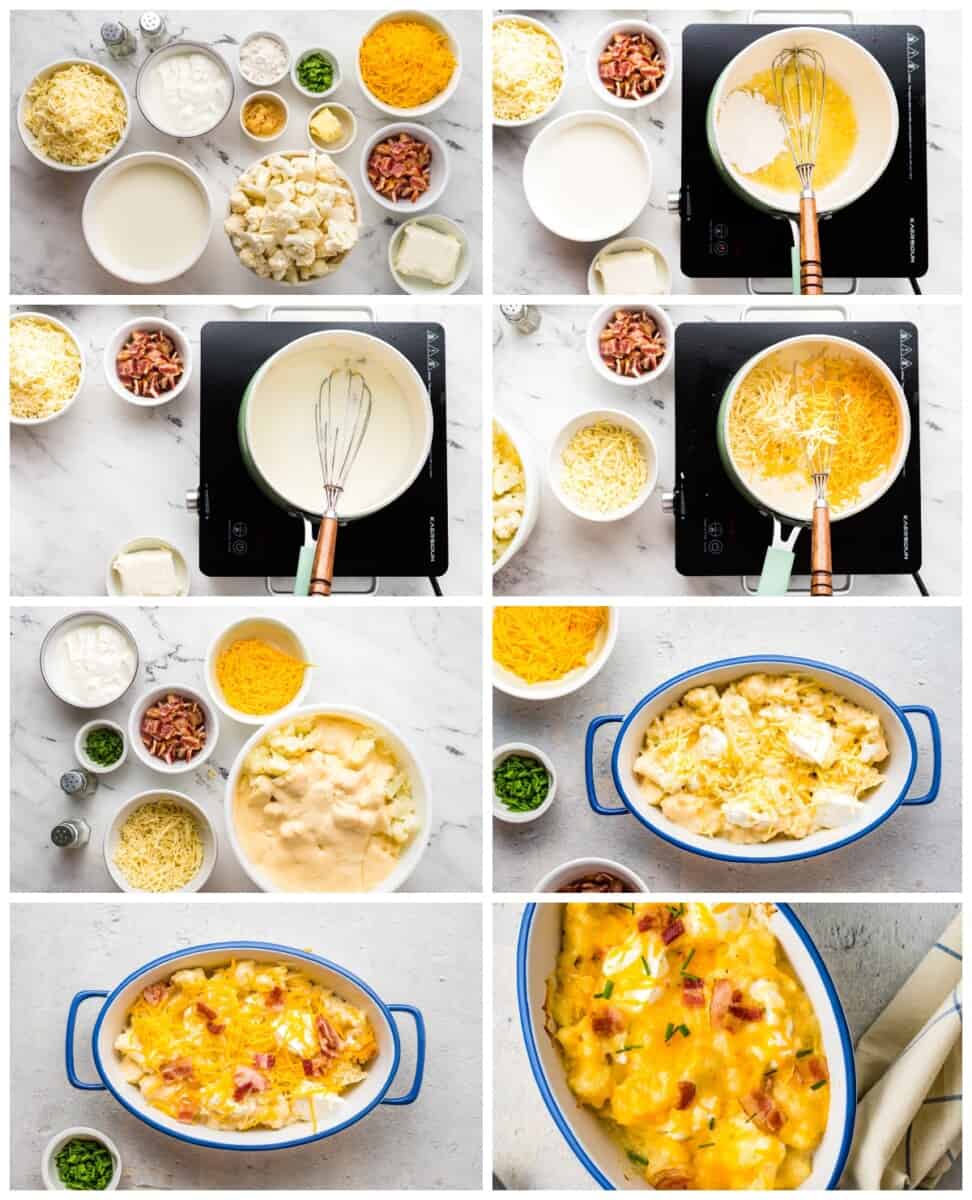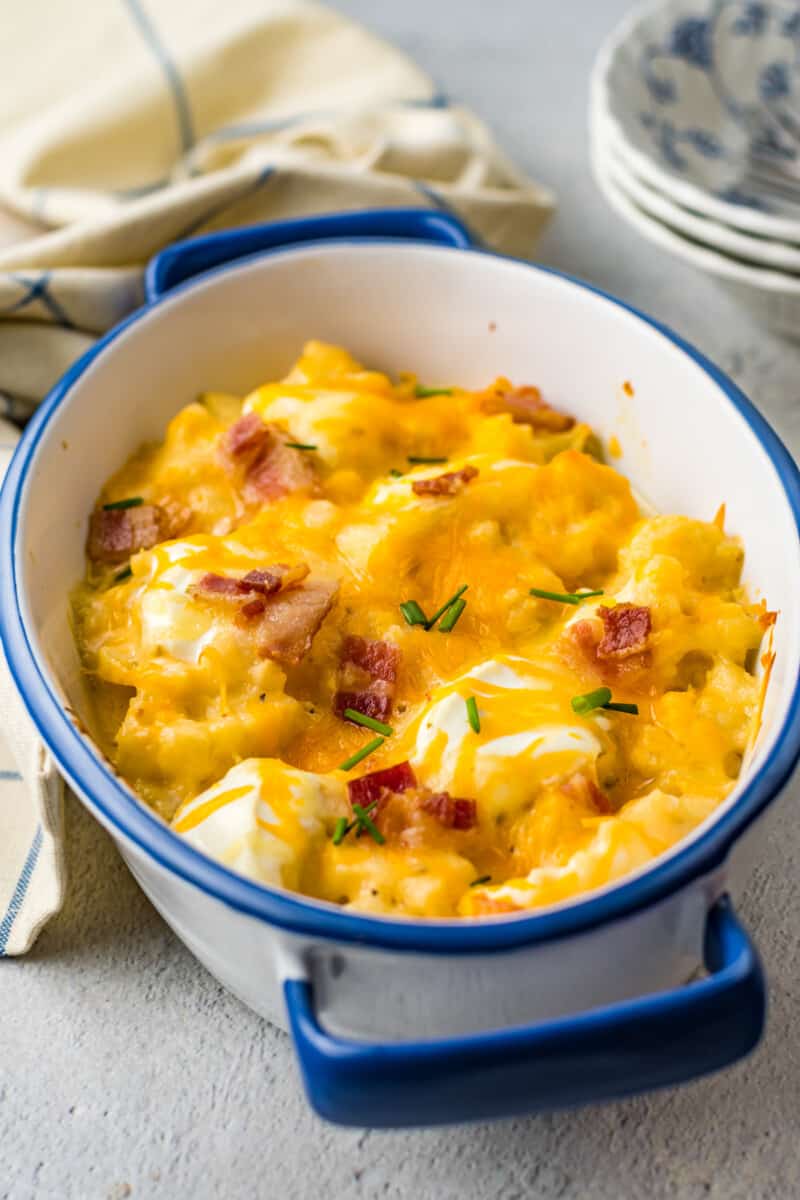 What size casserole pan should I use for a loaded cauliflower bake?
Use a 9×13-inch casserole dish for this loaded cauliflower bake recipe.
Can I use frozen cauliflower for in a cauliflower casserole?
You can use frozen cauliflower florets instead of fresh cauliflower. Steam or microwave according to package instructions, and chop up into smaller pieces if needed. Then follow the rest of the directions as listed.
Can I use broccoli instead of cauliflower in this loaded cauliflower bake?
You can definitely use broccoli in place of cauliflower for this cheesy casserole.
Can I make cauliflower casserole ahead of time?
You can prep this casserole the day before. Steam the cauliflower and make the cheese sauce, then fully assemble the casserole, cover and refrigerate. You will need to increase the baking time slightly.
Serving Suggestions
This loaded cauliflower bake can be served with any dinner you make. It's the perfect side for chicken, pork, or beef. And it's a great way to add veggies to your plate when you make burgers. Here are my favorite mains for this side.
I love this baked cauliflower casserole for easy weeknight dinners, but it makes a great holiday side dish too. It's loaded with so much great stuff, you can even serve it as a main if you want. Cauliflower is quite hearty after all!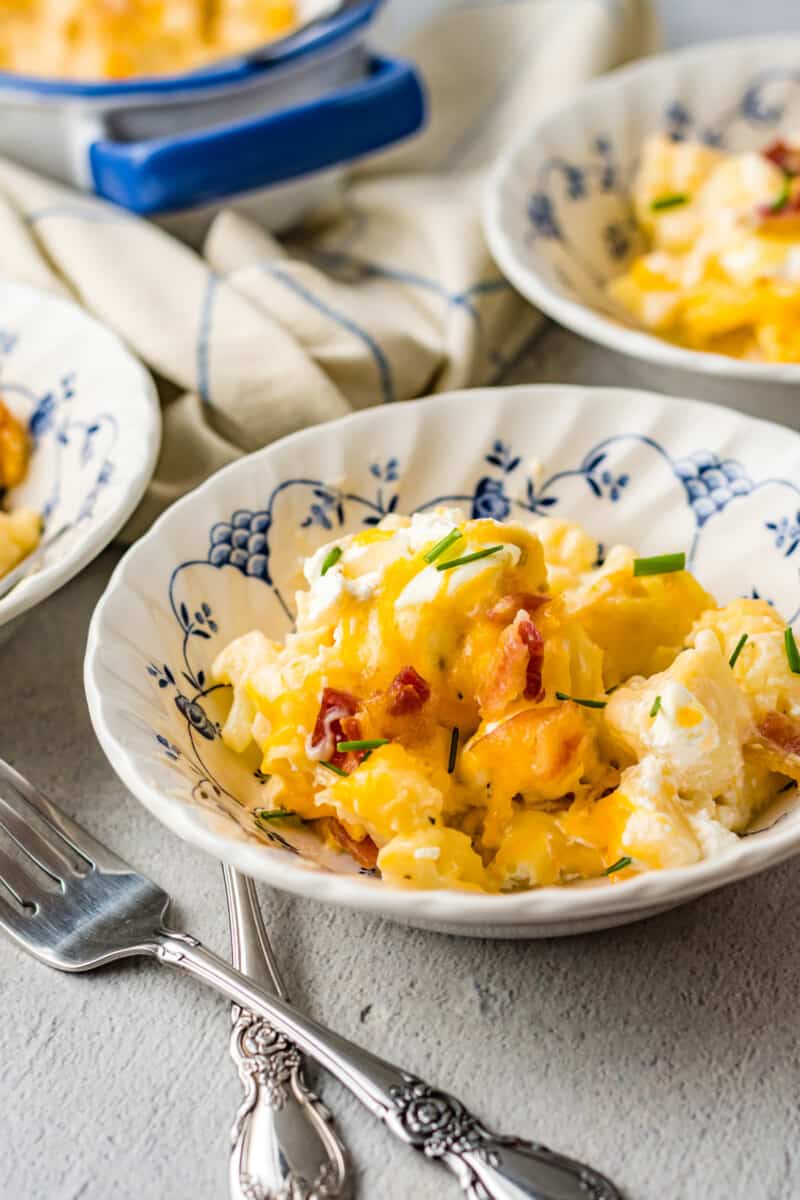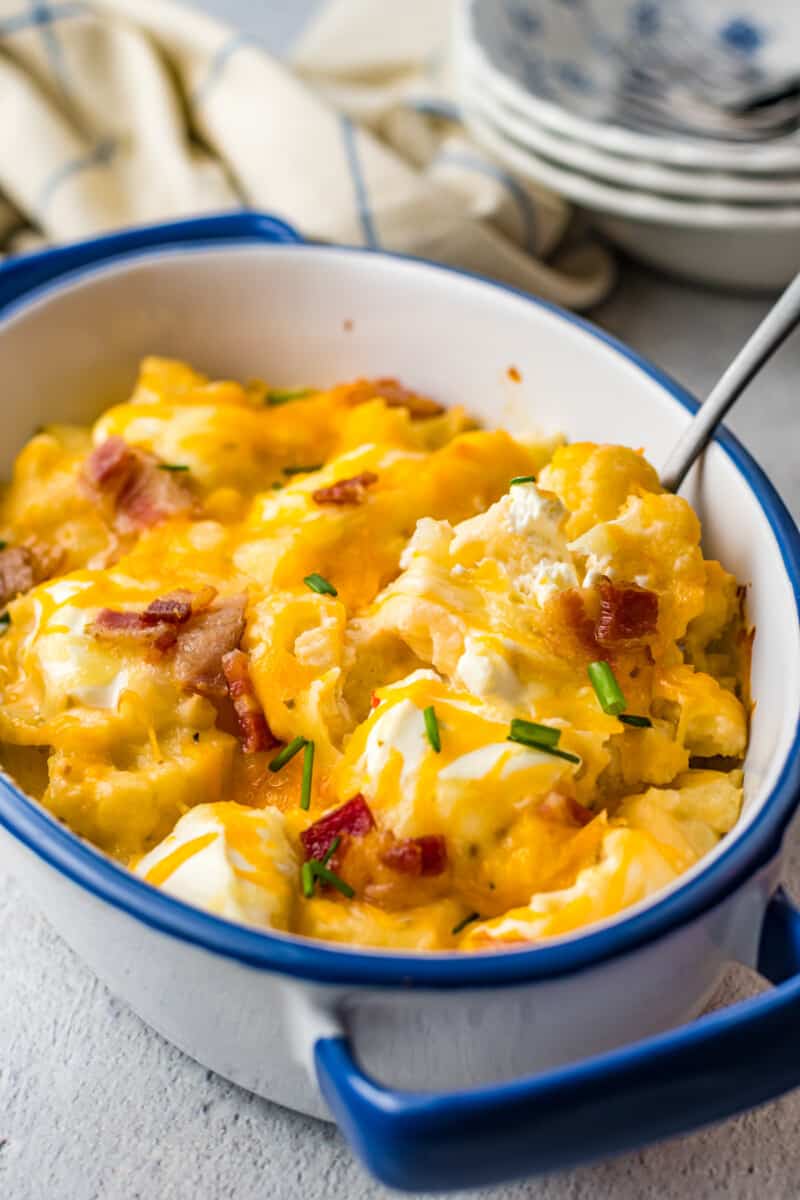 Tips!
Cauliflower: Instead of steaming the cauliflower on the stove, you can use the microwave. Place the cauliflower in a microwave safe bowl and add ¼ cup water. Cover with a plate and cook for 5 minutes. Drain out all of the water and pat dry.
Cheese Sauce: When making the cheese sauce, don't overcook it. Turn off the burner after the cream cheese has melted, before adding the shredded cheese. Use immediately for best results.
Storage: Store leftovers in an airtight container in the refrigerator for up to 7 days. Reheat in the oven to serve. I don't recommend freezing this casserole as milk products and cheese sauces can separate when frozen and thawed.
Is there a way to add chicken to this cauliflower bake?
Yes, you can add chicken to this cheesy cauliflower casserole if you like. You can use a pre-cooked rotisserie chicken from the store, or chicken you've cooked yourself. Add shredded or cubed chicken into the casserole dish with the other ingredients and bake until chicken reaches 165°F.
Can I halve this recipe?
If you want to halve this loaded cauliflower bake, simply halve the ingredients, and use a smaller baking dish for best results. I recommend an 8×8-inch baking dish.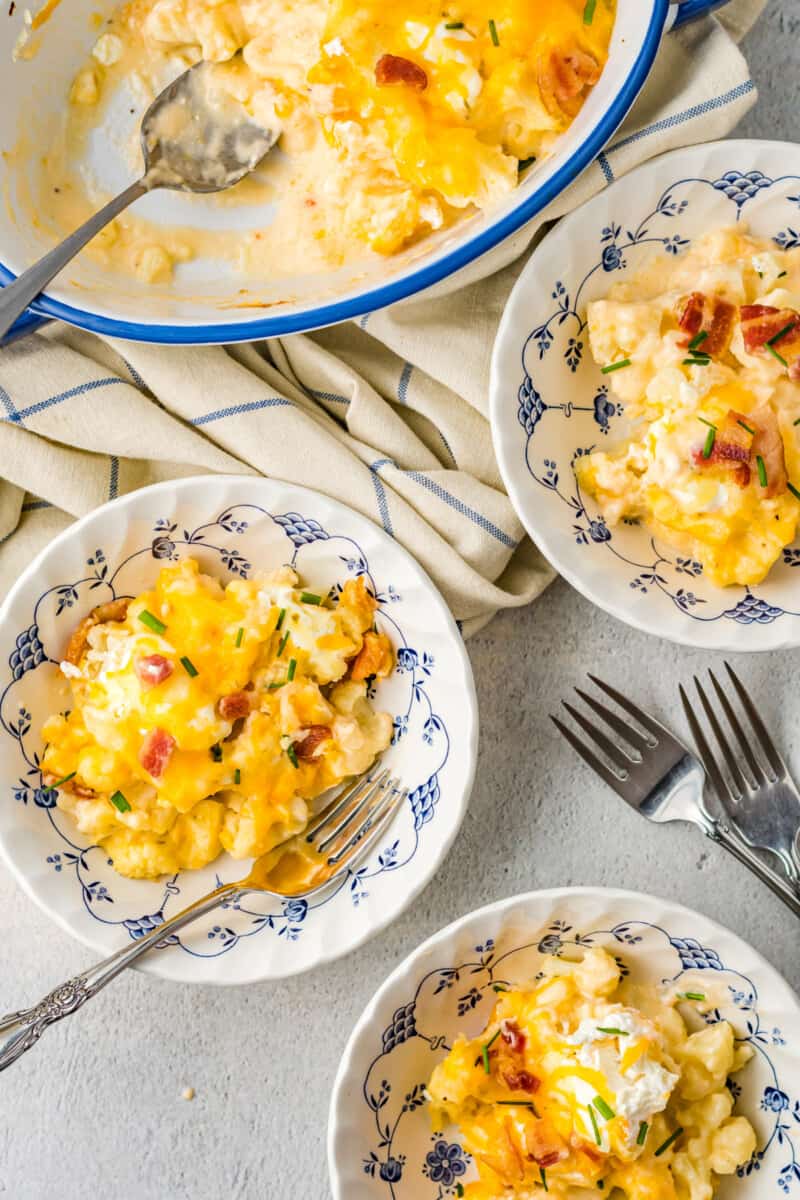 Loaded like a baked potato, this loaded cauliflower bake is sure to please everyone. Who doesn't love bacon and cheese? Now you can sneak in those veggies at dinner time with this cheesy cauliflower casserole recipe. The whole family will be asking for seconds!
If you make this recipe be sure to upload a photo in the comment section below or leave a rating. Enjoy! You can also jump to recipe.